Beneath the hot sapphire skies of an all too brief July, backyard grills will be smokin' as savvy cooks keep the kitchen cool by stoking briquettes al fresco. Cooking and dining in the open air- even if your outdoorsy territory is merely a closet-sized urban balcony hanging off a sun-kissed wall of brick and mortar- is an enduring, classic, summer pleasure.
The secret to doing vegan barbecuing work is to find a way to bring in the rich, fatty flavours that meat and cheeses bring to a traditional barbecue. You can approximate the taste of ricotta cheese, for instance, by puréeing nutritional yeast and raw cashew together.
It can be hard to give up the food that you've grown up on. The right recipes, though, can often make the switch seem like not much of a sacrifice, at all. Here are 10 vegan barbecue recipe ideas that you can try out.
Grilled Vegetable Farro Salad
via tasteseekerskitchen.com
The colourful vegetarian dish is perfect for a Memorial Day get together or any backyard barbecue. It is also a great accompaniment to the Grilled Chicken with DIY Barbecue Sauce.
Huli Tofu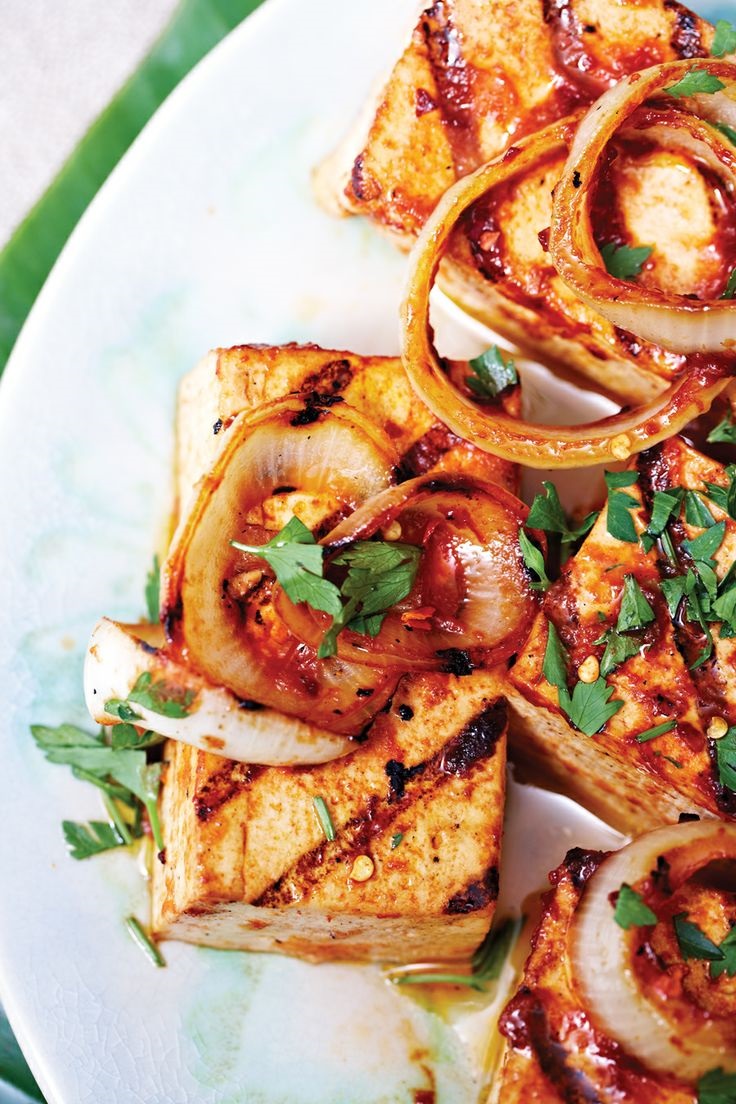 Huli means "turned" and describes a marinade that is commonly used on rotisserie-cooked chicken. This veg-friendly version features tofu. Enjoy this light summer bbq dish.
Grilled Sweet Potato Tacos with Lime Crema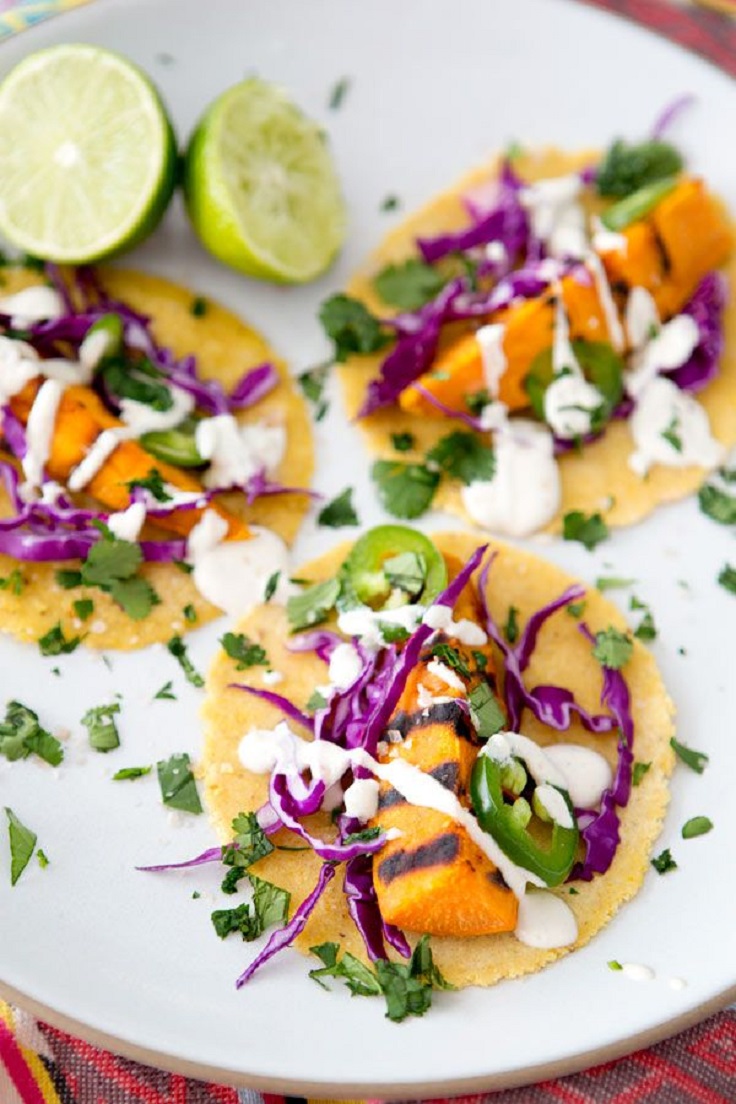 Here's what you're looking at: grilled sweet potatoes, a tangy lime crema (made with cashews, so, dairy-free!), homemade tortillas, purple cabbage and jalapeno. And it gets better; you can add avocado. That's right!
Cedar Planked Grilled Por"libellous Stuffed with Summer Veggies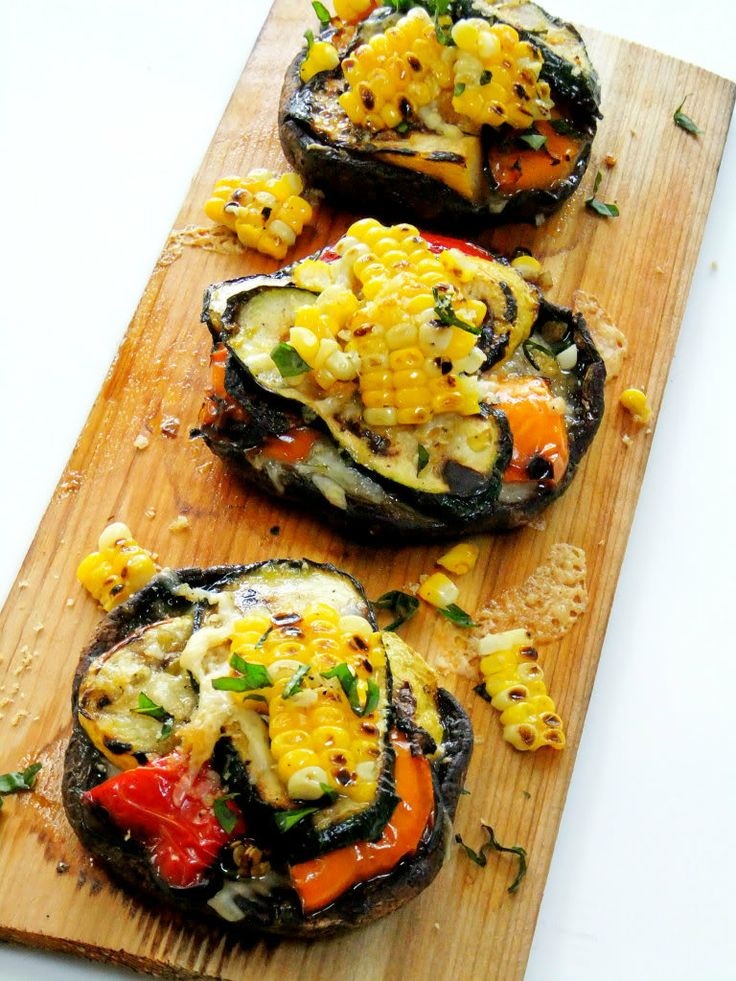 via prouditaliancook.com
There are various cooking woods on the market, some of my favourites and the cedar are maple, cherry, alder, apple and mesquite, to name a few. Just make sure you soak them submerged and weighted down in the water for at least 2 hours before placing them on your grill, otherwise, they will burn up, and you don't want that.
Grilled Tomatoes with Oregano and Lemon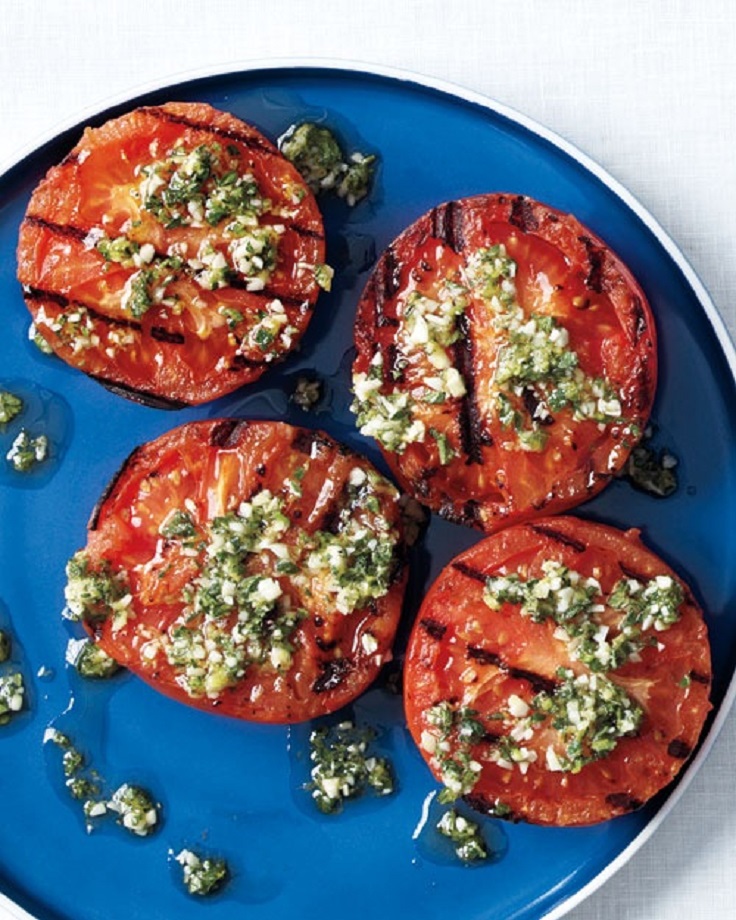 Heat a grill to medium-high. In a small bowl, combine garlic, lemon zest, lemon juice, oregano, and 2 tablespoons olive oil. Season with salt and pepper. Clean and lightly oil hot grill. Halve tomatoes crosswise and brush cut sides with 2 tablespoons oil. Place, cut side down, on the grill. Grill until lightly charred, about 4 minutes. With a metal spatula, flip tomatoes and grill until skins blister and begin to char, 2 to 3 minutes. Transfer tomatoes to a serving platter, season with salt and pepper, and drizzle with oregano-lemon oil. Serve tomatoes warm or at room temperature.
Grilled Vegetable Stack with Homemade Lemon Hummus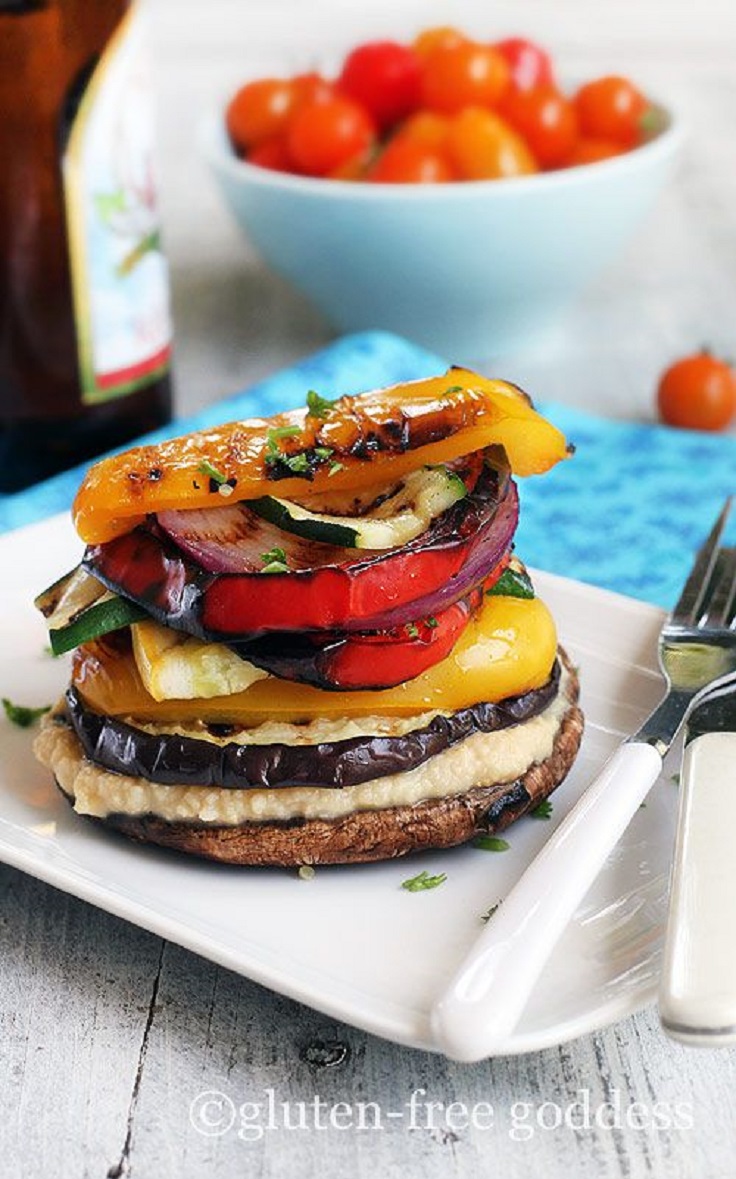 via glutenfreegoddess.blogspot.com
The smoky-sweet heat of barbeque spices, chipotle, and hickory laced sauces slathered on everything from burgers to shrimp and meaty portobellos is intoxicating- and hunger pang inducing.
Grilled Veggie Pizza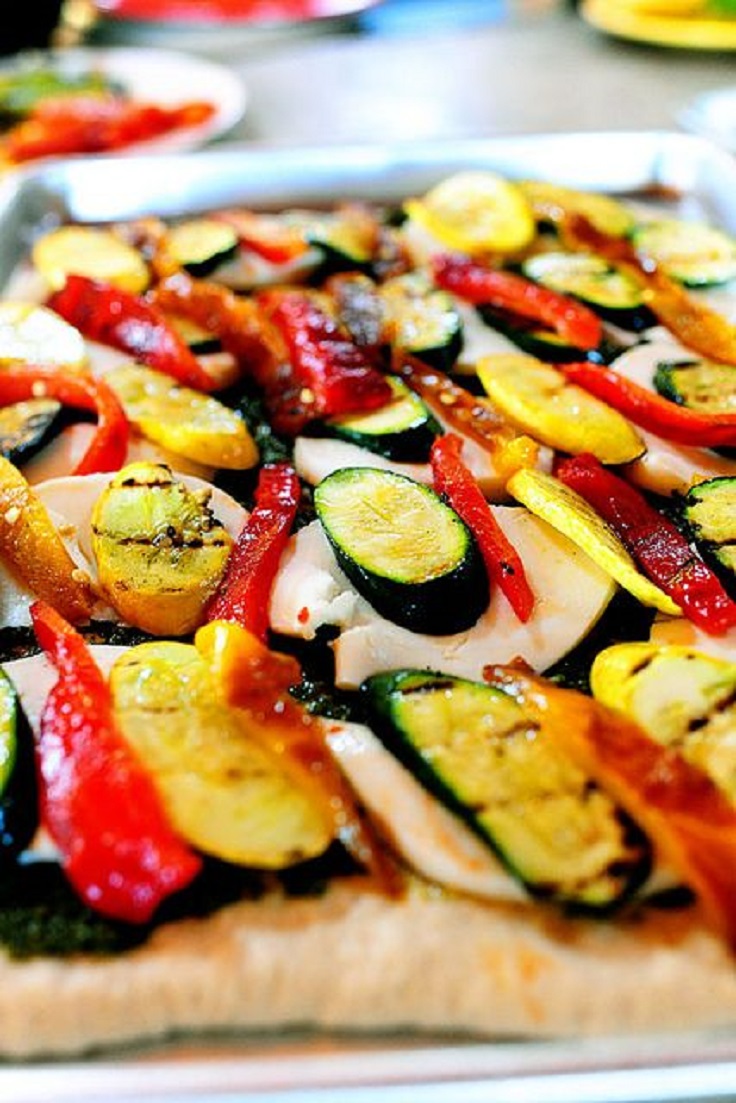 Here's a little pizza we whipped up on the side that day–glorious grilled vegetables with a scrumptious pesto sauce. It's one of our favourite pizzas in the universe; we wait until the pizza comes out of the oven to dot the whole thing with goat cheese, and that always winds up being one of the best things about it. Gorgeous grilled vegetables. Soft, warm goat cheese: the stuff that dreams were made of.
Grilled Ratatouille Salad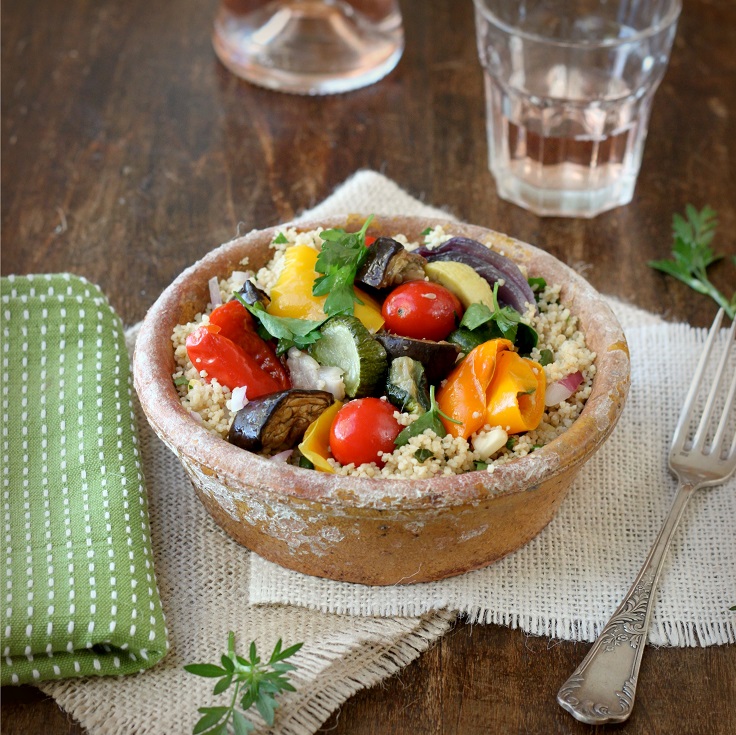 Ratatouille niçoise is a traditional stewed vegetable dish from the south of France. The significant part is that this is an original vegan dish – you don't need to make any substitutions. It's a simple recipe, too. You need to lightly cook chopped-up eggplants, onions, zucchini, bell pepper, tomatoes, black olives, basil and parsley in the traditional method.
Grilled Peach and Sriracha BBQ Sauce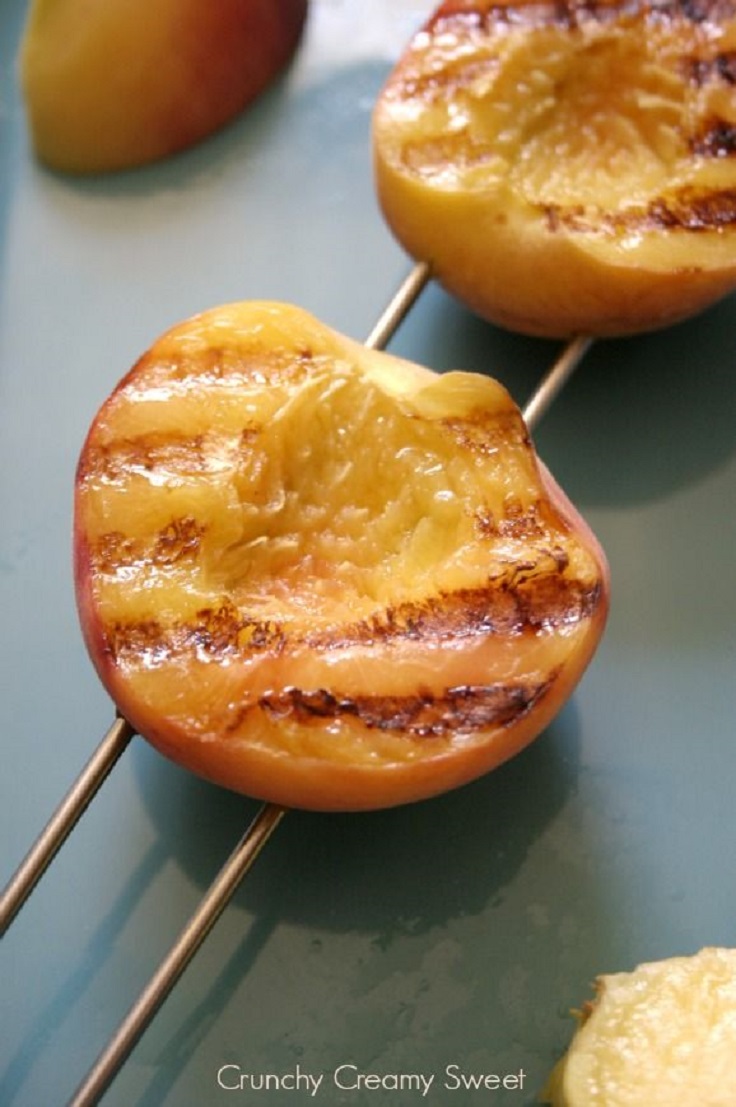 You start with still firm peaches, skewer them and grill for about 3 minutes. We used our countertop grill, like this one. It will let the peach release the juice and create fabulous caramelized marks and enhance the fruit's sweetness. Then you throw it all into your food processor, mix it all, and you have fantastic bbq sauce in just minutes. It's great with pork and chicken as well as beef.
Buffalo Roasted Cauliflower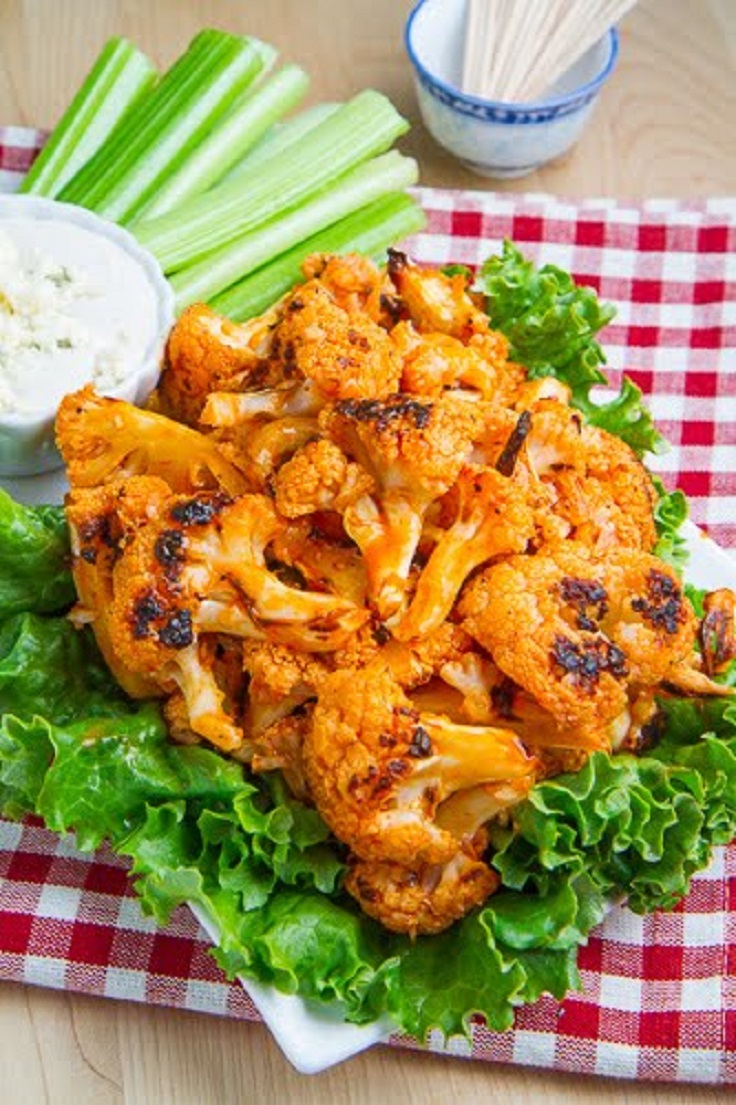 Roasted cauliflower has to be one of the most addictive healthy snacks around, and it only gets better when coated in buffalo hot sauce! This spicy treat would be a perfect option for a lighter and more nutritious snack for your party for the big game! Not only does it taste great but it is as easy to make as roasting the cauliflower and tossing it in the buffalo hot sauce so you can be licking your fingers clean in as little as 30 minutes! Just like buffalo chicken wing, this buffalo roasted cauliflower goes great with a tangy blue cheese sauce for dipping and some crunchy celery sticks to help tame the heat!