Breakfast is the most important meal of the day because it gives us the energy for the whole day. It's easy always to have it when you small and someone else is preparing it for you, but as we grew eating early in the mornings before we go to work or do other responsibilities, it can be hard to have a decent, homemade breakfast.
But, for those times when you actually can prepare something at home, either during workdays or weekends, consider baking some crescent roll-ups. The warm crescent is perfect for cold, winter days, and you can experiment with other ingredients, such as bacon, chicken, and cheese. Scroll below to find out which ten recipes we picked for you!
1. Ham and Cheese Crescent Roll-Ups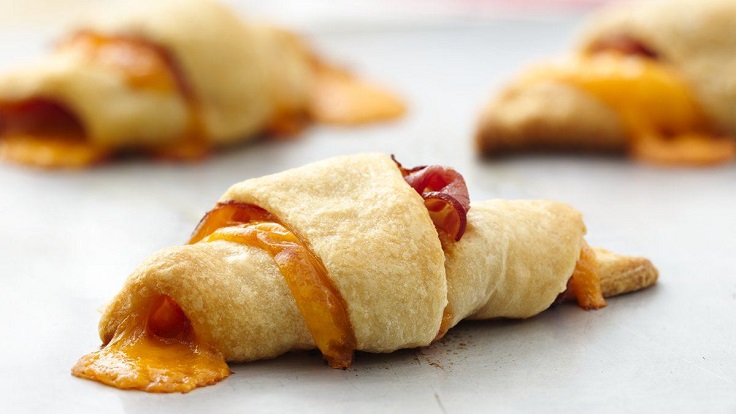 Ham and cheese crescent roll-ups are perfect for dinner, and if there are any leftovers at all, these crescents will be great for breakfast too. However, to taste the beauty of melted cheese, it's best to eat them warm! To prepare these roll-ups, you need 1 can (8 crescents), store-bought or homemade crescent, 8 thin slices of cooked ham (8 oz), and 4 thin slices of Cheddar cheese (4 oz), each cut into 4 strips.
2. Philly Cheesesteak Crescents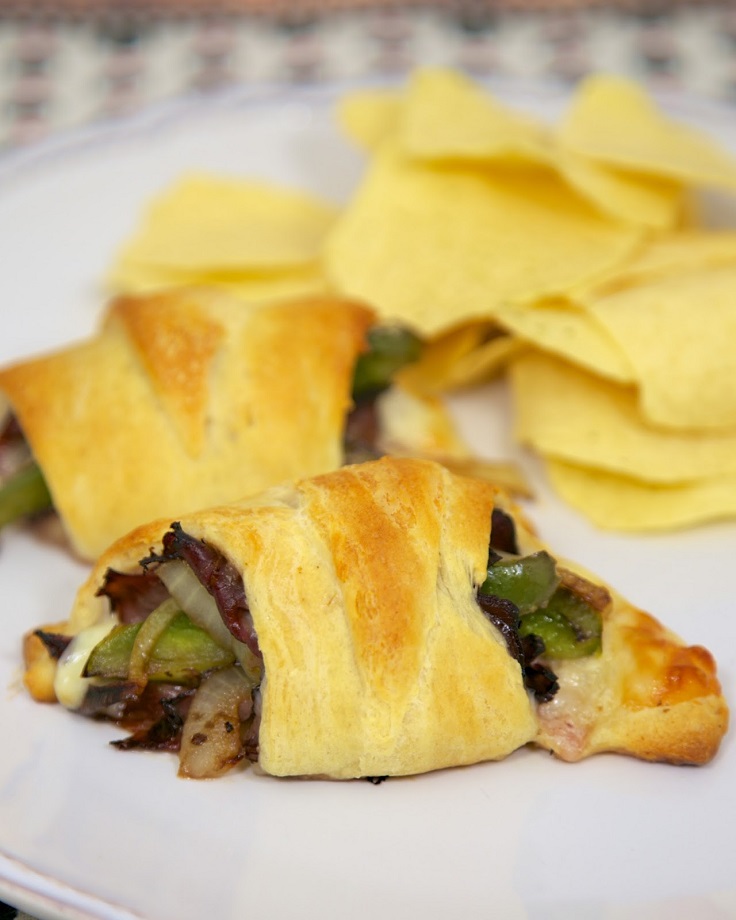 via plainchicken.com
These crescent roll-ups are full of many tasty ingredients, thanks to which you will feel full for hours. To prepare the Philly cheesesteak roll-ups, you need the following ingredients – 1/2 pound rare deli roast beef or London broil, 4 slices provolone cheese, 4 tsp horseradish sauce, 1 Tbsp butter, 1/2 onion, 1 green bell pepper, and 1 can refrigerated crescent rolls.
3. Corned Beef Hash Breakfast Roll-ups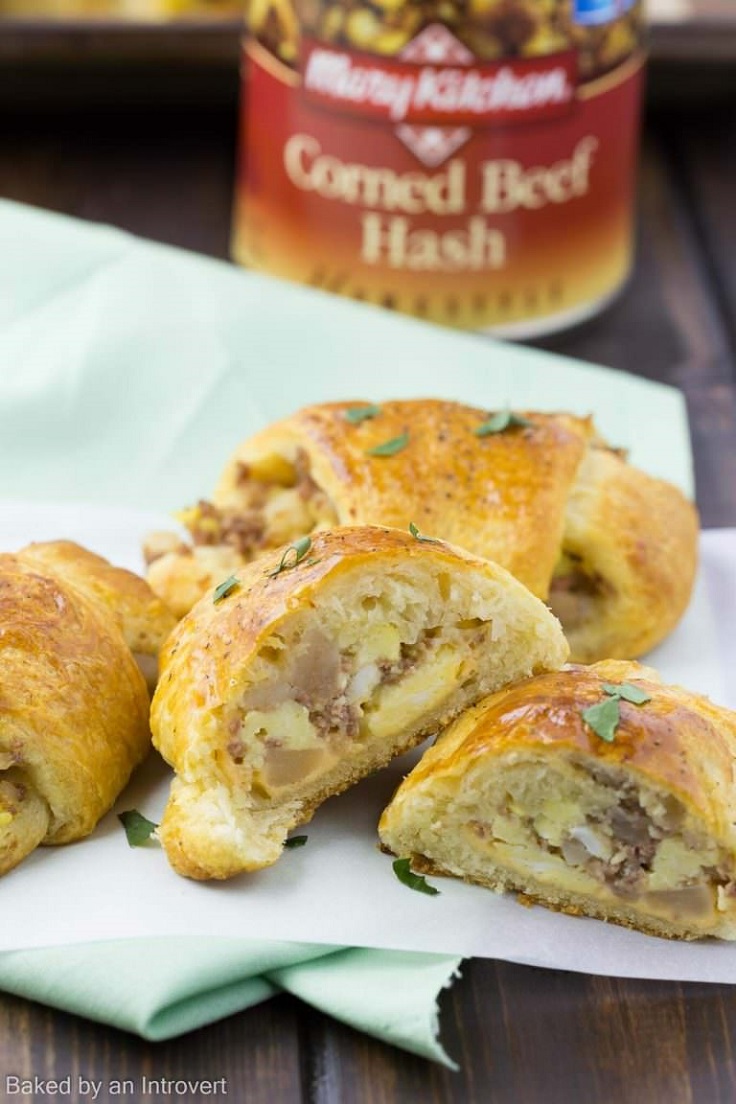 Ready in less than an hour, these crescent roll-ups are best served warm when you can taste the melted cheese and beef the best. They are easy to prepare, and for that, you need 1 (15-ounce) can of corned beef hash, 1 tablespoon unsalted butter, 3 large eggs, 1 (8-ounce) can of refrigerated crescent rolls, 4 slices of American cheese, 1 egg yolk, 1 tablespoon sour cream, ground pepper to taste and fresh parsley for garnish.
4. Cheesy Buffalo Ranch Chicken Roll Ups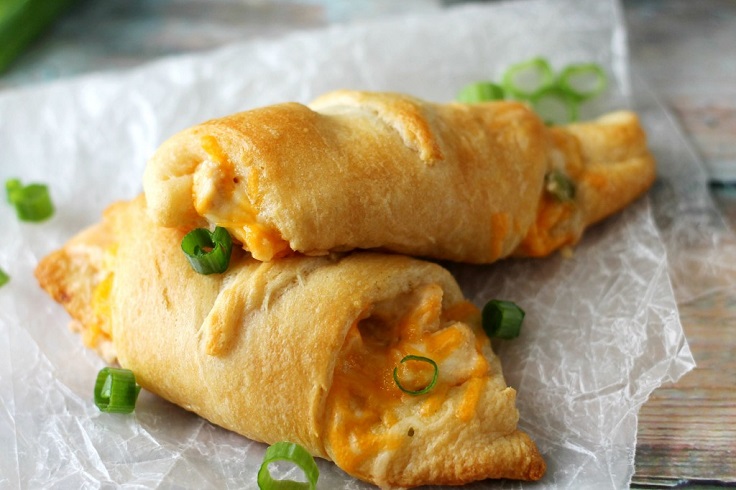 via lifewiththecrustcutoff.com
Here's another very delicious combination of chicken and cheese. The crescent part surely adds so much to the chicken cheese combination; make a dozen more, and you have your dinner as well! Make sure you have 8-10 teaspoons ranch dressing, 1 cup Colby & Monterey Jack Cheese (or similar), 4 ounces cream cheese, 8 count refrigerated crescent dinner rolls, 2 boneless skinless chicken breasts, 1-3 tablespoons hot sauce (depending on your heat level) and 3-4 chopped scallions.
5. 3-Ingredient Crescent Hot Dog Roll-Ups
The hot dog crescent roll-ups are a popular choice when it comes to movie nights as well. They are really easy to prepare and cost so little, as all you need are just three ingredients – 1 (8-ounce) tube crescent rolls, 8 hot dogs, and 1 tablespoon poppy seeds. These are ready in less than 20 minutes, and you'll have around 16 roll-ups. You can serve them with ketchup and mustard or with any sauce that you would like.
6. Chicken Bacon Ranch Crescents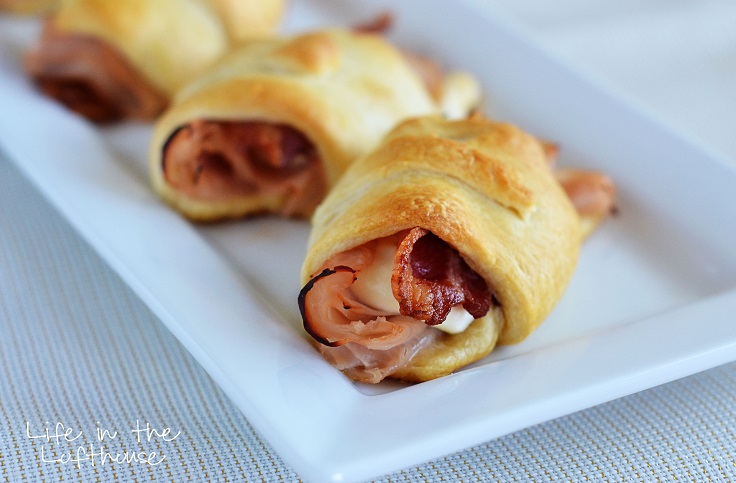 Again we have chicken roll-ups, but this time in combination with bacon and mozzarella. This is ideal for anyone who enjoys all these ingredients in one meal, and we can't blame them – who can resist warm crescent roll-ups with melted mozzarella and meat? You need 2 (8 ounces) cans of store-bought or homemade crescent rolls, 16 thin slices of chicken ( I used deli-sliced chicken) or 1 small chicken breast, 16 slices cooked bacon, 8 pieces mozzarella string cheese, and 1/2 cup prepared ranch dressing.
7. Buttery No-Knead Crescent Rolls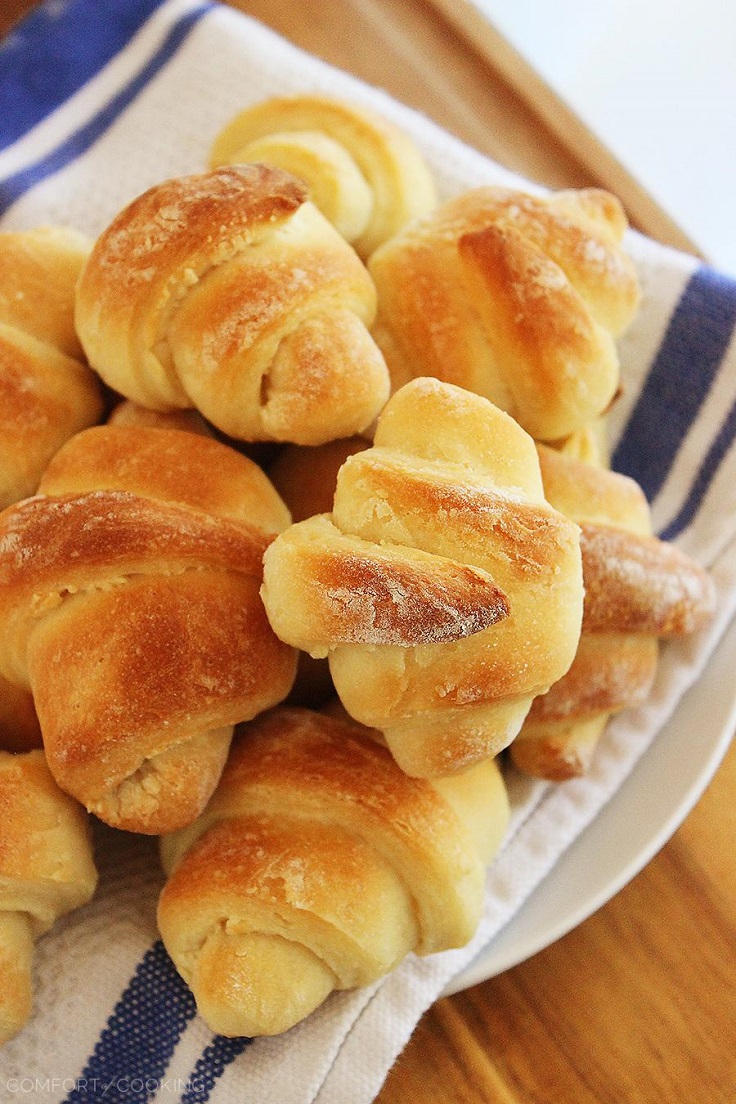 Unlike the rest on the list, these roll-ups don't include anything inside them. They are simple, buttery, and best when served warm! You can use butter, marmalade, or even eat them plain simple like that. You need 1 1/4 cup warm water, 2 1/4 teaspoon (1 envelope) active dry yeast, 1/2 cup (1 stick) unsalted butter, 1/3 cup granulated sugar, 1 large egg, 4 cups all-purpose flour, 1/2 teaspoon baking powder, 1 teaspoon salt and additional butter for brushing.
8. Pepperoni Cheese Stick Roll Ups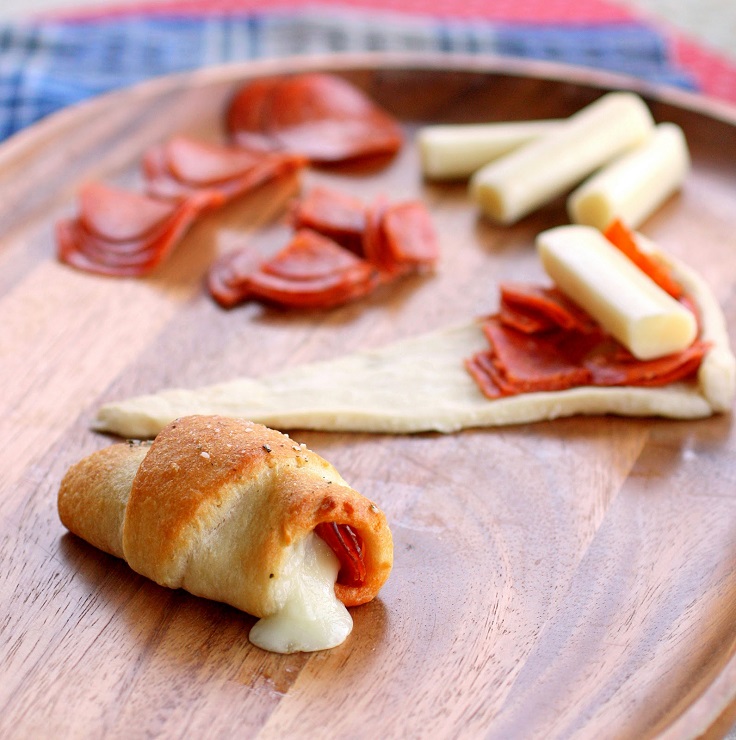 via the-girl-who-ate-everything.com
If you're feeling over pizza for the day, try these roll-ups. They have the pepperoni's charm and the melted cheese, being packed in a small dough roll-up. You need 1 (8 ounces) package refrigerated crescent roll dough, 4 cheese sticks, 1 (3.5 ounces) package sliced pepperoni, and optional – marinara or ranch sauce for dipping. For the garlic butter glaze: 2 tablespoons butter, ½ teaspoon Italian seasonings, ¼ teaspoon garlic powder, and 1 Tablespoon grated Parmesan cheese.
9. Bacon & Pepper-Jack Stuffed Crescent Rolls
Bacon is one of the most popular breakfast choices, especially among American families. Everyone who likes it crispy combined with cheese should try these roll-ups. 6 slices of bacon, cooked and crumbled, 8 half-sticks of Pepper-Jack cheese, 1 (8 ounces) package refrigerated crescent roll dough, and dried chives. The recipe makes about 8 roll-ups, and it takes about 30 minutes to prepare them.
10. Cheesy Spinach Crescents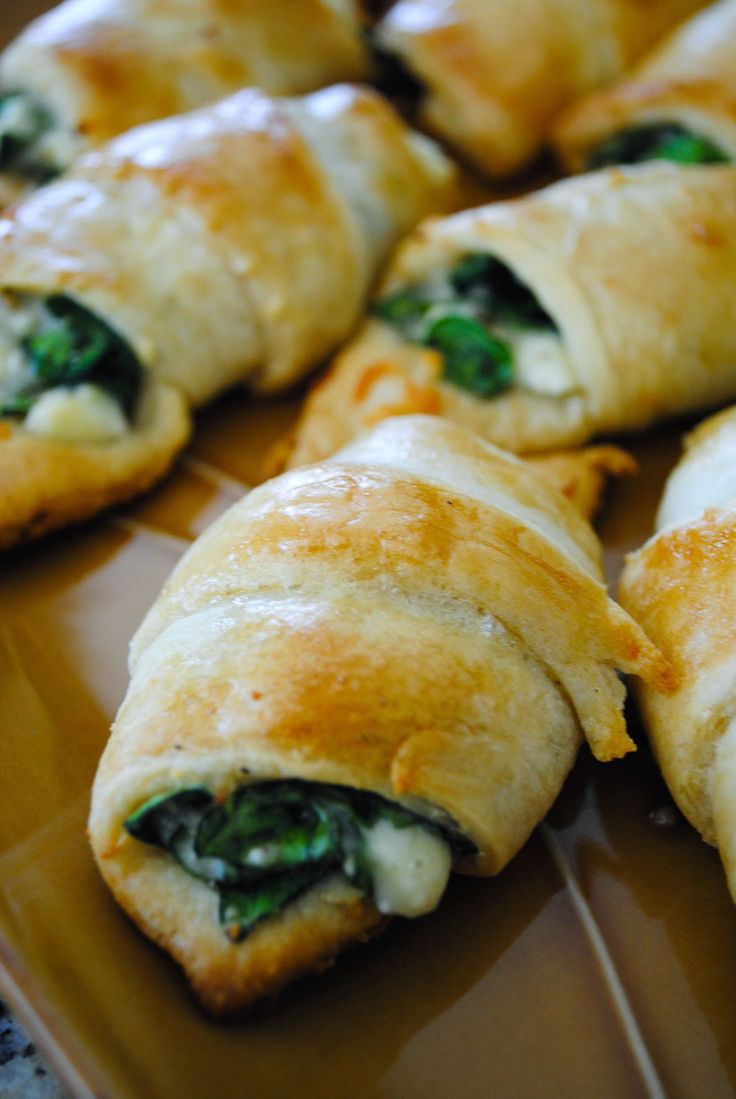 via foodsmaster.com
Spinach is one of the healthiest foods you can eat – it is rich in iron, protein, calcium, fiber, and many vitamins! Of course, it is better to eat it as raw as possible, but having it in a roll-up isn't a bad idea at all. For that, you need 2 tubes of store-bought or homemade crescent rolls (8 ct. each), 4 oz. crumbled feta cheese, 4 oz. shredded mozzarella cheese or any cheese you like, 3 oz. fresh baby spinach, 1 egg white, 1/4 tsp. red pepper flakes and a dash of salt and pepper.