How many times have you wanted some moments to last forever? But how much easier when they are caught in the pictures and are always around you. Christmas is a celebration of family and home.
A beautiful idea is for these wonderful gatherings to be immortalized in ornate frames in your home. We are here to give you an idea of how to create and choose images that will fit properly. The red color associated with Santa Claus and white snowflakes is the basic motive of any Christmas decoration. But here you can turn your old frames that are mono or if they look much more elegant if yоу add ornaments and decorations.
Prepare on time and your loved ones will be pleasantly surprised and the smallest will rejoice in your creations. Also, you can do something amazing if you give them a good frame adorned with your common picture. Check out our suggestions and choose what is most appropriate for your home.
 Blue Snowflakes for Boys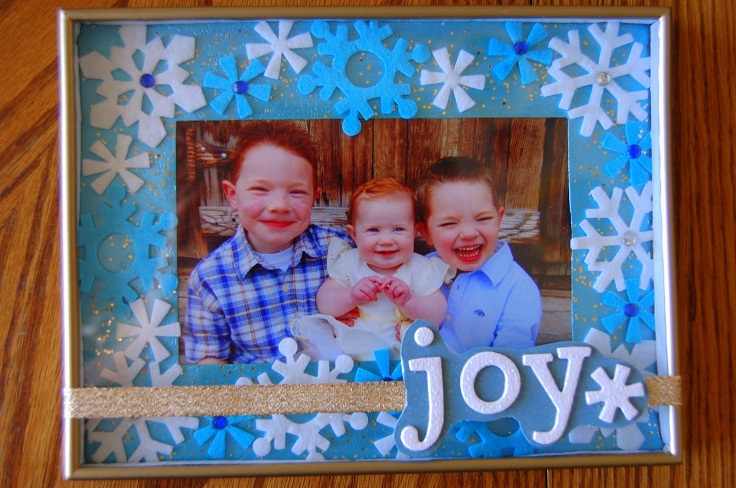 via crafthubs.com
You can use your classic frame and decorate it with white and blue snowflakes. It will be designed for pictures of your sons. Feel free to sprinkle it with sparkles and add a gold bar so it will look fabulous and is a perfect decoration for the blue room of your sons.
Christmas Ornament Frame
Beautiful Christmas frame set to your door. This will show the holidays coming in your home to your dear ones. You can put out the red or gold frame and also you can bet with red tape. To capture and New Year's mood freely put a few decorations in the middle or any decoration that you associate with this part of the year.
Christmas Sentiment Frame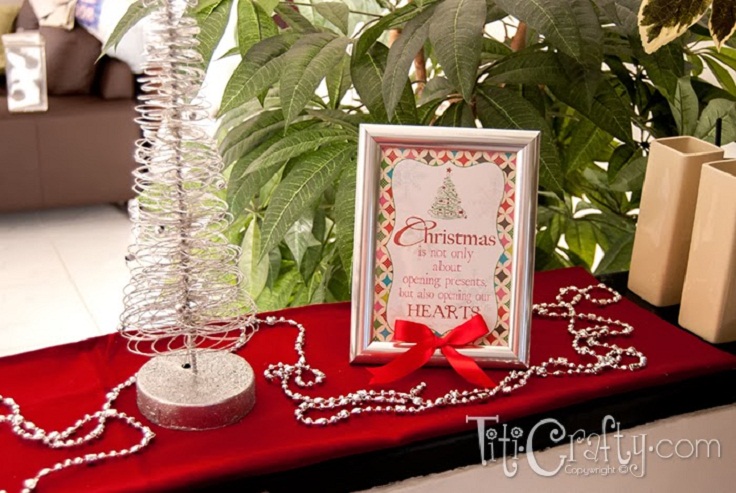 via titicrafty.com
Since Christmas is a holiday that the whole family is together, you can put in this frame verse or thought or sentence that you want to share with your family. This kind of framework has sentimental content and will make a sentimental atmosphere in your home. So warm the hearts of your loved ones.
Frame For the Smallest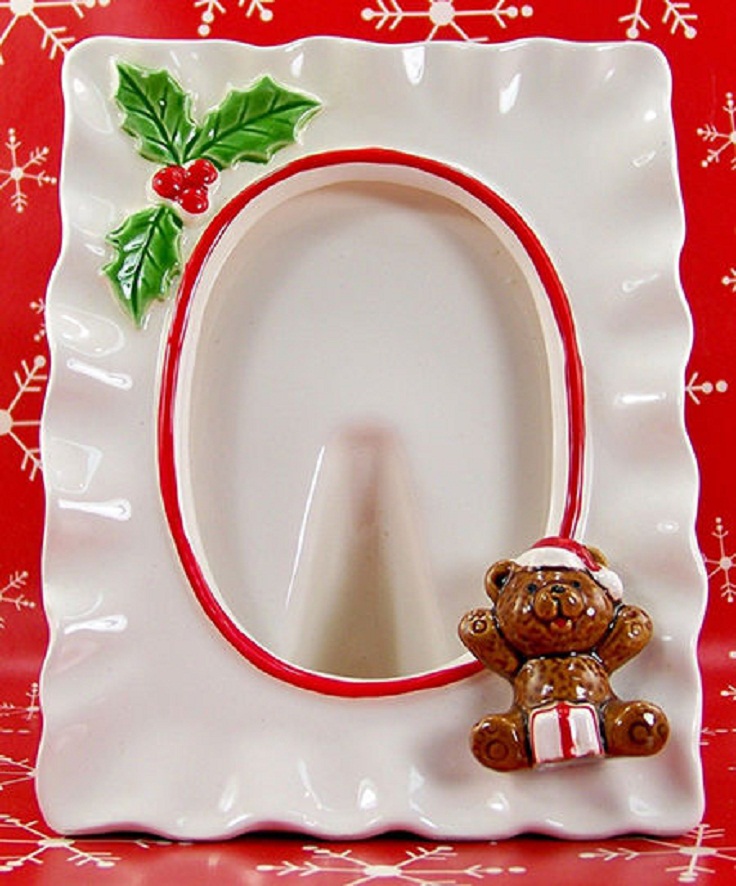 via ebay.com
The glass frame is designed for the smallest. Christmas decoration with interesting decorations for children. You can put a picture of the smallest member of your family and set it centrally in your living room.
Glitter Christmas Frame
via chartreuth.com
For Christmas home should shine and provide a warm atmosphere for your loved ones. A shiny gold frame is a particularly special decoration that you should note. So place the image that represents the most interesting moment you have in the picture. So you will shine accommodated in this framework that you are free to add a red bow. Use white cardboard and decorate it.
Merry Christmas Picture Frame
via tipjunkie.com
This type of framework is free to use either a gift. A wonderful gift for your grandmother especially if you decorate with big red bows and thus put a picture in a frame of your childhood with her. A sentimental but valuable gift for Christmas. Carefully trace the flash on this framework and it will get a refined look.
Use Your Old White Frame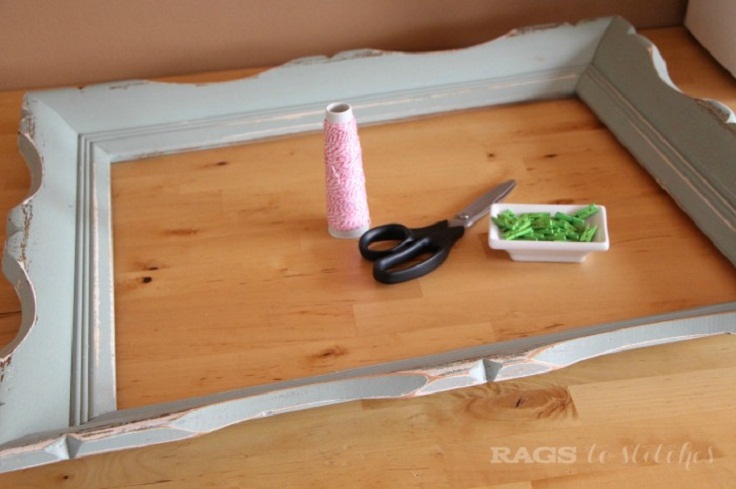 It is time to use the old white frames that were long-standing unused. Will remake something very nice if you put it out with a white background and then add items and Christmas decorations. Feel free to frame one or more images in the size of the frame. Perfect idea if you want your frame to take a central place in the living room this Christmas.
Picture Frame Luminaries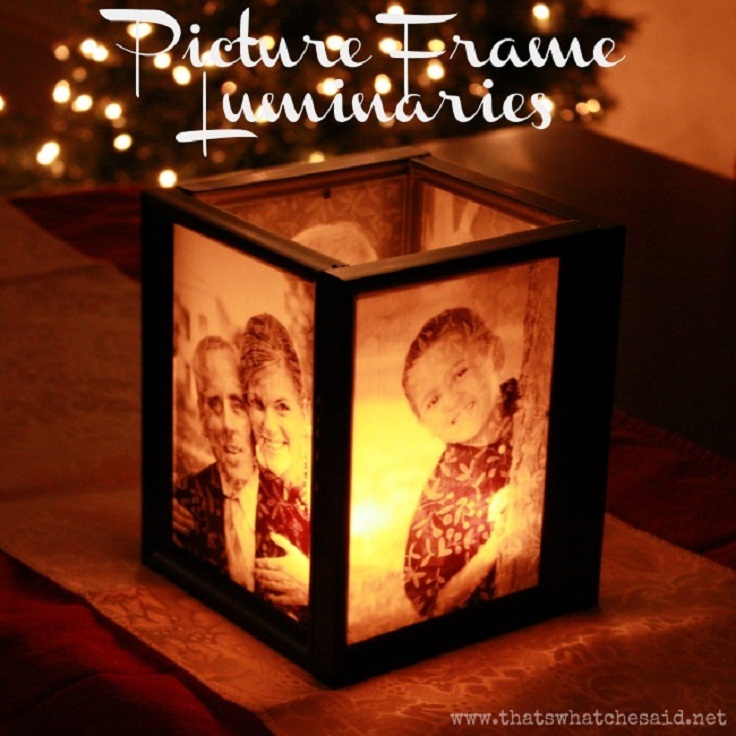 For this kind of frame, you need 4 frames to set on a foundation. In the mid-set bulb that will illuminate images and additional, images you can set the glass frames so the pictures will be safe. This type of framework is a masterpiece if you make this at home for Christmas. Everyone will love and admire your creation.
Small Cute Frames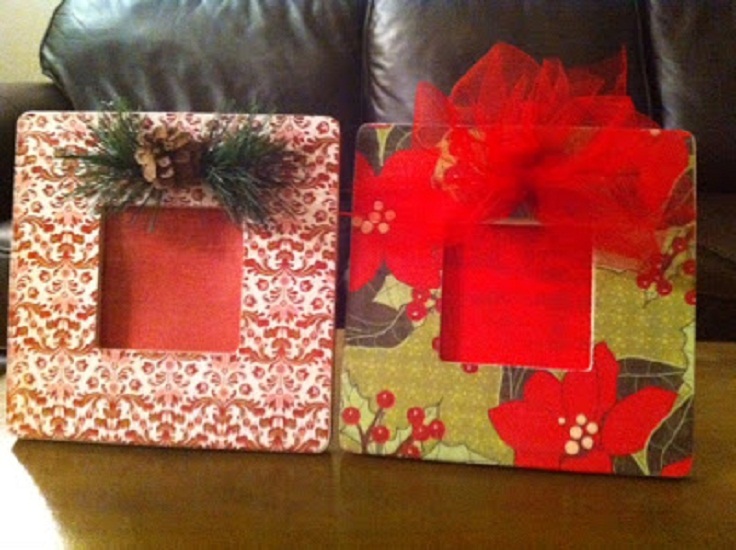 via brittneysorrdinarylife.blogspot.com
Small square frames that will always find a place in your home. Easy for decorating because you can bet with collage or put accessories as bows or other Christmas decorations. Surely you have pictures that you have not yet placed in the frame. These small frames are the perfect place if the size does not fit you can customize images.
Joy Frames for Christmas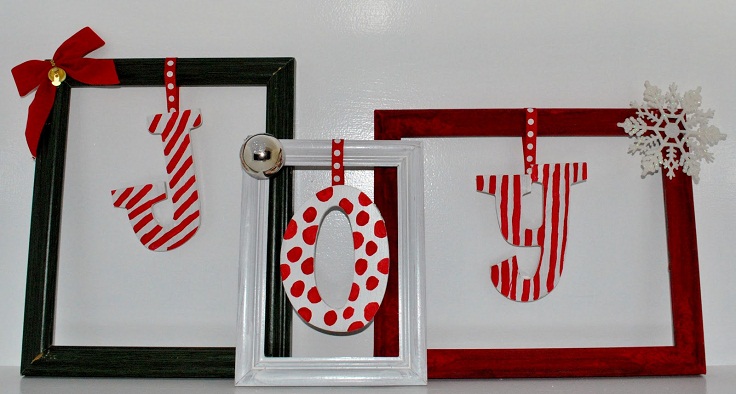 via crafthubs.com
Typical Christmas frame for your home. Place immediately in the hallway so that as soon as guests enter your home will notice your decoration. The bouquet of the red frame, white flake, bows, and bells will bring extra warm energy and spirit to the holidays and cold winter days.