Weaving is an amazing way to relax, especially during the hot summer days. Hammocks, beds, and chairs are the best way to enjoy your lazy Sunday afternoon while reading your favorite book in addition to some refreshing cold beverage.
We want to give you some ideas on how to build your own hammock. Most of these designs are for the outdoors, but some of them you can absolutely make inside your house. And we have one special and unusual one, between these 10 summery hammocks.
Take a look and find out which is the special one. Then, choose your favorite one, build it and lay back, and enjoy.
Instant Summer Hammock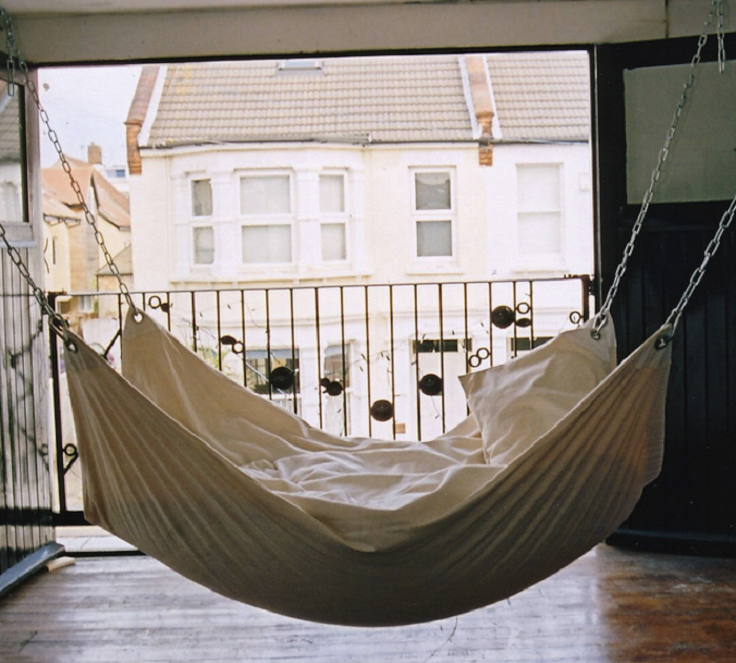 via gardenista.com
This is a lovely soft hammock. It's so comfortable because of the soft materials used for this hammock. You can put it in your outdoor garden or on your balcony too.
Beach Towel Hammock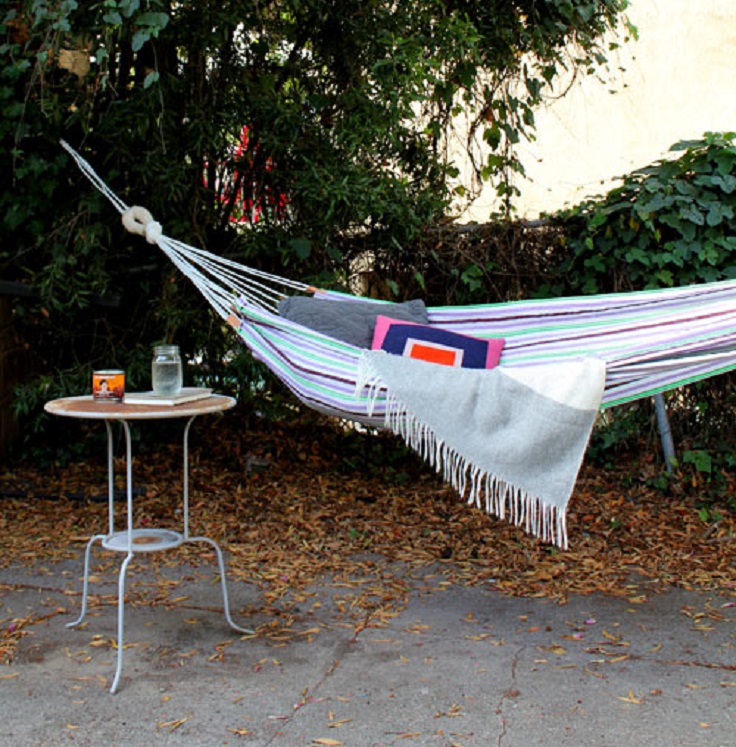 via designsponge.com
This hammock is so summery. Use the last days of the summer to make these stripes – beach towel hammock and enjoy the last summery days.
Two-Tone Sail Rope Hammock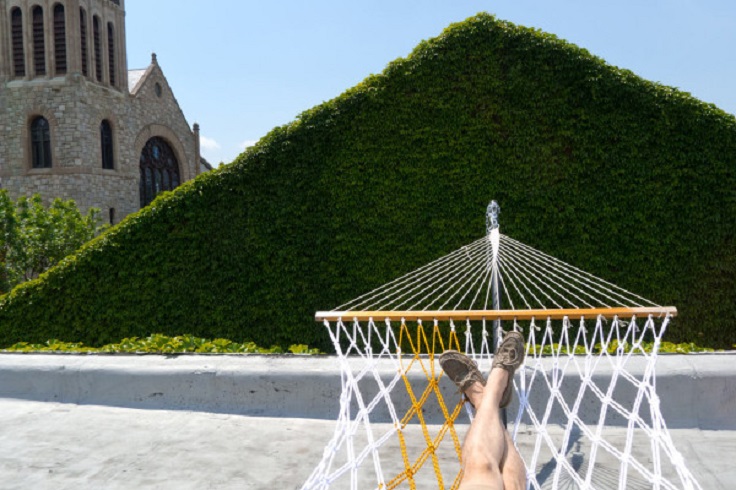 via design-milk.com
The sailing rope makes this hammock nautical, which means summery too. For making this hammock, you need only a few supplies. Follow the instructions, and there you are.
Wooden Hammock Stand
The process of making this hammock is the same as the previous one. The difference is only in the wooden stand. If you want your hammock to look pretty, also make this wooden stand.
Backyard Hammock Swing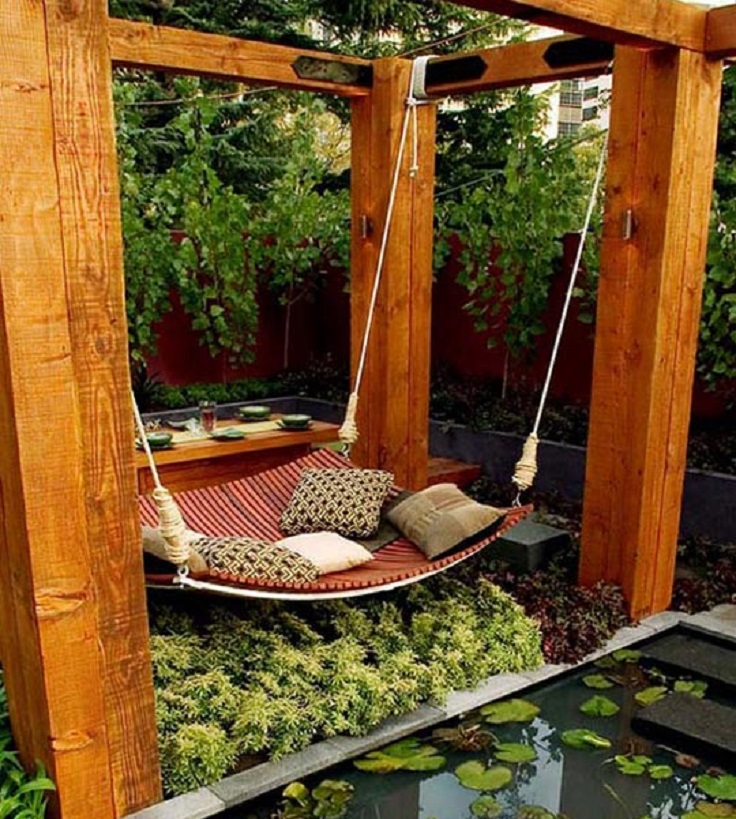 via manteresting.com
This one is nice for sitting with your friends and talking while the hammock swings. It's enough of laying hammocks. Let's make a difference and build this half-laying half-sitting hammock.
Cozy Hammock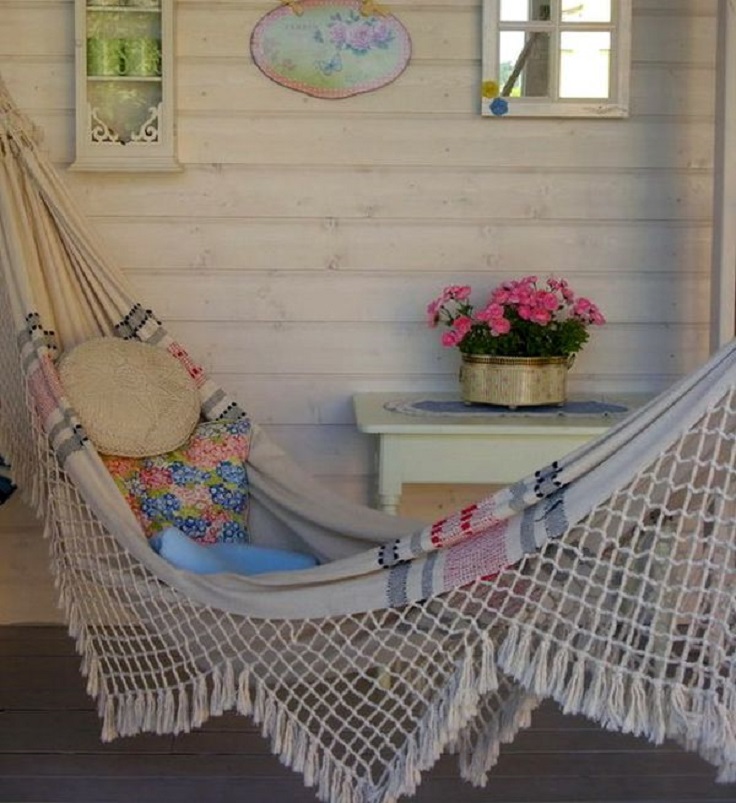 via homedit.com
Laying on this hammock will make you feel so comfortable. You have a feeling like you are hidden inside the cloth, which makes this hammock so cozy. Don't forget the pillows, which can also help you feel cozier.
Brazilian Hammock Chair
via brit.co
This colorful hammock chair can be your own paradise. Besides its beautiful and cute look, it's so practical and comfortable. You can sit or lay on this hammock chair. It's up to you.
Faux Fur Hammock
To wreck the monotony of the summery hammocks, we decide to give you also idea for making winter inside hammocks. It can be made of different soft and warm materials, which will offer you coziness and warmth.
Cocoon Hammock
via weburbanist.com
Because of its size, this cocoon hammock offers comfort for more people. If you want privacy, you can add curtains and cover the sides. In the end, add few pillows and enjoy.
Trampoline Hammock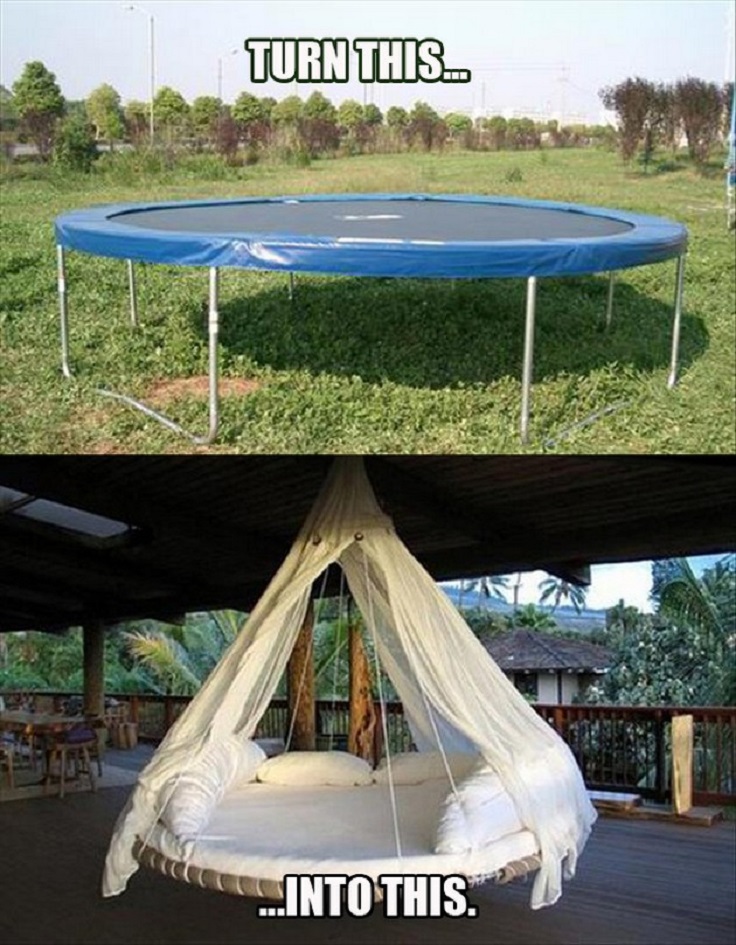 via trendvee.com
Have you ever thought that you can reuse your old trampoline? You can transform it into such a great thing: a trampoline bed hammock! Enjoy your new hammock bed with your sweetheart, your kids, or friends!