A paper lantern (or Thai Lover's Balloon) is a lantern made of thin, brightly colored paper. They are simply a paper bag with a candle placed inside, although more complicated lanterns consist of a collapsible bamboo or metal frame of hoops covered with tough paper.
Paper lanterns are common in China and Japan, where festivals often accompany them. They can come in various shapes and sizes, as well as various methods of construction. Nowadays, paper lanterns are used for event decoration, such as weddings.
Well, here is the list of the top 10 elegant paper lanterns that you can do by yourself. You can make them decorate your home. We are sure that these DIY lanterns will increase the beauty of your home at no additional cost.
So if we have inspired you, take a look in your home storeroom, find the right things that you can use to make charming, elegant paper lanterns, and start your new project.
1. Flower Covered Paper Lantern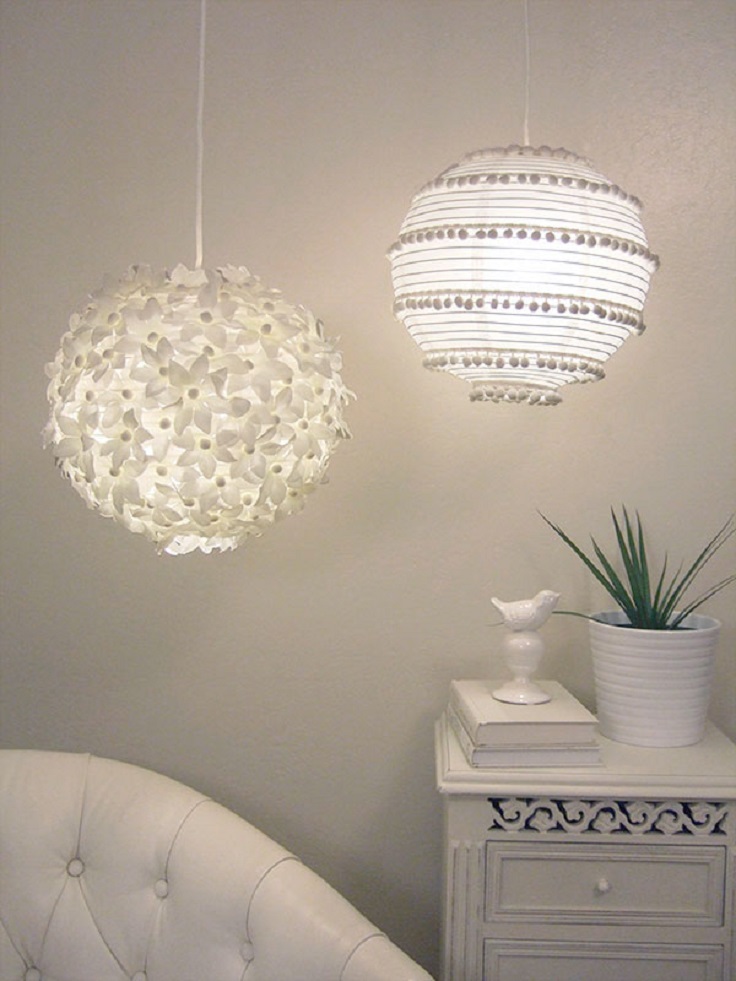 via craftynest.com
This is a great way to use artificial flowers and make your elegant paper lantern. The project is very easy to follow; you will need the right type of flower to embellish a simple white paper lantern and transform it into an elegant décor.
2. Lace Paper Lantern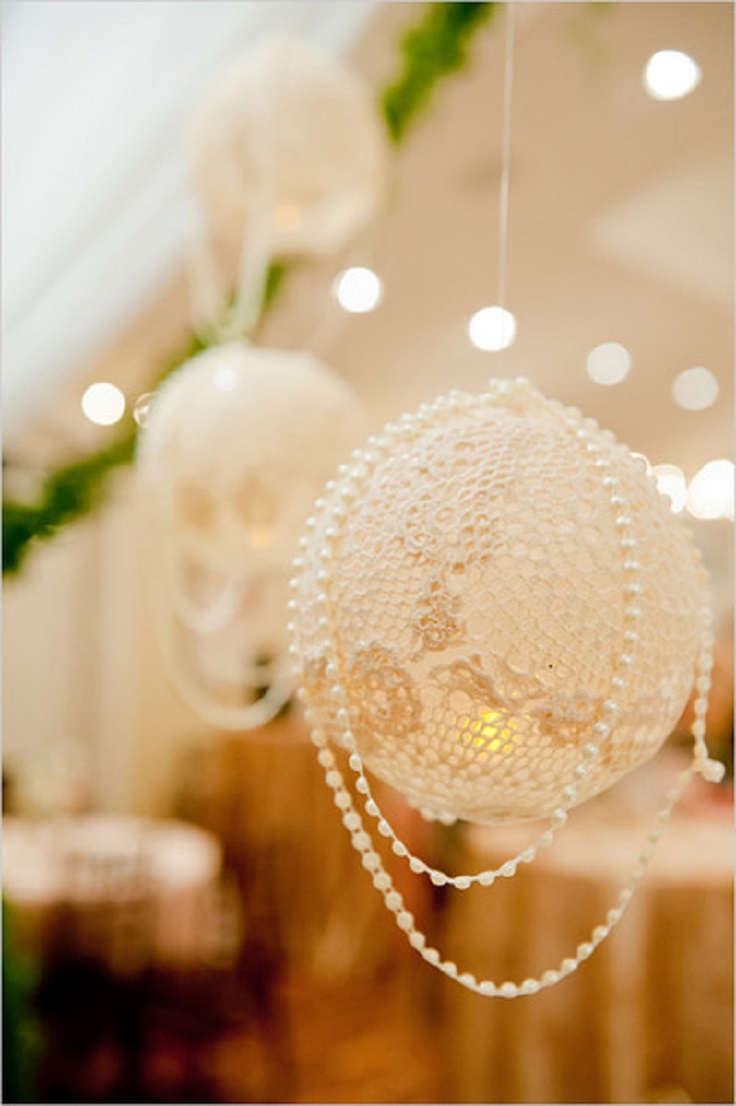 via sugarpost.ca
You can use paper with lace patterns to make an astonishing paper lantern. You can make it more elegant by adding pearls. This type of lantern is very popular for events, especially weddings, since its elegant look. Très chic!
3. Flower Petal Paper Lantern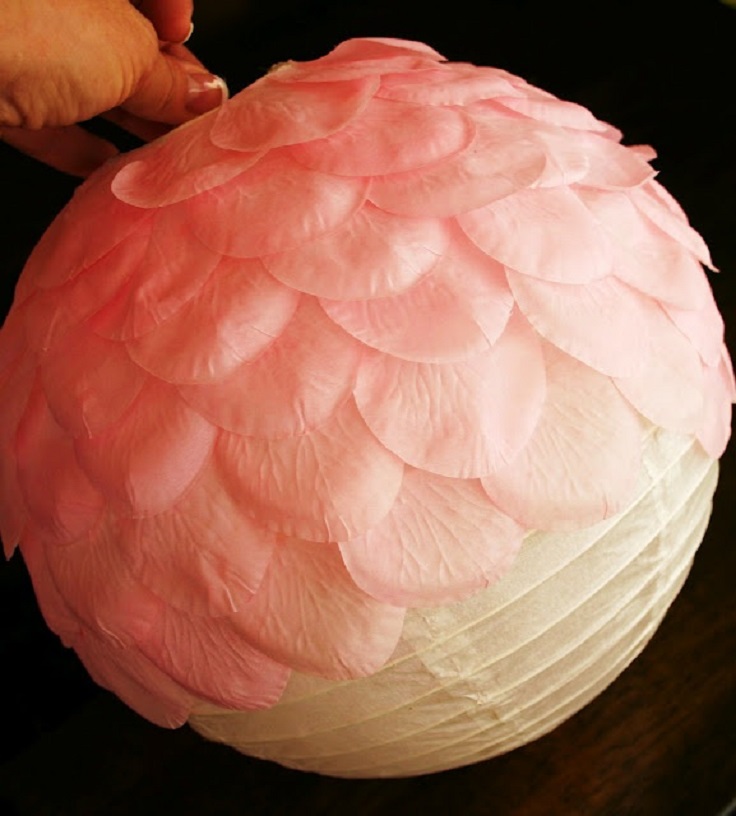 via acasarella.net
Whether you're decorating for an outdoor party in the summer or an indoor winter wedding, you can enhance the event's decor by transforming some ordinary paper lanterns into eye-catching attractions. You can cover an ordinary paper lantern with beautiful layers of tissue paper circles to get an elegant flower petal paper lantern.
4. Glittered Paper Lantern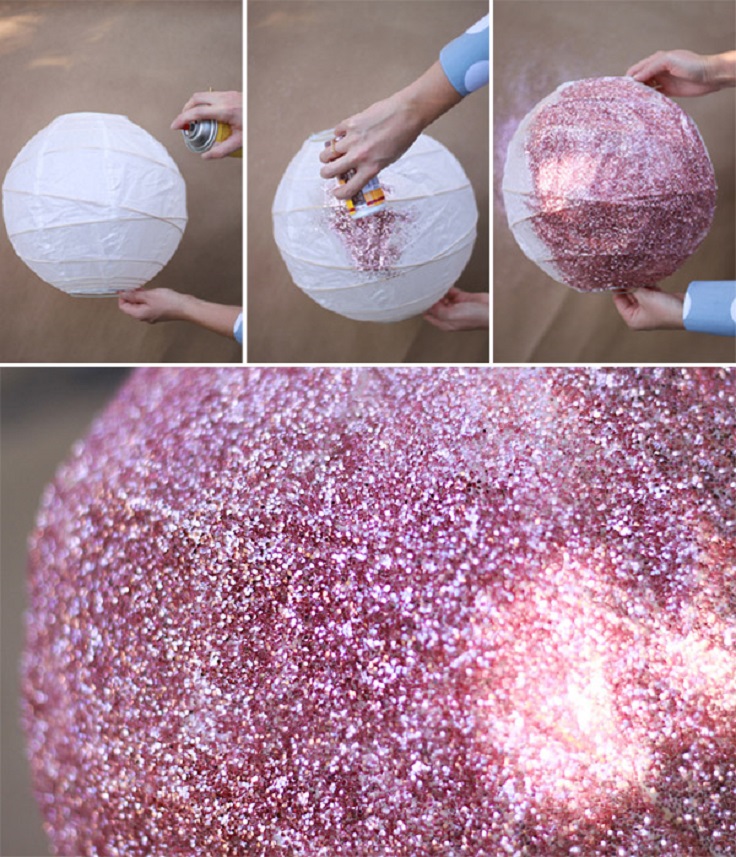 via ohhappyday.com
Bring sparkling resplendence to your home or fancy gathering with a glittered paper lantern. This lavish globe can be utilized as a permanent fixture in your elegant bedroom or as a luxurious decoration at your formal gathering. You can make it in different colors; check out probably you have glitter at home.
5. Simple Elegant Paper Lantern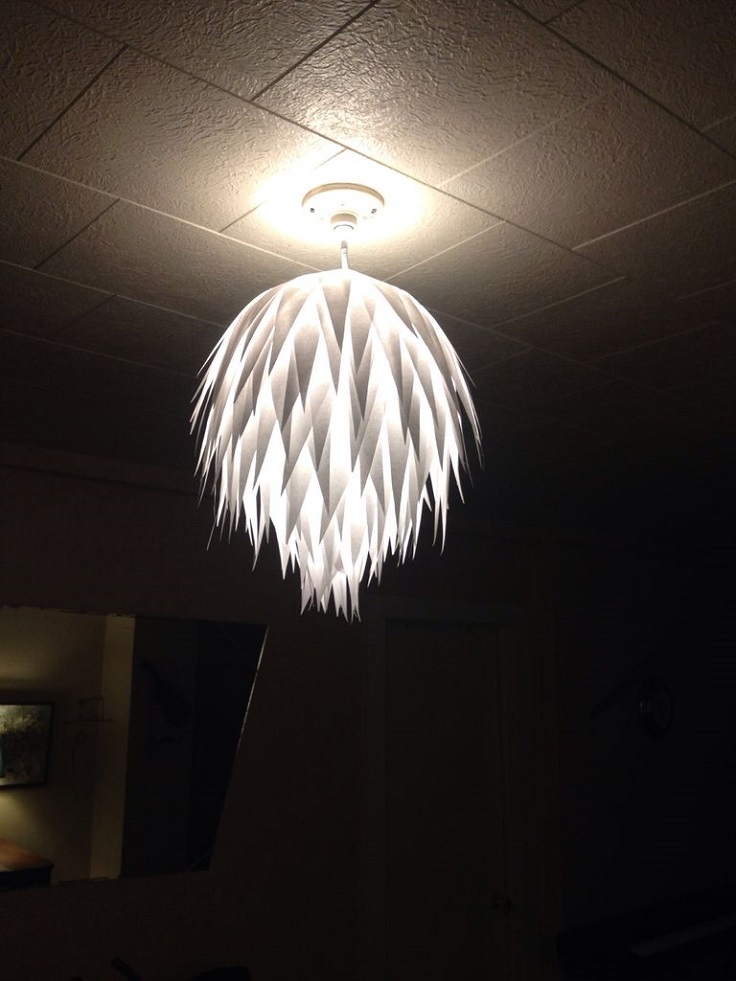 This is very easy to make, but you will need to make lots of paper triangles, afterward to glue all that triangles. It is a very easy but time-consuming project. For a glamorous, icy display, use a blue light bulb to illuminate this lantern and suspend it above your dining room table. Moreover, you can use pink light to create a romantic atmosphere in your home.
6. Embellished Paper Lantern
You can embellish your paper lantern to look very elegant and stylish in many ways. Here is one example of a stunning beautiful paper lantern made with 3D flowers and butterflies. For this project, you can use old book paper to give a vintage look combined with white tissue paper and colored crepe paper.
7. Coffee Filter Paper Lantern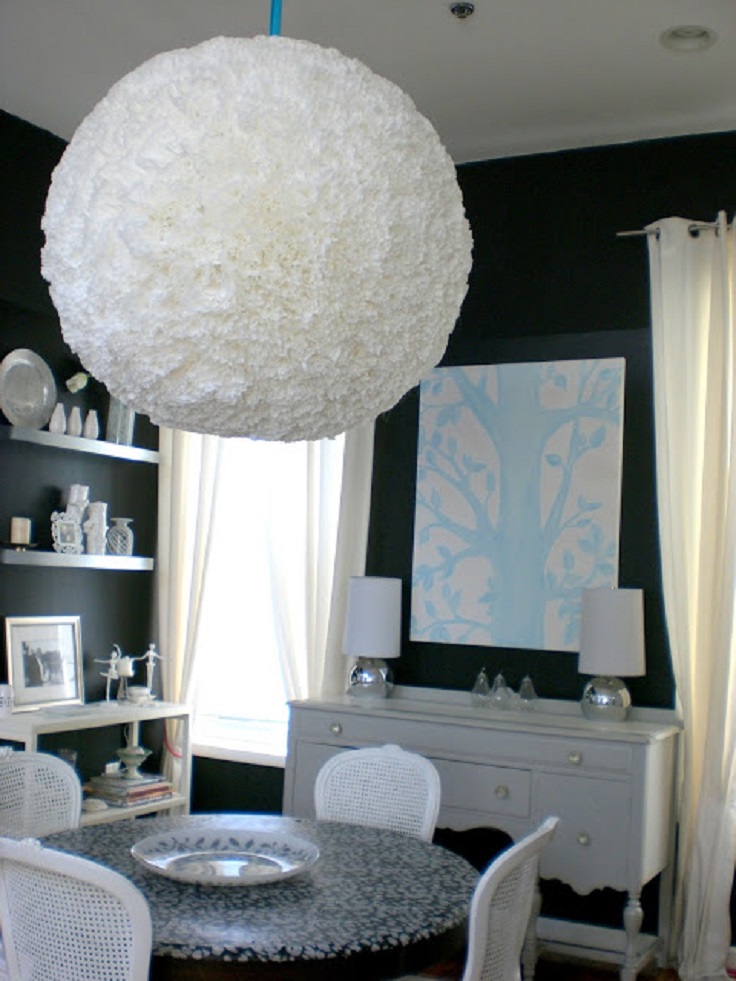 Coffee filters, paper lantern, and patience…that is all it takes…well, that and a whole lotta glue – to make this coffee filter paper lantern. But the final result is picturesque; it is worth it! If you have all these supplies, you can make this elegant paper lantern. Since this one was made of more than 1000 coffee filters, we advise you to make it smaller, because we do not want you to give up in the middle of the work.
8. Jellyfish Paper Lantern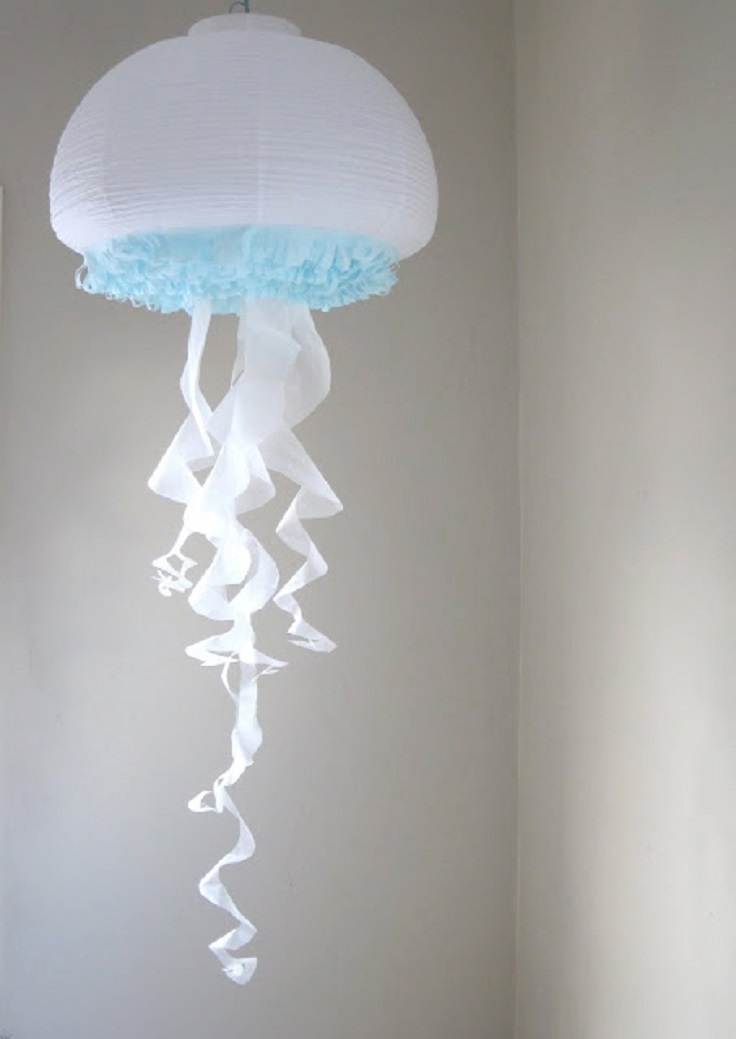 Create your own jellyfish magic! And how perfect are jellyfish lanterns for a summer party or wedding! Beautiful! You can use wax paper to create the tentacles, and you can glue only a few rows of fringe on the bottom of the lantern to get an elegant look at your jellyfish paper lanterns.
9. Hand Painted Paper Lantern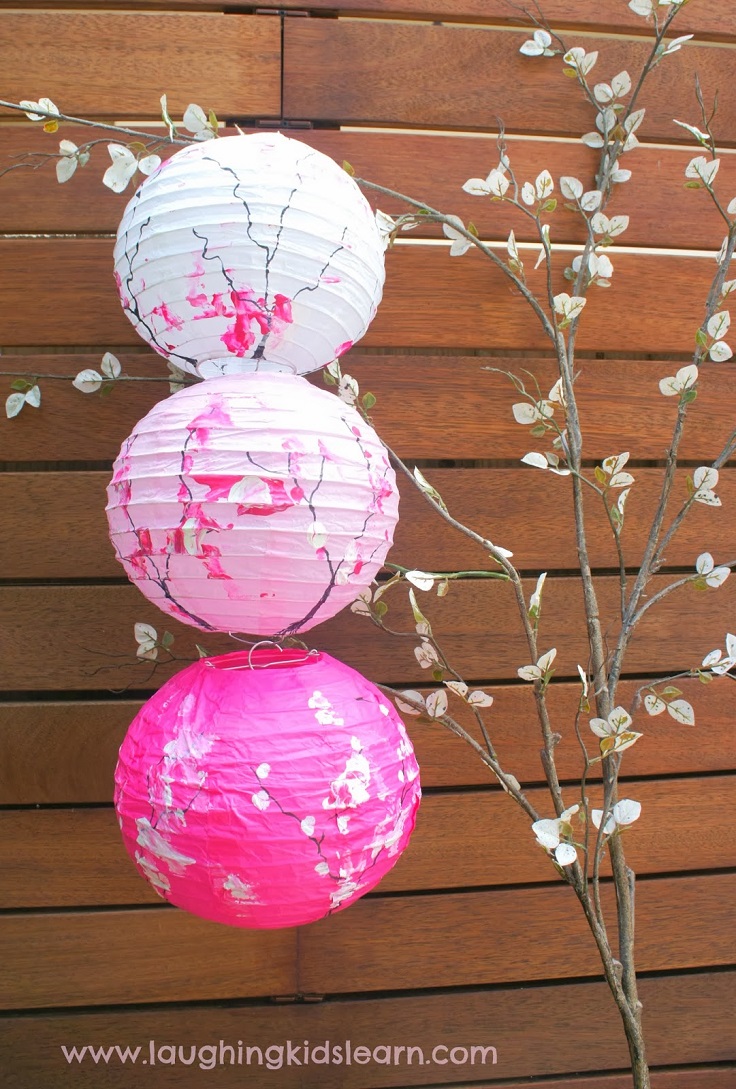 Add a little Asian appeal to any living space and light up your outdoor party with this design of a Japanese cherry blossom paper lantern. It looks very elegant and charming. This is only one idea of a hand-painted paper lantern, but you can make different types of flowers or other designs, or simply if you are not so skilled in painting, you can use patterns to make it look perfect.
10. Crepe Roses Paper Lantern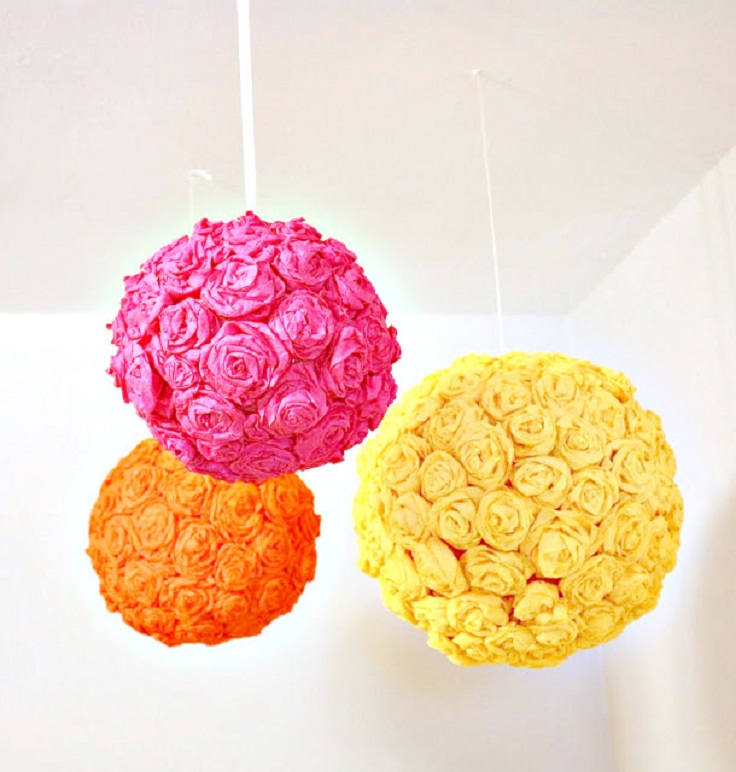 via hip2thrift.com
You can make wonderful handmade crepe paper roses and glue them all over a paper lantern to obtain an elegant look. Follow this step-by-step tutorial to learn easily how to make roses. You can make a paper lantern with colorful roses or choose your favorite color to make a monochromatic paper lantern. It is your choice.