Wood has long been used as an artistic medium. It has been used to make sculptures and carvings for millennia. Woodworking is the activity or skill of making items from wood and includes wood carving, joinery, and carpentry. Wood is basic material as clay and is constantly reinvented by DIYers, crafters, artists, hackers, and carpenters.
Woodworking doesn't have to be frightening; check our list of top 10 creative DIY woodwork projects. Tackle one, and we guarantee you'll be itching to take on another. Most of these fun, novice-friendly projects use scrap lumber and require basic tools and simple instructions.
Some of the projects below can be completed in a weekend and others in just a few hours; either way, all the projects will help you create something great out of wood. Enjoy it!
1. Glowing Table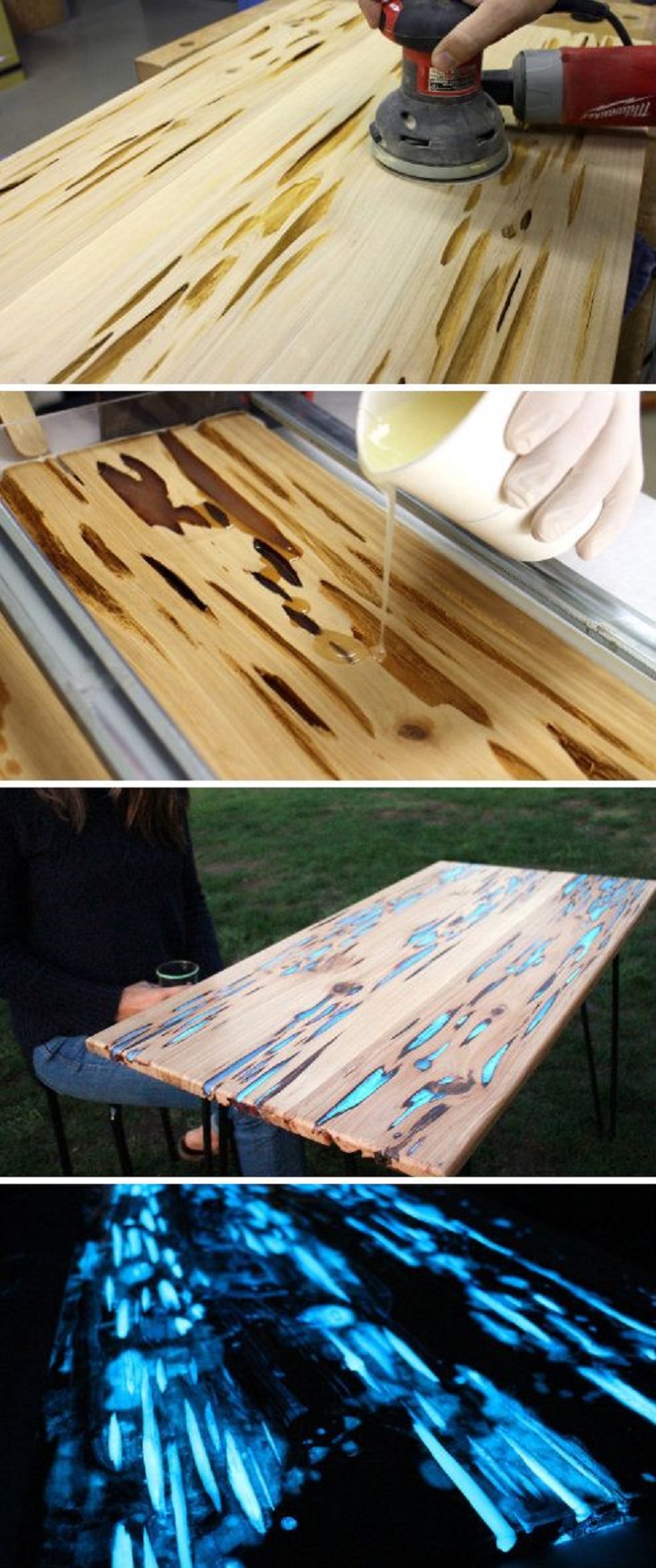 via handimania.com
This is a very creative way of making a unique and stunning table using photoluminescent (glow) powder mixed with clear casting resin fills the naturally formed voids in hardwood. The glow powder charges up in sunlight and emits a cool blue glow when in partial or complete darkness. It's a fantastic project you must try!
2. Live Edge Mirror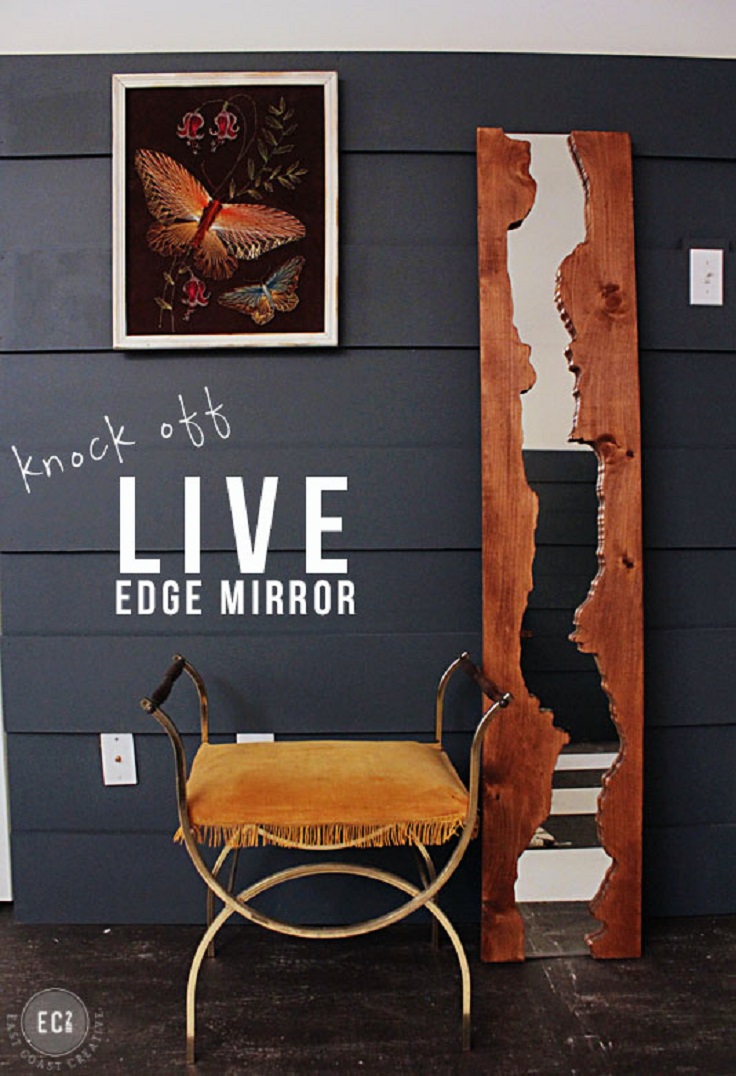 via eastcoastcreativeblog.com
Take a look at how a simple mirror can be transformed into a creative project. Live edge furniture is becoming more and more popular since it is gorgeous, and finding and using natural beauty in decor is always a good thing!
3. Log Lounger
Transform waste into usable home furnishings with this creative simple project. The log lounger is a great way to turn yard waste that would end up in landfills or a fireplace into an affordable, modern piece of furniture.
 4. Little Fairy House
via madsmousehouse.worldpress.com
Just click and enter in the fairy tale! This unique little fairy house would make your kids very happy; they can use it also as a dollhouse. Enjoy the moment making this house with them, but we have to warn you that you will need a tone of patience for this project.
5. Floating Birch Cupcake Stand
Looking for a cute and rustic cake stand for a party or wedding? Make your own floating birch cake stand with this project. This piece makes a lovely display for cupcakes, but it would also be an elegant way to present favors, escort cards, or table cards; the possibilities are endless!
6. Table Runner
via hgtv.com
What a cute and simple DIY project! What's an outdoor wedding without a pretty table runner of twigs? This tutorial uses glue but if you have some time, try tying them together with a pretty twine to give it an extra little something!
7. Wooden Photo Ladder
via creative-ambitions.blogspot.com
This is a very creative and entertaining project to make in your home if you have a place where you can set this up. This wooden photo ladder is gorgeous and has a beautiful vintage look. Very easy project that you can make by yourself.
8. Birch Vase
via jullieblaner.com
Here is a simple and fast wooden project idea that you can make very easy. This naturally adorable vase is the perfect addition to any event. To get a lovely woodsy touch at an outdoor wedding, use these birch bark centerpiece romantic vase. Great idea!
9. Wood Wreath
It is a pretty simple and fast wood wreath project. Just follow the step-by-step tutorial. Slice the wood from logs, layer them around twice to overlap, and add some beautiful winter decorations. Then hang it up and enjoy! It's like it never really goes out of style.
10. Wooden Piggy Bank
via duitang.com
This creative and unusual bank is made in the shape of a traditional piggy bank. It's really very simple to make, but with plenty of opportunities to offer your own artistic flair. But what is most important this piggy bank can hold a good amount of coins.