No matter if it's a baby, child, or a grown-up celebrating a birthday, it is always more fun when having the proper party decoration. Sprinkles, colorful, sparkly – all these and other decorating ways can make any birthday look awesome.
The ten ideas we picked for you will be done even if you're a DIY beginner. They're all easy, budget-friendly, and can give your imagination and creativity such a boost. Once you try doing stuff on your own, you realize how fun it is and how many colors, patterns, shapes there are and can play with. Have fun!
1. Wood Birthday Banner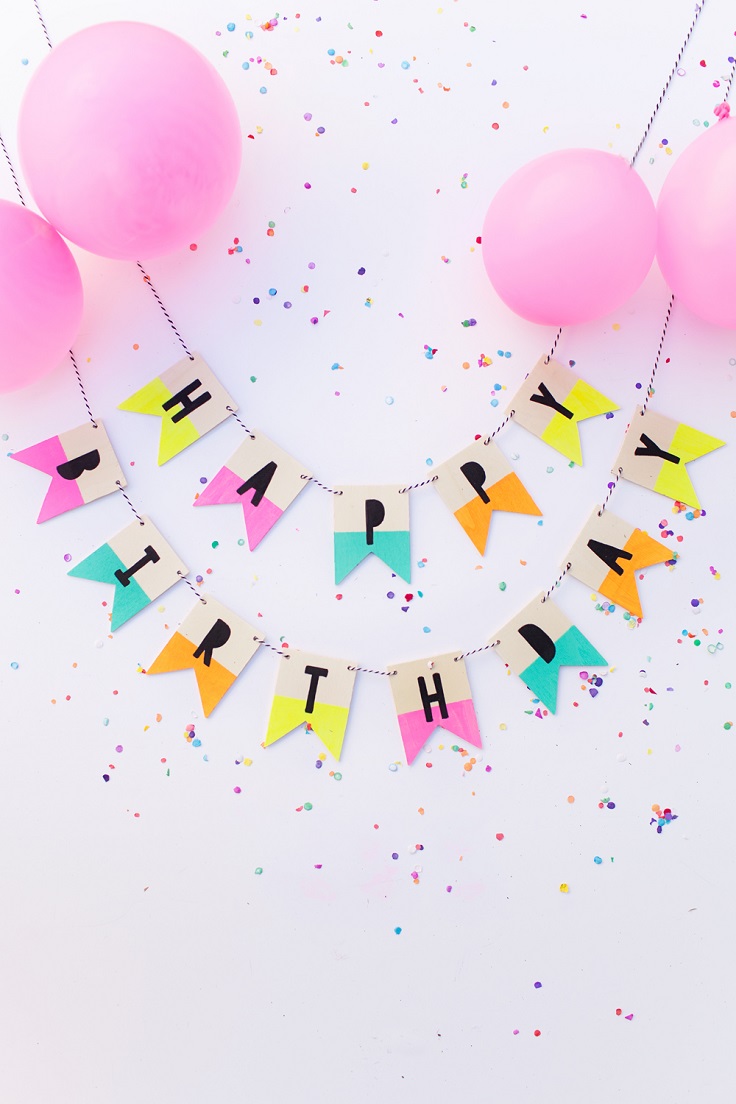 Having a birthday without a banner, it's such a pity. This piece of wood or paper has huge decorating power, so don't throw it away! If you want a wood banner like the one on the picture, you need the following materials and tools: wood banner pieces, acrylic paint, black pen, bakers twine, x-acto knife, and blue painter's tape. You don't have to cut out the "happy birthday" letters. You can come up with something else or cut out the letters of your name or of whoever is celebrating. Also, experiment with colors – use happy, bright colors for a better party atmosphere!
2. Donut Balloons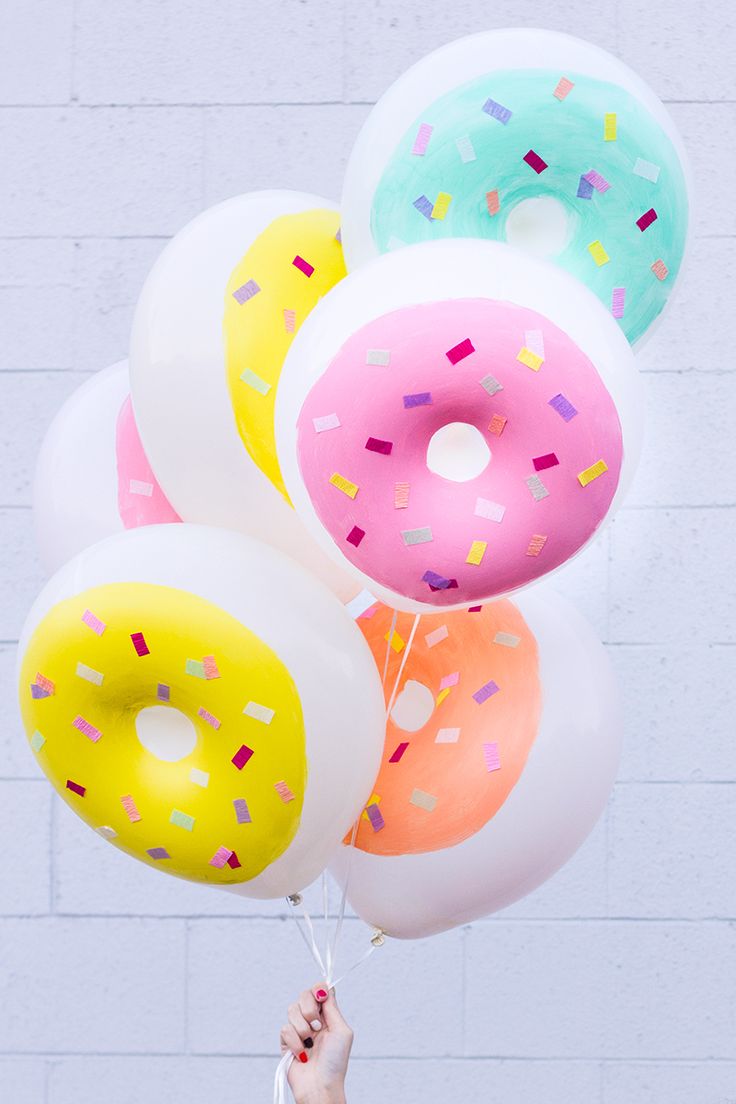 via studiodiy.com
Aren't these balloons such an amazing way to remind us that even the most ordinary detail can be turned into something better? To make your own, you need donut balloons filled with helium, acrylic craft paint, foam brush, crepe paper, and double-stick tape.  Once you have your balloons, paint a circle on one side of each and after it's dry, paint another coat for better coverage. Then, use a double-stick tape to attach the sprinkles and that it – you have the most delicious-looking balloons!
3. Party Hats
What's a birthday party without birthday hats? Instead of using store-bought, be more creative and make your own. It's nothing difficult, and it won't empty your pocket. To make party hats like those on the picture, you need party hats, a hot glue gun, scissors, chunky yarn, 3/4″ satin ribbon, ric rac garland, and pom pom garland. You can check out the link to see where you can buy such hat templates, but you can also make your own or find free templates to download. The pom-poms are always such nice details – they make the hats more fun to wear.
4. Cake Topper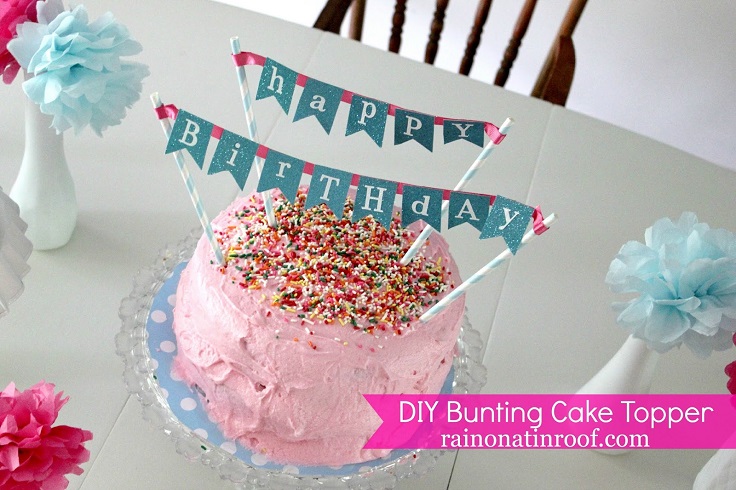 Instead of candles, why not use a cake topper? They can serve as a cake banner and even make an ordinary cake look better. The choice is huge, as with any other DIY project, but if you want the same topper like the one on the picture, make sure you have cardstock in your choice of color, letter stickers, ribbon, hot glue, and straws, or some other stick. Sketch, cut, and make as many letters and flag bunting shapes as you'd like. Glue the flags on ribbon pieces and then wrap and glue the ribbons to the top part of the straw to secure them.
5. Duct Tape Cupcake Toppers
via catchmyparty.com
It's not uncommon to have cupcakes and other mini cakes served as dessert at all parties, including birthdays. A cupcake can look more adorable if served with a topper, just as it was in the cake's case. For these toppers, you'll need mini duct tape roll in color and pattern of your choosing, scissors, tissue paper, toothpicks (you can also use lollipop sticks or paper straws), bakers twine (if you want to make a garland), and hot glue. You can make flag toppers or mini fringe toppers. Either way, they will be an awesome accessory to your cupcakes!
6. Party Hat Garland
Who said that party hats are meant to be just on someone's head? In fact, the more – the merrier. When joined together with twine, party hats can make a wonderful and creative garland for your birthday party. Instead of placing pictures and posters, the garland can make any wall more charming. To make your own party hat garland, you need tissue paper, scrapbook paper, red acrylic paint, paintbrush, pom poms, bakers twine, craft knife, scissors, party hat template (you can download one for free on the website), fringe scissors and a glue gun.
7. Mini Piñatas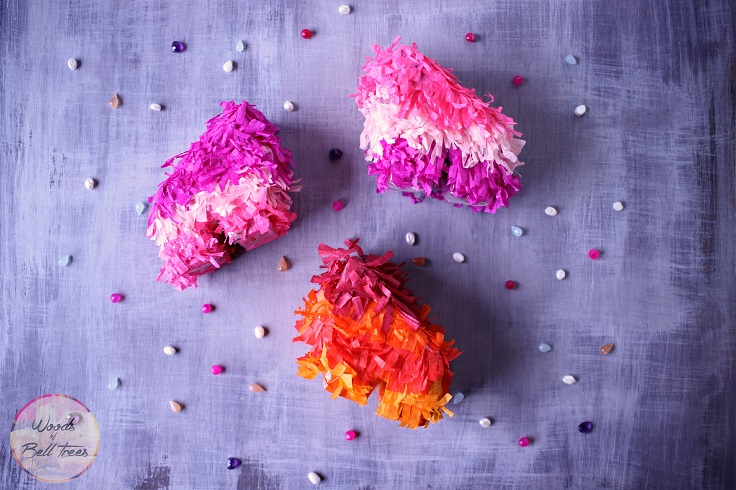 via woodsofbelltrees.com
Piñatas are a fun thing to have at a birthday party, especially if you make it the good old way – filled with candy. But, instead of making one big, how about making more mini piñatas. They are very easy, budget-friendly DIY projects that will be done in less than one day and will make your party unforgettable! If your reply to this is a "yes," then what you need is paperboard from cereal or another boxed food item, tissue paper
 in more pretty colors, tape
, and double-sided tape
. Make sure you have lots of tapes!
8. Yard Sign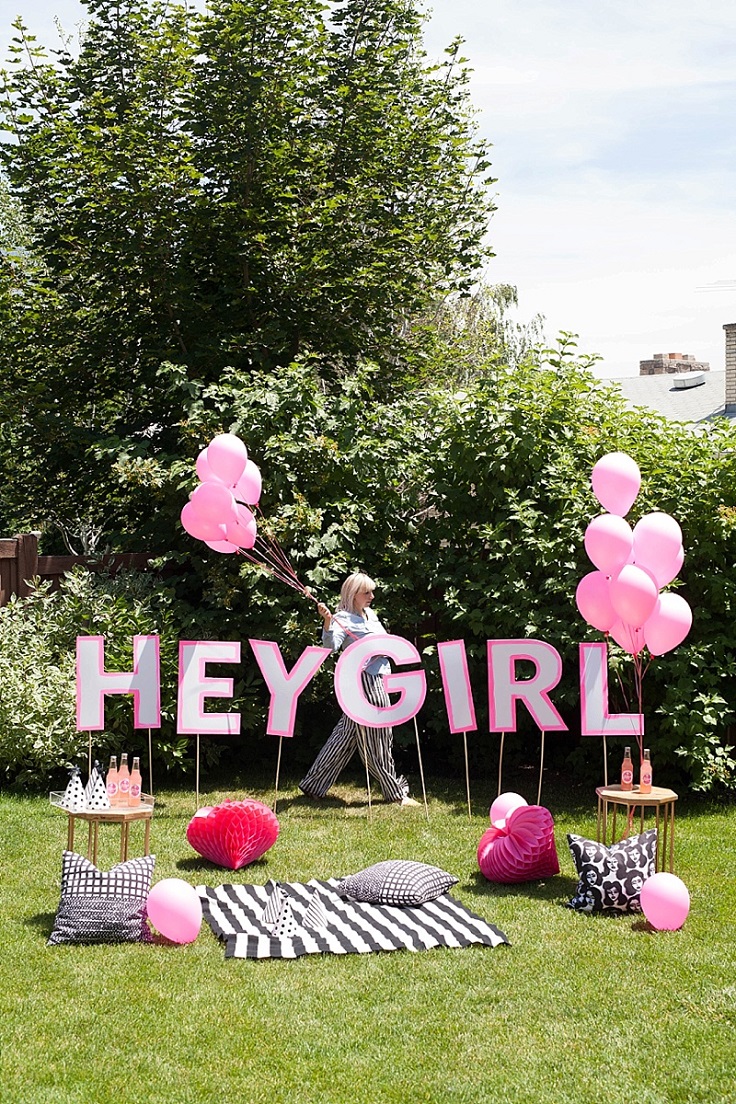 The yard sign is a great decoration if you're planning your party to be in the backyard or if you want to guide the guests. This is a really nice accessory to your garden. If you add balloons, tables, drinks, and a picnic blanket, it can make your birthday feel amazing! To make the same sign as the one on the picture, you need a placemat and print in color on 11×17″ paper, letters to use as stencil, foam core, x – acto knife, cutting mat, ruler, paint and paintbrush, wooden dowels, and duct tape.
9. Straw Flags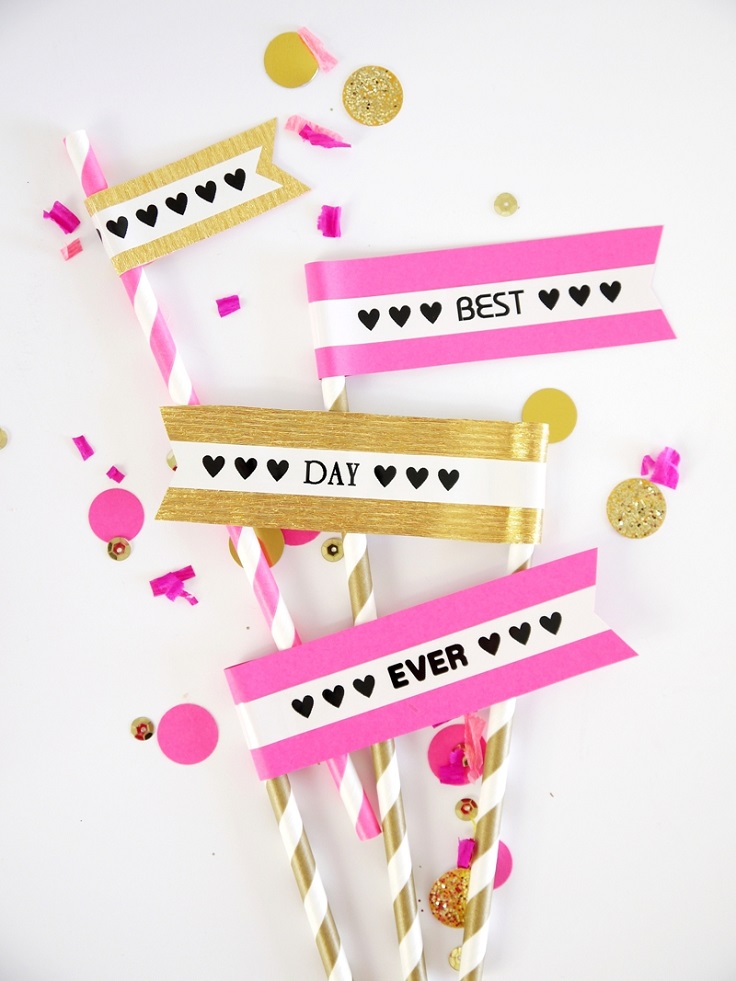 via thedailymeal.com
Of course, a beverage looks better if there are fancy, adorable straws like these. The combination of the colors is amazing, plus the message flags make them look even more adorable. This is one of the easiest DIY projects on the list because all you need is many pretty straws, double-sided tape, and gold crepe paper. Make flags out of the paper, and you can visit the website and download also the hearts, or you can make your own. If you download them, just peel off the sticker paper and attach it to the golden flags.
10. Food Cups
Serving snacks in smaller cups can be super cute and minimize snack wastage. For this, make sure you have small bamboo cups, and the rest is really up to you. When it comes to decorating, you have plenty of choices. You can use stickers with messages or shapes; you can tie ribbons around it or paint whatever you want. The most important thing is to decorate in the spirit of celebration! After you're done decorating, adding colorful snacks can make the cups look even more adorable.