Do you have any ideas about how much you can do with just a few pom-poms? These small wool balls can be quite useful and serve as great decoration to many stuff around the house.
You need basic DIY skills. These ten projects are budget-friendly and won't take much of your time, yet they will certainly add a change to your home or even to the way you look.
Among the ten DIY ideas, you can read how you can make sandals with pom poms or how to decorate your kitchen trivets. Check it out and tell us which is your favorite!
1. Pom Pom Sweatshirt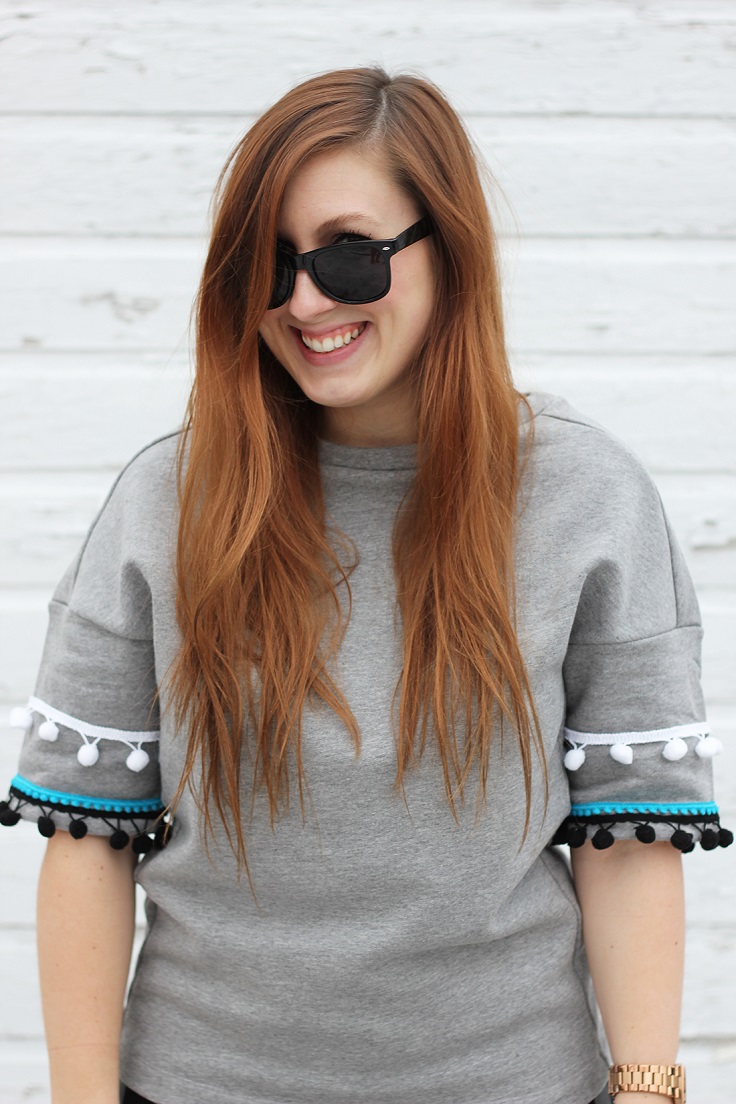 We all have that one shirt that we really love, but it is too simple to wear outside our home. There are many ways that you can decorate it by yourself, and adding pom poms to it is just one of them. Besides the shirt that you want to be decorated, you will also need one yard of pom pom trims, and you can choose any colors that you would like, needles, thread, and pins. When it comes to wearing to put the pom poms, you can experiment. As you can see in the picture, the pom poms are positioned on the sleeves, which looks really nice.
2. Pom Pom Straw Bag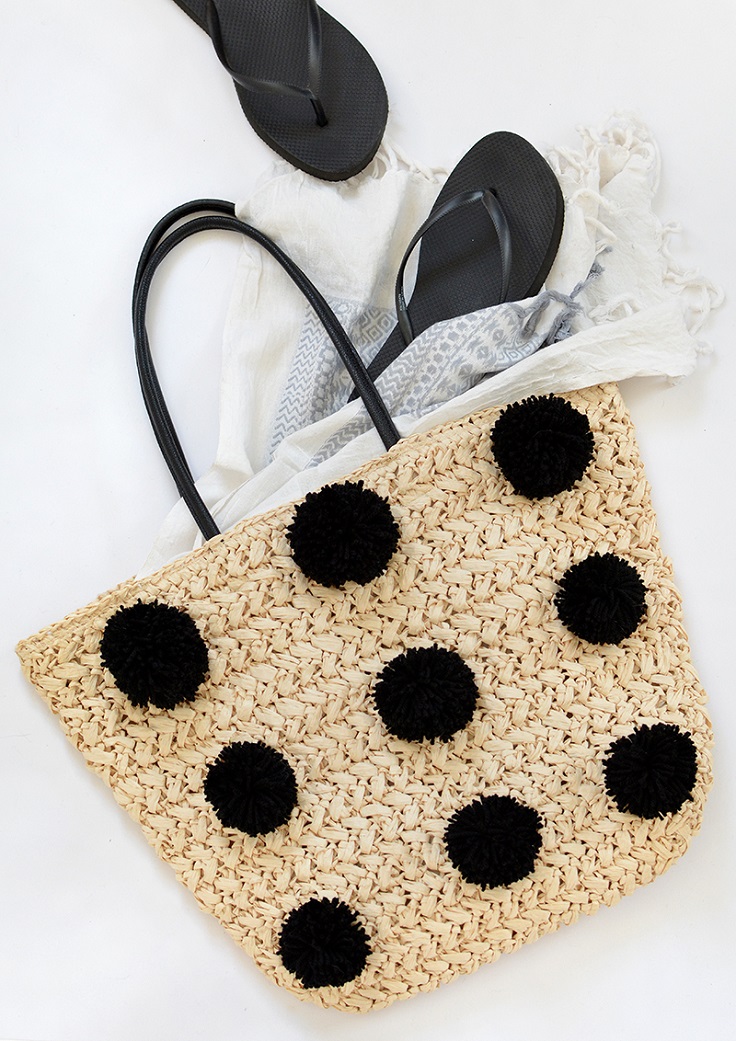 via burkatron.com
When we go on vacation, it is really important to take a straw or any beach bag with us. There is so much stuff needed to be placed there, and second, taking a bag that you usually have with you out for work or partying can be easily damaged and not very useful. However, we know that a regular straw bag seems really simple for many, so again you can change the look with pom poms. You can attach pom poms on the bag as pictured, but you can always use other colors and position the pom-poms differently.
3. Pom Pom Hat Accessory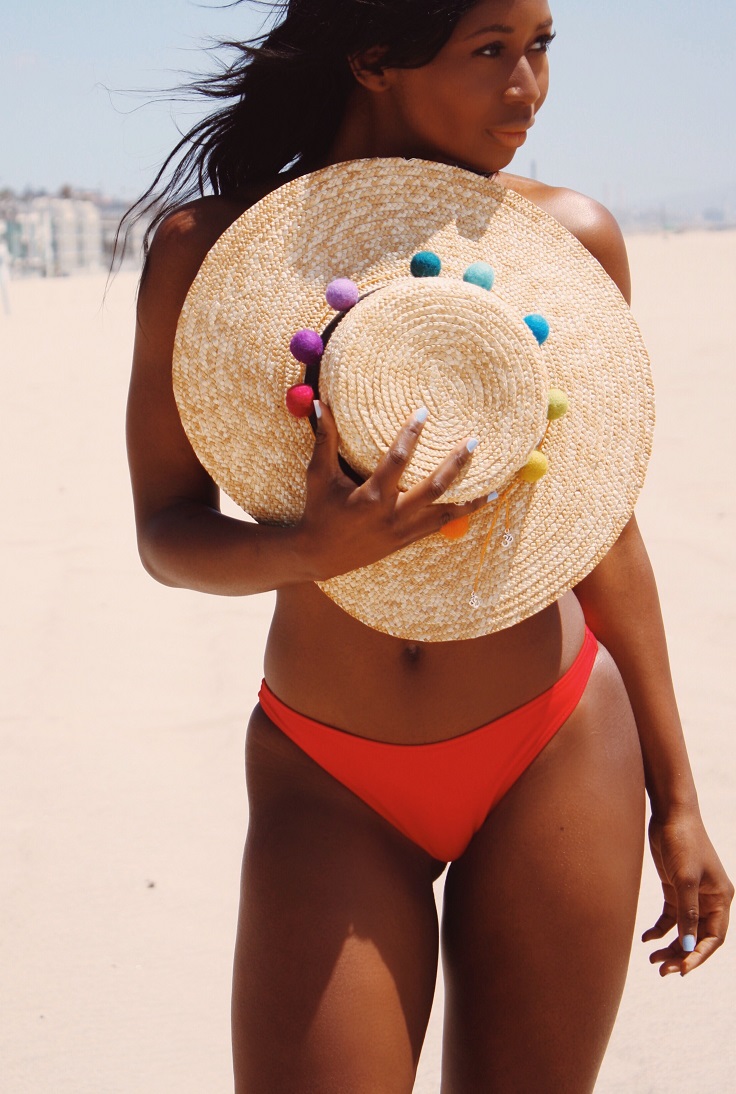 via julietsjdv.com
We're back to the beach essentials. Exposing our hair and face too much to the sun during a very hot day can cause certain damage. Since we all crave shiny hair and soft face skin, we should do everything in our power to protect them from this kind of potential problem. Wearing a hat at the beach is one way you can handle it, and adding pom poms to it can make it quite a stylish way! You need 10 2cm felt pom poms, 2 bracelet charms, hemp string, scissors, and a needle for this project.
4. Pom Pom Trivets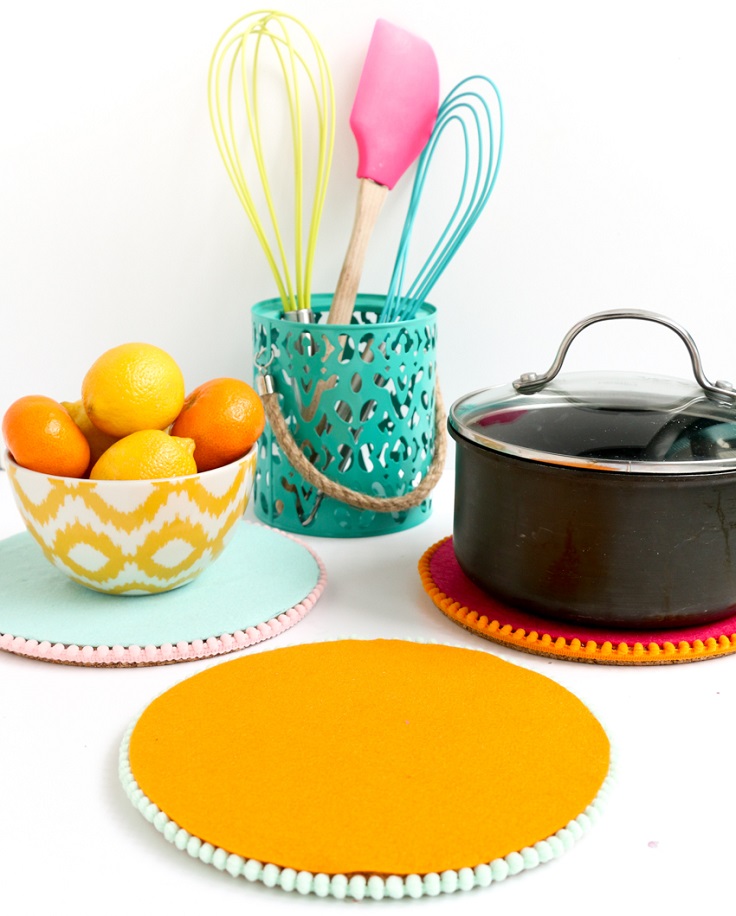 When it comes to home decor, many people focus on their entrance or living room, and somehow they leave out the kitchen. You don't need to spend a lot to make a change. Even adding small, new detail to an already existing thing inside your kitchen can be the thing you need. Take your trivets, for example – do you see how cute they look with pom-poms around them? You just need few materials to make your own pom pom trivets – cork trivets felt in various colors, mini pom pom trim, hot glue, and scissors.
5. Pom Pom Market Tote Bag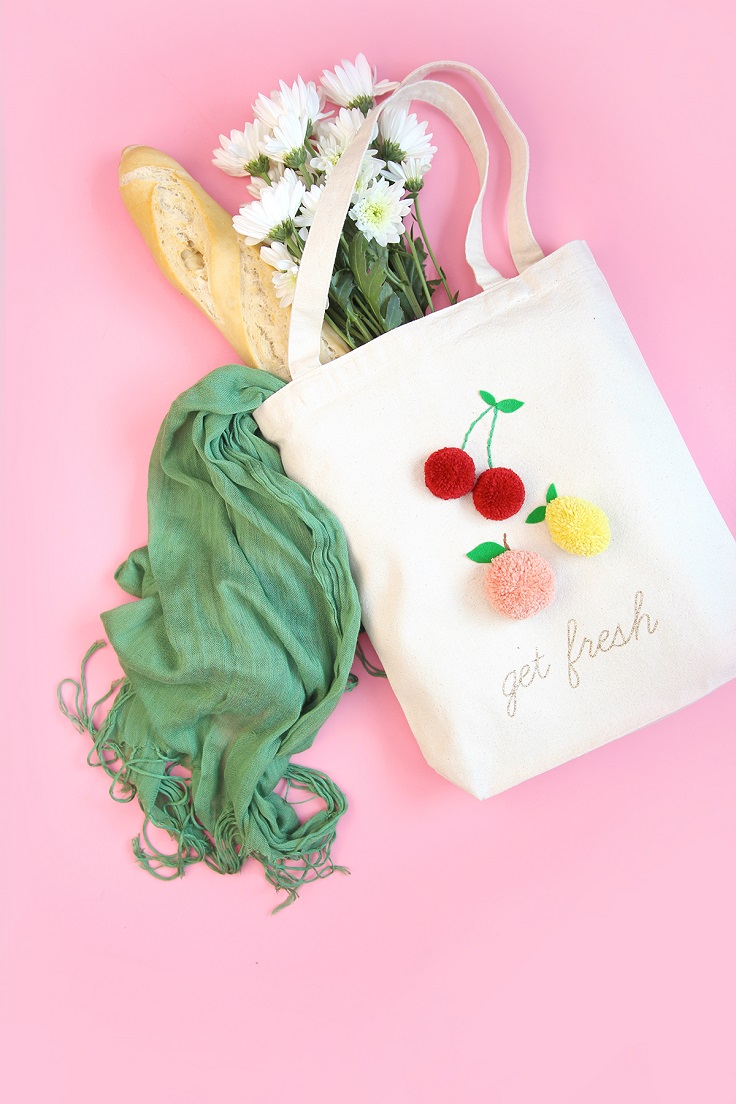 via damasklove.com
Tote bags are really useful when doing grocery shopping, and if you don't have at least one, for now, you should definitely get it! Instead of throwing money on fancy tote bags, this one on the pictures proves that you yourself can make a tote bag decorated just as good as a store-bought. Those fruit-inspired pom poms are really adorable! For this project, you need a canvas tote bag, red, yellow, and peach-colored yarn, pom pom maker, scissors, a washable pen, green and brown embroidery floss, an embroidery needle, green felt, and craft glue.
6. Pom Pom Pillow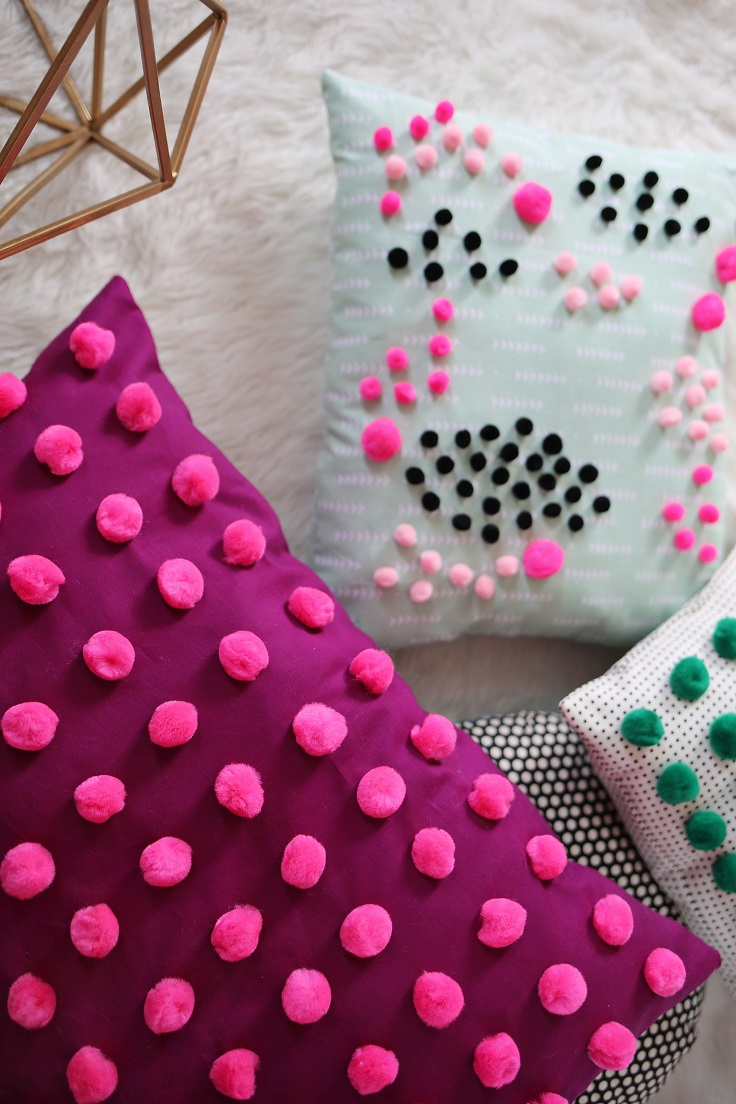 Look at how adorable these pillows are! You see, pom poms may seem like ordinary small balls of wool or yarn, but in fact, they can be such a great detail decoration to anything you want to be decorated. This pillow can be used in the living room, the bedroom, or even in your lovely garden. To make your own pom pom pillows, you need 1/2 yard cotton fabric per pillow, 90-125 pom poms of one color per pillow for larger pillows, and 25 small pom poms in a variety of colors for the abstract pom pom pillow, Poly-Fil stuffing, 12″ embroidery hoop, felt glue, white cotton thread, needle and thread, straight pins and scissors.
7. Pom Pom Charms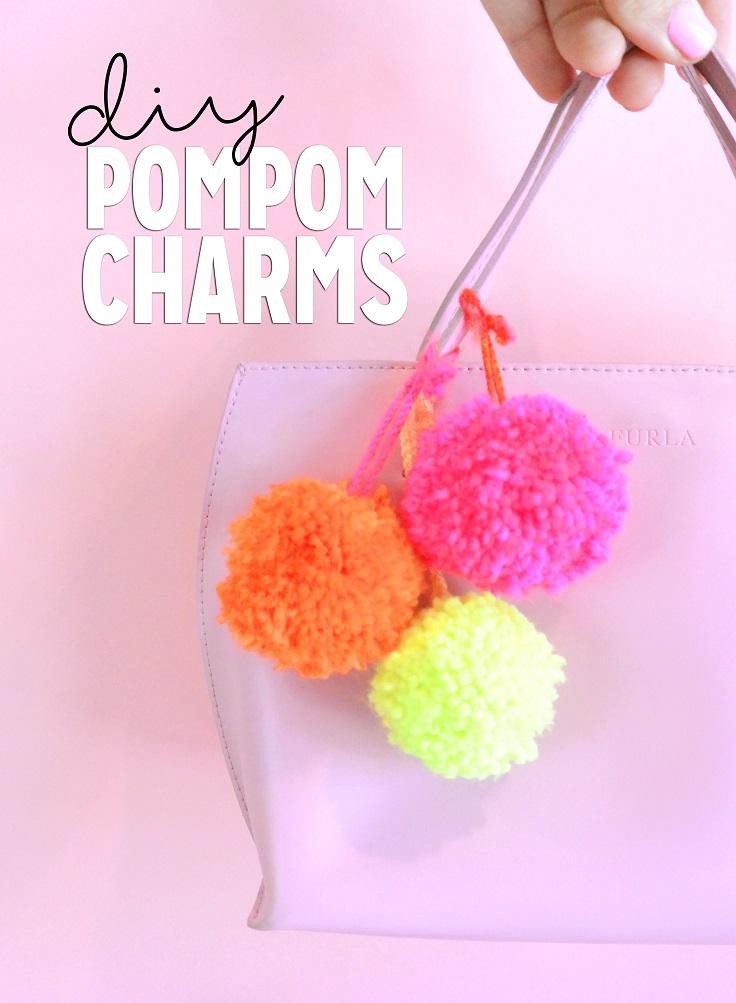 The pom pom charms are a great accessory to keys and bags. They make them look more adorable, and if you see few tutorials online, you can copy a designer's look because there are few out there selling products and clothes with pom poms. So, instead of spending hundreds of dollars on expensive designer pieces, check out this tutorial and create your own look by spending little and achieving big!
8. Festival Inspired Pom Pom Blanket
Don't you just wish to have this necklace right now around your neck? It looks so great and well – done that it is hard to tell if it's homemade or store-bought. Surely, it is just an example of how great you can do stuff by yourself. You can wear this necklace on so many occasions! Here's what you need: scissors, pliers, wire, cutters, wide decorative trimming, mini pom trimming, old necklaces & broken jewelry, needle & thread, thin wire, colourful feathers, and tassel, but these two are optional.
9. Pom Pom Shoes
via honestlywtf.com
We previously mentioned that instead of spending a fortune on designer pieces, you could try to recreate them at home. These shoes are Aquazzura – inspired and are really easy to make. You just need three things: a pair of strapped heels or thong sandals, 3/4″ pom poms, and a hot glue gun or E6000. Use old pair of shoes and pom poms in colors that will match the shoes. Your result should look something like the shoes in the picture. They look fantastic, don't they?
10. Pom Pom Blanket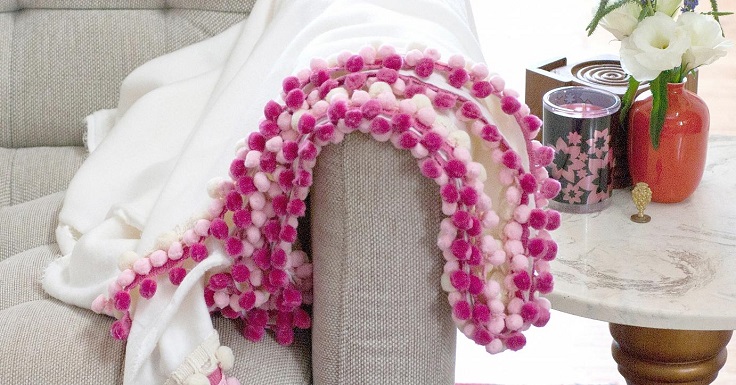 via popsugar.com
With autumn approaching us, soon it's going to be time to take out all the blankets and warm clothes we need. Blankets are so awesome. They keep us warm and look so good at the same time. If you want to decorate your own with pom-poms as pictured, it is really easy, and you should try it. There are just a few materials and tools that you need for this project, and those are: a rectangle of fleece, 1 1/2 by 2 yards, 3 yards pom-pom trim each, in colors of your choice, scissors, liquid thread glue, and iron.