The joy that people feel upon discovering that they will soon become parents is indescribable and such happiness deserves to be shared. The baby shower is one way for the mother to share her happiness with her closest friends and relatives, to prepare herself for the baby to come, and to be showered with cute and useful gifts for her and the baby.
If you want to bring fun to the already cheerful party why not fold or wrap your gift in a unique way that everyone will appreciate? Don't forget that a baby shower is actually a party.
You don't turn up empty-handed at parties, do you? So you've got to buy a present, but you don't know what to buy. Why not make one yourself. It will be filled with love and care from you to the future mom and the coming newborn.
The worldwide web is full of ideas and tutorials for amazing presents. But how to decide what's best and easiest to do? Let us help you with some cool baby shower ideas. To accomplish that, we give you the top 10 DIY baby shower gift tutorials that will make your planned gift an adorable work of art.
Starbucks Baby Blanket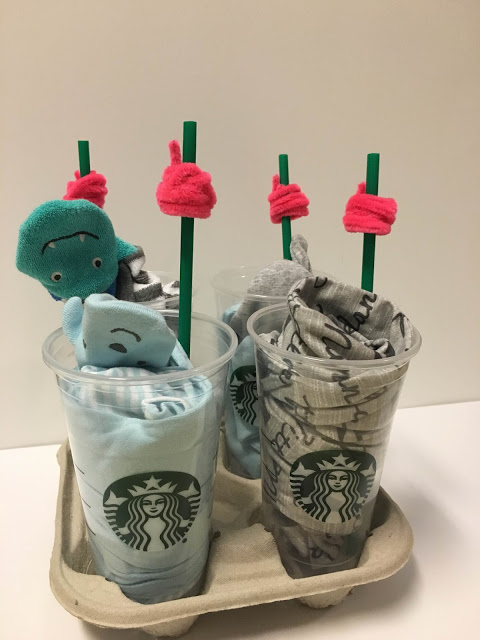 Don't feel strange walking to Starbucks and asking for four Venti Cold Cups & a carrier for a drink… Your friends are Baristas. When you explain that you need supplies for a gift, they are super nice. Immediately, you will get it. And your caring Starbucks friend is going to enjoy the gift full of love that you are offering her.
Diaper Babies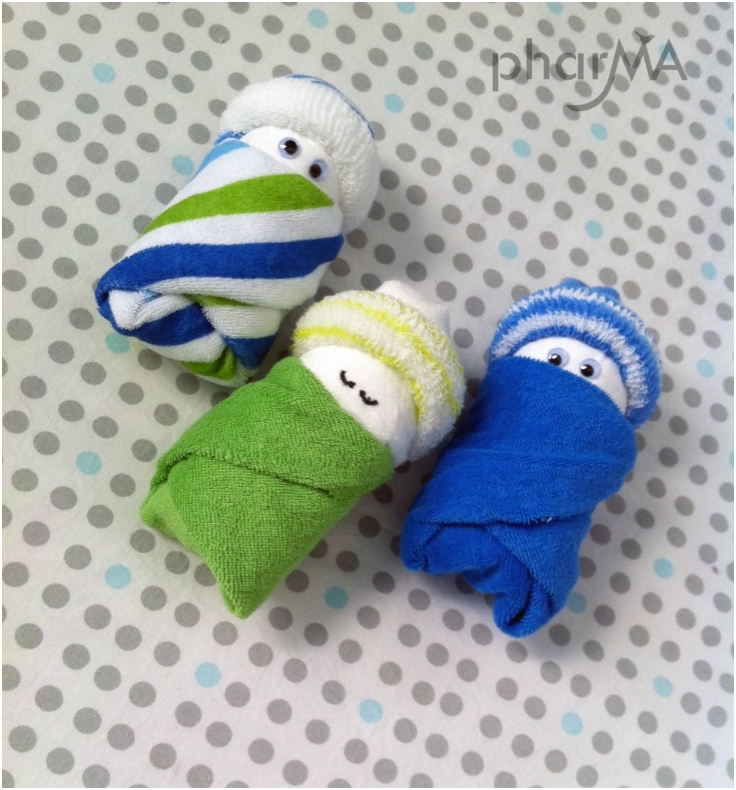 Surely, these diaper babies are the gift that keeps giving! Every time you unroll one to use for the dreaded 2 am diaper change, you will recall the baby shower happiness. They are cute, easy to make, and fun to look at. Just look at those cute google eyes. Aren't they adorable?
Cupcake Onesies Gift Idea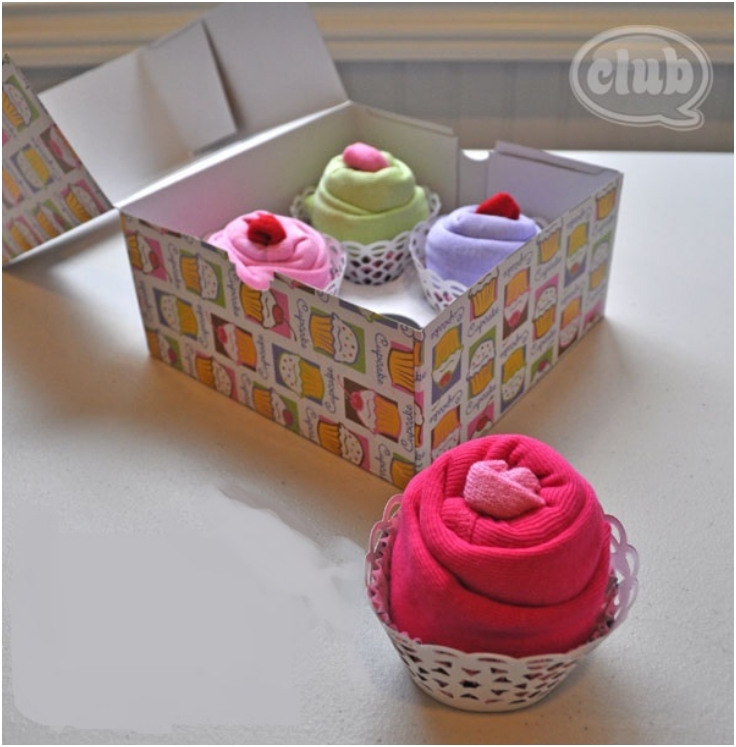 An incredible DIY baby shower gift is this cool onesie cupcake gift package. It is very practical because, during the first months, parents will need a lot of onesies and baby blankets. Babies grow so quickly that they need new supplies regularly, so you can help the new parents ease the cost of purchasing them and have some fun along the way.
Baby Washcloth Lollipops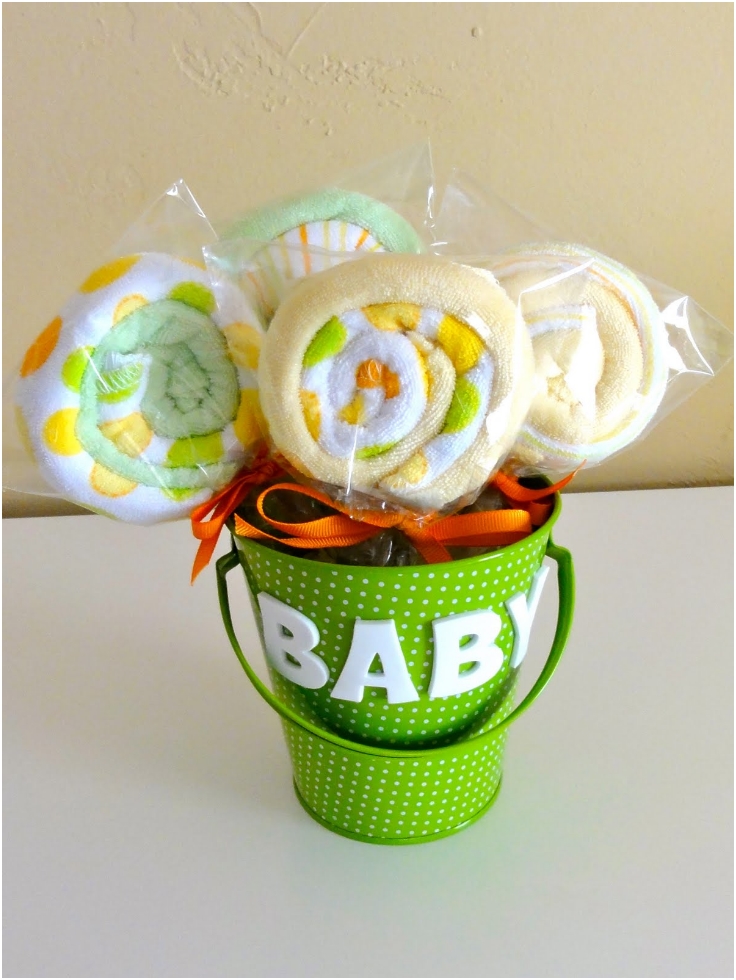 These lollipop washcloths are crazy good, very cheap, and extremely easy to make. Make sure you know the gender of the baby before you decide to make the lollipops. The color-neutral might be the most suitable, but it is up to you and the mom-to-be to make the final choice. Whatever you choose, everyone will wonder if the lollipops are really fake.
Sushi Diapers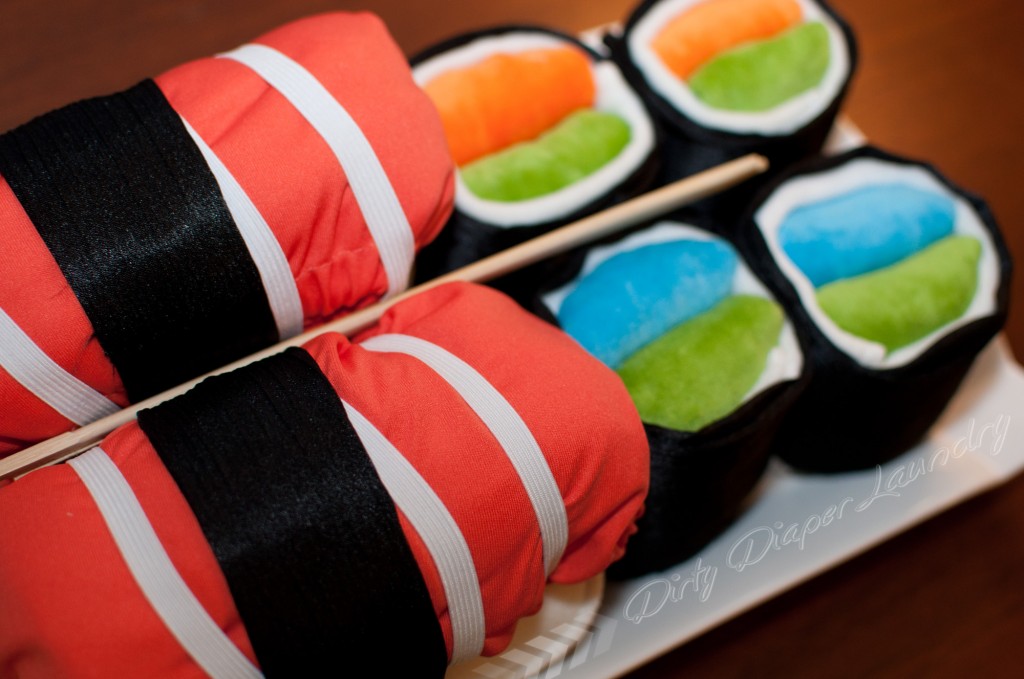 This sushi isn't edible but it is adorable! If your best friend is a sushi lover, and a mom-to-be, surprise her with this special gift. Instead of a regular diaper cake, make her this cute sushi cake. She will love it, and you will have the perfect gift to show her your love towards her and her new-coming baby!
Diaper Motorcycle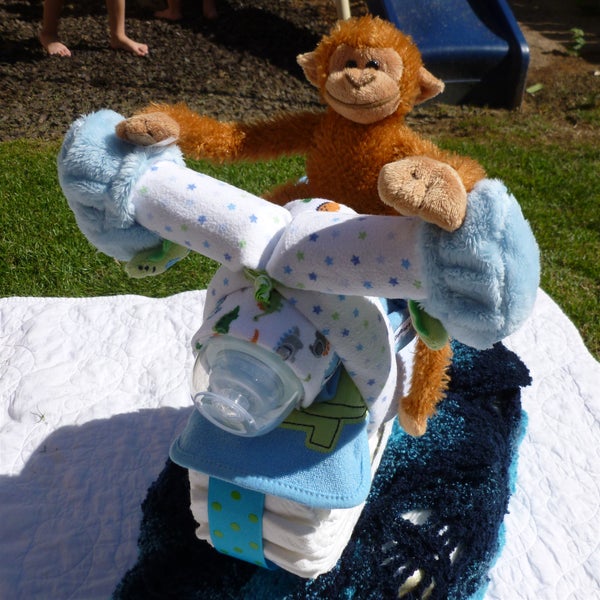 If you're going to a boy baby shower, this is a perfect gift. All boys love motorcycles. So, why not give the future Mom a gift to be proud of. This diaper motorcycle is so cute and simple to make that all of you will love it. The monkey riding on top is a bonus that will bring smiles on every baby's face.
Diaper Snails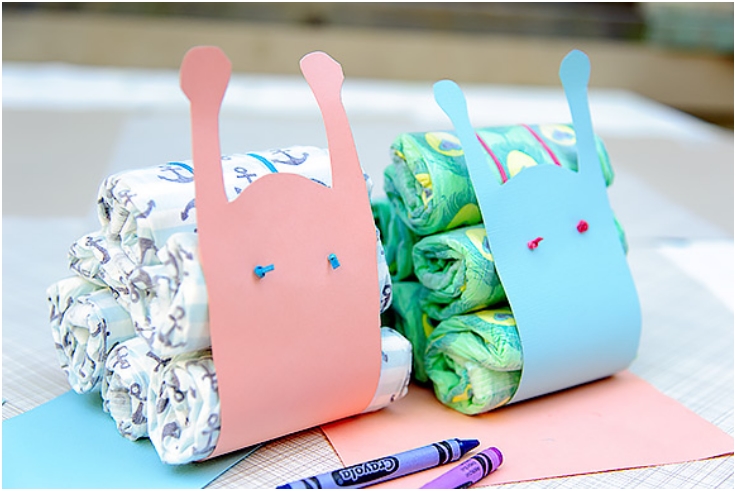 A pack of baby's first diapers is always a smart option and here's an idea of how to show them with only small efforts in an adorable and funny way! Not only are these friendly little snails cute, but they also bring the first pack of infant diapers. Exactly what every new mother needs!
Onesie Cupcakes
Want an idea for a cute baby shower gift? Here's a fun way to pack these essentials for babies—make some cupcakes! Oh my goodness, how adorable are these guys? To bring you joy, these baby onesie cupcakes are here. What a perfect gift for a baby shower! Especially since it is not the regular diapers, but a different essential that any new mother needs desperately. You get out of the ordinary, and still, keep the practicality of the gift.
Diaper Wreath
If you're tired of all those classic diaper cakes, but still would like to get something practical for the new mom, opt for this cute diaper wreath. It is easy to make, and will surely bring joy to the new parents. Cute, yet practical, it is perfect for any small family living in a small apartment and getting ready for the biggest change in their lives.
Diaper Cake Decoration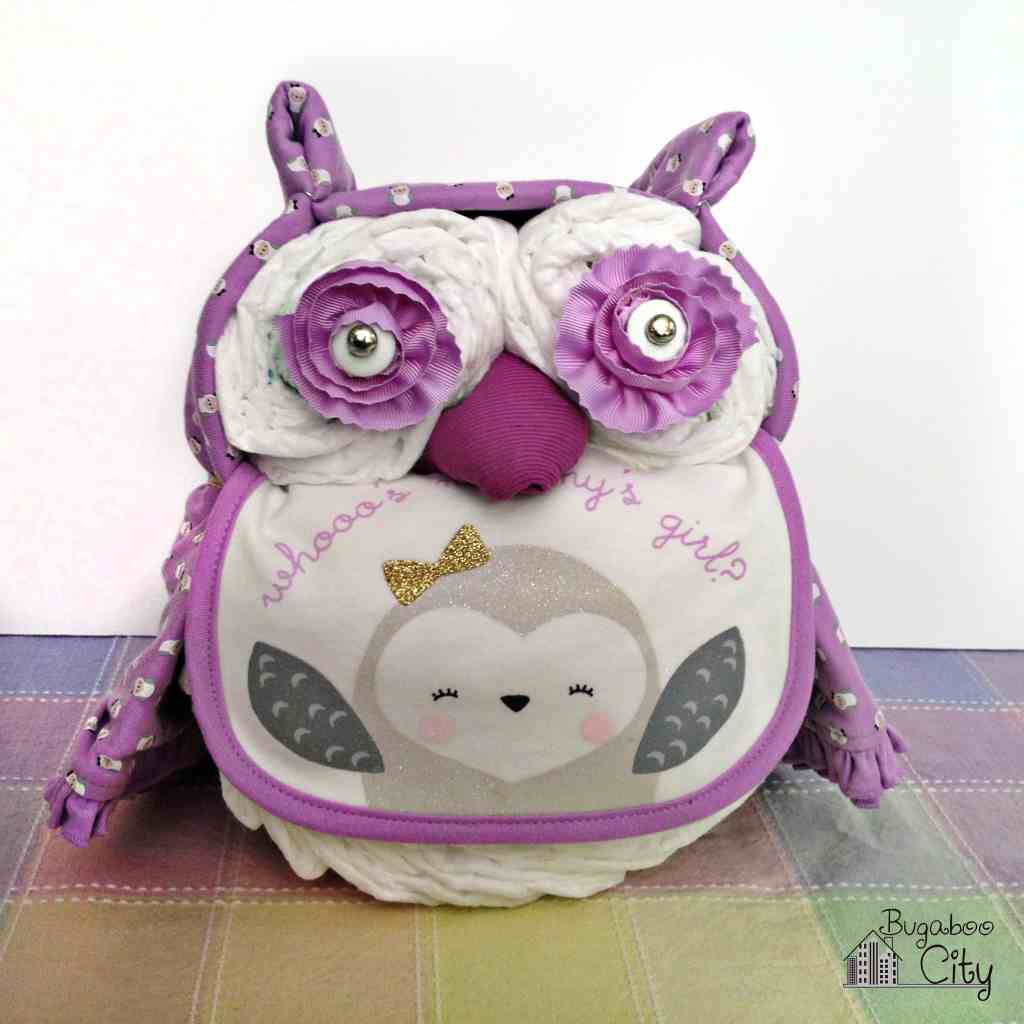 This is a unique baby shower gift for a cute new-coming baby. The owl is a symbol of wisdom, so why not make the new baby wise and give it a cute diaper owl for a start. It is practical, and not a very common gift, thus being unique everywhere you go. Diapers, onesies, blankets, bibs, you can put everything inside for everyone to enjoy it.
This is the list that we have compiled for you. Get inspired from it to create the perfect gift for your loved family and friends' baby shower. Don't forget to share the impressions with us in the comments section below.