Constantly expanding your accessory collection can be pretty expensive, so why not try and make some of your own.
You can make jewelry out of many different materials, but here, we'll show you some ideas to use plastic for crafting fashionable necklaces, bracelets, rings, and earrings. Don't throw away plastic bottles, cups, and containers, because you can use them for these projects and style up your outfit with handmade accents without breaking the bank.
To see instructions on how to do this, get inspired, and start creating, take a look at the tutorials below!
Shrinky Bracelet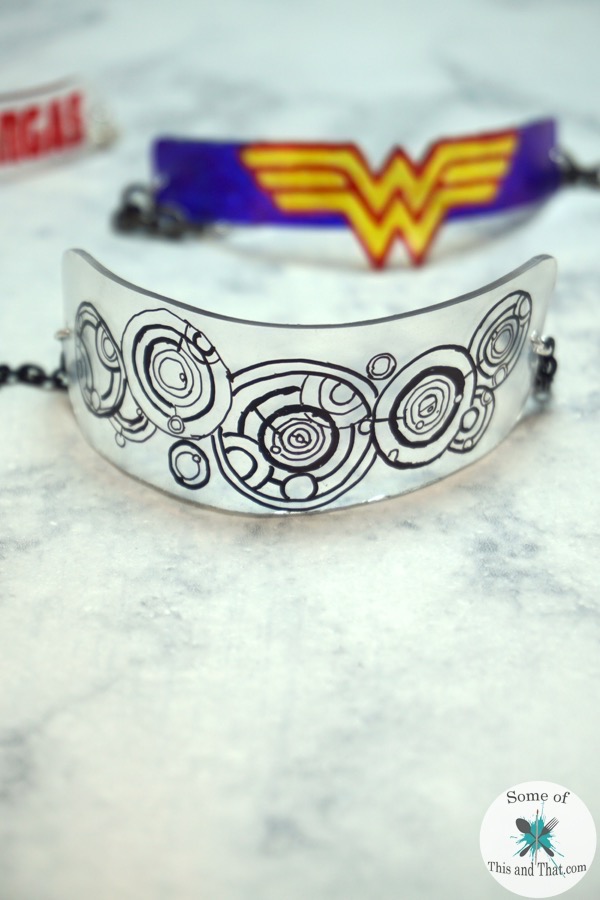 This lovely bracelet is made of a shrinky dink. Shrinky dink is a plastic sheet that can be cut with regular scissors. It is easily bendable and can be used to make everything. The biggest trick is that it shrinks to one-third of its size and nine times its thickness. In the end, you get a sturdy plastic bracelet decorated in the way you want and with whatever you want. So, enjoy it!
Swiss Candy Jewelry
This cute necklace is called Swiss Candy because it resembles the holes of Swiss cheese and the color of the Haribo candies. And it is still made of plastic cups. It can be in any color you choose, depending on the plastic glasses that you have. Simply choose the color that best suits you, cut out small pieces, make holes in them, and connect them in a wonderful piece of jewelry.
Recycled Plastic Cup Washer Necklace
Remember those red or brown cups that you get from a coffee machine? Well, they can be easily turned into a cool pendant instead of being thrown away in the trash can. Make sure you clean it well before starting to work with it. The doodle design is easy to make, and it can really be whatever you feel like doodling. Everyone will love your new pendant, and none will know that it ever was a coffee cup.
Earrings Made From Recycled Plastic Bottles
You, too, may make jewelry out of plastic bottles that would otherwise be discarded or recycled. Using the imagination to design your own jewelry, conserve your recyclables. Plastic bottles, soda bottles, body spray bottles, and even kids' "bubble bottles", all can be used. You may use rope, fishing line, or other materials to attach your parts, or by something else if you don't have any of those on hand.
DIY Keychain
The plastic water bottles may seem useless junk, except if you are a creative crafter. This key chain is made exactly of plastic bottles. You simply need to cut the bottle in half, cut out flowers, paint them in the color of your choice, punch them in the middle, and assemble them into a wonderful and cute key chain. It can make a perfect gift for your teenage nieces, or your little sunshine that's starting school soon.
Translucent Earrings
The planet is your oyster, so we urge you to preserve the priceless gift by reusing and repurposing it whenever possible! These pieces are a perfect way to recycle objects and transform them into wearable art! Consider what you could do with plastic bottles if they didn't end up in the ocean.
Recycled Ring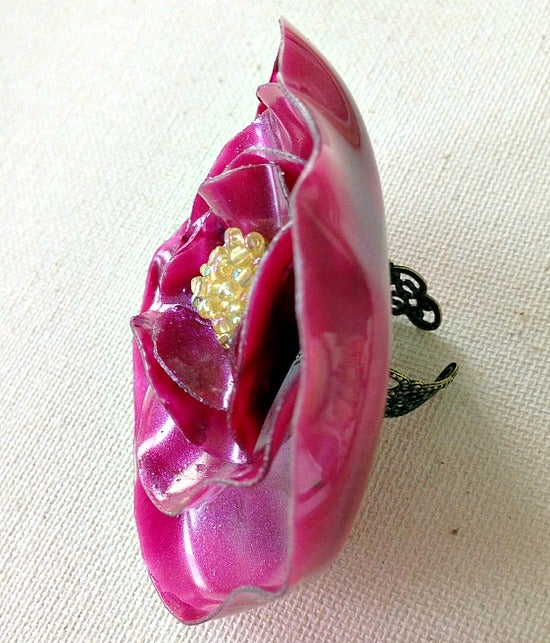 This tutorial will show you how to make your own flower to upcycle that old ring you love. It is completely upcycled because the flower is made from a soda bottle. All you need is to be a little creative and not afraid to create and craft. The end result will be a great statement ring everyone will love and you will enjoy it.
Shrink Plastic Statement Necklace
This tutorial is for those that are a little more crafty, and don't mind spending some more on materials. This necklace is made of plastic sheets where you draw flowers and round shapes, paint them, punch them, and then arrange them in the perfect necklace. It is not difficult, however, it requires some drawing and cutting skills, but if you are willing to take on the task, you're free to do it.
Upcycled Plastic Spoons Necklace
Do you need a new statement necklace for that very special occasion? Well, here is one that will never be more statement than this, because you can make it yourself with some colorful plastic spoons. Choose the colors of the spoons carefully and combine them to your best needs. Then, start cutting, melting, and assembling them into flowers. There, you just got yourself the best statement neckless ever!
Faux Felted Water Bottle Bracelets
If you have used and reused those plastic water bottles, and are now ready to throw them away, think again. Before you contribute to the pollution of the oceans and the environment, look at this tutorial. It shows you how to turn an old plastic bottle into beautiful bracelets for you and your friends. They are easy to make, colorful (or not), and really environment-friendly.
Now that you've seen our ideas and tutorials, roll those sleeves up and get crafting. You have a lot of plastic to upcycle. Just don't forget to share your creations with us in the comments below.