We've all went through the situation where there's a holiday or an upcoming birthday, and you're just out of ideas for presents. However, it's not that hard to come up with something, and even if it is, you can just search for ideas on the internet. But what if that's not the only problem?
The real problem is that you're just a bit tight with money this month, and you can't afford anything expensive, especially if you should buy more than one present. So what should you do?
Well, maybe try and make something yourself, something that won't cost you that much money and at the same time will show the people you love that you took the time and energy to make something for them, rather than buying. Surprise them with a present to tell your friends or family how much your care and love them.
Just follow these 10 simple DIY gift ideas that can be made for less than $5, and you're good to go. Enjoy!
1. Tea Cup Lights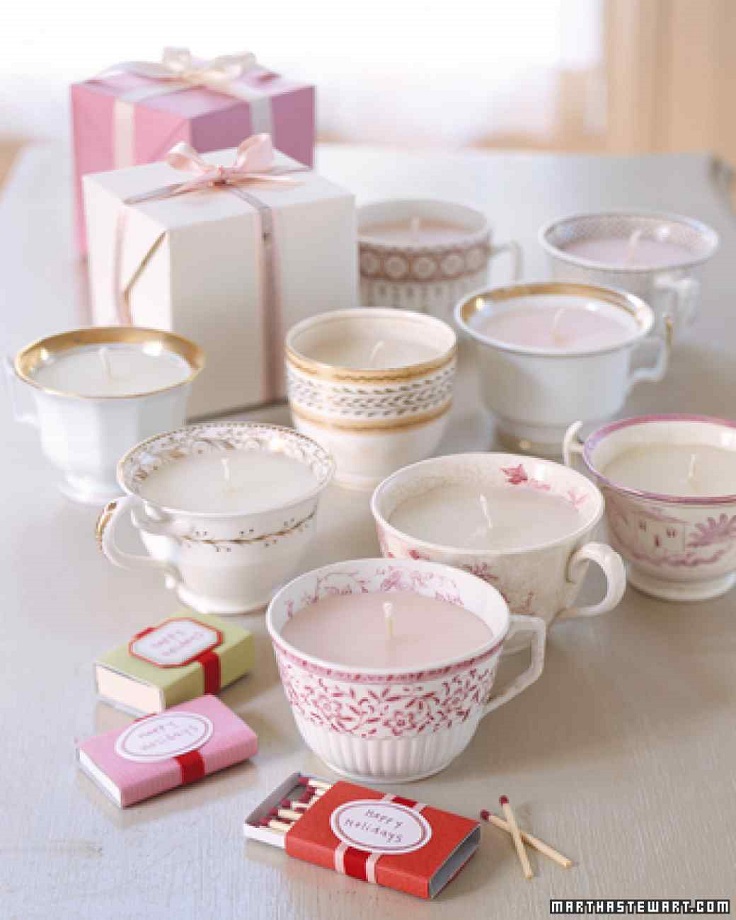 If you have cute teacups somewhere around the house, but you don't use them anymore, they would make a great gift. The way to transform your cups into candles is simple, just start by melting old candles in a small pan set over a larger pan of simmering water. Then, cut a piece of wicking to the cup's height plus 2 inches. Pour in the wax, stopping 1/2 inch below the cup's rim. Allow the wax to set, about 1 hour, and you're done. You now have a  great and cute gift, without wasting any money.
2. Fabric Scrap Keychain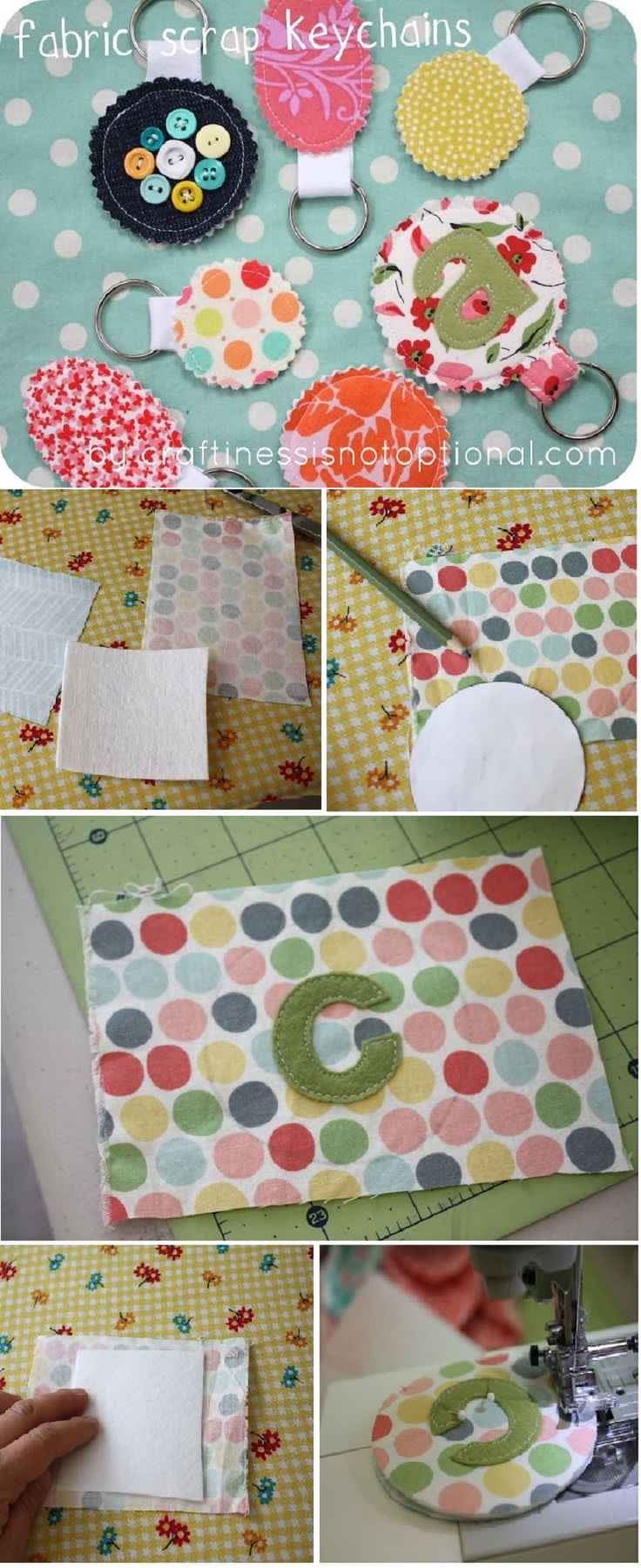 via craftinessisnotoptional.com
You will need fabric scraps, medium weight iron-on interfacing, a keyring, something to make a pattern with, and sewing stuff for making these cute key chains. So, first off, decide what scraps you'd like to use. If you're going to do an applique or buttons, trace around your pattern onto the right side of the fabric so that you know how to place it,  sew from pin to pin, around the circle, about 1/4″ away from the edge, then trim the edges all the way around with pinking shears. After that, cut a piece of your twill tape or ribbon, fold it over your keyring, insert it into the opening on the bottom of your key chain, and sew the opening closed.
3. Lovely Wax Lumieres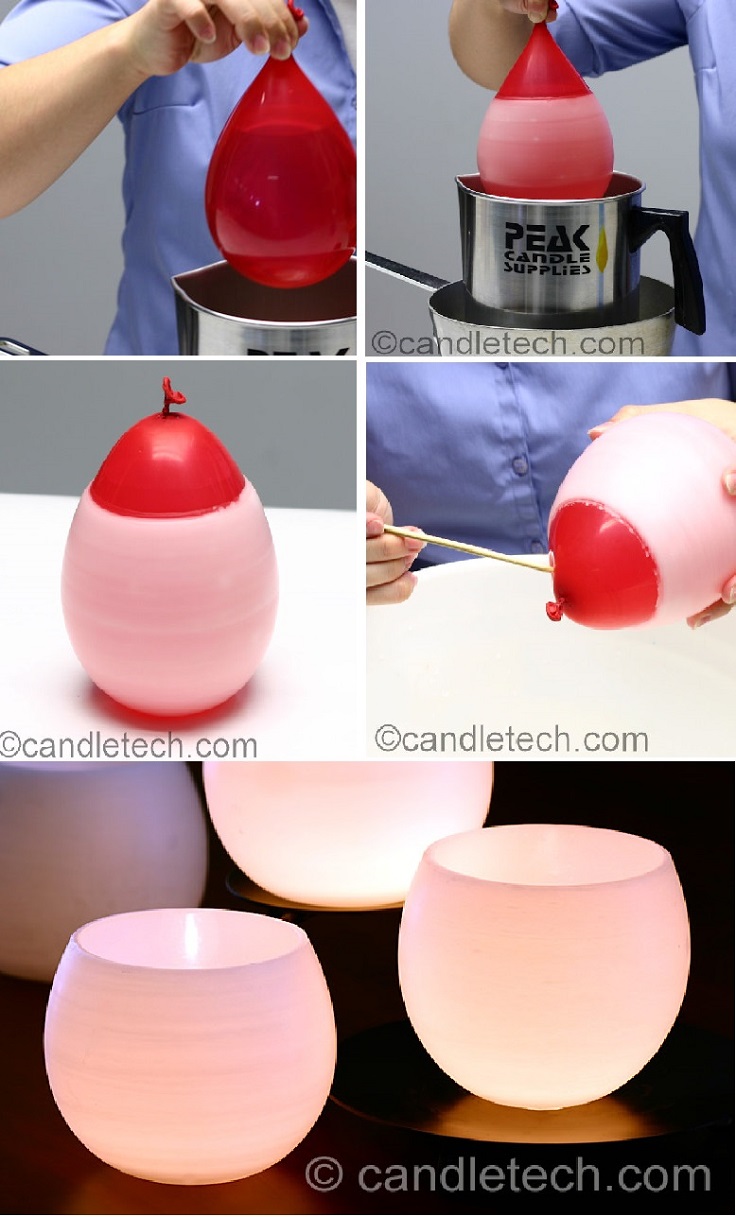 via candletech.com
These balloon luminaries are fun to make and will make a beautiful birthday present for your friends. All you need is high-melted paraffin wax, double boiler, cookies sheet, and of course, balloons. Firstly fill the balloon with tepid water, then melt the wax. Slowly dip the balloon in the wax, but do not dip the balloon past the water level because it may pop. Hold the balloon in the wax for a few seconds, then let it dry and repeat this process until it's thick enough. After that, let the balloon cool off, and then pop it carefully. Remove the balloon shards, and there you have it, balloon luminaries, that will look great in someone's home.
4. Beautiful Bookmarks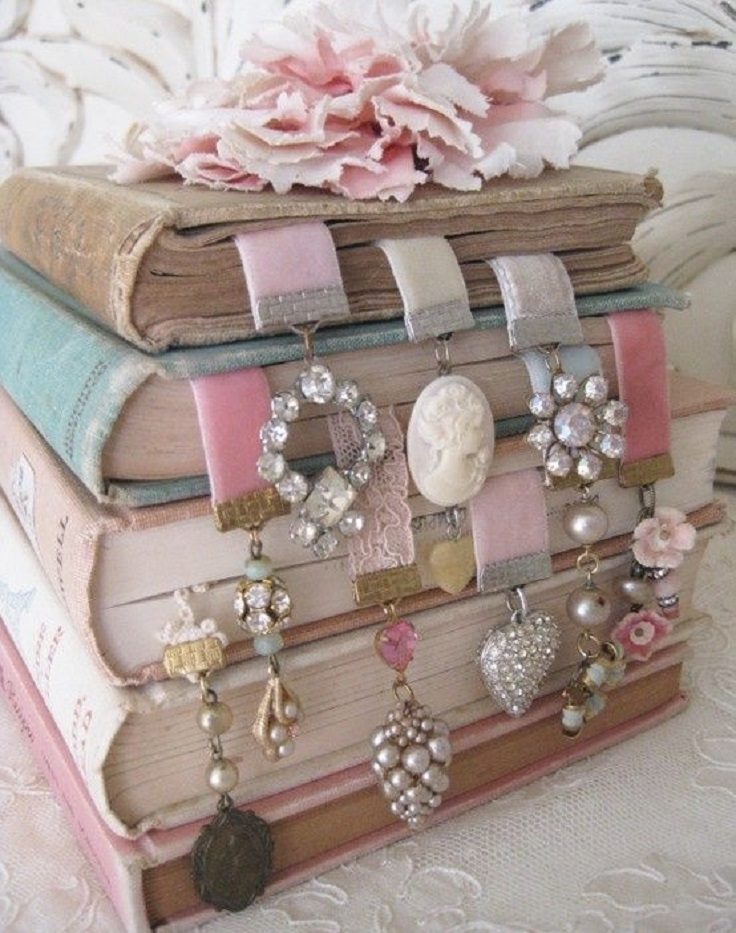 If you have old earrings at home, but you can't wear them anymore, here's a great idea for making them useful again. So instead of throwing them, why not decorate your books? You can do this with the help of a little velvet ribbon and flat-nose jewelry pliers. You can use old vintage earrings or charms and trinkets. Whatever you choose, it's going to look great and will make a cute present for someone.
5. Jar Lid Picture Magnets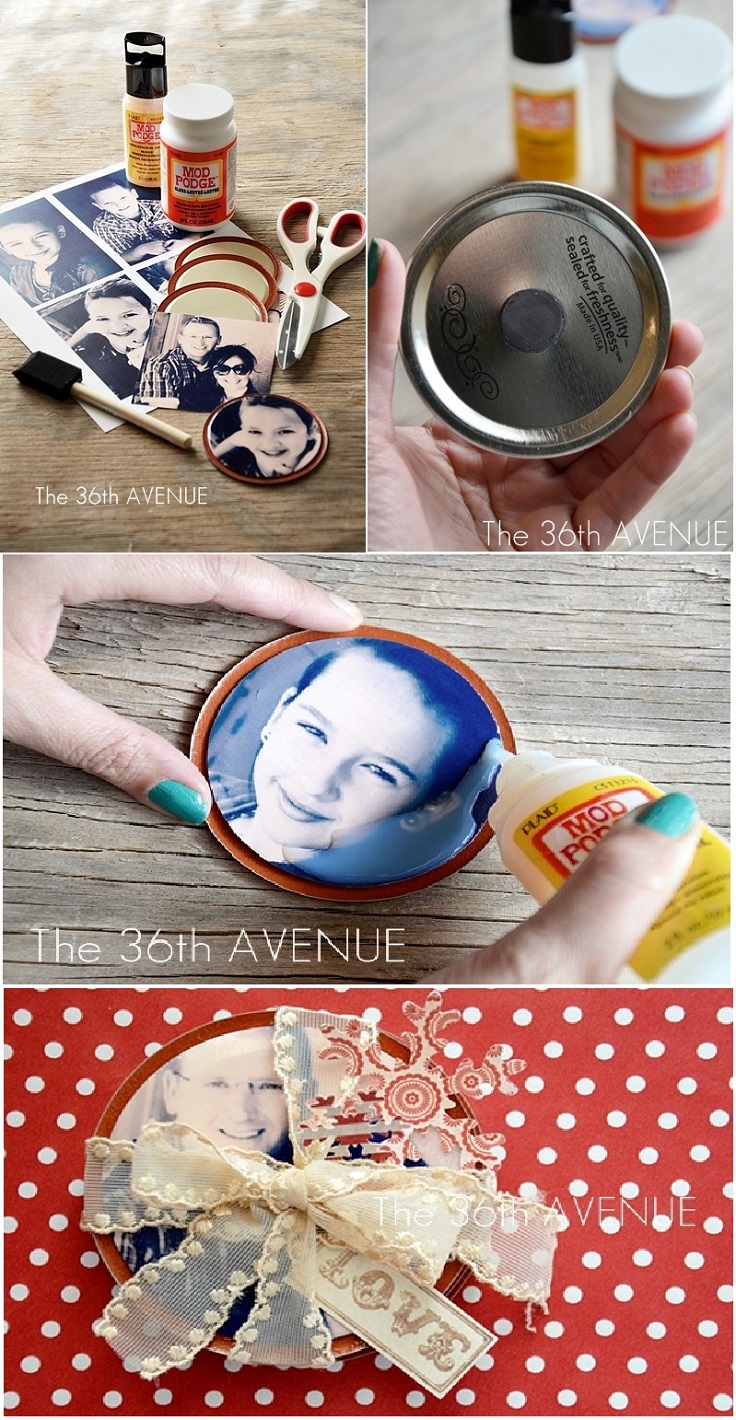 Searching for the perfect gift for the family members who live far away? Here's an idea. It's really easy to make these picture magnets, and they are cheap as well. Just print your favorite pictures, buy some magnets, a Mod Podge, and some lids. The size of the pictures depends on the size of the lids. Paint the beige inside part of the lid with the Gloss Mod Podge. Right away, place your image on top of the lid, smooth out any bubbles using your fingers, and then add another coat of Gloss Mod Podge on top of the picture and let it dry. The last step is to apply a layer of Dimensional Magic on top of the picture. It will look weird while wet, but it will give your magnets a beautiful smooth dimensional glossy finish that you'll love after it dries.
6. Leaf Clay Necklace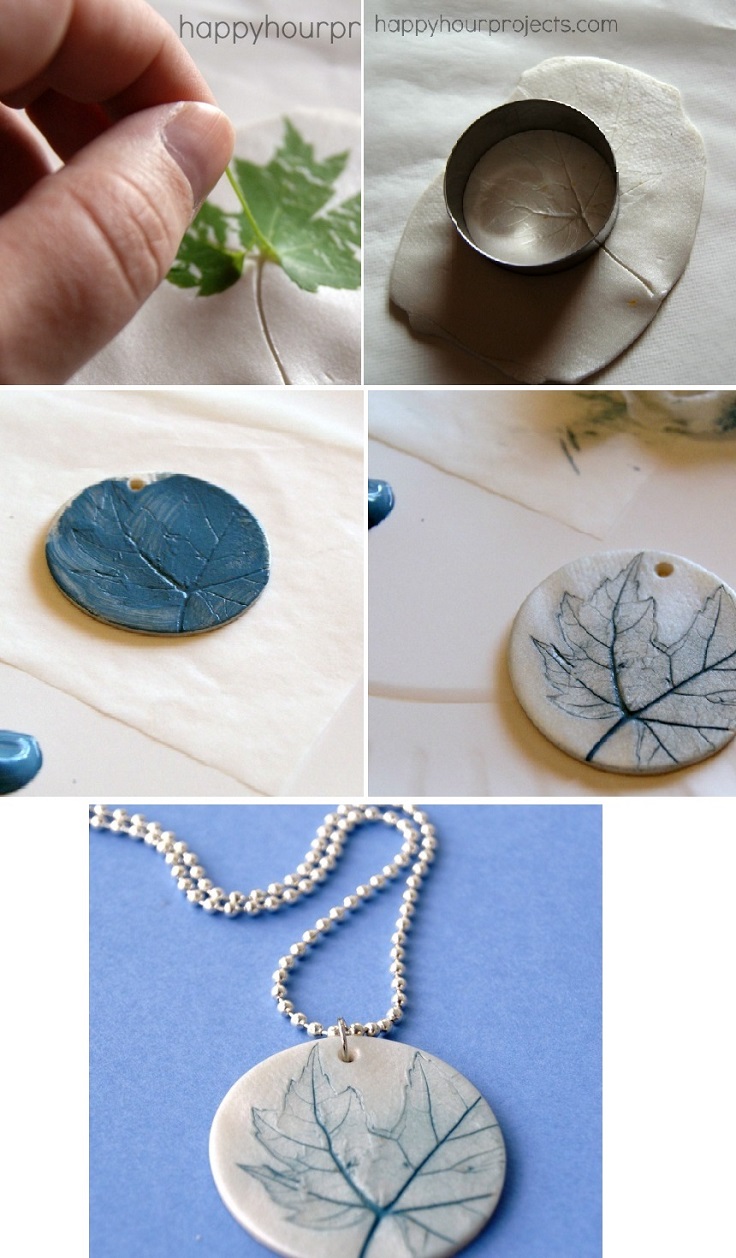 This is an easy technique that you can implement really inexpensively with some polymer clay and leaves and make a great gift for someone who loves jewelry and nature. You only need just a little bit of clay, so that leftovers would work great. Press your small leaf into the clay, vein side toward the clay, then flip your clay over, roll it out a little, and then pill the leaf off. Bake the clay for as long as it needs, and once it's baked and cooled, you can add some paint if you like to help add contrast! Then, with a bit of damp paper towel, wipe off the excess paint from the surface, leaving the paint just in the leaf veins.
7. DIY Fabric Covered Journals

With self-adhesive fabric and fabric tape, this is a really quick craft, and most fun of all, you can make your notebooks very unique and personal. You will need notebooks, self-adhesive fabric, fabric tape, scissors, and, if you like, some decorative ribbons. Quick advice, to get pretty corners is easiest to fold the corners first. If you like you can decorate with additional tape along the spine. It's a great gift, and also they can be used as diaries, for recipes, or as notebooks, so why not make one for yourself as well?
8. Photo Frame Banner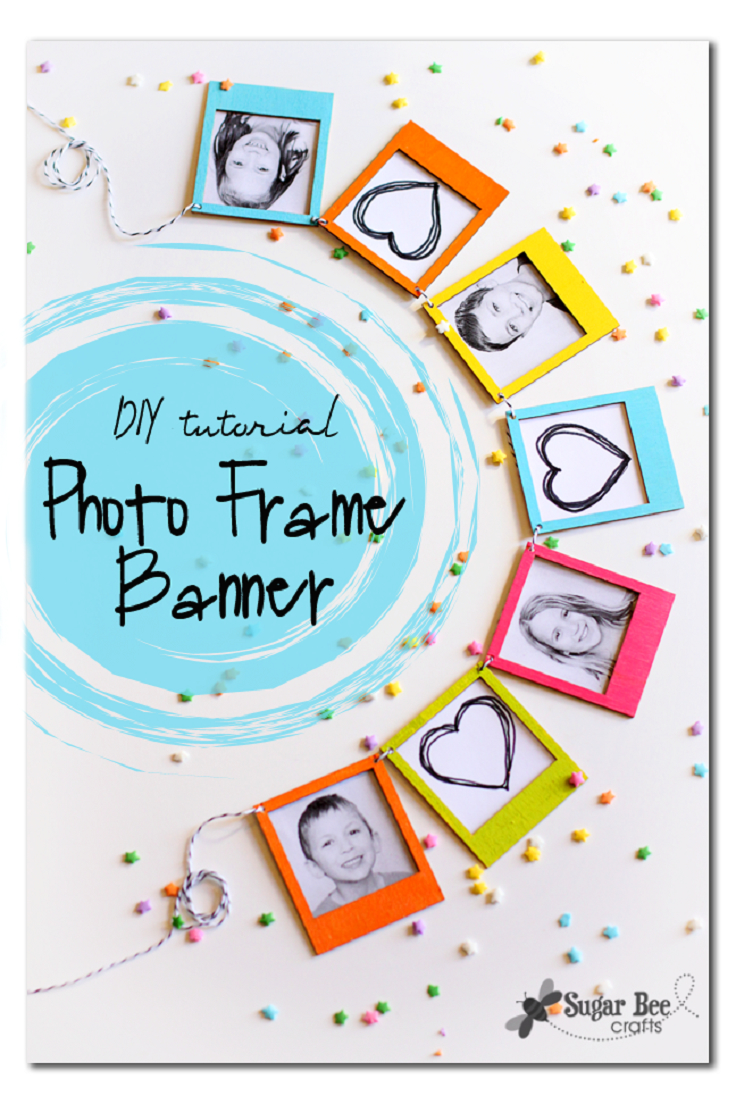 This is a cute and thoughtful gift for your family members. You just need to buy small frames and some markers to paint your frames. Next, use a small drill bit and drill holes in the top 2 corners. Attach the printed pictures at the back of the frames using glue. After that, to put the banner together, simply thread the twine in and out of the drilled holes. You can push the frames as close together or far apart on the twine as you'd like.
9. Felt Bow Bookmarks
via cutesycrafts.com
Another interesting idea for making bookmarks is making these felt bow bookmarks. It's another easy DIY craft that can be used as a gift for book lovers. Using only elastic and felt material, you can get these cute bookmarks. Just a little time invested in this, and some sewing skills, you'll make a great gift without using any money, and the best part is, no one will notice the difference.
10. Year Long Gift in a Frame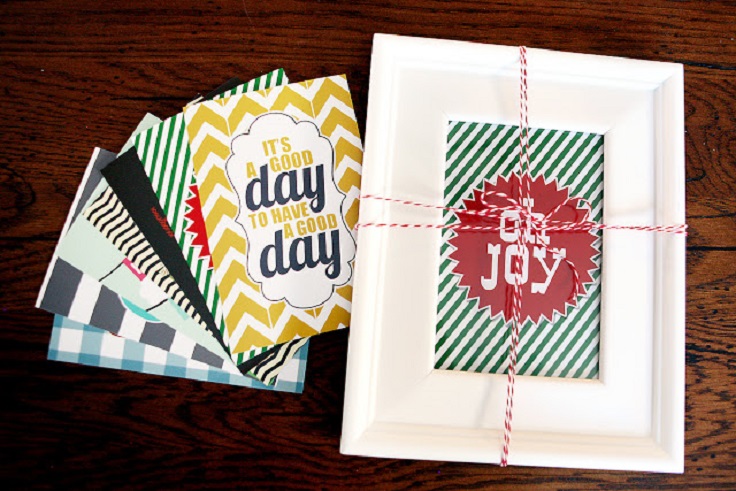 via eighteen25.com
It can't get any easier than this, and yet, it looks great and very creative. So if you want to get your friends something that will look good in their home, and it's also suitable for every occasion, you should consider making this year-long gift in a frame. You will need a frame and a couple of posters from holidays like Easter, Christmas, etc. Just put them in the frame and decorate the gift with some pretty twine.