When it comes to fashion, it holds the attention of any woman of great taste. What's so great about it is that each woman can build her own style in it. Especially using outdated or worn-out clothes. With a little bit of love and effort, these old pieces we've grown tired of can be transformed into outfits we will proudly wear as if they were new.
Yes, we're talking about that five-year-old sweater you've been meaning to throw away. Well, unless you're donating it to goodwill, why don't you turn it into something that will change your mind? Have any ideas as to what that something may be? Breathe new life into your old clothes by transforming them into sweaters, high heels, scarves, headbands, and others. The choice is endless.
Our new Top 10 Fashion DIY Projects article offers you some great tips about what you can do with your clothes that you think are no longer useful. Also, they will inspire you to become more creative and realize that you can be your own fashion designer. Every project has its own specialty, so try to decide which one of these amazing projects you like the most and of course, try to make it by yourself.
We hope you'll enjoy creating these projects as much as we did while we were creating this list.
Old Sweater Turned Into a Stylish Cardigan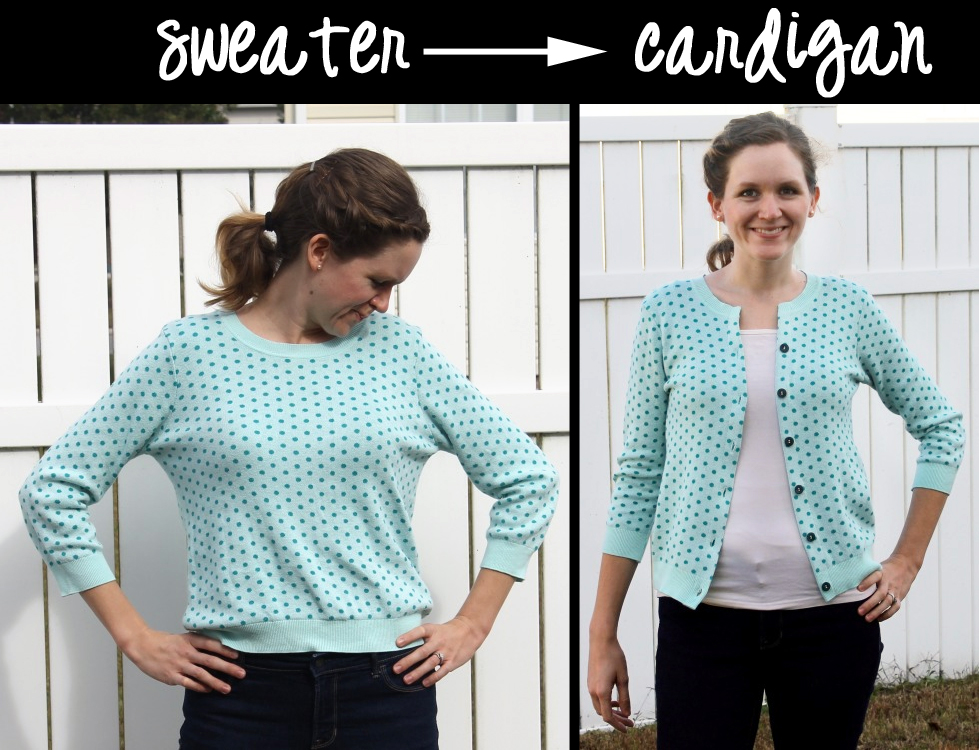 Since Taylor Swift released her single "cardigan" last year, it's all we think about when we think of cardigans. You can't blame us, it's a beautiful song. And with that, we couldn't help but notice that everyone started wearing them. However, instead of spending a fortune on "folklore" merch, why don't you take out one of your old sweaters and make it into a vintage-looking cardigan. Besides, Taylor did mention something about an old cardigan, right? Then, follow the instructions from this simple DIY project and get to work!
DIY Fold Over Clutch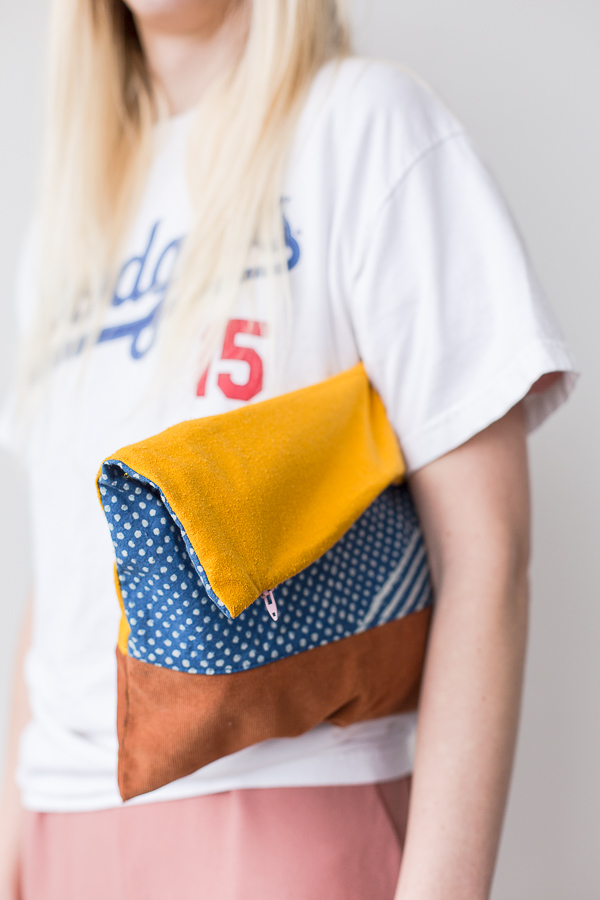 Have you ever seen a pillowcase with such beautiful patterns that you wished you could carry it everywhere you went? Well, you kind of can. All you need to do is sew the fabric pieces together, and you'll get a stylish foldover clutch you'll proudly carry around.
DIY Double Scarf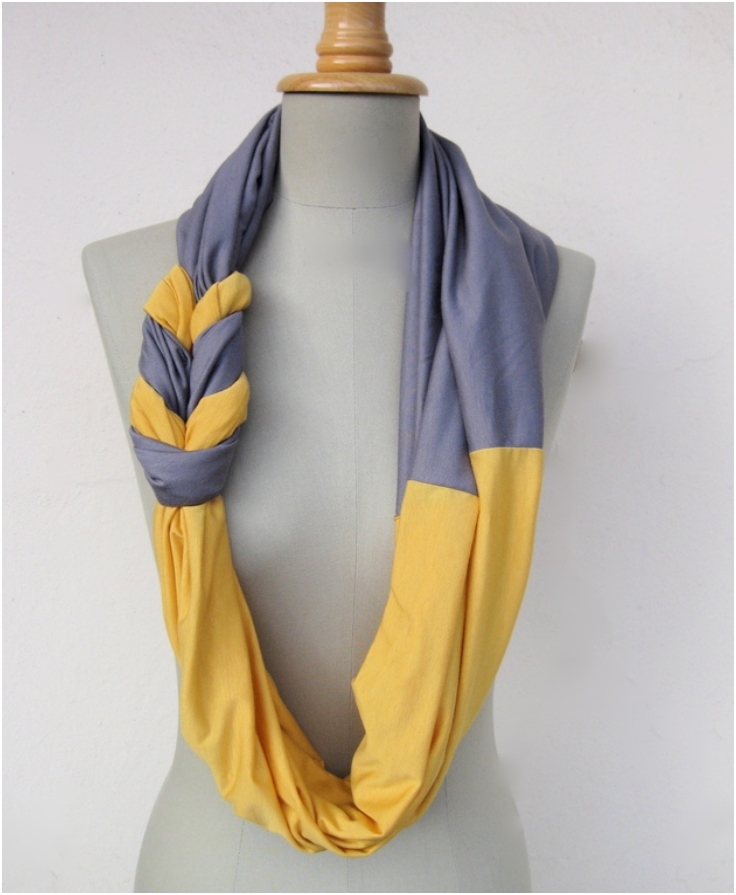 Remember when you were little girls you just had to braid everything, starting from your doll's hair to pretty much everything with laces? Well, why stop there? This tutorial teaches you how to repurpose your old t-shirts into a chic-looking scarf by sewing them together and braiding them on one side. Talk about a childhood memory.
DIY Convertible Travel Wrap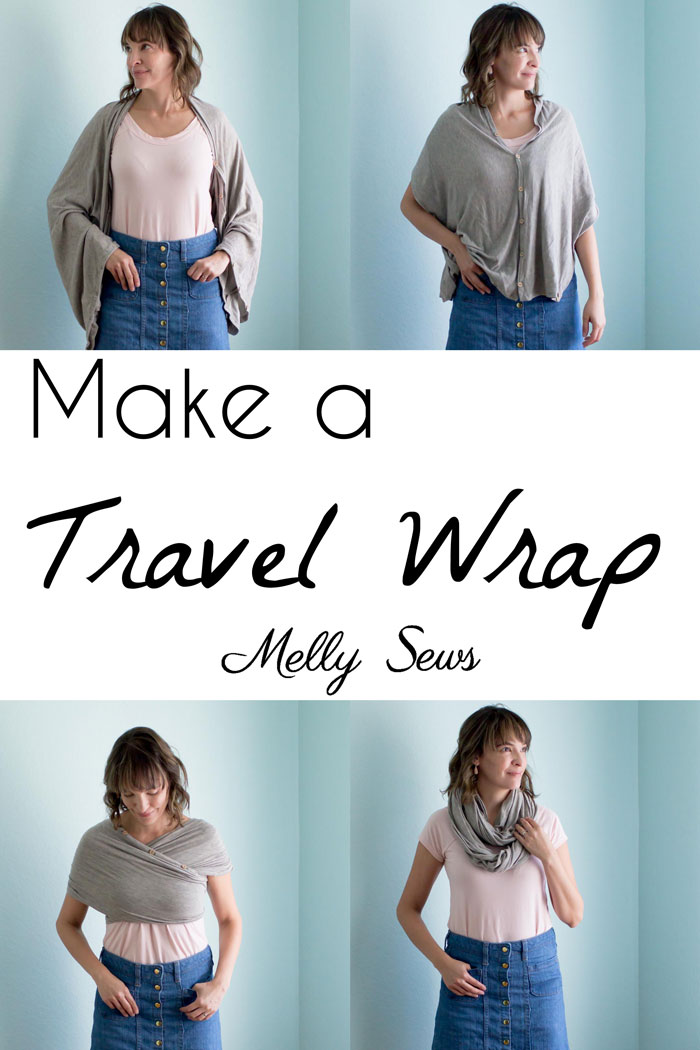 When you rearrange your furniture in your house, it always gets a fresh new look even though you never bought anything new. This trick also applies to ourselves. When we put on an old piece of clothing and wear it a bit differently than we usually do, our style gets that fresh look that we mentioned earlier. And what's amazing about this tutorial is that it gives you tips to repurpose an old cardigan or choose a new fabric you can wear in not one, not two, but six different ways. Can your look get any fresher?
DIY Versatile Zipper Racerback Top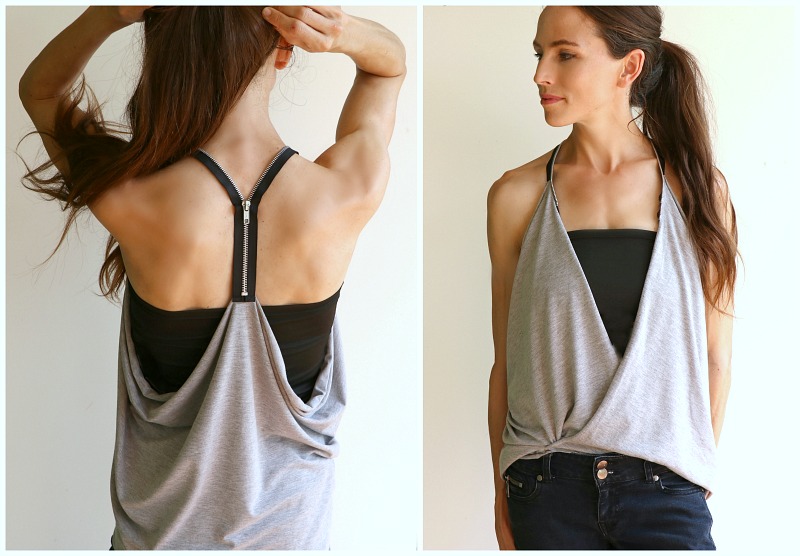 If you're a fan of exercising, there's a great chance your wardrobe is overcluttered with plain t-shirts – and if that's truly the case, you may have become bored of what you're wearing on a daily basis. If you're looking for an easy way to repurpose your plain t-shirts into tops fit for night outings, that this DIY tutorial is just for you.
DIY Heart Sweater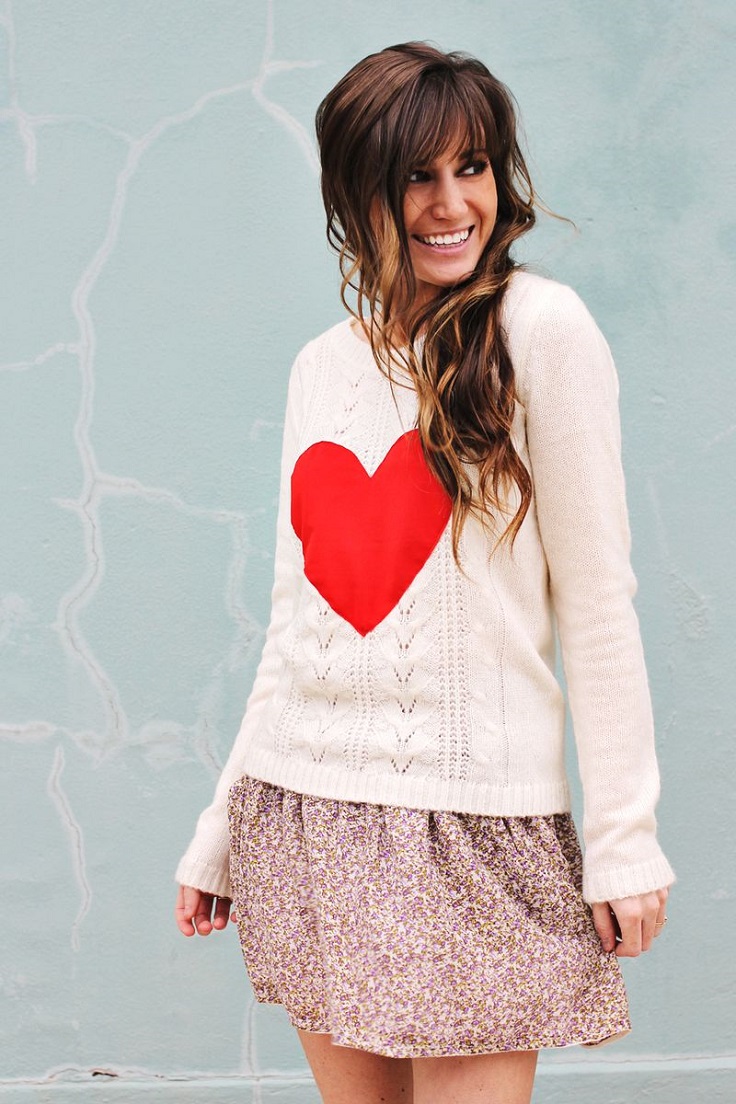 When it comes to holidays, there's no limit when it comes to decorating your sweaters. Ugly Christmas sweaters are a perfect example of that. Likewise, you can apply the same method to decorate your old sweaters for Valentine's Day by simply sewing a piece of red heart-shaped fabric onto it. Like The Beatles said, "All you need is love".
DIY Quick Embellished Collar
One of the best ways you can make your shirt collars stand out is by embellishing them with artificial stones. These relatively cheap and easy-to-find items can completely transform your outfit with just a few steps. Therefore, underestimating their power is out of the question.
DIY Fall Embellished Sweater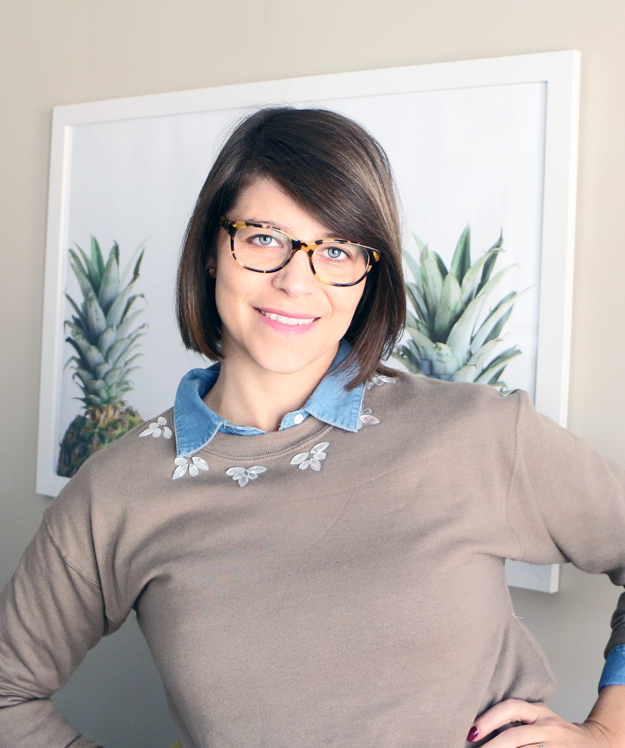 While we're on the topic of embellishing, why limit yourselves to just the collars? Pick out a few old sweaters, mark where you would like your rhinestones to be, and watch them slowly transform into new under your magic hands.
Flip-Flops Transformed into Gladiator Sandals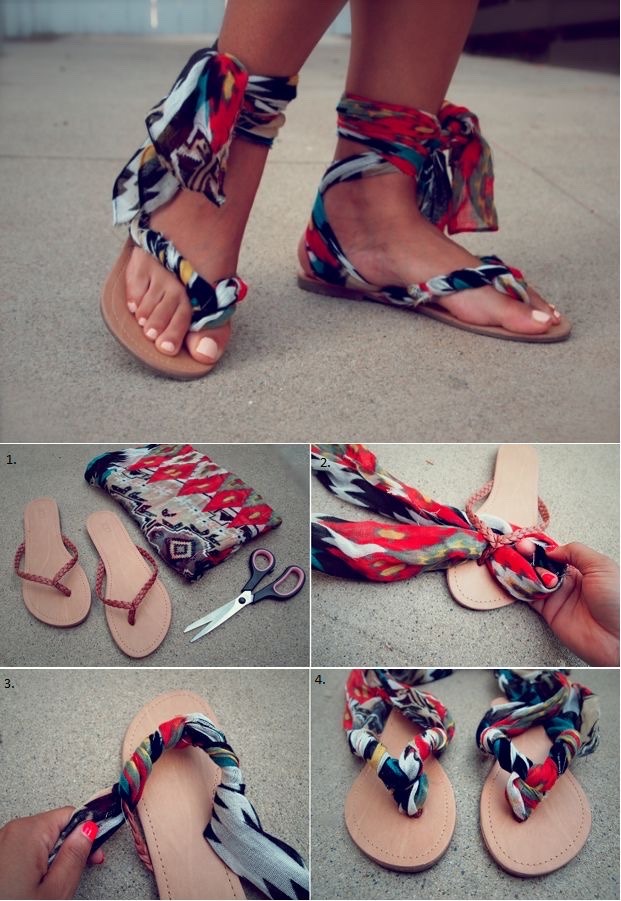 While it's not summer and we can't take out our flip-flops yet, we can all agree that we're counting the days until we can. So, while you're doing the counting, you could also be doing the prepping. Pick one of your old summer scarves and check out this tutorial to find out how it can give your old flip-flops a new life. Besides, your skin won't be red from friction all the time, which is a highly-welcomed bonus!
DIY Twisted Turban Headband from Old T-Shirt
During the good-old pre-Covid days when we went to various music festivals, we would wear cute little themed headbands and bandanas to get into the spirit. Don't worry, hopefully, it will be over soon, so don't throw away your old t-shirts just yet. Create your own headbands so you can freely rock them at the next post-Covid festival.
That was it for our Top 10 Fashion DIY Projects article. We hope you found something interesting and that you'll share your thoughts or any additional ideas in the comments below.