For every full-course meal, you need an appropriate dessert, but unfortunately, you are not such a good cook when it comes to baking cakes. If something always goes wrong with your cakes, then give the chiffon cake one last chance before you give up on baking cakes.
The chiffon cake is light and easy to make, a dessert with a few ingredients and you can make it with or without cream. Treat your guest with a light and refreshing dessert and save yourself the hardship of elaborate cakes by following these top 10 chiffon cake recipes.
1. Vanilla Chiffon Cake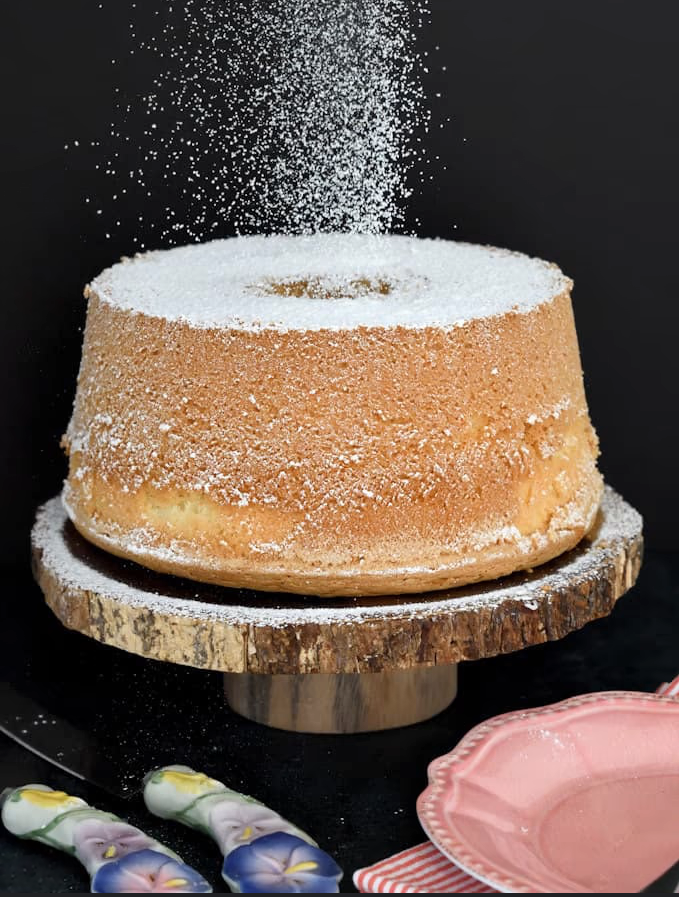 Recipe via baking-sense.com
We are kick-starting this off with basics. This recipe is reasonably easy to do and will re-restore confidence if, on the odd few times, baking did not work out well enough for you. Using fresh vanilla pods does really help the finished product to have a wow factor. This is a light recipe that uses oil for the extra fluffiness. Delightful after a rather heavy meal or simply during an afternoon tea. Serve it alongside a nice dollop of creme fraiche with fine lemon zest to give that tingly sensation or indeed with clotted cream and homemade jams. Lovely summer's dessert.
2. Lemon Chiffon Cake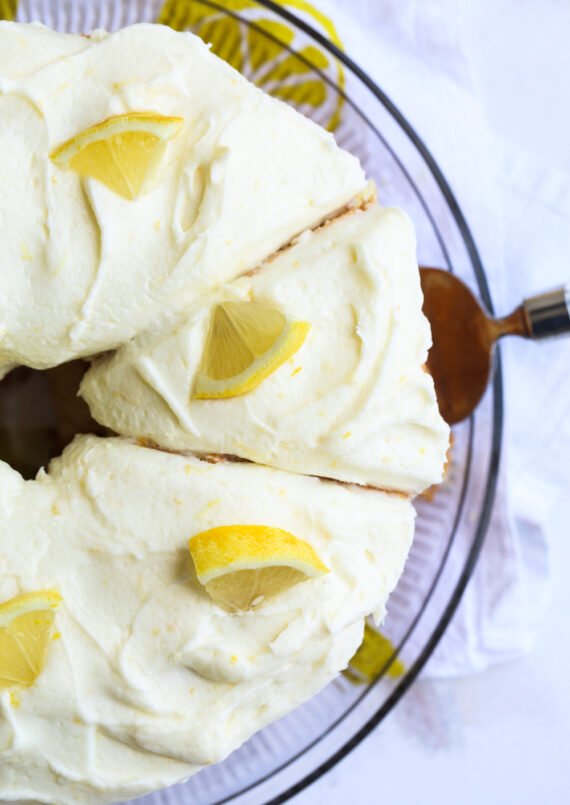 Recipe via cookiesandcups.com
Not a lot else than lemon screams out that springtime is coming. Hence, this lemon chiffon recipe will add sunshine to your day. And making it is rather fun too. Other citrus flavors can be substituted such as grapefruit, orange, blood orange, or lime. Even a mix of all the mentioned. The buttercream is delightful once citrus zests are added within it which creates a richer dessert. However, you can skip this part and simply dust on icing sugar. Best enjoyed with a green tea in between meals.  
3. Chocolate Chiffon Cake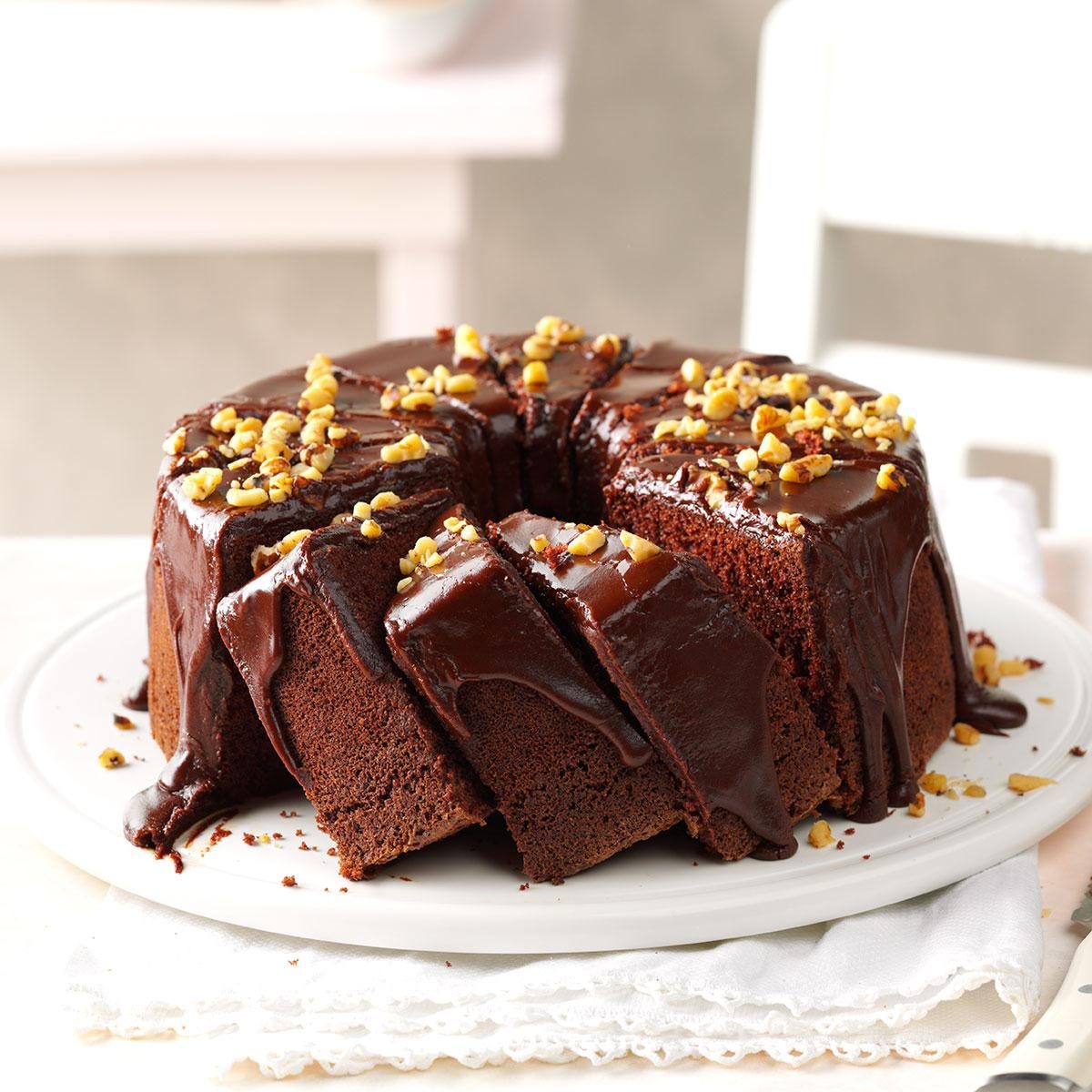 Recipe via tasteofhome.com
If chocolate is something that you cannot let go of, even for a day, then this recipe is right for you. Decadent yet light which won't make you regret if you want to go for a second helping. Perfect for morning breakfast alongside a hot chocolate or a coffee. Chocolate buttercream is added to the finished cake, however, can be replaced with bitter chocolate powder mixed with equal amounts of icing sugar; it's an equally good option if you'd prefer something lighter.
4. Pink Chiffon Cake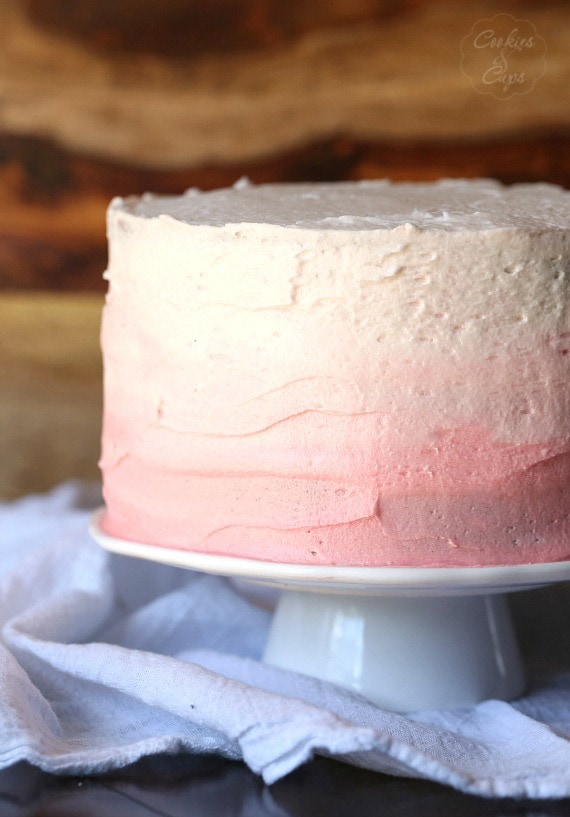 Recipe via cookiesandcups.com
Celebrating a baby shower? It's a girl? Or is your daughter at the stage of loving everything pink? Then this is a must and will make your special celebration even more spectacular. This recipe tops a delicious lemonade buttercream that will blow your mind and which looks great. Unlike other chiffon cakes, this one is built of different layers which demands a little more work but which looks absolutely divine and is sure to impress everyone around for the occasion. Best served with lemon sorbet. Why not, and perhaps even a rose on top as a decoration for say, Valentine's? 
5. Blue Butterfly Pea Chiffon Cake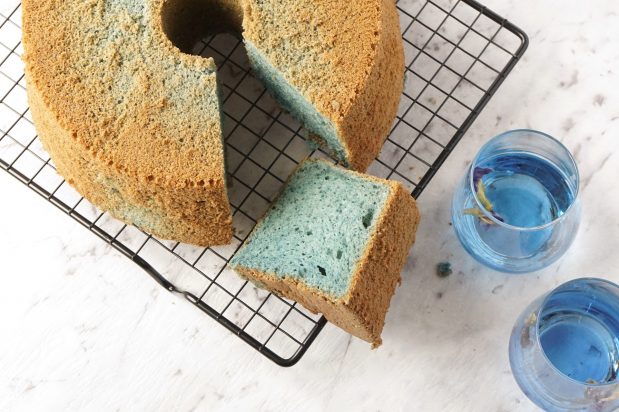 Recipe via asianinspirations.com.au
Now let's celebrate "it's a boy!". We could have not done so. A little Asian twist on this adds a great deal of fun for anyone not knowing the gender of your child that you wish to reveal in style at a dinner party. A spirulina tea could also work alongside it or even to color the water to make the blue theme even greater with all the right nutrients. The blue butterfly pea flower powder will not have that much of a big flavor profile but will do the job just fine and will brighten up anyone's day.  
6. Spiced Carrot Chiffon Cake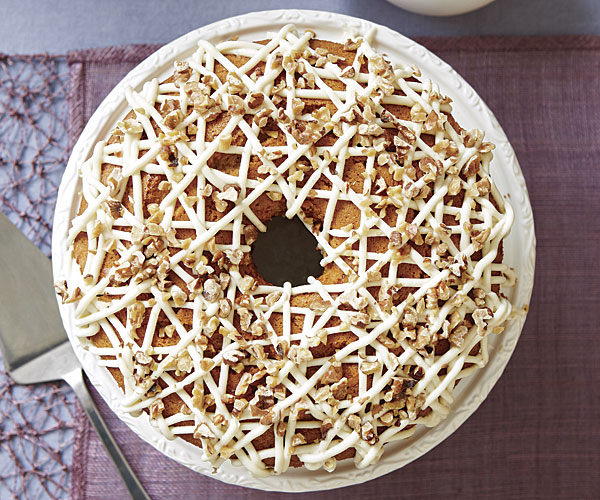 Recipe via finecooking.com
If you have become a bit of a born amateur in the baking department and wish to up the ante one notch or two, then ensure to follow and recreate these recipes. Beautiful and artistic to the eye but also incredibly delicious. Unlike a carrot cake, this recipe will not leave you with a bloated stomach thanks to little tricks of magic. This will be fabulously light and airy. A low in fat cream cheese can be replaced to add lesser calorie counts to the finished cake
7. Maple Syrup Chiffon Cake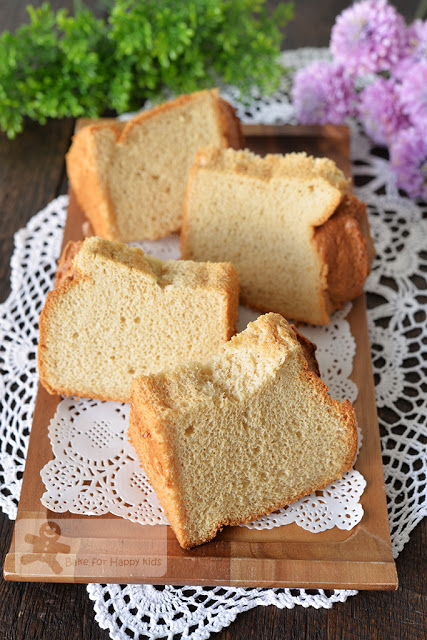 Recipe via bakeforhappykids.com
Something for the kids and adults alike! For anyone with their inner child still within them really! This recipe does something a little different by heating the egg whites slightly to 65 degrees meaning, once you beat them fiercely with a whisk to turn them into a nice fluffy meringue, so much air is added making the end result is super light full of tiny holes. And that's exactly what you want if you aren't looking for a dense final product. For best results, only use real maple syrup if you can. Maple extracts are available, but this recipe tries not to utilize chemical products and uses the real thing. 
8. Gluten-Free Chiffon Cake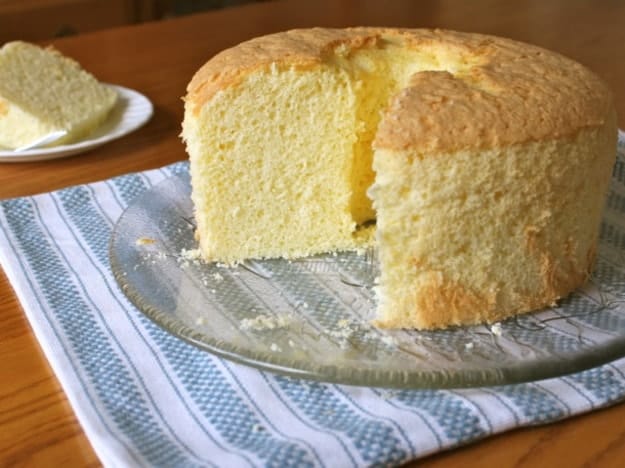 Recipe via glutenfreebaking.com
There is something for everyone and that's the reason why this is such a great chiffon cake for everyone. Gluten-free, celiac, or trying to skip gluten as much as possible but still wishing to indulge in something delicious and sweet? Try this out. Rice flour is used with all the other important starches to create something truly lovely without jeopardizing the end results. Different flours are there on the market and available pretty much anywhere, especially nowadays. So get experimenting plus, most flour types suit most desserts.
9. Pandan Zebra Chiffon Cake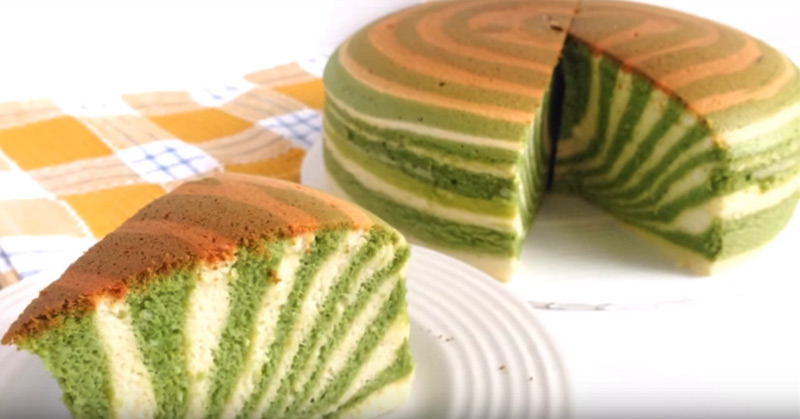 Recipe via sweetsamsations.com
If you have young children, then this is a must. Even the older ones secretly will think, "oh wow". Something to impress which looks slightly difficult which isn't so much so really. If you have never worked with pandan before, it's a fragrant leaf mostly grown in tropical areas of southeast Asia mixed in the Zebra technique which adds a zebra pattern to your final chiffon. The satisfaction of cutting the cake by cutting it in front of your family will surely make you the superstar of the day. 
10. Baileys Irish Cream Chiffon Cake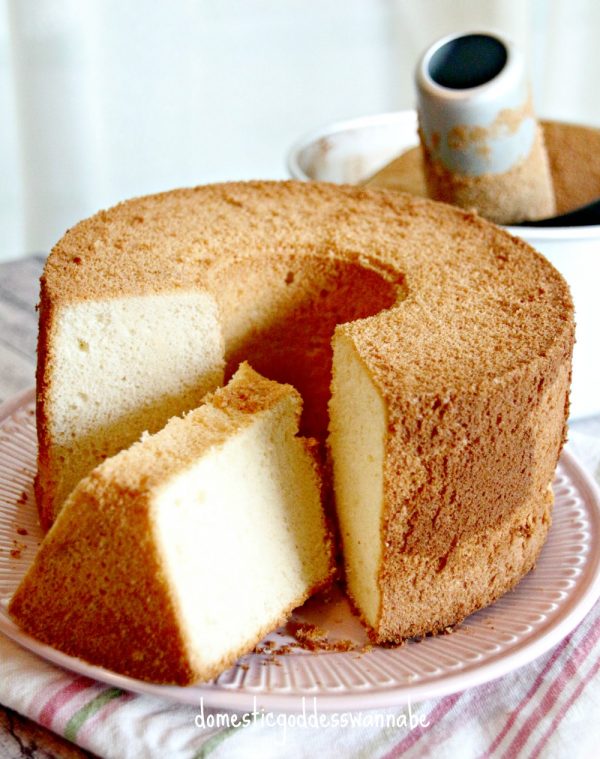 Recipe via thedomesticgoddesswannabe.com
Now we did not forget that we as adults love a little cake too. And why not celebrate this fact and finish on a high, decadent note, with Bailey's. On a cold winter's day, one must try out a Baileys hot chocolate. And guess what to serve it with… This recipe also gives you different sizes of the tube pan hence calculating everything for you depending on the size or sizes you have available at home.