The Easter period of fasting or Lent has already begun, and so did the preparations for this great Christian holiday. We have posted and will post Top 10 lists concerning Easter until the day of Passion, and this one is for the crocheters.
There are many ways to get into the Easter holiday spirit, and decorations are one of them. As far as Easter traditions go, almost all of the Christian world decorates eggs.
The tradition of the Easter bunny and the egg hunt is more of an American tradition but doesn't prevent other cultures from honoring it.  Spreading small and adorable little Easter crochet decorations throughout your house, the weather is an egg cozy or a crocheted bunny; here are the Top 10 crocheted Easter decorations.
Easter Egg Hats
Winter is over, and it is time to put away the woolen hats, but you will make an exception for these tiny easter eggheads whose little faces and cute hats will put a smile on your face.
Amigurumi Bunny Pops
Make this precious little amigurumi bunny pops as gifts for your little Easter egg hunters, or if you have some time on your hands, a dozen of these in all the colors of the rainbow will make one unique and fun Easter bunny bouquet.
Crochet Egg Cozy Pattern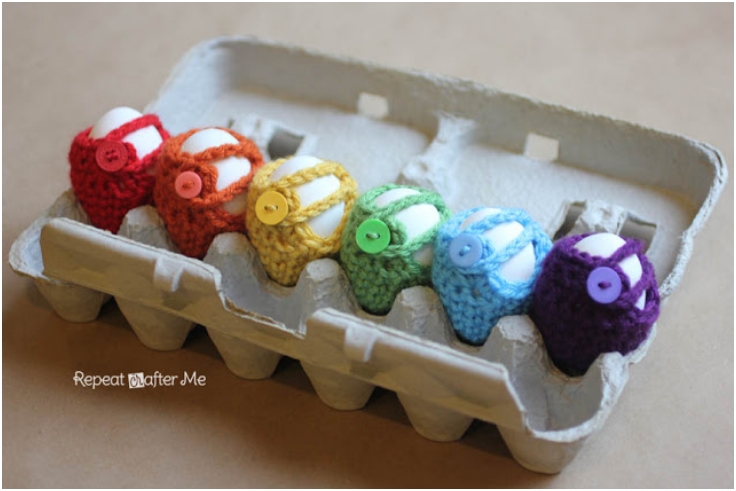 Here is a great way to keep your eggs from breaking. Also, f you are tired of coloring your Easter eggs, these cozies will serve as a sufficient decoration for your hard-boiled Easter eggs.
Mini Crochet Easter Baskets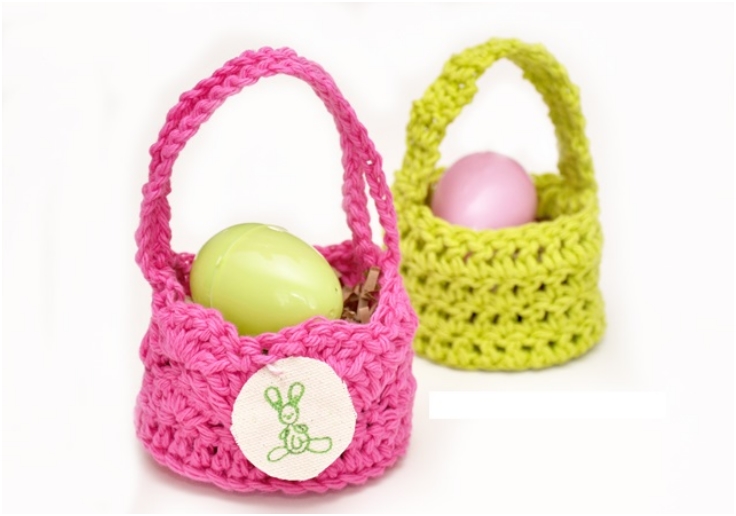 After the egg hunt is done and the fun is over, everyone will save one special Easter egg, the most beautiful one that they will keep at least for a while longer. To keep that little egg safe and beautifully displayed, you'll want to have one of these cute mini baskets.
Easter Egg Bunnies
These dainty little Easter egg bunnies are a great gift or decoration and are so incredibly easy and fun to make; once you start, you won't be able to stop, and before you know it, you'll be overcrowded with these egg bunnies.
Crochet Easter Egg
Here is an elegant pattern for decorating your Easter eggs. You make two halves that will cover the whole egg, and you tie them together with a lovely ribbon. The color patterns are endless, and you are left with lovely and classy decorative Easter eggs.
Bunny Egg Cup
via sascha-lovetoknit.blogspot.nl
When you want to display an egg, you need an appropriate egg holder, and for this Easter, you can have the perfect Easter egg holder in the shape of a bunny. You can make it in whatever color you like, and the kids will absolutely love every single one.
Easter Crochet Chick Egg Cozy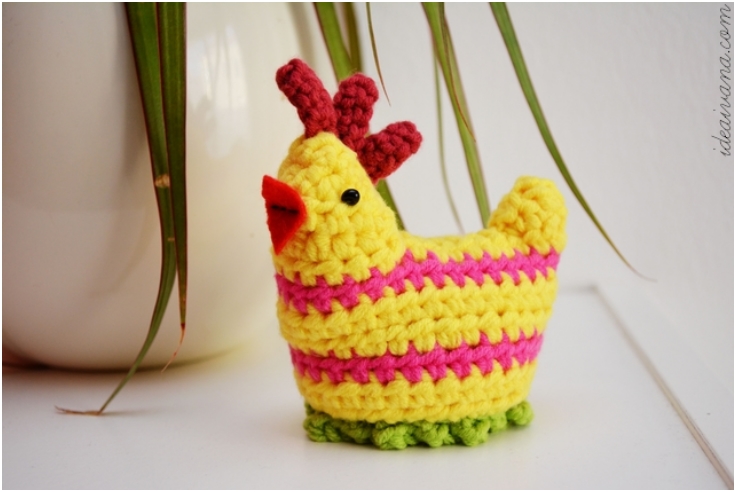 via deaivana.com
Besides being a wonderful Easter decoration, this cute little chick egg cozy can become part of your everyday breakfast table setup. It can be a fun family game to get warm boiled eggs directly from the source, from under the chicken.
Crochet Easter Egg Surprise
via gratefulprayerthankfulheart.com
This project's concept is similar to one of the previous patterns that we've shown, except here, instead of a cozy for an egg, you can turn this crochet design into a fun favor package, filling it with treats and goodies for the kids.
Spring Easter Basket Crochet Pattern
After everything's said and done, whether it is a religious tradition or some family fun, Easter is a holiday of rebirth and the spring's welcoming. So, in honor of everything that this day represents, don't miss making this lovely basket with summer flowers where you can keep your colorful Easter eggs.