How could you not love crocheting when it is so versatile, budget-friendly, and most importantly, fun! You can crochet almost anything you can think of, starting from clothes, accessories, toys, towels, etc.
Crocheted items make an excellent gift for a dear person, a gift made specially from you for them, and can be personalized and unique. But crocheted items can be much more than cute gifts or fashion pieces – they can be useful too.
Like these dishcloths and scrubbers, we are sharing today. They are so easy to be made, so budget-friendly, and so useful. They make a perfect last-minute gift for Mother's Day, a new apartment, or any other occasion.
They are also perfect for beginners in crocheting. We are featuring our 10 favorite patterns, which are totally free and easy to follow. Take a look, choose your favorites, and start crocheting now!
Easy Face Scrubbies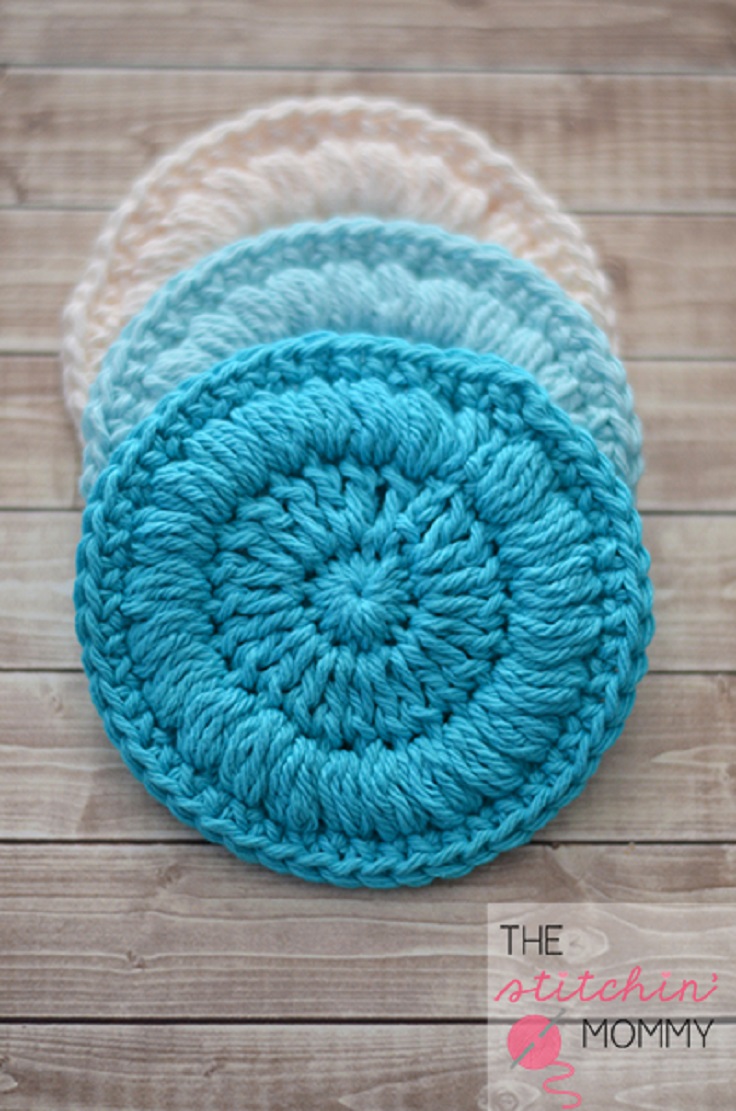 free pattern at thestitchinmommy.com
If you want pretty and useful scrubbies that will clean your face perfectly then, you will love this easy pattern! These scrubbers make a perfect gift you can easily personalize. Using cotton yarn us recommended. Check out the free pattern for a  Puffy Bath Pouf as well.
Dishcloth Crochet Pattern for Beginners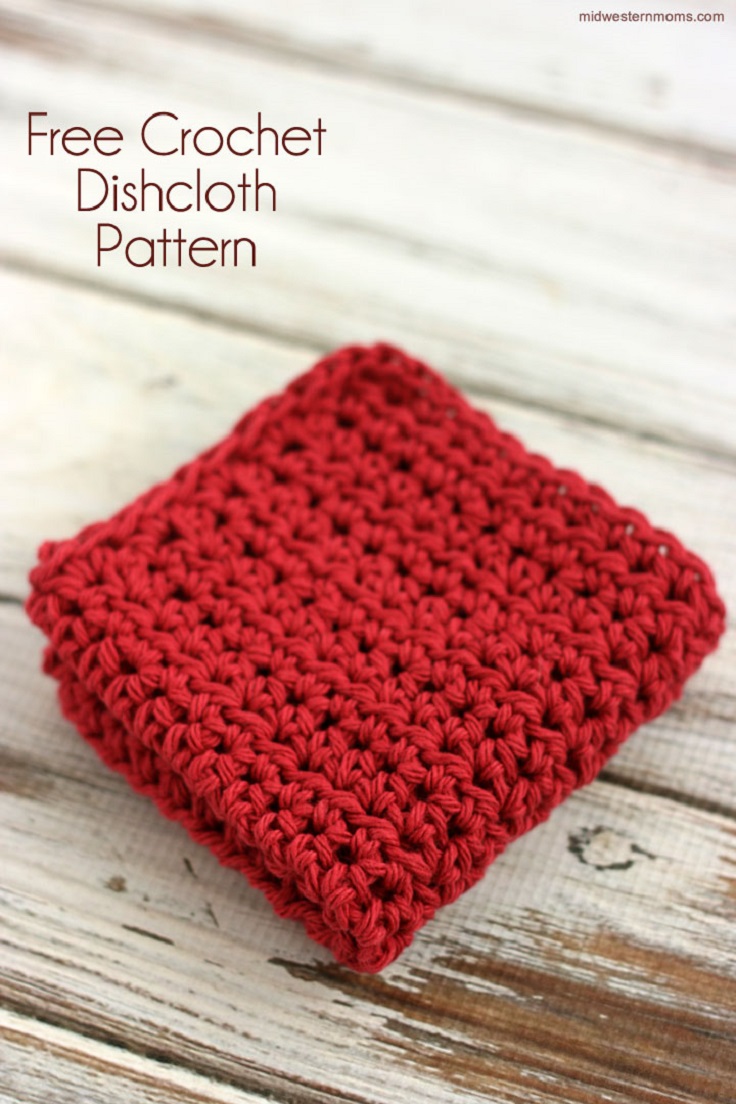 free pattern at midwesternmoms.com
If you are new to crocheting here is a great pattern to try! Making this dishcloth is very easy. The edging may be a little tricky for beginners, but the pattern is detailed, so you will easily get through it. There is even a video teaching you how to crochet a half double crochet. Enjoy!
Funky Peony Scrubbie Crochet Pattern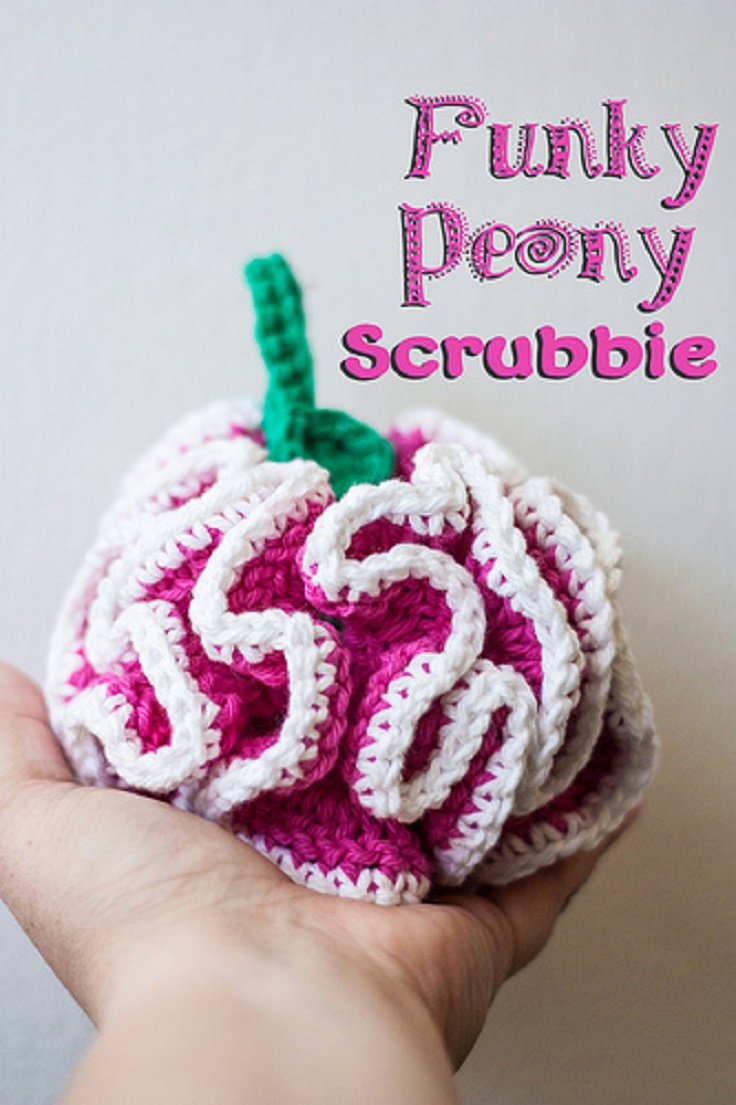 free pattern at imadedinner.net
You must have spent some time admiring the perfection that is peonies this spring. Inspired by these lovely flowers, this pattern for a funky dishcloth scrubbie is surely one of our favorites. We love how it resembles a real size peony. For crocheting it, make sure you use yarn thick enough to be substantial but still manageable and not bulky.
Heart-Shaped Scrubbies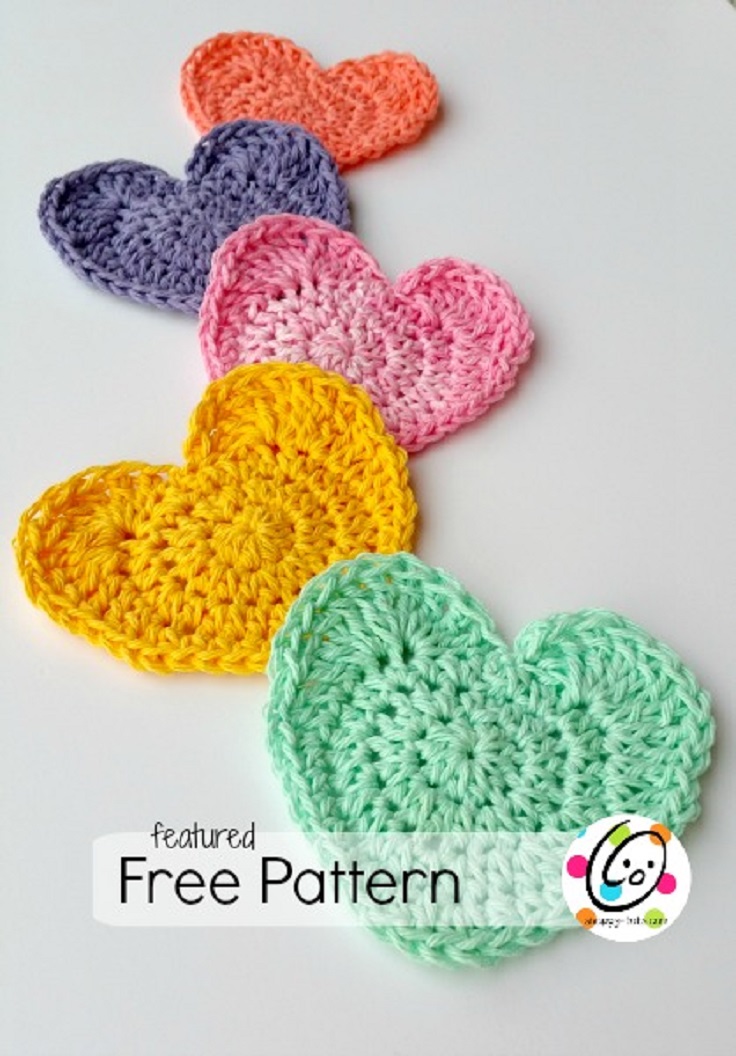 free pattern at snappy-tots.com
Here is another easy pattern for making cute little scribbles, this time with a lovely heart shape. Each of this heart is 4″ x 4.5″ and the perfect size for babies and face scrubbies. You will be able to make at least 5 hearts in just an hour, so they make a perfect last-minute gift.
Fish Shaped Magic Scrubber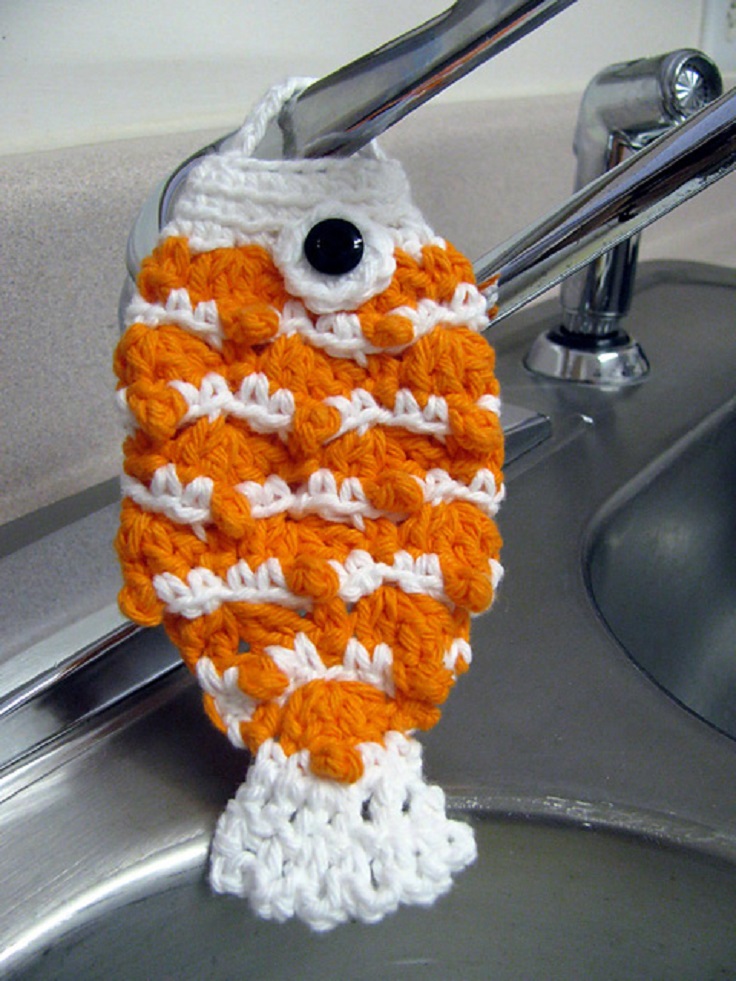 free pattern at ravelry.com
Although this pattern is in Japanese, we couldn't stop ourselves from making it a part of this top 10 list. The fact that the pattern is fully charted using standard crochet symbols will help you get along and crochet this awesome fish-shaped scrubber.
Rainbow Flower Scrubby Dishcloth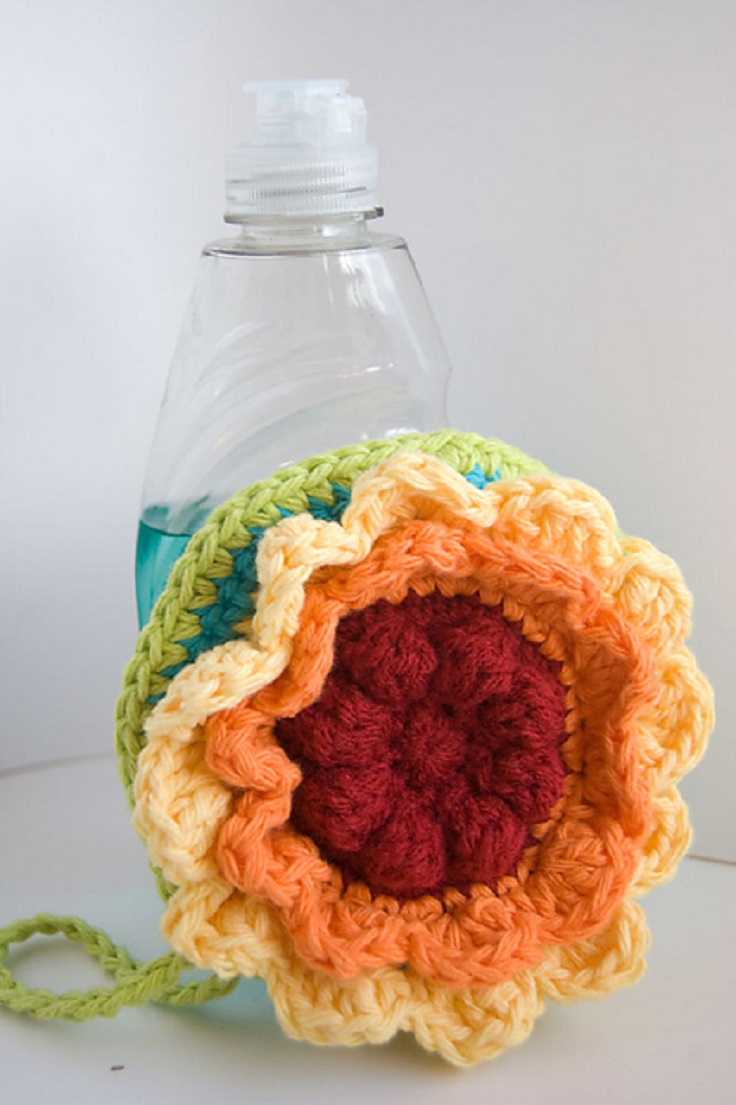 free pattern at ravelry.com
Bring the colors of the rainbow in your kitchen with this cute rainbow flower scrubby dishcloth. It will make you smile whenever you do the dishes. It also makes a great gift. It takes just a few yarn leftover bits and features a scratchy scrubby bobbled center for tough messes and soft cotton for more delicate surfaces.
Cleaning Mitt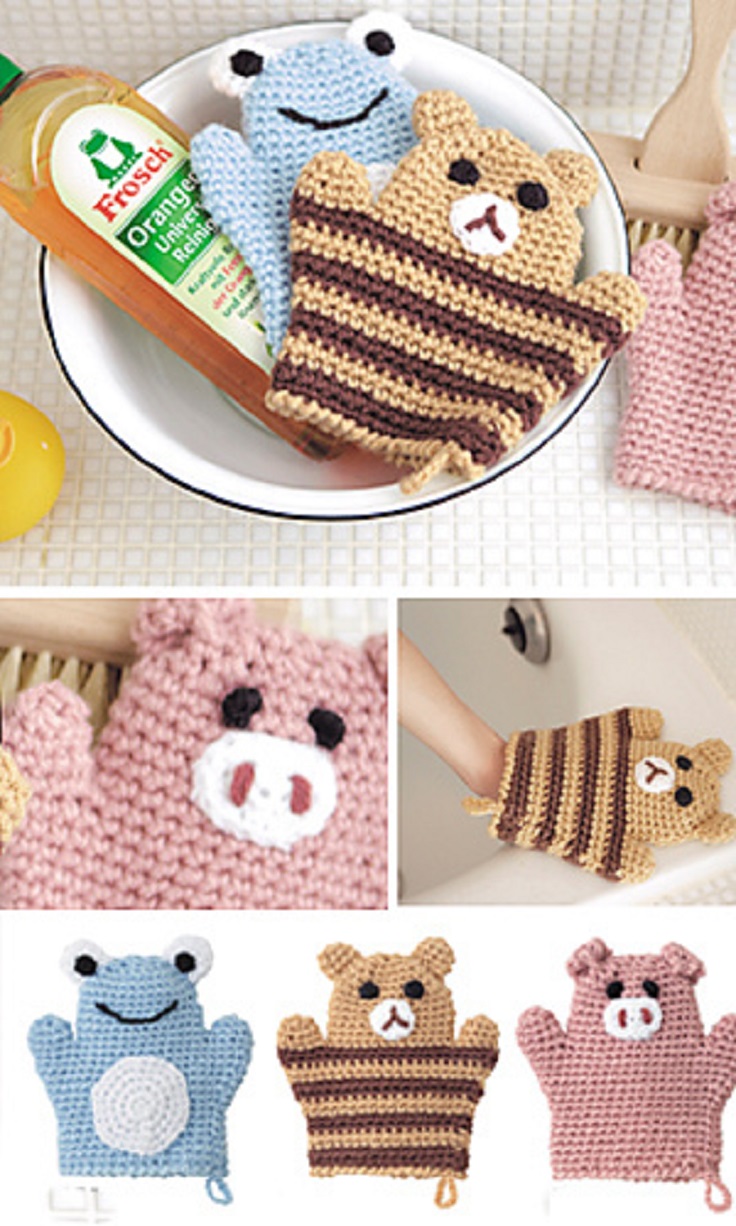 free pattern at ravelry.com
A frog, a bear, or a pig? What is your kid's favorite animals? Wait, don't make them choose, make all three shapes of this amazingly cute cleaning mitt for a perfectly fun bath time! They also make a great gift for a newborn. Both English and Japanese versions are fully charted using standard knitting and/or crochet symbols.
Reusable Crochet Face Scrubbies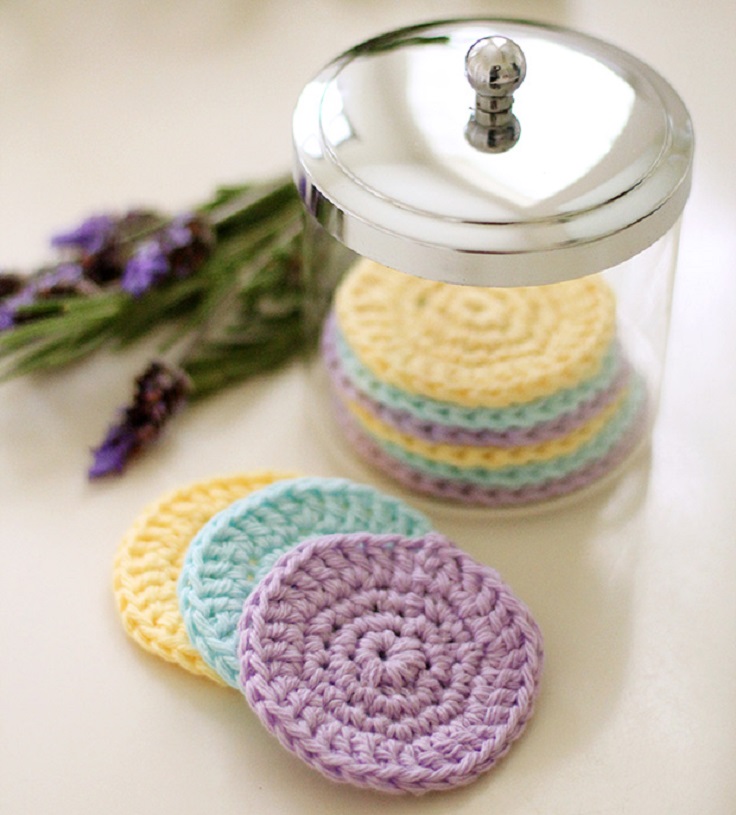 free pattern at  dabblesandbabbles.com
Say reusable, and we are instantly interested! This reusable crochet face scrubbies will make you throw away those disposable baby wipes and save the environment (and your money!) Make sure you use cotton yarn for the scrubbies. They are easy and quick – you will make them in less than half an hour.
Quick and Easy Last Minute Spa Scrubbies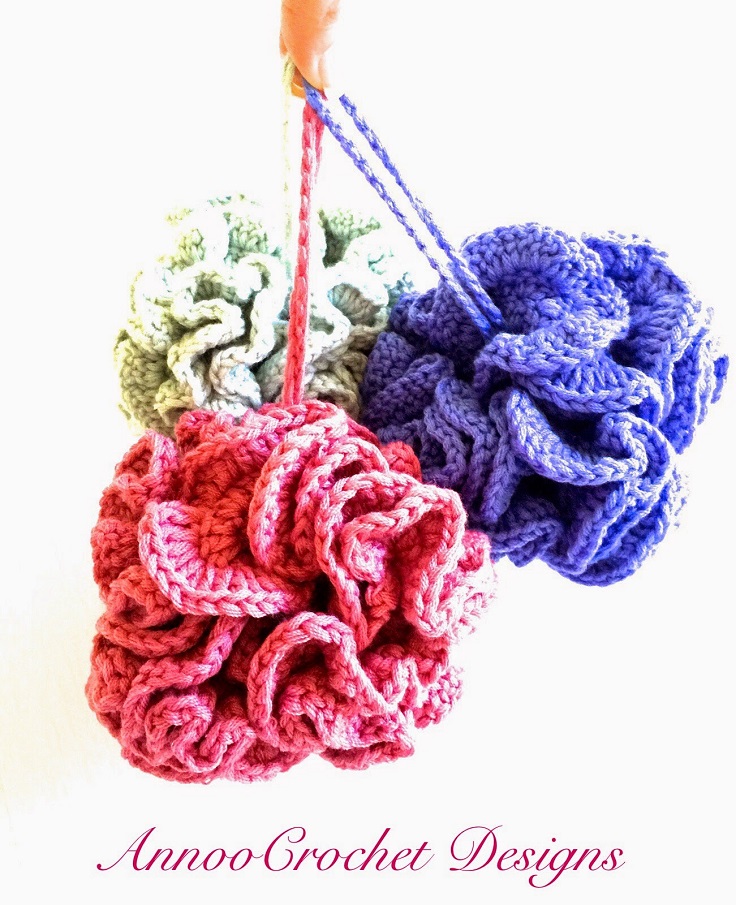 free pattern at annoocrochet.com
Need a last-minute gift? Well, try these quick and easy spa scrubbies. They will make everyone feel special and pampered. Talk about a perfect Mother's Day gift! To make them more durable and super fine, use 50% Super fine acrylic and 50 % Super fine Nylon instead of 100% cotton.
Cotton Face Scrubbies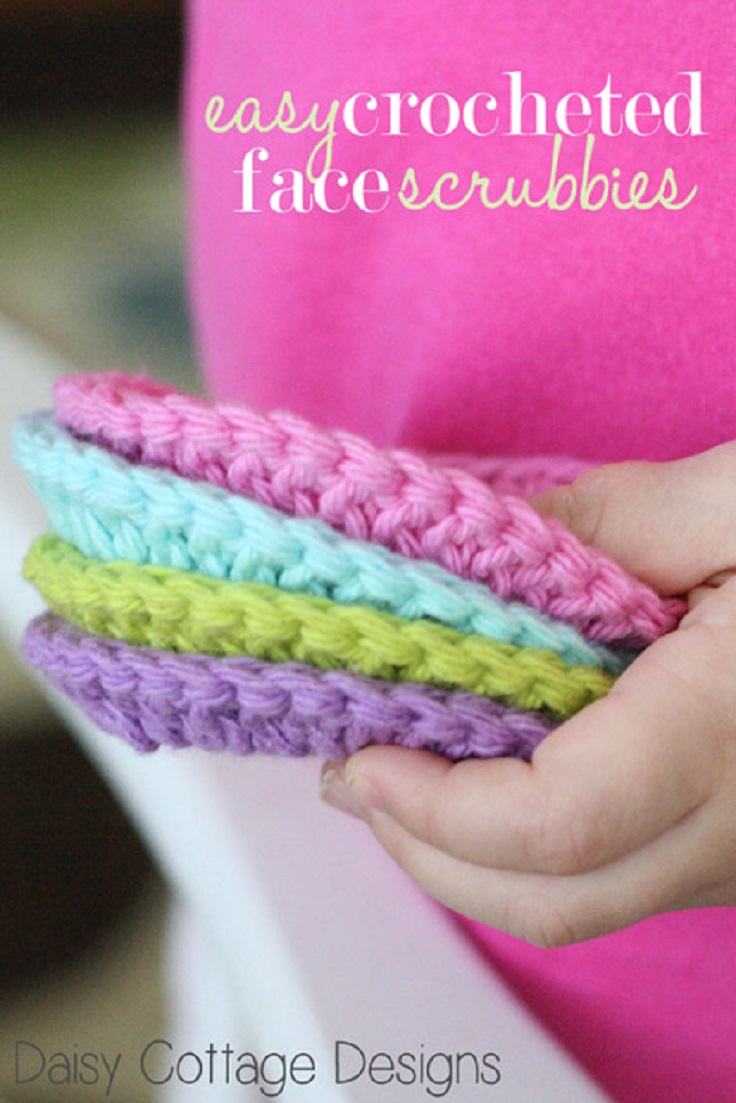 free pattern at daisycottagedesigns.net
Whether you are a beginner crocheter who looks for an easy pattern to perfect their skills or need a project to use all those yarn scraps you have, these cotton face scrubbies will do the thing! All you'll need to make them is an H (5.00 mm) hook, a small amount of cotton yarn (worsted weight), and a large needle for weaving.