If you are into crocheting and want a fun spring project, we suggest making gorgeous crocheted pillows. Choose bright colored yarn, patterns like flowers or chevron, and your living room will instantly become more colorful and more beautiful.
The pillows make a perfect spring addition to your home, but they also make an amazing gift. Now, if only you could find the perfect pattern… Well, we are here to help! Here are 10 totally free patterns for spring-ready crocheted pillows. Just choose the one you like, follow the pattern and enjoy your new comfy pillows.
Puff Stitch Round Pillows Crochet Pattern
via redheart.co.uk
We love the shape of these pillows. It makes them both beautiful and comfortable. They are very easy and quick to crochet – choose your favorite color and follow the free pattern.
Diagonal Pillow Crochet Pattern
via redheart.co.uk
This pillow has such a nice diagonal pattern. We love the blue/white colors, but feel free to choose brighter, even contrasting colors this spring. Make sure you use cotton yarn to make the pillow super soft and cozy. The pattern is free, and you can easily download the instructions.
Rainbow Sherbet Throw Pillow
How delicious does this pillow look? It surely is a sweet design, and it would be fun to crochet it. You can make one or two scoops instead of three if you wish. Choose your favorite colors and favors and start crocheting this absolutely fabulous throw pillow.
Simple Cushion Pattern for Beginners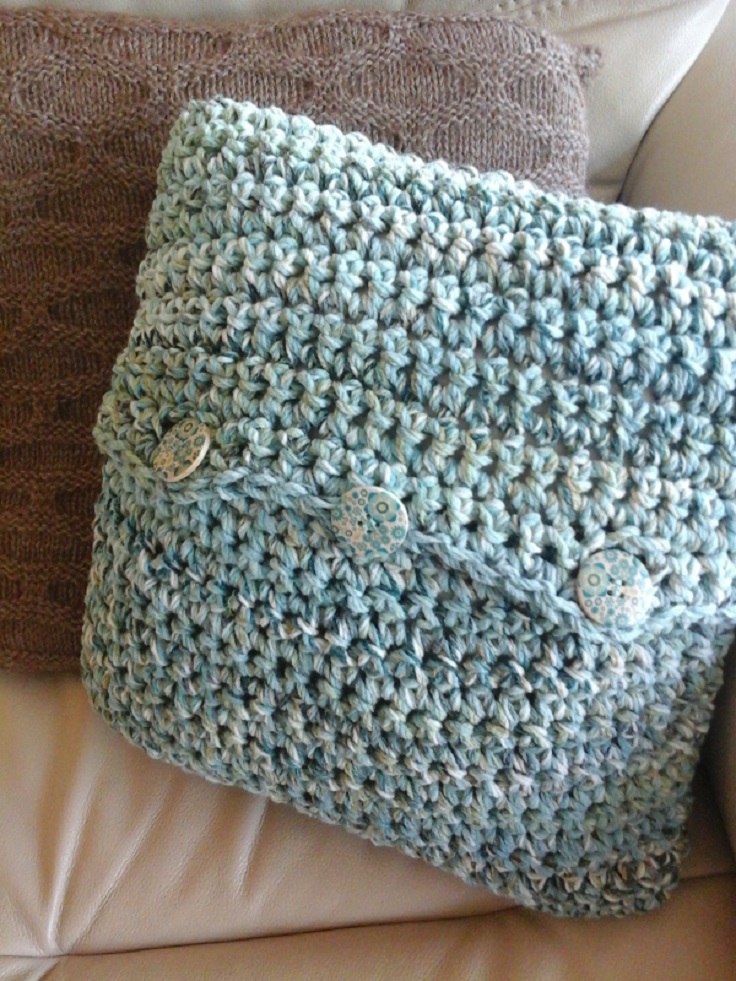 If you are new to crocheting, we have just the pattern for you! This simple cushion pattern is so easy that it can even be your first crocheting project. It is truly a great pattern for beginners, but we think everyone who is into crocheting will love it as the final result is a beautiful pillow with cute buttons.
Mustache Pillow Crochet Pattern
Mustaches are so trendy right now, so this pillow is a hot project to try this spring. We love the black and white design. It is an easy pattern to follow. The design is by Michele Wilcox.
How to crochet chevron cushions
via molliemakes.com
Crochet exclusive cushions with this ripple crochet pattern. Use pastel and monochrome yarns and back it up with comfortable fabric to sit on. 100% cotton yarn is recommended. Stitched in dcs, the ripple crochet pattern has increased and decreases to create that sharp zig-zag design.
Rainbow Cake Throw Pillow
Here is another pillow design inspired by the rainbow. It is a perfect spring project to crochet this throw pillow as it will bring color to your home. You can also make it for your kids – they'll love it. Yummy, squishy goodness!
Circle in the Square Pillows
via redheart.com
This pillow starts up round and ends up a square! Try changing the colors' orders, and you will get a perfect trio of pillows for your sofa. But we doubt you will stop at making just three – once you've made one, you won't be able to stop. Worth the effort.
Meredith Pillow Cover
via vickiehowell.com
Here is a project that is quick, easy, affordable, and unique. Choose from scraps and single balls that you think would work with your home's color pallet and follow the easy pattern. Make sure you get a nice pillow because it will be peaking from the cover.
Color Bomb Flower Pillow
Flowers, flowers, colorful flowers! Bring them into your home by making this pillow that is a true color bomb. 8 different colors are used for this pillow, and they are all very, very bright and vibrant. It will be a great addition to your living room this spring.