French cuisine sounds fancy and glamorous, conjuring up images of anniversary date nights and once in a lifetime trips to Paris. But with the right ingredients, techniques, and dining mentality, you can create amazing French meals on an average weeknight in your very own kitchen.
French cooking may seem sophisticated, but it's not complicated. It's just about creating a harmonious dish that elevates the quality of the main ingredient. We are summarizing great top 10 choices and it's up to you to tell us which one you like best. So put your elbows on the table and let the meal flow.
Bon appetit!
1. Beef Bourguignon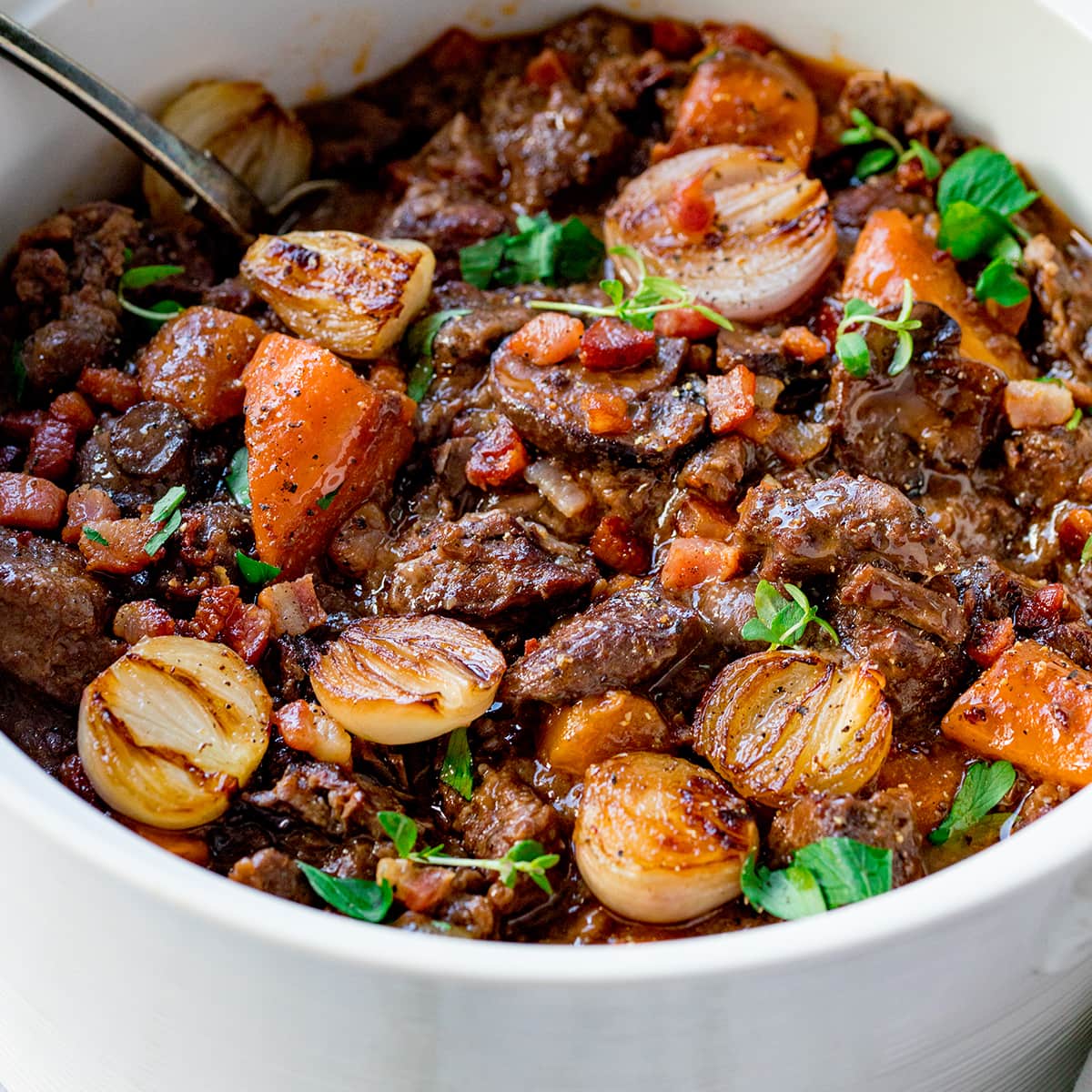 Recipe via bbcgoodfood.com
Beef Bourguignon is one of those dishes that will stay in the hearts of many warming their spirits up. Dating back from the middle ages of rural France, mainly started up in Burgundy, this was a safe and cheap choice for peasants, making something so tasty out of tough meat cuts that otherwise would have gone to waste. Even back 500 or so years ago, there was a "no waste program"! As traditional as it gets, a recipe that will not fail you. Try using a high in tannins red wine and marinate overnight for the best result to tenderize the beef chunks. Nice big veggies in there, no stock, just pure indulgence that won't make your wallet go bust.
2. Nicoise Salad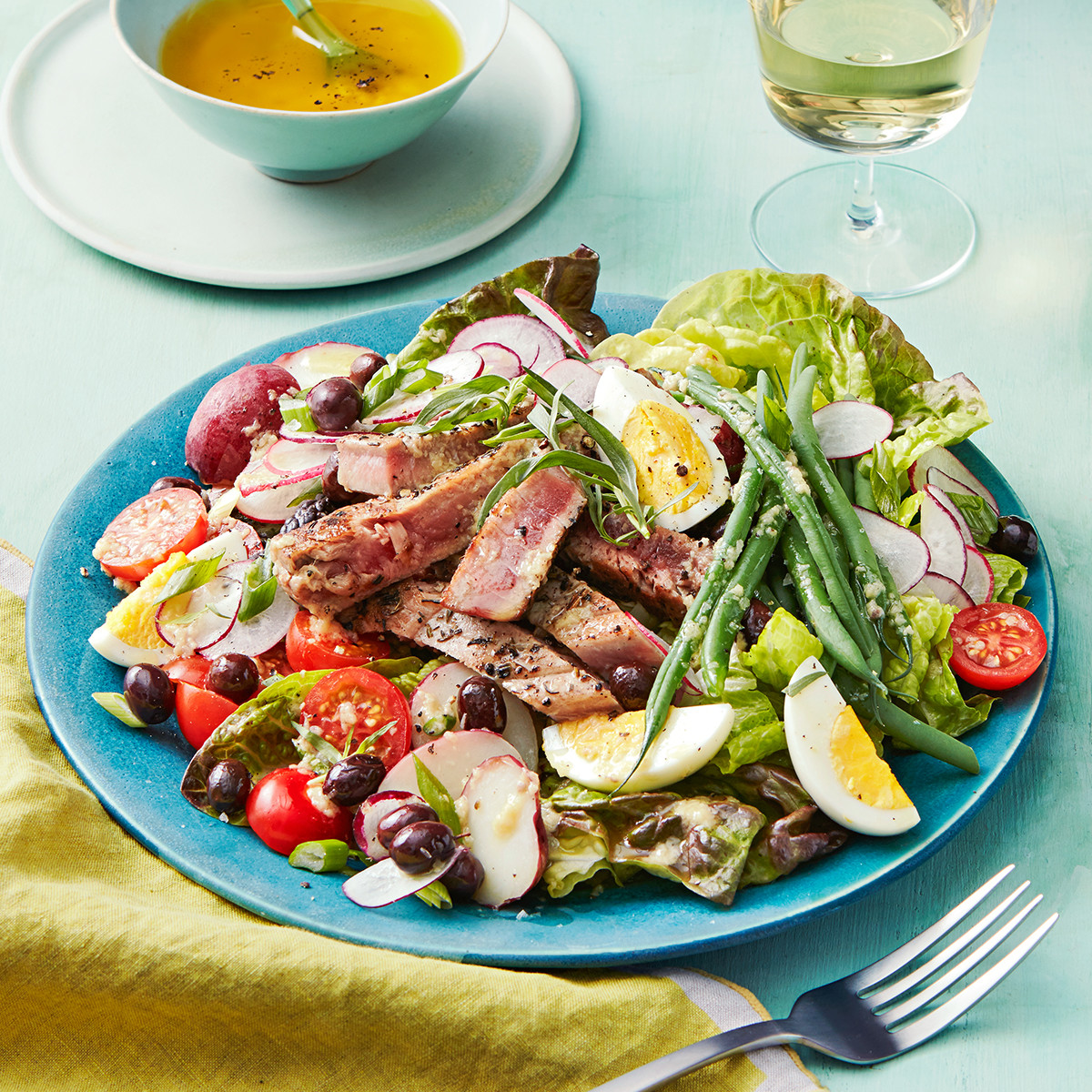 Recipe via simplyrecipes.com
One can have so much fun with a salad but not just a salad. Originally from Nice, it's all about ingredients. And second yes, you will always read about how good ingredients must be but ever so important especially when you cannot really disguise it with something else. These are pure and simple ingredients working perfectly well together in harmony. Both canned or fresh tuna can be used for this recipe. You can enjoy both with a slight penchant for fresh tuna if you can get hold of it cooked medium no more. Super healthy and super tasty. An absolute must.
3. Ratatouille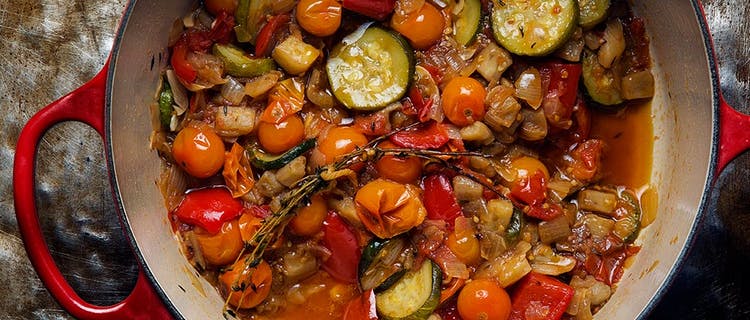 Recipe via tastingtable.com
Thanks to "the little chef" in the animated movie "Ratatouille", the love and popularity of this dish came back to life. Nothing says summertime more than this. Nothing comes even close. You will smell the Provence in your own home wherever in the world you are. It's, in essence, a vegetable stew for the family, for friends, and for people with taste buds that need awakening. Get down to your local market and get the best possible veggies and herbs. Sounds simple yet it isn't. It's about respecting each vegetable by cooking them separately and putting them back together like a well-tuned orchestra. Sincerely and honestly incredible. Pure vegetarian adrenaline of goodness your body will thank you for.
4. Bouillabaisse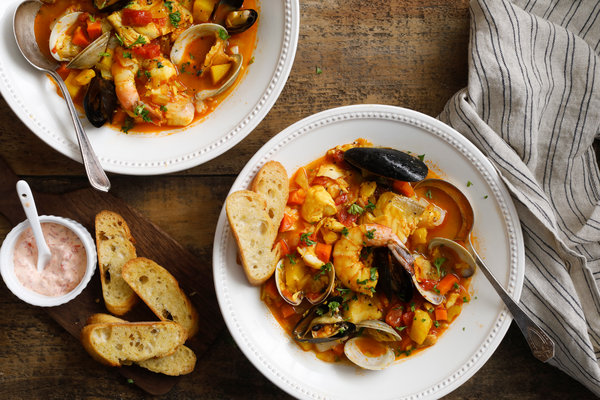 Recipe via cooking.nytimes.com
From the South of France, now comes a very famous fish soup indeed. Locally made with fresh fish caught and brought in the harbor of Provence, Marseille, at around 5 in the morning. People do take their fish seriously and willingly get up at dawn to get the best available fish before the mass market coming in! For best results, do not use oily fish and use instead very bony fish for greater flavor. Make bite-size croutons and as an option, but kind of a must, a lovely rouille to go with it. Beautiful big chunks of fish served with delicate yet powerful fish stock. Bit technical, but for those who enjoy spending time in the kitchen, an absolute joy cooking it with a glass of white wine in your hands – french style.
5. Dauphinoise Potatoes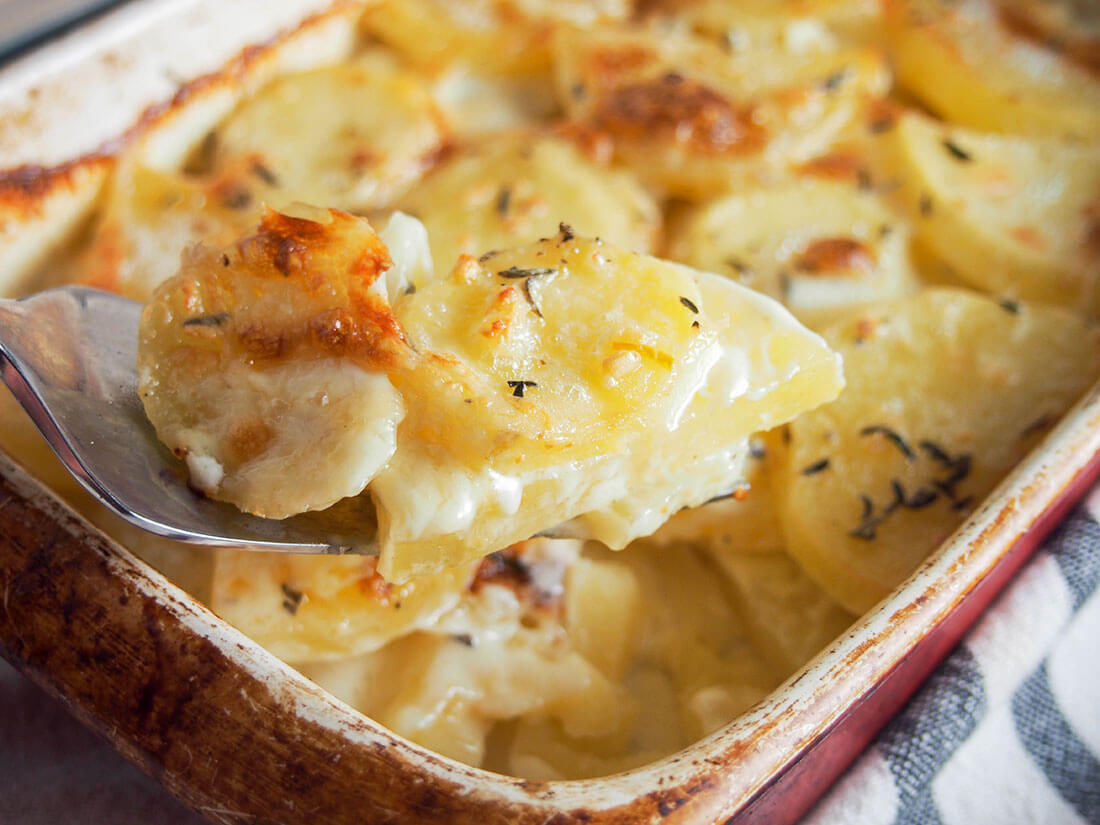 Recipe via bbcgoodfood.com
There is no side dish, in the world, at all, that is more decadent, delicious, flavorful, and rich than a gratin dauphinois. It's all about very straight forward things. Potatoes, cream, more cream, garlic, nutmeg, and bay leaf mixed with a little love while building this dish up. If you cooked a nice piece of steak with a peppercorn sauce as an example, this would be perfect. I'd also recommend for you to undo one button from your trouser as this will surely keep you nice and cozy.
6. Cassoulet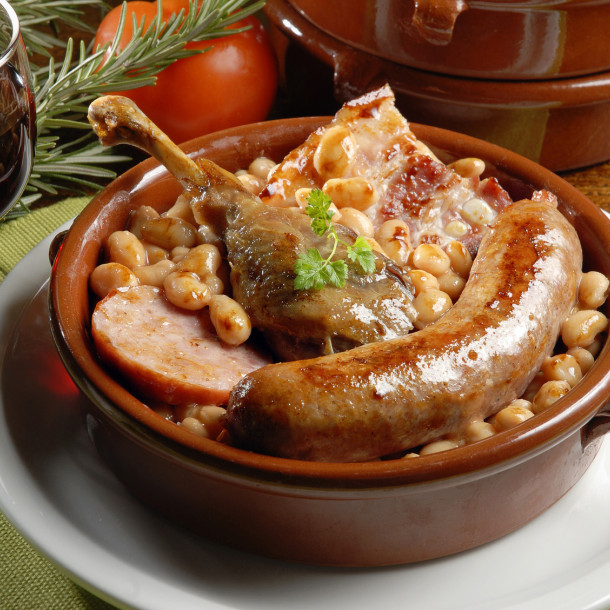 Recipe via thefrenchcookingacademy.com
Unfortunately, it is said that some of the best french recipes do require spending 2 days at the gym straight after. On this occasion, it is well worth it. Originally from a town called Castelnaudary in the Languedoc within the 100 years war 1337-1453 and made from haricot blanc or white beans. This recipe stays true to its roots including nice pork chunks, confit duck, sausages, and cured ham. Rich and fabulous, this dish has people flying from all over the world to find their ultimate favorite.
7. Onion Soup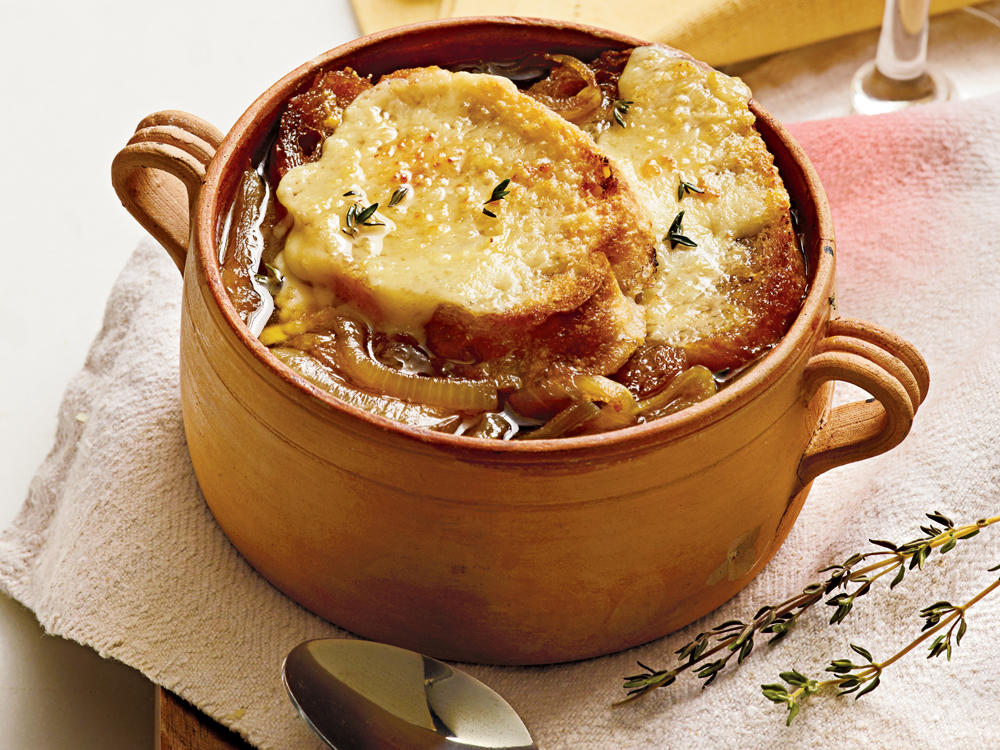 Recipe via epicurious.com
For making this dish, you'll need someone to assist you while doing the groceries as you'll need a LOT of onions and it gets heavy in the bags! And you'll need many tissues for the tears that are about to come. And honestly, no grandma's tale suggestion can make the idea of cutting onions better without sharing a tear or ten. Magical soup made with a super thick and strong-flavored beef broth reduced so much into an almost beef like liquor. Top with a thick slice of bread with gruyere cheese and wack under the grill. Oh my.
8. Lentil Salad with Goat's Cheese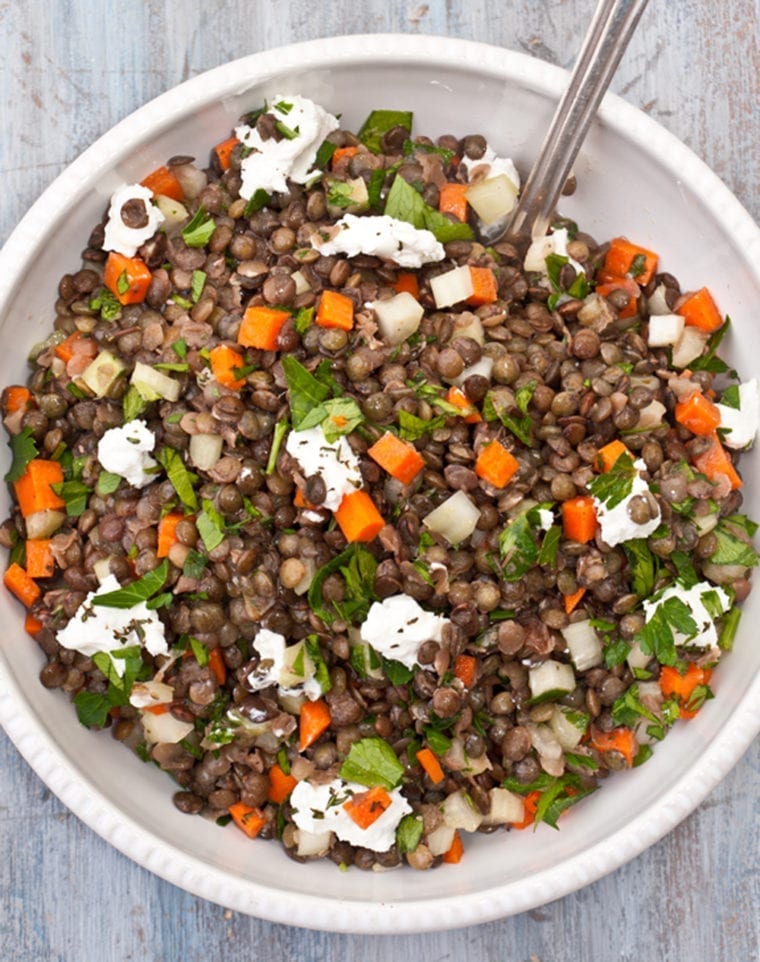 Recipe via onceuponachef.com
Some of the better known green lentils are definitely the Du Puy kind known for their consistency without ever getting much even when accidentally overcooking them. Rich in iron and perfectly served with a thick french vinaigrette and goat's cheese. Lovely when served with roasted lamb or on its own with fresh bread from the bakery. Vegan? Use vegan cheese; it'll work perfectly too.
9. Croque Monsieur
Recipe via bonappetit.com
Ever been to France, stopped in a bakery, and fixed your eyes on this marvel of the world? Asked for it to be warmed up, burnt your fingers and mouth in the process of eating it but without ever wanting to stop? Made with ham and cheese with bechamel sauce. This is one ultimate toastie. Croque Madame? Add a sunny side up egg on top of it. A perfect gentleman bite.
10. Tart Tatin
Recipe via bakefromscratch.com
Thanks to the sisters Tatin for making us enjoy the life that bit more. Created within their hotel restaurant in Lamotte-Beuvron. Some say, the sisters forgot to put the pastry in the tart mold and later put it over it, turned it upside down, and saw the fabulous melted caramel running off it. Serve it with a nice dollop of thick organic double cream or simple vanilla ice cream.