Having a decent and healthy meal in world full of responsibilities can be a hard task sometimes. It's really easy to reach out fast food and other unhealthy options, instead of holding onto a healthy lifestyle. It does take some effort early in the morning to prepare something when you're in a hurry, or when you just simply want to cook, but always look on the positive side.
When you are eating healthy food, you are feeling good. Check out these ten recipes of sandwiches -they all are tasty and more or less, healthy as well!
1. Grilled Sandwich with Egg, Spinach & Tomato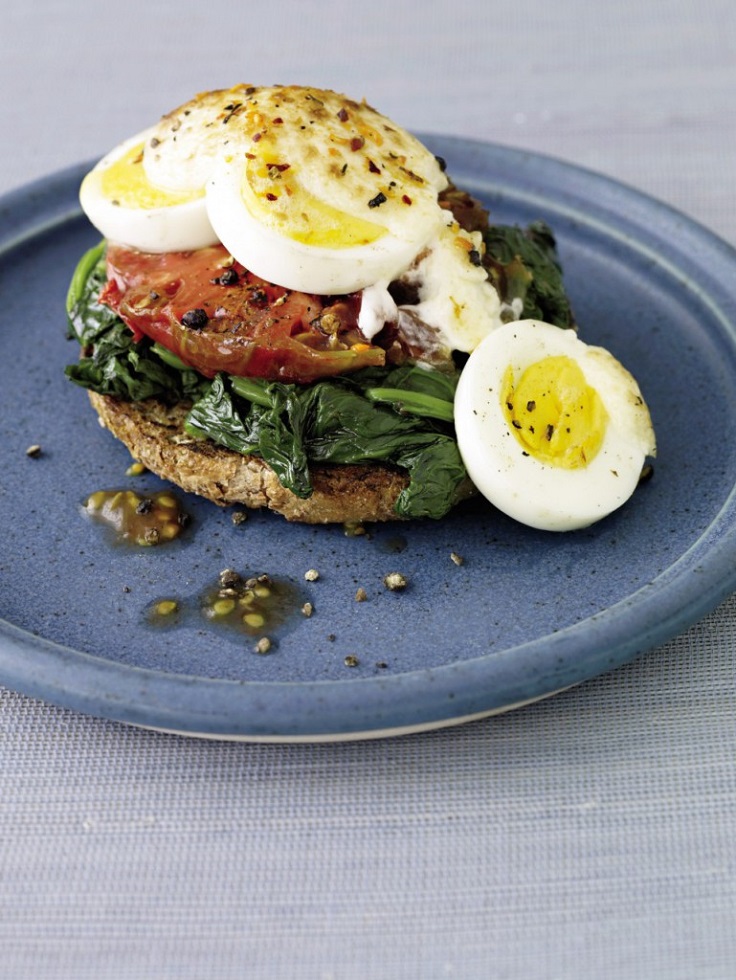 via runtastic.com
Spinach, eggs and tomato, this sure sounds like a healthy meal! Spinach and eggs are rich in protein, so it's a good idea to include them in your eating habits. FOr this sandwich, you need whole grain wheat English muffin, fresh and boiled spinach, a tomato slice, hard – boiled egg, a tablespoon of mayonnaise and salt and pepper to taste. Toast the bread to make it more crunchy and then just add the ingredients.
2. Cranberry, Cheese and Prosciutto Sandwich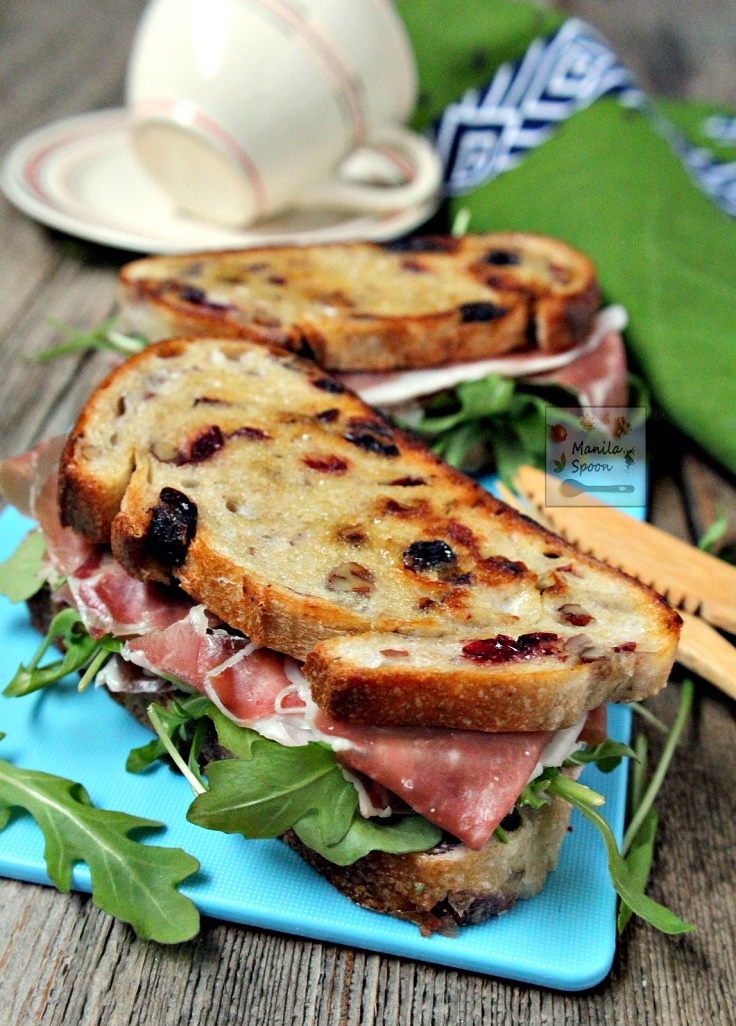 via manilaspoon.com
For this sandwich you need cranberry pecan bread (but other bread will work as well), goat cheese or mascarpone, fresh arugula, thinly sliced prosciutto, honey to taste, and a little bread for the toasting. After that, your bread will have a soft, buttery taste, mixed with cranberries and cheese flavors.
3. Fresh Mozzarella, Tomato, and Basil Sandwiches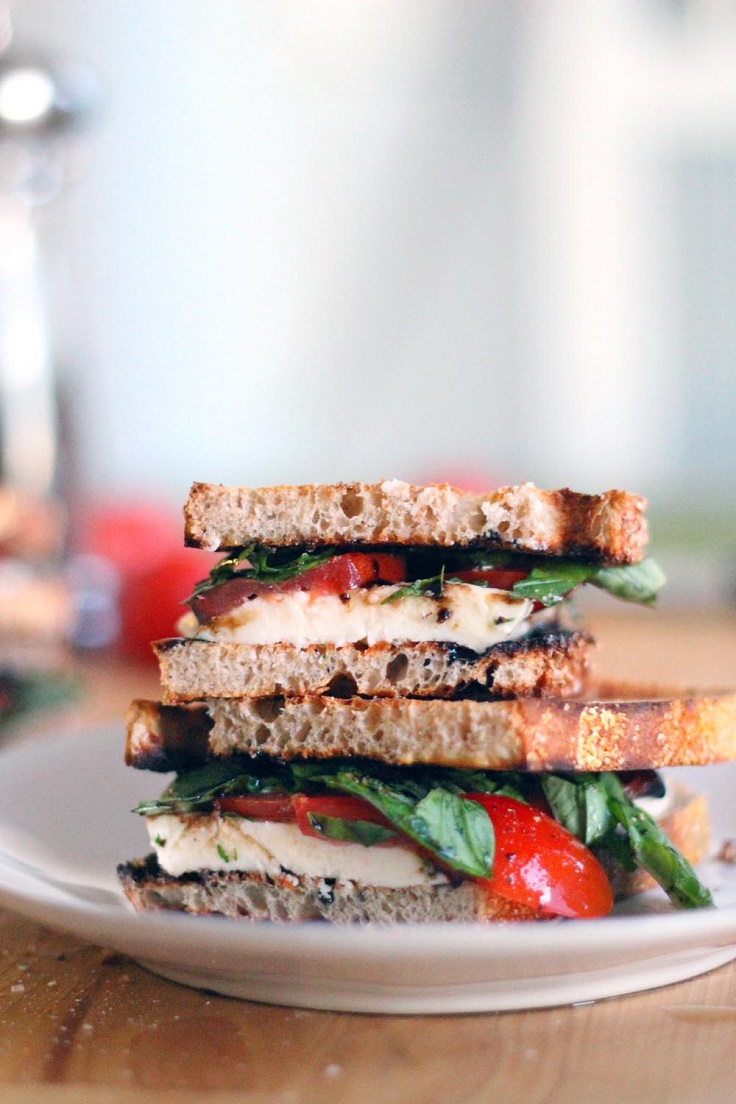 The real Italian taste gathered in one sandwich! In order to make this little piece of food heaven, make sure you have toasted whole wheat bread, fresh mozarella, tomato, basil leaves, olive oil, balsamic glaze, and salt and pepper to taste. Easy as pie, you will have your breakfast, lunch or dinner ready in a minute.
4. Salmon Sandwich with Creamy Dill Sauce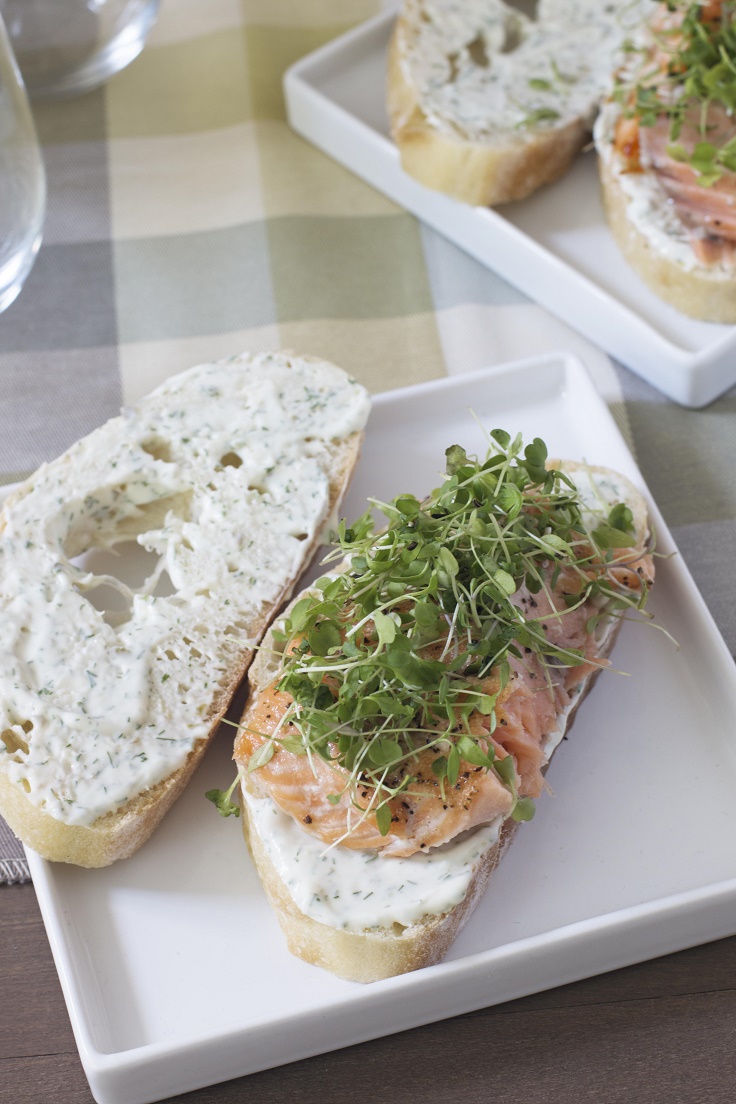 via cakenknife.com
For this sandwich you need salmon filets, garlic powder, kosher salt, freshly cracked black pepper, ciabatta bread and micro greens. The sandwich has also a tasty, creamy dill sauce. To make it, make sure you have light mayonnaise, reduced fat sour cream, white wine vinegar, fresh dill, kosher salt and drained capers. First prepare the salmon, then the cream sauce and in the end prepare the whole sandwich.
5. Grilled Cabbage Ricotta Sandwich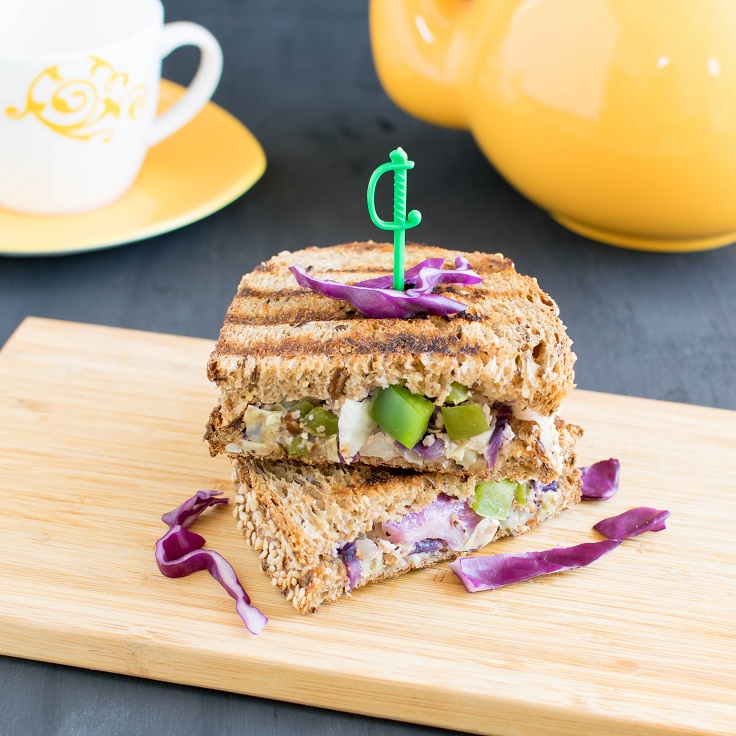 via kiipfit.com
Grilled sandwiches, yes please! It will take you no longer than 15 minutes to prepare this one. You need olive oil, oregano, green cabbage, purple cabbage, green bell pepper, heaped ricotta cheese, salt, crushed black pepper and whole wheat sourdough bread. Cook both green and purple cabbage until it starts to release water. After that, add one by one the other ingredients. Toast the bread and make your sandwiches.
6. Cranberry Turkey Sandwich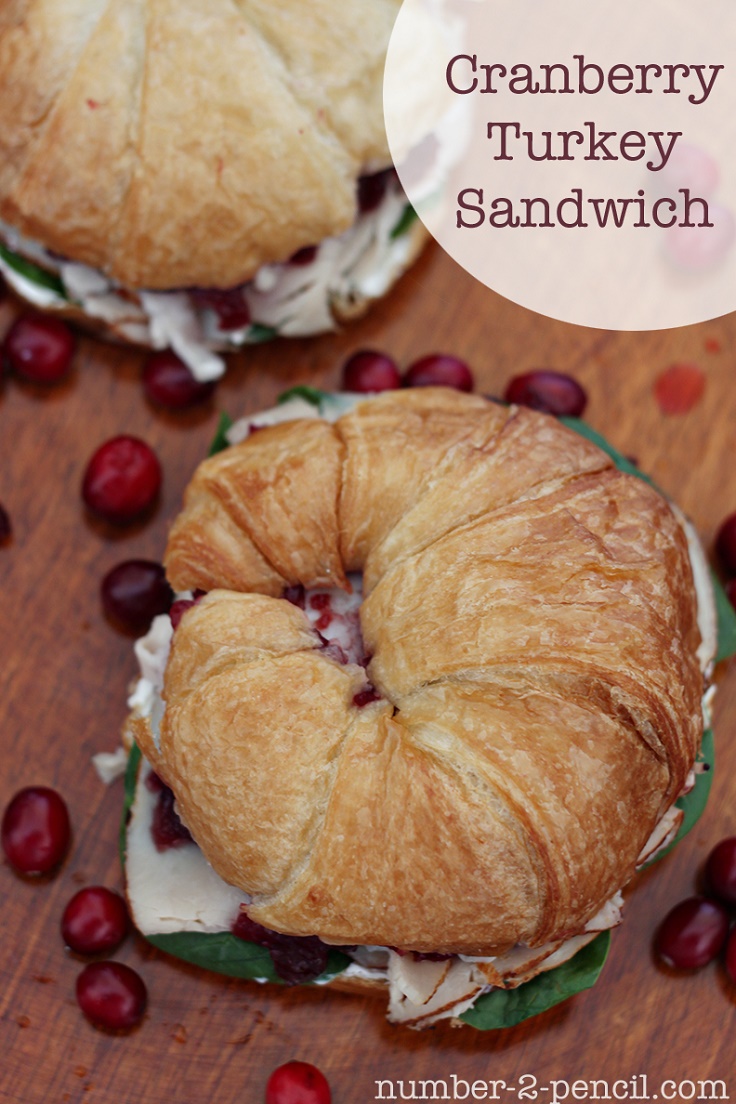 And we're back to the cranberries again, except that this time they are combined with turkey. Have yourself a croissant or any other bread by your choice. Cut it in two, and add a layers of whole berry canned cranberry sauce, freshly sliced roasted turkey and spinach. This sandwich is not only perfect for any time of the day, but is also office – friendly. You can keep it wrapped in plastic wrap and eat it whenever you want throughout the day.
7. Tuna Avocado Salad Sandwich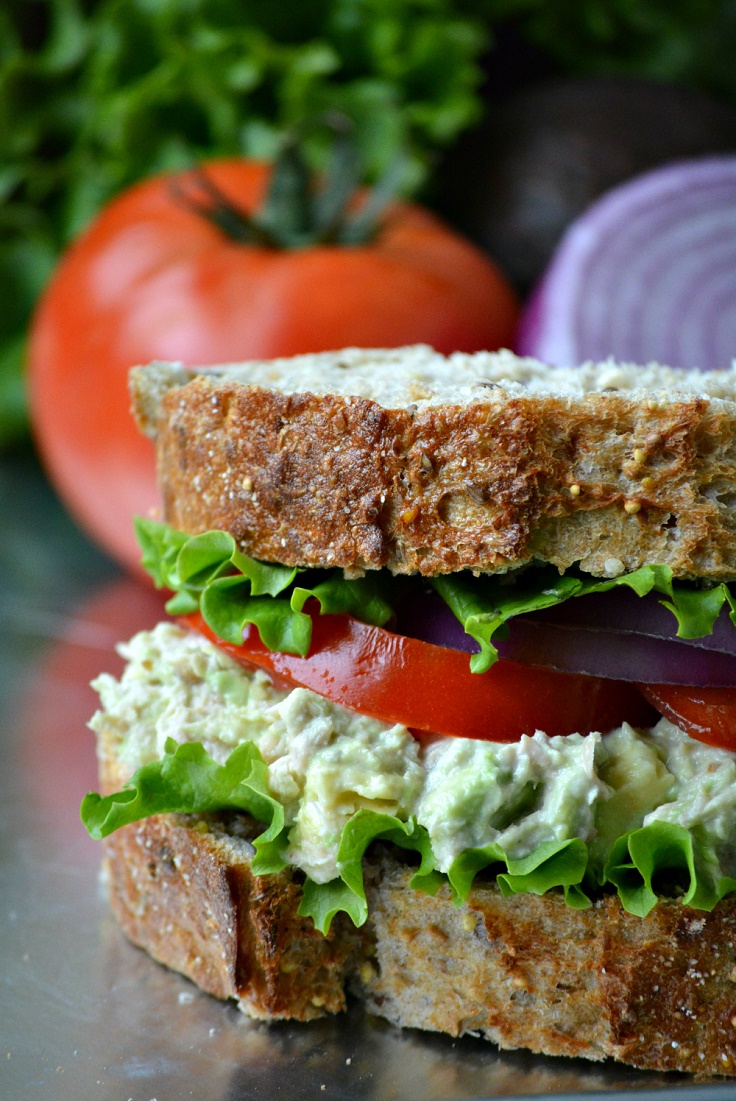 Tuna is one of the best ingredients for a sandwich, but when it is combined with an avocado and it's a salad out of these two, it is simply a must. Make the salad by mixing tuna with mashed avocado, mayonnaise and chive. Place it with spoon on the piece of bread and you can also add tomatoes, onions, lettuce or whatever that satisfies your hunger.
8. Copycat Panera Frontega Chicken Panini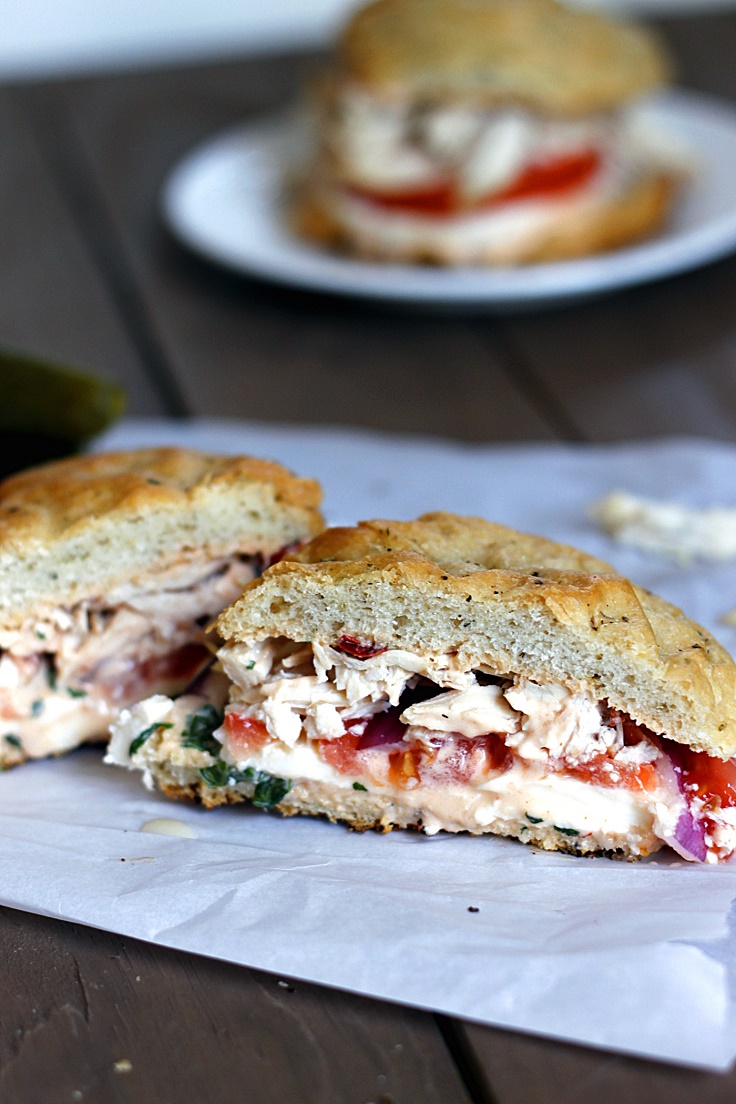 Chicken sandwiches are always welcome! And they taste so well, especially when we eat our favorite piece of bread. This sandwich has an amazing spread made of mayo, sour cream, chipotle in adobo and fresh basil leaves. Other ingredients needed for the sandwich are shredded cooked chicken, tomato, red onion, olive oil and fresh mozarella cheese.
9. Green Bean Turkey Club Sandwich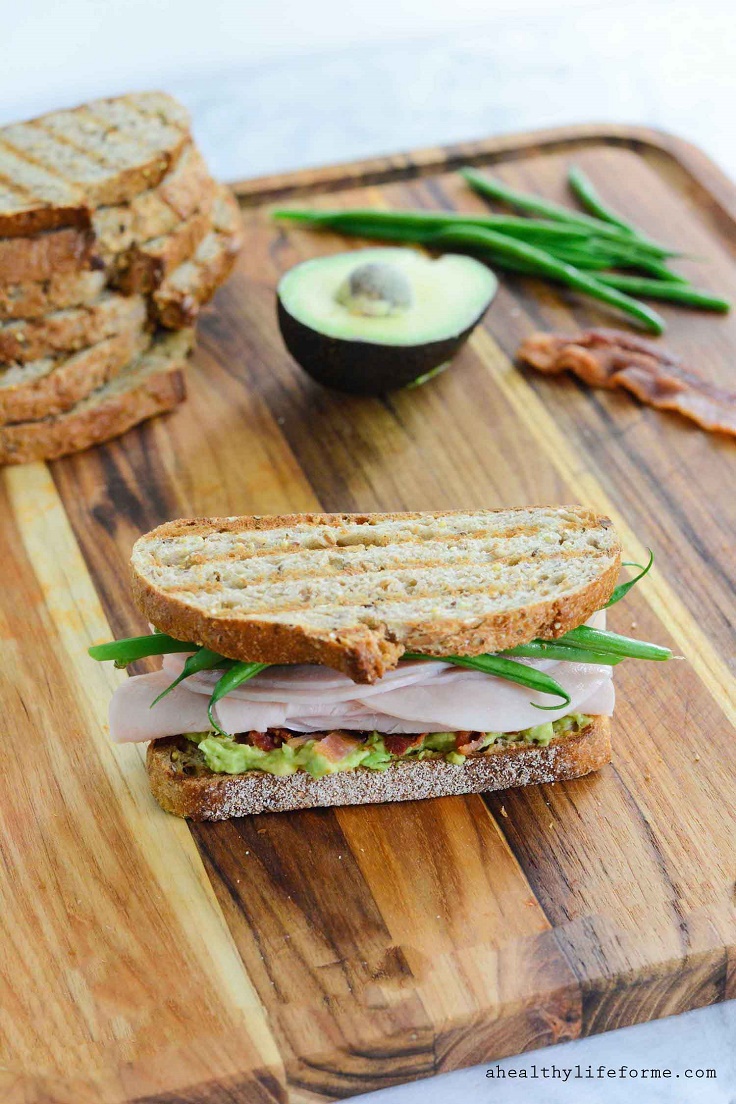 Here's another turkey sandwich that's worth preparing and even more worth eating. What you need is whole grain crusty, toasted bread, oven roasted turkey, cooked and chopped bacon, french green beans, mashed avocado, kosher salt and ground black pepper. The whole process of preparing the sandwich lasts 10 minutes – another reason for you to try it!
10. Smoked Salmon & Avocado Egg Sandwich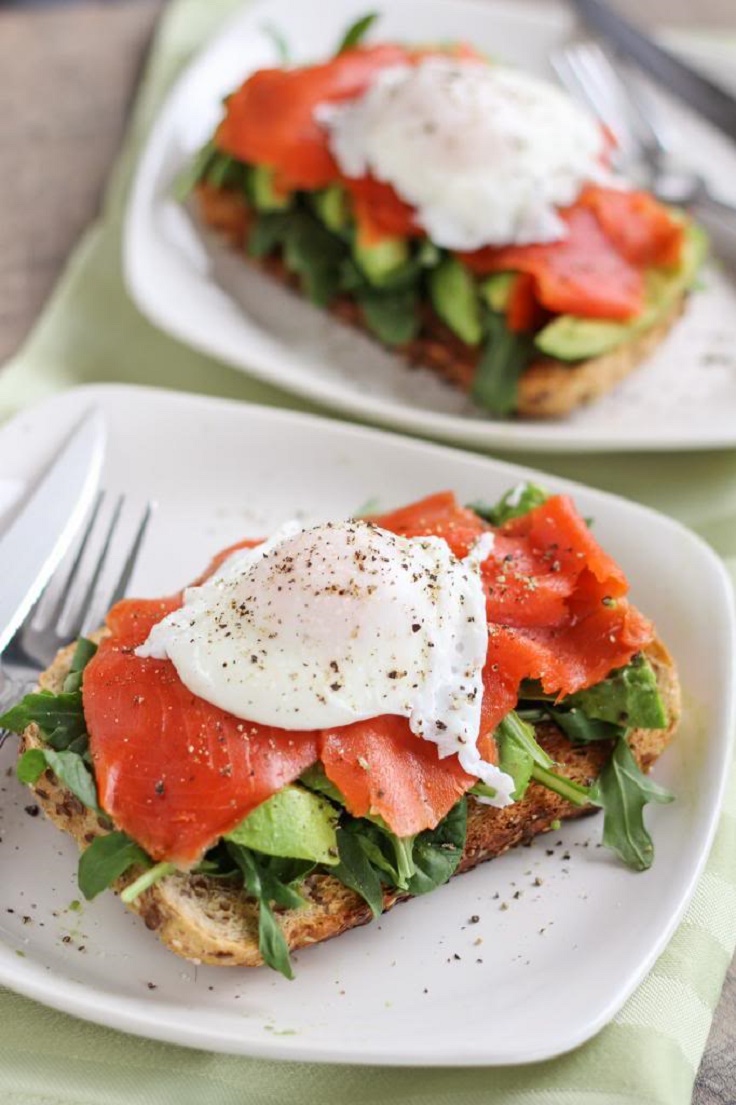 Eggs and avocado are a famous and super delicious combination, but adding smoked salmon is the real deal. Besides the salmon, the avocado and the egg, you need white vinegar, whole grain rye bread, baby arugula, salt and pepper to taste. Poach the eggs and prepare the sandwiches by adding arugula and avocado to toasted bread slices and top with poached egg and smoked salmon.