Today there are so many people working from home. While others love staying in their pajamas and don't leave the bed the whole day, others want to have space on their own where they can sit down and feel like they're in the office, and we're not talking about having a whole room; dedicated to that!
Our office can actually be just one corner of a room, a small desk placed somewhere between and a plant or two for decoration. You can play so much with such a small space. Wondering how you can make it? Check out these ten home offices that we picked for you!
1. Norwegian Style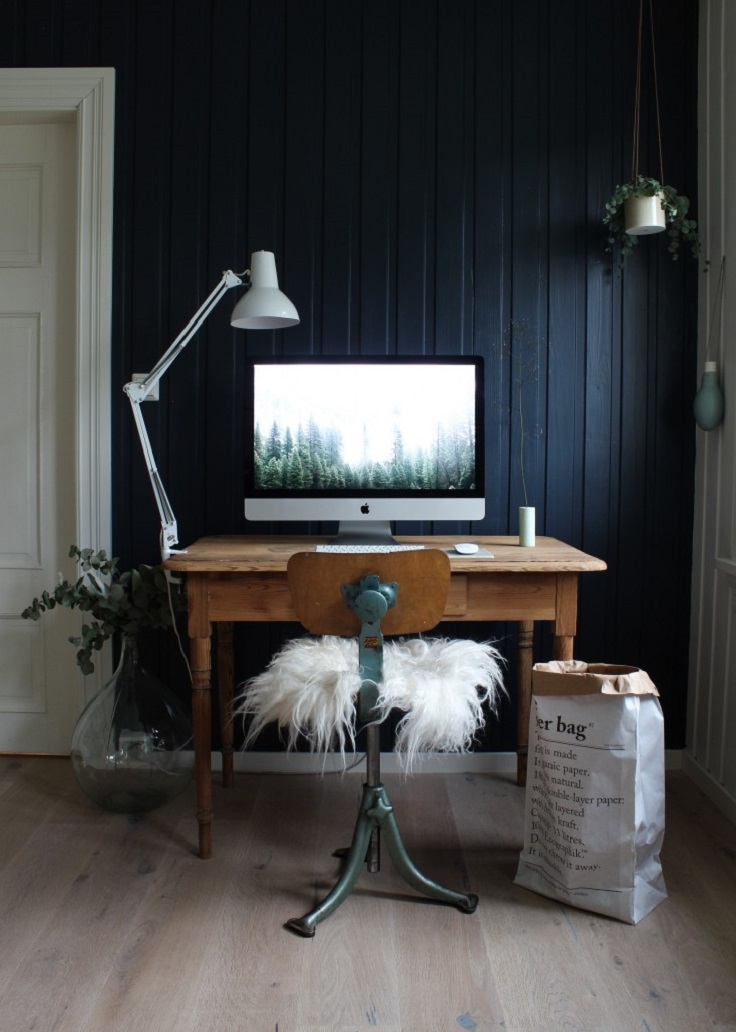 We all know how the Scandinavians are excellent when it comes to style, whether it is fashion or home interior. Having a small home office inspired by this Norwegian home is really easy. As you can see, there aren't many details. In fact, it is all about the dark interior matched with a wood table, while the two amazing details – the vase and the sac really contribute to creating a unique, Nordic office.
2. Light Blue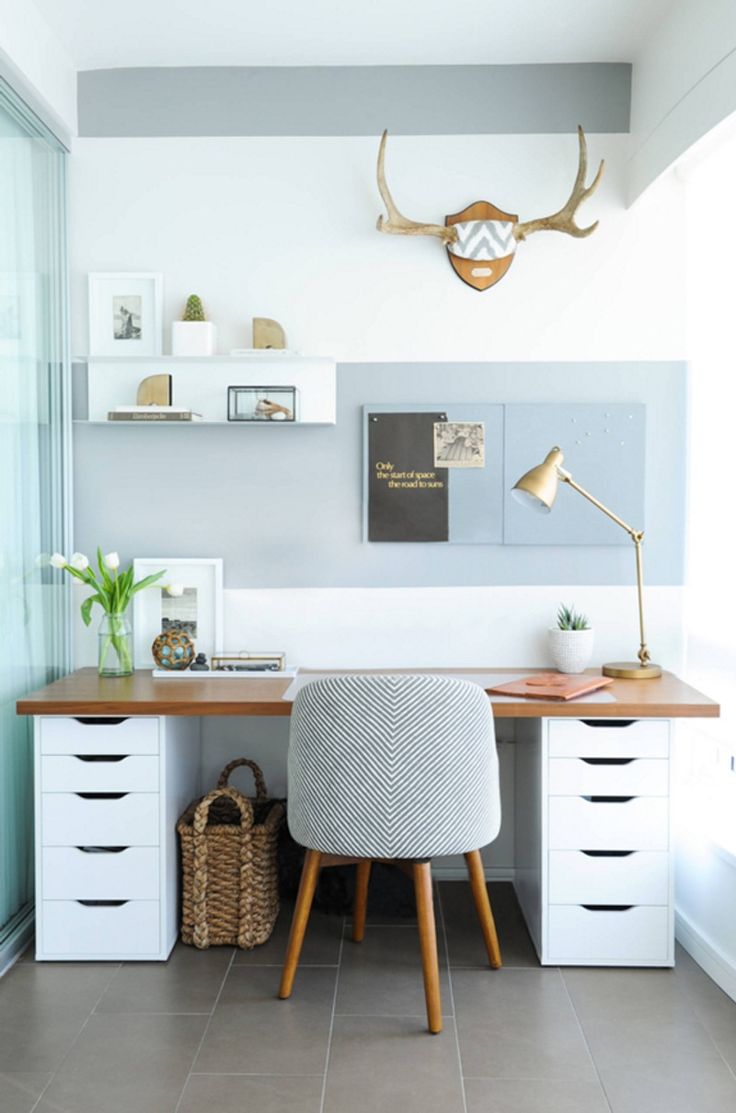 This office is all about a clean design that won't tire the eye. This very light blue is so gentle and leaves space for other colors. You can go for a darker blue or mix it with a bit of gold – see the lamp how it turns out as great detail thanks to its color! Using pastel colors will surely create a clean design, and we're pretty sure that working here is going to feel amazing.
3. White with Black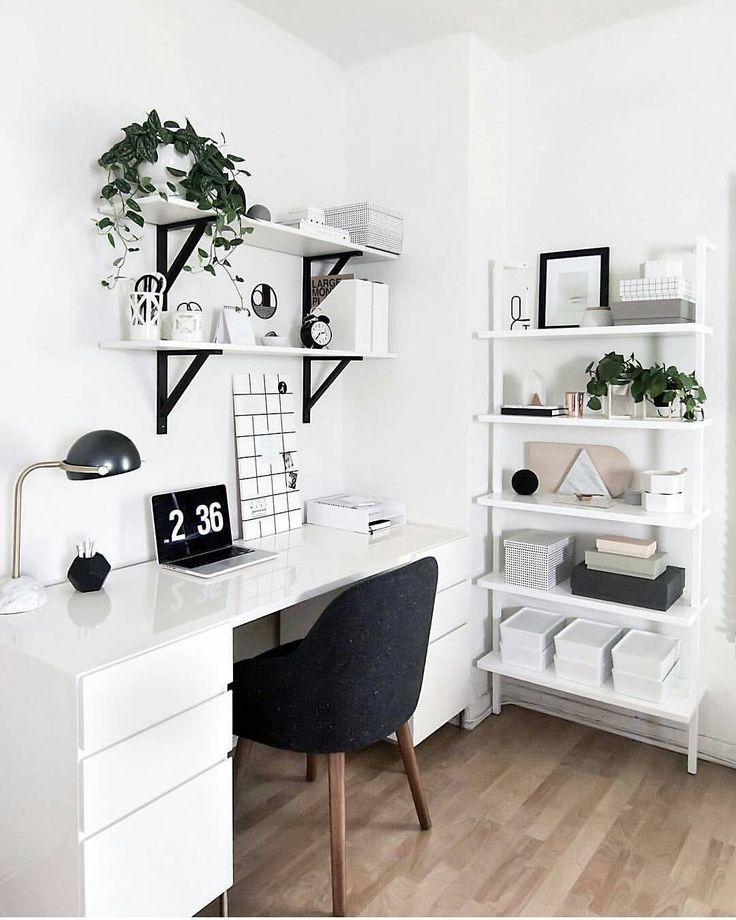 via blog.westelm.com
This combination is very popular thanks to its simplicity and clean design. It's a pure contrast with very small details in other colors, such as the plants that add just a tiny green touch. It is also a minimalistic design because it doesn't evolve too many items. If you're the kind of person who likes living among two colors, go for it.
4. Black with White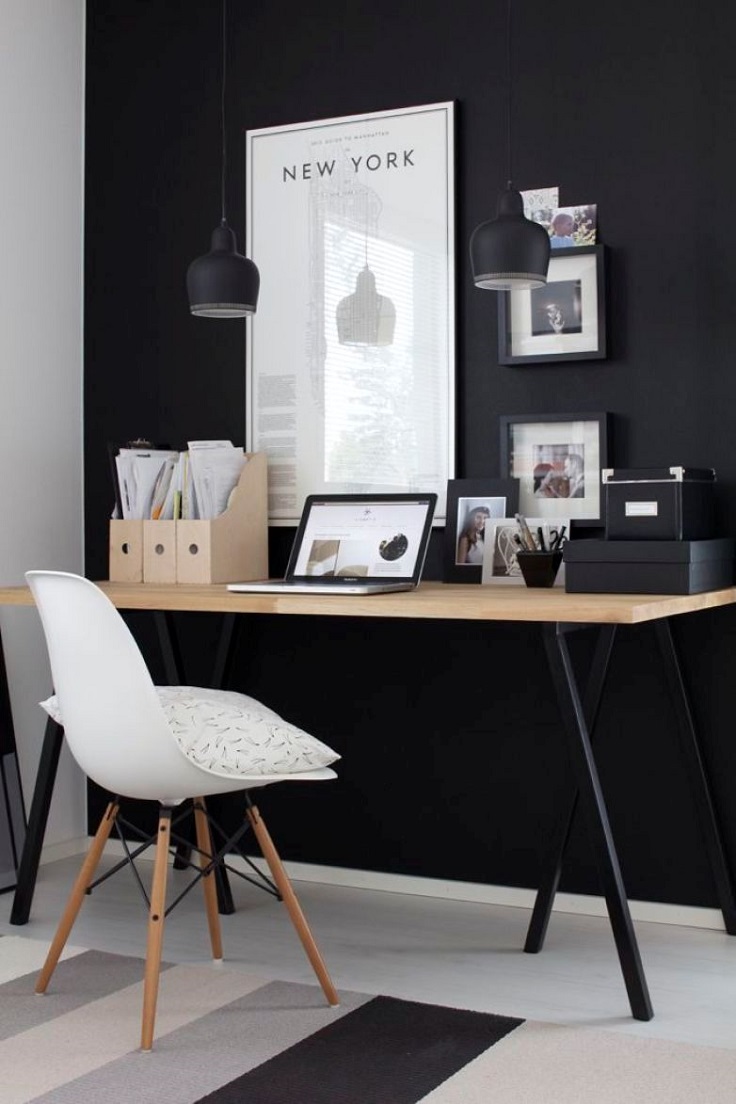 Same, but different. In the last picture, we had an office which was all white and had black details. Here is the other way round – the white is the detail. The previous office was really light, but here the interior is pretty dark and the detail color isn't green of plants, but the wood of the furniture. Very classy and very chic!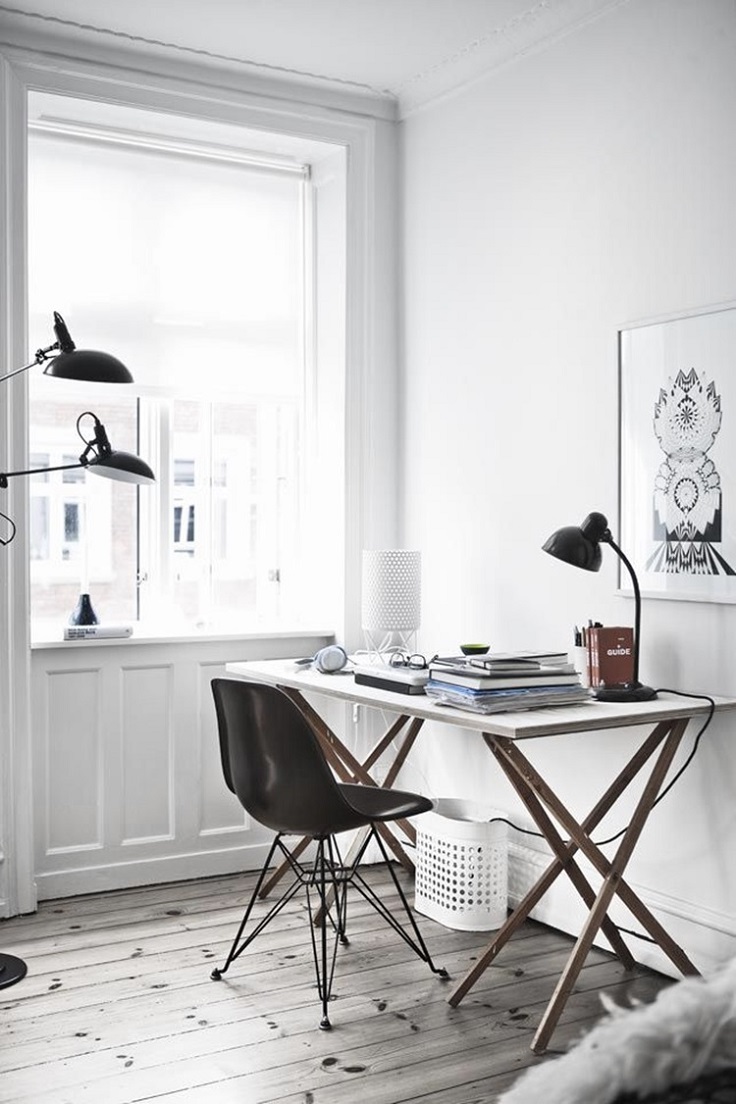 via myparadissi.com
Most of the offices on this list are more or less inspired by the famous Scandinavian style, but this one here is really pure and original! It has simplicity in both colors and shapes, but we're sure that the lack of colors will still be able to inspire you to create and have so many ideas.
6. Cozy and Small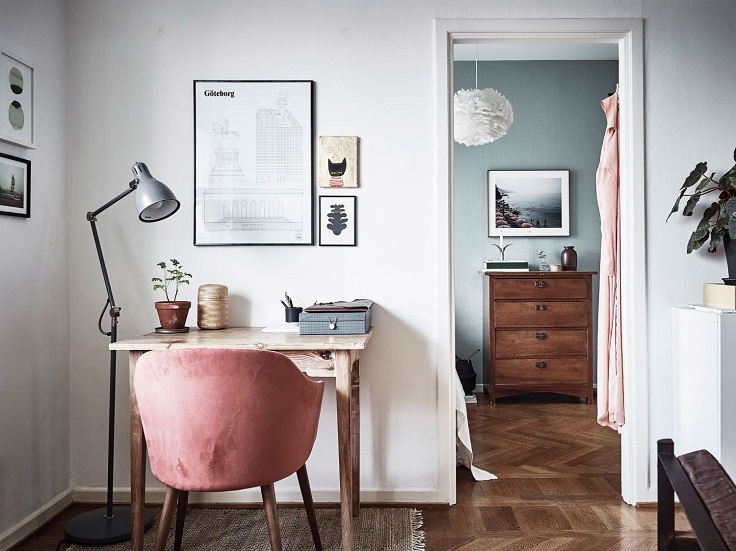 Not all of us can have the home office of our dreams, but see how tiny it can be and still look amazing. You need a corner of your home and completely turn it into the home office of your dreams! Take this an example – few paintings, small pot with your favorite plant and a killer sofa can do the whole look.
7. Artsy
If the Scandinavian style isn't your thing, you can add colors and still your office is going to look great. For example, you can put a big painting with some bold colors, and it will make the office so colorful, but in a good way. Notice how the lamp and the globe also contribute to making the office even more colorful. You have many options, so get creative and experiment.
8. Touch of Green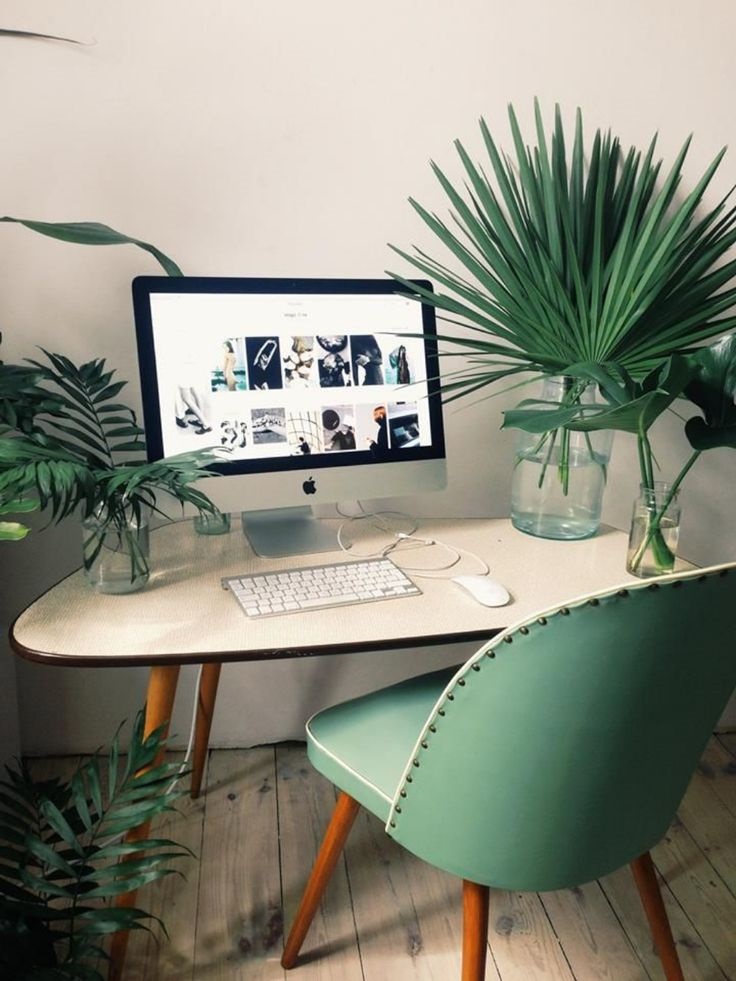 via decoratualma.com
Instead of using more colors, how about just sticking to one? And we're not talking about items here, but instead letting plants be your focal detail. If you feel like you don't need art or other decorative items, you can stick to plants. Look how pretty they can make an office look!
9. Rose Quartz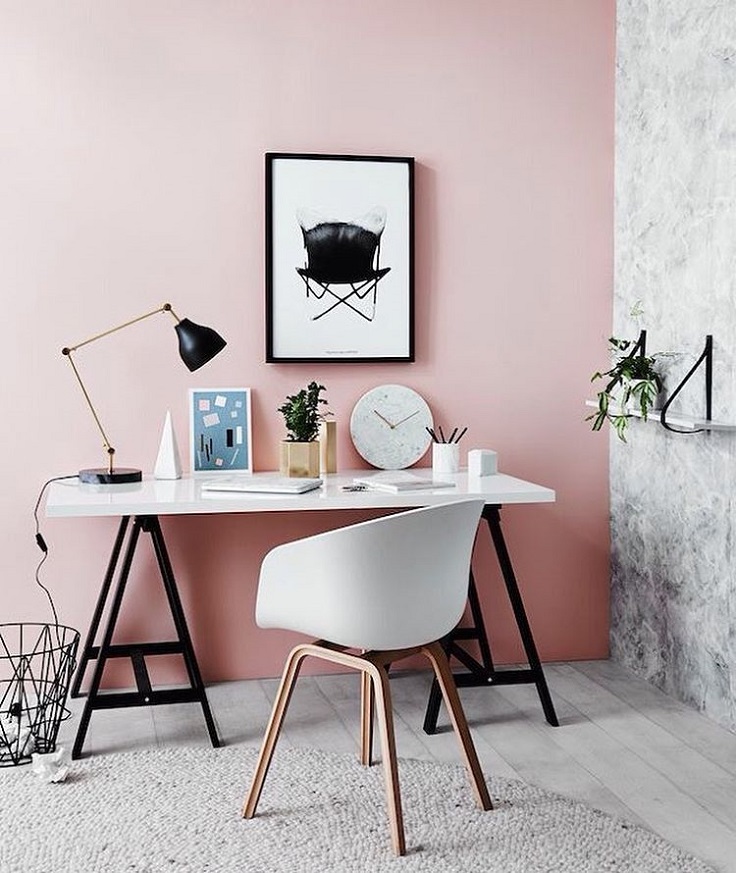 via lauraquattro.com
Rose Quartz was Pantone's color for this year, and we must admit that we love their choice. There is something really amazing about this color, and we believe that it can make your home office so pretty that you'd like to have more than just one wall painted in this color. You can match the rose quartz with black, white, and grey.
10. Boho
And now something for the boho lovers! This is one style that we're always going to be obsessing over. There's a beautiful mix of vintage and modern in boho, and it makes everything so cozy and adorable. To create a boho atmosphere, you can add a plant, ethnic patterns, and vintage accessories.