Eating in the same old tableware can become so dull. We'll totally understand if you feel sick from seeing the white, no decorated plates every day, during every meal. To solve this and add more color, hand – painting and drawing is the real solution.
You don't have to be good at this; it's only enough to use your imagination and transfer it on plates. In order to help you with decorating plain white plates, we found these ten gorgeous ideas. There is watercolor, geometry, polka dots… Something for everyone! All you have to do is just scroll down and enjoy.
1. Watercolor Tableware
via fallfordiy.com
Watercolors are a friend of every DIY person. They are really helpful in many situations, including this one. To make your own watercolor plates, you need porcelain paint, brush, water, and of course, plates. Start painting the plates by dabbing them on one-quarter of the plate. Dip the brush in water and drip it onto the paint. Tilt the paint so that the paint runs around slightly; add more water and tilt it again. Place some more paint at the beginning point, making it bolder there. Leave it to dry for 10 minutes, tilt it again, and leave it to dry overnight—Bake at low for 45 minutes.
2. Gold Painted
via deliacreates.com
For this super adorable tableware, you need porcelain paint in gold and black. You will also need a paintbrush and foam brush. The rest is all up to you – just use your imagination! You can paint the plates in half, paint some figures, stripes, or even dots. Buying a black porcelain pencil is going to be great too, as it's going to leave you with the option to do more precise painting and drawing. When you're done with decorating, leave everything to dry, and after that, bake it.
3. Abstract Painted Tableware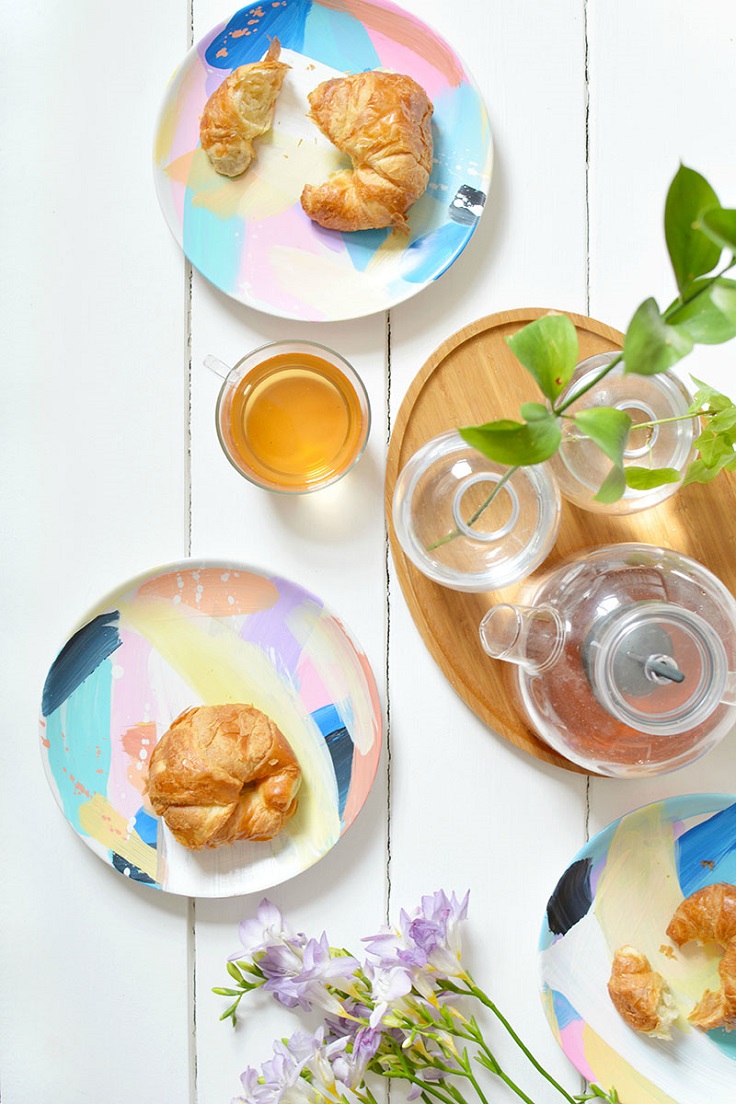 via burkatron.com
Even turning your plates in a piece of abstract painting by yourself is also a possibility! All you need is porcelain paint in few colors and a bigger brush. There are no instructions on creating this because you really just have to let your creativity out. Use the brush and paint freely and when you're satisfied with your design, bake the plates and let them cool off.
4. Dot – Painted China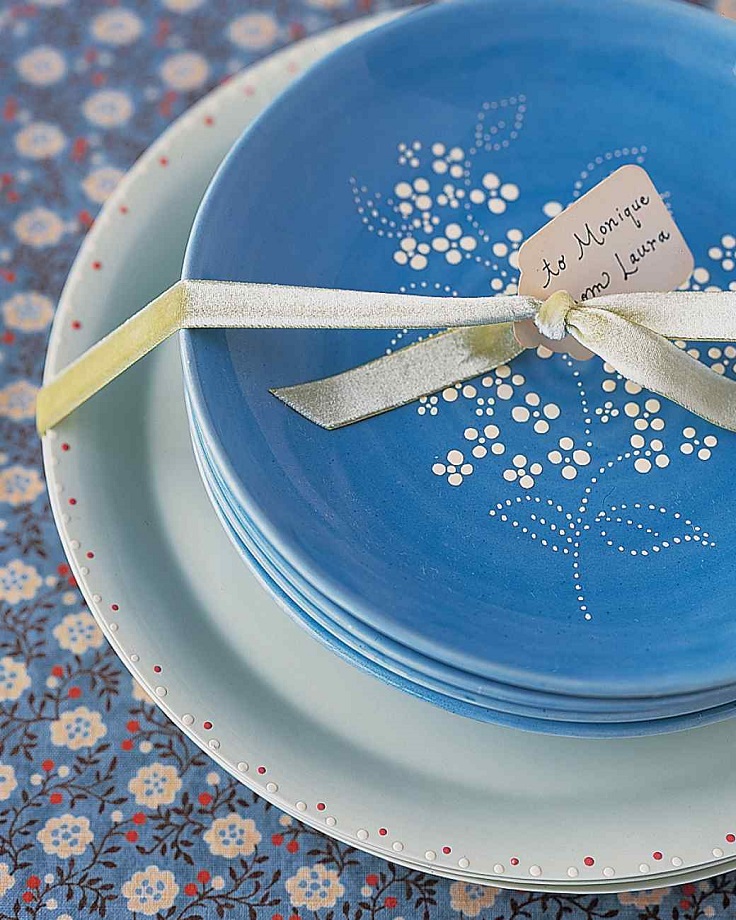 We can all agree that these plates are simply so gorgeous, and with some effort, patience and time, nobody could think that these are actually homemade. To make your own dot – painted China plates, you need the following materials: baby wipes, scissors, red transfer paper, clear tape, ceramic plate or another item, ballpoint pen, food-safe ceramic paint (such as Porcelaine 150), paper muffin cups, wooden coffee stirrers, paint applicator bottles, and a straight pin. With the right gift packing, you can even give the plates to someone special!
5. Polka Dots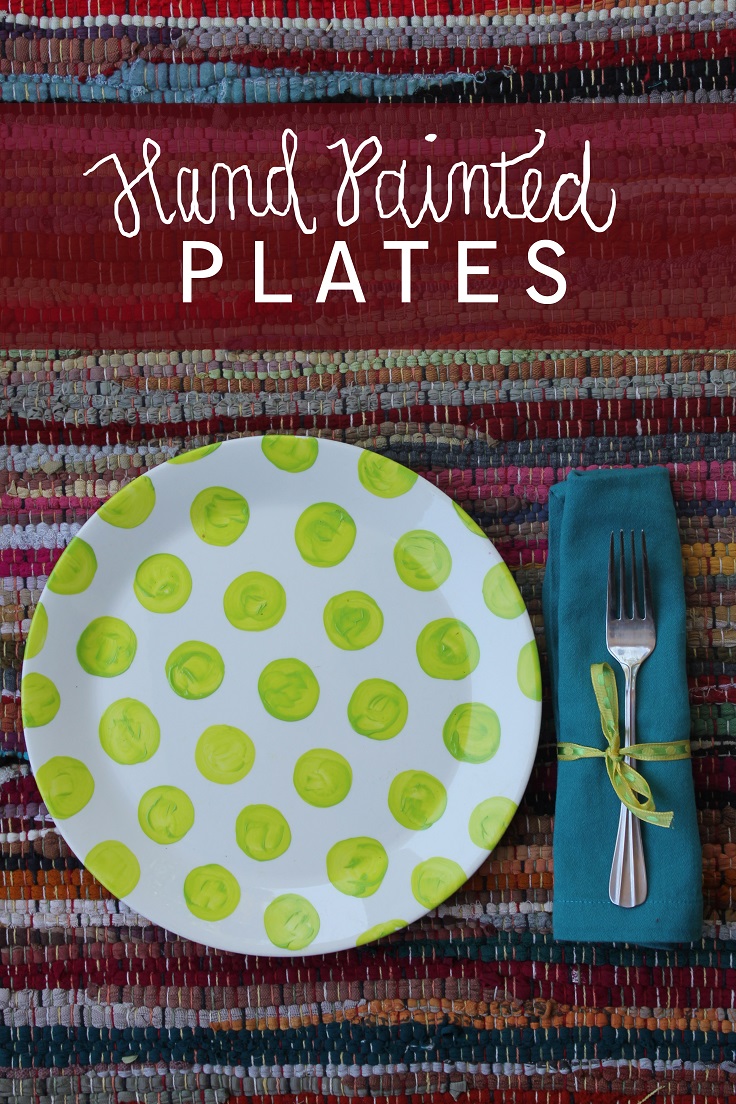 via whererosesbloom.wordpress.com
Polka dots are the design that never goes out of style, and the best part of all is that you can do it yourself because it's the easiest thing in the world! Plus, it looks super adorable, as you can see. To make your plate like the one on the picture, you just need porcelain paint in desired colors, plates, and brushes. Make your own big or small polka dots and when you're satisfied with the design, bake them at 350 degrees for 30 minutes.
6. Spotted Plate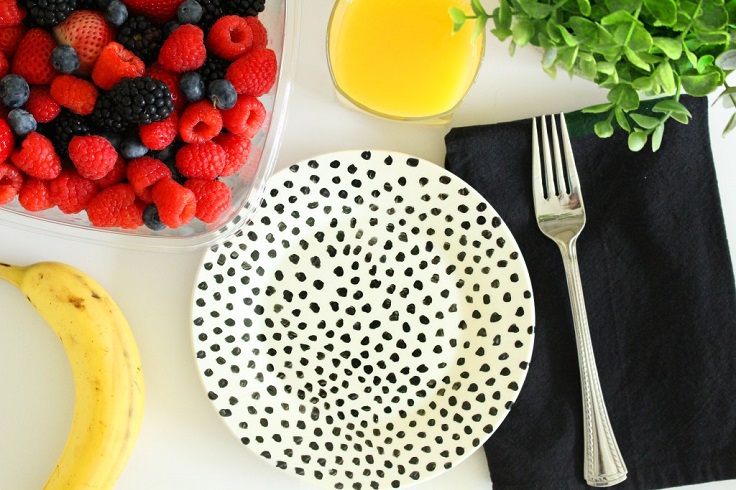 via laceyplacey.com
This one is similar to the previous one, but it might be even easier for some because you don't try to make perfect polka – dots but just adding spots. You need the same materials – plates, brush and black porcelain paint. Don't forget to bake at 325 for 30 minutes twice, letting the oven cool in between.
7. Colorful Dishes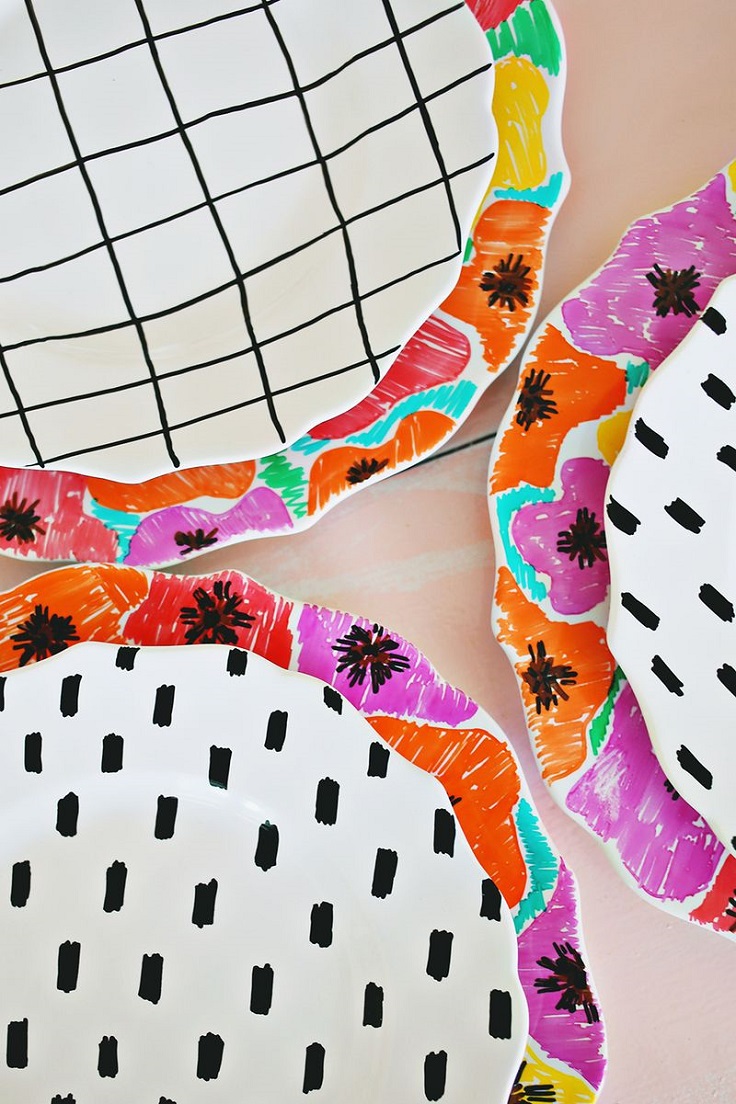 Ain't that too pretty just to look at? We wished we have them at our table the moment we saw them! You need just three things – food-safe markers, food-safe ceramic dishes to decorate, and an oven. So, this dish set has two types: creative and simple. You can make both or just pick one. The simple plates are made of thick and bolder lines, while the more colorful include a floral theme. So, combining these two is a great combination, but even if you choose one, it's fine too!
8. Geometric Hand Drawn Plate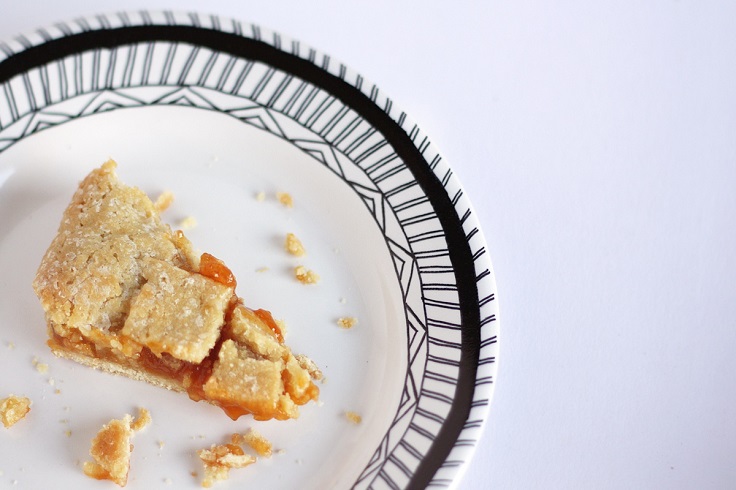 via diys.com
The geometric design may not be your first choice for plate decoration, but you should seriously consider it. You just need pottery or a permanent marker, ruler, and plates. First, think about the design you want, and if you haven't done this before, maybe it's a good idea to make dots first, which will help you later in connecting the shapes. Bake them in the oven or do as the marker's producer says.
9. Easiest DIY Hand Drawn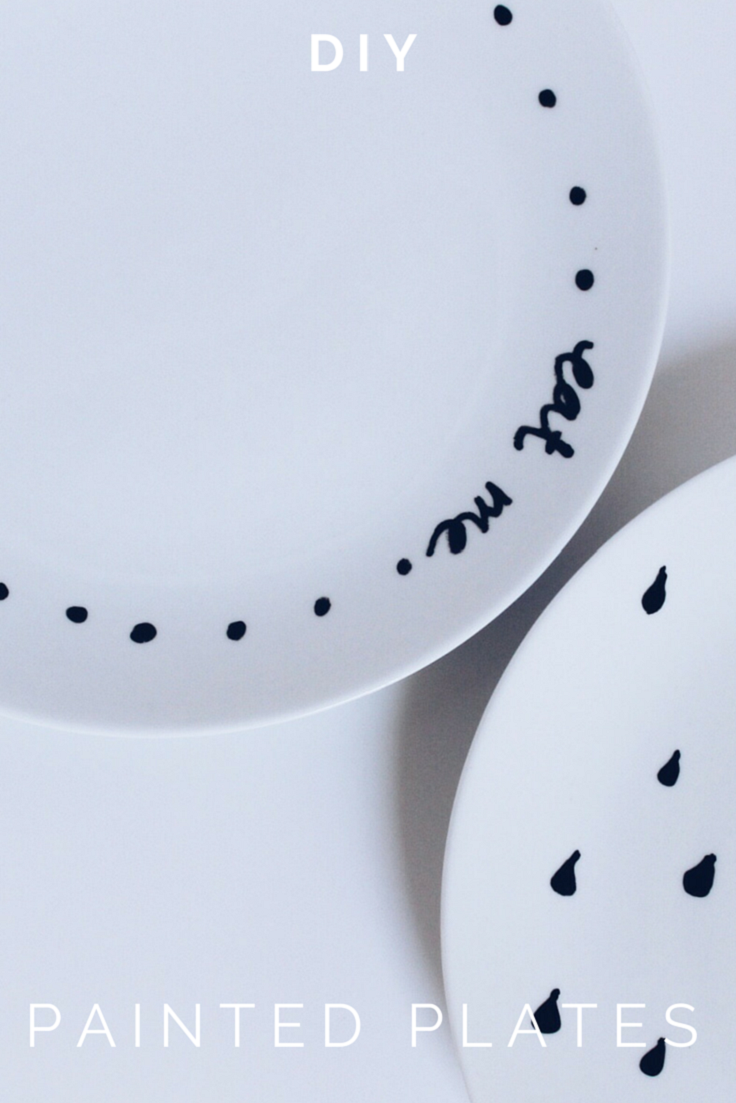 via revampamor.com
If you're feeling too lazy or like you don't have any creativity in you, this is an idea that will certainly help you. It's very simple and yet so adorable. All you have to do is make dots around the plate, and if you prefer, you can write a very short quote, a word you love or similar. Another idea that you can also try is to draw raindrops. Whatever idea you decide to go for, it will turn out great!
10. Bunny Plate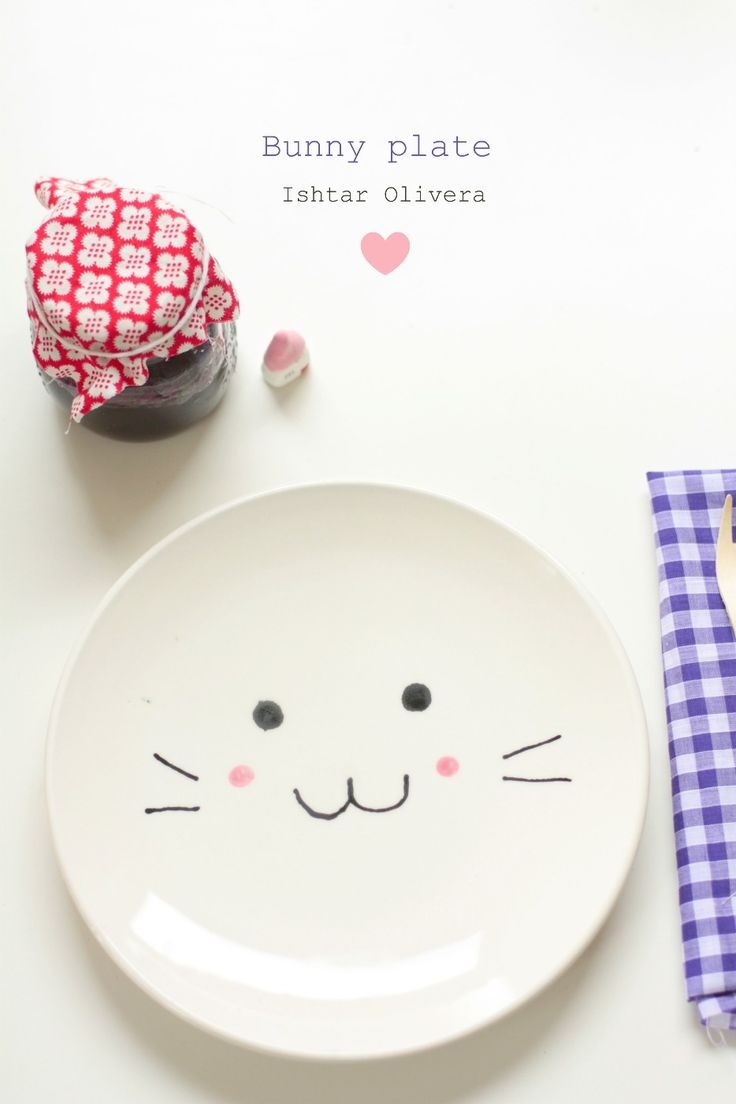 If you're looking for something adorable instead of just simple, the bunny plate is here to impress you. It doesn't require much of your time or even drawing skills. Even if you're not good at drawing, you will be able to draw this cute bunny on an ordinary white plate. You also don't need too many materials – nothing that we already didn't mention – white plates, brush and porcelain paint in black and paint.