Wooden pallets are incredibly versatile. There is nothing that you can't make out of them. Pallets can be reconfigured in numerous different ways, depending on what you want to build. You can turn them into unique furniture pieces such as – tables, beds, bed frames, walls, sofas, and many more.
Large sofas are beautiful, but they can be very pricey. If you are looking for a cheaper option, pallet furniture might be your best bet. Depending on the finishing touches, you can create a pallet sofa to suit your apartment and your own functional need. Check out the following ten pallet sofa designs for inspiration.
Industrial Style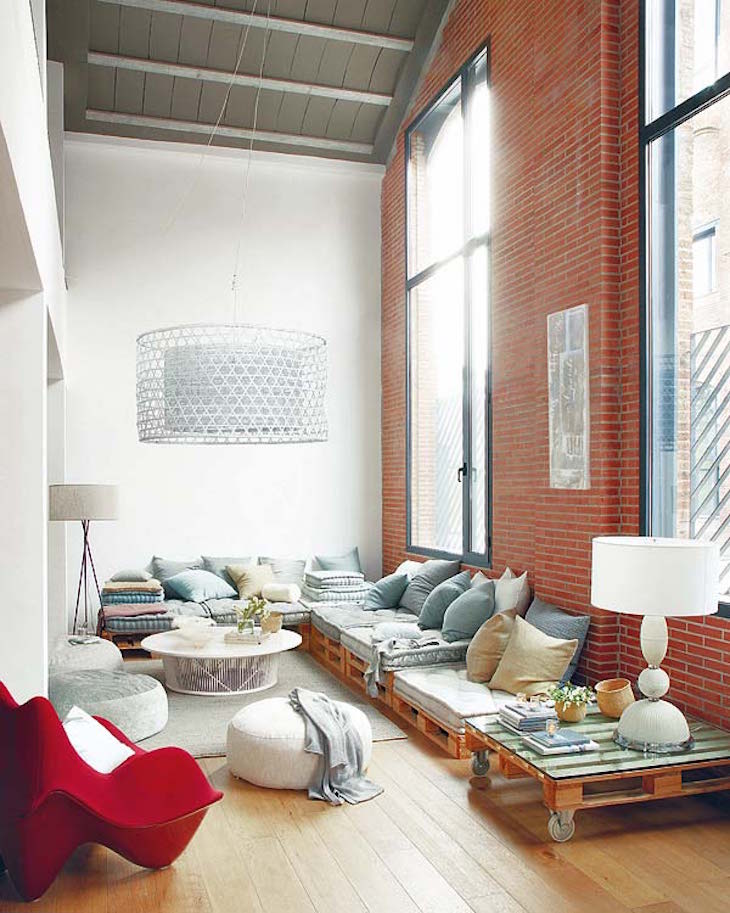 Any pallet furniture looks great in a rustic, industrial environment. The quilted mattress combined with the rustic wooden elegance adds luxurious comfort to your pallet sofa. The small coffee table with wheels and a glass top is a fantastic piece also, built with wooden pallets, of course.
Chic Leather
Although this is example is patio furniture, it will be a perfect indoor corner sofa as well. The large brown, artificial leather cushions combined with beige and blue pillow give a chic look. The pallet can be painted or stained simply according to your preferred design.
Vintage White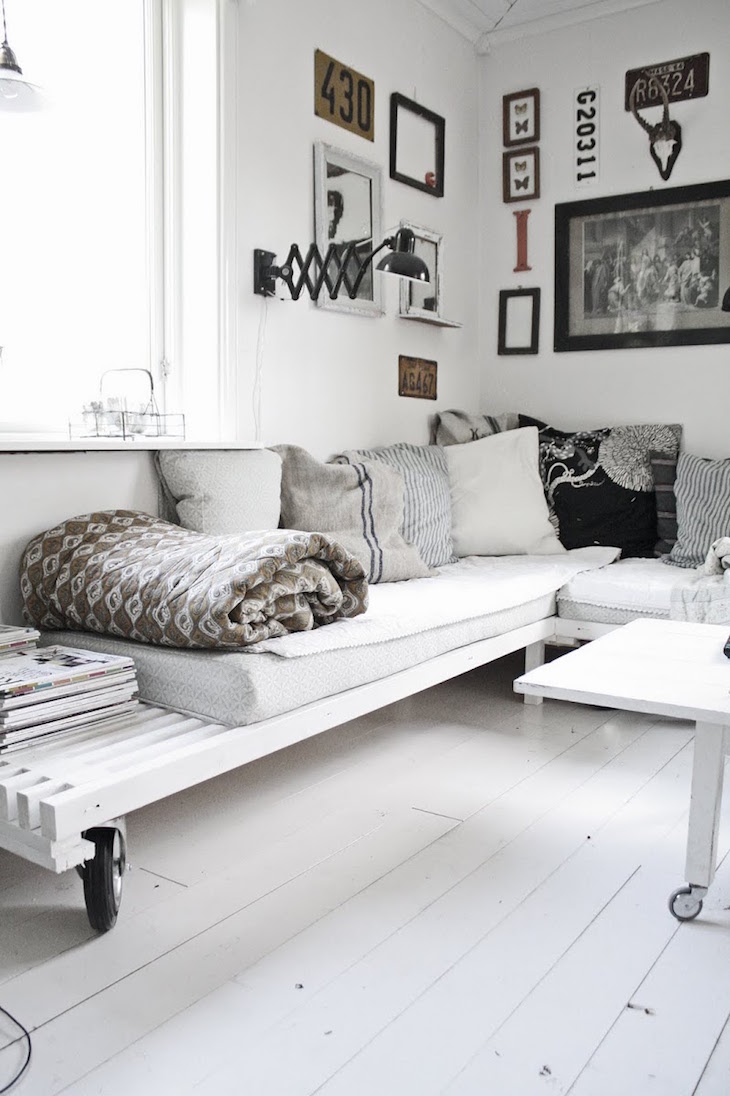 via seesawdesigns.blogspot.com
Build a white corner sofa to create a Scandinavian design in your home. This modern and minimalist style sofa creates a clean and bright atmosphere. The added wheels on the frame provide more flexibility in décor and will make your life easier when cleaning.
Simple and Cozy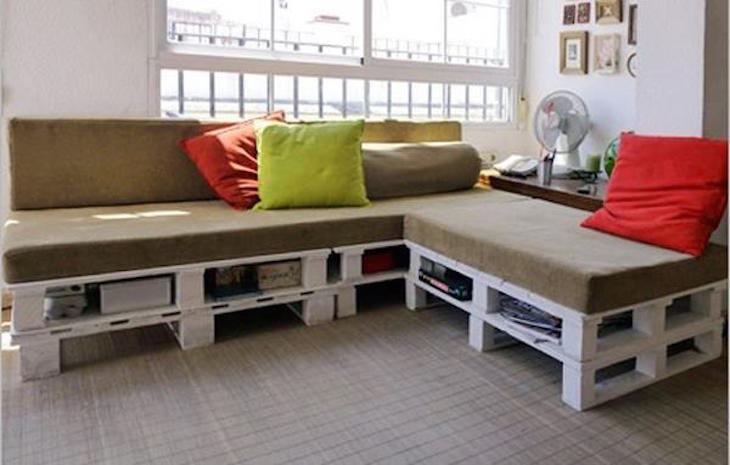 This is a simple project that can be done easily over a weekend. The bottom part can be used as storage, just like here in the photo. If not satisfied with the rustic wooden appearance, you can paint it or get the pallet whitewashed with water base chalk solution.
Sectional Sofa
Build a beautiful sectional sofa instead of buying the costly designer ones. The whole pallet cushioned seats will maximize your space – the bottoms are storage-friendly, and they can function as a guest bed when you have friends or family staying over.
Built-In Side Table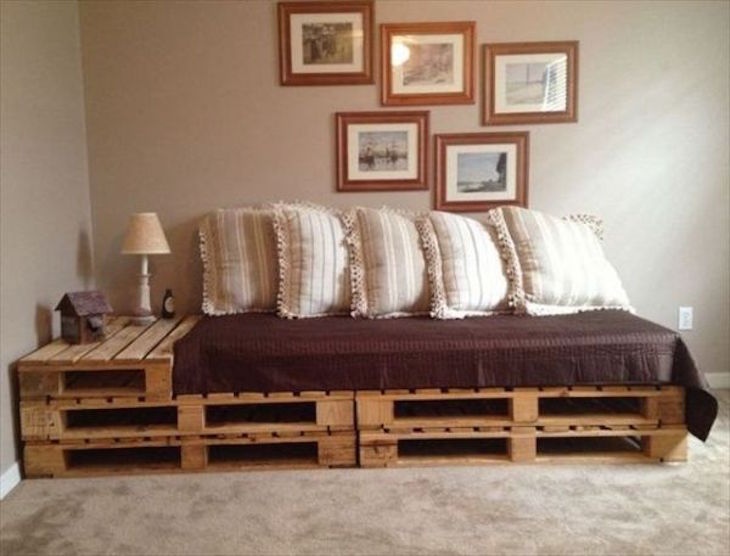 via www.homedit.com
The best thing about building your own furniture is that you will get exactly what you are looking for. You can change the layout, the size, the design to get the perfect match to your needs. This cozy sofa even has a built-in side table. Add one more sitting compartment to get an 'L' shaped sofa.
Vintage Inspired Sofa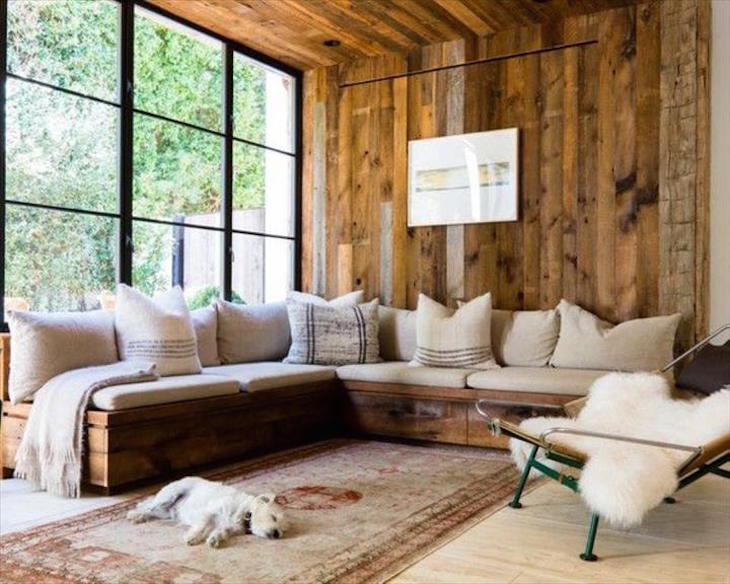 Wooden walls, a wooden ceiling, and a beautiful wooden sofa. To get a similar effect, build your own pallet sofa, stain the wood or use a conditioner. Add lots of pillows and cushions in pastel colors and create a cozy atmosphere with warm thick blankets.
U-Shaped Sofa
One of our favorites is this shabby and chic U-shaped pallet sofa. The white paint gives a rustic look, and the colorful pillows brighten up the neutral colors. Flower patterns or stripey ones you can go for bold and bright shades as well.
Modular Sectional Corner Lounge
You can build this beautiful sectional sofa using wood from wooden pallets. Depending on the layout of your apartment, you can set up these pieces the way you want. The deep blue cushions would also look great with a painted white base for a nautical home design.
Kids Bed or Corner Sofa
via photos.hgtv.com
Pallet beds are so versatile! Build them for the kids now, and later you can turn the beds into patio furniture. The added wheel will make it easier to shift it from one place to another. Covered with white cushions and decorated with throw pillows, it will be a pretty corner sofa.