The living room is an area where we spend most of our free time when we're home. The family get-together, watching TV or reading a good book – this is the place to be! As a result of the notes we've mentioned before, this is the room that deserves our complete effort to be decorated in the best possible way.
If you want to have a place that reflects all your emotions and feels like home, you must achieve that goal independently. There are no escapes!
The coffee table is the center of every living room, so here is a collection of the best coffee table decor ideas that are sure to inspire. Check out the list and find the perfect solution for you; there is something for everyone's taste!
Coffee Table with Golden Accents
via bloglovin.com
Gold details implemented into home decor are a huge hit in the past few years. They give a great dose of elegance in every home, and the golden table from the picture above is real proof of that! Decorated with white fresh flowers and few books, this table will make a statement in every home!
Dreamy Coffee Table
via pinterest.com
Candles are all you need if you want to bring a cozy atmosphere to your home! The perfect lighting they create in combination with a wonderful smell of vanilla or maybe lavender is something that'll relax you after a busy day at work. A vase full of flowers is always welcomed!
Coffee Table Full with Details
Coffee table decorated with various objects and items is a big trend right now, and we can see these types of ideas everywhere, but especially on Pinterest and Instagram. Every real lady has a table like this, and you can easily have one if you get creative. Feel free to experiment and try various options. Candles, books, and flowers are a good base for a fresh start!
Spring-Inspired Coffee Table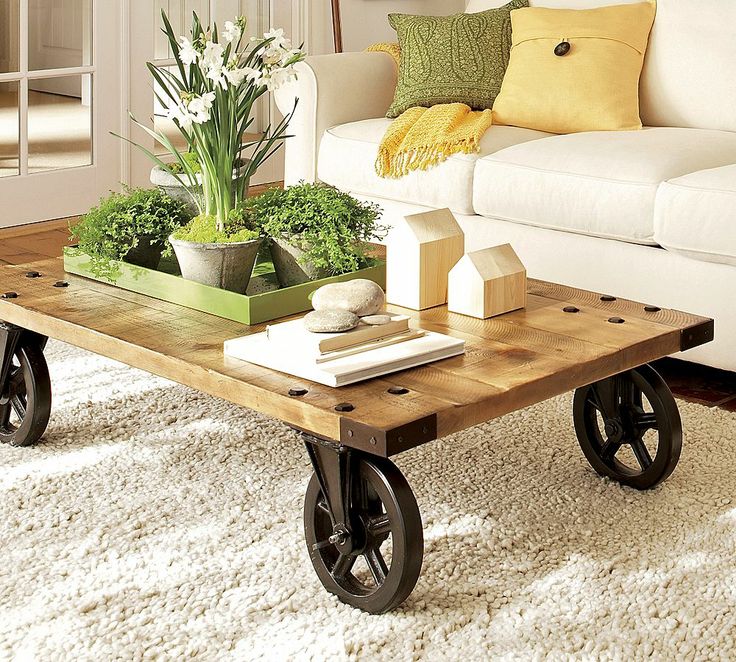 via thestylerebels.com
Finally, a table totally inspired by spring! This rustic table decor idea is the best choice for people who want simple but wonderful things. The wood makes the table old-fashioned and vintage but still modern, and you can also use it not just for your living room but also for your backyard. Why not?! You'll spend a lot of time there in the next few months!
Rustic Coffee Table Decorated with Books and Natural Objects
via lonny.com
One more table decorated in a rustic style, but that's the leading trend now! This idea is completely different from the previous one because it's embellished with the natural object and a couple of books! Use some pretty shell from your last vacation, and you'll add a personal touch to your living room without an effort!
Pretty Feminine Coffee Table Decor
via pinterest.com
Every real lady has or dreams of a feminine coffee table like this. It looks completely amazing, chic, and romantic at the same time! The good thing is that you can use this kind of table for your bedroom where you can display all your favorite stuff and magazines! Candles are a must!
Sophisticated Coffee Table Idea
via sasinteriors.net
Use some old but beautiful serving tray as an object where you can place some candle holders, books, and simple accessories! This is a trending table decor idea created with a little dose of inspiration in no time. Everyone is capable of making an embellishment like this one!
Chic and Gorgeous Coffee Table
via bloglovin.com
This chis and gorgeous coffee table is a suggestion that can be well incorporated into any home decor! It speaks with simplicity, but it's not simple at all. The mix of vintage wood and modern items are creating a real perfection!
Elegant Coffee Table
via ladydianaspearls.com
Here is one more way you can incorporate a tray in your table decor! This idea looks similar to the previous one, but it's completely different. Wonderful roses in two colors and perfectly balanced books are the main details on the table. Candles and other personal accessories are a minor part!
Simple Coffee Table Decor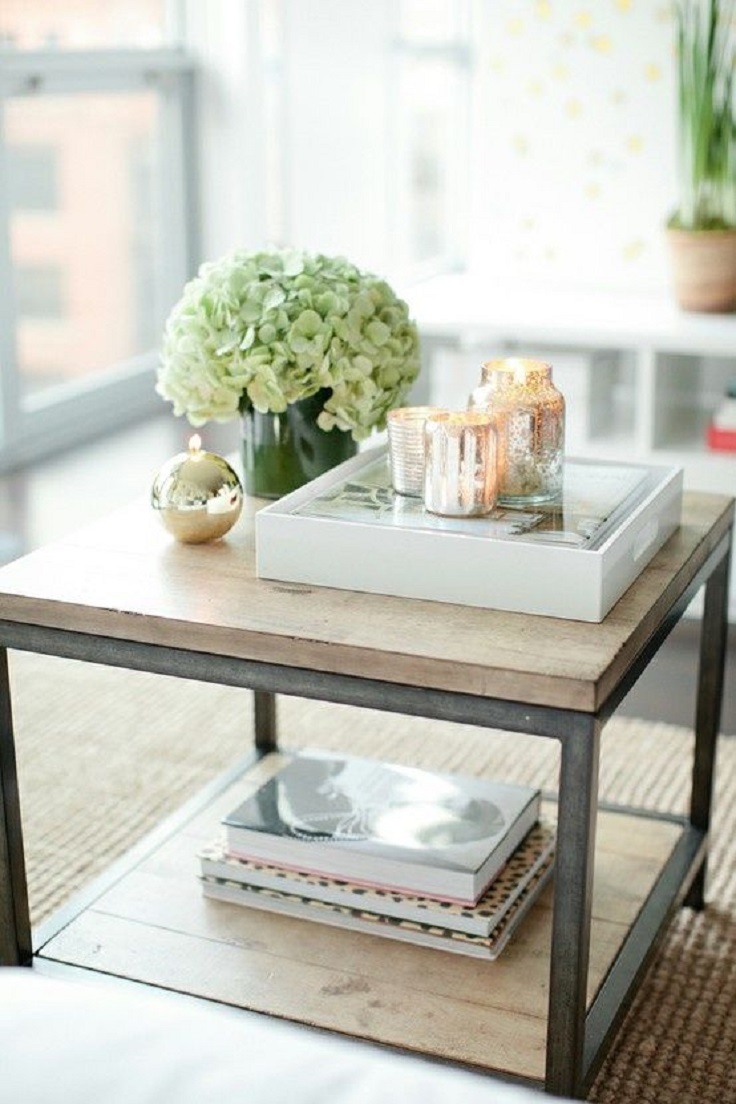 via pinterest.com
Someone once said that simplicity is the ultimate form of sophistication, and we agree with that saying. That's why we're closing the collection with a simple yet sophisticated coffee table decor. Bright and metallic shades combined are the key to success!