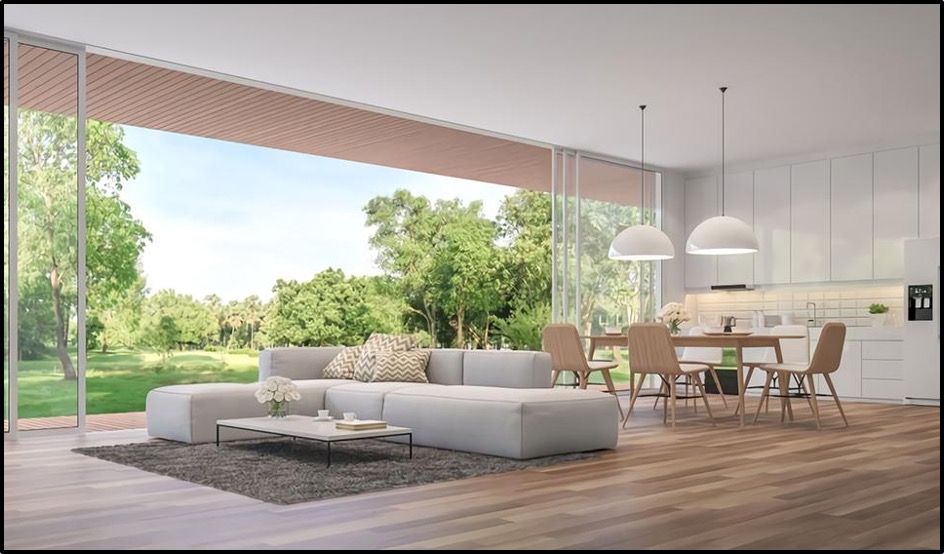 Open concept living room design is the latest trend. These rooms are great for informal entertaining and conversation. They allow you to connect with your guests over a shared space while providing plenty of privacy.
An open concept living room can also create different zones in your home where you can relax and spend time with family and friends. You can also use sliding doors or windows that open into independent spaces, so it's really up to you how you want your living space to look.
Decorating an open-concept living room is a bit more formidable than it may sound. Use artwork that emphasizes light instead of dark colors so that the room has more brightness and responsiveness in it. You can use furniture in your living room having different heights so that people who sit feel comfortable and accommodating. You can also choose furniture that has high legs so that it can stand out from other pieces of furniture in the room.
Cosy Furniture Arrangements for Open Rooms
Cosy furniture arrangements allow you to relax, sit back and enjoy the space available. This arrangement creates a sense of warmth, coziness, luxury, and sense of flexibility that may not be possible with other types of furniture arrangements. The several components of cosy furniture arrangements include:
-A sofa or chair (or two) for lounging
-An ottoman for extra seating, if desired
-A coffee table or end table for holding drinks and other items
-A wall unit (for bookshelves), if desired
-A small accent piece, such as artwork or decorative vases on stands
Use Area Rugs to Define Space
Area rugs provide a sense of order and comfort while keeping the rooms looking spacious. Always ensure that your area rugs are large enough and well-placed to prevent them from being overlooked or underutilized. The most common use of area rugs is in a dining room or kitchen, where they can define the space by adding colour or texture. Whether you're looking for a classic look or something more trendsetting, many types of area rugs are available that help you achieve just what you want for your open living space.
Create Cohesion through Colour Palettes
Colour palettes are used to create cohesion in an open living room. The goal is to make the space feel larger and more inviting. The best way to achieve this is by using a variety of colours, such as bright, bold, and rich. With this, you can add depth and dimension to your space while maintaining unity.
Use Steps for Subtle Division of Space
One of the more subtle ways to divide space in an open-concept living room is to place furniture strategically. Most people like their living room to be a place where they can relax and arrange it in a way that makes them feel comfortable. If you don't have enough space for an open living room layout, consider adding some curtains instead. They'll help create privacy without blocking out sunlight from entering through windows.
Use Partitions to Display Items to Reflect the Zone
Open concept living rooms are ideal for those who want to create a more open space, but still want some form of separation from their living room. This can be done by utilizing different zones like the dining room, kitchen, and other common areas within the living space. Open concept designs are often used in modern homes where multiple rooms are combined into a single space for efficiency and convenience.
Partitions are usually made of wood and can even use for decorative purposes. For example, you can place a large mirror behind a partition as it reflects light from all sides and become more prominent than other objects in the room. Open living rooms are excellent spaces to display decor items.
The open floor plan flow
Open floor plans are great because they provide a sense of openness, light, and airy spaces. They are popular because of their flexibility and adaptability and allow for a multitude of use in a small space, from entertaining guests to hosting parties and workshops. Open concept living rooms can be great for open floor plans because they make it easy for visitors to move around without disrupting the flow of conversation in the main living area. Open concept spaces also make it easier to keep track of your children as you can easily keep an eye on them from the kitchen or dining room.
Conclusion
If you are looking for a way to incorporate art into your home or want to spruce up your next party, open-concept living rooms are a great place to start.
Unify with colour, use the right furniture, limit artwork, balance the room, and photograph it to see what is working and what isn't. Consider the above suggestions to create a beautiful space in your open concept home. Remember, think of it as a whole.