High ceilings, exposed pipes, and ducts, brick walls – these three are just a few of the more and more popular industrial interior design traits. The result is a "warehouse" look but in a much more stylish way.
Achieving this interior design isn't always budget-friendly, but the money you'll invest will be worth it – we all want the "home sweet home" atmosphere, right?
We just simply love industrial interior design, so it was really hard to choose just ten ideas. If you are looking for inspiration for your next living room, just scroll along!
1. Warm Wood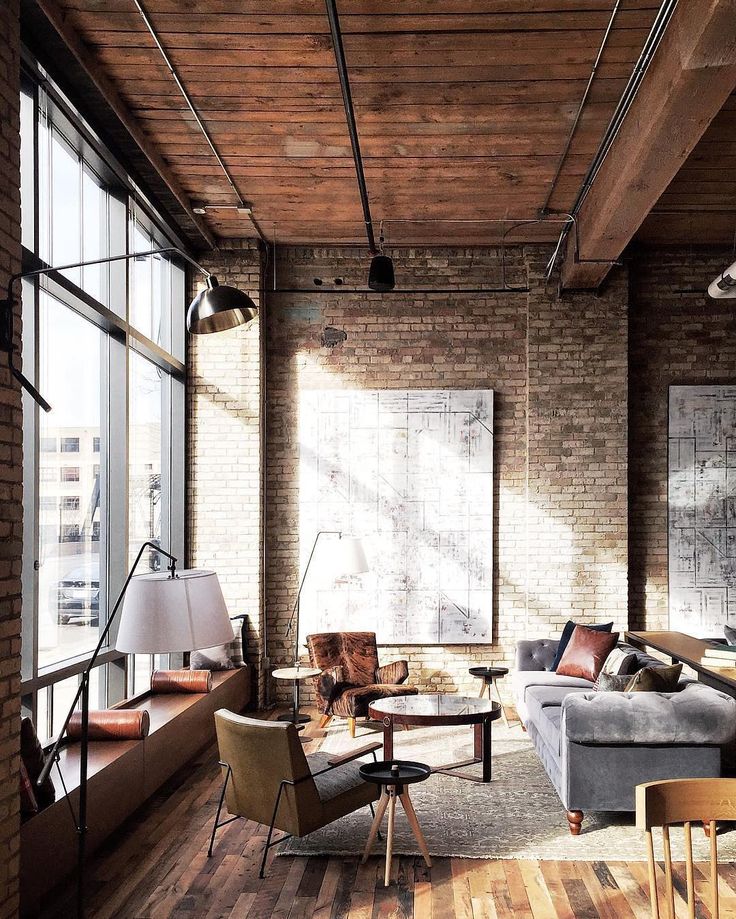 via theultralinx.com
Industrial design allows a lot of space between objects, which can sometimes give the impression of emptiness, and there is nothing worse than coming back to a home where you feel so small! To avoid this result and achieve the warm "home sweet home" vibes, add more wood elements into the room – it can be the floor, the ceiling, the furniture, or a combination of all three.
2. Grey & White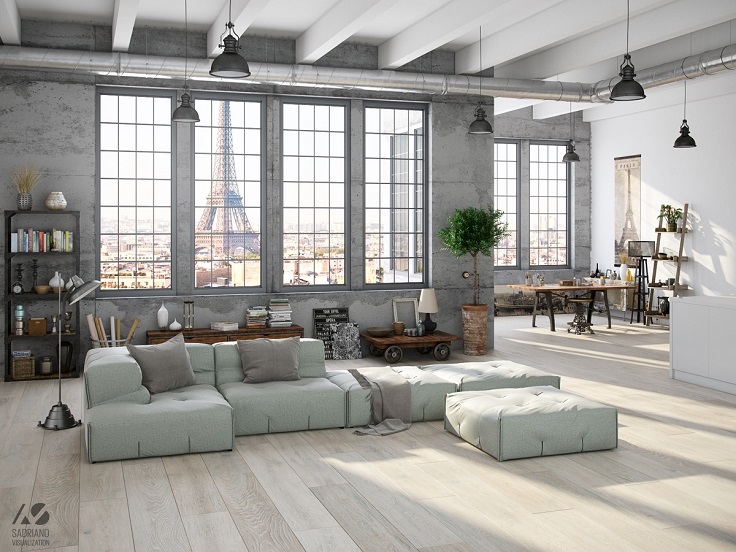 Having a clean and clear room isn't that hard to achieve – just focus more on the colors that will help you do so, such as grey and white. These two are calming and relaxing colors that would perfectly fit into any room, but if you need at least a little bit of color, you can focus on the details. Add colorful flowers, or maybe a vintage carpet – anything you'd like that will be the little bright spot in the room.
3. Artsy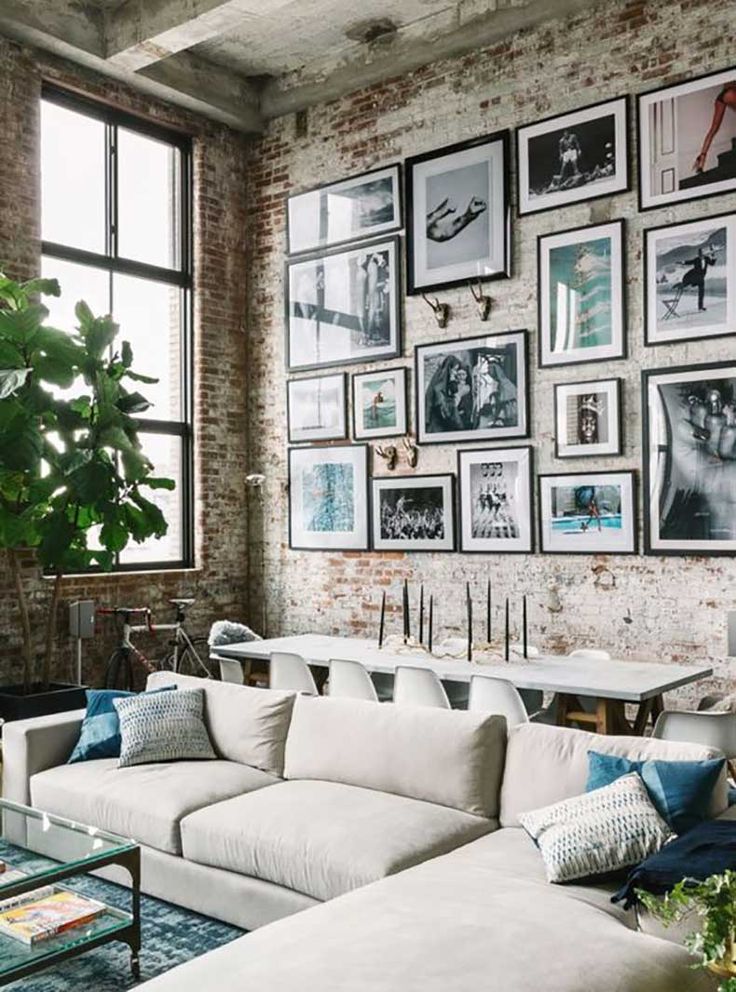 It's all in the details, and the truth is that even the wall of bricks is a detail enough. However, adding art is always a good idea, so why not put few paintings in your living room? If you're a big art fan, then creating your own gallery wall might sound like a dream come true to you. If that's the case, totally go for it. It doesn't have to be expensive art; it can be just random wall painting that you can even do yourself.
4. Minimalist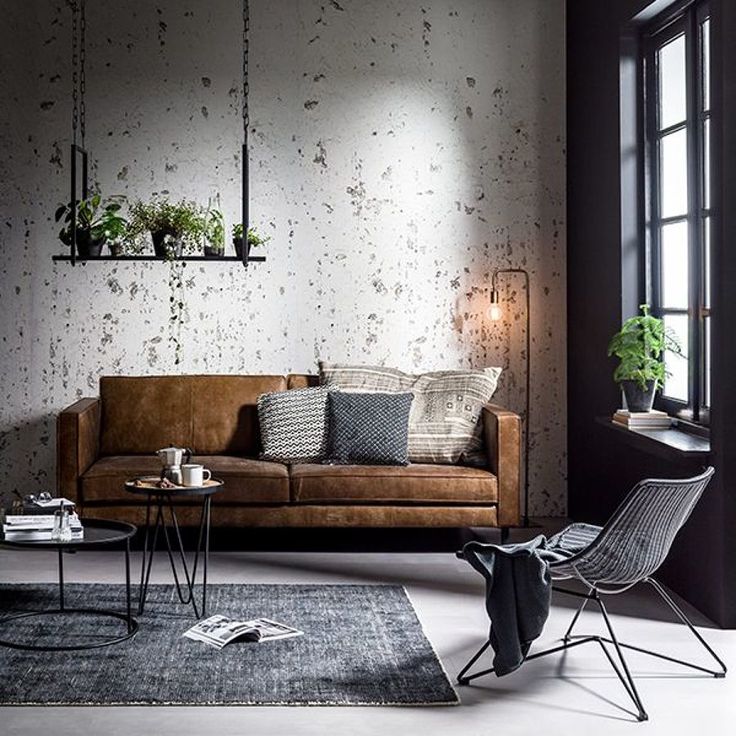 via cozydecor.co
Less is more, right? Not everyone is in love with this interior design's brutal simplicity, but that's what many people like – functionality and aesthetics combined. There are many benefits of decorating your industrial living room – you won't spend money on too many objects; having less will be easier to clean and will always give you those good vibes that decluttering a room gives.
5. Color Pop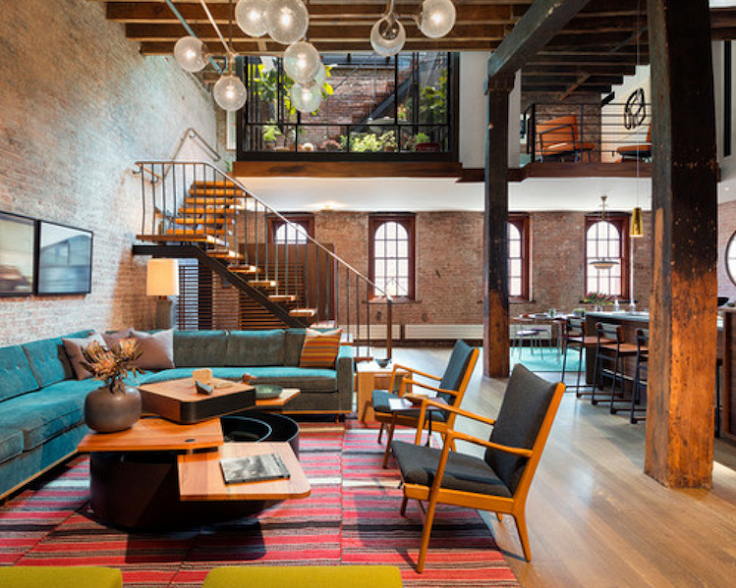 via houzz.com
Maybe having your whole living room decorated in white isn't your thing. Or, maybe having a room full of paintings everywhere isn't too. You want your colors, but you still want to respect the traits of the industrial interior. The solution is simple – just choose few objects of the room that will have bold colors! It can be the carpet or even the furniture. Just pick whatever you want to be colorful and make it that way.
6. Shapes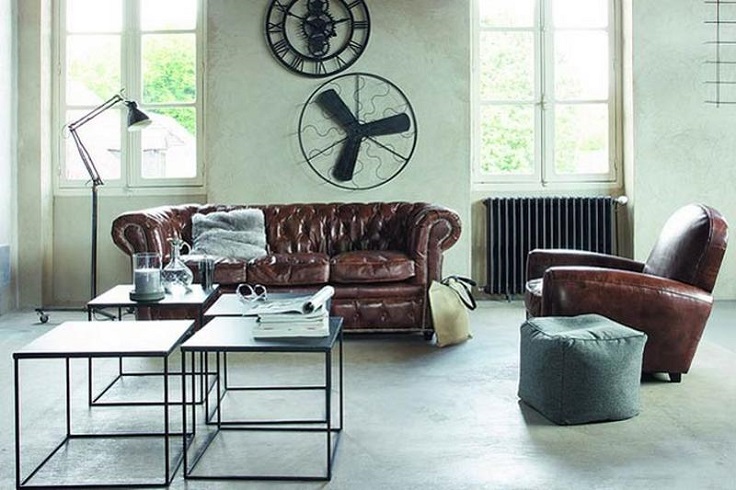 via rilane.com
Geometry is very present in many interior designs, especially in the minimalist and Scandinavian. This leaves you with plenty of options for experimenting with the furniture and the details in general. Take a look at this room, for example – the tables have a shape of a cube and the wall art of circles. It gives an edgy yet very stylish look to any room!
7. Cozy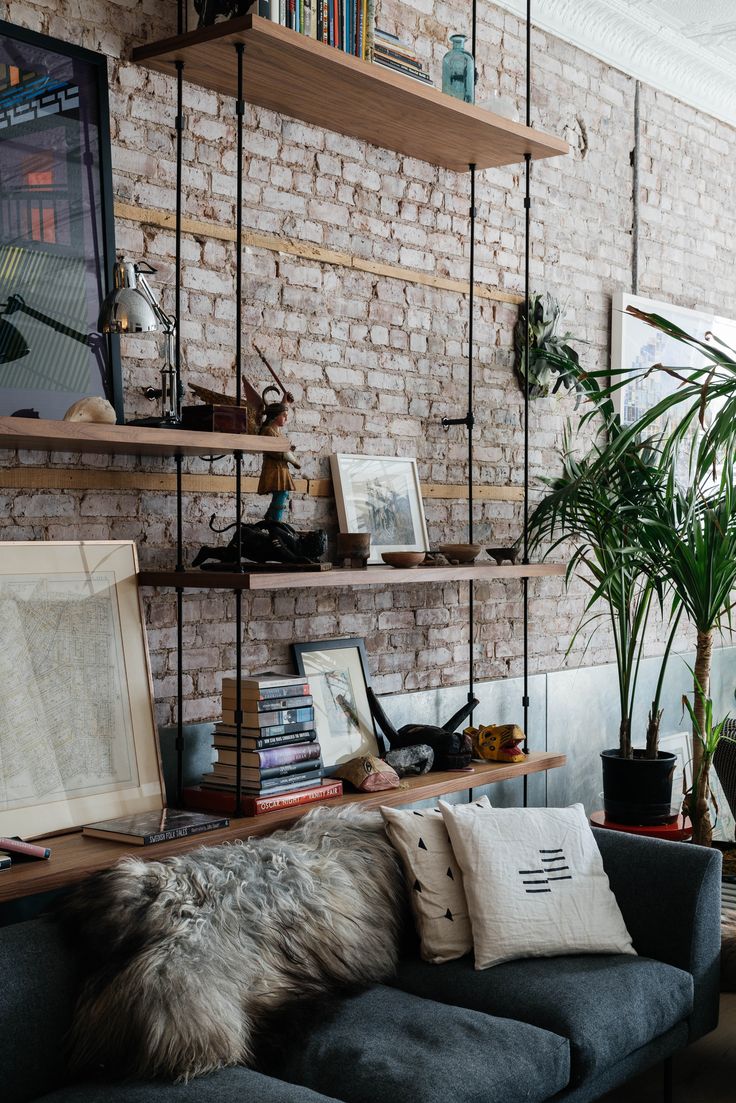 via homebnc.com
To achieve the "home sweet home" the most, you must create a space where you would feel comfortable and would love to spend time over there. This is really easy to achieve, as all you need to do is buy stuff that would make you feel cozy. Usually, those are pillows, candles, blankets, books, and other decorations with sentimental value.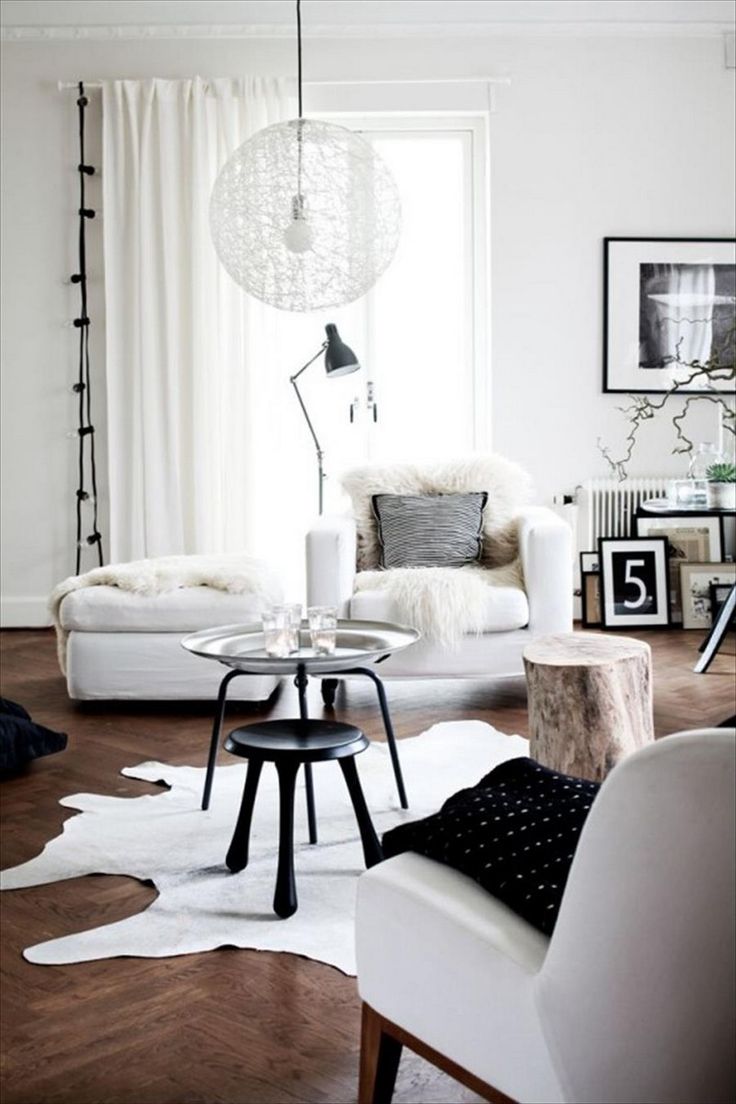 via delightfull.eu
One of the most popular interior designs is the Scandinavian. It isn't something you see in one of these European countries – today; it can be found worldwide. It's easy to see why – this interior design has anything you need – functionality, simplicity, aesthetics. It's all about minimalism, but in the coziest way possible – and with a touch of stylishness!
9. Simplicity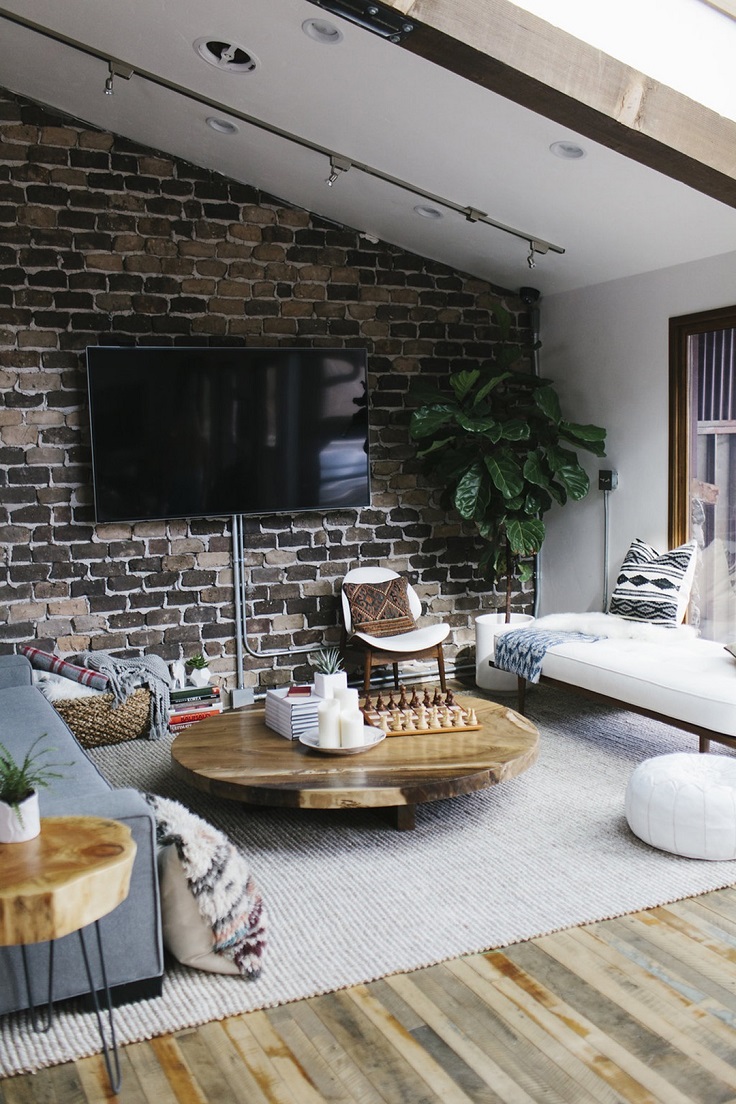 via seejaneblog.com
Can it get any simpler than this? If you're not interested in investing in some interior design, just go with the flow and decorate your room in a way you find lovable. Organize the furniture and the rest of the objects in a good way that would complement the room. Get some cozy pillows, leave the brick wall like it is and add few details that would make things even more charming!
10. Boho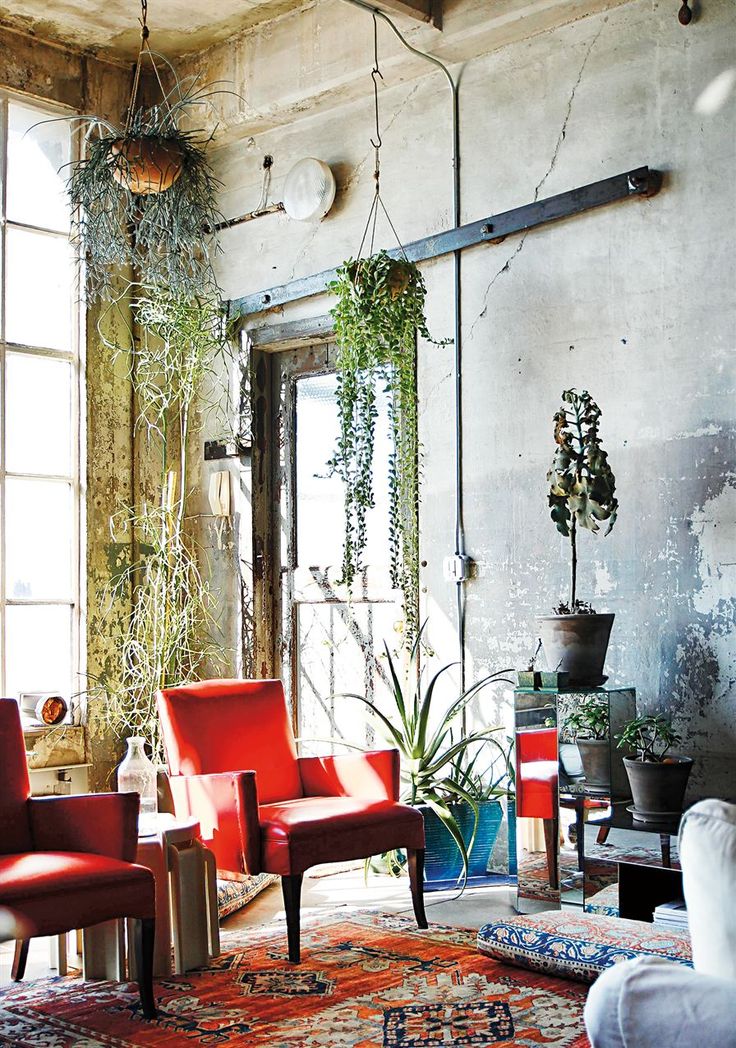 via devilstix.com
And last but not least, what we have is the boho way of living! Ethnic carpets, vintage furniture, plants everywhere – this is how the boho interior is. You can experiment a lot with this style, especially if you are a vintage lover. We must admit, boho goes really well with the industrial interior – it makes things even more stunning. We definitely would like to have such a living room!