Quince is the most underrated and neglected fruit of the autumn season. But it hasn't always been like this. In ancient Greece, for example, this fruit was associated with romance, marriage, and fertility, often given as a wedding gift to the bride. In mythology, quince is associated with Aphrodite, the goddess of love and beauty. It is believed that the golden apple given to her by Paris was actually a quince. 
Also known as the fruit of love, quince is traditionally used to make delicious tarts, jellies, preserves, and desserts. However, this fruit has much more potentials. In the Middle East, it is cooked in meat stews, and the famous membrillo – the delicious quince paste – is made in Latin countries and eaten with Manchego cheese. If you were served quince paste on the cheese board, you know it already very well.
Quince season is almost here, and a great advantage of this fruit is that it will keep in the fridge for up to 2-3 months! It is sweet; it has a wonderful flavor – much like a perfumed apple – it has a slightly grainy texture and a lovely rosy, amber color.
We could tell you about quince all day long; it is so delicious! If you had never cooked with quince before, you must try it; you will love it! Look for them at farmers' markets, buy a few fruits and try these fantastic savory recipes!
Beef Quince Stew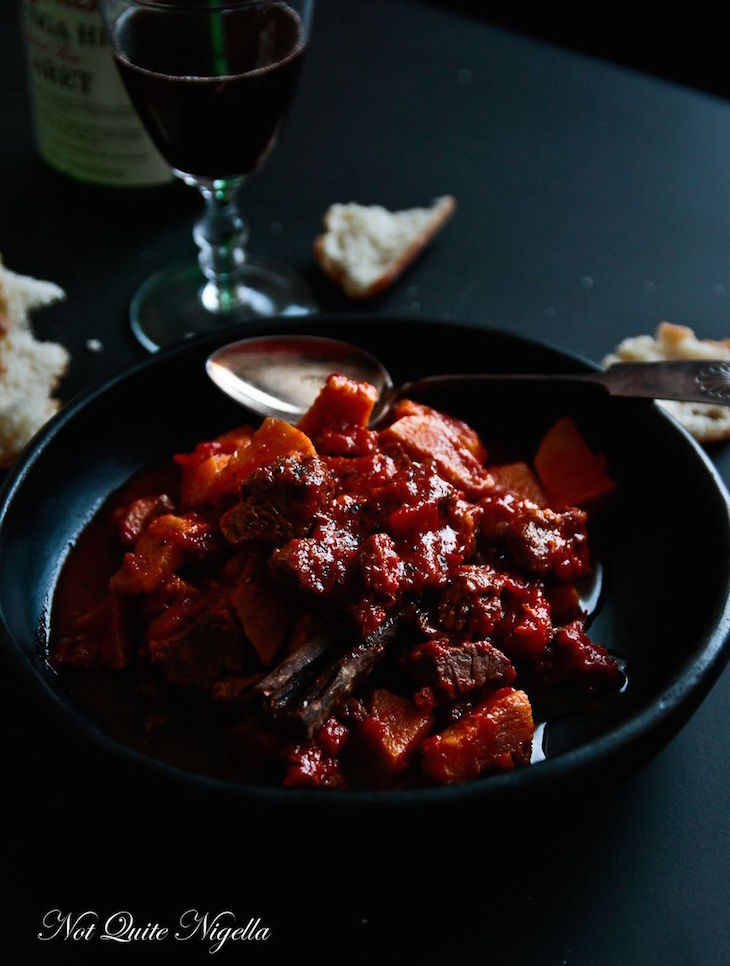 Recipe via www.notquitenigella.com
Add quince to beef stew, and you will have a wonderfully comforting meal full of flavor. Perfectly creamy thick sauce, tender beef chunks, and the quinces blended into the rubied stew. Serve it with bread, rice, or eat it on its own – this meal will be the queen of your dinner parties.
Lamb-Stuffed Quince With Pomegranate & Coriander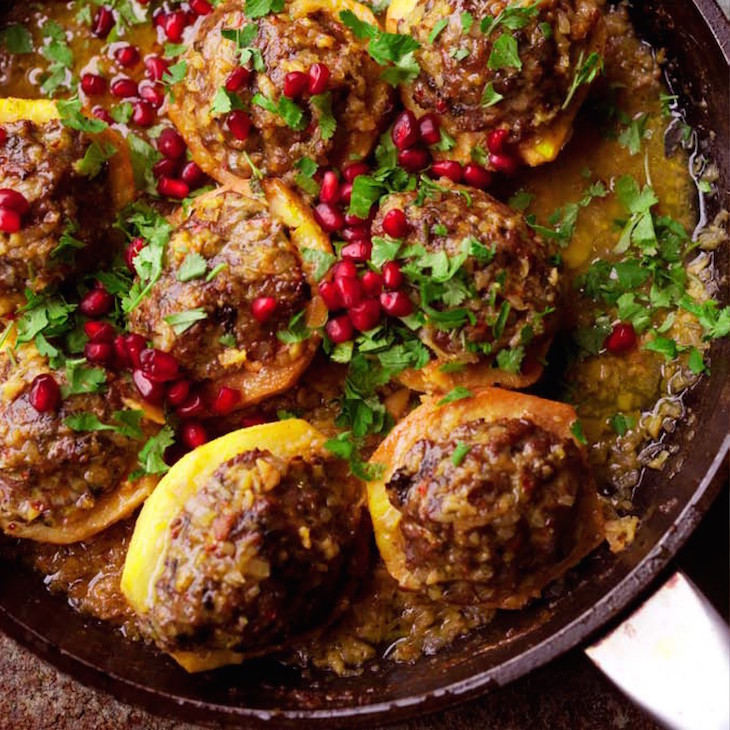 Recipe via www.ottolenghi.co.uk
Quince is a hard fruit. Therefore, it is also perfect for filling it and baking in the oven. This nutritious and delicious dish will bring oriental flavors into your cooking. A time-saving version of this recipe if you chop the quince into small cubes and form meatballs of the stuffing. It cooks quicker this way.
Chicken With Ginger and Quince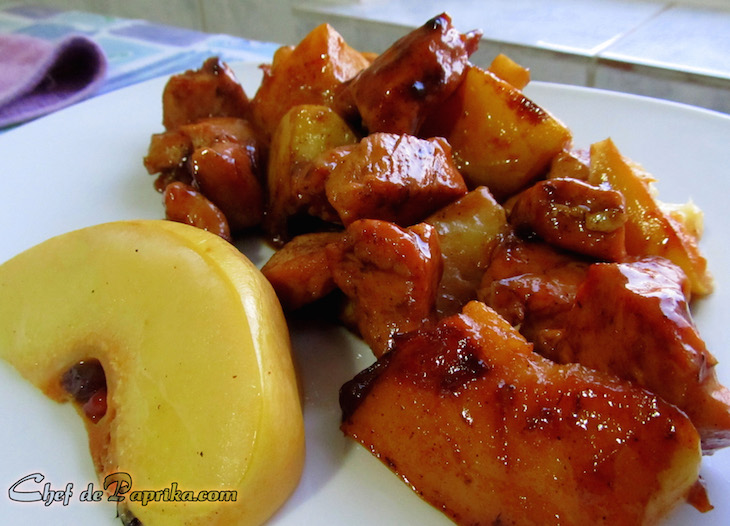 Recipe via chefdepaprika.com
Chicken is wonderful with many fruits, for a light and healthy meal. If you have tried whole roast chicken stuffed with apples, you know how delicious it is. This recipe uses quince, chicken breast, lemon, honey, ginger, and cinnamon pinch. Serve it on its own or with steamed rice.
Quince, Pumpkin, Eggplant, and Quinoa Salad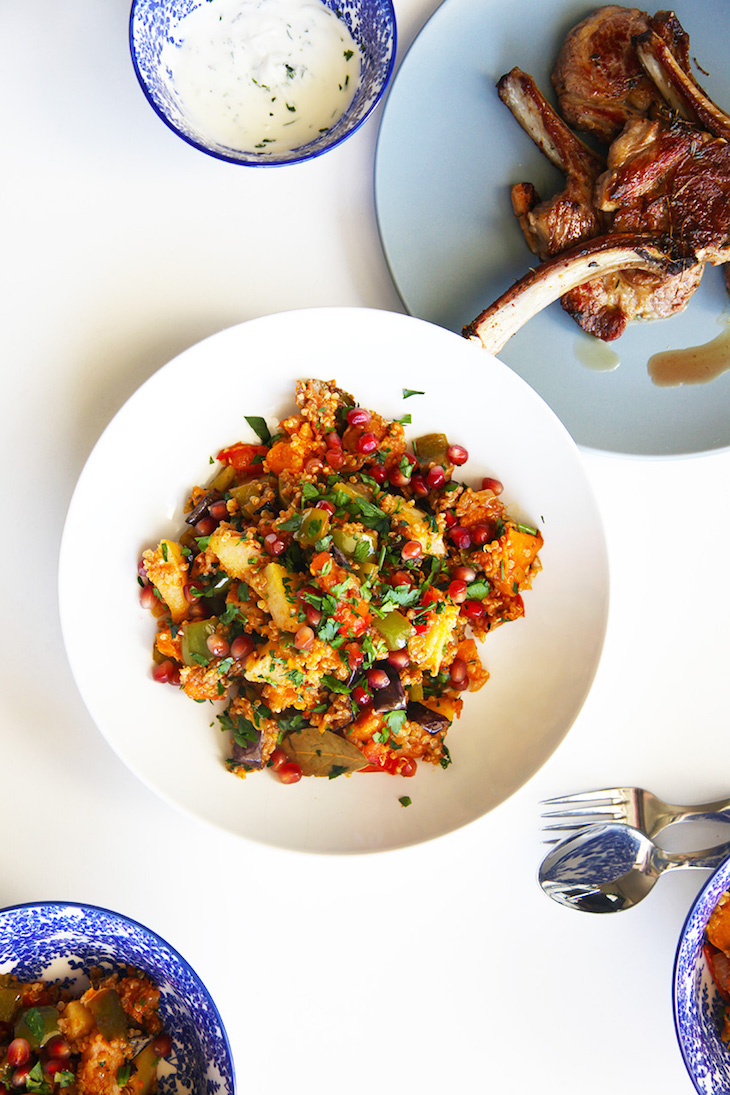 Recipe via littlebigh.com
Try this recipe for a refreshing side dish, a light dinner, or as a main course. Quince and pumpkin are both in season during the fall, so that you can get them now at the farmer's market. A highly nutritious dish with all the benefits of quinoa and fresh pomegranate as a garnish.
Saffron Infused Chicken With Quince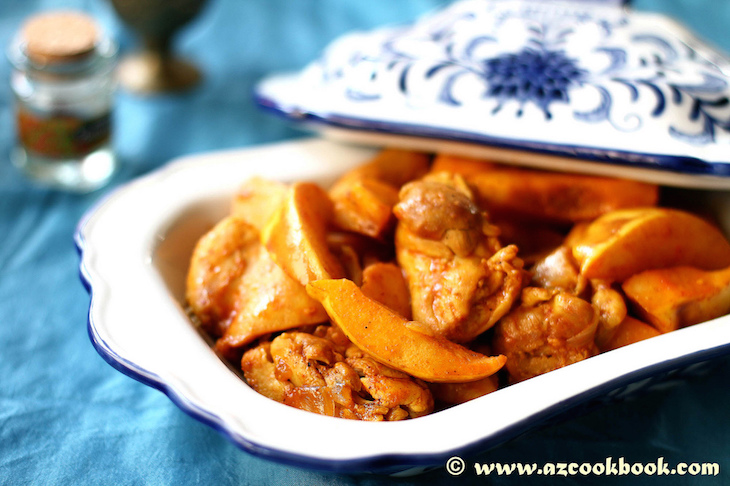 Recipe via www.azcookbook.com
A fusion of Persian and Azerbaijani cuisines, this stew will light up the grey and rainy days. Quince and saffron are widely used in Persian cooking. Try this glorious dish to make an easy and delicious lunch or dinner.
Quince and Goat Cheese Galette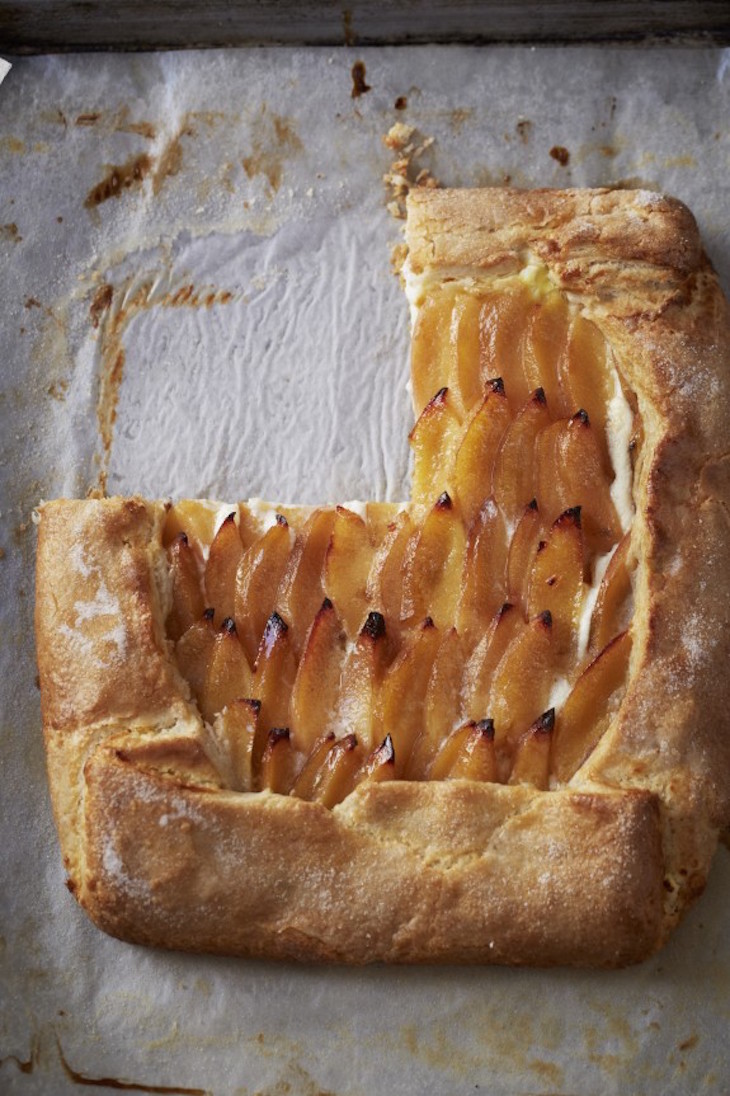 Recipe via blogs.kcrw.com
Galette is a term used in French cuisine for flat crusty cakes. They are less fussy than a traditional tart and offer more crisp crust. This recipe is a perfect sweet and savory pastry. Quince and goat cheese are such a perfect match; they were meant to be eaten together.
12-hour Roast Moroccan Lamb with Quince and Couscous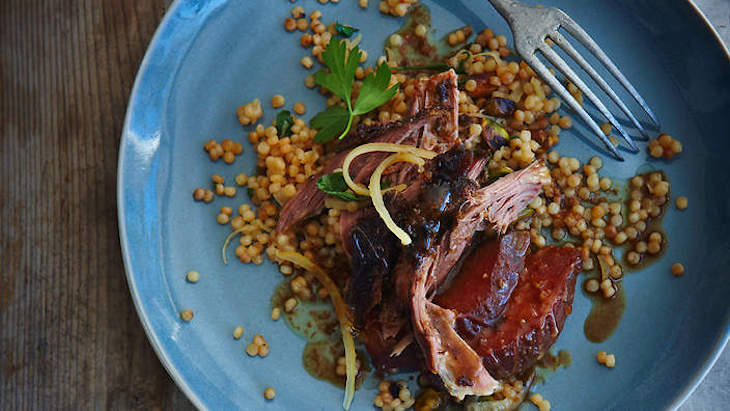 Recipe via www.sbs.com.au
As the name already tells, it is not a typical quick dinner recipe. However, this recipe is not as fussy as it sounds. The preparation is quick, and the lamb shoulder will bake in your oven for 12 hours. Roast lamb is a beautiful festive dish for a weekend dinner party.
Persian Quince Stew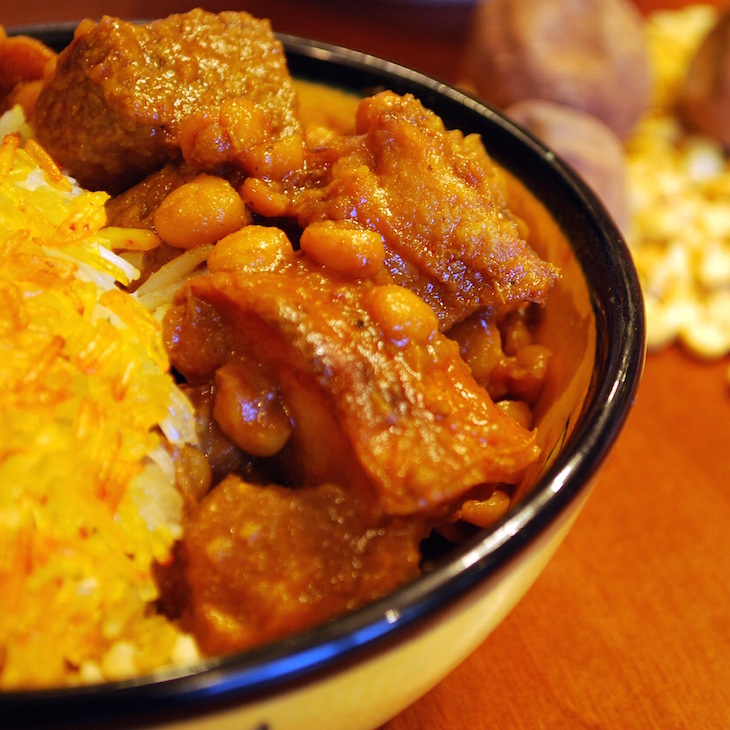 Recipe via www.ahueats.com
Traditionally called Khoresht-e Beh, this Persian Quince Stew is another tasty oriental dish. Veal cooked with onions, yellow split peas, turmeric, cinnamon, and dried limes and at the end mixed with the golden fried quince slices. While the stew is traditionally meat-based, it can be easily made completely vegetarian by omitting the meat.
Braised Beef Cheeks with Quinces and Sweet Potatoes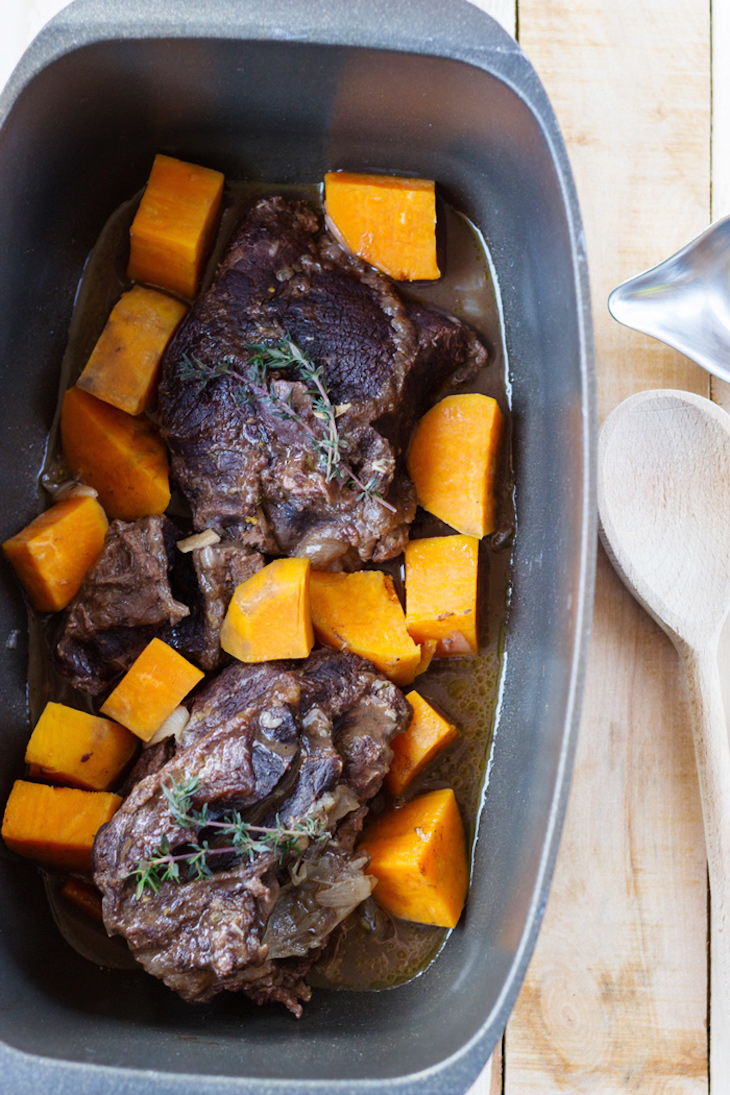 Recipe via www.frenchgirlcuisine.com
Here is a dish that you can prepare one day before, and the taste will enhance! You can serve it with mashed potatoes; it will look beautiful on the plate. Place a spoon of mashed potatoes and fill it with some stew sauce and few quince slices.
Duck Tagine with Quince and Apricots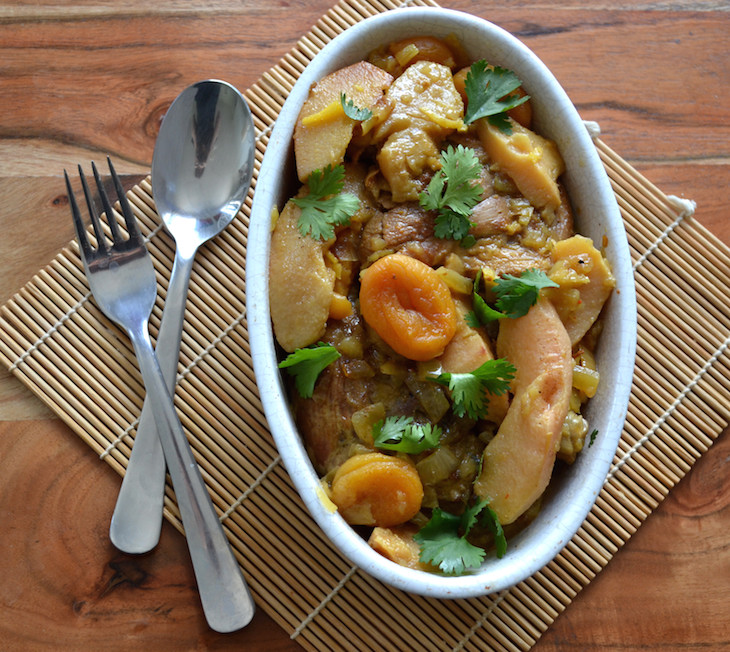 Recipe via susaneatslondon.com
Duck is another poultry that is amazing when paired with fruits. To prepare this Moroccan dish, you will need duck legs, quinces, cinnamon, ginger, coriander, and dried apricots. Perfect on its own if you want to skip carbs.