Mason jar desserts are great for few reasons. First, as any other dessert well prepared, they taste amazing. The dessert is placed in a mason jar, which makes eating it fun since eating out of a mason jar isn't something we usually do and the fact that it's mason jars we're talking about means they are already a great gift!
They are easy to make, and another good thing about them is that mason jar desserts can be a good party treat. Being in a mason jar means no mess on your floor. Plus, looking adorable in the mason jars, everybody would love to have one of those desserts.
If you wonder which recipes to pick, first check out the ten we already picked for you. We're sure you're going to love them!
1. S'mores Dessert Trifle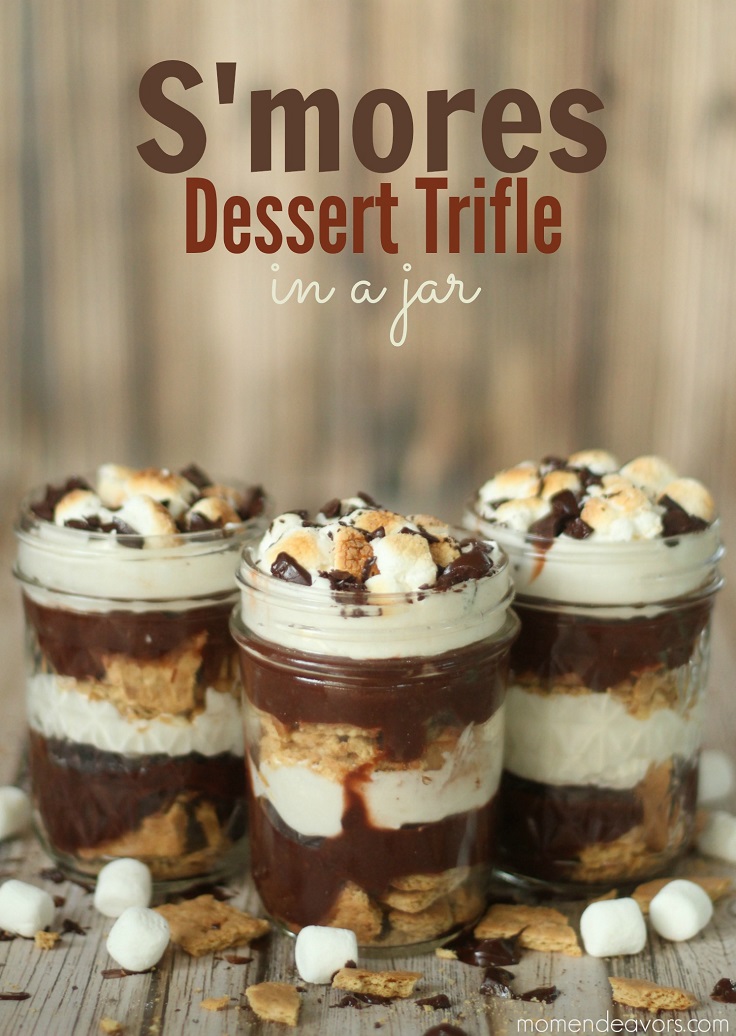 via momendeavors.com
The good old S'mores dessert can be transformed into a mason jar treat as well. This recipe will take you 10 minutes to make, and you need the same ingredients for the regular S'mores dessert, just the different quantities. So, make sure you have in your kitchen  3.9 oz box of instant chocolate pudding, 4-6 whole Keebler Graham Crackers, 6-10 individually wrapped Dove Dark Chocolate Promises, ½ tub Cool Whip, ½ small jar of Marshmallow Creme, ½ C mini marshmallows and 6 small Mason Jars. If you can't find the exact brand of ingredients, find another good substitute for those.
2. Apple Caramel Cheesecake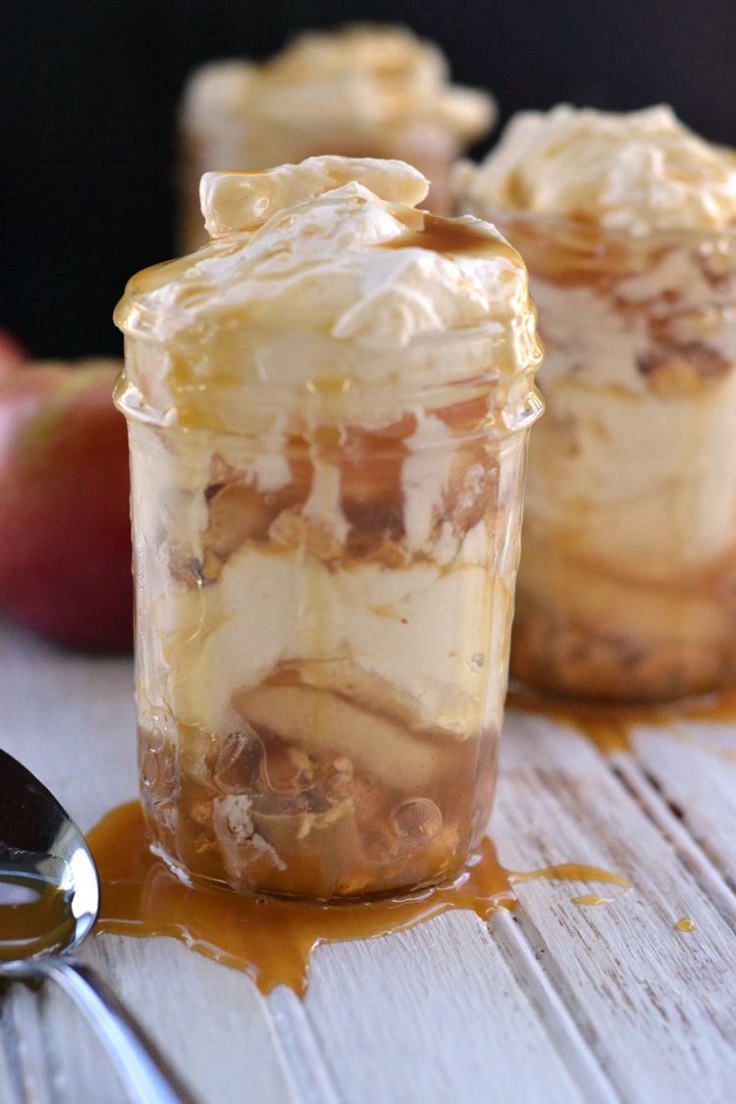 via allshecooks.com
The Apple Caramel Cheesecakes will take you only 10 minutes. These are a great option on busy days or lazy days. You need 2 cups of granola, 1 can apple pie filling, 1-pint heavy cream, 1 cup of sugar, 8 oz cream cheese, 1 tablespoon cinnamon, and caramel topping. Mix heavy cream, sugar, cream cheese, and cinnamon for few minutes. Place granola in the bottom of the jar, top it with caramel, and then add half of the cheesecake filling. Once again, top it with granola and caramel sauce, and you're all done!
3. Pumpkin Pecan Dessert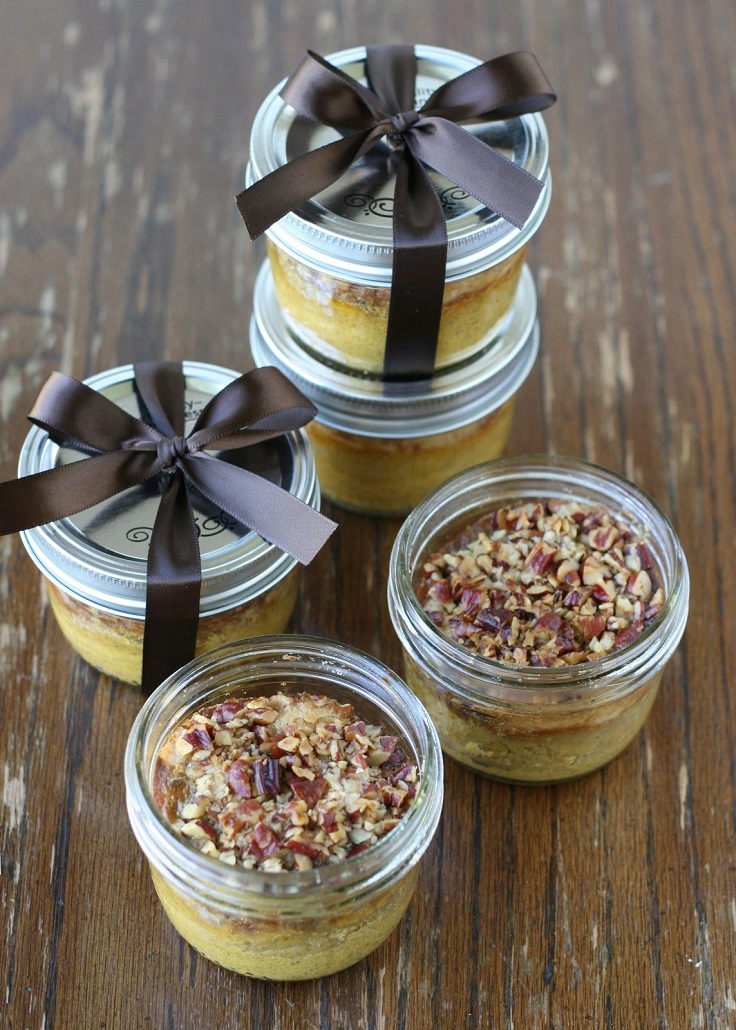 Pecans and pumpkin are a great combination, especially when placed in a jar. For this recipe, you need 1 can (15 oz) pumpkin, 1 can (12 oz) evaporated milk, 3 eggs, 3/4 cup sugar, 4 tablespoons of pumpkin pie spice, 1 boxed cake mix, 1 1/2 cups chopped pecans, 3/4 cup melted butter. Let them cool for about 30 minutes if you plan to eat them right after they're ready; if you want to eat them the next day – don't hesitate; they are equally delicious! Of course, before you serve, add some vanilla ice cream or whipped cream on top.
4. Cool and Creamy Oreo Parfaits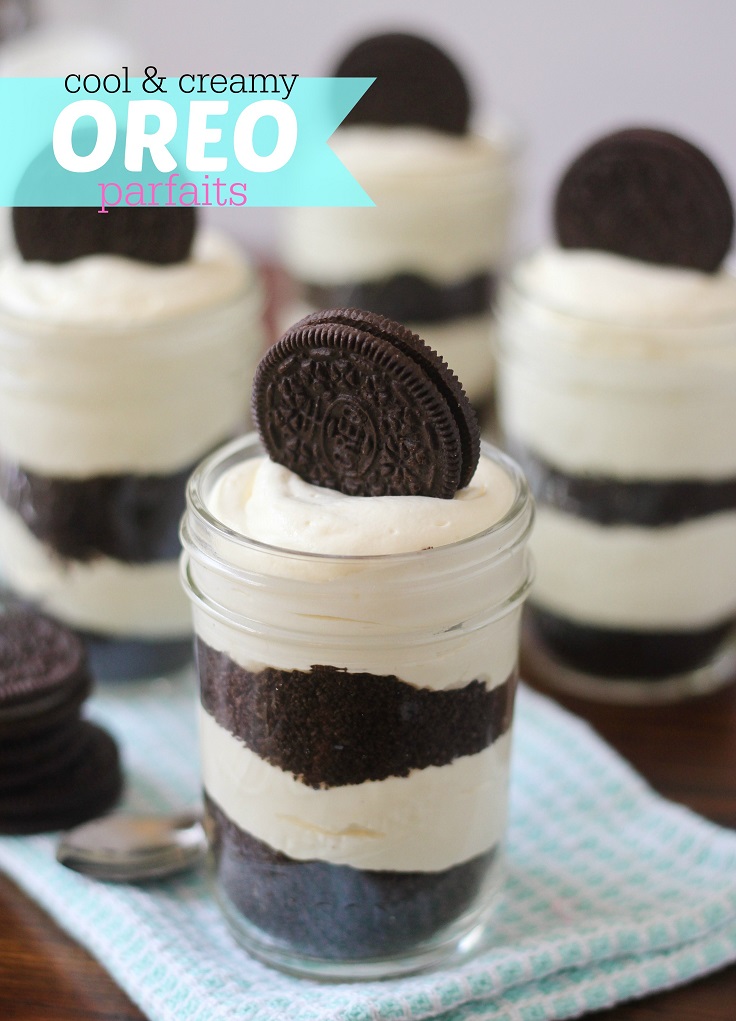 via confessionsofacookbookqueen.com
To all Oreo lovers: You are absolutely falling in love with this sweet treat. You need 1 regular size package of Oreo, 3 cups whole milk, 2 small boxes of instant vanilla pudding, 12 oz whip cream, 1/4 cup salted butter, 8 oz cream cheese, 1 teaspoon vanilla extract, and 1 cup of powdered sugar. The dessert will be ready in less than an hour and is the perfect treat for any occasion. No matter if it's after lunch, sweet treat, or dessert for parties and celebrations, the Oreo parfait is going to be a huge success!
5. Amaretti Tiramisu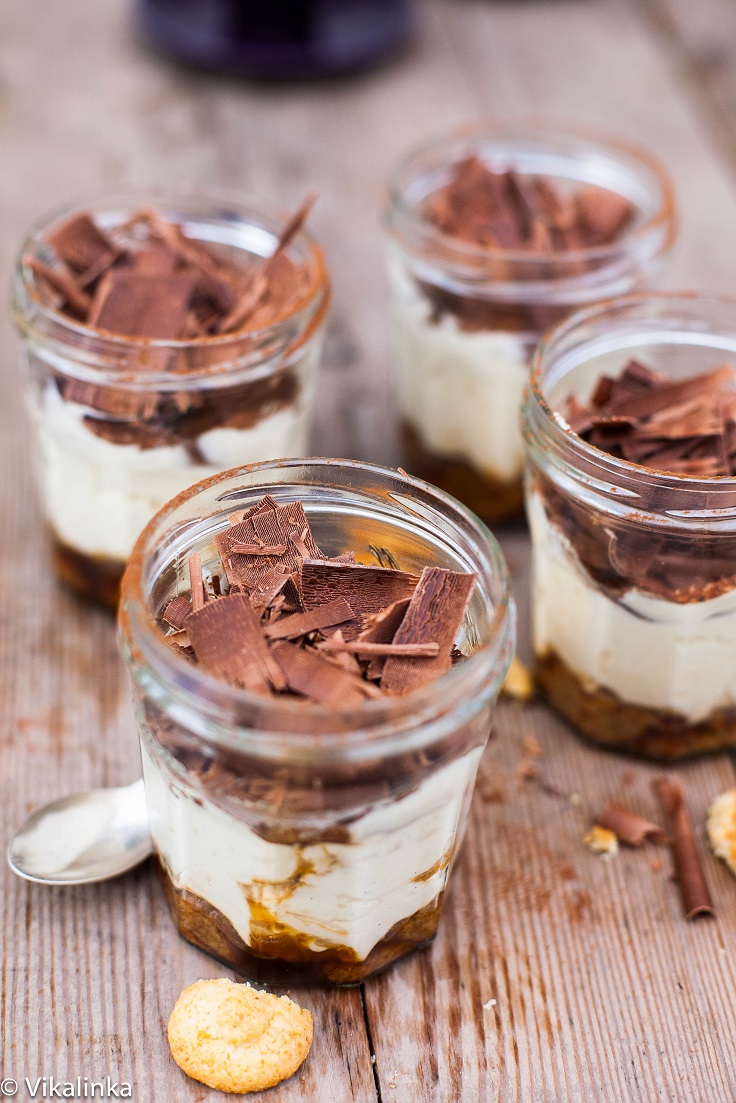 via vikalinka.com
The Amaretti Tiramisu mason jar cake looks so delicious that it will make you crave it the moment you see it! If so, make your own with these ingredients: 20 – 24 soft or crispy Amaretti biscuits (or similar), 2 0z espresso coffee or strong coffee, 1 cup of mascarpone, 1 cup of whipping cream, 1/4 icing sugar, 2 tablespoons of vanilla, 4 – 6 tablespoons rum, marsala brandy or similar, 3 – 4 tablespoons cocoa powder for dusting and chocolate shavings for topping. The greatest part? It takes 10 minutes to make it.
6. Strawberry Cheesecake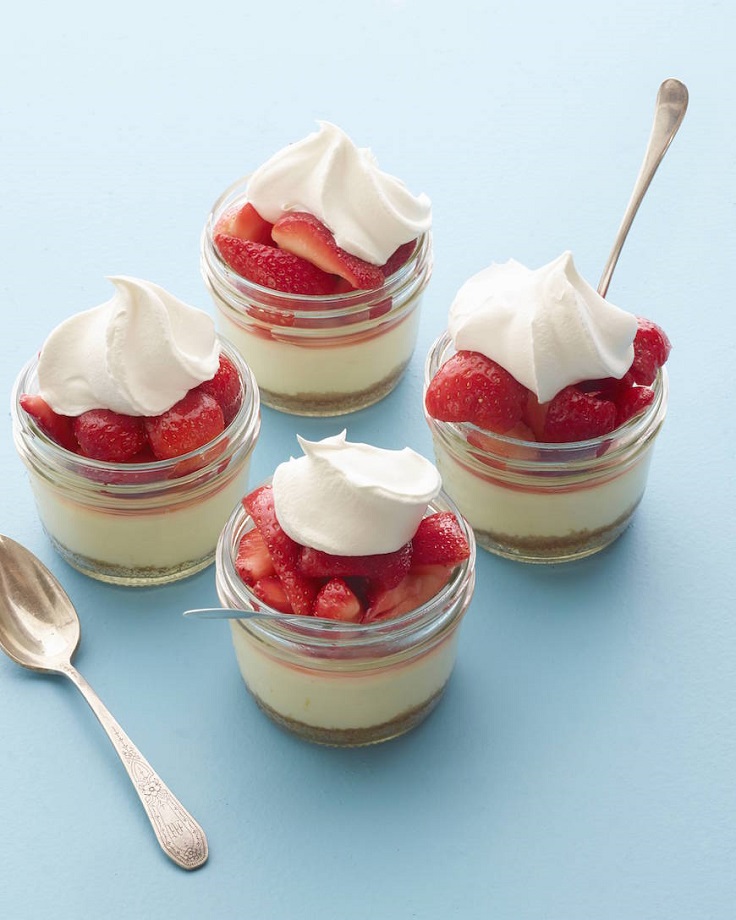 For these super tasty strawberry cheesecakes, you need 2 cups of graham cracker crumbs, 2 tablespoons sugar, 8 tablespoons melted butter, 4 8 – ounce packages of Philadelphia cream cheese (or similar), 3/4 cup sugar, 4 eggs, 1 cup sour cream, 1 tablespoon vanilla extract and 1 lemon zest. This recipe will make 12 mini mason jars, so it's a good recipe if you're expecting guests (or want to eat a lot of mason jar cheesecakes!). Before serving, make sure to add 2 pints of fresh quartered strawberries, 1/4 cup white sugar, and 1/2 cup of heavy cream.
7. Raspberry Lemon Dessert Cups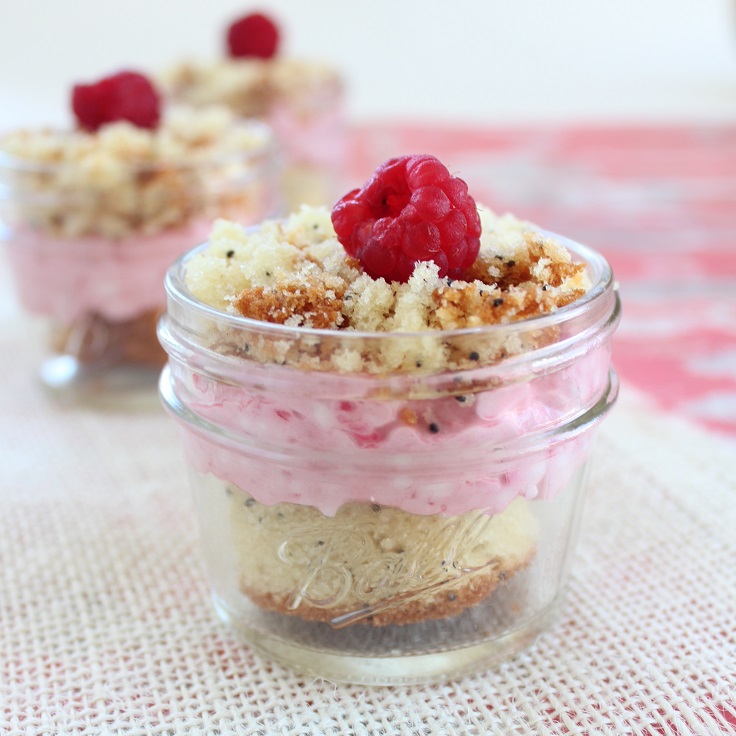 via whitneybond.com
Only 15 minutes are separating you from this amazing dessert! You need four ingredients: 1 All But Gluten Lemon Poppy Seed Loaf Cake or similar, 8 oz cream cheese, 1 cup fresh raspberries, and 1/4 cup of powdered sugar. Slice the loaf cake into four sections lengthwise and cut 8 small circles using a pastry cutter. Place each circle in the bottom of a 4 oz mason jar and start preparing the cream cheese mixture by mixing cream cheese, raspberries, and powdered sugar. Add the mixture on top of the loaf slices in the jars and crumble the remaining loaf. If you want some topping, use raspberries.
8. Fresh Peach Cobbler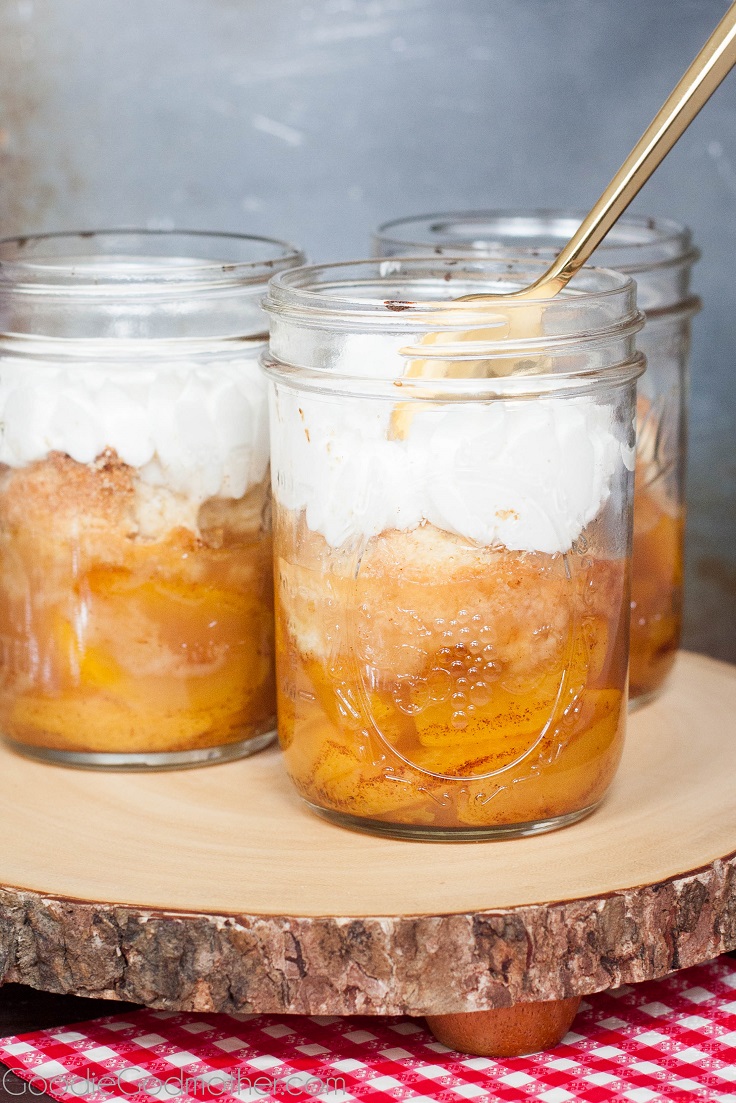 Time for something different and uncake – y: the peach cobbler. The peach cobbler is made of 2 lbs fresh peaches, ¼ c brown sugar, ½ tsp ground cinnamon, ⅛ tsp ground cardamom, 2 tsp lemon juice, 1 c self-rising flour, ¼ c granulated sugar, 6 tbsp unsalted butter, ¼ c boiling water,½ tsp cinnamon, 2-3 tbsp turbinado sugar for the topping. If you want any topping, you can use ice cream or whipped cream. It will take you 30 minutes to make the dessert, and you will have 4 – 6 servings out of it.
9. Punch Bowl Cake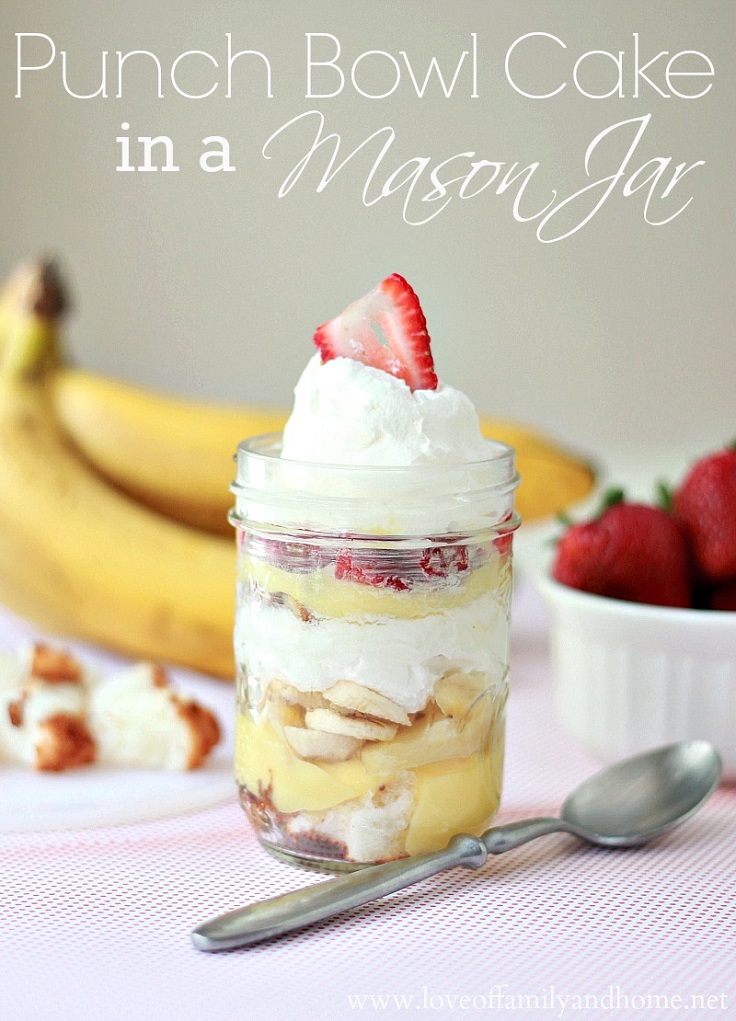 This cake can be placed in a punch bowl or mason jar. If you decide to place it in jars, you'll need only 3/4 of the whole cake. You need 1 box of Angel Food Cake, already prepared (or buy a similar), 1 – 16 oz container of cool whip, 2 boxes of vanilla flavoured, instant pudding (this one prepare it before too), 2 pints of strawberries, 3 bananas and 1 20 oz can of pineapple chunks. The jar layers' order goes this way: angel food cake on the bottom, then add pudding, strawberries, and cool whipping.
10. Thin Mints Chocolate Mousse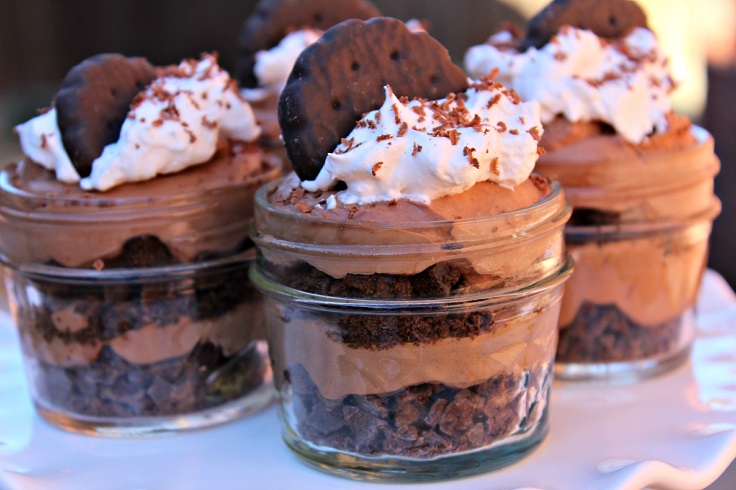 And the last is some chocolate experience in a jar! They are very easy to make, and their deliciousness will make you crave for another jar. You need few ingredients to prepare this dessert: Thin Mints, cool whip, 1/2 tablespoon of vanilla extract, 3 oz Ghiradelli premium chocolate baking bar (or similar), 1/2 c heavy whipping cream, 2 Tbsp sugar, and 1 egg. For the topping, use whipped cream and half Thin Mint cookie, or any other that you like.