One of the best experiences that travelling offers is admiring the different architecture you can see all around the world. No matter where we go, there will always be something unique to that place that can not be seen somewhere else. But, some of these places have a thing in common: colors.
Bright and bold, these towns will make you admire the never-ending beauty of so many buildings, all painted in few colors or even more. You don't have to travel far to visit these places, at least for most of them. Check out the ten towns we picked for you, and if you have the opportunity, don't hesitate to visit them.
1. Willemstad, Curaçao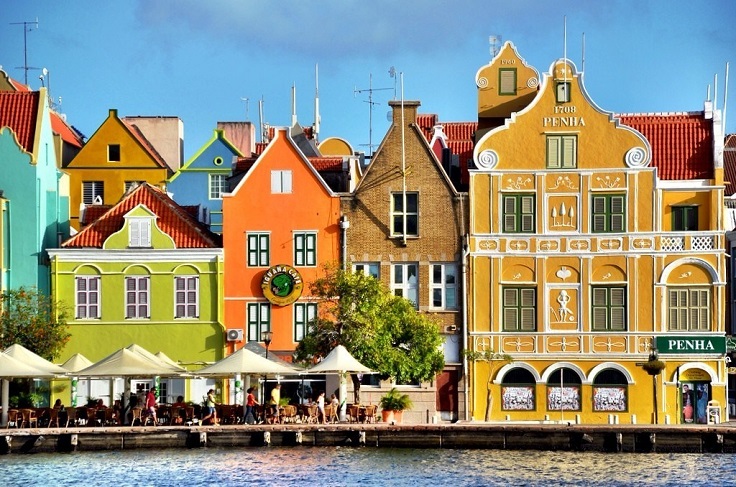 via landlopers.com
Willemstad is the capital city of Caribbean island Curaçao. What makes this island so special is that it belongs to the Kingdom of Netherlands, so this place is actually a tropical beauty, but with Dutch architecture. You will feel as if you're somewhere in the Netherlands, except that here you have beaches, the ocean, and hot weather. Thanks to the unique architecture, the city center has been designated by UNESCO World Heritage. Curaçao is the third island in the ABC islands (Aruba, Bonaire, and Curaçao) that form the so-called Dutch Caribbean because all three belong to the Netherlands.
2. Guanajuato, Mexico
via sherrijosbecauseicanworldtour.blogspot.com
Guanajuato is the capital city of the same called state in Mexico. The city is  charming, with many plazas and architecture from the colonial era. However, this city isn't just popular for its colorful houses, narrow streets, and squares with a European touch – Guanajuato is also known for the Mummy Museum. There are 59 displayed mummies of men, women, and children who ended up this way because of a law that required residents to pay tax for perpetual burial. The law was in force from 1870 until 1958. Guanajuato is famous as well for the Callejón del Beso (Alley of the Kiss), which is so narrow that couples can kiss from the opposite balconies. The city also plays an important role in Mexico's Independence, so no wonder why it is UNESCO World Heritage Site.
3. Lisbon, Portugal
Lisbon is the capital of Portugal, and it's a real must for every traveler. The city is one of the oldest cities in the world and the oldest in Western Europe. Lisbon is heaven for every architecture lover because here, you can find constructions in Gothic, Modern, Romanesque, Baroque, and other styles. The city is rich in culture and history, so you'll find the city very amusing because there are tons of historical places to visit, museums, galleries and lots of other stuff to satisfy your cultural cravings. Lisbon is a popular touristic attraction but still isn't overwhelmed by tourists, which leaves you with the option to breathe the city like a local. You can wander the streets by only yourself and enjoy the old, peeled, colorful buildings among the way!
4. Copenhagen, Denmark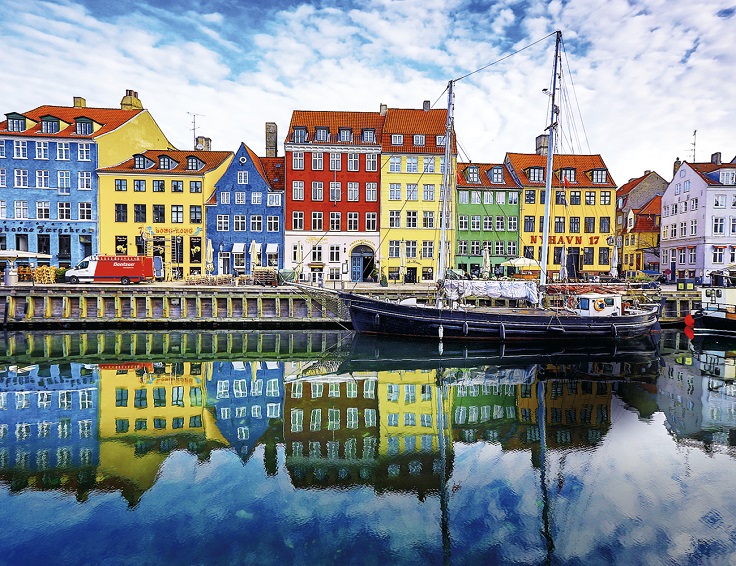 via thesun.co.uk
Those who have been to Copenhagen know that the city is truly one of the most charming places there can be. The Danish capital is a year-round destination, so no matter when you go, you will have fun times and many things to see and visit! You can start out by having fun in the Tivoli Garden, an amusement park for any age. You should also enjoy a nice coffee or lunch at the Nyhavn and see the Little Mermaid statue. If you like royal stuff, then Copenhagen has much to offer – visit the Christiansborg Palace and the Rosenborg Castle, among others. And, most of all, rent a bike, drive around and enjoy the beautiful, colorful architecture of the city.
5. Cinque Terre, Italy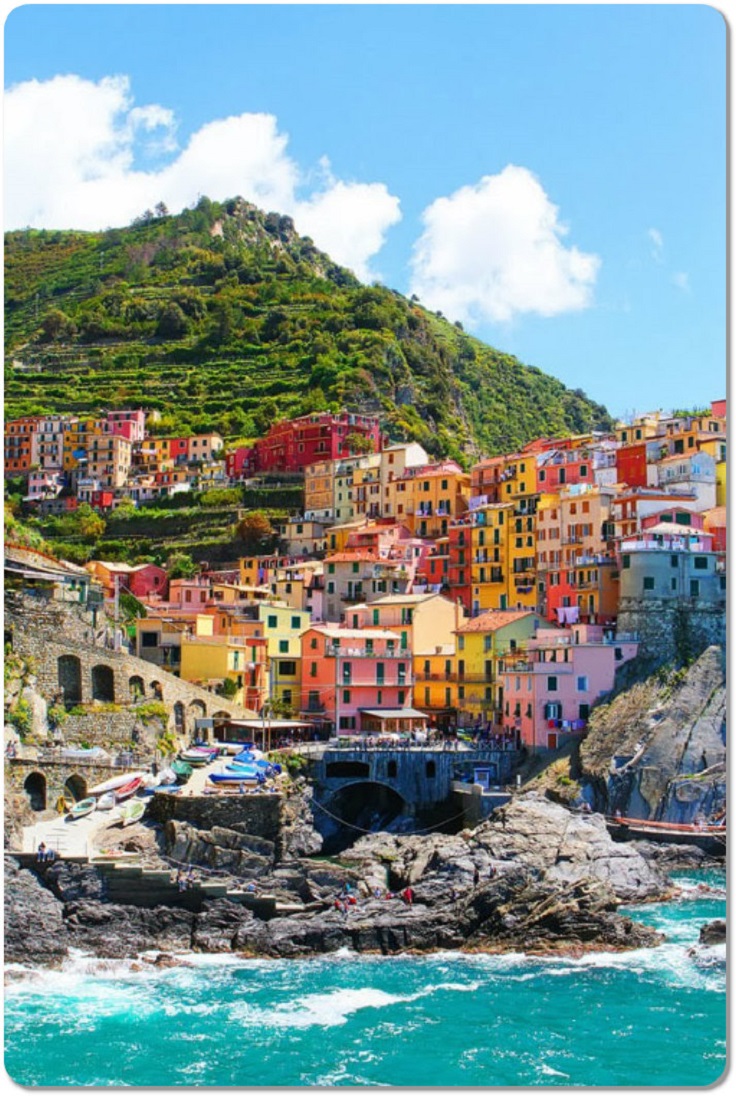 via travel.viralcreek.com
Cinque Terre is a popular summer destination located on the Italian Riviera. The coast is such touristic heaven because it has everything you could ask for a vacation – beach, sea, amazing view, kind people and many restaurants and bars. It consists of five villages – Manarola, Riomaggiore, Monterosso al Mare, Vernazza, and Corniglia, with colorful buildings in the most charming way in Italy. So, if you were wondering where to go this summer, don't hesitate to visit at least one of these fairy tale look-alike villages.
6. Salvador, Bahia
Salvador used to be and was Brazil's first capital, from 1549 to 1763, and it also used to be the main slave market in America. Because of that, the city was exposed to three different cultures – European, African, and American Indian, which resulted in leaving something from each culture in the city. That's why the colorful city center is considered a very historical one, and since 1985 it is UNESCO World Heritage Site. The city center is known as the Pelourinho neighborhood, which is filled with cobblestone streets and colorful buildings, where you can easily feel the influence of the Portuguese culture. You can also see baroque buildings, such as the church São Francisco. The rest of Salvador offers a real Brazilian experience that you don't want to miss out on!
7. Reykjavik, Iceland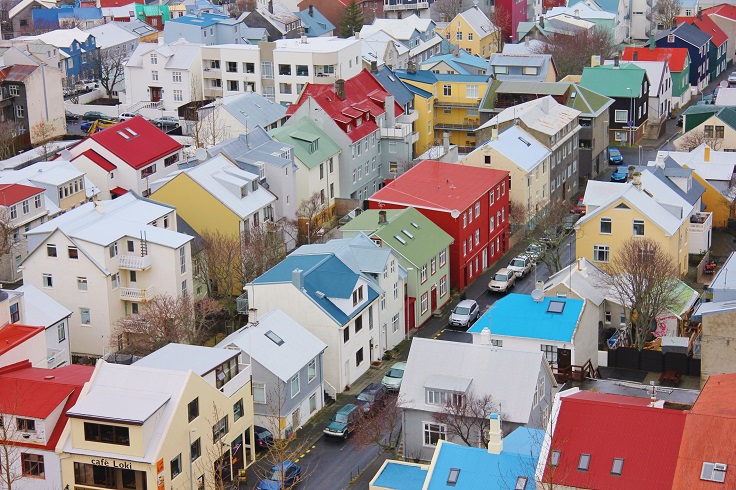 Reykjavik is the capital, and also the largest city in Iceland is this colorful, charming city. Just by looking at the picture, we wanted to be there right away and enjoy this amazing view! And since we'll be there already, we would also like to enjoy the amazing hot geothermal seawater in the Blue Lagoon spa. We can also witness the Northern Lights' never-ending beauty or take a hike in some of the gorgeous Icelandic mountains. Or, we can simply walk around the small city, enjoy the view right in front of us, eat a traditional dish and try to learn something new for the world's northernmost capital.
8. Valparaiso, Chile
via obsessionsbygessica.blogspot.com
Valparaíso is the second-largest city in Chile and the home of another colorful building ready to take our breath away with its charm and uniqueness. There is always the possibility to just walk around and see the beauty around you, but Valparaíso is really more than just a colorful neighborhood. One of the most popular tourist attractions is La Sebastiana, the house where famous poet Pablo Neruda used to live.  However, what you mustn't leave out is definitely walking around the city's colorful historic quarter. It is such an artistic place with lots of street art, not only the colorful buildings! In 2003 the quarter was declared as UNESCO World Heritage Site.
9. Bergen, Norway
via ricksteves.com
The second's colorful Scandinavian city on this list is Bergen. It is the second-largest city in Norway, after the capital Oslo. These wooden houses are just a small way to discover the culture and the architecture of this Norwegian city. Beautiful mountains and fjords surround Bergen. If you have the chance to visit the city, make sure to take a cruise and breathe the mountain air and witness the beauty of the fjords. However, the tourists not only have nice words for nature but for street art as well. In fact, Bergen is seen as the street art capital in Norway so much that a few years ago, the city council decided to protect the famous artist Dolk's street art with glass.
10. Wroclaw, Poland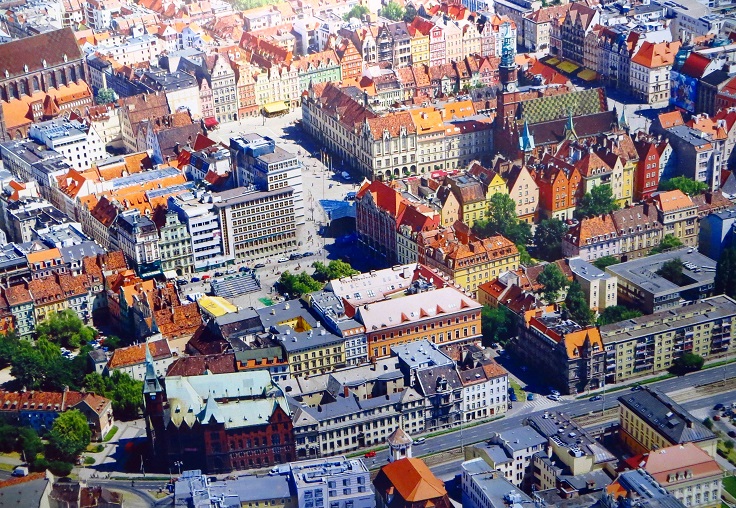 You can easily see how colorful this city is. Invite a friend, a relative, or your partner and go explore this Polish city. Visit the market square, where you can witness the colorfulness of the city. You can also visit other stuff in the city, such as Szczytnicki Park, which is famous for the Japanese garden. You can also visit the Wroclaw musical fountain, which will surely offer an unforgettable experience. Wroclaw offers fun, culture, tasty food, kind locals, and great accommodation options. All you have to do is just book your trip and visit!