Trends in the nail art industry are changing day by day. As the new season approaches the new adjusted manicure tutorials are coming out. There is nothing you can do but follow the movements.
If you're one of those brave girls that are not afraid to experiment with nails, then we're sure that you've tried to style your nails by yourself many times before. But sometimes you can simply get lost without a clear idea about your next nail manicure, especially when the completely new season is here. But don't panic, because we've covered you with 10 nail art tutorials that are most wanted at the moment.
We're absolutely sure that they'll still be popular in the next 6 months. So, go ahead and try all of them, there is enough time for everything!
White and Silver Striped Accent Nail Mani Tutorial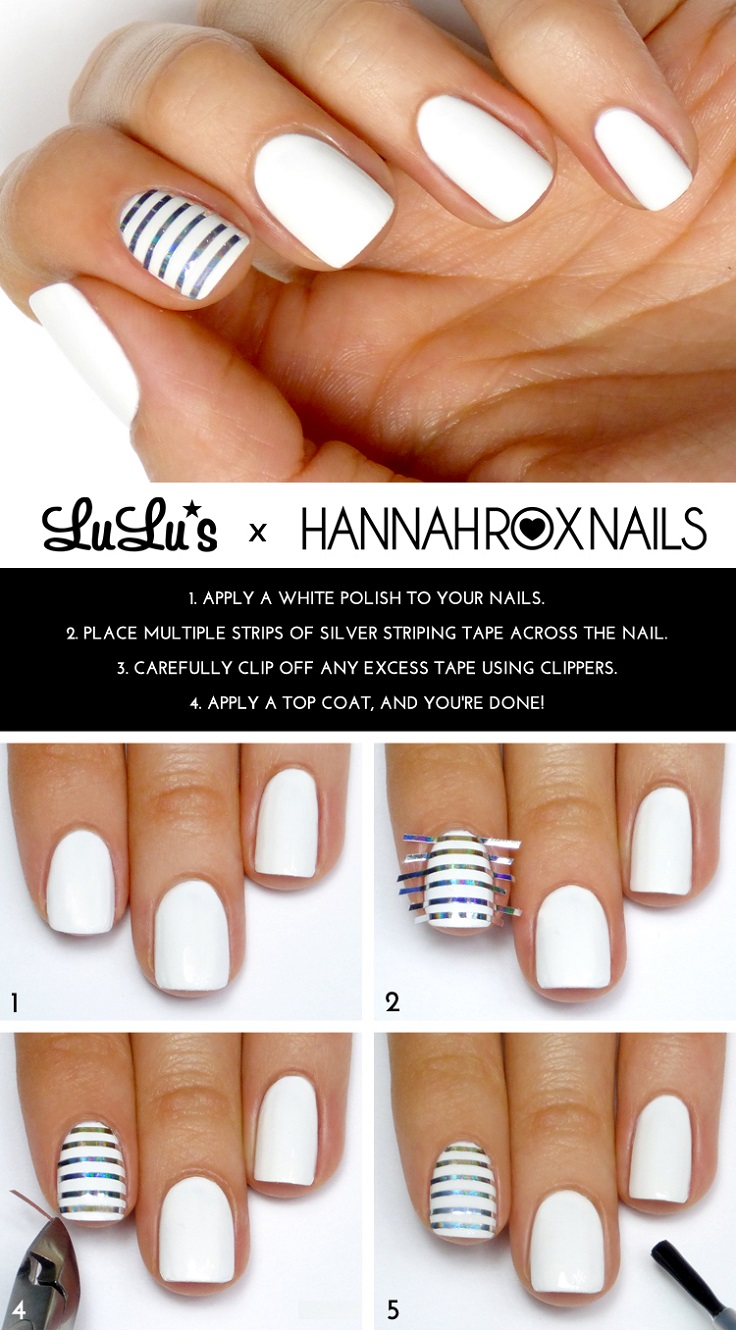 via blog.lulus.com
We're opening the list with an easy tutorial that is showing how you can create white nails with the silver striped accent. This is totally chic nail design which is perfect for the summer season when you'll get sun-kissed skin. Your nails will be the center of attention on any beach you go, that's for sure!
Rainbow Nail Art Tutorial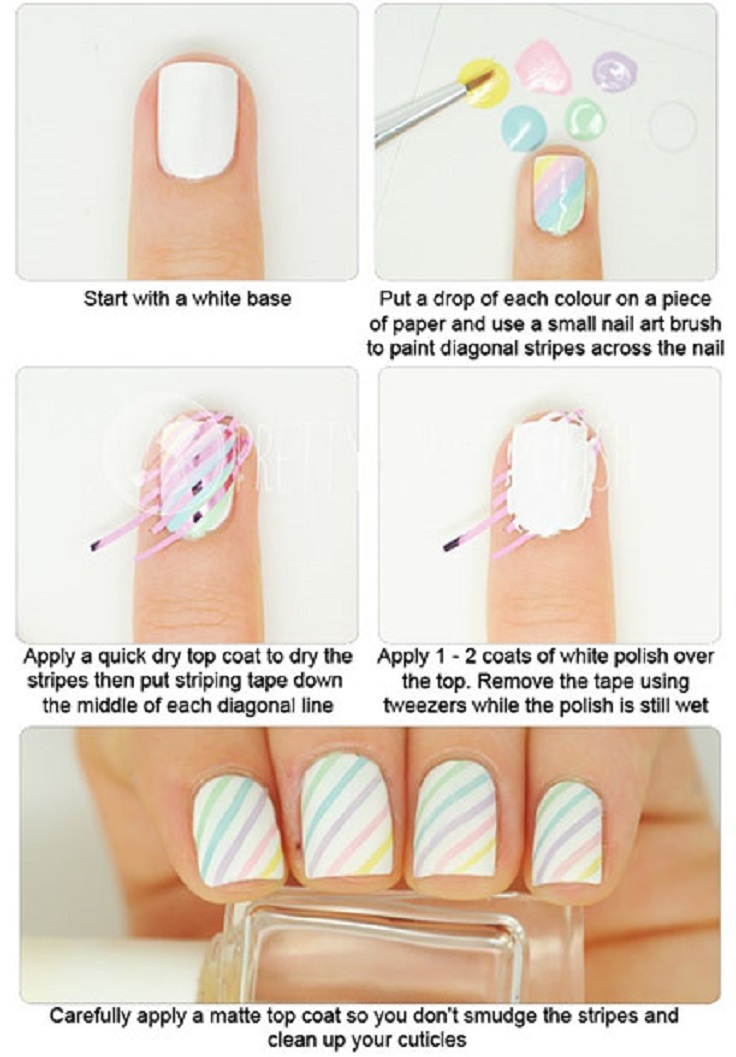 Rainbow is typical for the rainy spring season that's upon us and it looks very beautiful and inspiring. Why don't you create rainbows on your nails and wear them with you wherever you go?! Just follow the instructions for rainbow nail art and feel free to experiment with colors!
Pink Gradient Mani Tutorial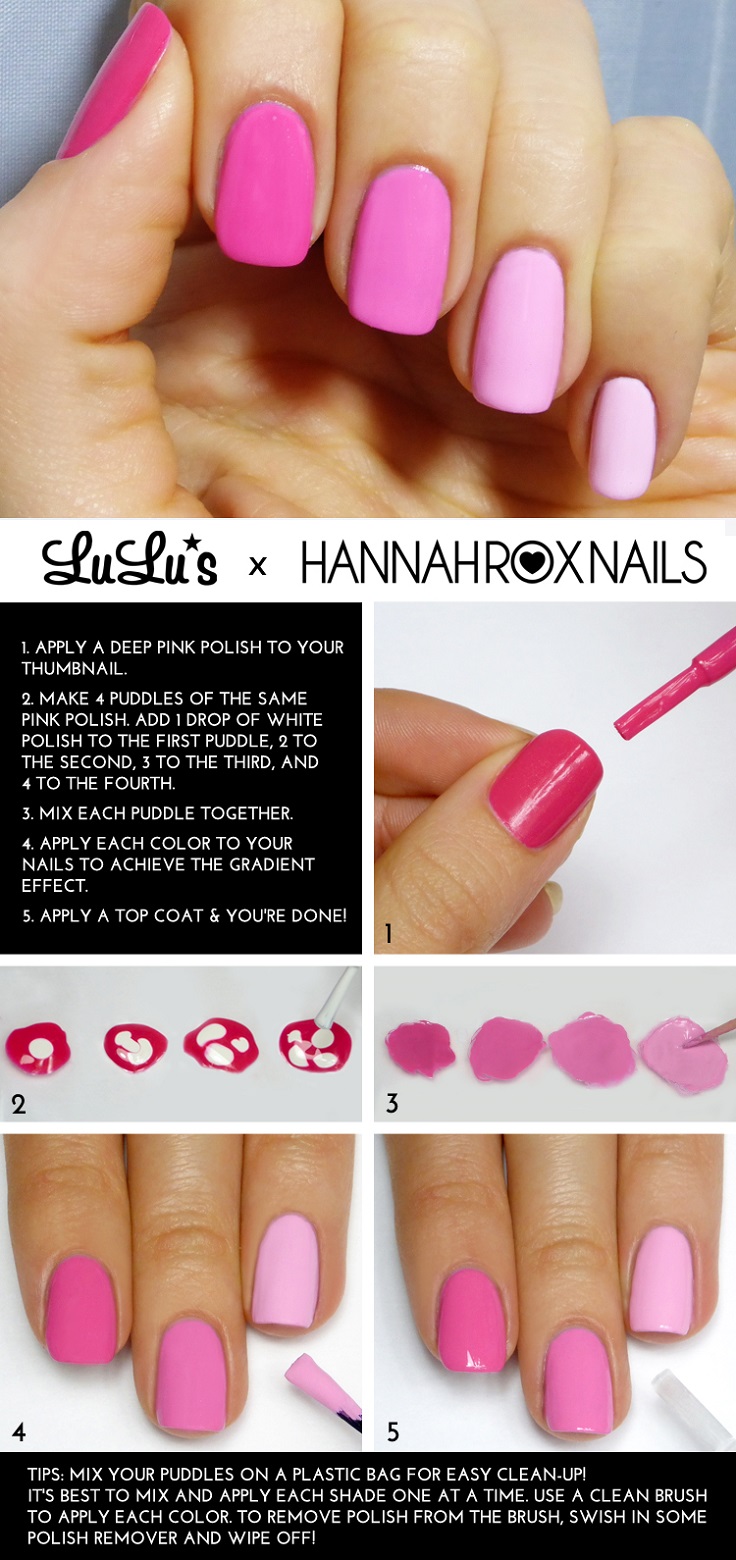 via blog.lulus.com
This is probably the easiest tutorial in our collection and it's just perfect for all those girls that don't have great nail art skills. The only thing you have to do to achieve a pink gradient manicure is to color your nails in 5 various shades of pink. The end result is wonderful spring-ready nails!
Matte and Shiny French Manicure Tutorial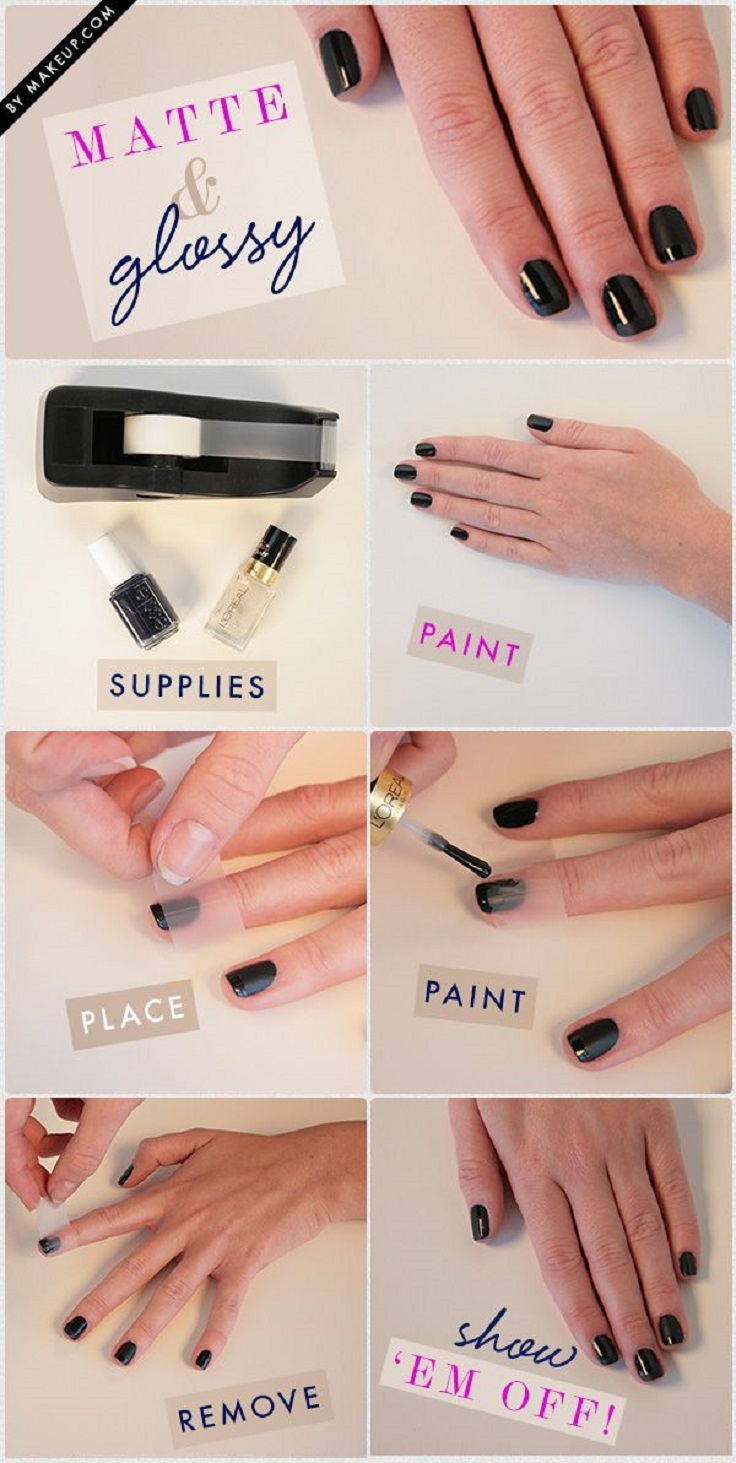 via makeup.com
We're continuing with an idea that's well-known to every one of you – matte black french manicure. Sounds familiar?! We're sure it is, so find one shiny and one matte nail polish and start to paint now, because this is the trend that will be here even longer than anyone thinks!
Mint, White and Gold Striped Mani Tutorial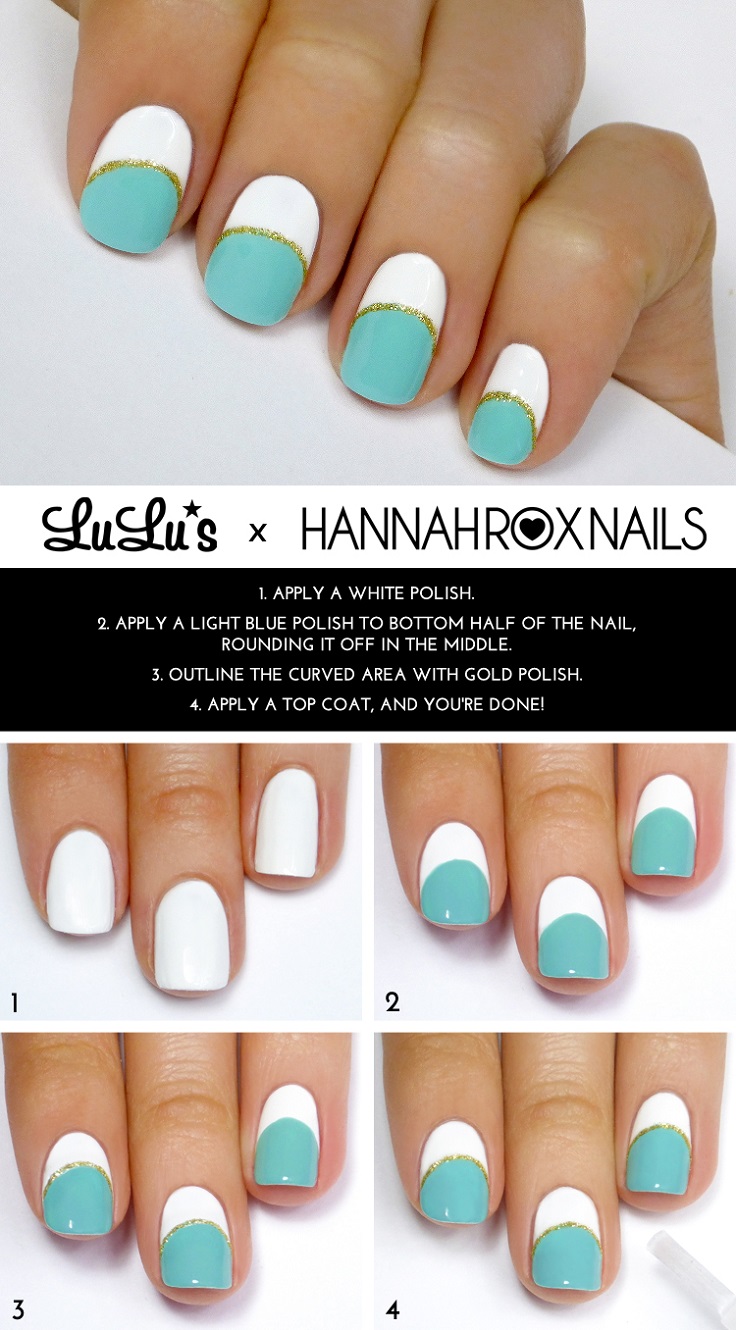 via blog.lulus.com
What do you say about mint, white, and gold striped nail art? We say a big ,, YES", because this is one of the latest trends that's making a statement everywhere! It's a little bit difficult to achieve it, but take your time and with a little effort you'll have the most fashionable nails in just an hour!
Romantic Floral Manicure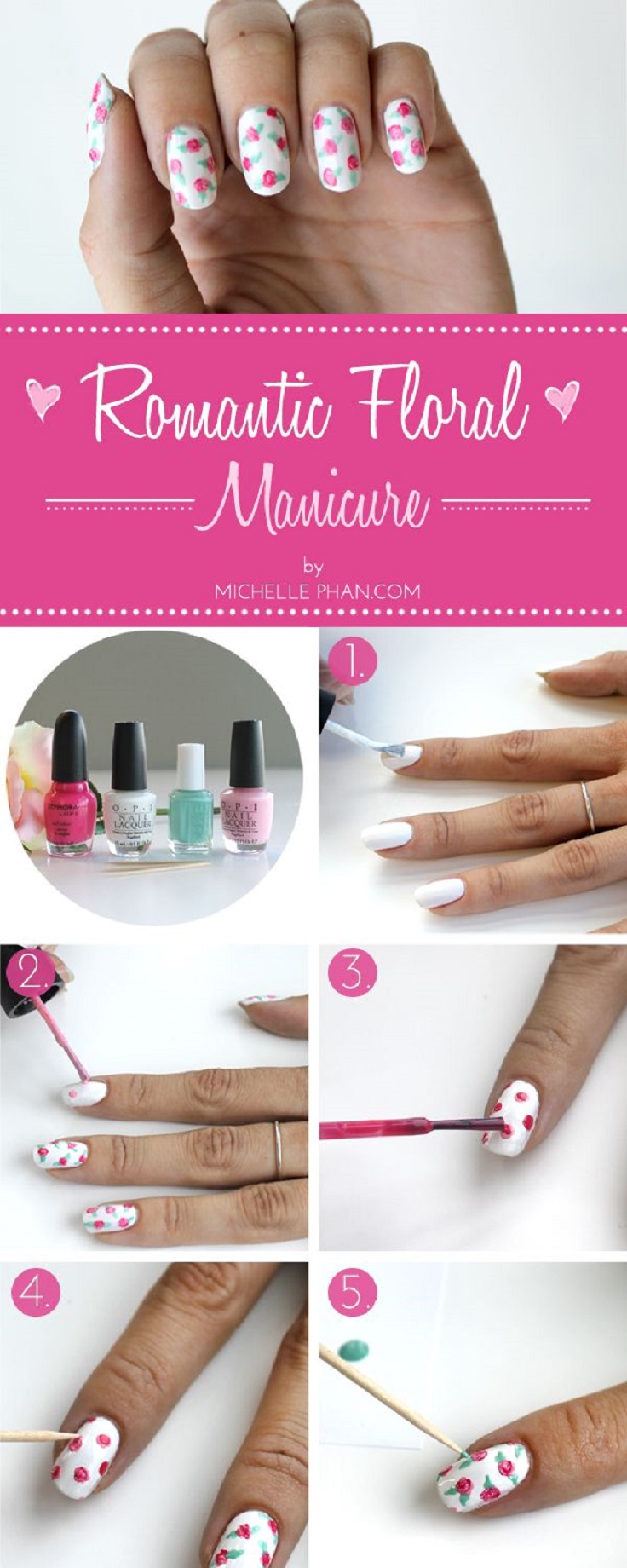 via michellephan.com
Spring is the season of flowers and romance and if you want you can have both of them on your nails. Just follow the step-by-step tutorials with instructions and you will rock that completely chic nail style. Go on!
Black and White Asymmetrical Crescent Mani Tutorial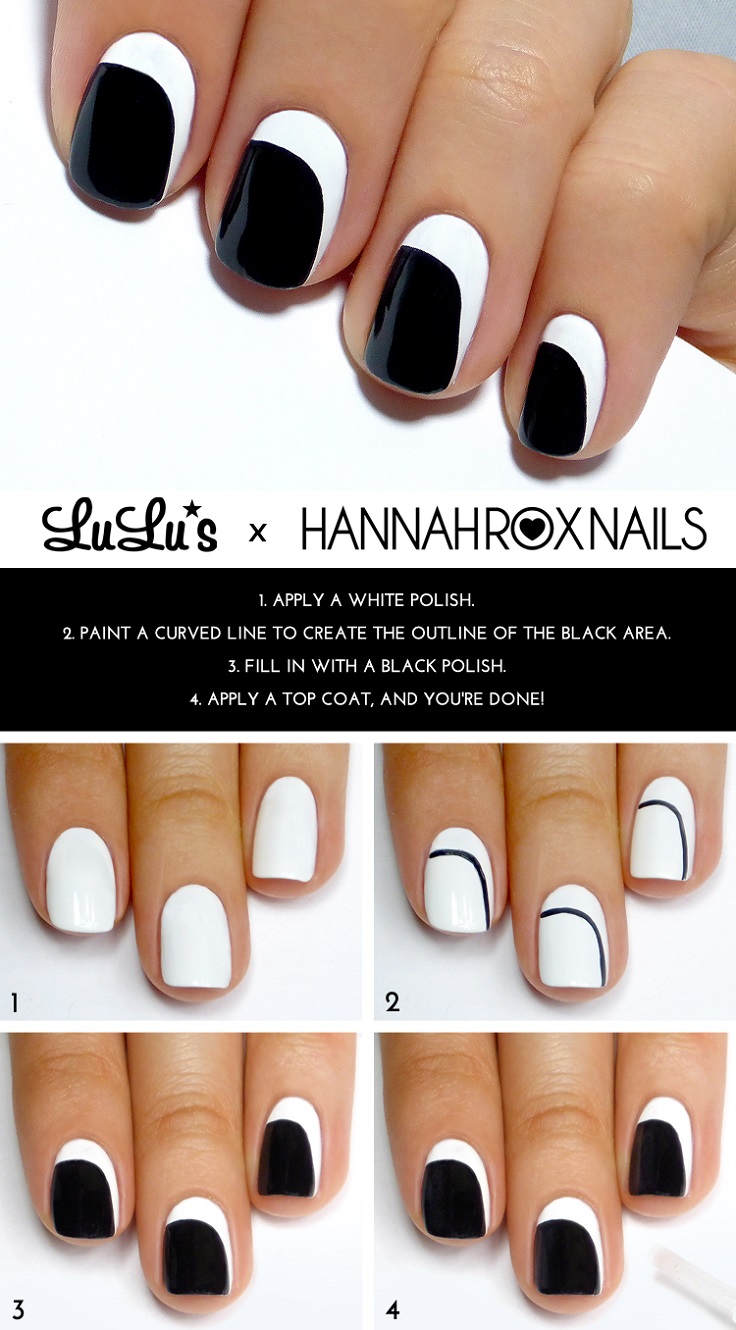 via blog.lulus.com
Black and white is a trend that won't be here just for a while, it's something that we'll surely be able to see in the next 6 months. That's why you should have to paint your nails in a black and white asymmetrical crescent design. Your nails will be your personal detail that'll be noticed by everyone!
Gold Leaf Manicure
via weheartit.com
Mint green nails with gold accents are a perfect nail art for the upcoming season and sunny days. They're not so hard to achieve and even if you're a beginner in the nail industry you can easily create it with a little dose of effort and time. You can do it!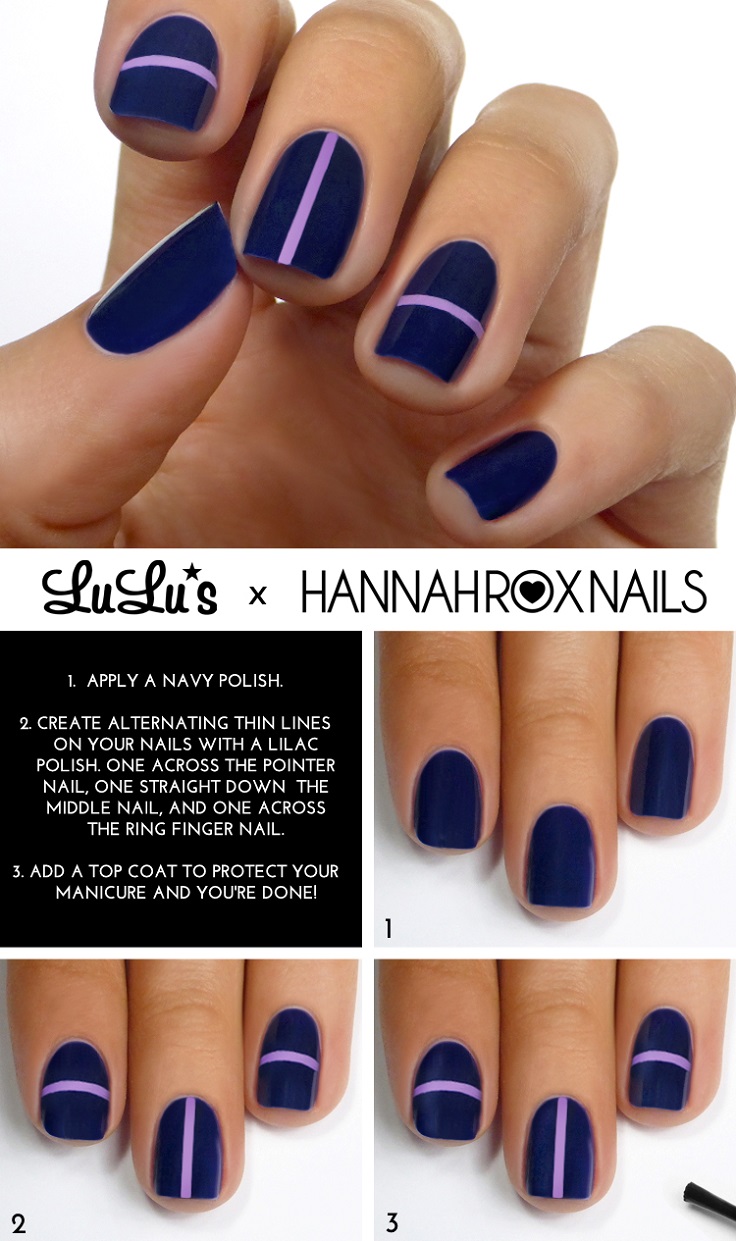 via blog.lulus.com
This is the nail design that's inspired by the colors of the sea. The mix of navy blue and lilac strips will make you feel like you're already somewhere on the beach. Totally easy and an absolute hit!
Light Blue and Peach Angled Tip Mani Tutorial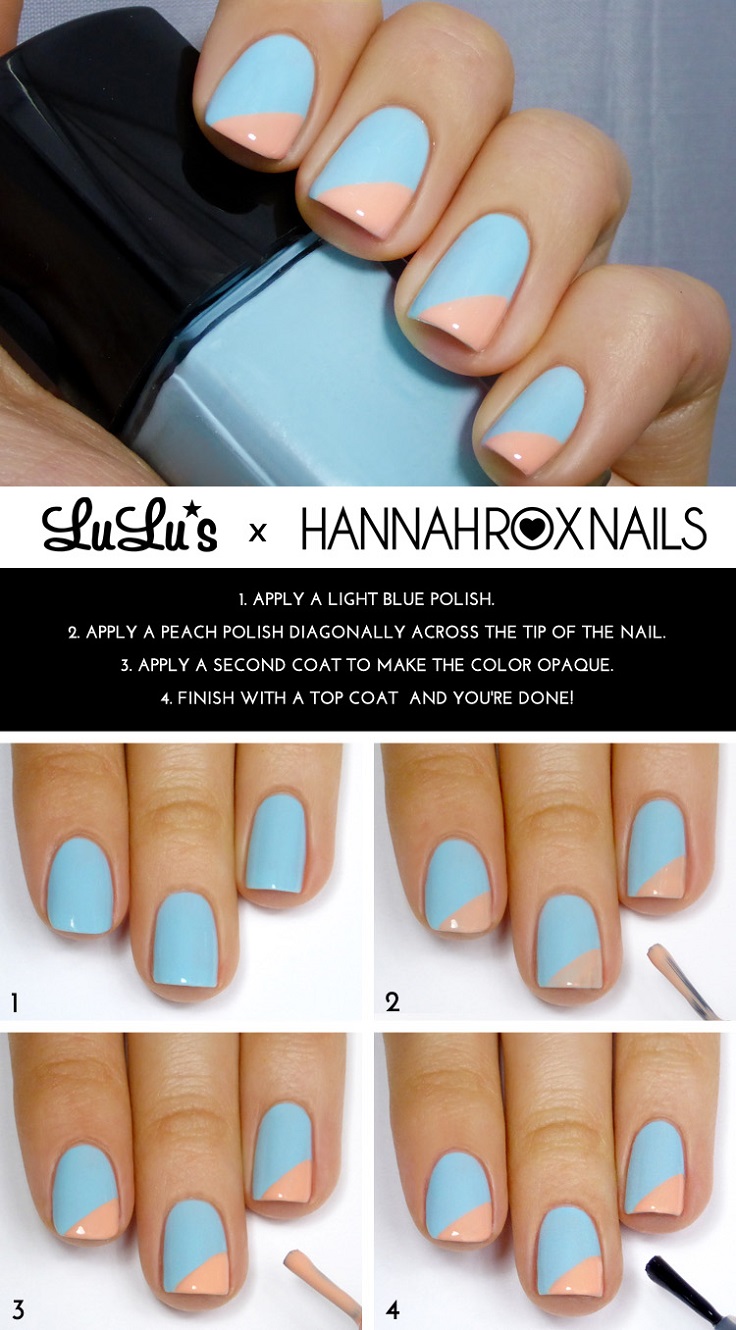 via blog.lulus.com
We're finishing the countdown with nail art that combines the shades of light blue and peach color. It's a pure perfection that can be incorporated with any kind of a street style outfit! Not to mention how uncomplicated this tutorial is!