Everyone interested in fashion has already heard of Olivia Palermo. The queen of street style never stops surprising us with her style. No matter if it is a red carpet event or just a walk in her hometown New York, Olivia's style is always flawless.
In this article, we present you ten looks worn by this amazing street style icon that you can wear. Some of the pieces you might already have, while you can buy the others without spending hundreds of dollars! We made sure to pick something that can be affordable and stylish at the same time, so we hope you're going to like these ten outfits.
1. Maxi Skirt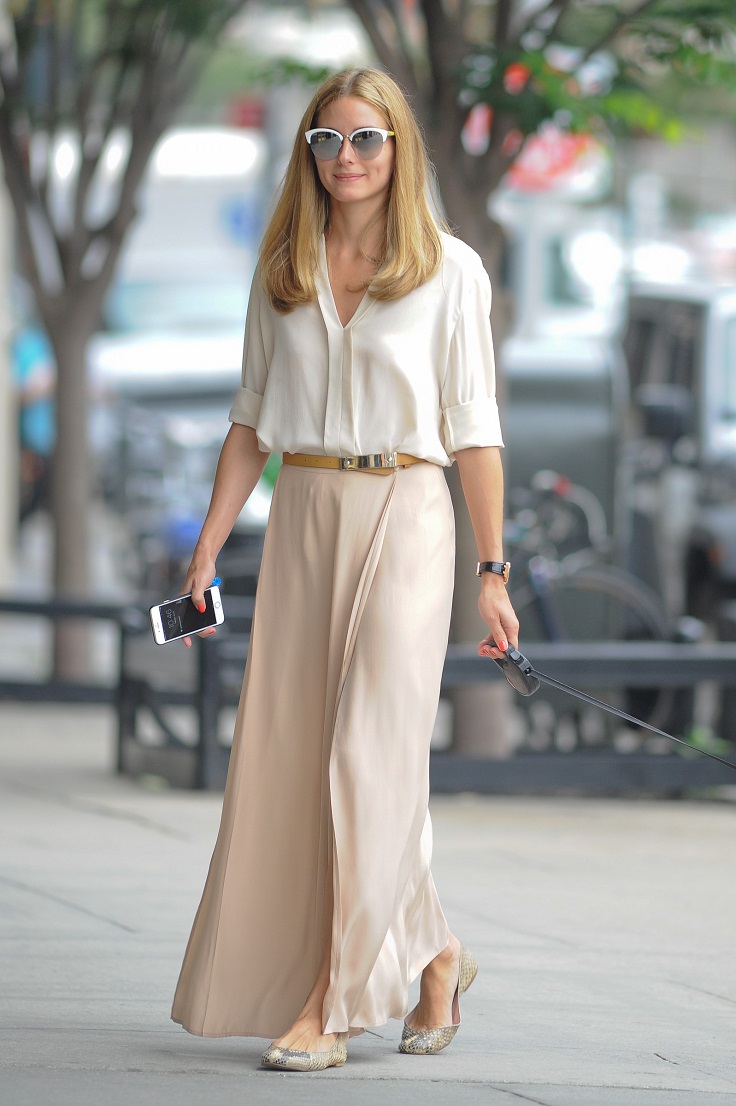 via vogue.com
The maxi skirt is a piece of clothing that will never go out of style. It's perfect for any occasion or even for no occasion at all. The skirt is comfortable to wear, and if you pick the right piece, it can be stylish. Olivia Palermo worn this skirt in a combination of plain white shirt and ballet pumps with animal print. Adding a belt is a nice detail too!
2. Fringed Skirt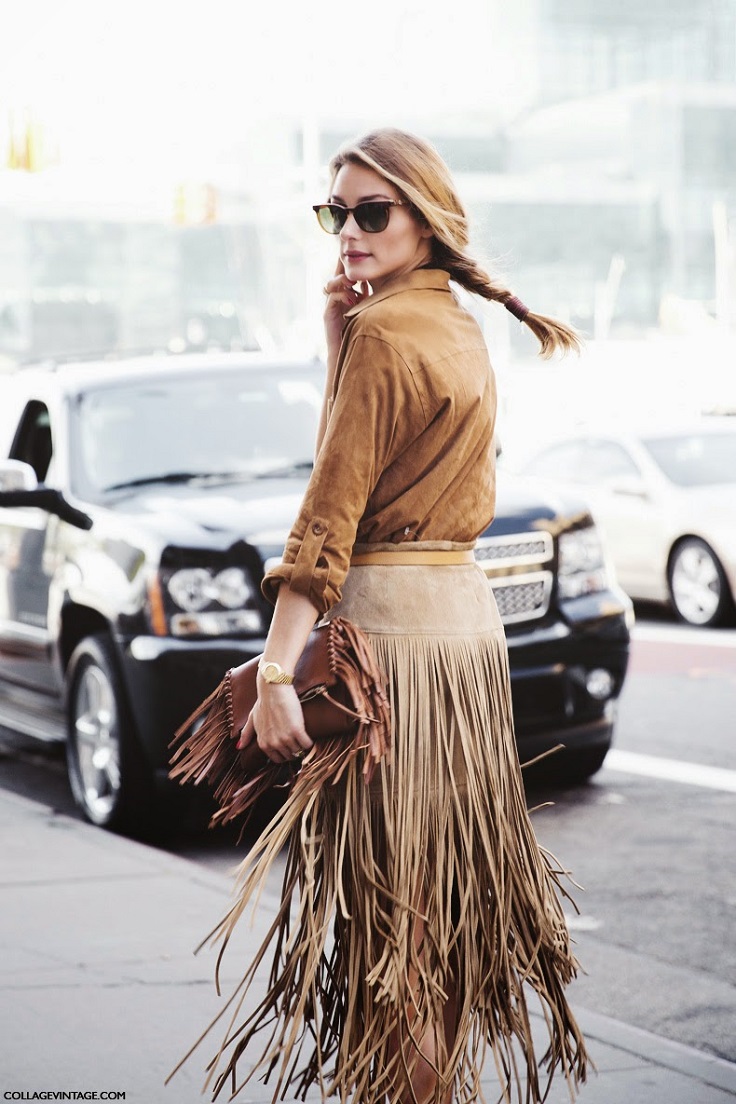 We have another outfit idea that includes a skirt, and now it's the one with fringe. Not everyone likes the fringe trend, but if you do, there are many ways that you can include it in your outfits. Olivia Palermo wears both velvet skirts and shirts in beige colors, so from this, you can try different combinations: you can play with colors or with materials. Whether you will wear it with heels or sneakers, either way, you got it right.
3. Off the Shoulder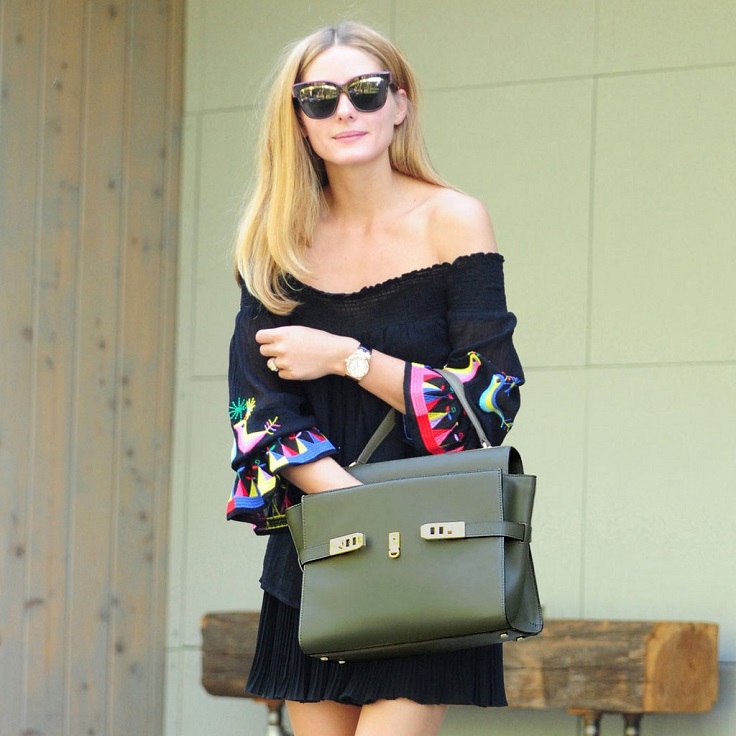 Everything off the shoulder is such a huge trend this summer, whether it is a dress, shirt, or a romper. It looks very feminine and since it is the summer trend, having at least one piece off the shoulder is a must! Here Olivia wears a pleated mini skirt with the shoulder shirt with amazing colorful details on the sleeves. Choose your favorite piece, and again, this is a combination that you can both wear with heels or sneakers, or even ballet pumps, sandals, Converse… The choice is yours!
4. Summer Dress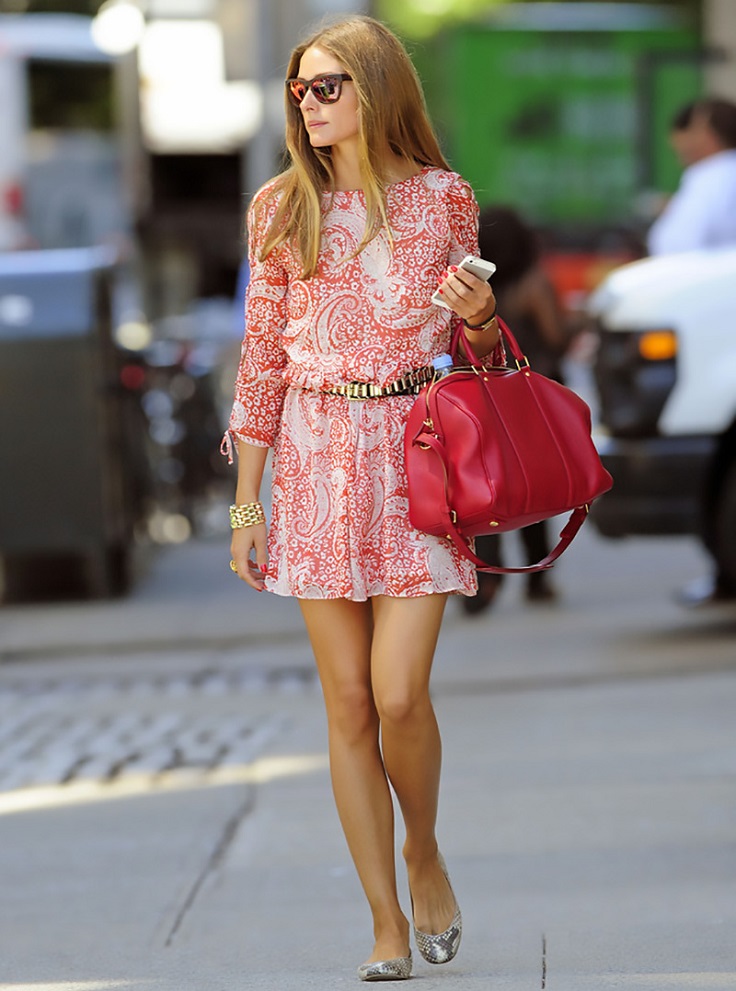 It's time for a new skater dress or for a new way of wearing an old one. Skater dresses are perfect for any occasion, and the queen of street style shows us how we can nail it with just one simple skater dress. If you wear a belt and jewelry, your outfit will look more stylish instead of leaving the impression that it is just a dress your wearing. Combine it with a great bag, and you're ready to go!
5. Casual
via popsugar.com
This is the outfit that every one of us can wear and relate to. It's one of the most budget-friendly outfits that you can come up with, and besides that, it is a great mix of comfort and style. All you need for this is just your favorite piece of jeans, a plain white shirt, and sneakers. In the past few seasons, sneakers are the ultimate trend, so we definitely recommend you to get a pair or wear it more often if you already have sports shoes.
6. Denim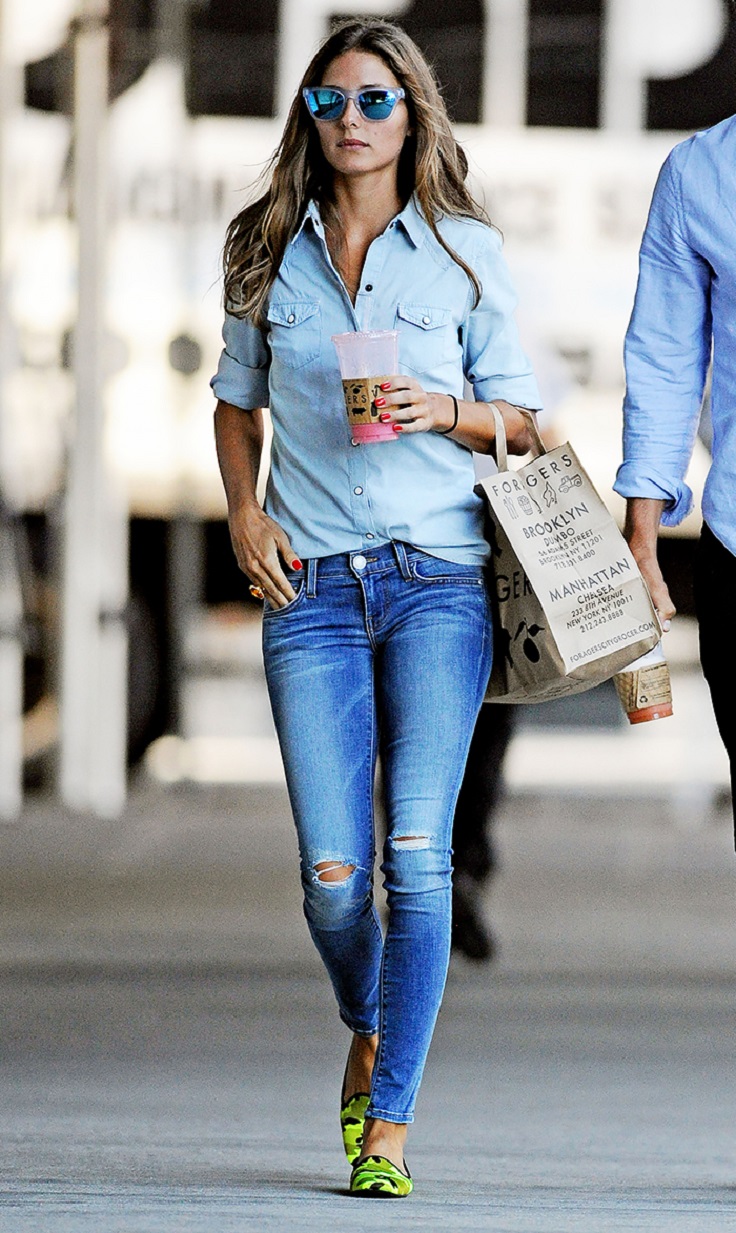 via thebluepepper.com
Speaking of jeans, there is something really great about denim that makes the jeans not enough for our wardrobe! Wearing our favorite piece of jeans with a denim shirt is a casual yet chic outfit that you can wear anytime, and depend on your workplace, you can even wear it at work. What shoes to wear it's totally up to you, but make sure to have some jewelry or a killer bag – details mean everything!
7. Formal Street Style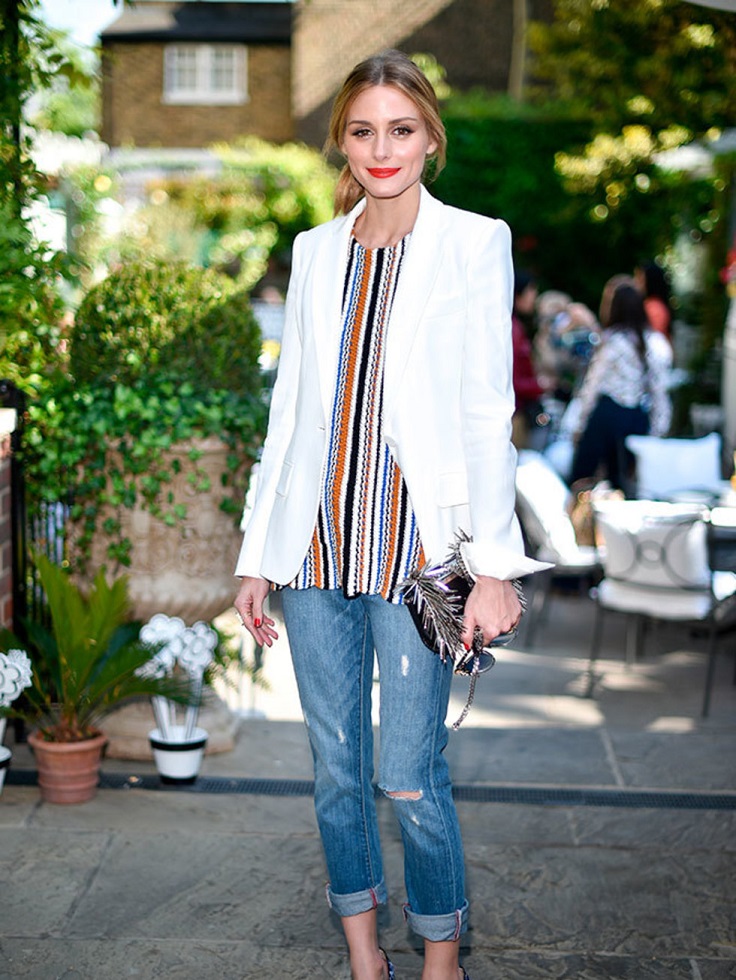 via elleuk.com
Are you a blazer lover? If so, there are so many outfits that you can come up with just one blazer! Get one if you don't have it in your wardrobe already. Blazers are the perfect piece of clothing because they are suitable for any occasion, from work and meetings to catch-ups with friends or club partying. High heels look amazing with this outfit, and you can experiment with jewelry as well.
8. Chic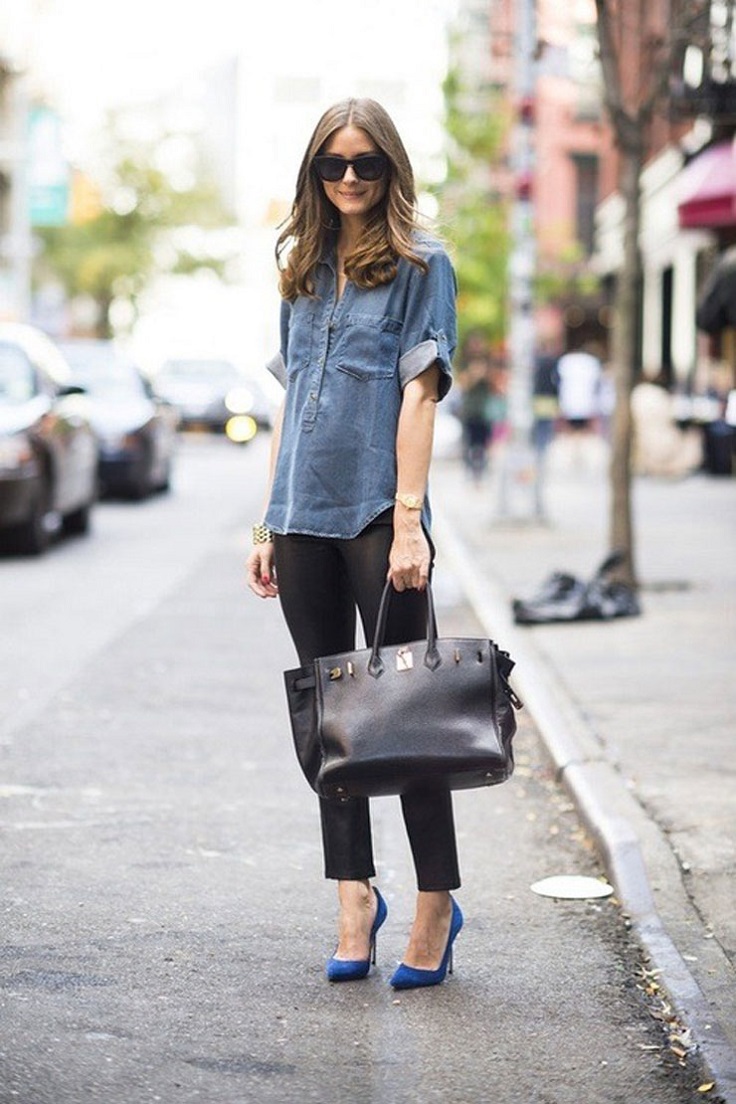 via fake-leather.com
Here's another casual outfit that will work for any occasion. Black pants are such a must. Not only do they go with almost everything, but the fact itself that they are black has its own advantage as well. As you may already know, black can help you appear thinner! So, next time when you're going to feel like you're not in the best shape, get your black pants, wear them with something casual like a denim shirt and your favorite pair of high heels. We're pretty sure that you will feel better!
9. Floral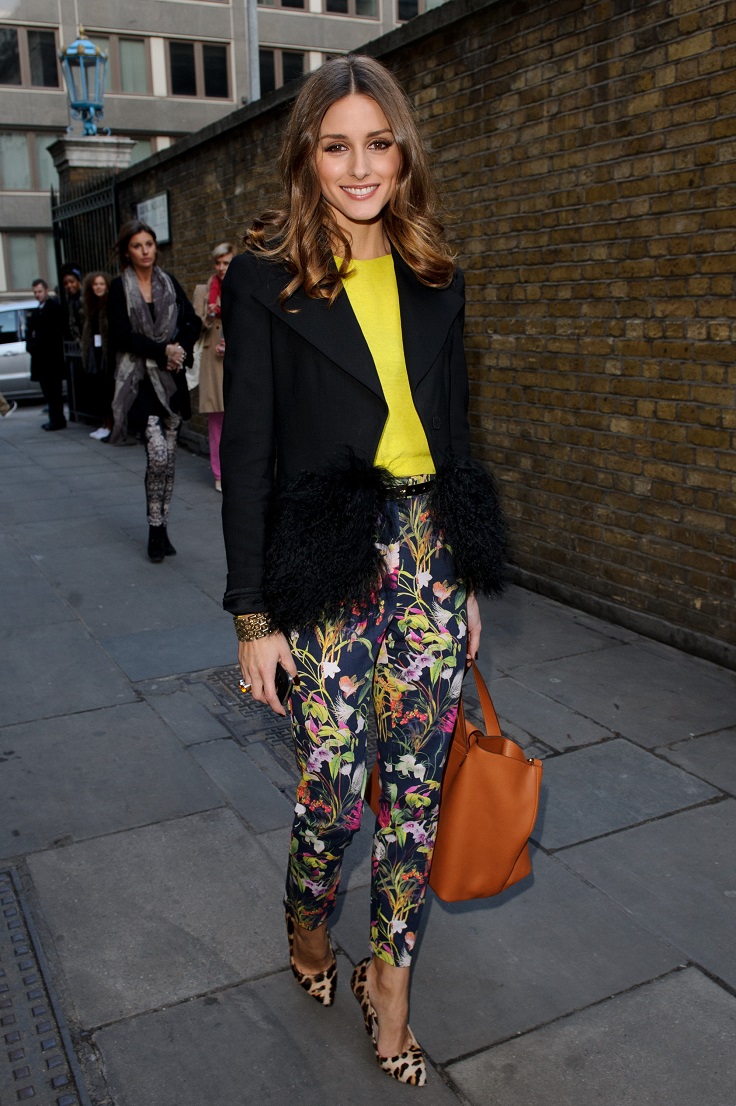 Floral-themed clothes can be romantic, chic, casual – everything you need at the same time. No matter if it is a dress, a pair of pants, or a scarf, we definitely recommend you buying something floral. Our inspiration is how Olivia Palermo wore these floral pants. She mixed the outfit with a matching yellow shirt, a black coat with feathery details at the bottom, and high heels in animal print. Is this something you would wear as well?
10. Dress and Scarf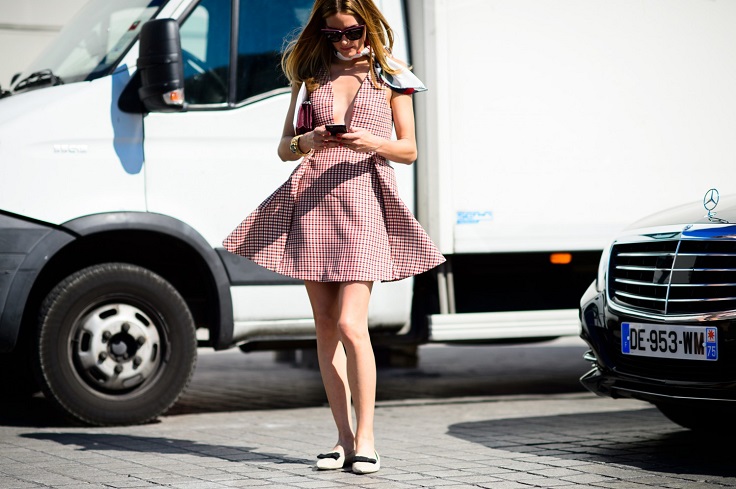 via le21eme.com
We're back to the dresses, but this time with another important detail. Wearing a scarf like a Parisian is one very charming way to add detail to your outfit. It's really simple to copy this look. Just wear your favorite dress, have a scarf around your neck, and whether you're going to wear heels or flats, it's up to you. Either way, you're rocking the look!