Let's celebrate the beginning of the summer! If you have yet to debut a swimwear style representing you, we are here to the rescue.
Whether it's for the beach, the pool, or the hot tub, we have the best plus-sized swimwear for you. Our plus size tankinis, skirtinis, swim dresses, one-piece suits, and cover-ups are perfect for that beach vacation you've been planning or for poolside fun with the family. With slimming cuts, body control fabrics, and underwire, our swimsuits for women are as comfortable as you are confident.
Be yourself, be trendy and modern this summer. Take a look at these top 10 plus size women swimsuits for this season and enjoy the summer!
1. Serpent Underwire Bandeau Swimsuit
via alwaysforme.com
Looking for a little extra support? You'll find it in this sexy bandeau underwire plus size bathing suit. We all know that animal prints are hot, and this plus size bandeau swimsuit is no exception. The teal green-hued snake print complements all skin tones and body types.
2. Santiago Twist Strapless Swimsuit
via alwaysforme.com
The highlight of this plus-size beauty includes adjustable, removable straps, which can conveniently be worn straight over the shoulder, crossed in back, halter style, or not at all as the side boning will keep everything where it belongs.
3. Full-Figure Blossoms Coral Tankini
via southbeachswimsuits.com
Full Figure Blossoms tankini top ties at the neck. It has tall halter cups, and the top is fully reversible and has reinforced side stays. The bottom is a hipster fit with full back coverage and a wide elastic waistband; it is also fully reversible.
4. Twist Front Bandeau Swimwear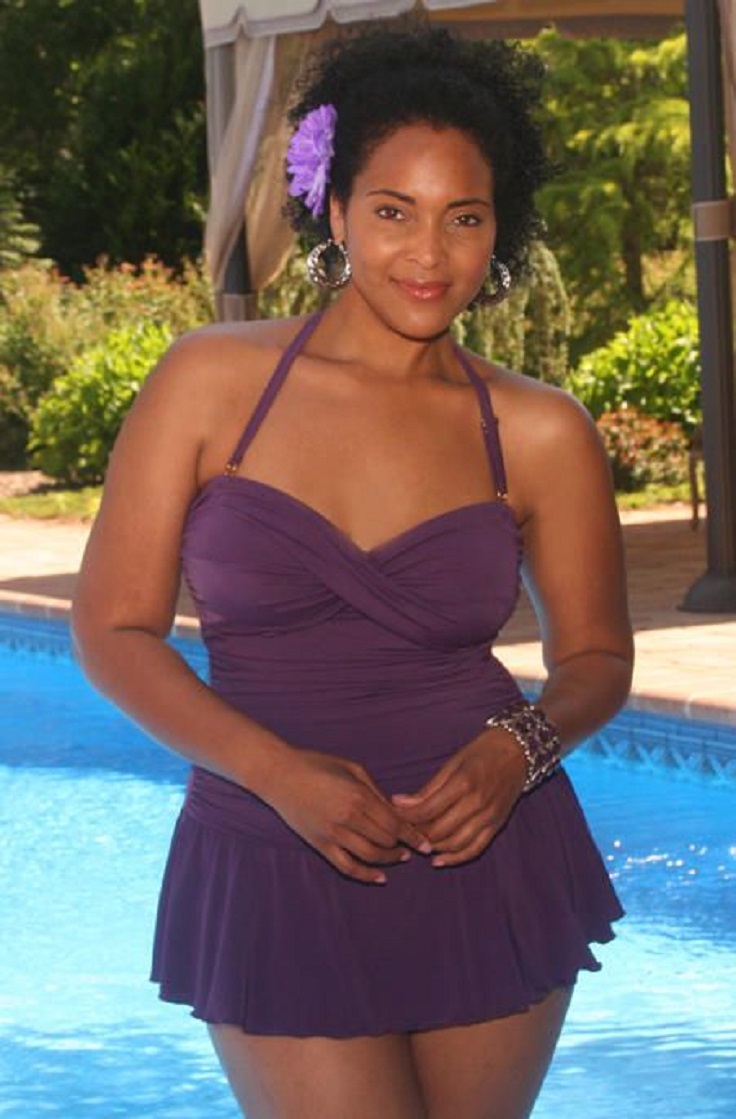 via alwaysforme.com
There is full tummy control in this swimsuit. Nylon/spandex mesh provides a control for an instant slimming effect. The shirred sides create a curvy waist line. The skirt provides a little coverage without looking like a full swim dress. Halter straps can be removed. The Bandeau swim-mini is just adorable.
5. Swim Sexy Black Plus Size Retro Bandeau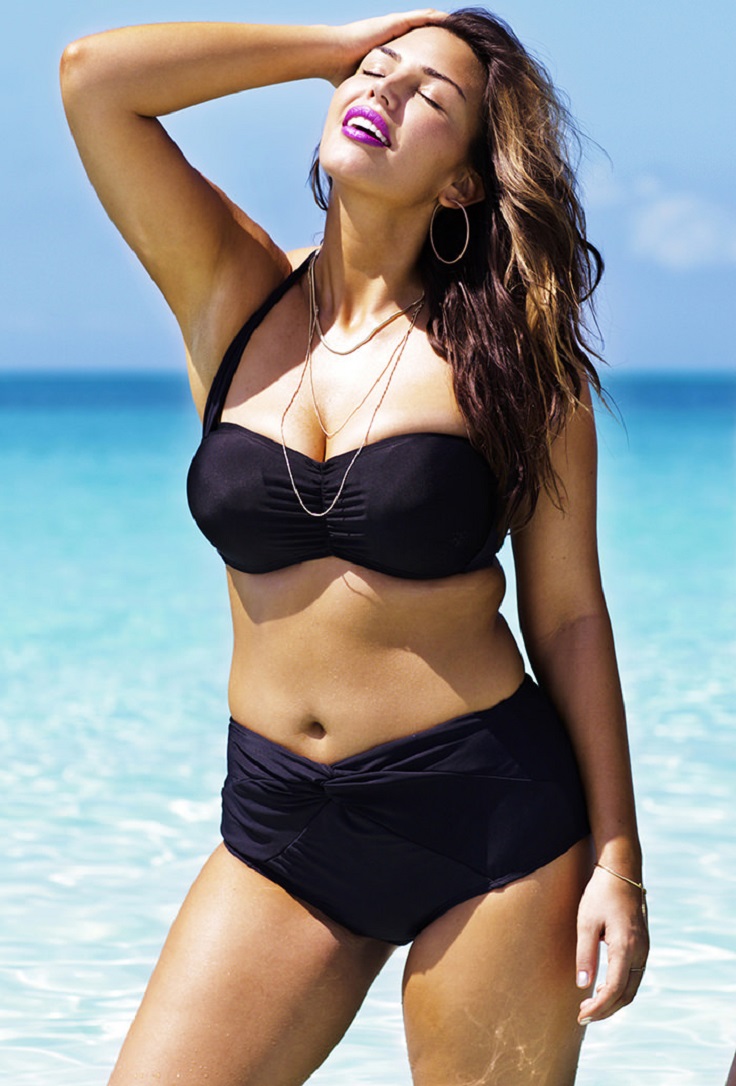 This swimsuit has a sweetheart neckline that accentuates the bust. Designed to resemble the top half of a heart, this neckline draws attention upward to accentuate the bust. Bandeau/halter styling options provide additional bust support. A two-piece bikini set accentuates the bust and shows off legs. Twist front brief with tummy control lining smoothes torso, lays just above belly button. Bra with side boning placed vertically in the side seams provides additional bust support. Soft molded cup bra provides comfort and bust support.
6. Print Top Solid Black Briefs Bikinis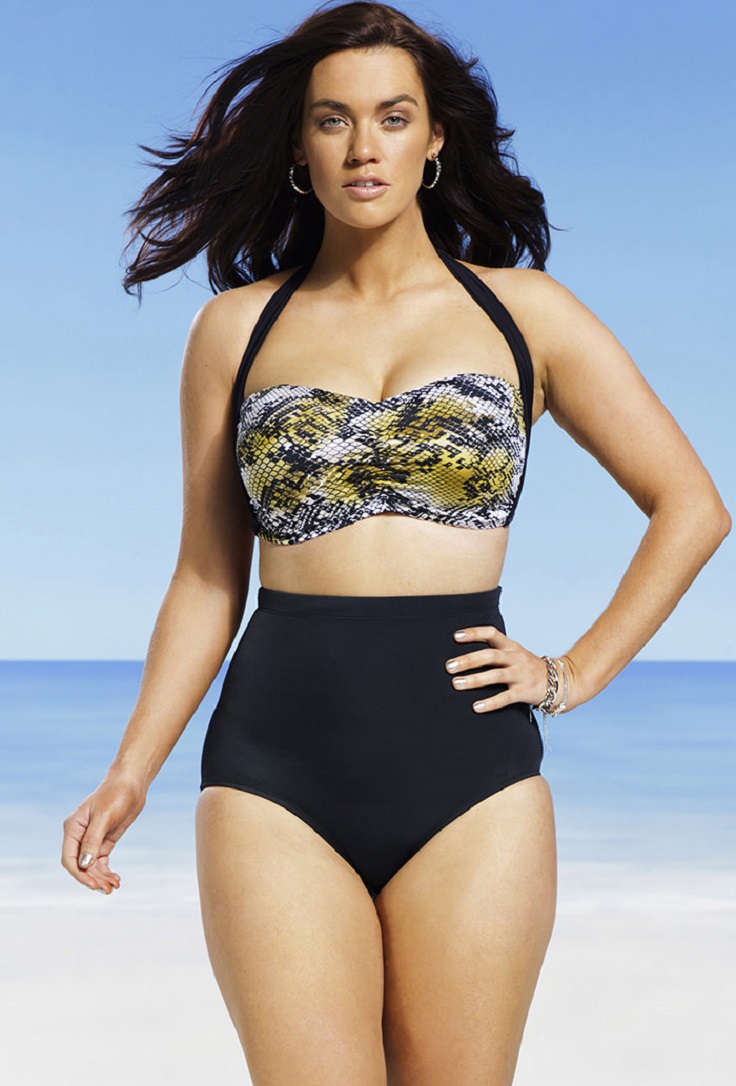 via plussizeswimwear4you.blogspot.com
This halter /bandeau with a high waist swims brief cut can also be had in black with white polka dots, solid black, and a Boho print. They will cover your belly if your problem is that.
 7. Trinidad Ruffle Plus-Size Swimsuit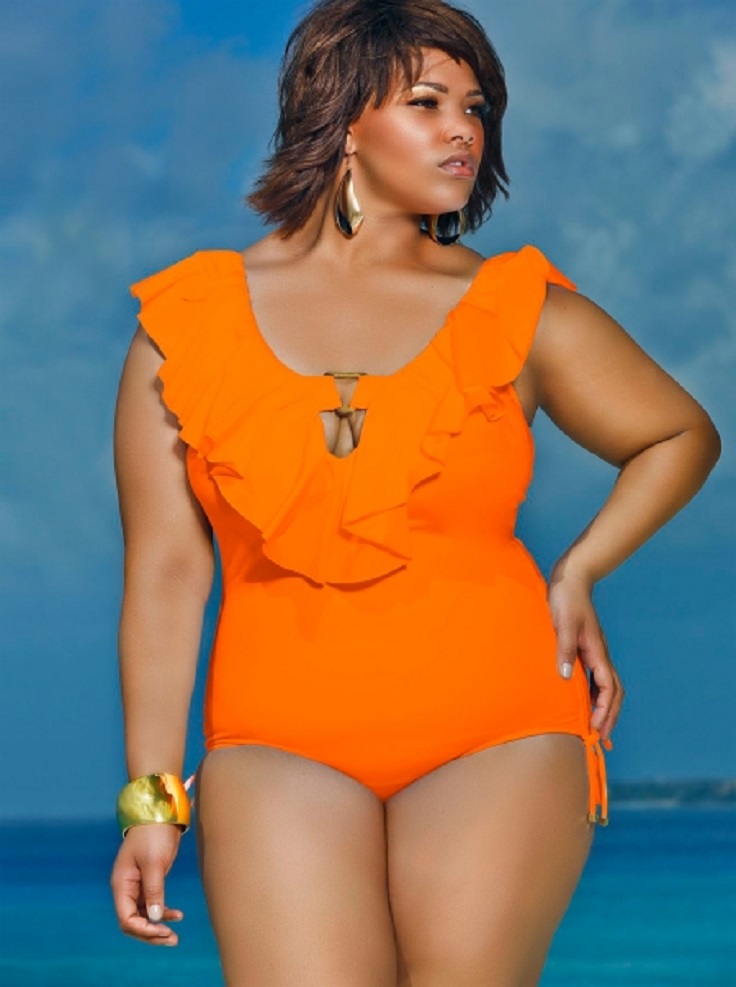 via monifc.com
The Trinidad is back and better than ever! This new construction paired with the opulent styling of this suit makes it a must-have. The Trinidad suit features sewn-in bra cups, power mesh lining throughout the suit, adjustable leg ties, and beautiful gold hardware for the finishing touch.
8. Iris Twist Front Swimsuit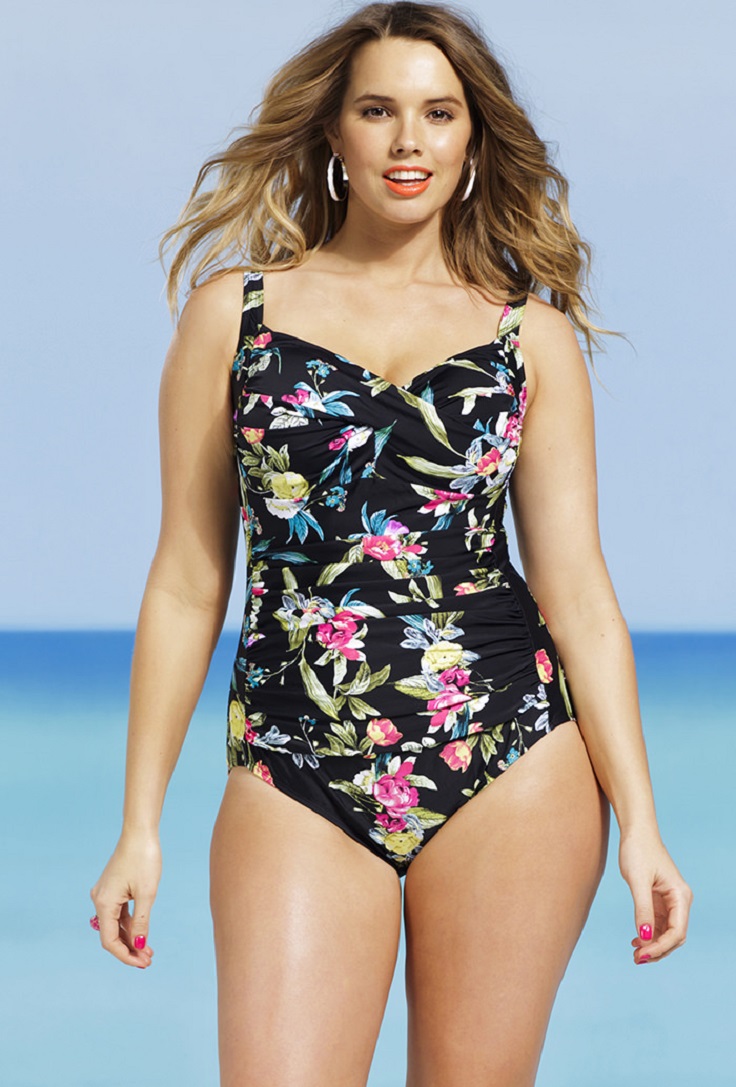 via plussizeswimwear4you.blogspot.com
This swimsuit features a ruched front panel (with power-net lining!) and a smooth back. It has, what looks to be wide and comfy, adjustable straps! The sweetheart neckline and twist-front of this swimwear style draw attention upward. Its empire waist (and pretty print!) break up your torso. The ruching camouflages bulges.
9. Skirted Sarong Front Swimsuits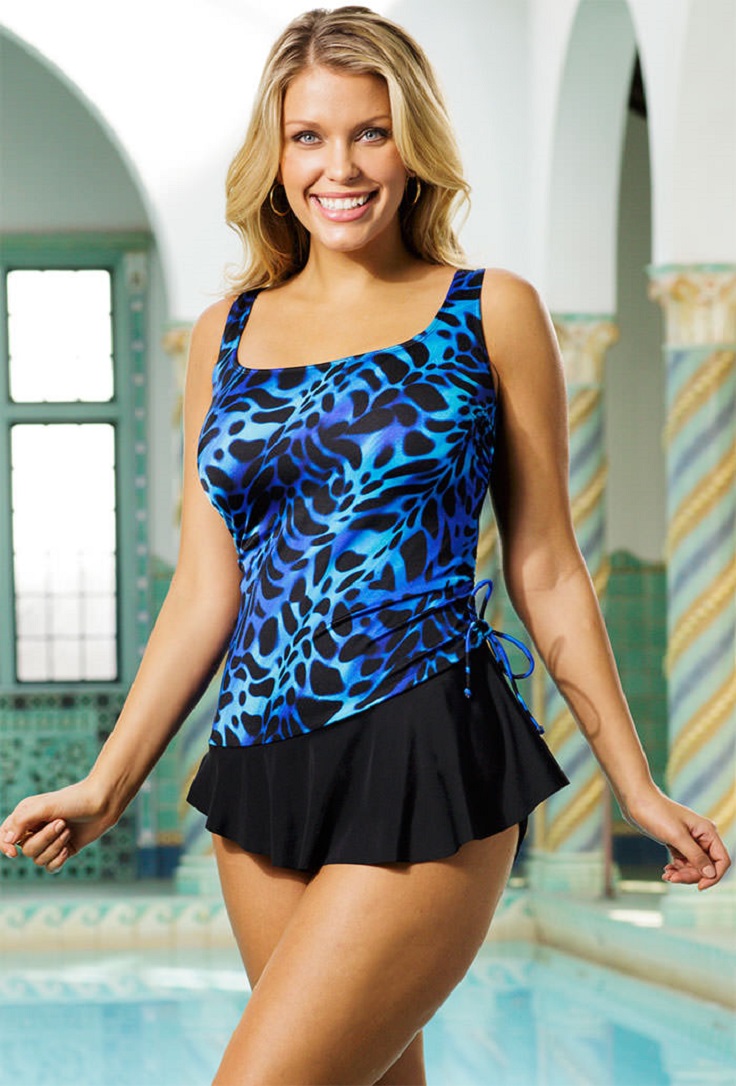 Powernet tummy control panel smooths and flattens waist. The panel starts just below the bust line and ends at the upper hip line. Scoop neckline provides moderate coverage. Sarong front, with side tie accent, visually slims torso and hides hips. Print breaks up torso and visually slims waist. Soft molded cup bra with plush empire band provides full bust support.
10. Sexy Bandeau Halter Polka Dot Convertible Bikini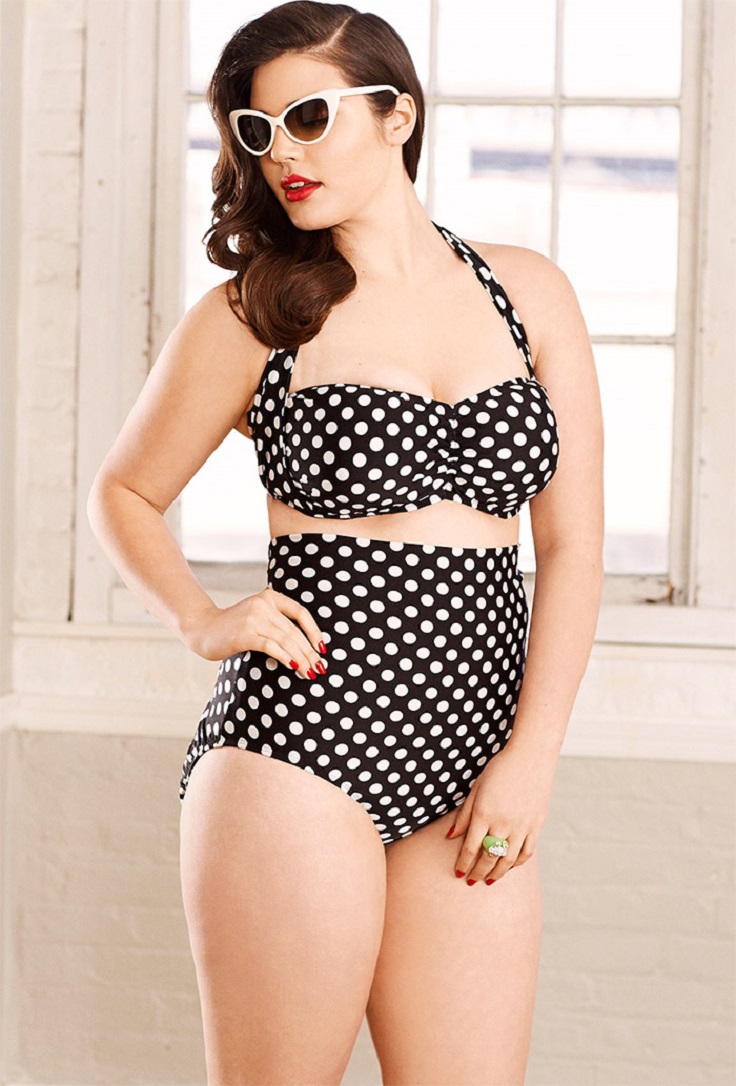 via plus-model-mag.com
This polka dot convertible bikini from Swimsuits For All has six styling options. The bikini top can be worn as a bandeau or halter. The convertible bottom may be worn as a high waist brief, standard brief, banded low waist brief, or skirt. This bikini has a sweetheart neckline that accentuates the bust and is designed to resemble the top half of a heart.