Caramel, sweet, smooth, and melting in our mouth. The only thing better than the caramel is the salty one. It is ideal in desserts, but it is so tasty that you can eat it just like that.
When you want some salty caramel indulgence, you definitely should try one of the desserts presented below. No matter what you choose, cookies or cake, you will make the right choice.
They are easy to make and are perfect for any occasion or for no occasion at all! Check the recipes in the list and start your salty caramel cooking adventure.
1. Hazelnut Vanilla Cake with Salted Caramel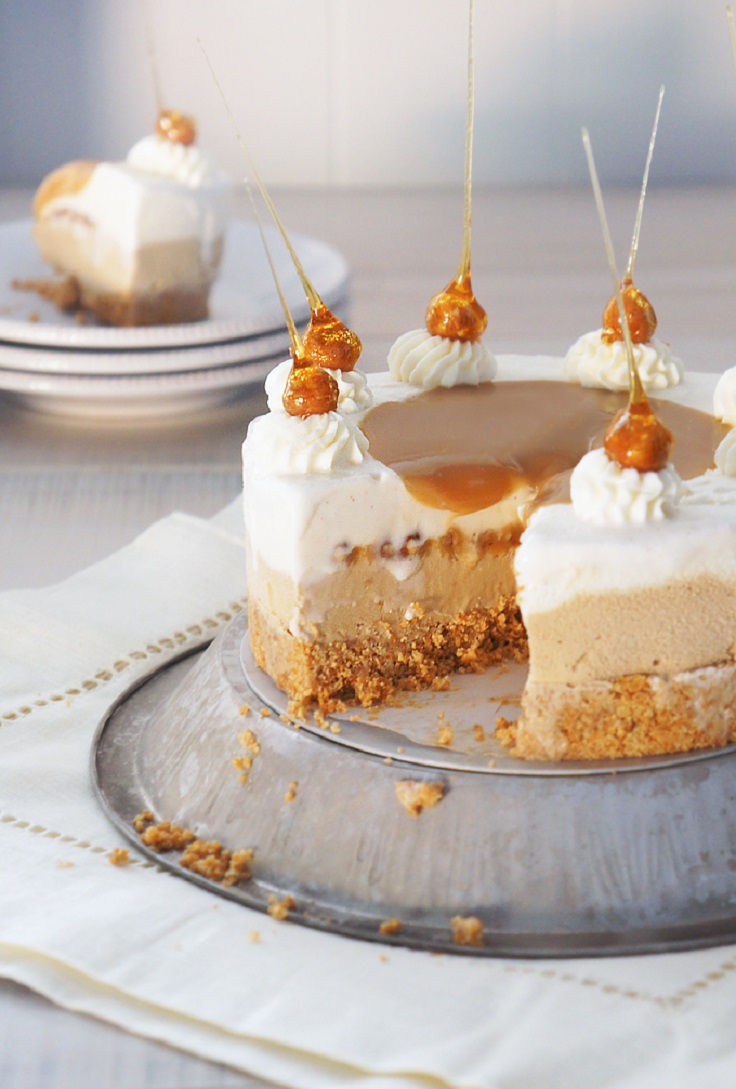 This cake looks as if she is being sent straight from heaven. It is smooth, creamy, and, on top of it all, covered in salted caramel. For this amazing cake, you need graham crackers, hazelnut, butter, vanilla bean ice cream, hazelnut ice cream, salted caramel topping, whipped cream, and caramel dipped hazelnuts, which is optional. Combine graham crackers with butter in a food processor and add the mixture to a pan. Whisk the hazelnut ice cream and add it on top of the crackers mixture. Make the caramel – nut sauce and place it on top of the cake. Soon you can whisk the vanilla bean ice cream and place it on top. For the topping, use the whipped cream, and the caramel dipped hazelnuts.
2. Salted Caramel Cookies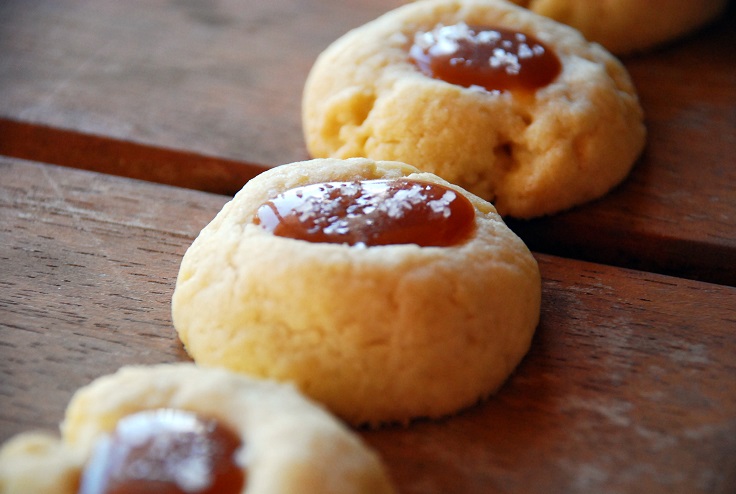 Cookies are always a good idea, especially when eaten in the mornings with a glass of milk or cup of coffee. You need homemade caramel or bought one, unsalted butter, granulated sugar, egg, kosher salt, vanilla extract, and all purpose flour. Make the dough by combining the ingredients and leave it in the fridge for one hour up to all night. Then Broll them into a ball and press them with your thumbnails to create space for the caramel. Bake them until they get golden from the sides, and after that, melt the caramel and place it on top.
3. Salted Caramel Pot de Crème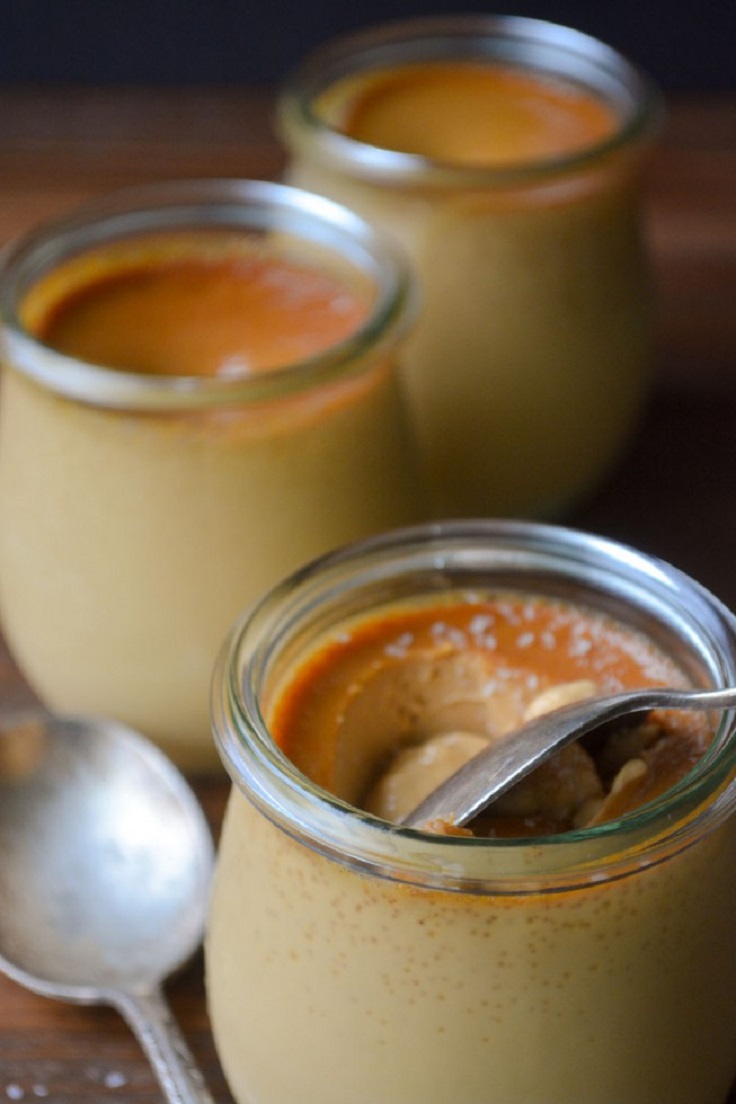 via theviewfromgreatisland.com
Egg yolks, granulated sugar vanilla extract, and heavy cream. These are the ingredients needed for a perfectly creamy dessert-like the pot de creme. Like the pudding and the custard when it comes to the taste, this dessert really knows how to satisfy your sweet cravings. Whisk the yolks, caramelized the sugar, combine it with cream mixture and add the vanilla extract. Place the mixture into baking pots and bake it until it gets golden at the sides. Leave it to chill, and then sprinkle some salt on top.
4. Salted Caramel Mini Layer Cakes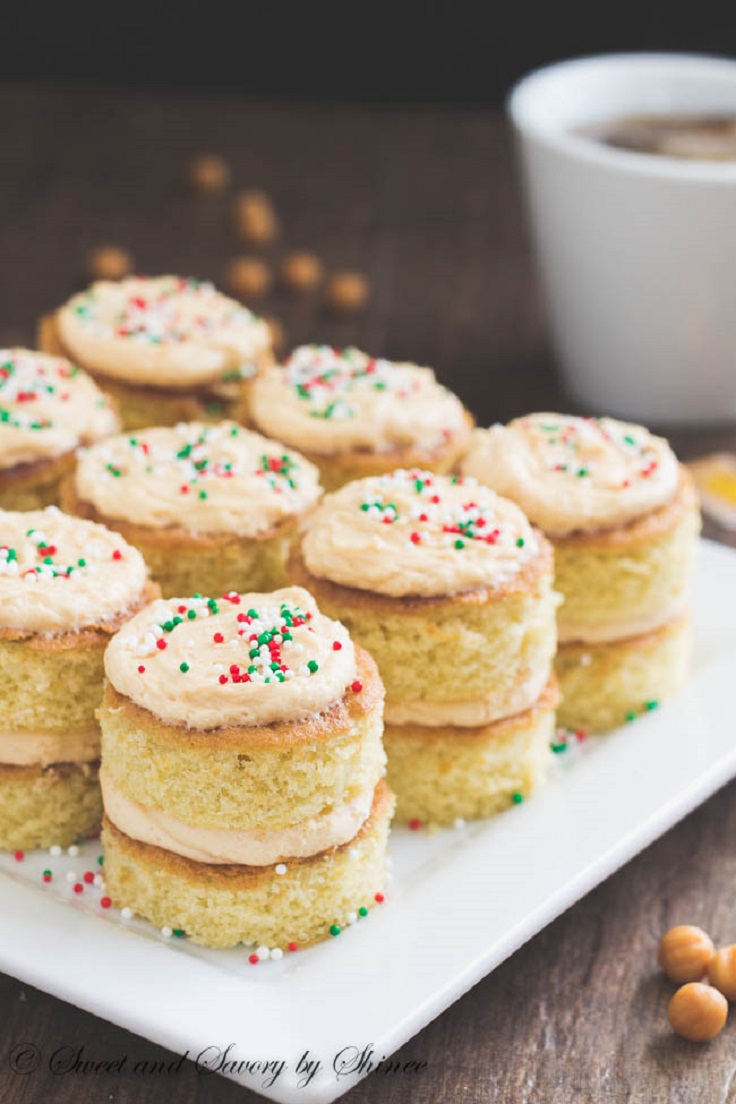 via sweetandsavorybyshinee.com
The super moist and super tasty mini layer cakes are the perfect dessert to eat for gatherings and holidays. They have those looks! The mini cakes sure taste amazing, but before you start cooking them, know that they aren't the easiest recipe around. You might need some cooking skills for this. However, the recipe also requires more ingredients, so you might want to check out the link. No matter what, making these cakes will be one of the most delicious desserts with salted caramel you ever tried.
5. Dark Chocolate Cookies with Salted Caramel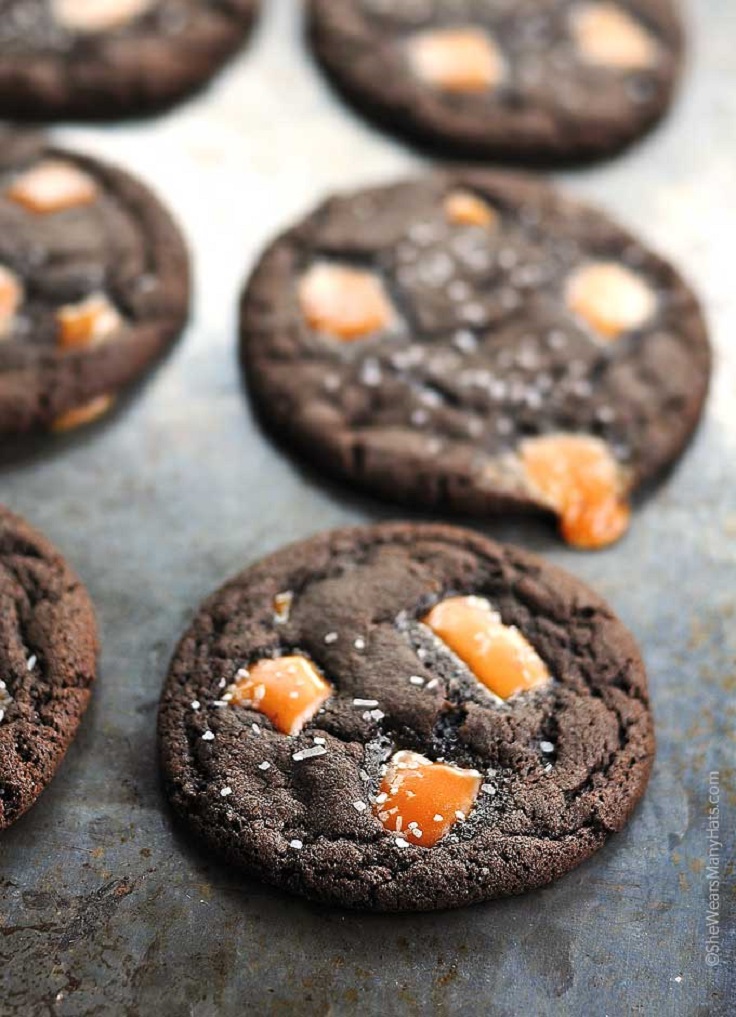 Chocolate plus caramel is definitely one of the best food things that ever happened to humankind. Especially if they come as dark chocolate cookies with pieces of salted caramel inside. Another best thing about these cookies is that they are ready in 30 minutes, so you won't have to wait so long to try them. The recipe makes about four dozen. They will go great with some cup of coffee or tea in the evenings, don't they?
6. Salted Caramel Cheesecake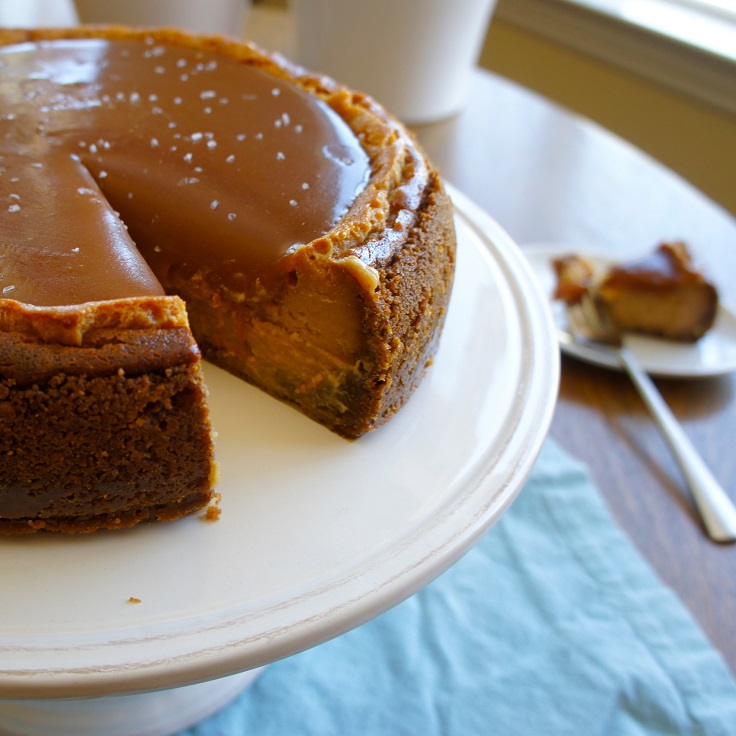 via cookinghaven.com
Graham crackers crust with caramel, creamy cheesecake with caramel sauce, and salted caramel sauce on top. Are we talking about caramel overload? This cheesecake has the potential of being one of the best desserts you have ever tried, especially if you love caramel or cheesecake. Or both. Cheesecakes can sometimes be tricky to make, but following the given instructions carefully, you won't have any problems preparing them.
7. Salted Caramel Brownies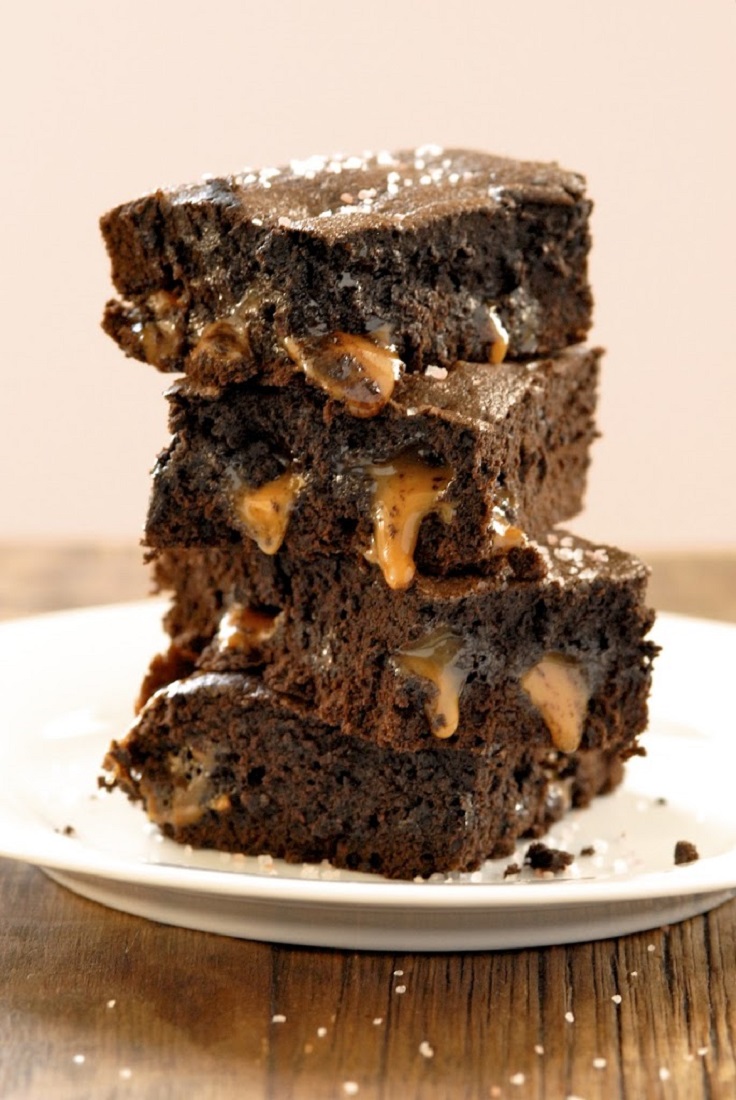 via kumquatblog.com
Another chocolate plus salted caramel combination, and yes, even brownies go very wl with salted caramel. They are moist, sweet, and salty at the same time. Making the brownies isn't hard at all. First, prepare the brownies, and then just add the pieces of caramel. Bake them for about thirty minutes and sprinkle them with some coarse salt.
8. Salted Caramel Ice Cream
There isn't a better thing than delicious ice cream on a warm summer day. There are many great things about ice cream. It's cheap, easy to make, and it comes in so many favors. The one you mustn't miss is the salted caramel. You need vanilla, heavy cream, butter, milk, water, and kosher salt to achieve the desired saltiness. When you are done with preparing the ice cream, you can add the caramel as a topping. It's so easy and oh so delicious.
9. Salted Caramel Pudding Parfait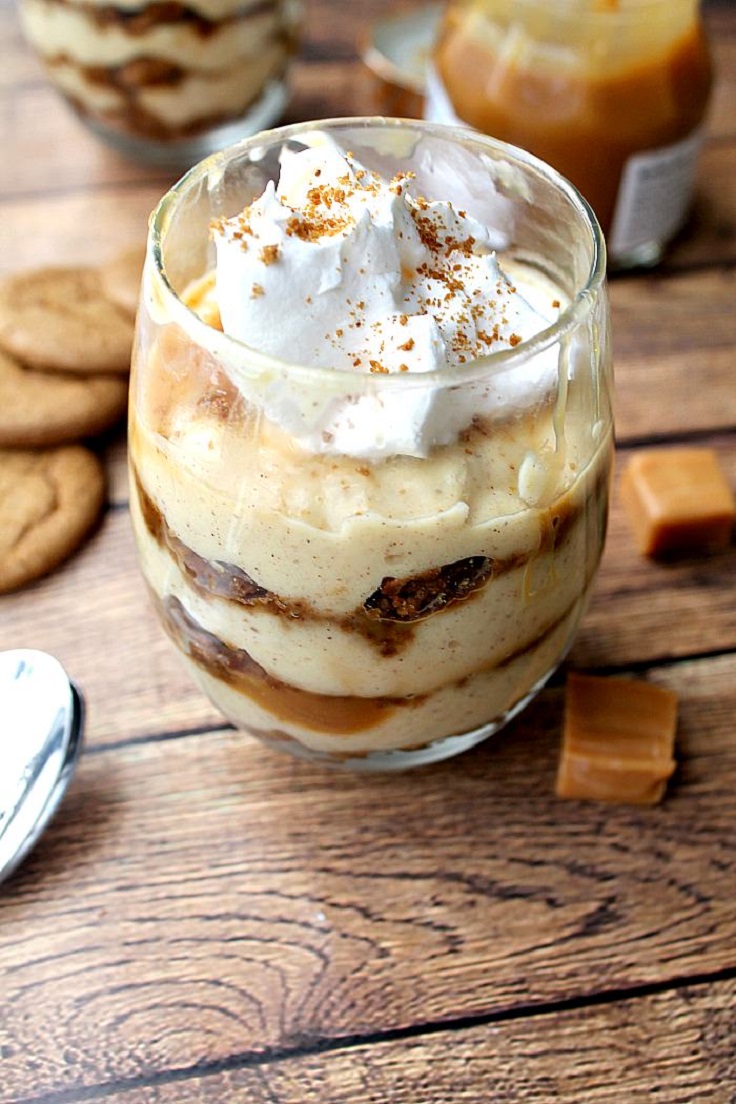 via penneylane.com
When not sure what to make, always choose the parfait because it's a very delicious creamy dessert and it's very easy. For this one, you need instant vanilla pudding, nutmeg, cinnamon, gingersnaps crumbs, and salted caramel ice cream topping. Make the pudding according to the given instructions and add cinnamon and nutmeg. In parfait jars, add one layer of gingersnaps crumbs, one layer of pudding, and one layer of salted caramel. Add layer until you reach the desired level, and then add whipped cream on top.
10. Salted Caramel Bars
If you have a party and want to cook something that will make your guests keep getting back at the table, you just found your recipe. The salted caramel barks are a must for all the reasons. Barks are super tasty, right? Before you serve these, make sure you refrigerate them for 2 – 4 hours. Add sea salt flakes, and you are ready to go!