Everybody wants a dreamy patio where you can just sit, relax and enjoy the day! However, not all of us are blessed with plenty of space in our backyard, yet this isn't something that should be discouraging – with the right furniture and its arrangement, even the smallest of patios can be enough.
The small patio should be inviting enough to spend your summer nights outside, enjoying the weather and having fun! There are plenty of ways you can do to achieve this kind of atmosphere, and it doesn't necessarily mean you would spend a lot! Check out our ten favorite small patio ideas – which one would you like to try out yourself?
1. Small Patio with String Lights Decor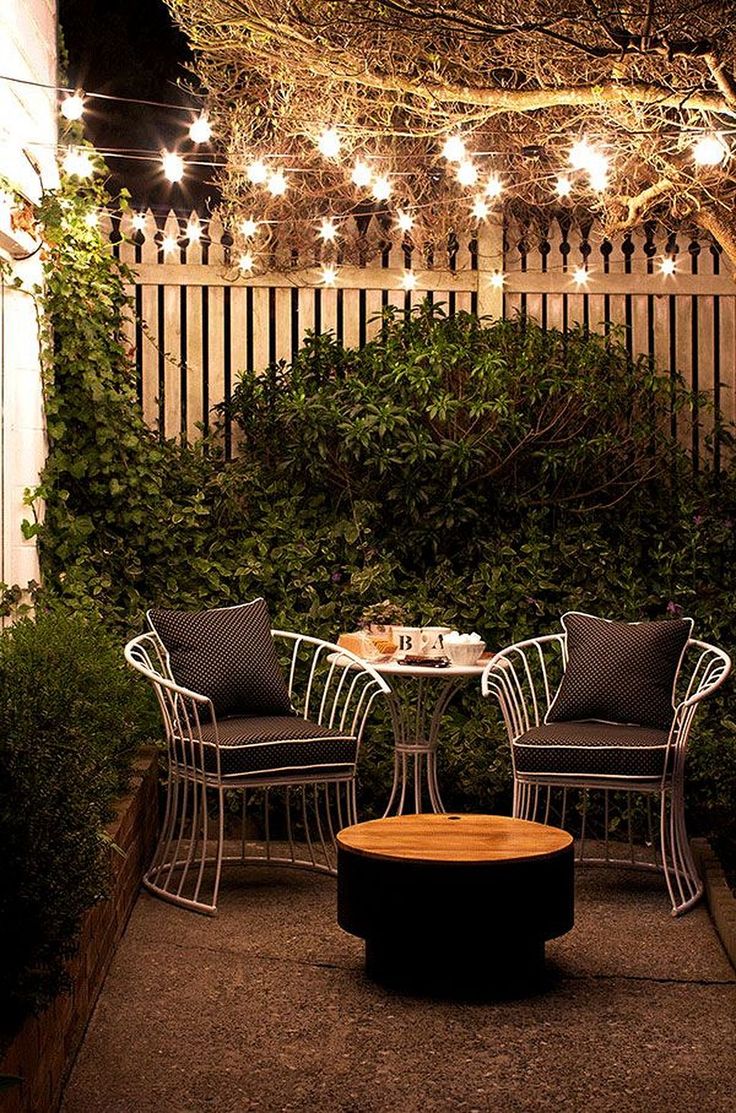 via lisvivarte.com
String lights are very charming. They know how to turn any room's atmosphere into a lovely, dreamy space – not to mention that it makes it so Instagrammable! This is a very simple and cheap way of decorating the patio – all you need is just a pair of string lights, which you can easily find in stores or purchase online.
2. Boho Patio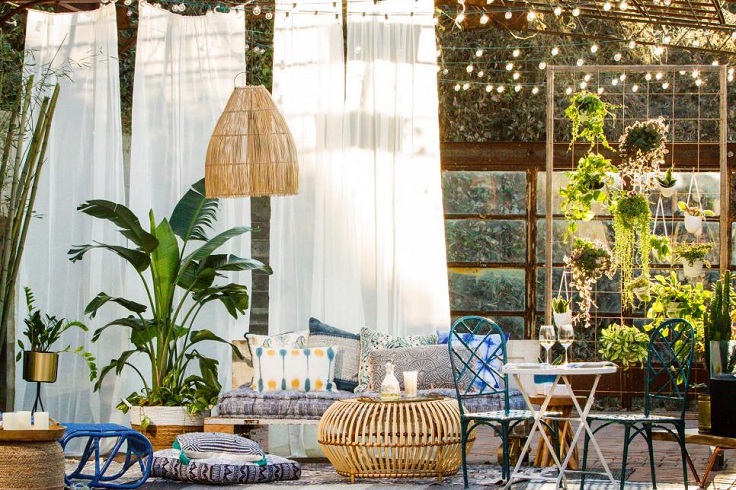 via hgtv.com
Boho is the kind of style that never goes out of style. It's fun to style any space, including the patio this way! You can get your old stuff, buy some second-hand items or get completely new ones – it's totally up to you. Make sure to have all kinds of things boho – an ethnic rug, plenty of plants, vintage furniture, including ottoman chairs.
3. Parisian Patio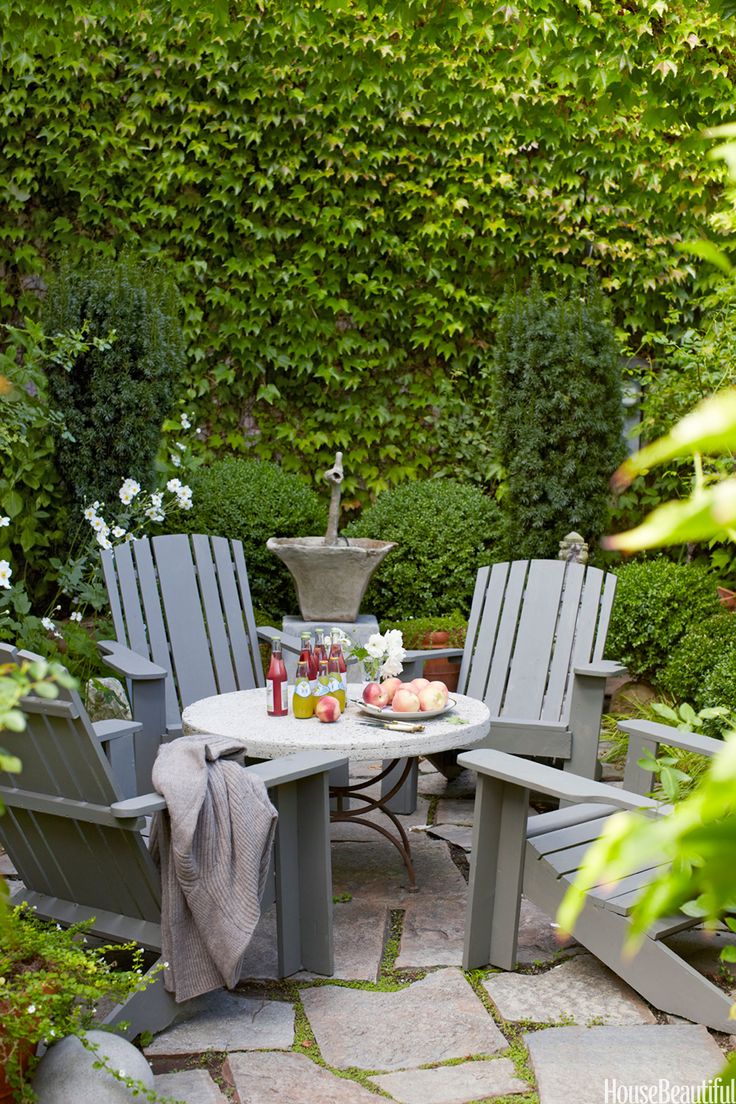 The Parisian style is something that always leaves us breathless! It's hard not to admire it, and even harder not to want it for our home as well. The patio is the space where you can experiment with this, and it doesn't mean too many costs. If you have a dreamy, greenery corner, you can place Parisian-style furniture and add a vase with pretty flowers on the table as well!
4. Rustic Inspiration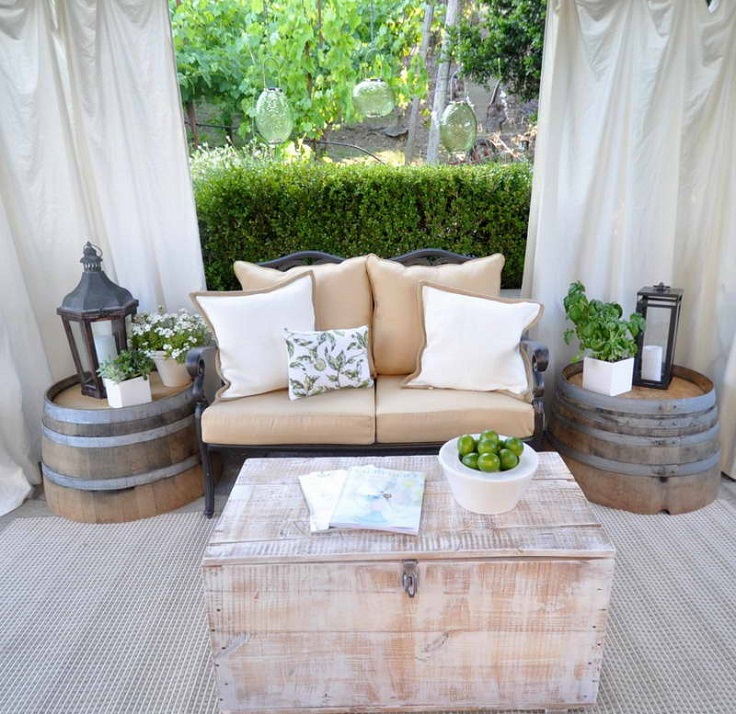 The rustic style adds a certain warmth to any space. It creates that home-sweet-home vibes! For this kind of patio, go for things made out of wood. The older they look, the more charm they add to the look. You can decorate even more by adding barrels, lanterns, and of course – what would we do without flowers?
5. Japanese Decor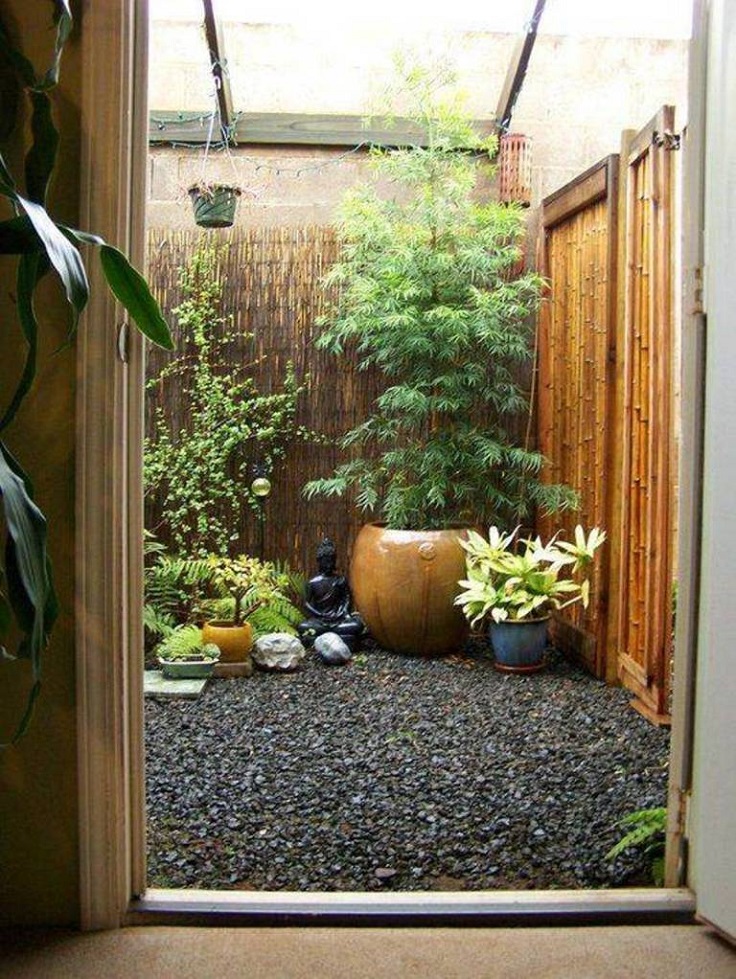 Not everywhere you go will you see this kind of patio. Inspired by the Japanese culture, this way, your patio will be unique and can be even your little gateway from the ordinary. You will have to invest a little bit in this kind of patio, starting with getting enough pebbles and different types of plants that have Japanese origins.
6. Flower Power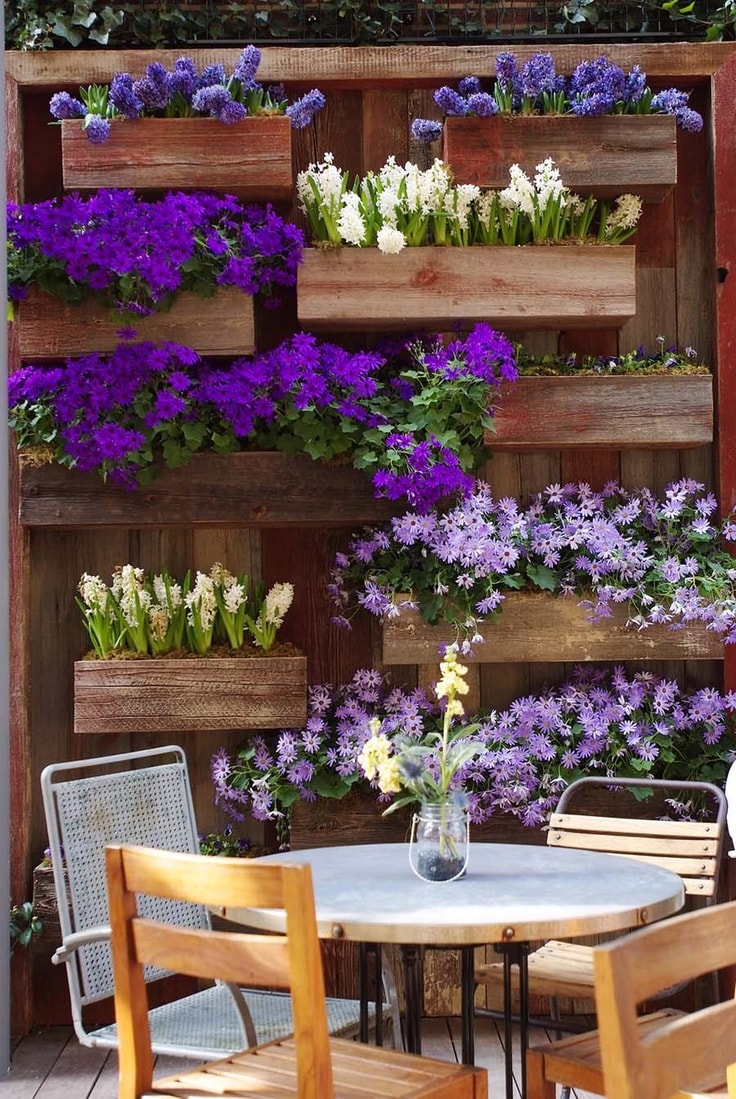 via rizhaolvcha.org
If you cannot change any of the patio's furniture, then the quickest way to make it more adorable is to get new flowers and place them right here! You will definitely have plenty of fun with this task because you can buy so many beautiful flowers, so many different colors and varieties. If you think that things can't get any more beautiful, you will change your mind if you get scented flowers!
7. Arbor Decor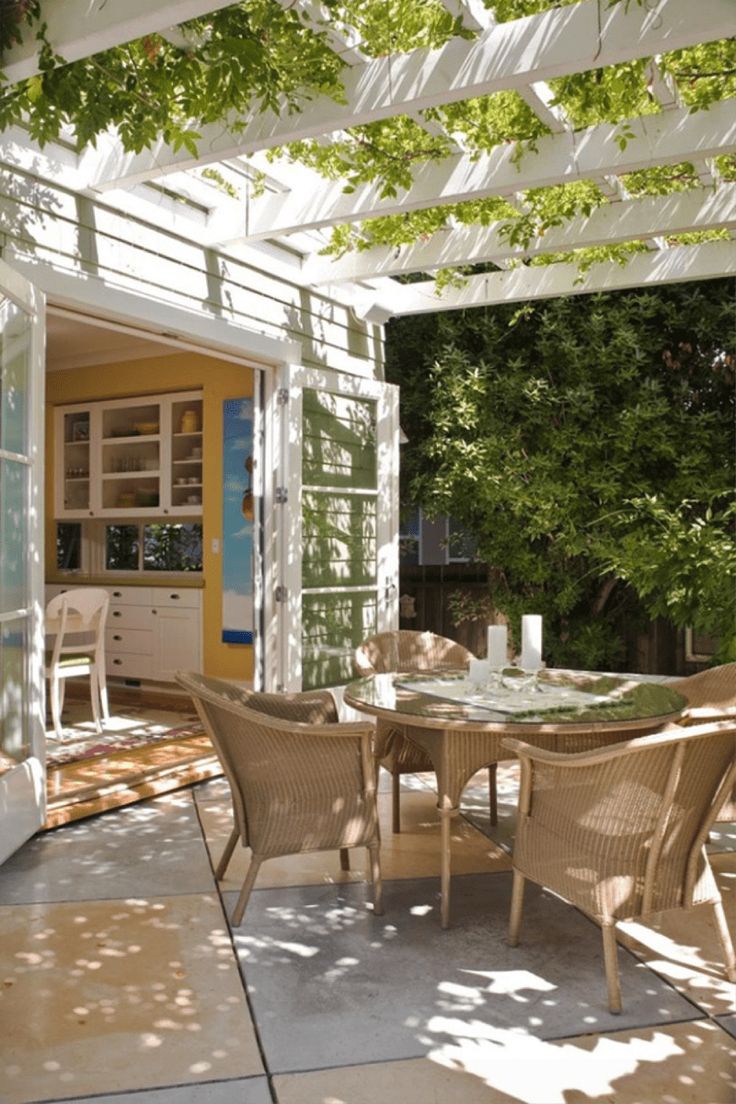 via pergoladesign.blogspot.com
The arbor will definitely cost you more than getting just flowers, but if you're able to spend money on it, know that it will be a great investment. The arbor is a very nice addition to any patio that not only will make it look gorgeous with all the flowers or trees intertwining, but it will also give a nice shadow during hot summer days!
8. Tres Chic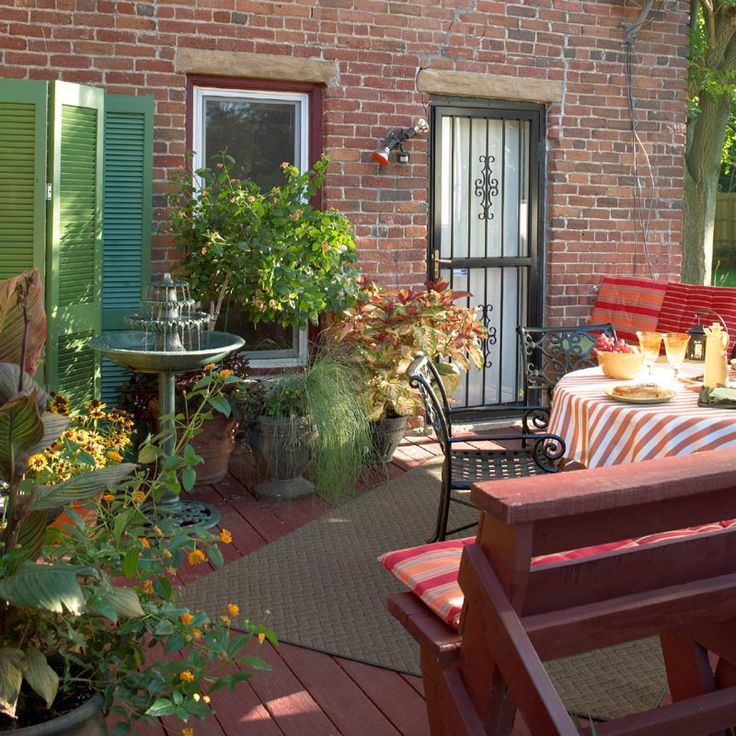 via lushome.com
With inspiration from the Parisian style again, Tres chic is something that many of us dream of having in the garden! It looks so gorgeous; it simply makes us want to stay outside and enjoy the day on this kind of patio. A small fountain, classy furniture with pillows, plenty of beautiful flowers and small trees, your favorite book, and a cup of coffee or tea – isn't this so heart-melting?
9. Fire Pit Small Patio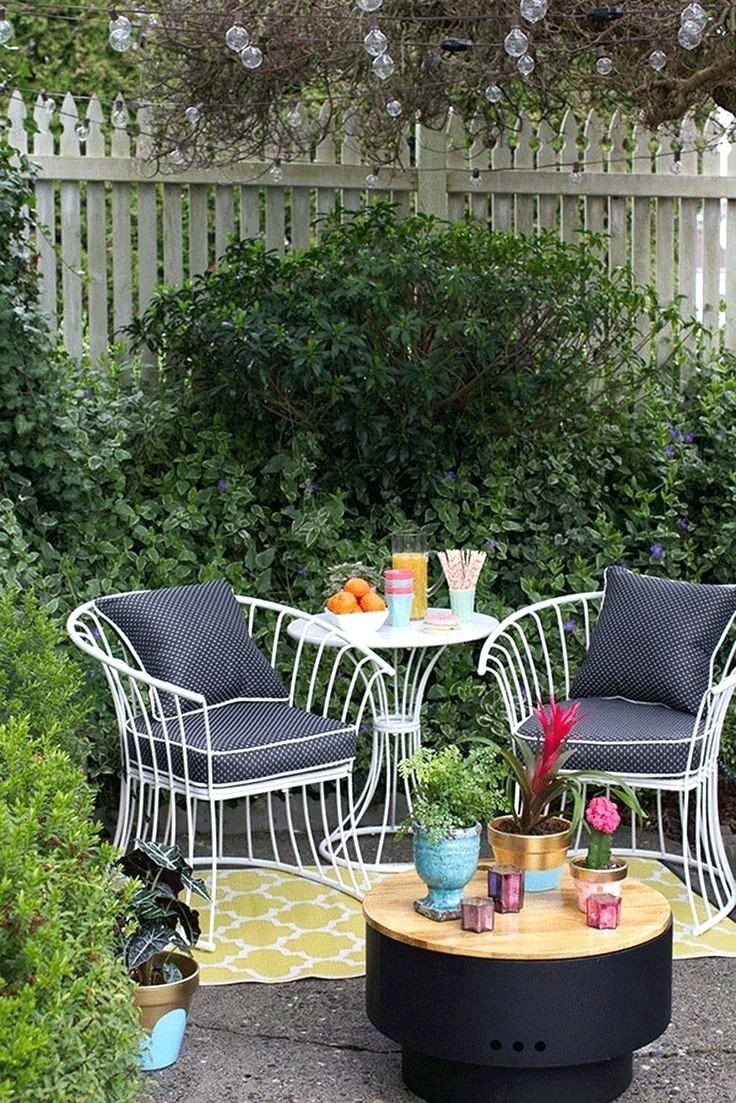 Many people go for having fire pits, and this is something that would be very practical as well. After all, summer nights spent by the fire pit while preparing our favorite S'more dessert and laughing with our friends and family – this is something we all love, right?
10. Nature Surrounding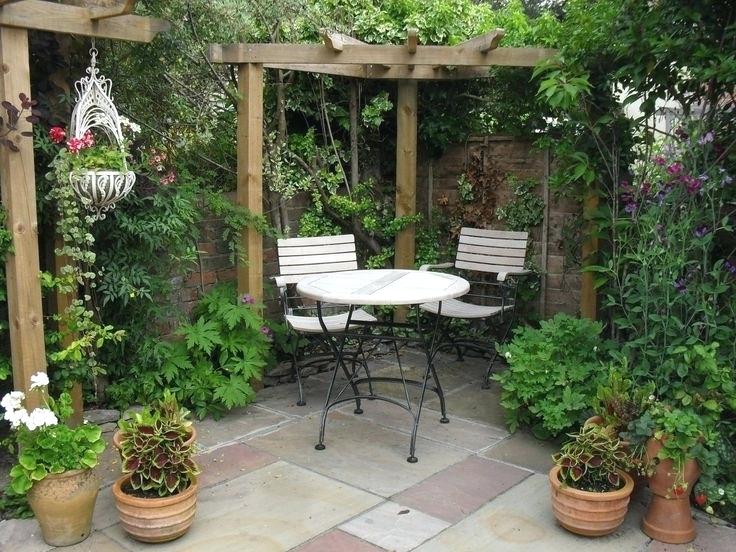 via decoratio.co
If you don't want to experiment with different styles but rather want something more natural, then the solution is very simple – get as many plants as you can! Make your patio a small nature paradise, take good care of the plants, and they will reward you with amazing bloom during spring and summer.