Adjustable beds are becoming increasingly popular due to their many health benefits. Not only do they help with pain relief, but they can also improve your sleep quality and overall health. The major downside is that adjustable beds can be quite expensive.
If you're looking for a more budget-friendly option, you can make yours with supplies from your local store.
This article will show you how to easily build your own adjustable bed using simple steps. Let's get started!
Adjustable Beds: What you Should Know
Before we get started, let's take a look at some things you should know about adjustable beds. They come in different sizes, but the most common are twin, queen, and king. However, if you're looking for the perfect bed, you might want to consider a split-king adjustable bed. These beds offer a variety of benefits that can make your sleeping experience more comfortable and convenient.
For one, the size and elegance add a touch of luxury to any bedroom. Secondly, they allow you to adjust the head and foot of the bed independently, so you can find the perfect position for watching TV, reading, or simply relaxing. Some of these beds also have built-in massage functions to help soothe muscles and relieve pain. If you are on the hunt for a split king adjustable bed, please check out this guide from Sleepingocean.
Now let's get started on building your own adjustable bed!
DIY Adjustable Bed: Tools you will need
These include:
saber saw
Rotary Tool
Sander
Drill
Tape measure
Hammer
Screwdriver
Drill bits
DIY Adjustable Bed Base: Supplies
All you will need are the following:
White glue or wood glue
Six 0.5″ screws with bolts
Six small plastic washers
Two sheets of sandpaper (one medium, one fine)
Strips of plywood
Thirty-six 0.45″ finishing nails
Four hinges (with screws)
Paint, stain, transparent lacquer, or varnish
Plywood boards
One plywood board
Step one: Sanding the boards
Start by sanding all of the boards with medium-grit sandpaper. This will help to create a smooth surface for painting or staining. Once you have sanded all the boards, use the fine-grit sandpaper to finish them off.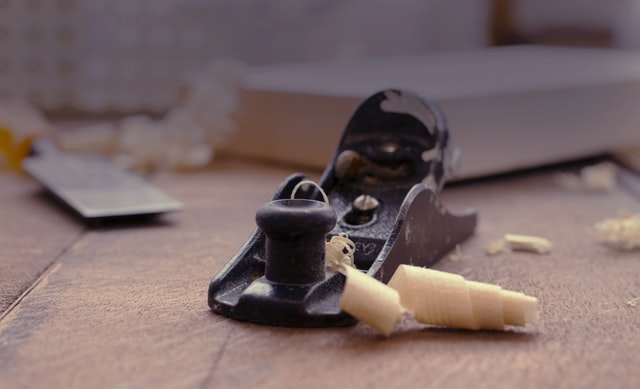 Step two: Install the First Set of Hinges
Take two long strips of plywood and place them on either side of the large plywood board. Make sure that they are flush with the edges of the board. Now, attach one of the hinges to the top edge of the two strips. Remember to use screws that are long enough to go through all three layers of wood. Once the first hinge is in place, do the same with the other side.
Step three: Install the Second Set of Hinges
Now it is time to install the second set of hinges. Take the two remaining plywood strips and place them on either side of the large plywood board. Again, they should be flush with the edges of the board. Attach one of the hinges to the bottom edge of the two strips. Once the first hinge is in place, do the same with the other side.
Step four: Attach the Stand to The Frame
Next, attach the stand to the frame. Take the small plywood board and place it in between the two long strips of plywood. Make sure it is flush with the top and bottom edges of the strips. Now, use screws to attach the small board to the strips. Be sure to use washers on the screws to prevent them from pulling through the wood.
Step six: Install the Wedge
The next step is to install the stops or wedge. These will prevent the bed from moving too far in either direction. To do this, simply screw a small block of wood into each end of the track.
Step two: Applying paint, stain, or varnish
You can paint the wood, stain it, or varnish it. If you are going to paint the wood, we recommend using a white primer first. This will help the paint adhere better and give you a nice smooth finish. Once you have chosen your finish, apply it evenly to all the boards.
Step seven: Test Your Bed Base
Now it is time to test your new bed base! Place the mattress on top of the frame and make any adjustments necessary. Once you have everything just the way you want it, enjoy your new adjustable bed! And don't forget to share this project with your friends so they can build their own!
Conclusion
We hope this article has helped you build your adjustable bed base. This is an excellent project for anyone who wants to improve their sleep quality. You can easily build your own adjustable bed base with just a few supplies and some simple tools.
If you have any questions, please feel free to comment below. We would be happy to help! Also, be sure to check out our other articles on sleep and health. Thanks for reading!
Disclaimer:
This project is not meant for everyone. If you are not confident in your abilities to complete this project, please do not attempt it. We are not responsible for any damages that may occur while building this bed base. Please use caution and always follow the manufacturer's instructions when using tools and power equipment. A DIY adjustable bed could be challenging and time-consuming to build. If you doubt your abilities, it's always best to consult with a professional.