The humble eggplant is a delicious plant of the nightshade species with an interesting history. The plant is native to the Indian Subcontinent and has been cultivated in southern and eastern Asia since prehistory. A raw fruit with a somewhat bitter taste becomes tender when cooked and develops a rich and complex flavor.
Eggplant dishes can still hold a trace of that the plant's bitterness and for some that might be a very palatable taste to swallow. Even so, eggplants hold many health benefits, being rich in vitamins A and C and more important, it holds a natural plant chemical that improves the processing of sugars in the body making it a very beneficial food for diabetics.
Eggplants can be prepared in a variety of ways, served as a main meal, a side dish, or even as part of a dip. This time we give you some of the best ideas to prepare a rich, delicious lunch or dinner for your family, by choosing from our list of absolutely delicious and multicultural recipes for stuffed eggplants. Check it out and you are bound to find a tasty and healthy eggplant meal that all your family would love.
Bolognese Stuffed Eggplant
We start our list with a veggie-based dish, topped in perfect balance with some bolognese sauce. The tomatoes in the bolognese sauce along with the baby peas almost nullify the bitter taste of the eggplants and give them a much sweeter taste. Topped with selected spices and you gave a very hearty meal.
Chicken Stuffed Eggplant
Fans of white meat will love this recipe, and we can assure you that it tastes a lot better than it looks. The preparation of the eggplant, like in most of these recipes will tame its flavour and help enhance the flavor of the stuffing, which in this case is flakes of chicken breasts, some onions, green peppers, and some garlic among other ingredients. Another great thing is that it's fast meal to make from start to finish.
Eggplant Stuffed with Saffron Rice, Apricots and Chickpeas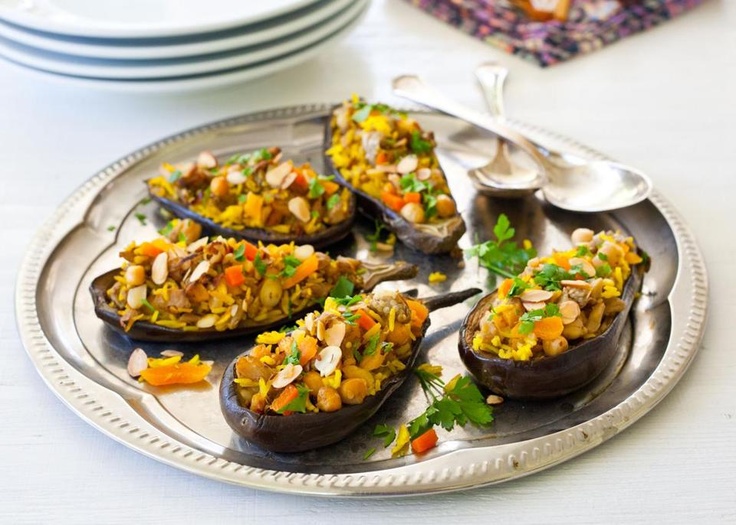 A veggie meal that tastes absolutely amazing. Yes, there are apricots and chickpeas in the mix, and while it may sound strange, the sweet tangy apricot balances out the saltiness and bitterness of the eggplant and chickpeas, and it all comes together with the nutty taste of the almond slices and cinnamon.
Moroccan Stuffed Eggplant
Talking about foods that sound weird but work perfectly together, how about some eggplant stuffed with lentils and raisins? You should really give it a try. It's a meal you'll want to make over and over again. It is light, bursting with flavor, and very, very delicious.
Meat And Rice Stuffed Baby Eggplants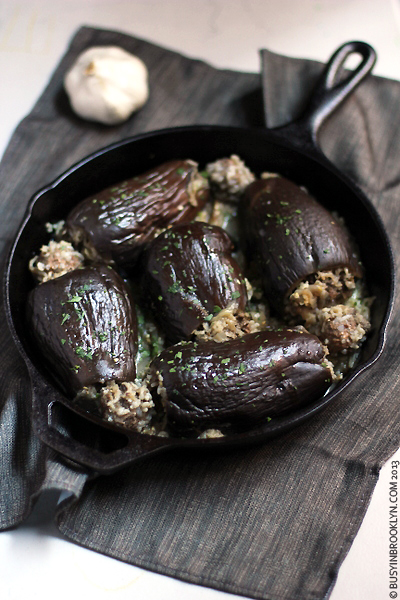 Freshly picked eggplants are less bitter and sweeter when cooked. So unless you grow your own eggplants, you should use baby eggplants that are sweeter than regular ones. There is also a different way of cooking stuffed baby eggplants, mainly, you don't have to cut them in half, but rather hallow them out and stuff them. This recipe is with meat and rice, but you can use other stuffing to your liking.
Mediterranean Eggplant and Couscous Roll-Ups with Feta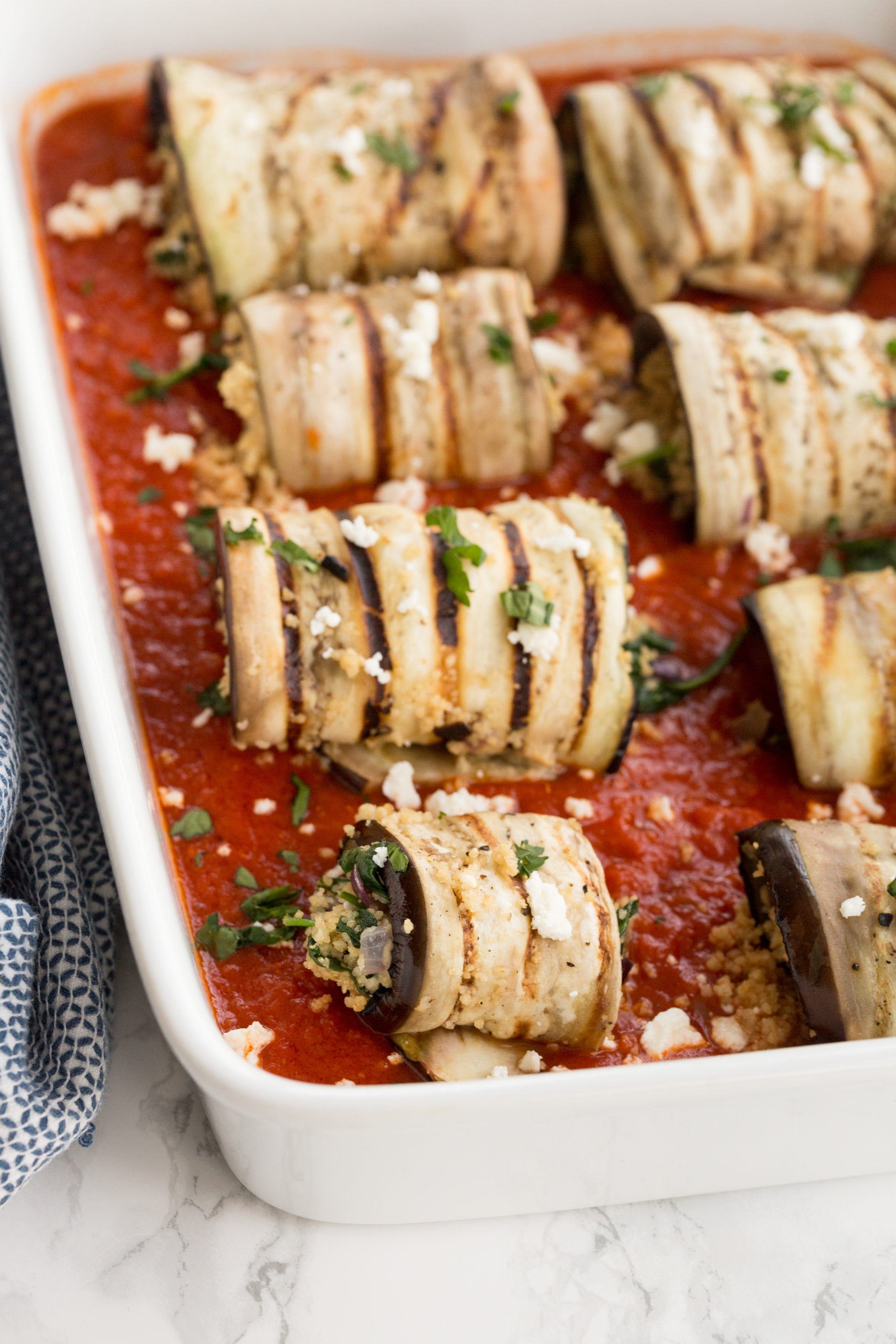 As you might have noticed, the stuffing used in eggplants does require something to give it texture and a bit of an oomf to make it more hearty. Otherwise, it's just a baked salad. Those additional healthy calories for this mouthwatering stuffed eggplant rolls is the couscous, paired with some feta nad spinach, and you've got yourself a real taste of the Mediterranean.
Greek Stuffed Little Shoes
Much like the classic greek dish mousaka, you'll be sure to find some variation of a stuffed eggplant meal on the house menu of many greek homes. Like the mousaka, this greek stuffed eggplant is made with minced beef (or lamb or chicken), tomato puree, and topped with bolognese sauce. The meal has very well balanced flavors, and don't you just love how they call this meal: little shoes. And they do look like that but taste nothing like it.
Stuffed Eggplant Parmesan
We can't have a stuffed eggplant list without the stuffed eggplant parmesan. There is probably a variation of this recipe in many nations around the world and one you\ve probably heard of if not tasted. If you liked this dish, now you can see how to replicate that authentic rich cheesy taste at home.
Seitan Stuffed Eggplant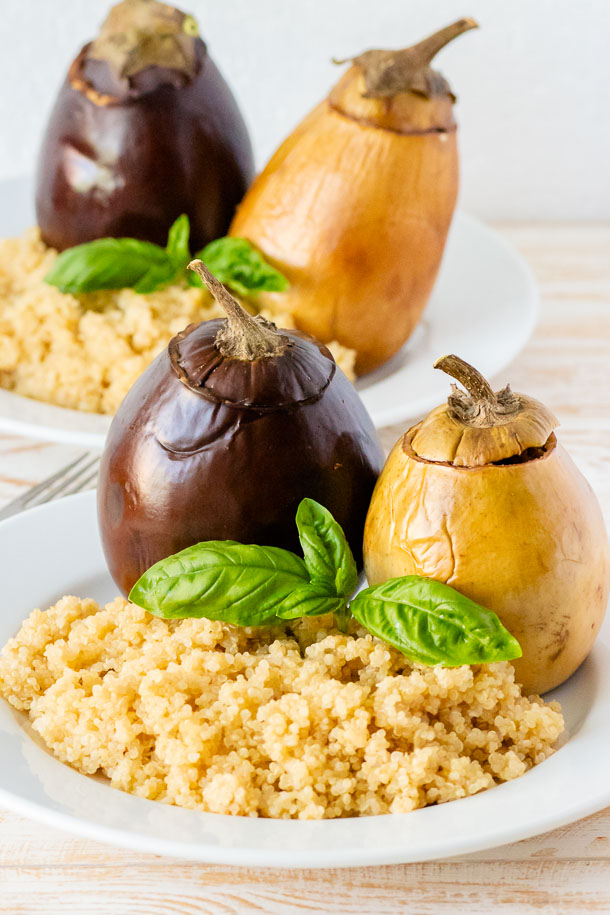 Most modern meals are leaning towards a vegetarian or vegan diet, and not many of the traditional meals can make that transition from meat to meatless meals. The stuffed eggplant dish doesn't have that problem, as you've seen from some of the recipes here, as well as this recipe with the meat-substitute seitan. It is truly as delicious as it looks, and you won't even miss the meal not having real meat.
Middle-Eastern Meat Stuffed Eggplant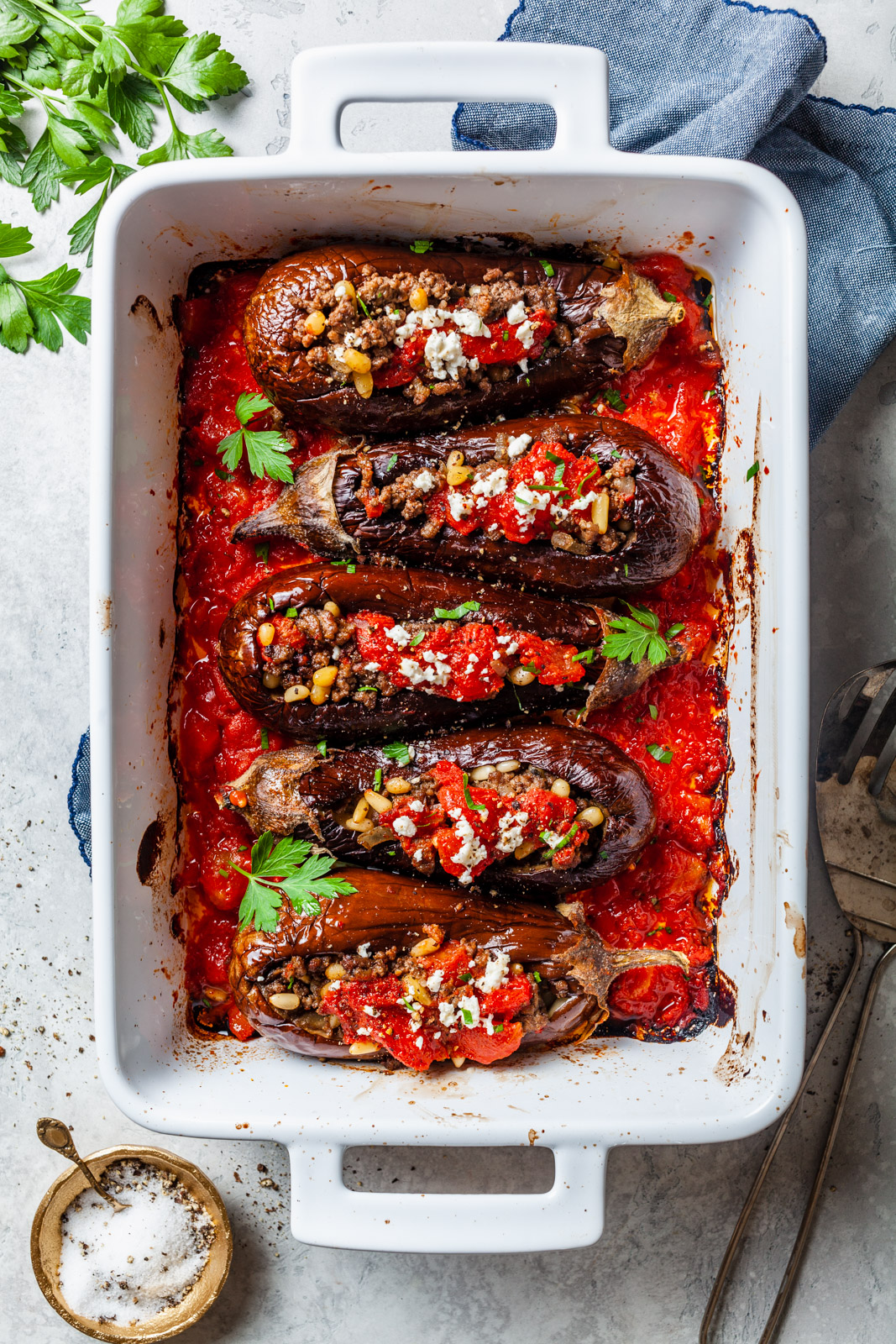 We finish our list with a Middle-0eastern way of preparing stuffed eggplants. It may have fewer ingredients than most of the recipes we've shown you here, but the combination of foods like ground beef and pine nuts, and the way their tastes complement and enhance each other makes this meal a real delight to eat.
Eggplants might not be a food you like or prefer but are definitely a healthier option than most baked meals. And who knows, it might become your favorite if you give it a try. So what's your favorite eggplant recipe? Leave us your ideas and thoughts in the comment section below.