Are you wondering what clean eating is? Would you be surprised to hear that there really aren't any health goals you can achieve without it? You just cannot get healthy without eating healthy. You can exercise the most of your time, but the food is the most important thing for good health. If you eat whole, healthy, and fresh foods, your body, skin, and soul will glow with health that gives you endless energy.
Cooking and eating the healthiest of foods will help you maintain a healthy weight and be healthy as well. With all the vitamins they contain and all benefits they have on us, you will see and feel the results very soon.
1. Clean Eating Pecan Pie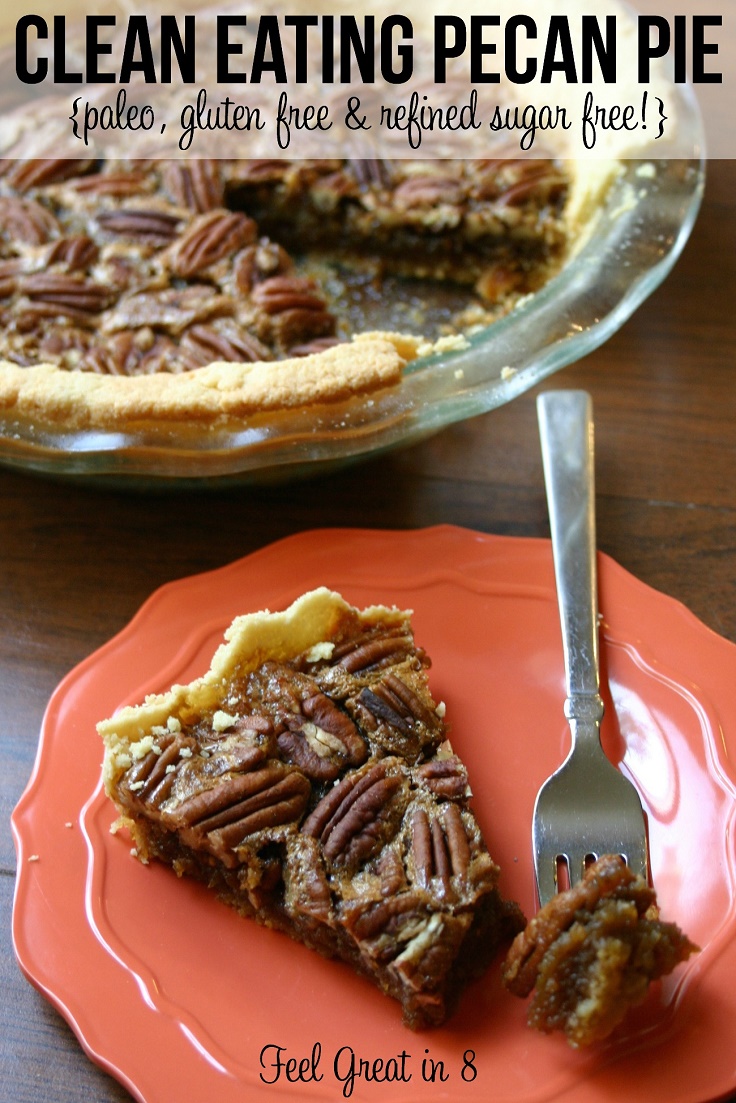 via feelgreatin8.com
Giving up sugar can be the hardest task for many of us. But, deciding to live a clean eating lifestyle doesn't mean saying goodbye to all the sweets. Some desserts, like the Pecan Pie, can be the very thing you need. To prepare it, you need almond flour, sea salt, unrefined coconut oil, eggs, pure maple syrup, unrefined coconut sugar, butter or ghee, vanilla extract, and pecans.
2. Clean Eating Smoky Sweet Potato and Black Bean Salad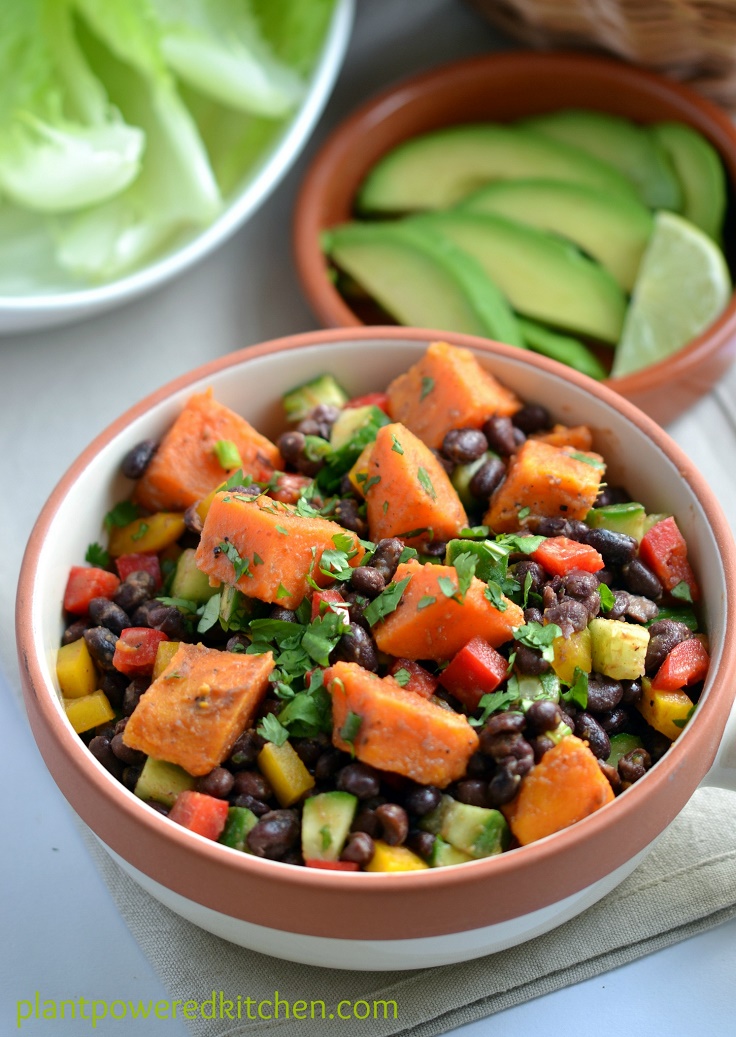 Salads are always a good idea. They are easy to prepare and will make you feel full for hours. One of the salads you can include in your clean eating menu is the Smoky Sweet Potato and Black Bean Salad. Besides the two main ingredients, you can always add something of your choice. Bell peppers, onion, chives, herbs and spices, and even some sauces will do the trick.
3. Key Lime Pie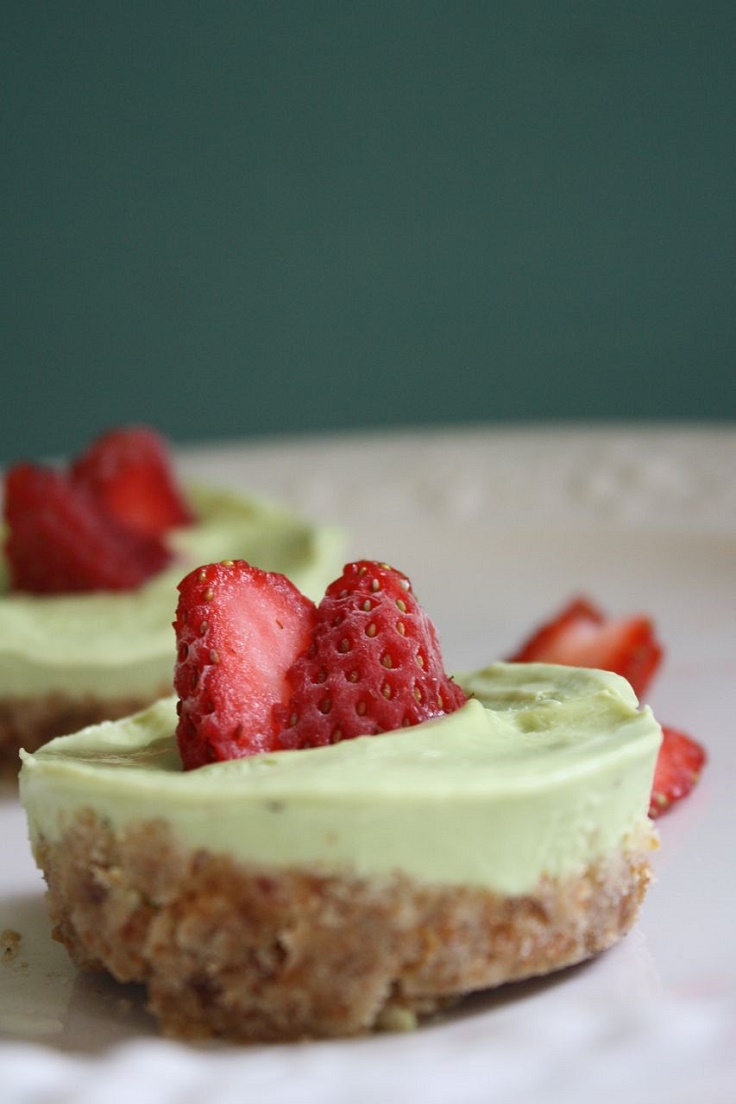 via runhardeatclean.blogspot.com
Creamy desserts are always welcome, especially if they are as tasty as the Key Lime Pie. One slice of it can go really well with your morning cup of coffee or tea. It has an amazing filling made of avocado, lime juice, coconut oil, and raw honey, while the crust is made of almond pulp, dates, and a pinch of salt and cayenne. It's effortless to prepare these mini pies. Blend the filling and crust ingredients separately. Place the crust mixture into muffin tins and spoon the filling.
4. Clean Eating Stuffed Avocado Skins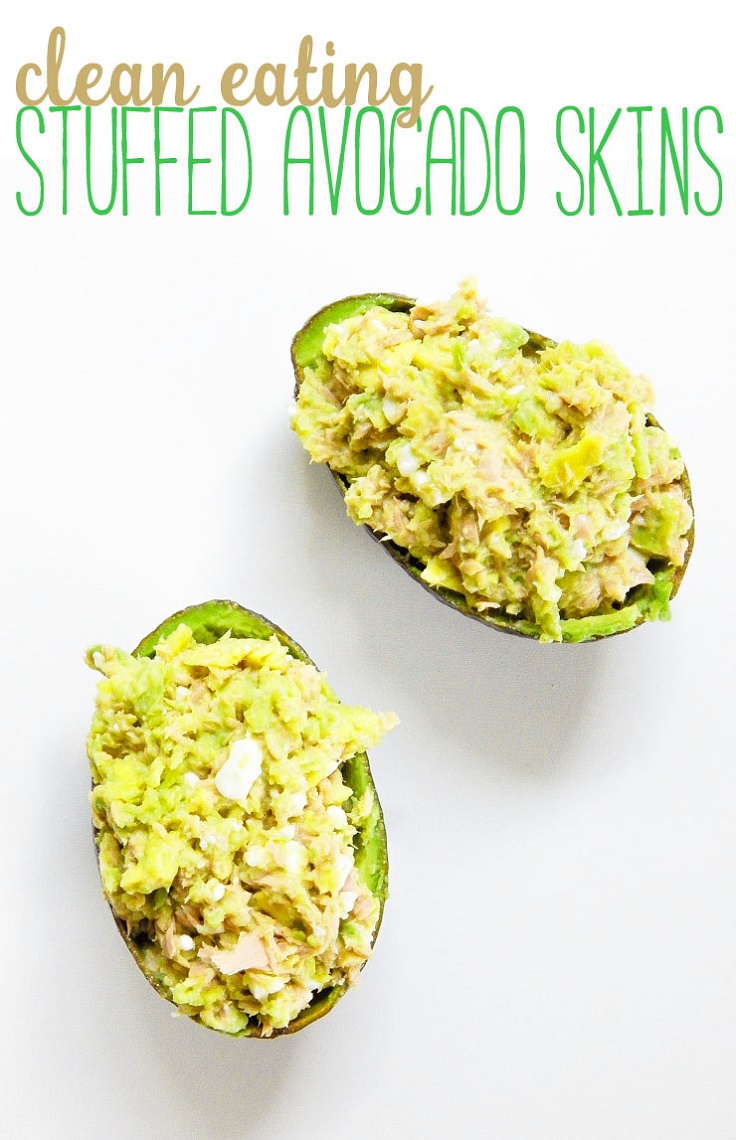 via lushiouseats.com
Avocados are considered as one of the healthiest foods because of their benefits. They are tasty and can be combined in many meals. You have probably heard and tasted yourself the deliciousness of an avocado toast, but trying something else would be good too. This recipe is all done in 5 minutes. All you need to do is pop out the avocado inside and mash it along with low sodium tuna and cottage cheese. Place the mixture in the skins and enjoy!
5. Chocolate Chip and Sweet Potato Bars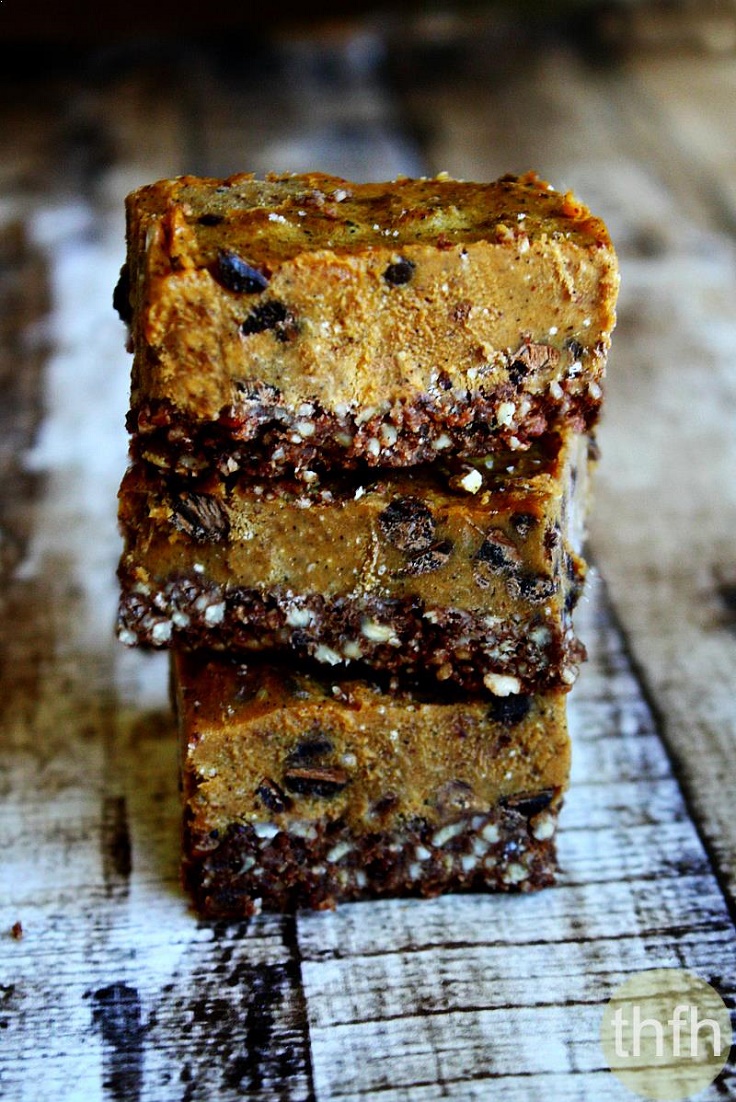 via thehealthyfamilyandhome.com
The combination of sweet potatoes and chocolate may not sound like something well, but this dessert is worth trying. You need organic pureed sweet potatoes, organic almond butter, organic maple syrup, organic coconut oil, chocolate chips, and Himalayan sea salt for the bars. You need organic pecans, Medjool dates, organic coconut oil, and organic raw cocoa powder for the crust. The recipe makes approximately 16 bars.
6. Clean Eating Meatloaf Muffins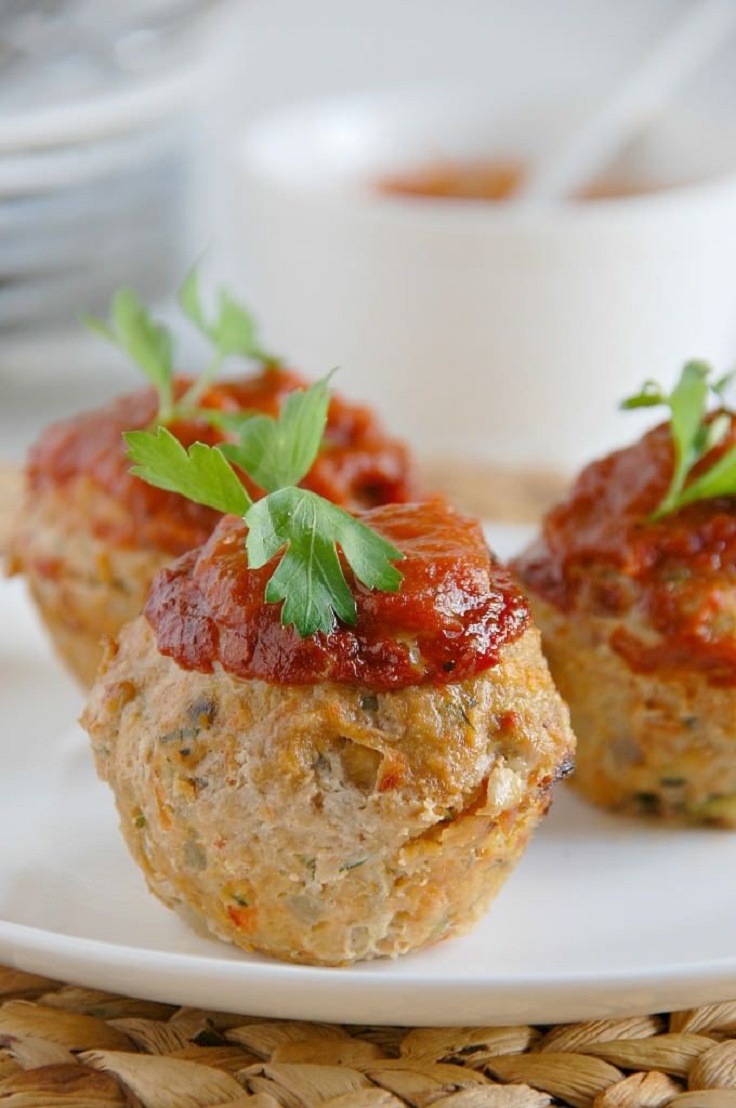 Part of our Best Clean Eating recipes selection is the Meatloaf Muffins. They can be the perfect choice for any time of the day, breakfast, brunch, a snack, your choice. They take approximately two hours to prepare, but all the effort is going to be worth it once you taste them. The muffins are made as a mixture of delicious ingredients, such as ground turkey and ground pork, mushrooms, zucchini, pepper, and onion (check the link for more details). Muffins on top have a very delicious homemade roasted tomato sauce.
7. Apple Pie Oatmeal Cookies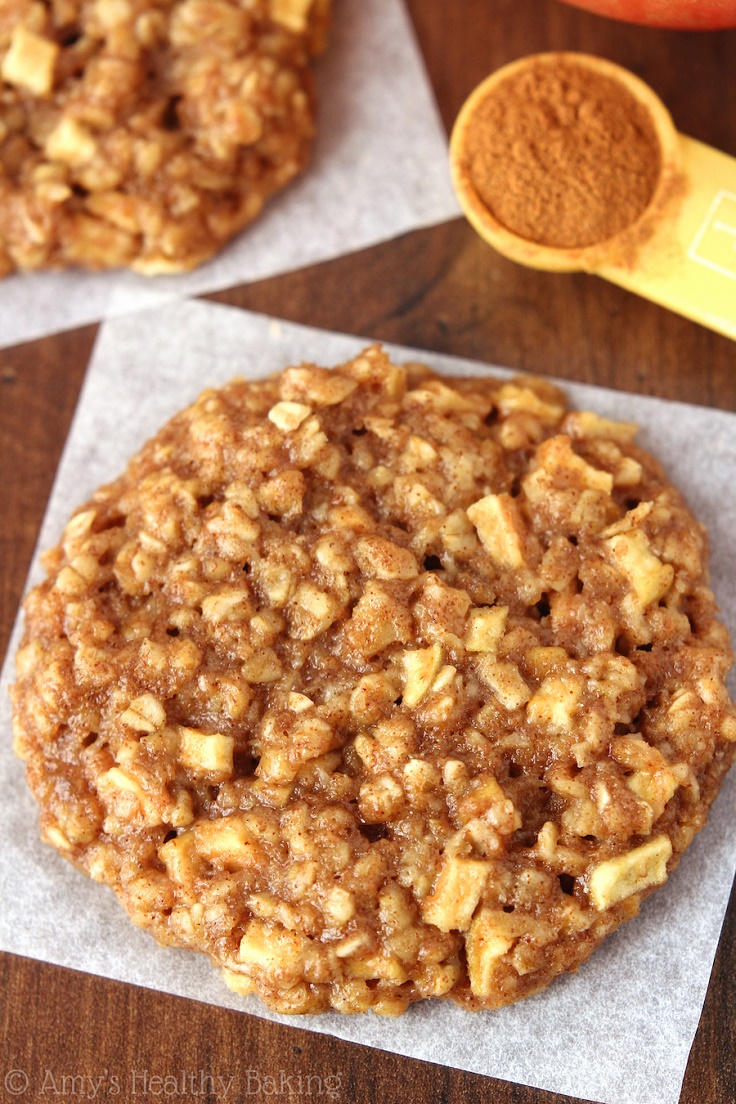 Trying to make our children eating healthy food can be hard with all the sugary desserts that can be bought in every store. One of the ways to make them eat healthily is by preparing it for them. Many desserts do less harm than the bought ones. You can prepare the soft and chewy Apple Pie Oatmeal Cookies and pack them for school or serve them after lunch. The combination of apples and cinnamon is always a winner.
8. Clean Eating Indian Fried Rice Bowl
via lushiouseats.com
Done in less than 30 minutes, for this recipe, you only need six ingredients: curry, turkey breast, long-grain brown rice, dried oregano, sweet red pepper, and Cubano pepper. If you like Indian cuisine, you will definitely like this simple yet very delicious lunch, brunch, or dinner option. Curry and rice is a great combination and will keep you full for a longer time.
9. Apple and Almond Topped Coconut Yogurt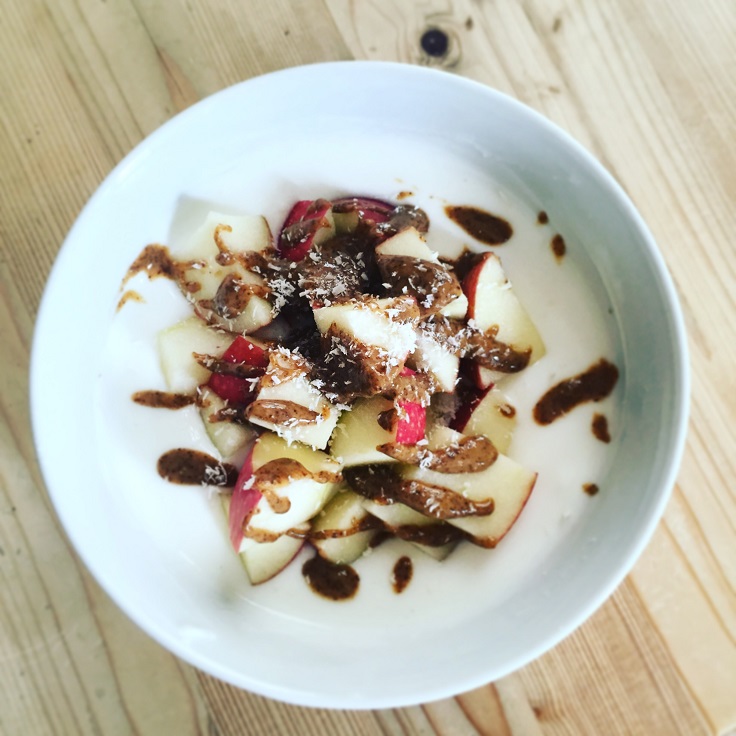 via cleanfoodqueen.co.uk
This bowl can serve you as dessert, or as breakfast or brunch. It's a good idea to prepare it during days when you are busy or just feeling lazy. All you have to do is mix Greek yogurt with coconut milk, and in this recipe are used apple, almond butter, and unsweetened shredded coconut as toppings. But, you can always add something else, like nuts or more fruit.
10. Clean Eating Chicken Enchilada Casserole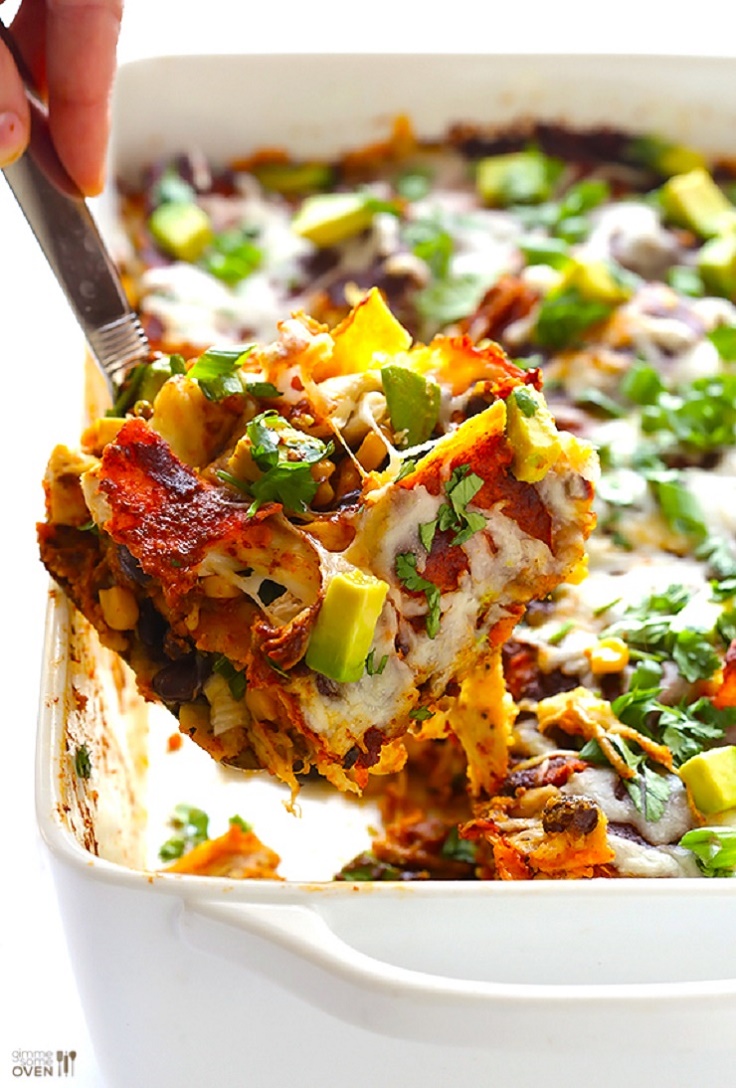 Perfect for lunch or dinner, the Chicken Enchilada Casserole is prepared in less than an hour, and it will definitely take even less than that to eat it! The recipe has the charm of Mexican cuisine, for what you need enchilada sauce, corn tortillas, black beans, kernel corn, chicken, scallions, blend cheese, avocado, and fresh cilantro.
When you are looking to lose weight, you need meals rich in protein and low in calories. Shrimp is one of your best bets. It is filling, healthy but without those 'bad fats.'
11. Zucchini Noodles with Pesto

Nothing is healthier and tastier than zucchini noodles with Pesto sauce! This specialty can easily become a favorite clean meal for everyone because it's tasty, easy to prepare, and it comes with picture instructions, which will make your life easier!
12. Clean Eating Spiraled Raw Zucchini Salad with Avocado and Edamame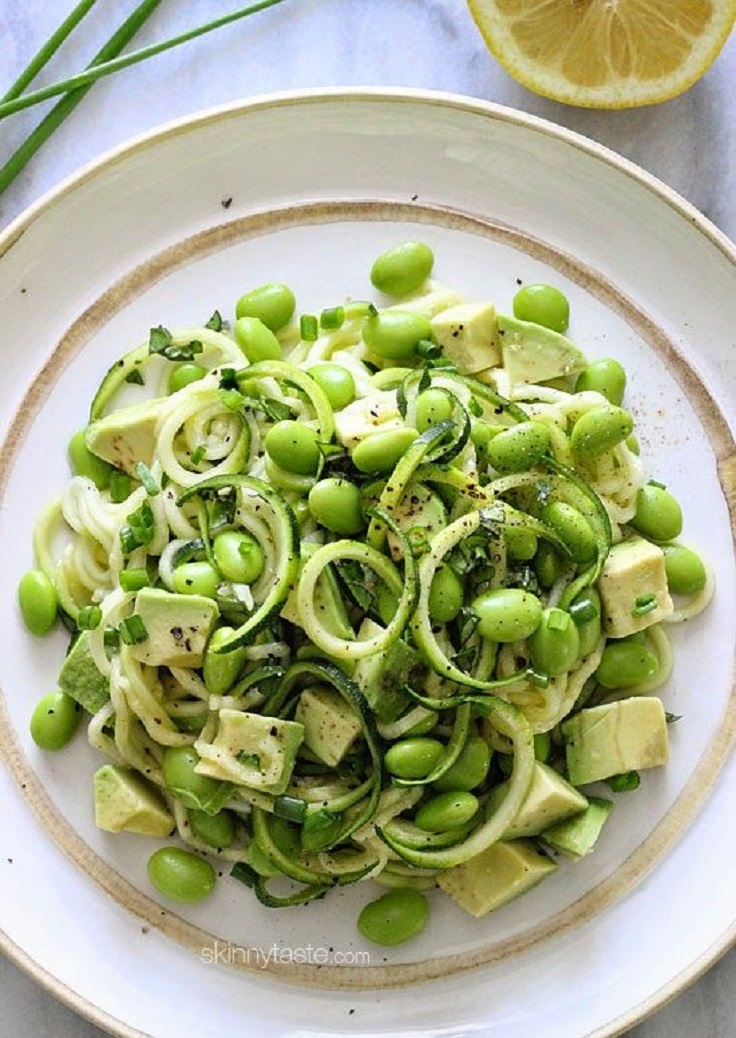 via skinnytaste.com
Fresh, quick, and delicious – this salad takes less than 5 minutes to make, start to finish, and there's no cooking involved, so it's perfect for the summer because you won't heat your kitchen!
13. Clean Eating Italian Pasta Salad

via budgetbytes.com
If you're a fan of the original wonder pot recipe, you're gonna love this one! We think we even like this combination of mushrooms, artichoke hearts, and spinach even better. It has a rich, earthy flavor that made us want to eat it straight from the pot!
14. Clean Eating Breakfast Pizza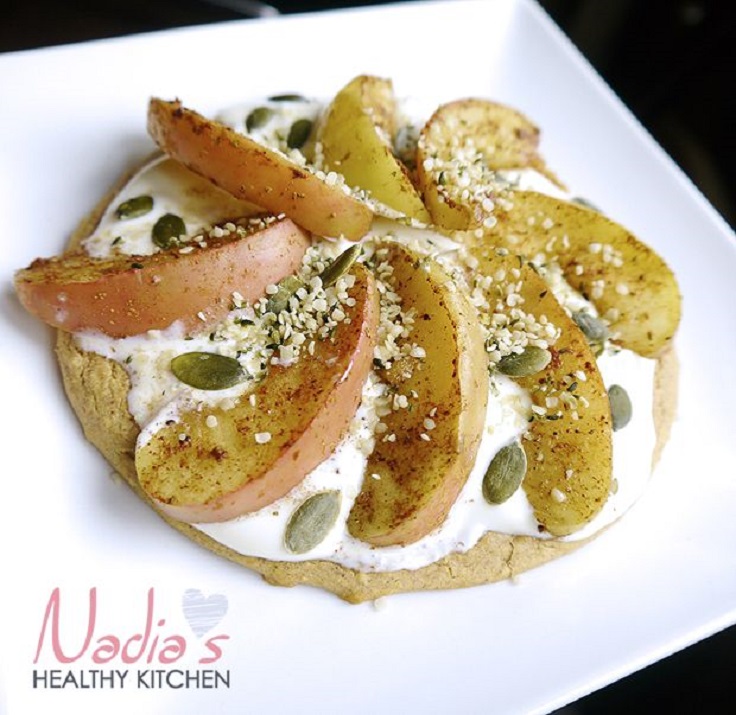 Pizza sounds like a calorie bomb, but this one is only called "pizza" because of the shape and the whole look. Actually, it's clean, healthy, breakfast pizza.
15. Watermelon, Tomato, and Cheese Salad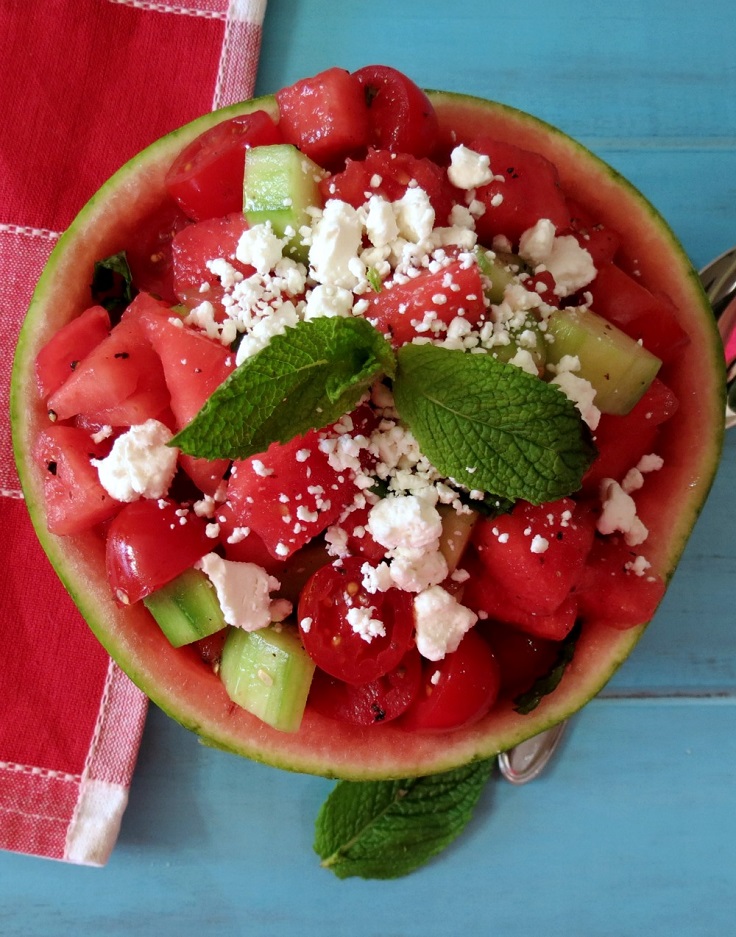 via peanutbutterandpeppers.com
Mixing fruit and vegetable can be so fun and delicious. For this summer meal, you will need the following ingredients: 2 cups watermelon, 1 cup cherry tomatoes, 1 cup cucumber, 1 tbsp. Light goat cheese, 2 tbsp. Mint leaves, 1 tbsp. Balsamic dressing, ¼ tsp. Salt and ¼ tsp. Pepper. Mix everything in a bowl or an improvised watermelon bowl, enjoy.
16. Peach-Banana Smoothie Popsicles
via offbeatandinspired.com
You can eat clean and still snack between meals! It is recommended to have small healthy snacks between the meals to keep the hunger away and stay on track. These popsicles are such a great idea as they are actually made of a previously made smoothie that is simply frozen. That means you can freeze some of your breakfast smoothies from the previous day and make a tasty snack for the next day.
17. Healthy Blueberry Smoothie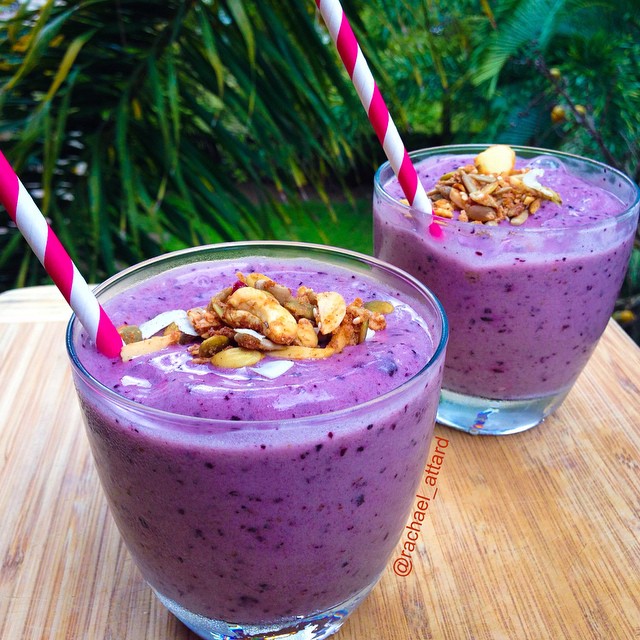 Start the day with a delicious and healthy blackberry smoothie made with 2 frozen bananas, 1 cup frozen blueberries, 1 cup coconut water, and Paleo Hero primal muesli. It is simple to make this smoothie – just blend the fruit with the coconut water and top them with muesli.
18. Clean Eating Tomato & Feta Pasta Salad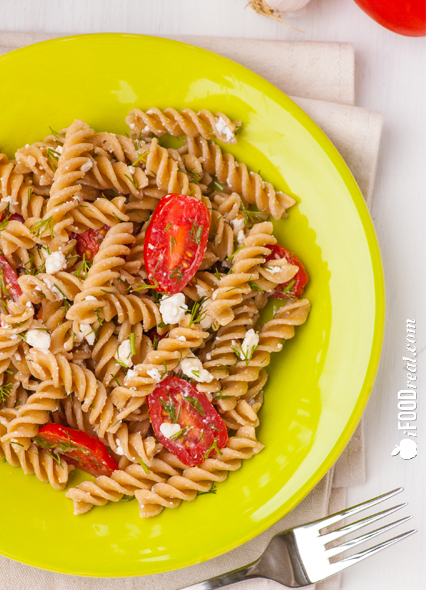 via ifoodreal.com
Pasta can be healthy too, just skip white pasta drowning in mayo and stick whole wheat pasta and veggies. This particular tomato & feta pasta is delicious and makes a great lunch option. It is made with whole wheat pasta, ripe tomatoes, reduced-fat feta cheese, fresh dill, fragrant garlic, and coconut oil.
19. Clean Eating Red Cabbage Salad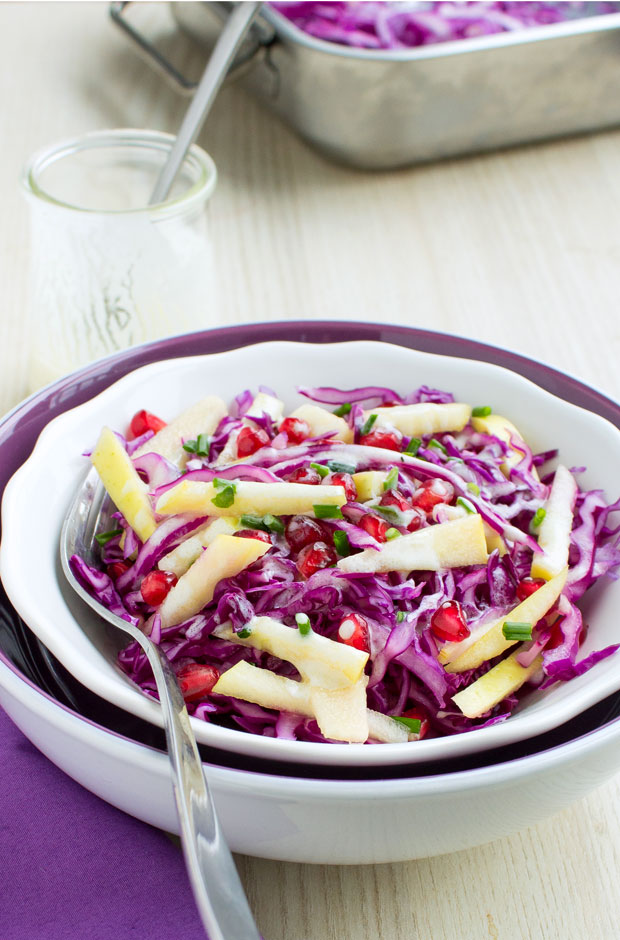 via eatwell101.com
This clean eating red cabbage salad is a perfect, fresh dinner starter. This tangy raw slaw is also supremely cleansing. It is crunchy and delicious – you will simply love it! The recipe makes 2 large or 4 small servings. We love the cabbage/apple combination.
20. Eggs in Bell Pepper Rings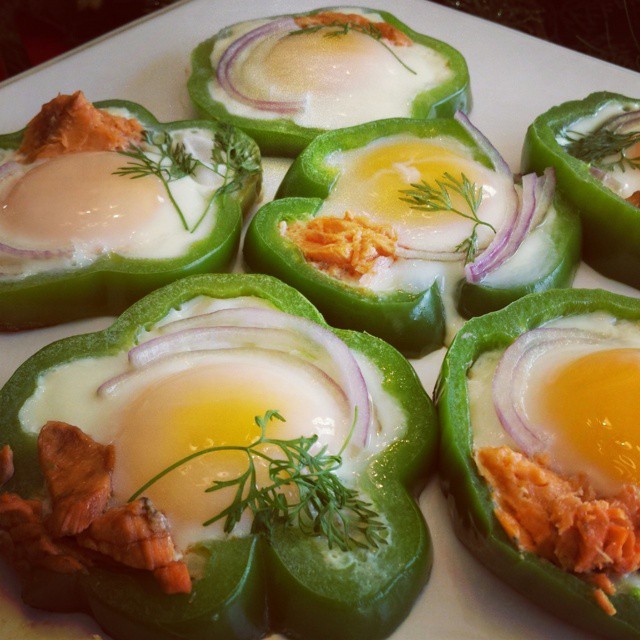 Be creative from the very start of the day by making these awesome eggs in bell pepper rings. They look so cute and taste so divine. Prepare them as a surprise breakfast in bed for your loved one, or enjoy them with your family on a weekend morning. You will need bell peppers in different colors, eggs, sea salt, and pepper to make these eggs. Let yourself be creative with the topping as well. Choose fresh Dill, Chives, salmon, sliced red onion, or whatever you prefer.