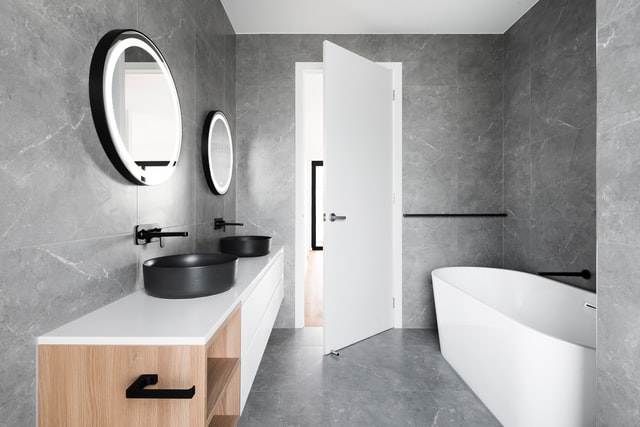 Whether you're doing up your new house or you're renovating your current one, you shouldn't forget about the bathroom. A bathroom can be done in many ways, but knowing where to begin is essential. Here are a few DIY tips to spruce up your bathroom.
Tub or Shower?
The first step is to determine how much space you have for a tub and shower. You'll also want to ensure that your floor can support the weight of the tub and shower if they install new tiles, grout, or other materials in your bathroom.
Once you know what size tub and shower you need, find the right tile for your bathroom. You may need some assistance from a professional when choosing tiles that'll fit into your existing space. If you're planning on installing new tile in your bathroom, ensure it has been installed correctly and will last for at least 10 years without needing maintenance or plumbing repair.
Clear the Clutter
When the bathroom is too cluttered, it can be hard to find things, especially when you're in a rush. The first step is to clear away all the old stuff. You might have some items you don't use anymore and don't care about keeping around – like those old towels or an old toothbrush holder just taking up space. Then take stock of what you have left and get rid of the rest.
Add a Mirror or Lights
Adding a mirror to your bathroom can make it more luxurious and spacious. Some people also like adding lights to their bathrooms to brighten the space.
Add Plants and Flowers
Adding plants and flowers to your bathroom will help bring life into it and make it feel more like a relaxing refuge. You can find plants and flowers at most nurseries and garden centres. Just make sure you choose the appropriate ones for your location and temperature. Some plants need lots of sunlight, while others prefer a little more shade.
Some great options include:
Succulents: These plants can survive in high or low light, which means they'll work well in almost any setting. They're also drought-tolerant, so they'll thrive even if you don't have much water available.
Geraniums: Geraniums are beautiful plants that look great in any color. They're also easy to take care of because they don't need too much water or sunlight to thrive.
Install Smart Storage Shelves or Racks
Many things need to fit in your bathroom. You have towels, toiletries, and your bathtub. So how do you fit them in one room? The answer is simple: install smart storage shelves or racks! You can use these to organize all of your bathroom essentials easily. This will help ensure that everything is where it should be and that nothing gets lost or damaged.
Touch Up Your Faucets and Fixtures
One way to add color and texture is by touching up your faucets and fixtures. While it may seem like this is a simple task, it can be time-consuming, especially if you have many fixtures that need attention.
You can easily do this with some paint and a sponge or soft cloth. It's best to clean the surface first so that there's no dirt or grime on it before applying the paint. Then apply a small amount of paint on top of the existing paint and wipe off any excess. If necessary, use a second coat until you get the desired effect.
While applying touch-up paint isn't complicated or expensive, be sure not to overdo it! You don't want your entire bathroom looking like an artist's studio because they didn't finish their masterpiece in time for the show!
Conclusion
By checking out some of the tips we listed, you can create an inviting, relaxing atmosphere in your bathroom. The most important aspect to consider when decorating your bathroom is the theme. Don't try to make a whole house fit into a tiny room. Choose a few pieces that complement each other and tie the room together.