Bathrooms are usually the smallest and busiest rooms in the house.  If you are getting ready in the morning all at the same time, the bathroom can easily get cluttered and get you off to a bad start. Since this is where you clean up, it's only fitting that you try your best to make it your house's cleanest space.
That means no countertop clutter, floor towels, or scattered rogue electronics and wires. Fortunately, every bathroom is easily reorganized, and just a few steps away from a cleaner, more organized look.
Give all a home and keep your daily essentials at your fingertips using simple bathroom storage items: makeup, cleaning supplies, extra linen, and anything you can think of can find its place with no bigger effort.  There are tons of ideas and tutorials that can inspire you to use every free space in your bathroom. All you need is some goodwill and good tools.
Although some of these appeals to different styles and rooms, there is one thing in common with each and every one of these space-saving tricks: they make the most of vertical spaces. Over the door, in the toilet, and under the sink, bring in cabinets, shelves, and other organizers and turn your bathroom into a mighty room.
Window Box Bathroom Storage (perfect for a small bathroom)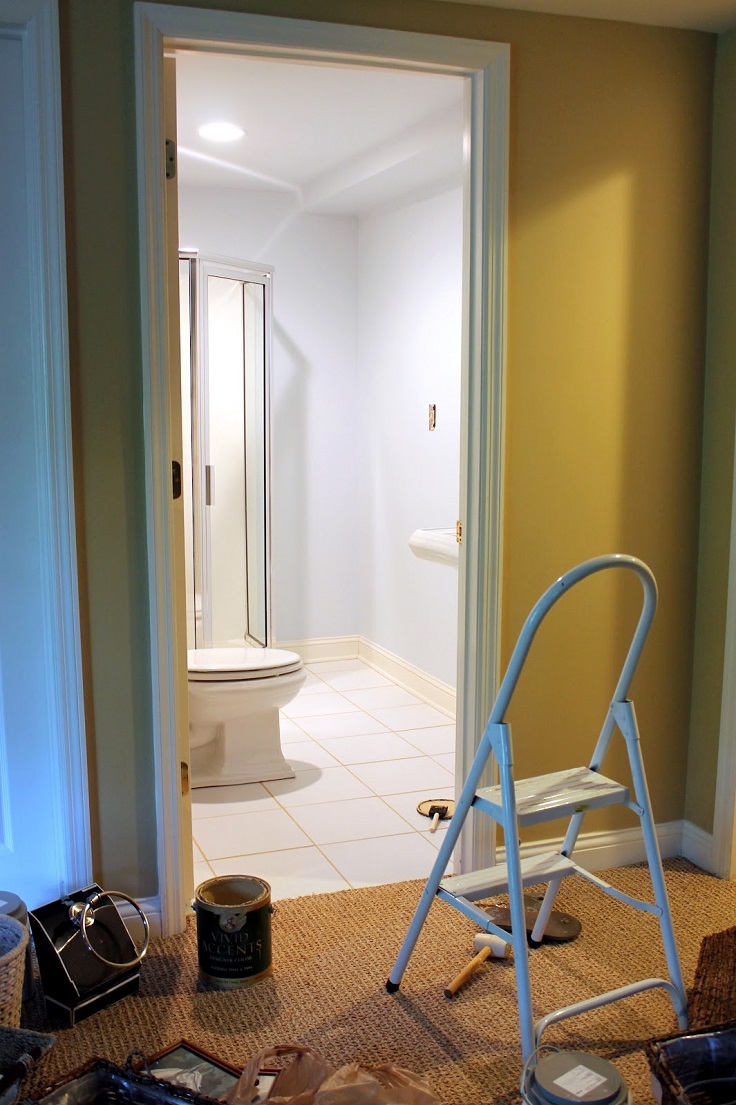 If you are stuck in a small bathroom, make the most out of it. Use every free corner of the space, and use it wisely. Install some baskets for towels or bathroom supplies, arrange some cute pockets and hangers everywhere you can, and put all your necessities around, so that they can stay clean and near for anything that you do in your bathroom.
Bathroom Towel Storage in Under 5 Minutes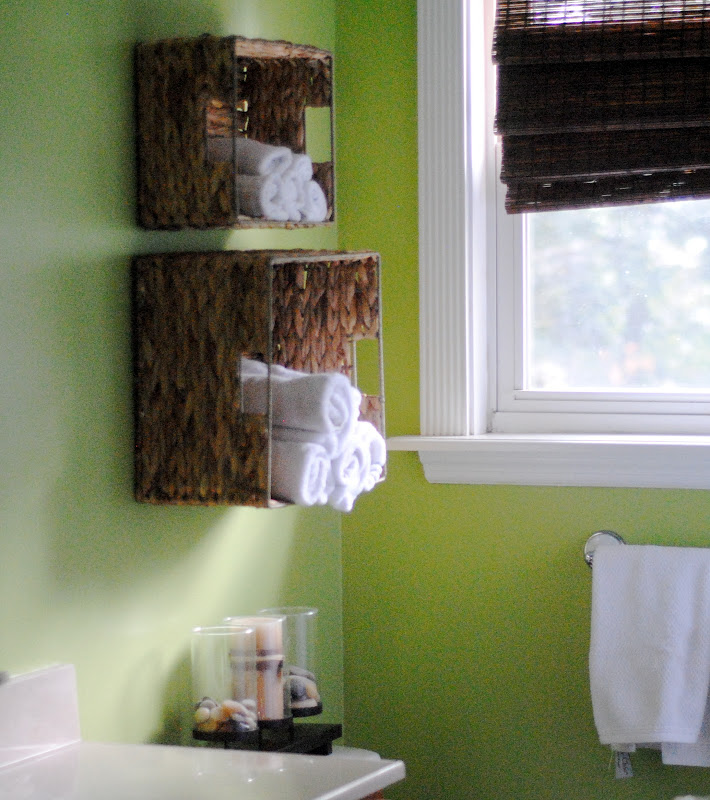 For fast open shelving and easy towel access, hang inexpensive baskets. Without having to dig through the shelves concealed behind the door, you will love the convenience of grabbing towels. Or better yet, don't move stuff around to open the door and find what you need. Those are the little things in life, aren't they?
Ladder Towel Storage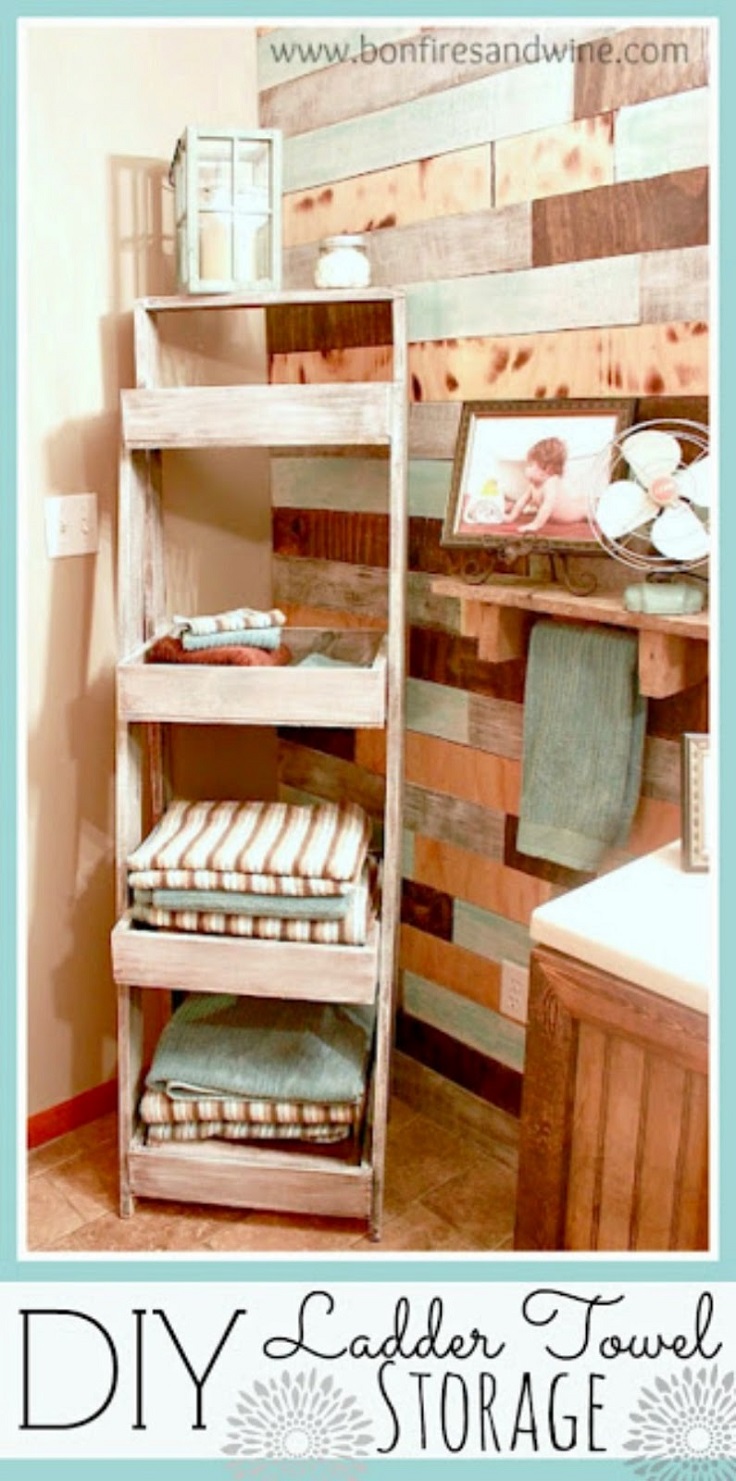 Not enough storage space is the number one problem with most bathrooms. This shelf allows our bath towels and hand towels to be stored neatly and still match with the theme of the bathroom. This idea of the ladder is really such a modular storage idea. Some of you think it looks difficult… but we assure you that you can do that!
How to Make a Bathroom Cabinet
If you have an old cupboard that lies around in your basement or has just been taken from your grandma's place, but you need a bathroom storage space instead, here is a solution. Turn the old cardboard into these cute shelves that can occupy some corner of the bathroom, or maybe the empty space behind the door. You can paint it in the matching color of the bathroom and save yourself some cash.
DIY Cabinet Shutters
If you have a convenient built-in shelf in your bathroom, but it is open and really looks ugly, you can simply cover it up with a little bit of effort and literally no skills. Make doors out of pallets, use an old drawer as a bottom, and keep the existing shelves. Stained in the right tone, it will complete your bathroom as it was always there.
Built-In Bathroom Shelving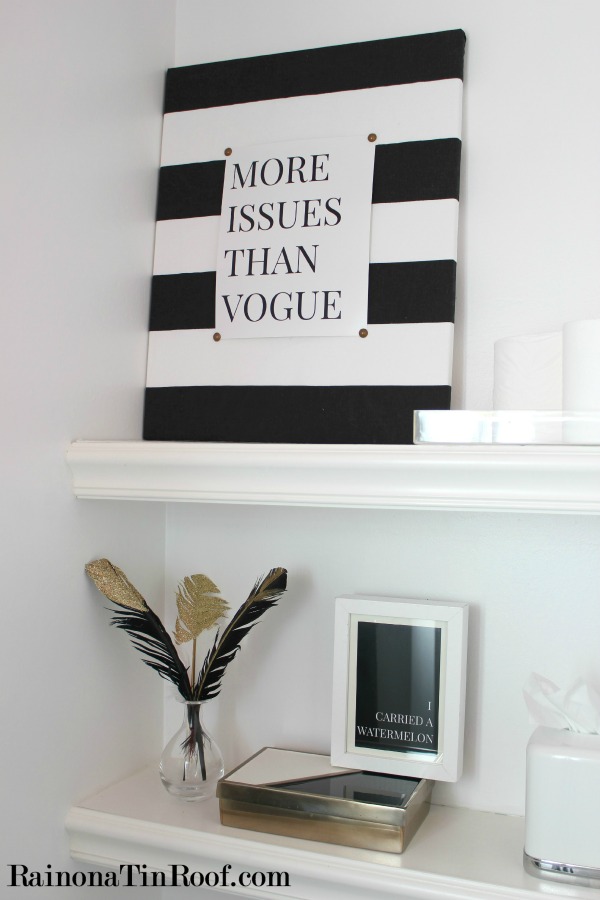 A perfect storage option for your bathroom is these DIY bathroom shelves! Take advantage of the empty wall behind your toilet and make these shelves for the bathroom. For toilet paper, decorative pieces, and other bathroom necessities, this open shelving offers great extra storage. On top of that, this is a fantastic bathroom space saver and helps get stuff up from the ground!
Inverted Brackets Shelves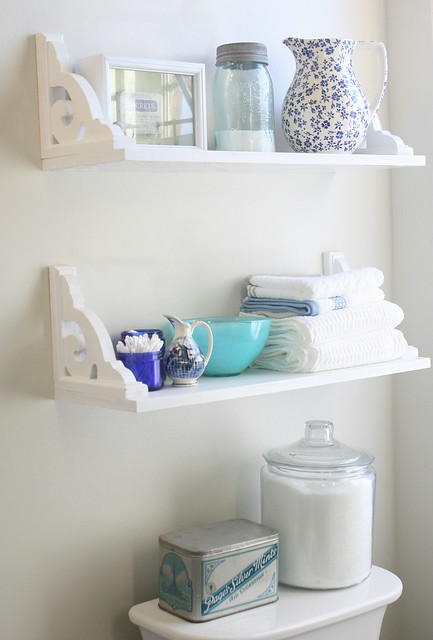 The area above the toilet tank is always in desperate need of something. And that something is usually storage space. Depending on the area, but usually, the most common thing is to hang some shelves. This time we decided to show you some inverted bracket shelves, that are both practical and decorative. Easy to make, and inexpensive to find, they will be great fun for your small bathroom.
Bathroom Caddy
Are you still having a storage space above the toilet tank? Well, fill it up with this cute bathroom caddy. all you need is a caddy, and some paint to give it the right color. It is a very easy DIY project and really only costs a dime. Store extra toilet paper in it, or some other bathroom necessities you or your friends might need during a short toilet break.
Floating Shelves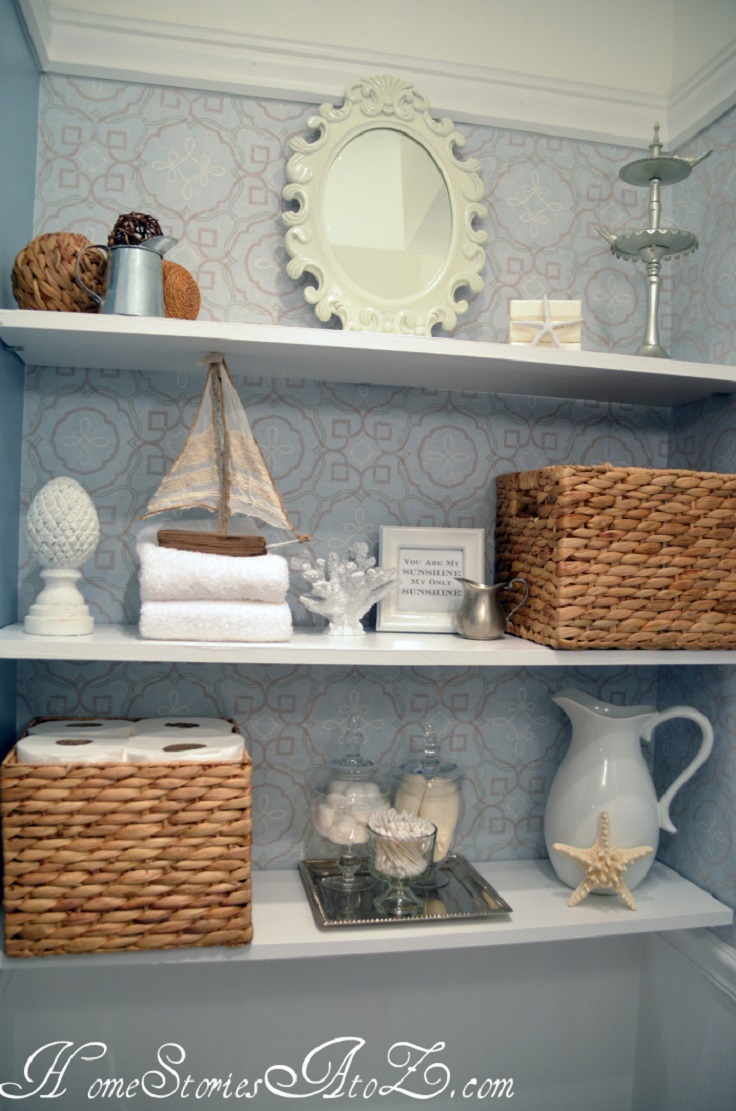 Space 

is

always

an 

issue 

in 

a small

bathroom. So, shelves above the toilet tank are a must.

Styling 
the 
shelves 
might be very exciting, especially if you try to save up and use whatever good things you can find around the house and basement. With a little effort, your bathroom can turn into a cozy space fitting in your toiletries, extra towels, and few other necessities. 
10 Minute Storage Idea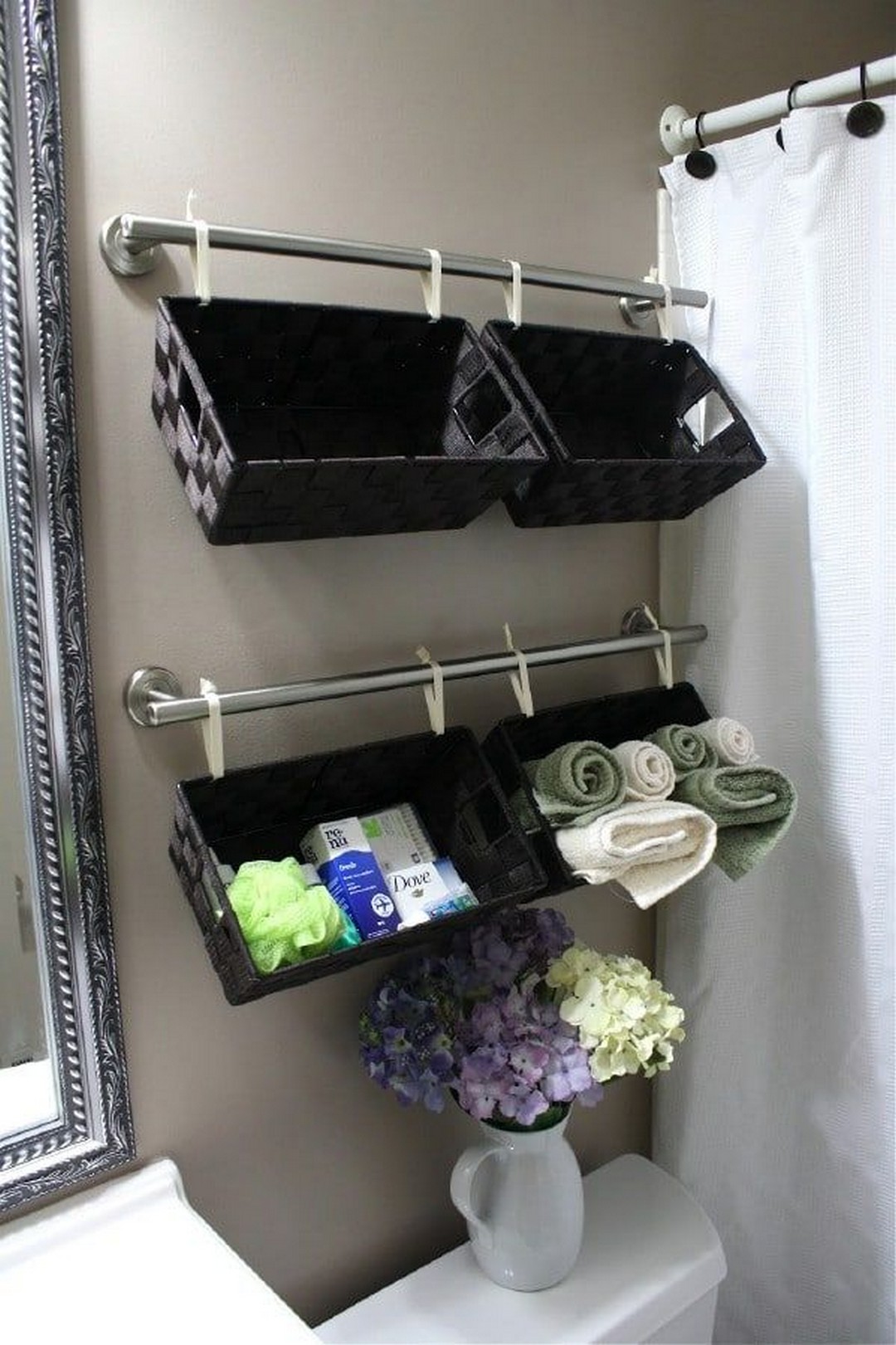 Teenage girls never have enough room. Especially if there are more of them. The nail polish supplies, hair supplies, make up, etc. Install these cute towel racks with plastic or bamboo baskets and reorganize your bathroom to create more space for the young ladies. They don't cost a fortune, and really save you the space you need for any extra supply in your bathroom.
These were the tutorials we choose for you. If you liked them, or have some of your own, share them with us in the comments below.