4th of July is one of America's favorite holidays for many reasons: Great weather, great food, and great company are generally the driving forces in the success of any Fourth of July festivity, but there is one element we forget… the drinks!
The drinks you serve at your party are almost as important as your 4th of July food, so we've compiled a list of 10 red, white, and blue concoctions to help you celebrate.
From cocktails to shots, we have everything you need to add fun and flair to your 4th of July soiree. All refreshing, in some of the little addition of alcohol, lemons, and ice! What else you need to celebrate the holiday?
July 4th Layered Cocktail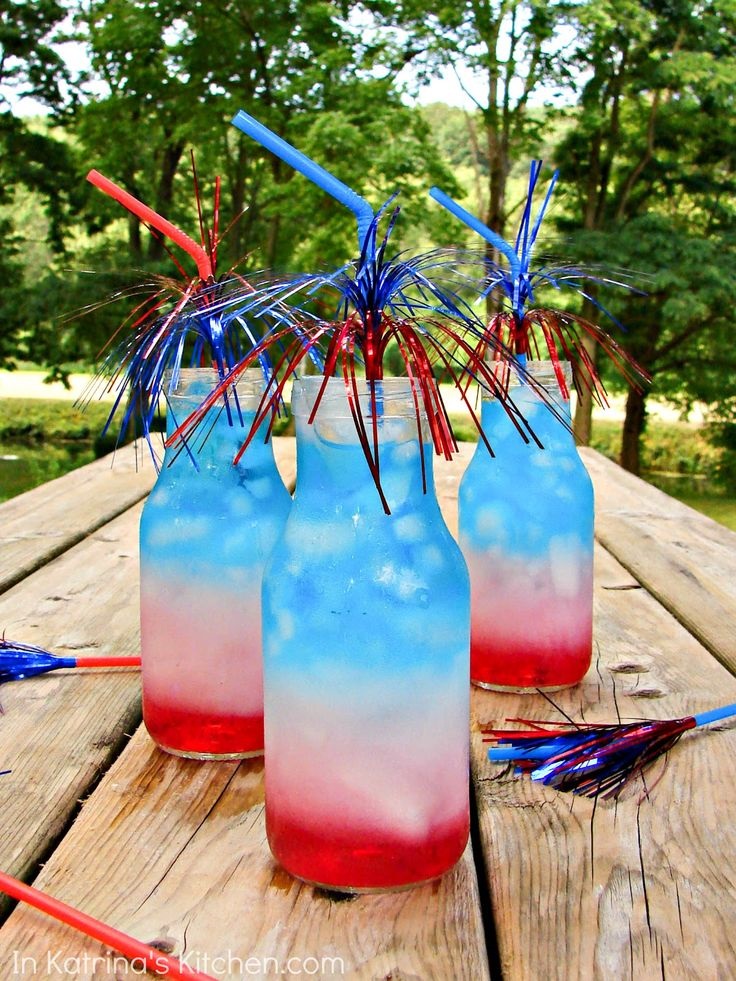 These would be an enjoyable and easy addition to any picnic you are attending or hosting for the Fourth of July holiday. Layered drinks in red, white, and blue- perfect for the 4th of July! Non-alcoholic and kid-friendly for your next party!
Watermelon Margaritas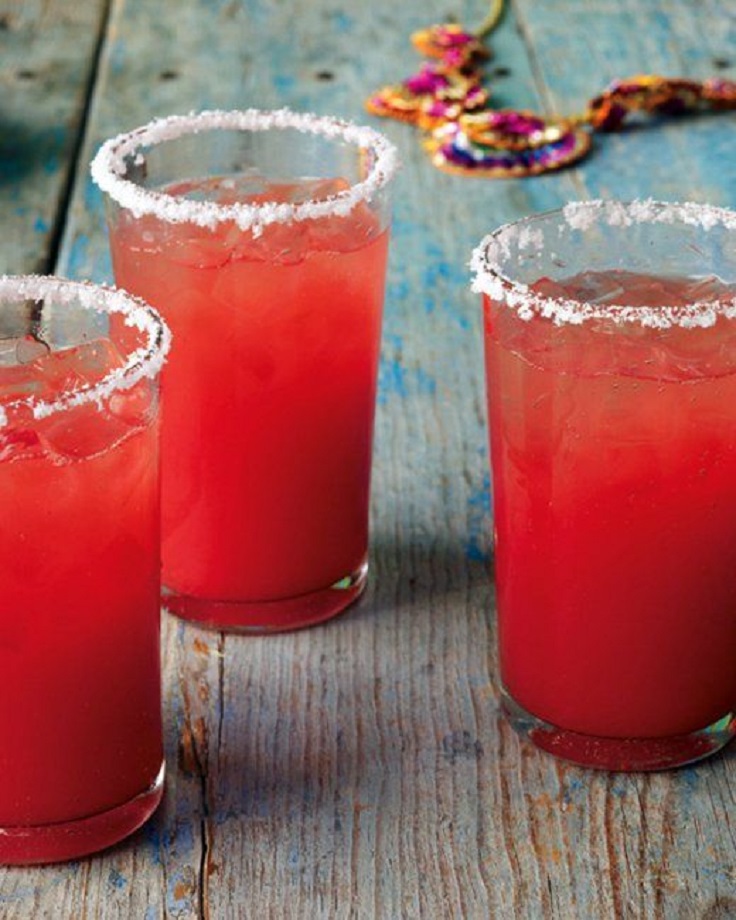 To create salted glasses for these watermelon margaritas, place 1 tablespoon fresh lime juice on a small plate and 1/2 cup coarse salt on another. Dip rims of four glasses in lime juice, then in the salt to coat.
Blue Vodka Lemonade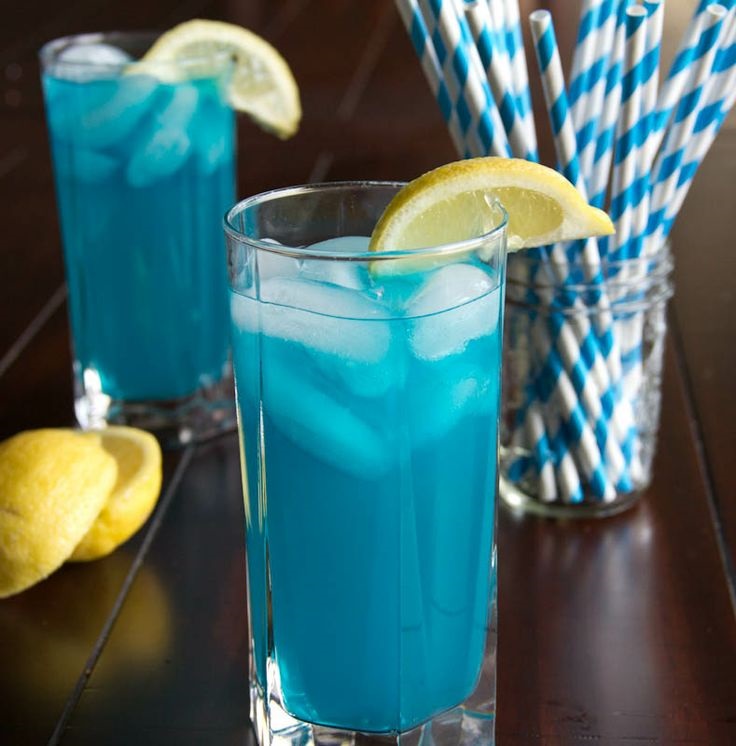 via dinnersdishesanddesserts.com
This Blue Vodka Lemonade is super simple and barely a recipe.  We used a blue liquor; really any kind will do, and mixed it with lemonade.  For deep blue color, you can add a drop or two of blue food coloring.  These would be great for a party like the 4th of July; you can make a big pitcher and have them ready in the fridge.
All-American Jar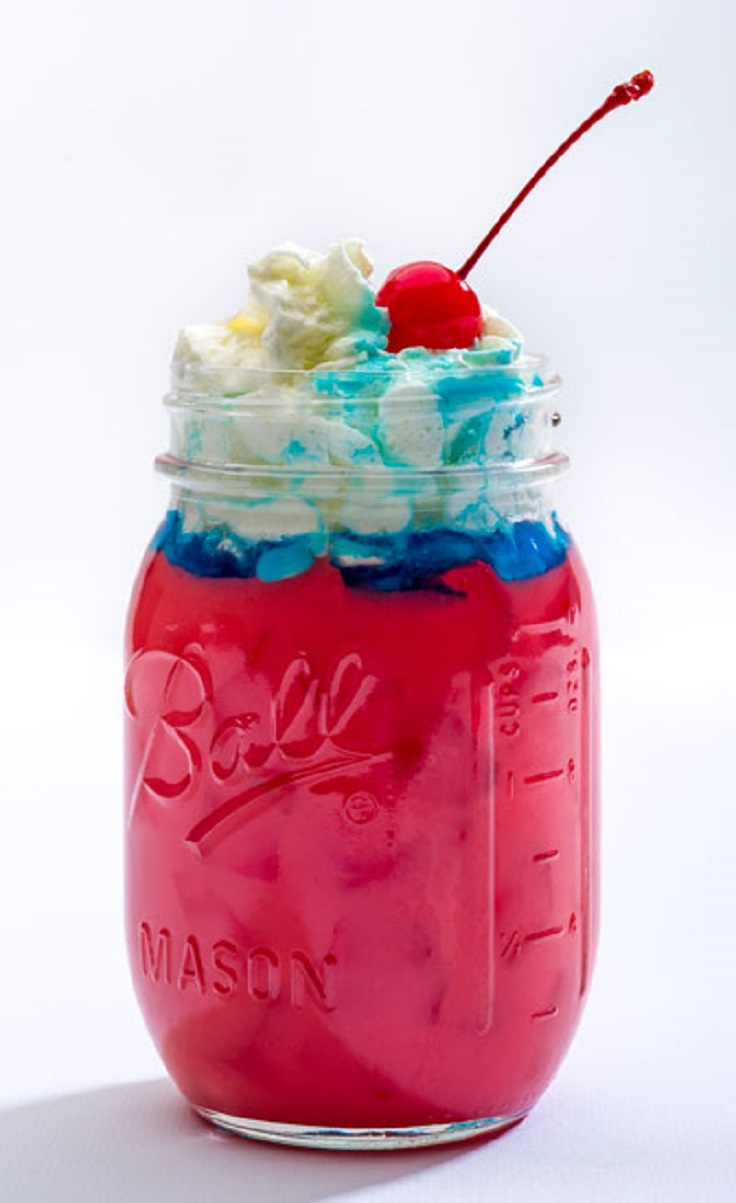 In a blender with ice, add Wild Shot Silver, Malibu Rum, Triple Sec, pineapple juice, and piña colada mix. Blend until thick. Pour half of the blender in a separate glass, then add Strawberry Daiquiri Mix to a blender. Blend until mixed and pour blended strawberry mix into a mason jar. Add the separate glass of blended product to the mason jar.
Blue Frozen Hawaii
This Cool, Refreshing Drink is not only great for the 4th of July Holiday but can be made all summer long. This Frozen Blue Hawaiian can be made with or without alcohol. Either way, it's a sweet, cool refreshing drink.
Patriotic Punch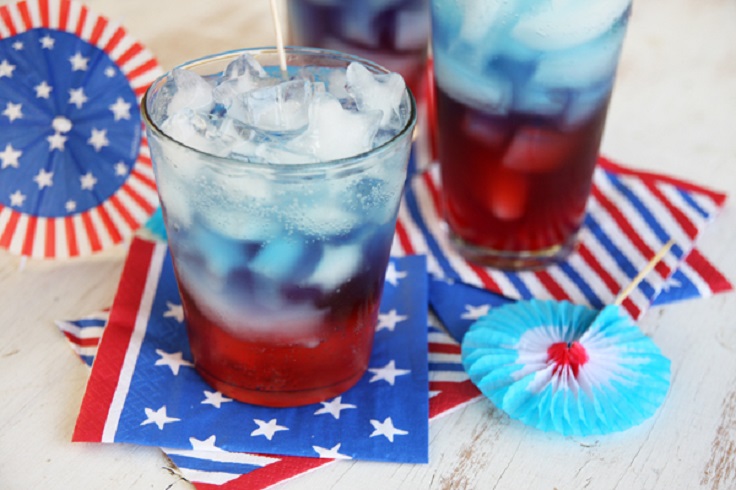 Patriotic Punch uses liquids with different levels of sugar in them so that the colors stay separated. In other recipes, the blue layer is some sugar-free sports drink.
Red and Blue Pop Rocks Shooters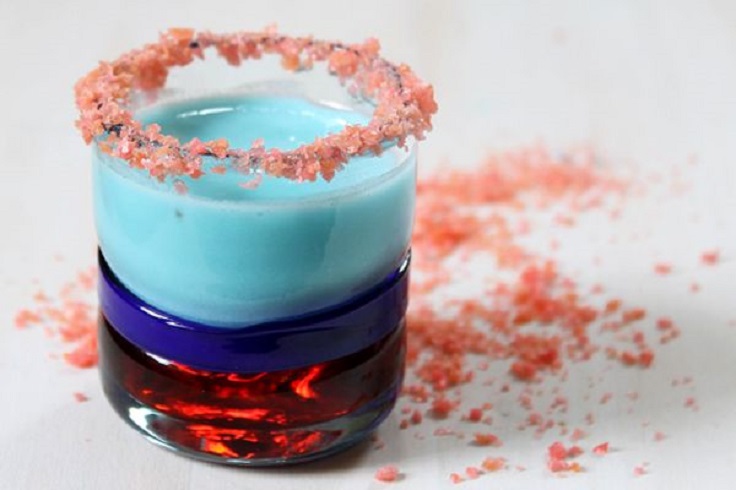 via celebrations.com
These patriotic shooters start with crackle and fizz from the Pop Rocks candy (a sound reminiscent of fireworks) and end with a cool, smooth blend of sweet grenadine, cream Schnapps. What could be more perfect for a Red, White, and Blue themed party? These drinks make a great addition to any 4th of July cookout.
Hpnotiq Cocktail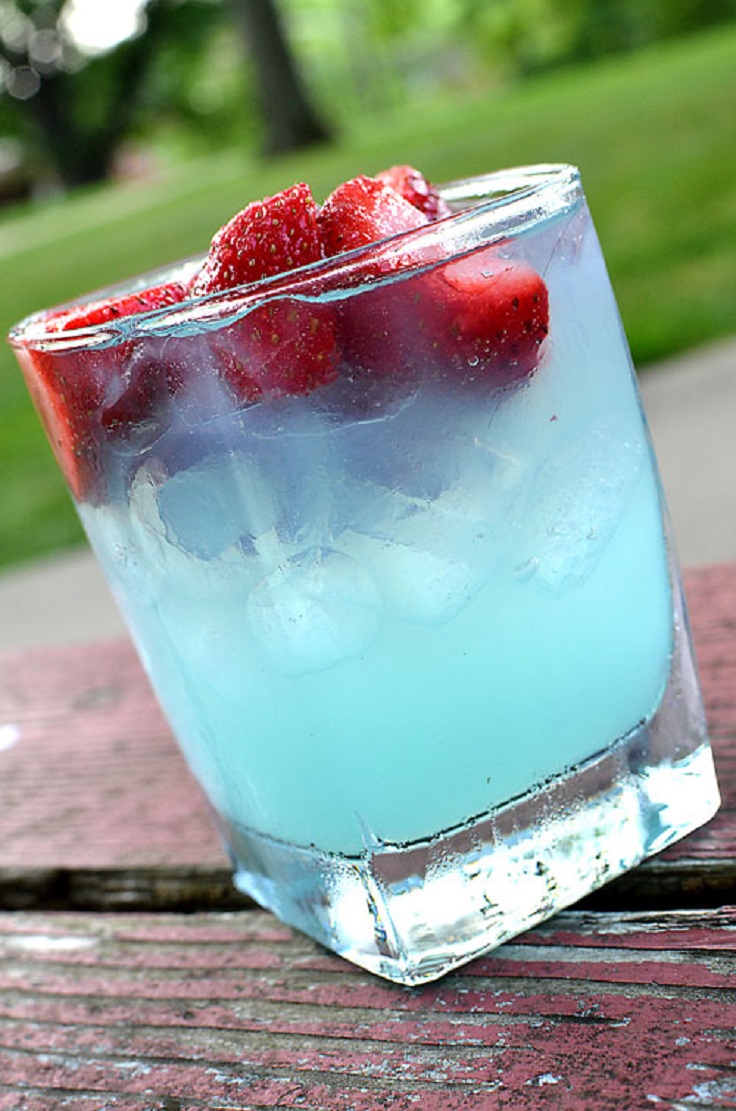 For making this amazing cocktail, you'll need 4 oz. Hpnotiq, 2 oz. Absolute Vodka, a splash of lime juice. Use frozen strawberries for ice. Happy summer days!
White Wine Strawberry Sangria
via welcometomontalvocountry.blogspot.com
What's a summer holiday without a refreshing signature drink?  We all need something nice and cold to sip on during the hot summer months.  This white wine sangria is seriously yummy and is a snap to put together.  And it's healthy since there's fruit involved.
Blueberry Jello Shots
via iowagirleats.com
If you've never made them either, I've got good news – they're straightforward. First, get your supplies together: mini cups with lids, vodka, Jello (4, 3oz packages for 65-70 shooters), and fresh fruit (optional.) Follow the instructions and enjoy!