The Ayurvedic Breakfast is part of the ancient, holistic healing system called Ayurveda, which is based on the belief that our health depends on the balance between the mind, body, and spirit. In Ayurveda, it is very important to start the day right. With certain morning rituals, you will feel a significant change in your body and your general well-being.
According to Ayurveda, it is highly beneficial for the body to wake up early in the morning. When you get up, it is important to go to the toilet to empty your bladder and bowels. Then with an empty stomach, get moving.
Do a short yoga routine, or just hold an inverted asana for a few minutes to energize your body. Ayurveda says that breakfast should not be the biggest meal of the day because too much food can shock your body. A delicious morning drink is a perfect way to start the day and cleanse your digestive system.
Check out the healthy and nutritious morning drinks we have selected for you! They are all made with delicious spices that naturally enhance digestion.
1. Hot Rice Breakfast Drink
Recipe via www.wholeliving.com
Ayurveda says that warm drinks in the morning help your digestive system get working. This amazing recipe is a great way of using the leftover cooked rice from the day before. Just cook it with skimmed milk (or any alternatives like almond milk or soya milk), honey, and cinnamon. Cinnamon is a wonderful spice; it lowers blood sugar levels and has a powerful anti-diabetic effect.
2. Whizzing Amazing Ayurvedic Breakfast Shake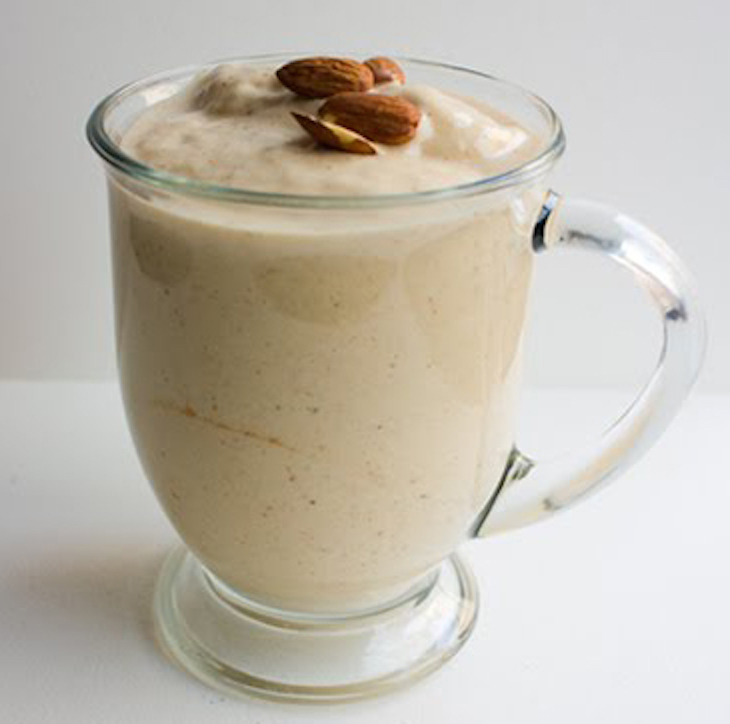 Recipe via thehappinesscocktail.wordpress.com
This spiced breakfast shake is super easy to prepare and has great benefits for your body. You just have to soak the fennel seeds, dates, almonds, and cardamom in water overnight in the fridge. When you wake up in the morning, pour it all in the blender, and that's it! Fennel is extremely good for digestion.
3. Almond Date Shake with Cinnamon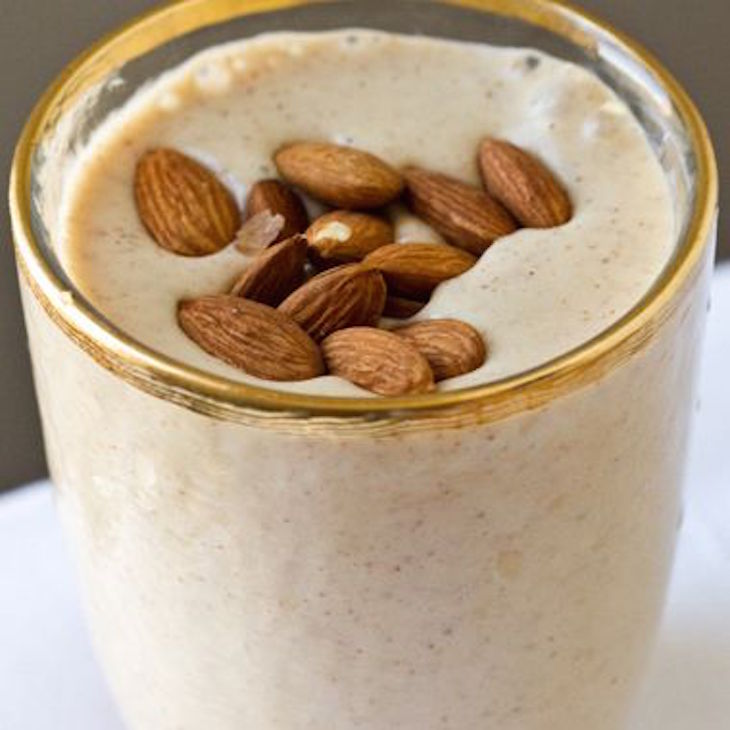 Recipe via www.joyfulbelly.com
Dates are amazing in shakes; they add delicious, natural sweetness to them! Blended with a slice of spicy ginger, a hint of cinnamon, and almond milk, this shake will make your day! Click here for a creamy, homemade almond milk recipe.
4. Turmeric Smoothie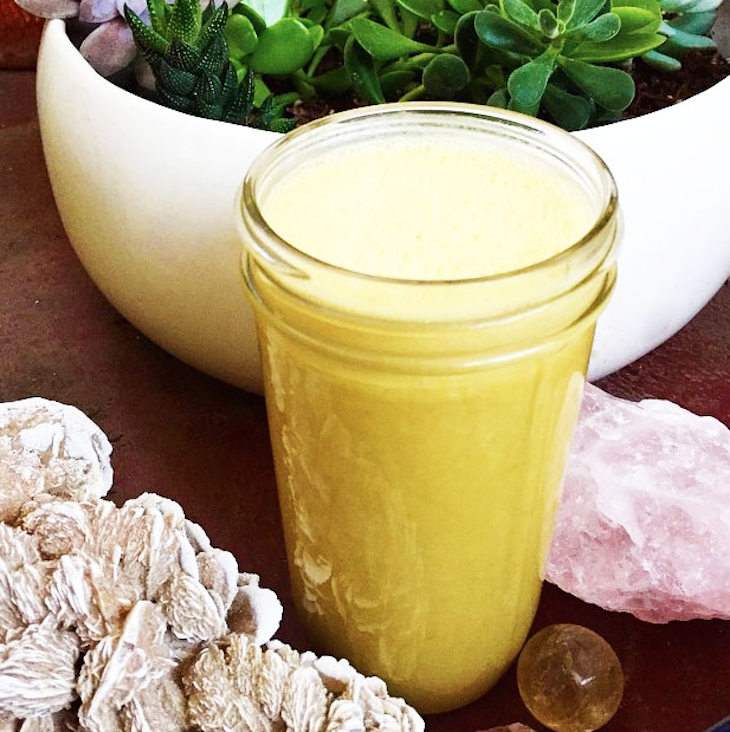 Recipe via www.fengshuidana.com
Turmeric is a remarkably powerful antioxidant, boosting the body's own antioxidant enzymes. It is also strongly anti-inflammatory, to the point where it matches the effectiveness of some anti-inflammatory drugs. Use fresh turmeric roots or turmeric powder in this shake to detox your body.
5. Golden Milk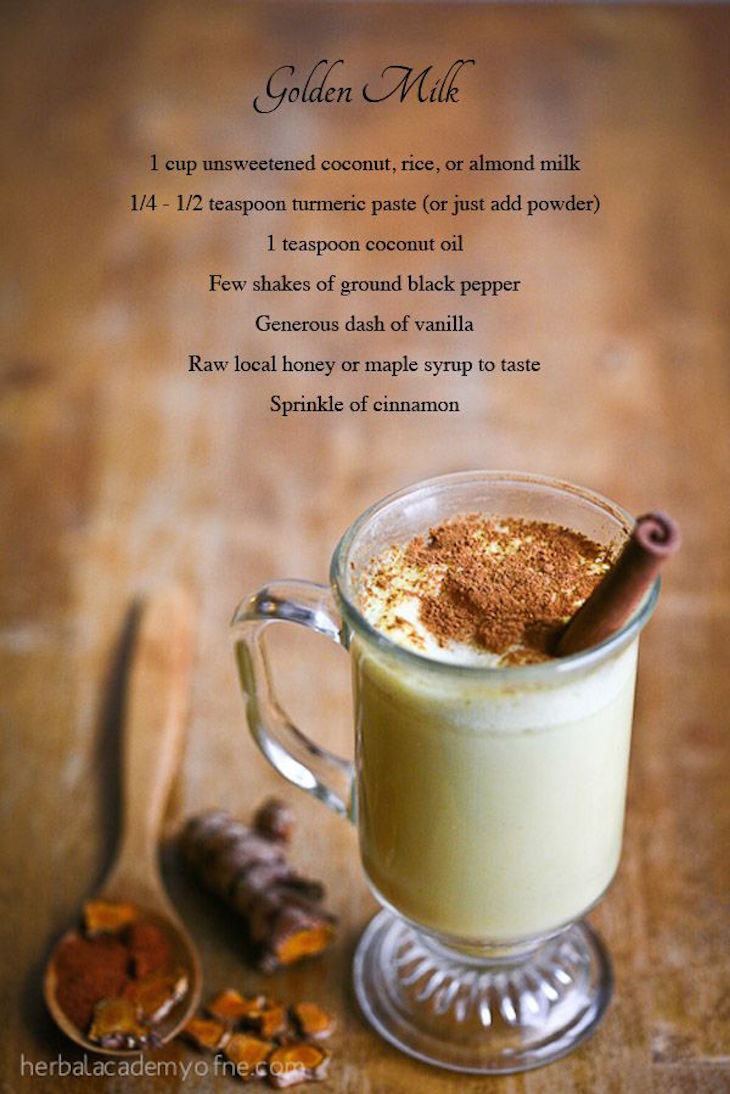 Recipe via herbalacademyofne.com
Golden Milk is an ancient Ayurvedic recipe. Today many people have problems (bloating, heart-burn) when consuming milk. According to Ayurveda, the way one prepares milk has everything to do with how our bodies react. Spiced milk with honey is proven to improve joint pain, muscle stiffness and boost the immune system.
6. Home Made Chai Masala Tea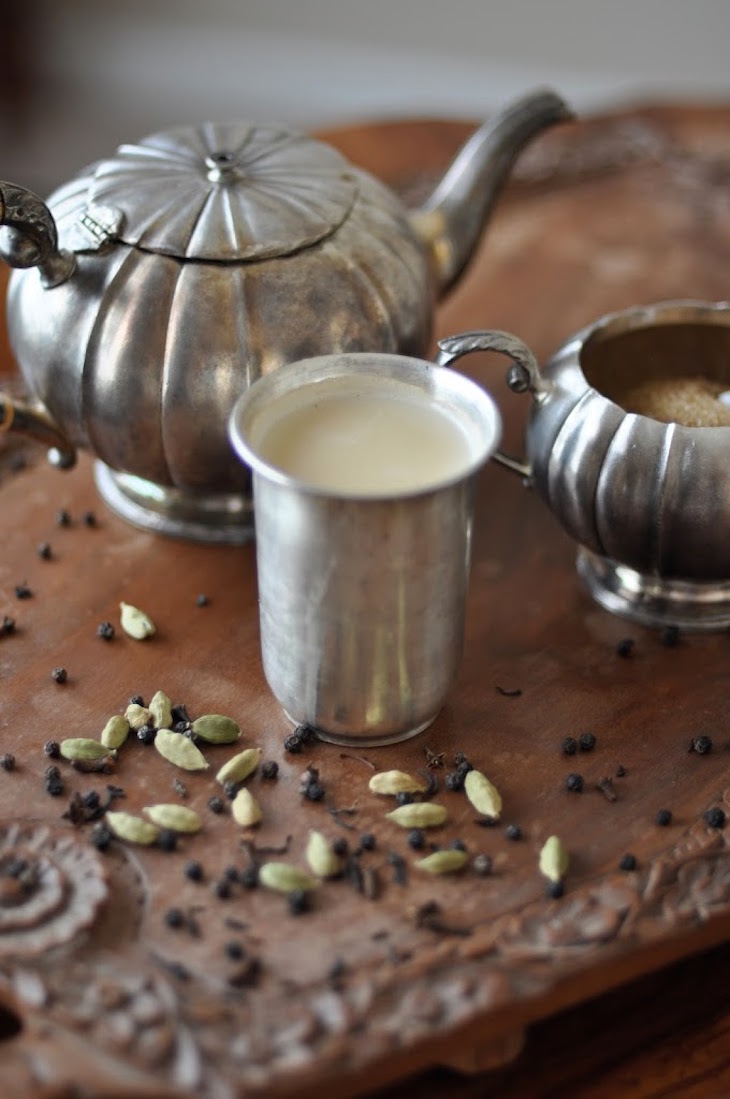 Recipe via cupofjo.com
Homemade Chai Masala Tea prepared without sugar (unlike the ready-made powder form) is one of the healthiest drinks. You just have to boil the fresh spices with milk and pour the boiling milk over good quality black tea leaves. Cinnamon stabilizes blood sugar, reducing weight gain; cloves have anti-inflammatory and antiseptic benefits, and cardamom boosts circulation. Fennel, anise, ginger, and nutmeg has great benefits for digestion.
7. Turmeric Ginger Tea Tonic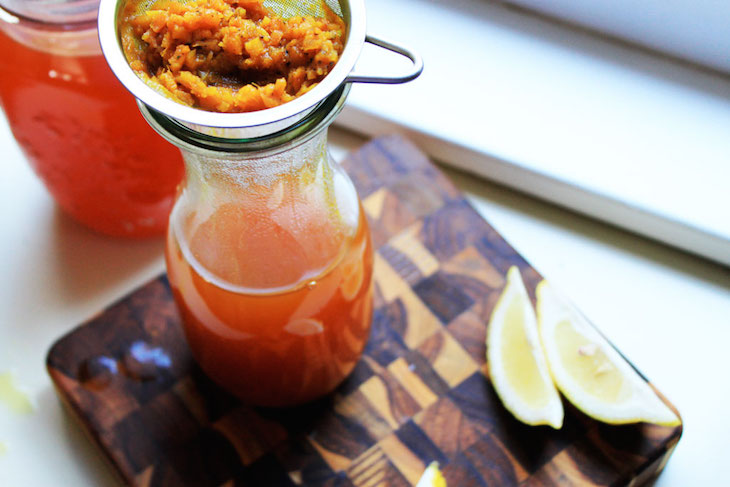 Recipe via blainearin.com
This is a very light tea that is great to wake up your digestion with. It has amazing spices that have plenty of health benefits. Turmeric has anti-inflammatory effects; lemon cleanses the digestive system, ginger is great for circulation and metabolism. Add lemon and honey and sip it away all day long.
8. Mango Lassi
Recipe via www.pineappleandcoconut.com
Lassi is a typical Indian drink made with different fruits and fermented yogurt. It has healthy bacteria and probiotics that are two key contributors to weight loss. You only need to blend Greek yogurt, frozen mango chunks, and honey together, and you can enjoy this refreshing, healthy morning drink.
9. Ayurveda Detox Tea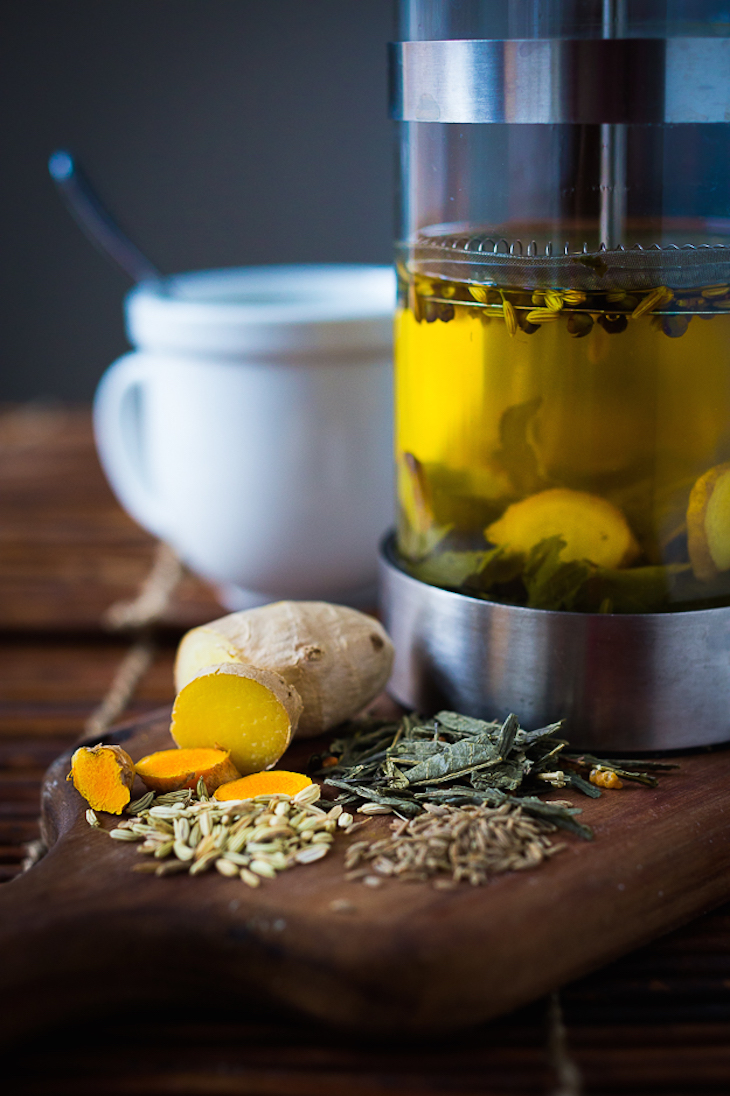 Recipe via www.feastingathome.com
This tea is a perfect drink to include in your detox program. It boosts your metabolism, cleansing the whole body. It has all the wonder spices such as turmeric, ginger, coriander, fennel, and lemon to increase digestion and help keep it running efficiently.
10. Warm Lemon Water with Turmeric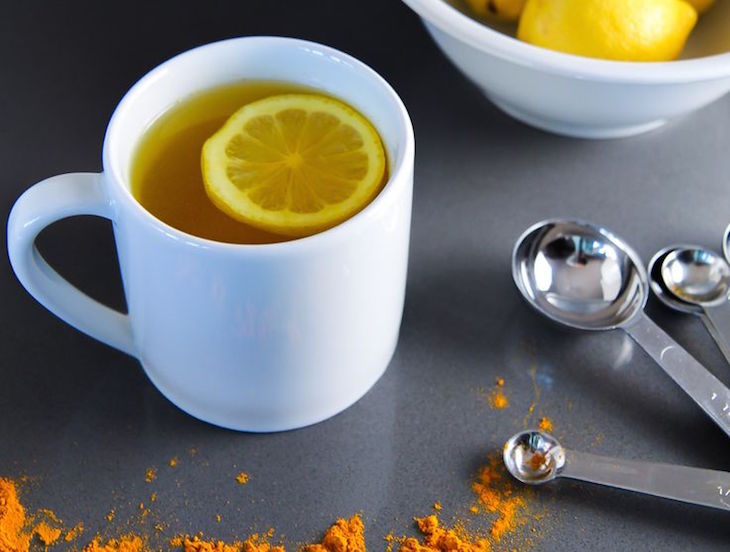 Recipe via lajollamom.com
Ayurveda recommends always start the day with a cup of warm lemon water. It has so many benefits for your body. It cleanses the system and helps to get rid of toxins, boosts the immune system, balances pH levels, and also aids weight loss by fighting hunger cravings. Try this recipe, drink it for a week every day and feel the difference!