One of the ways that you can engage your creativity is the DIY projects. They can be pretty just as much as a store-bought craft, but unlike them, what you do at home can be way cheaper! Besides that, the feeling you get after you do something completely on your own is amazing!
In this article, we present you ten ideas on how to decorate a phone case, making it so unique, just the way you want it. There is something from everything – below, you will find the good old washi tape doing its magic again, or the watercolors making your phone case a little piece of art, or even the nail polish to help you make the cutest polka dots.
So, check them out, get inspired, and start decorating your phone case!
1. Holographic Duck Tape Phone Case
Using holographic duck tape is a perfect way to decorate because it's easy, simple, budget-friendly, and if you feel like you're getting bored, you can always remove the sticks! So, all you have to do is pick a holographic duck tape with desired pattern or color, cut few sticks, and stick them on your phone case. You can do it as pictured, or you can play more with the shapes or the position.
2. Marble Phone Case
Marbled phone case? Yes, please! All you need is a white phone case, nail polish, and an old or disposable bowl/container. Fill the bowl with water and add a drop of nail polish to it. Use a skewer the swirl the color through the water and dip the phone case. If you've got places on the phone case that have more nail polish than preferred or you simply messed it up, use nail polish remover. Pat dry with a paper towel, and if you want to add more colors, just repeat the procedure. When it's all dry, spray with a clear coat.
3. Custom Phone Case
via bacontastesnice.blogspot.com
Isn't it amazing how few cute stickers can do all the change? So, for this phone case decoration, all you need is an ordinary phone case and stickers. Flowers, stars, planets, robots, whatever you like, just stick them onto the phone case, and that's it. It's a cheap way to decorate, and if you're bored, just buy new stickers or try even another thing. Want to buy stickers online? Check out StickerYou.
4. Candy Phone Case
via violettinder.com
Apparently, candy means more than just eating. If you're wondering how you can decorate your phone case with colorful candy, read below. You need a clear phone case, Mod Podge, Liquid Shellac, two paintbrushes, candy, and newspaper (to serve you as a surface to work on). Spread a layer of Mod Podge on the phone case and quickly add the sprinkles and the candy. Let it dry for a minimum of 30 minutes, and after that, spread another layer, thick and smooth. Dry for another hour, and then carefully add the shellac. Add one or two coats of shellac if needed and let it dry overnight.
5. Watercolor Phone Case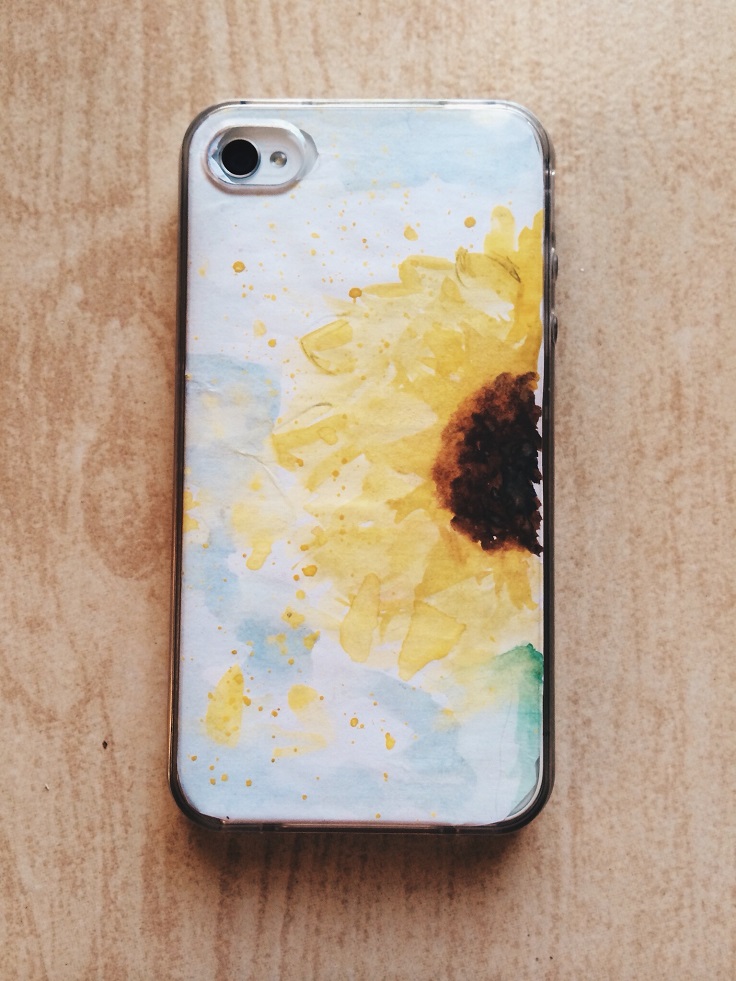 via samthingtodo.wordpress.com
If you feel like you're in the mood for some painting, this phone case decoration is a great example of where to put your flow of creativity. On a piece of paper, trace the outline of the phone and paint your design. It could be a tree, or flower, or whatever that comes to your mind, and if you're not good at this, try searching the Internet and find a picture you can download. Cut the traced outline and place the painted picture in the phone case. Don't also forget to trace and cut the camera hole on the picture!
6. Love – Inspired Phone Case
via popsiclesandpinatas.wordpress.com
It doesn't have to be Valentine's Day to do something love-inspired. For example, decorating your phone case to show some love is a good way! Make sure you have a phone case, white paint, gold sharpie, heart-shaped cookie cutter, and a pouncer. First, paint the case white and after it's dried well, trace the case with the cookie cutter. And make a small gap. You can skip this or make an arrow as the picture. When you're done drawing, spread a coat of gold glitter, let it dry, and you're done.
7. Confetti Dot Phone Case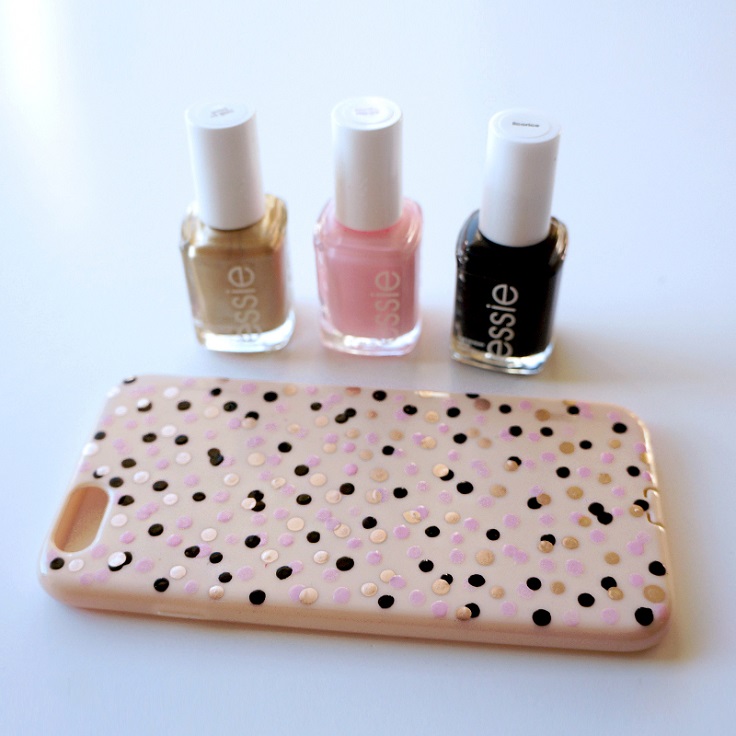 via blog.lulus.com
Nail polish can make even our phone cases pretty and not just the nails! For this project, you need a beige or champagne-colored phone case, pastel pink, black, and metallic gold nail polish, pointed Q – tips, scissors, disposable trays, and triple thick glaze, but this is optional. Cut the tip off the q – tips for creating a flat surface at the ends, placing a dime-sized nail polish in the disposable tray, dip the q – tip, and making dots on the case. Let it dry and repeat the same with the other colors. In the end, if you want to, you can spray a thin layer of triple thick glaze and let it dry.
8. Floral Tattoo Phone Case
via fallfordiy.com
This is one of the few phone case decorations that will take you literally just minutes to make it. For this lovely, floral case you need a clear phone case, temporary floral tattoos, and Mod Podge. Apply the tattoos on the case the same you would on your skin and add a layer of Mod Podge because it will help you have the tattoos longer – it protects them from everyday use that can damage the color of the tattoo itself.
9. Washi Tape Phone Case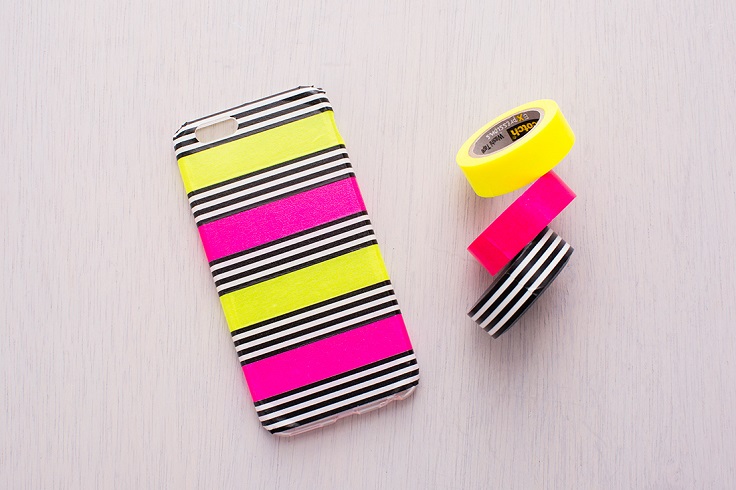 via brit.co
Yes, washi tape can be the perfect way to decorate a phone case! Before you start your DIY phone case adventure, make sure you have a clear phone case, washi tape in any pattern or color you like, X – acto knife, and cutting mat. Start from the bottom and cover the case with washi tape from the outside. Trim the edges with the knife or fold in. Use the X- acto knife again to slice through the camera hole.
10. Printable Phone Cases
via lovelyindeed.com
If you are feeling lazy to draw, paint, glue, or even buy, here's the solution for you: printable phone case decorations. They are pretty, free, and done; all you have to do is just print them. You will find one of the pictures and a few other cute printables on the link below the picture. Just use scissors or X – acto knife to trim the printable edges and cut off space for the camera hole. Voila!