If you have problems with your digestion, one of the best things you can consume is plain old yogurt. These fermented plant-based products contain useful bacteria (starter culture) that help restore the intestine flora and it is an excellent source of protein, fats, carbohydrates, and minerals. What if you are lactose intolerant or have chosen to become vegan? Do you have to stop using this nutritious and delicious drink? We've got you covered. The vegan yogurt can be made from all milk varieties, like almond milk, soy milk, coconut milk, and alike. Vegan yogurts are commercially available, but if you truly want to know what you're drinking, make some organic, homemade vegan yogurts. Here are our top 10!
Vegan Almond Milk Yogurt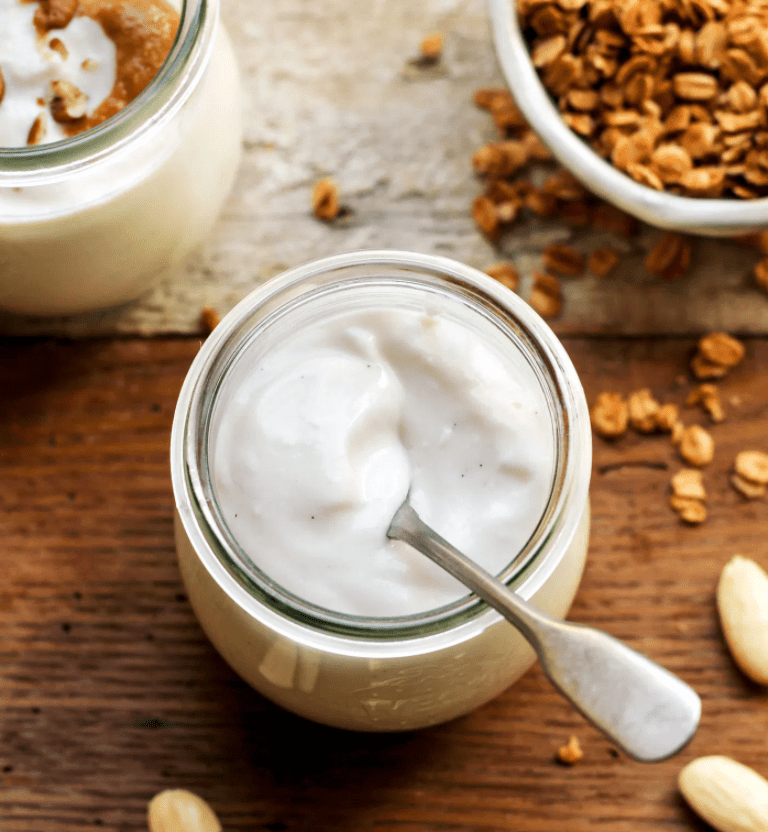 Recipe via fullofplants.com
The probiotics in the yogurt help boost our immune system and improve our digestion. This vegan yogurt recipe is made 100% from almonds thus is gluten-free, dairy-free, sugar-free, soy-free. The almond yogurt is quite light, therefore feel free to have it over your favorite granola, in smoothies, fruits or enjoy the almond flavor in a jar. Super healthy and something light that can be enjoyed any time of the day.
Homemade Coconut Milk Yogurt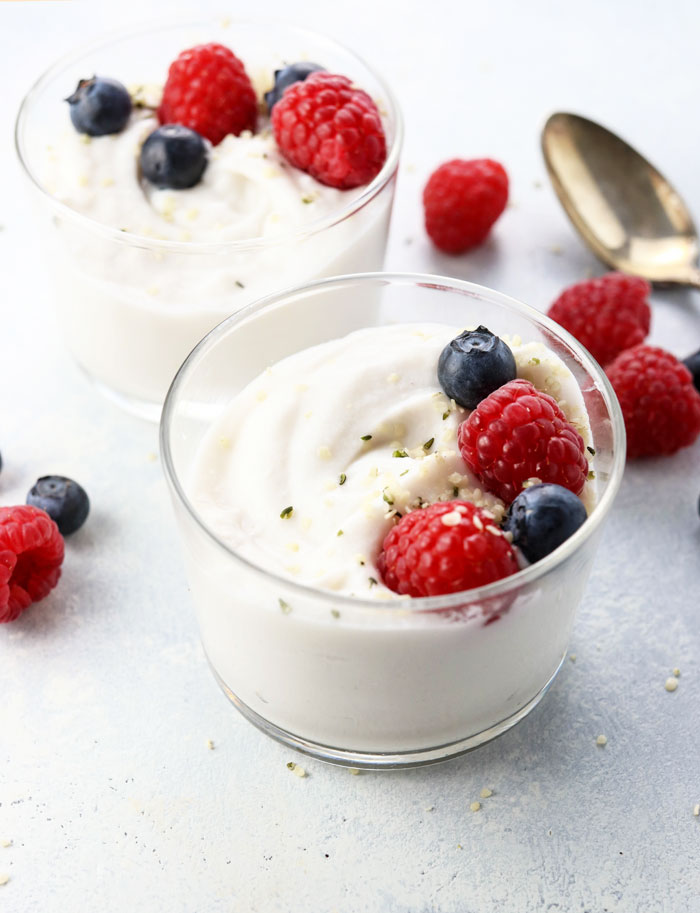 Recipe via detoxinista.com
This coconut yogurt can be made from canned milk, organic vegan coconut milk, or if you want to go fully DIY, make homemade coconut milk. To thicken the yogurt this recipe uses tapioca starch and agar-agar flakes. Boiling the milk in the Instant Pot (it will still be in a liquid form), once cooled, store it in the refrigerator and you will get a perfect Greek Yogurt style. For those seeking more flavor, vanilla extract or bean, or maple syrup can be added in the process. Another way is to add little honey, or agave syrup, or sprinkle coconut sugar on top before consuming it.
Vegan Soya Yogurt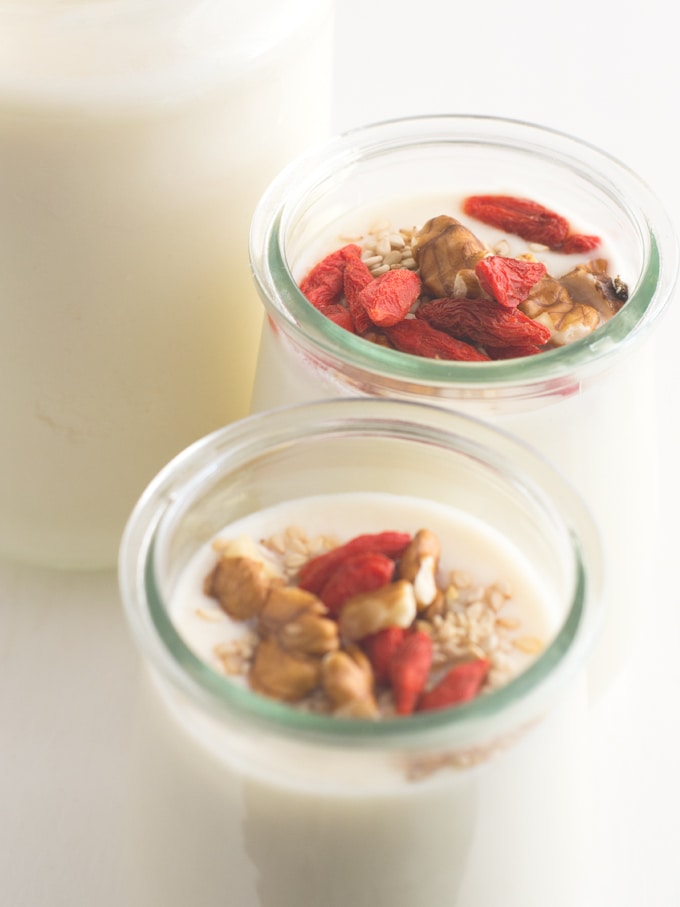 Recipe via simpleveganblog.com
If you are a soya lover do try this easy vegan yogurt made of two ingredients. Cheap, simple, and delicious. All you will need is soya milk and a starter to thicken and get that yogurt consistency. If you don't have any equipment, you can preheat your oven for a few minutes, then turn it off. Place your yogurt pots inside the oven and leave them for about 8 hours. There you go, enjoy it with fruits, nuts, or seeds.
Plant-Based Vanilla Protein Yogurt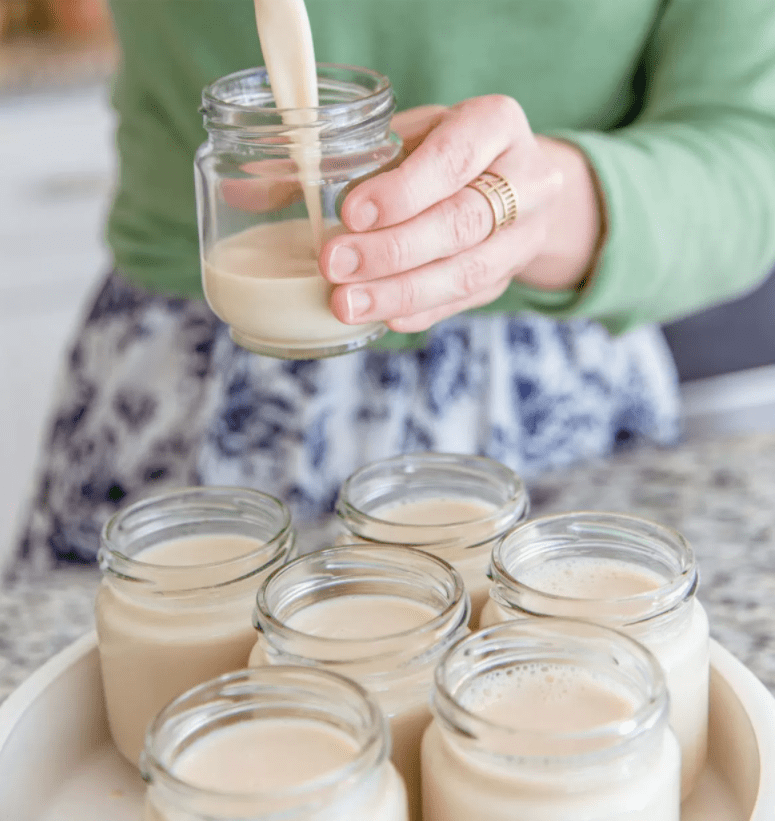 Recipe via cultured.guru
The vegan vanilla yogurts at the market tend to have a good amount of cane sugar. This recipe doesn't have a probiotic capsule in the process of making it in order to thicken the yogurt but uses agar-agar which is a vegan type of seaweed, combined with plant-based milk. Using a vegan protein powder (vanilla, pea, etc.) to boost the flavor of your yogurt, and adding a few drops of vanilla extract will enhance the flavor profile even more.
Tofu – Cashew Butter Yogurt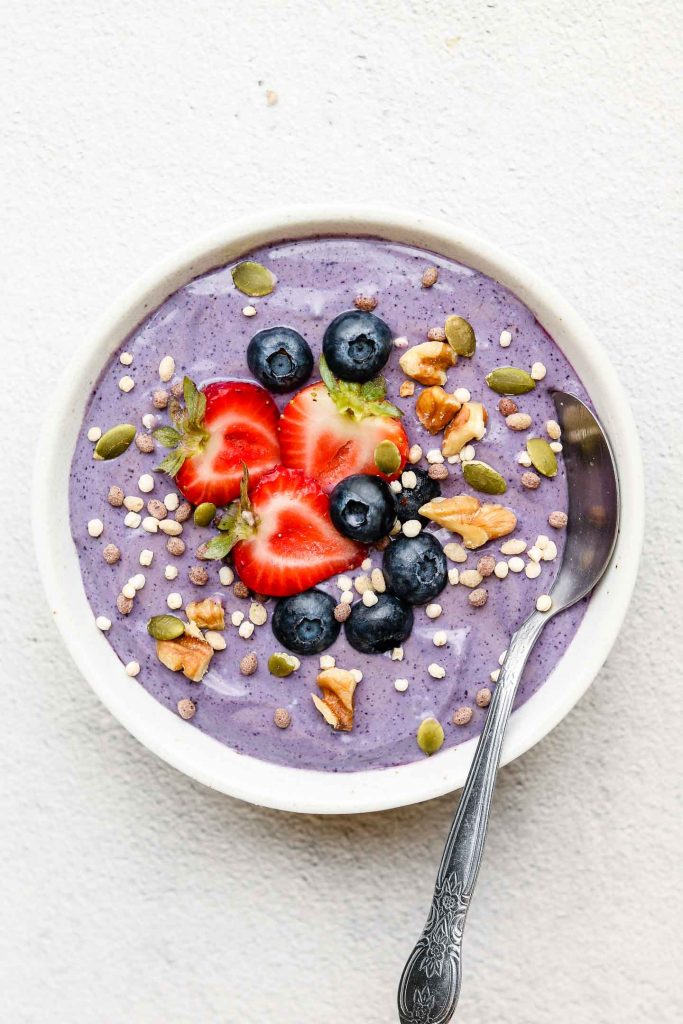 Recipe via okonomikitchen.com
This is a simple 3 ingredients homemade yogurt: tofu, lemon juice, and frozen fruit. However, if you wish to make it thicker, creamier, and more yogurty, add tofu block (soft or medium firm), and cashew butter. Now if you want to sweeten it you can by adding dates, maple syrup, or vanilla extract. Consume it on its own as it's already tasty and full of flavors. Perfect breakfast bowl.
Greek Style Paleo Vegan Yogurt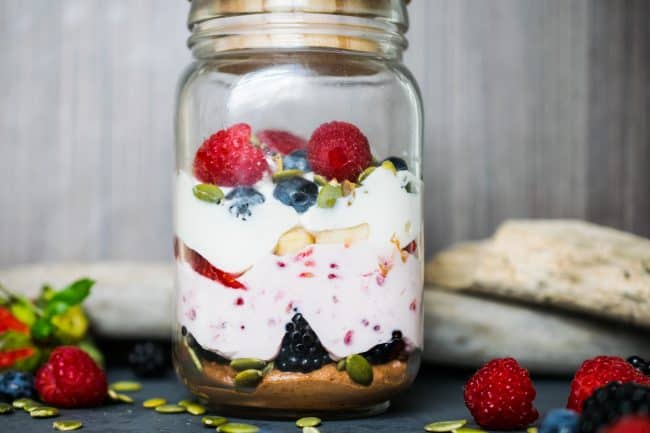 Recipe via thecastawaykitchen.com
Nowadays every Greek yogurt producer followed the trend and launched vegan or dairy-free yogurt versions. Dairy is the leading source of saturated fat; if you are vegan, lactose intolerant, or reducing on dairy products, try this yogurt recipe out. Enjoy it as a breakfast bowl, snack between meals, or as a dessert topped with fresh fruits of your choice.
Dairy-Free Mango Coconut Yogurt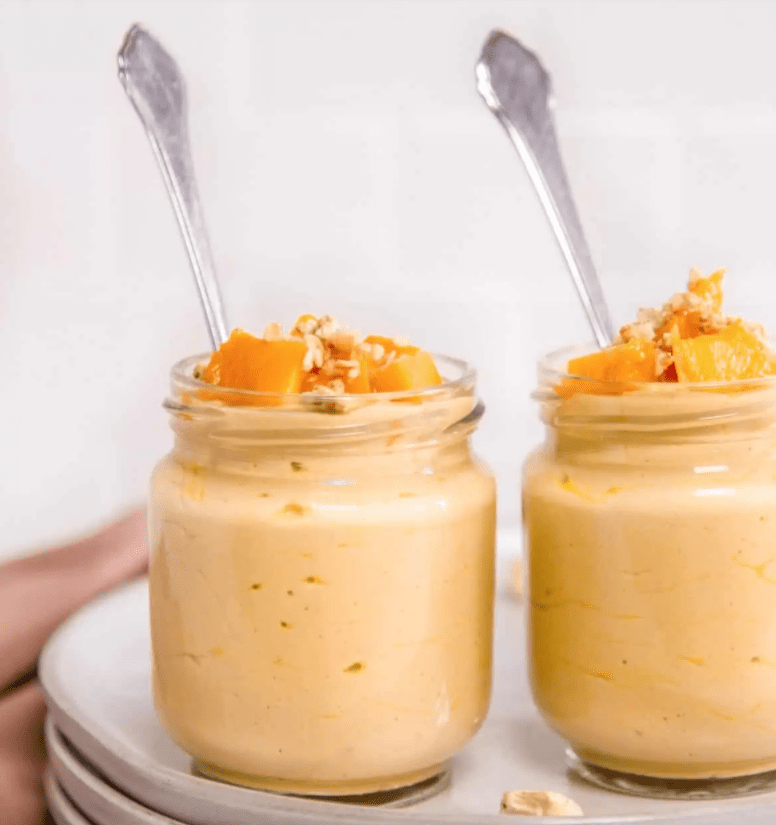 Recipe via cultured.guru
This recipe is a flavored variation of the normal plant-based yogurts. It's fun and easy to make it in your own home. Combine the cashews, coconut cream, lemon juice, fresh or frozen mango, and maple syrup into your blender at high speed. Once cooled, add your culture and incubate in a jar for 12hrs at room temperature. Soak your cashews the night before or in hot water for about 30minutes before starting creating your own vegan yogurt.
Oatgurt Vegan Yogurt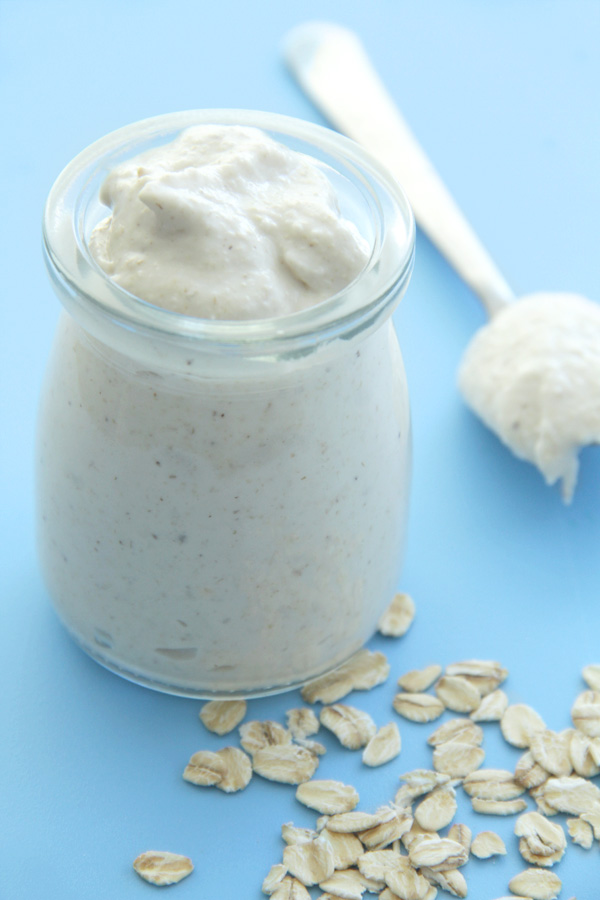 Recipe via activevegetarian.com
Rich and creamy treat with two ingredients only. Oats and coconut blended together, pretty simple, cost-effective, with many health benefits. Both water and the meat of the coconuts are enhancing overall health. Do not forget to soak the oats overnight to allow the starches to break down to improve digestibility and creaminess in this yogurt. Delicious light breakfast for a good start to the day!
Healthy Vegan Cashew Yogurt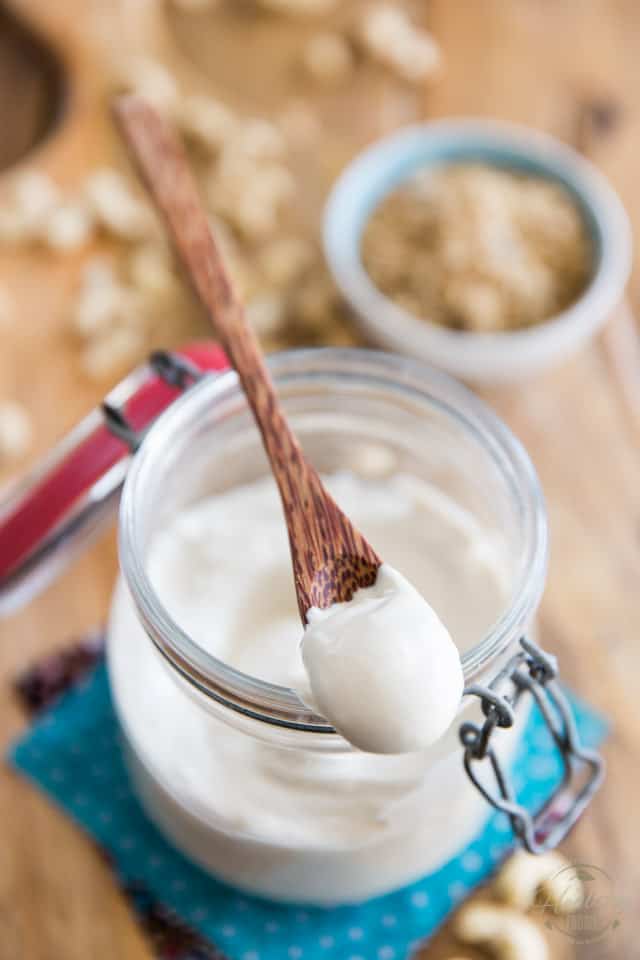 Recipe via thehealthyfoodie.com
Nuts are often chosen in the vegan diet, or for those who are trying to reduce dairy products. This cashew yogurt is tasty, creamy, yet simple to be made. To achieve creaminess soak the raw cashews overnight, before blending them into yogurt. Enjoy it with granola, as a dip with crudites, or simply with fresh fruits.
Probiotic Coconut Cream Yogurt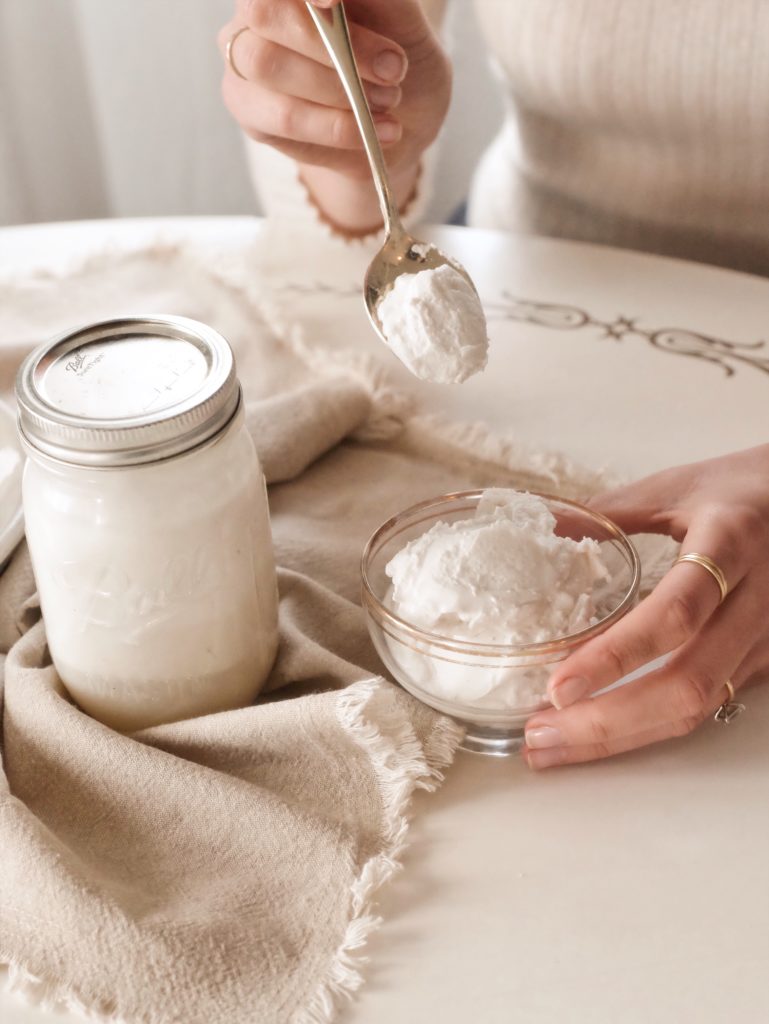 Recipe via thetruespoon.com
Coconut milk and cream two products made from the Cocos plant. Both are made from coconut meat but the difference is the cream is thicker. Both are sources of weight loss and could improve your cholesterol levels. This yogurt recipe uses cream combined with probiotic culture. This process of fermentation boosts nutrients such as vitamin B12, folic acid, and biotin (for shiny hair and glowing skin).