If you're looking for new ways to decorate your home this holiday season, we have some great ideas for you. Even if you're all set with decorations this year, one more festive addition will bring in even more joy and cheer.
Candles are great all year long, but they are especially used in the wintertime. People light candles to relax after a long, hard day at work, use them during yoga or meditation, put them in the bathroom while having a soothing bubble bath or light them to simply add a beautiful aroma to a room. That's why it's safe to say that you can never have too many candles and candle holders. Beautiful lighting is key to a lovely home and candles are a great way to set the mood. Place them in a centerpiece arrangement on the dinner table or put smaller candles on the coffee table in your living room.
These ideas for Christmas candles and candle holders will make fantastic DIY projects for the weekend. They are simple and easy to make and they cost only a few dollars. Here are our 10 favorite ideas to get your motivation flowing and to put you in the holiday spirit.
Snowball Votive Candle Holders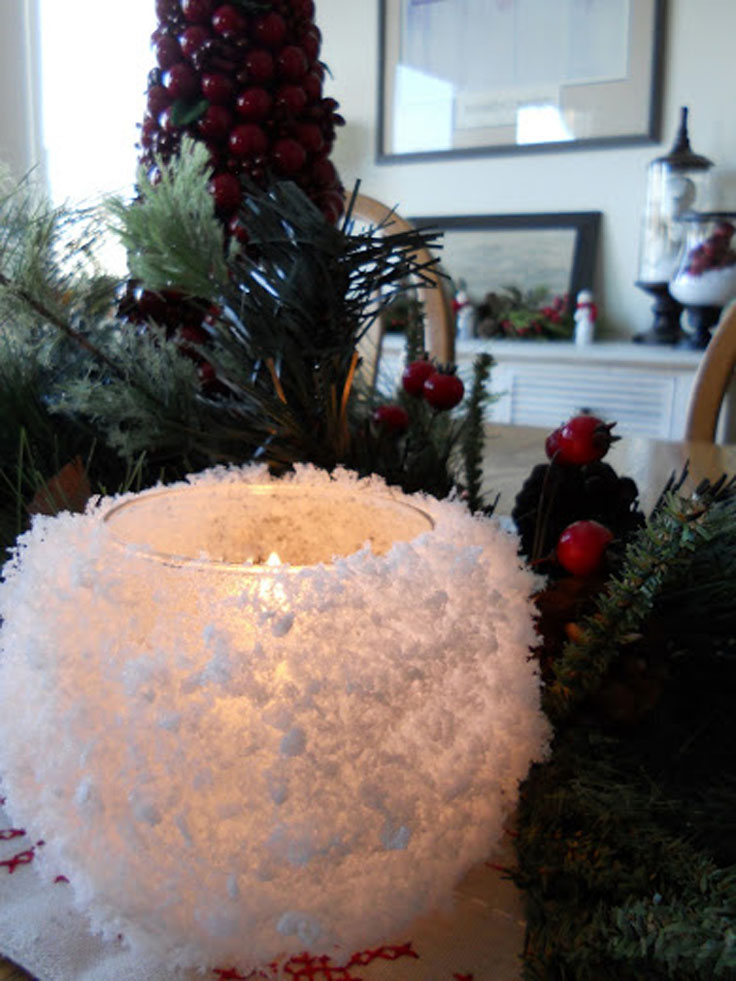 Starting off with a great project that's perfect not only for Christmas but also for all winter long. A little snowball that will hold your candle and add a cozy feel to your home. You can make it for yourself or you can make a couple and give them as gifts to your friends. We're sure they'll love it!
Epsom Salt Candle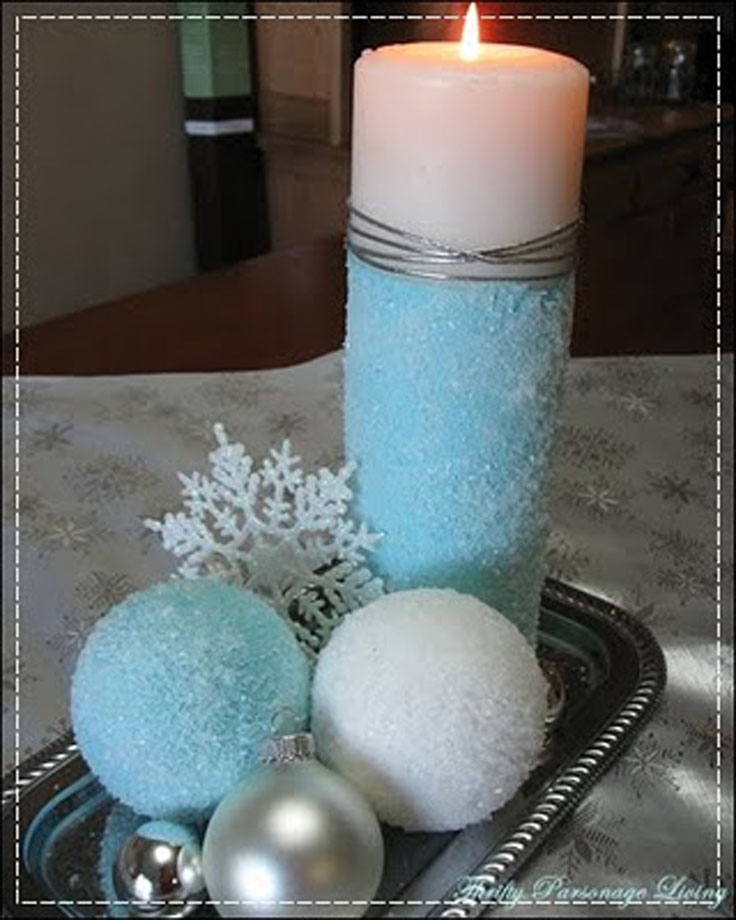 Blue, white and silver are the perfect colors for the winter. This elegant candle will be the perfect addition to your Christmas decorations. The Epsom salt looks like little, shiny snowflakes. Combine the candle with handmade ornaments for a complete Christmas decoration.
Glitter Candles with Double Stick Tape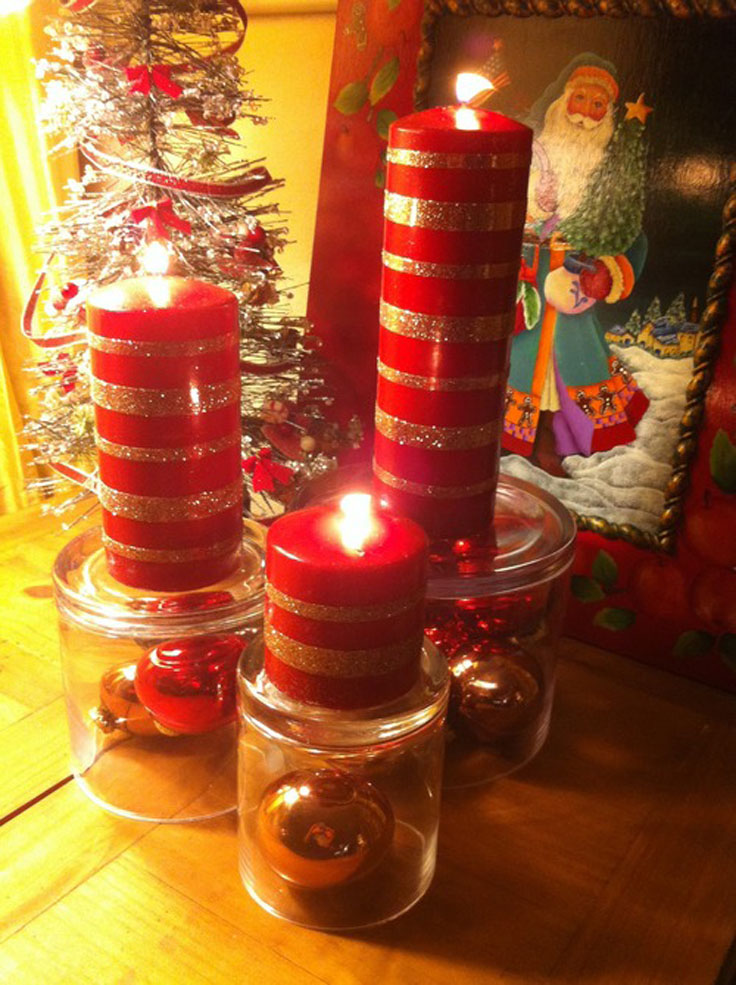 If you have semi-used candles with different heights and you're not sure how to combine them together, this project is for you. You'll only need double-stick tape, glitter and a brush. Gold glitter will give the candles a real holiday look. Place them on glasses with ornaments in them and enjoy!
Candy Cane Candlestick Holder
Nothing says "Christmas" more than candy canes! Candy canes have always been a Christmas tradition that everyone likes. You can use them in any kind of craft or DIY project. In this case, you can make a candle holder out of them in just a few minutes.
Candle Wine Glass Centerpiece
Do you have old, wine glasses from different sets and you don't know what to do with them? Put them to good use by making this quick project. You don't have to buy anything extra, just bring out some wine glasses, small ornaments and placemats and make a beautiful centerpiece Christmas arrangement.
Floating Cranberry Evergreen Mason Jar Candle
Attention all mason jar lovers! You'll immediately fall in love with this quick and easy decoration, perfect for the holidays. Greenery, cranberries, pine cones, rose petals – anything red and green that reminds you of Christmas, all put in a jar with a candle on top. It makes a fresh, nature-inspired decoration for your home.
Cypress Leaves Candle Votives
Cypress leaves definitely feel like Christmas and this glass candle holder with cypress leaves dyed white is perfect for long, winter nights. You can place it at the center of your dinner table or in front of every guest. They can even take them home, as a thank-you present from you.
Christmas Glitter Candle Holder
Glitter has always been associated with Christmas. Add it to anything and it will instantly get that festive, holiday look. Gold and silver are a great color combination. Adding a reindeer, a snowflake or anything Christmas-related will make the candle holders even more beautiful.
Pine Cone Candle Holders
At this point, we think we made it clear that you can make candle holders out of pretty much anything, even pine cones and we think it's a brilliant and cost-efficient idea. Dyed in any color, pine cones make perfect candle holders and you can place them in any room you want.
Cinnamon Stick Candle Gift
A feast for all senses- that's how we would call this candle. Wrapped in cinnamon sticks around it and decorated with a beautiful, lace ribbon and other winter accessories, this candle makes the perfect Christmas gift for your loved ones.
That's it for this article. Be sure to get inspired and choose some of the ideas to make for yourself or your loved ones.
Enjoy the holidays!