Face it, your closet is full of clothes that you may wear occasionally and the ones that you don't wear at all. There is a way to give your favorite worn-out T-shirts a second chance.
You don't need to be an Haute Couture designer to redesign your shirts and make them look like you've just bought them out of the department store. With a little bit of will, creative spirit, and these tutorials your shirts will be refashioned in a blink of an eye.
You can be questionless that everyone will be dying to know where you've purchased all those fancy shirts!
Ruffle T-Shirt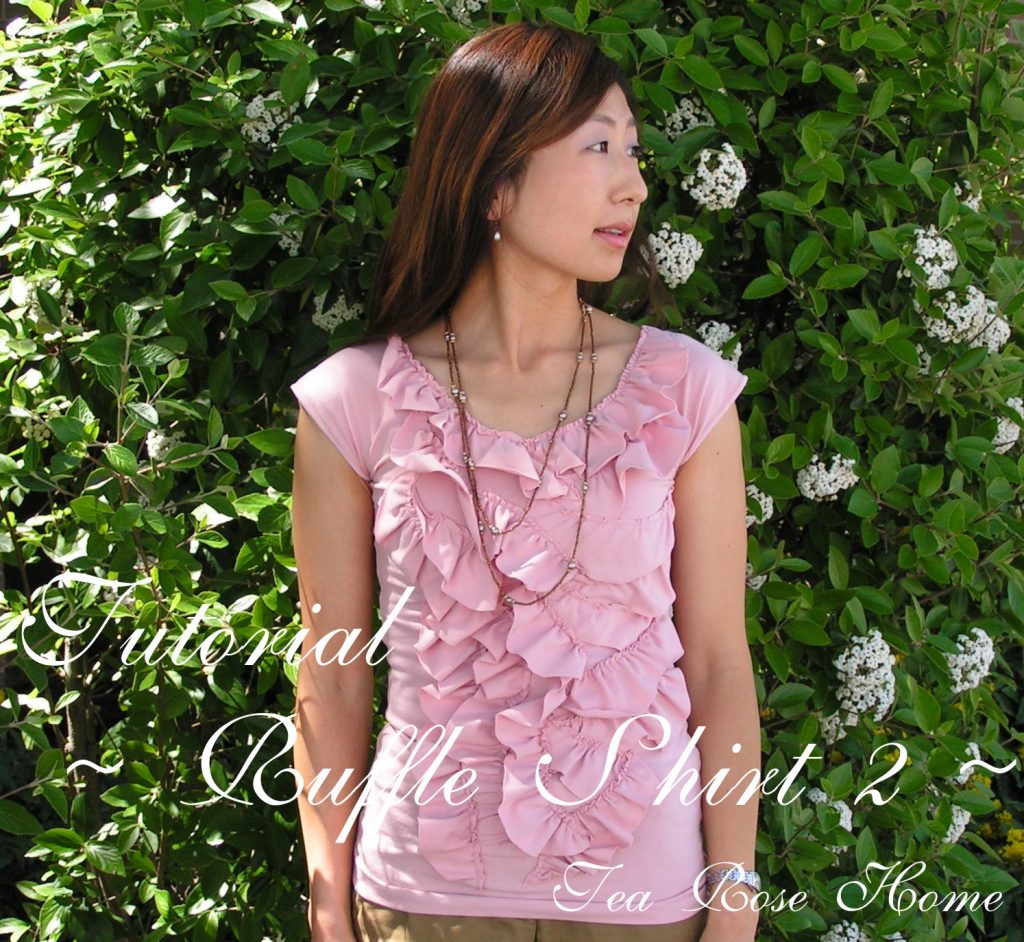 DIY Tutorial via tearosehome.blogspot.com
A very popular DIY indeed and one that people came back for over and over again! It is all about taking a plain top that has lost its appeal and no longer in the top position in the wardrobe. But sort of last. And never used apart from the cleaning shored perhaps around the house, alone! It is reasonably simple to create and will honestly give you so much more satisfaction wearing it. A total transformation and t-shirt makeover so to speak. Try it out with any t-shirts you might own that deserve a new lease of life.
Hip Cinched T-Shirt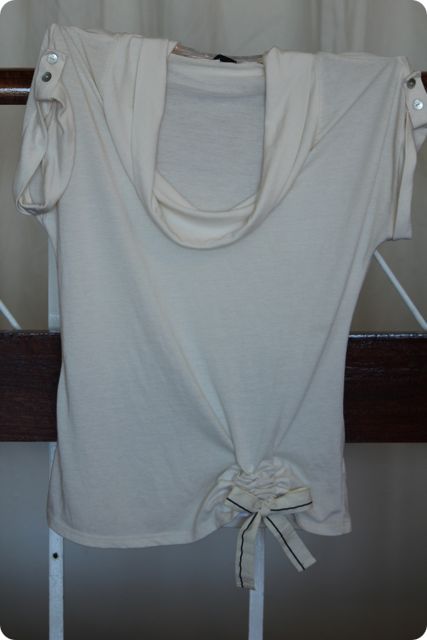 DIY Tutorial via recycledlovelies.com
As long as you have a little spare fabric somewhere, and a sewing machine, then do try this at home! You would be amazed at what a little something at the bottom of a t-shirt will do, totally transforming the look of your t-shirt without much work at all. You can try this on pretty much any t-shirt but preferably one that is uni-colored not to mess up too much the overall look of it. Any color will do just perfectly and will be one of the cutest things ever.
Fringe Top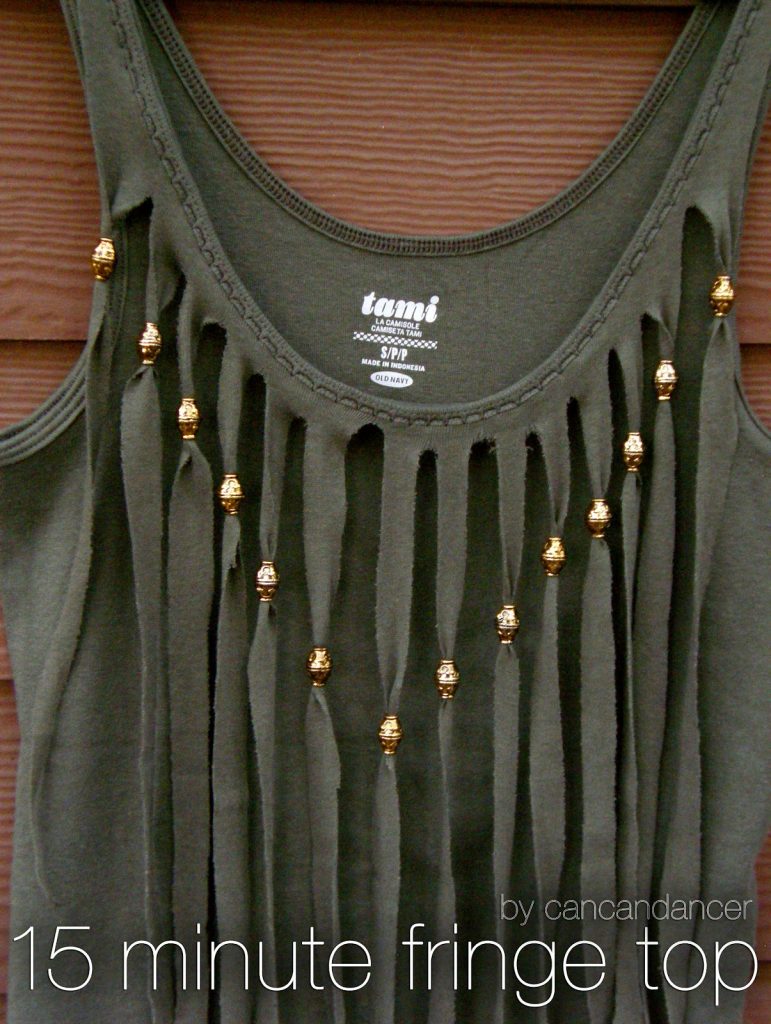 DIY Tutorial via cancandancer.blogspot.com
We do love this little number here. It looks incredible and what can be done at home is so surprising. You won't actually believe what you are made of until you try this at home! You'll need a coup[le of the same top, and cut one off basically! For under 10 dollars you can get a top worth 4-5 times the money and it looks great, especially if you are heading down the beach and you are wondering what to wear. Get as creative as you wish with this one, by choosing your own style beads. If gold isn't your thing, then by all means try any other colors you prefer and love. And all in roughly 15 minutes!
Criss Cross T-Shirt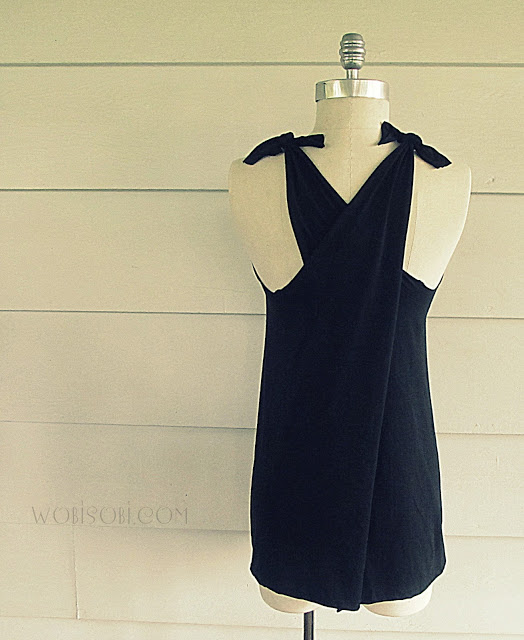 DIY Tutorial via wobisobi.blogspot.com
If you are not a fan of sewing then look no further! Yes, no sewing needed! This is a perfect DIY job if you are planning a trip to the seaside and wish to have something a little casual glam. Once again, this number is done in the color back but would also look great in brighter color if you brave it. Or in fact, with any motifs on it and not simply plain. Fashion is about being creative, isn't it? So, be the fashion and create your own. You will see followers soon!
Angel Wings T-Shirt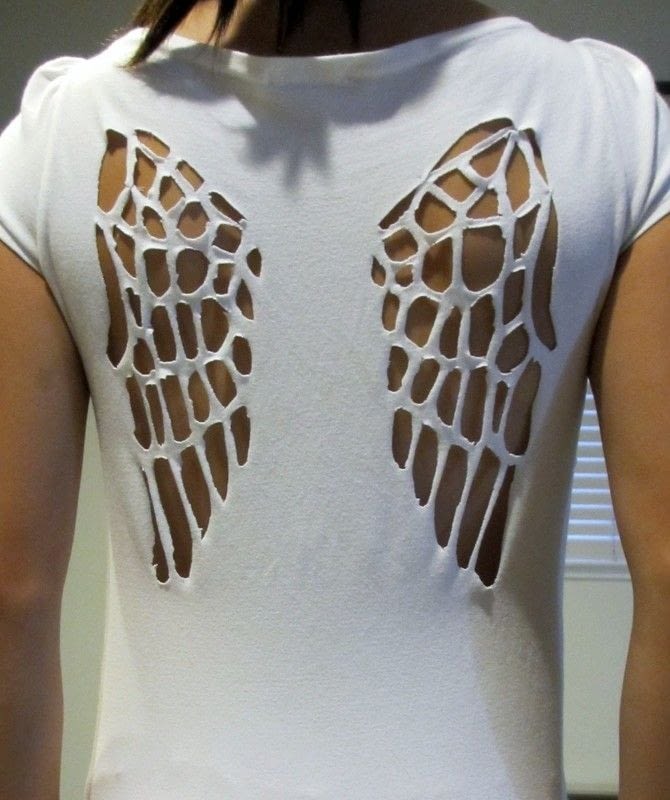 DIY Tutorial via cutoutandkeep.net
Now, this could not be any simpler if you tried to! You will need three things. A t-shirt, an angel wings template, and a pair of scissors. That really is it. If the angel wings ain't your thing then by all means use any other templates that may suit your personality better. The same principle will apply to the end result. This is a great way to make an overused t-shirt have a second go at life spruced back up for you to love it once again. You can do similar with all your t-shirts that aren't exactly reinventing fashion. Give it a try and have fun with this one. Beware not to start cutting everything fabric in your home after this!
Draped Heart With Bow T-Shirt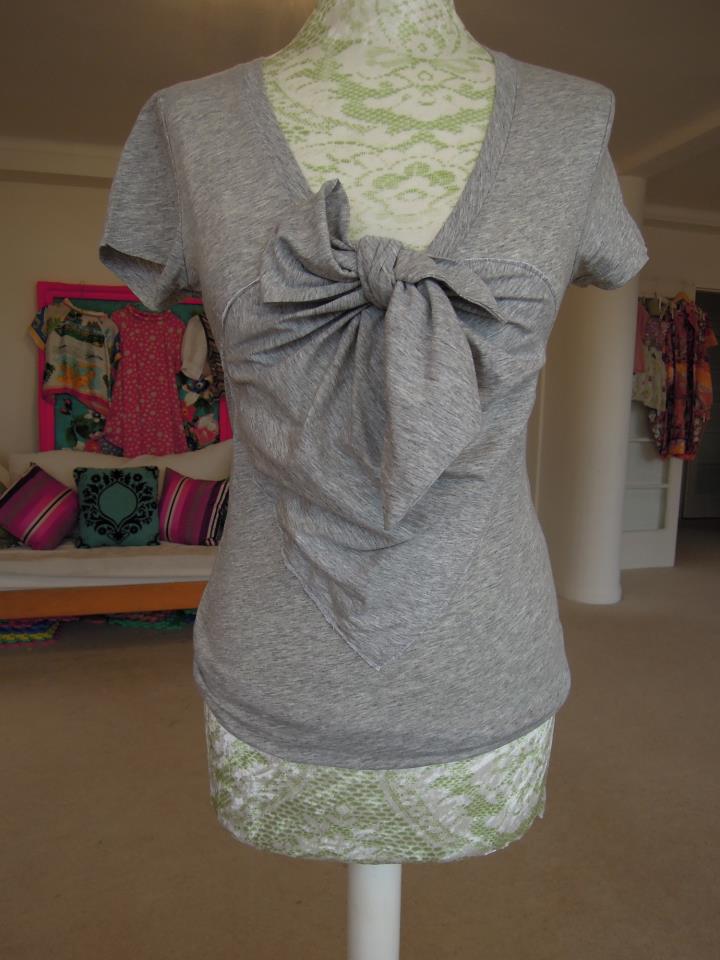 DIY Tutorial via refashionco-op.blogspot.com
For your forever never-ending lovers of anything romantic why not try this next one? A heart bows onto an old t-shirt. When we mean old we also mean one that the colors are still reasonably intact! Then again, you can get an old-school shabby look by having a dried-out t-shirt. Depends on what you are looking for really. This DIY is rather simple to achieve and won't demand too much from you. Just a little time aside from your everyday to-do lists. You can make as small or large of a bow you wish to wear that really will pop out and stand out from the norm.
Infinity Scarf Made Out Of T-Shirt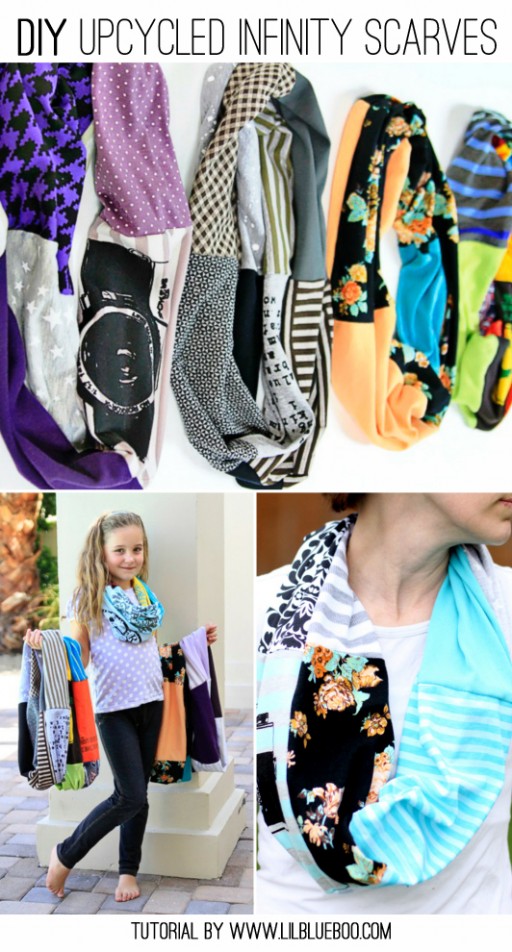 DIY Tutorial via lilblueboo.com
If you have a wardrobe full of unloved t-shirts from the 90s that you feel saddened to abandon, fear not, we have your emotions covered! It's always nice to look after our wardrobe a little while upcycling old t-shirts or large fabrics in general. Why throw away if you have the time to do something unique and save the pennies and, doing your bit for the planet as well. Sounds too good to be true but it isn't. Get creative with this one, and get a refreshed look for yourself for pretty much free of charge!
Rocker T-shirt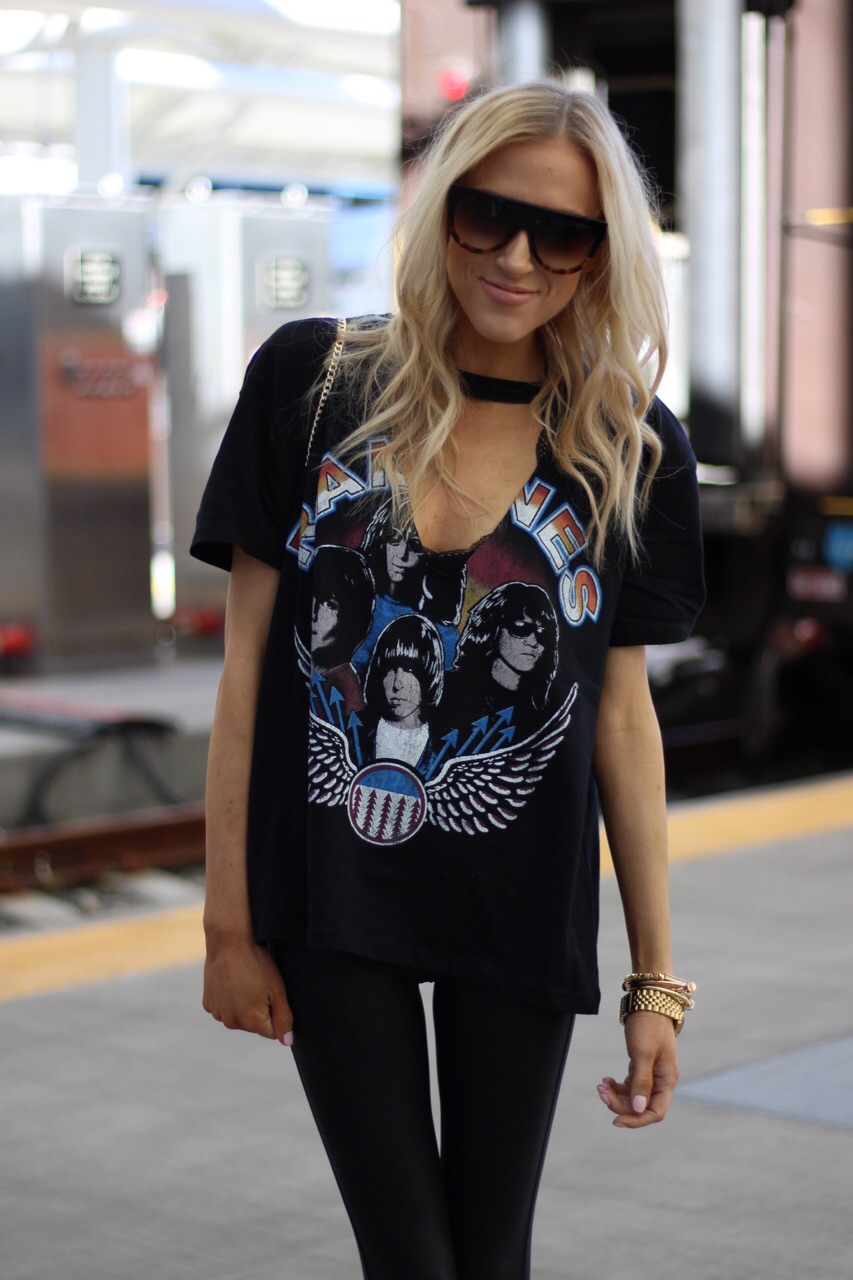 DIY Tutorial via sweetandsauer.com
Fancy yourself a bit of a secret rocker back in the days? Have you been to a concert and were an avid fan of this band, and bought yourself a t-shirt that nowadays looks a little, like well, you cannot be serious by wearing this anymore?! Fear not we have you covered! All you would need is a pair of scissors and you'll make this into a fashionable accessory back into fashion turning heads. We are certain that people will stop you occasionally to ask where you got it from! This is cool. So, get cutting, and wear your favorite band with pride once again. Rock it, girl!
Beaded Collar Necklace Shirt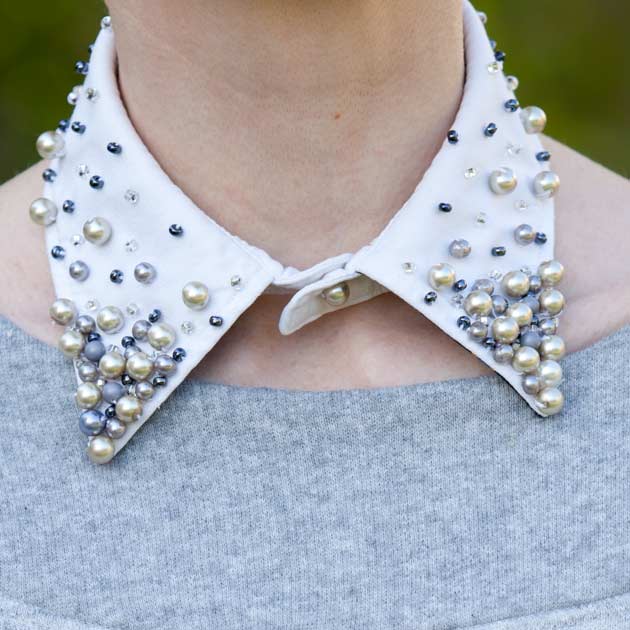 DIY Tutorial via trinketsinbloom.com
A little class in the world never killed anyone nor does it make one feel better than the other. Just means that there is a feel-good factor when you wear something with pride. And no other best way than to wear something with pride, that was made by your own hands, creativity, and imagination. The collar looks rather incredible and adds a fabulous touch to most tops you might choose to wear it with. Adding beads to an old shirt collar that you no longer need is a fantastic way to recycle something, without it looking upcycled in the first place!
T-Shirt Made Into A Skirt
DIY Tutorial via itsalwaysautumn.com
If saving money is on the mind, recycling is the only way forward for us. So, get looking under the drawers for perhaps something genius that may pop out that was hidden all along, or somewhere in the garage in those great big boxes which haven't been opened in a while, doing nothing apart from taking space! It is a great way to give a new life to a once loved top.