Macramé is a form of textile-making using knotting. Macramé is a type of fiber craft which basically means a pattern of decorative knotting. The skill dates back to the 13th century, when Arabic weavers knotted excess yarn on hand-woven fabrics into elaborate fringes.
Later, sailors helped spread the craft around the world, using rope to make hammocks and belts. Macrame is being re-invigorated with contemporary designs and new materials.
For the uninitiated, macrame's art lies somewhere between nautical knotting and knitting and can be used to make almost anything from lampshades and rugs to large wall hangings and, for the fearless, some pretty spectacular outfits. Since macramé is all about decorative adjustment of knots, you can learn how to make all knots and make your own style macramé hanging planter.
Take a look at our selection of top 10 fancy ideas for macramé hanging planter and get inspired. What do you think of the macramé trend? Would you decorate with newer mod interpretations, or do you think the look is still totally bohemian 70s?
1. Carousel Buttons Macrame Plant Hanger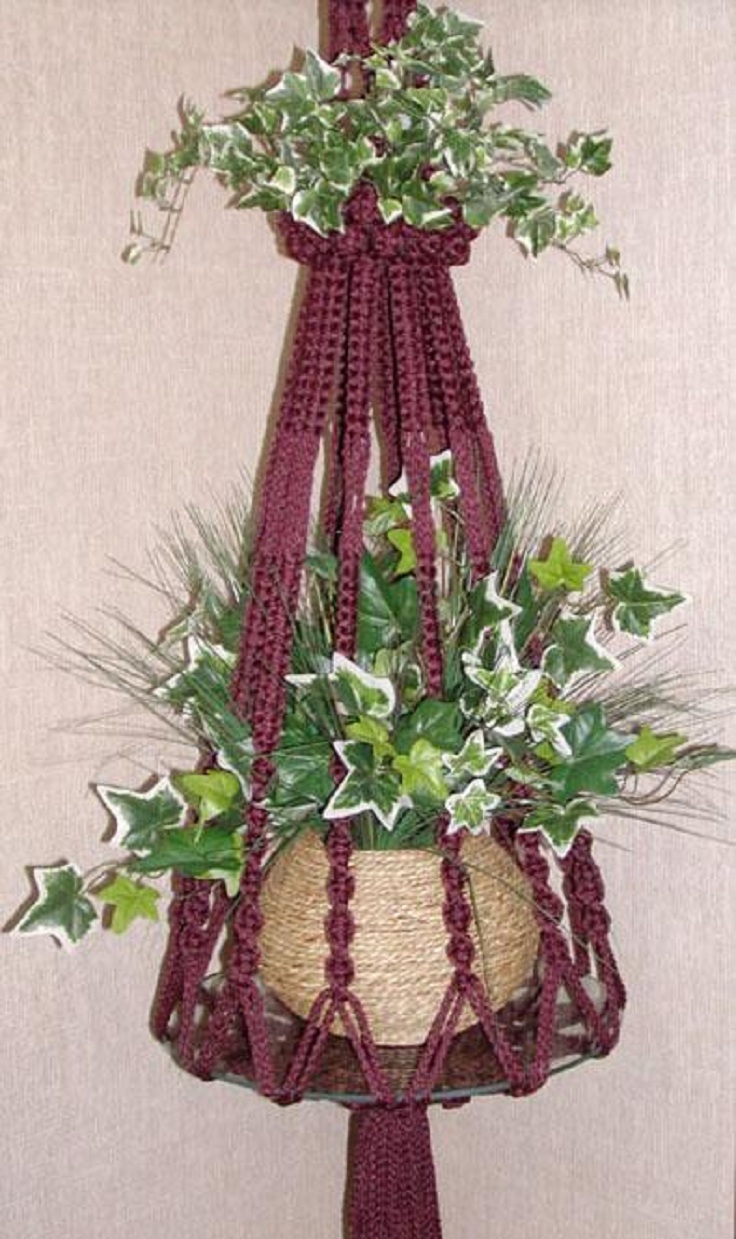 via craftsy.com
For making this beautiful macramé plant hanger, some knowledge of basic macramé knots is helpful but not critical. The inspiration for designing this pattern is the Square Knot Button.
2. Basketball Net Hanging Plant Macrame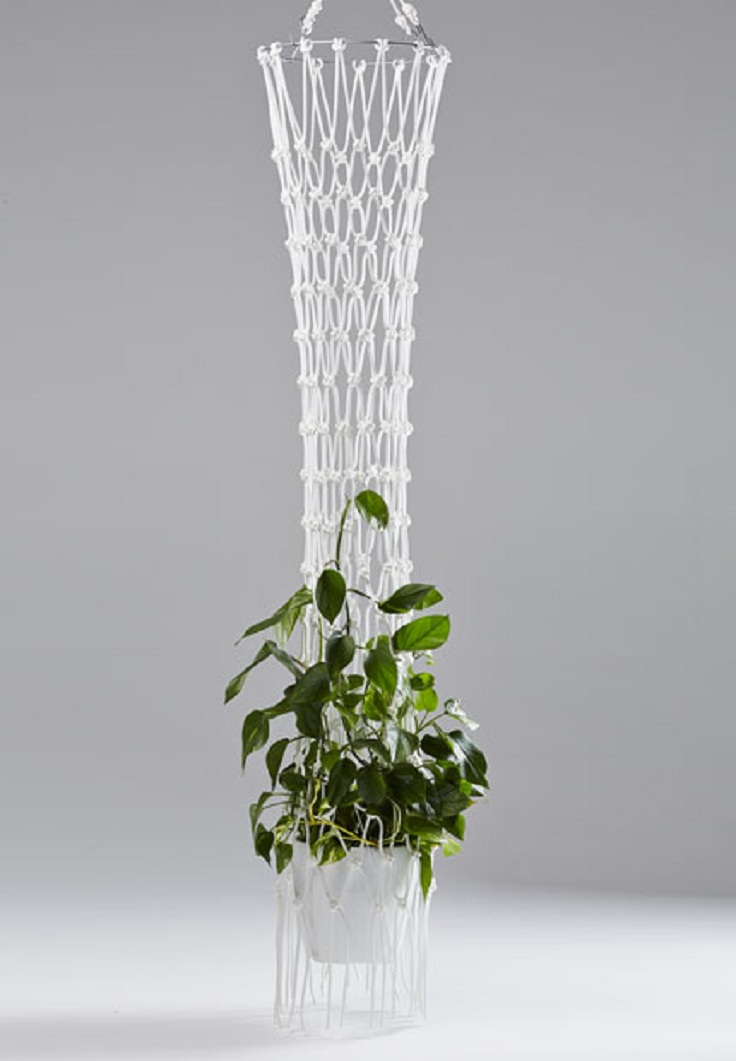 via smalltown.net.au
Here is one fancy macrame plant hanger design as a basketball net! It looks gorgeous, yet it is easy to make since it comprises only the simple basic knot.
3. Macrame Plant Hanger on Pole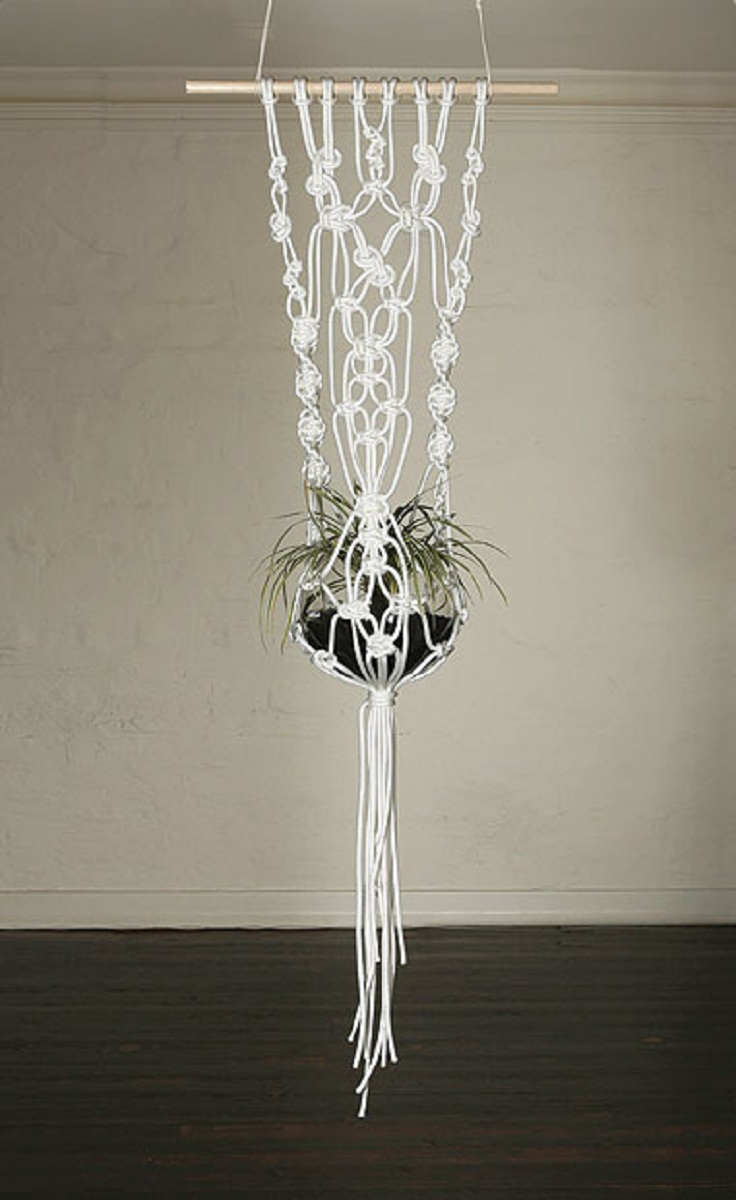 via macramelovers.com
You can see here one white macrame plant hanger displayed nicely. Rather than starting with a knot and the cords coming down from the knot's center, this plant hanger is suspended on a pole with a flat panel, which gives this gorgeous piece a very fresh look.
4. Colorful Macramé Plant Holder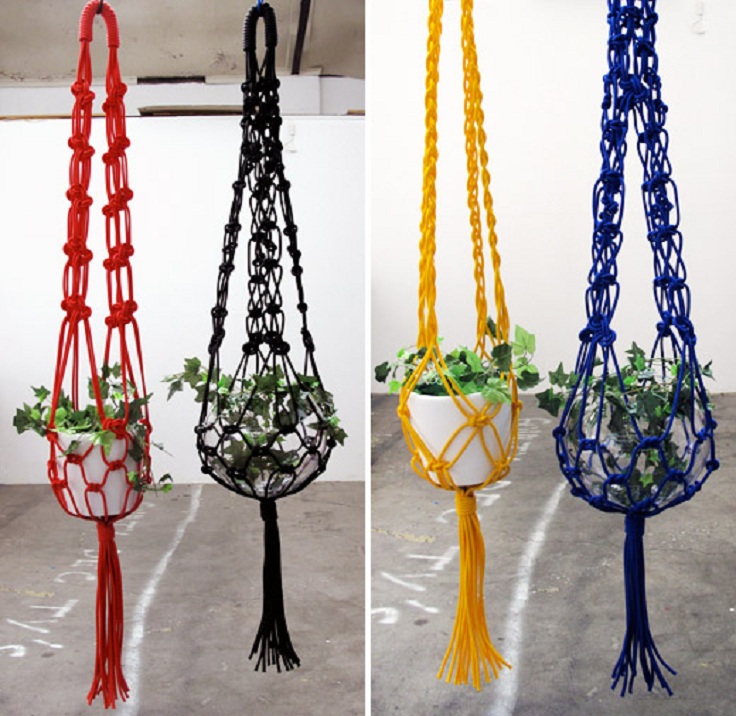 Colorful and fancy macrame hanging planter. Ideal for brightening up indoor spaces or prettifying the front porch. Impress your friends by making this hanging potted plant holder.
5. Sunflower Macramé Plant Hanger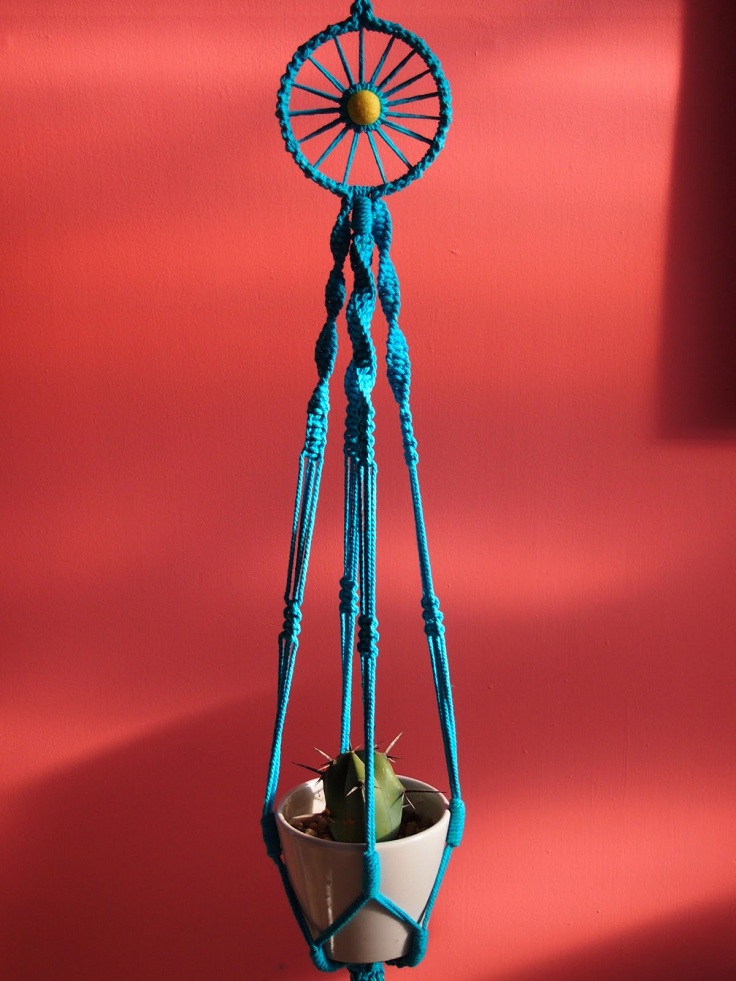 Take a look at this fabulous macramé plant hanger. This additional decoration that looks like a sunflower makes this macramé plant hanger even more stylish. It is very fancy, right?
6. Twisted Macrame Plant Hanger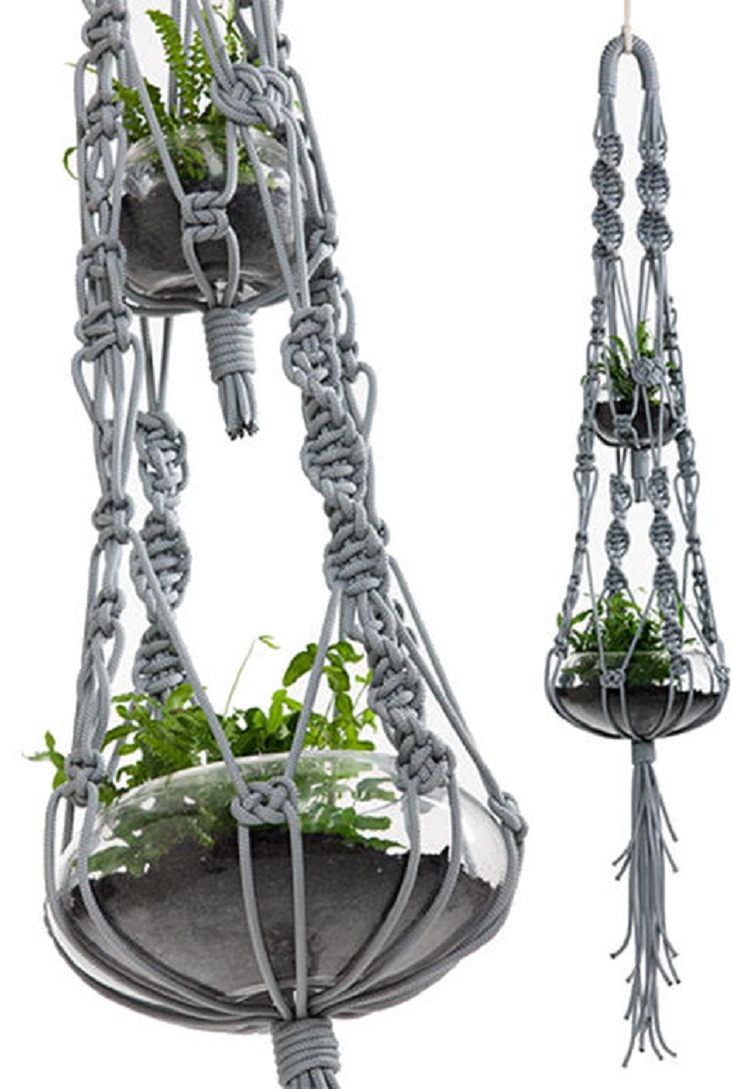 via designsponge.com
Wonderfully twisted macrame plant hanger with two-level pots. Interesting plant hanger but quite complicated. If you want to make this kind of macrame planter, you will need a lot of rope.
7. Warts Macrame Plant Hanger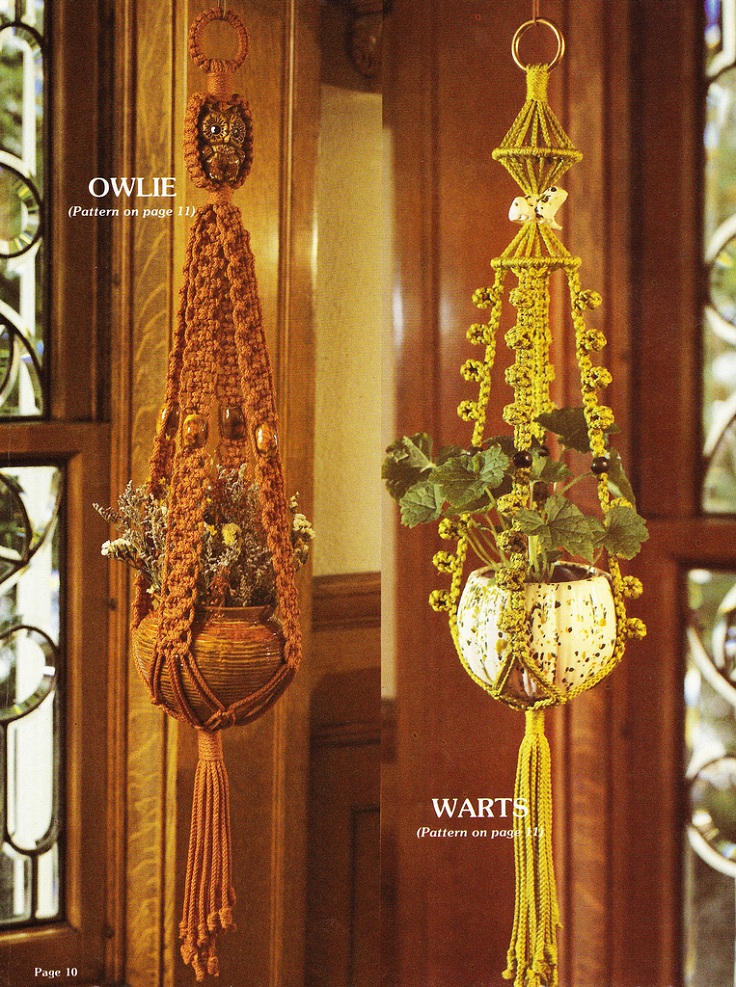 via zombieswearinghelmets.com
Here is another example of a fancy macrame plant hanger with many warts. It is made in great green color and, combined with a beautiful ceramic pot, seems to be simply exquisite.
8. Hand Harp Macrame Plant Hanger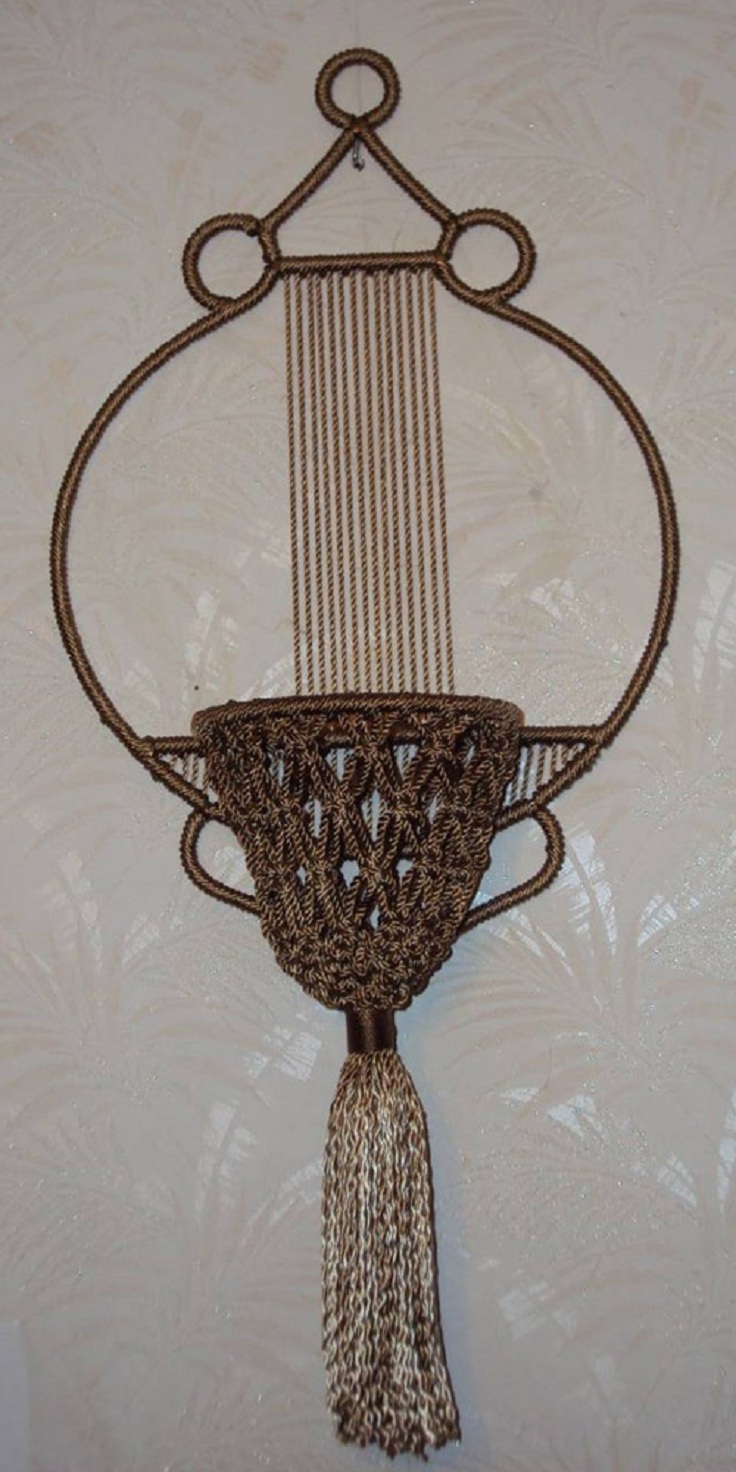 via makramexa.com
This macrame plant holder is designed in the shape of a hand harp. It is made from smooth and elegant thread. It is sophisticated and lovely!
9. Amore Mio Macrame Plant Hanger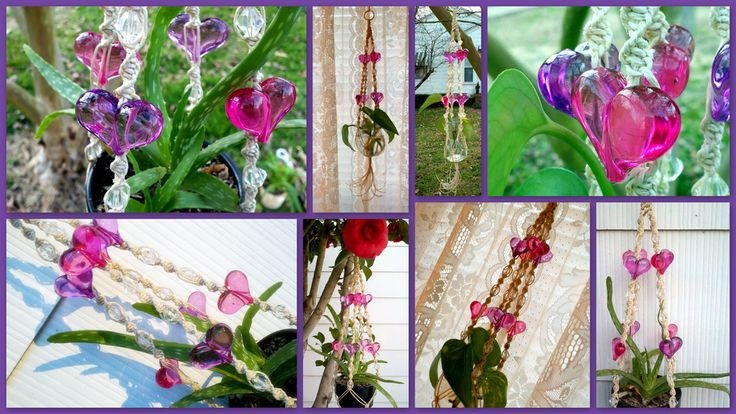 via macramaking.worldpress.com
Simply lovely! Swirly, twisting sinnets dotted with clear, faceted, translucent beads, and pink and purple hearts. A truly unique gift for St. Valentine's Day.
10. Ombre Macrame Plant Hanger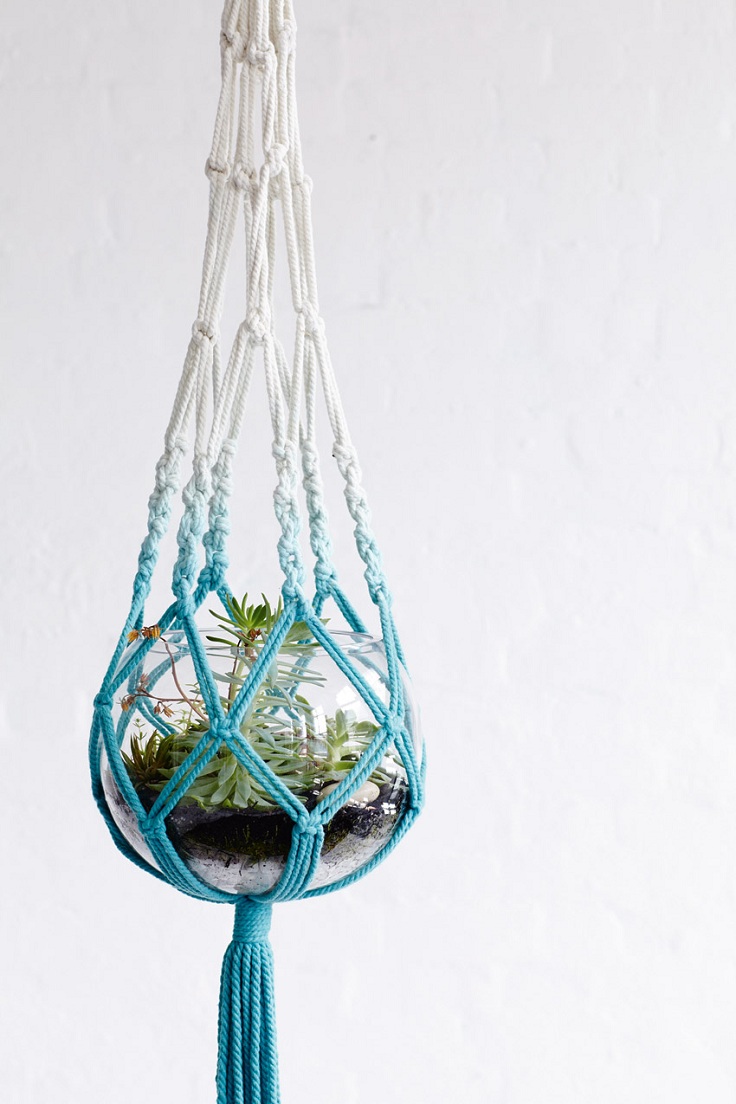 Ombre is the latest trend, then why not ombre macrame plant hanger? This hanging planter looks very stylish and chic, and this navy color reminds me of summer.