The art of the body – tattoo, has become so popular that almost everyone on the planet has at least one small tattoo, including some portrait, favorite quote, sign, name, numbers. We all get inspiration from our idols, favorite singers, actors/actress, writers, etc.
These are the coolest female celebrity tattoos, from Angelina Jolie and Megan Fox to Rihanna and Victoria Beckham.  Please find the latest celebrity tattoos in our article.
What do you think about their tattoos? Do you think they are cool, or maybe some of them are bizarre?
1. Angelina Jolie's Tattoos
via glamourmagazine.co.uk 
Angelina Jolie has over a dozen tattoos, although some of them started life looking a little different. The name of her second husband, Billy Bob Thornton, has been covered up with coordinates representing where her children were born. Despite her love life mishaps, the actress says her tattoos have the positive effect of forcing filmmakers to be more creative when plotting nude scenes that include her.
2. Rihanna's Tattoos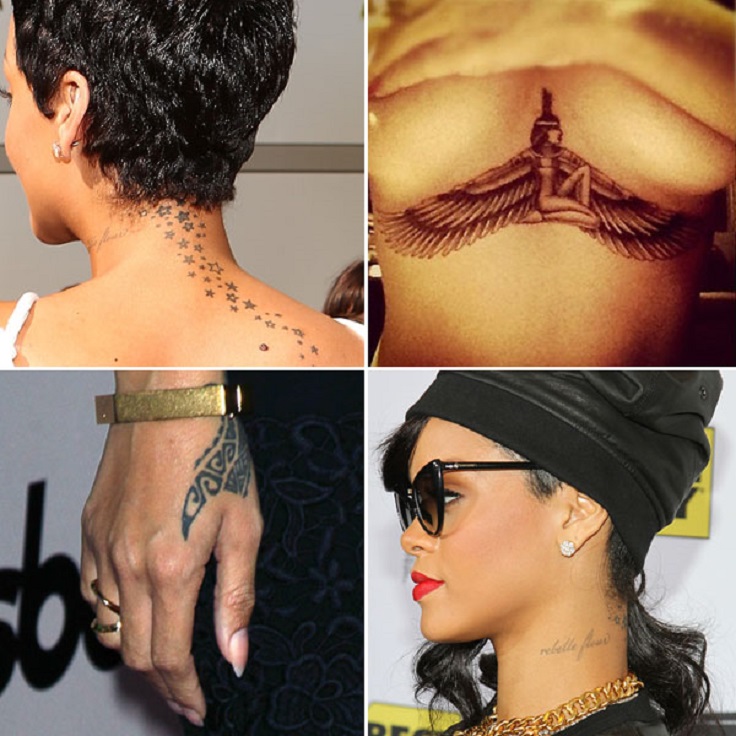 via wetpaint.com  
Rihanna has approximately 14 tattoos. The trail of stars on her back and her henna-style dragon claw on her hand were symbolic of her relationship with Chris Brown. He has the same ones. Since then, Rihanna has gotten even more inked up.
3. Christina Ricci's Tattoos
Christina Ricci has 8 tattoos. Ricci selected a colorful bouquet of Sweet Peas to adorn her lower back. Her most visible and largest tattoo is on her shoulder. It is Aslan from C.S. Lewis' The Chronicles of Narnia. Christina had a small bat tattooed near her belly button. It now appears that she had a pair of praying hands tattooed the bat. Christina is reported to have a tattoo that appears to bear the name "Jack" on her right thigh. She got it in honor of her late dog, Jack. She also has a tattoo on her left ankle of a mermaid. In August 2004, Christina got a new tattoo on her right breast. It is of a sparrow and is noticeable in the film "Black Snake Moan." There is another tattoo on her left rib cage. The words are "Move or Bleed."
4. Megan Fox's Tattoos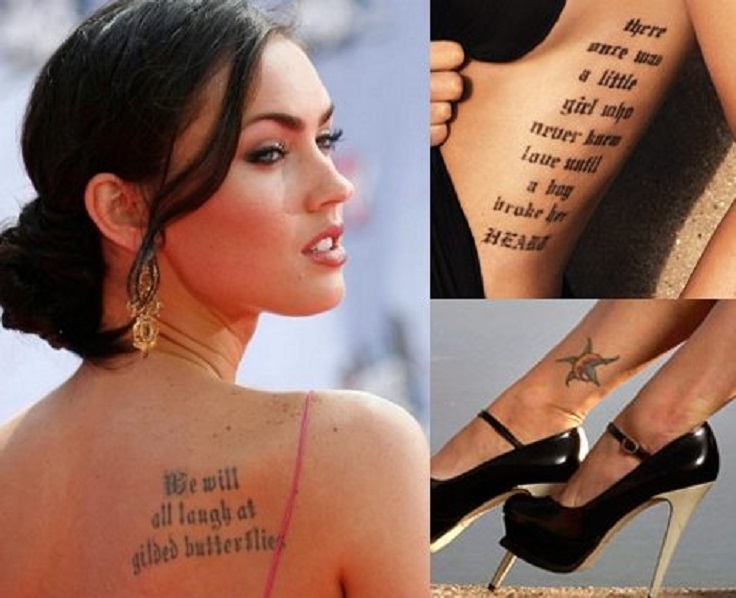 via styleslum.com 
Megan Fox has quite a passion for getting tattoos, all of which have symbolic meanings. Also, she's only had tattoo removal once. Her first and most notable tattoo (that she wrote herself) is her left rib cage. It is a poem that reads, "there once was a little girl who never knew love until a boy broke her heart."
5. Nicki Minaj's Tattoo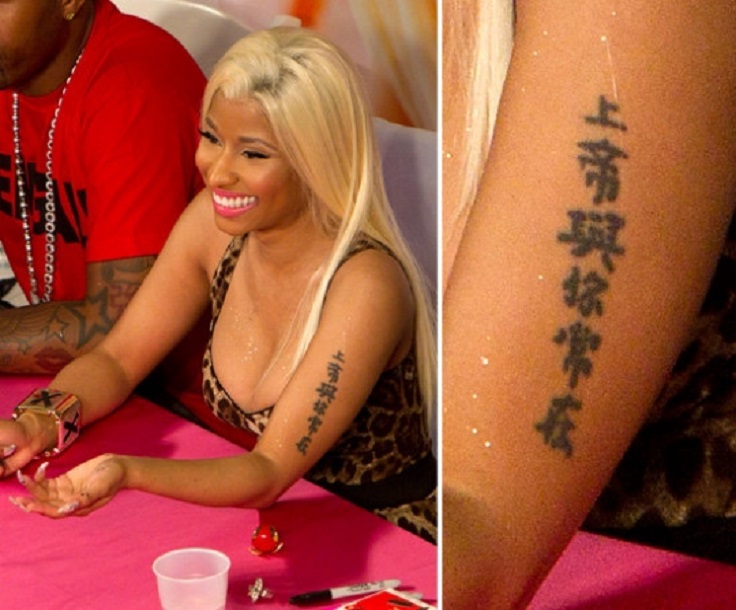 via styleslum.com 
Nicki Minaj only has one tattoo. It's on her left arm and written in Chinese calligraphy. The meaning behind it is, "God is always with me." She got this tattoo before she was famous because there were pictures of her when she lived in Queens.
6. Jessica Alba's Tattoos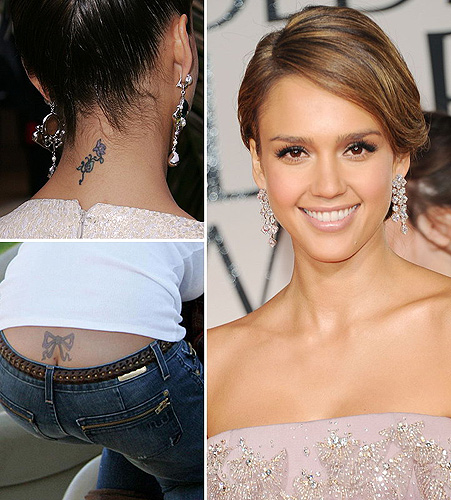 via styleslum.com 
Jessica Alba's three most notable tattoos are on the back of her neck, her wrist, and lower back. She's told the meanings behind two of them, but not the other one. Her neck tattoo is a mix between a ladybug and a daisy. It represents true love, joy, sorrow, and innocence.
7. Mena Suvari's Tattoos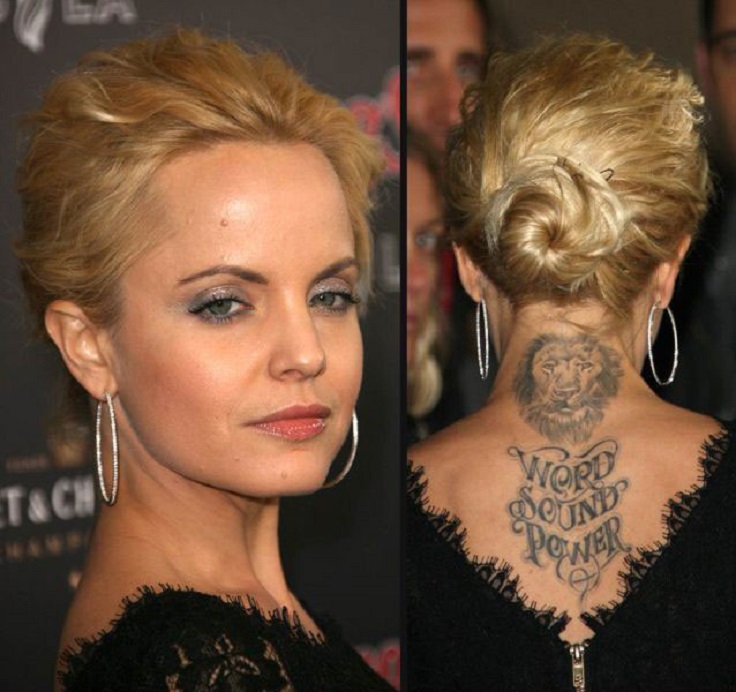 via glambistro.com 
"American Pie" star Mena Suvari is a beautiful vixen famous for her upper back tattoo "Word, Sound Power." Unlike other celebrities, Mena has chosen a tat, which shows her ideology in life. If you believe in these three words, then this celebrity tattoo is the one you should try out. You can modify the ink by using three other words that make an impact on your life.
8. Lindsay Lohan's Tattoos
via glambistro.com
Actress Lindsay Lohan is known for her sways with the law – and her tattoos as well. The statement "La Bella Vita," which hugs her lower back, is such a sight to behold. If you want an eye-catching tattoo at a unique place, then you can try Miss Lohan's Italian tat, which translates to 'A Beautiful Life' in English. After all, she lives a grand life, despite her brushes with the authorities.
9. Katy Perry's Tattoos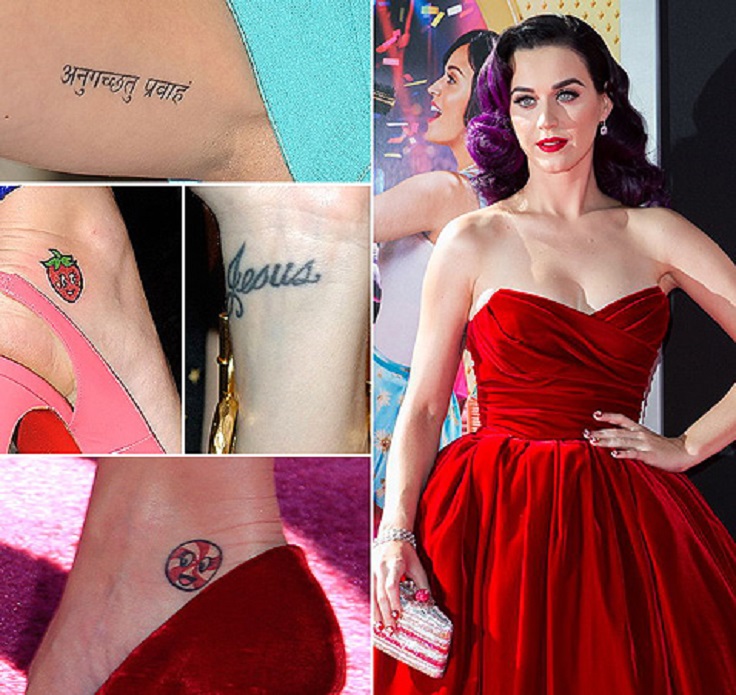 via glambistro.com 
Singer Katy Perry has a few fun and original tattoos: peppermint swirl on her right ankle, strawberry tattoo on her left ankle, Sanskrit text tattoo on her arm, the word "Jesus "on her wrist.
10. Victoria Beckham's Tattoos
David isn't the only Beckham with a few tattoos up (or on) his sleeve. Victoria Beckham has her fair share, too. This Hebrew script running down her back is actually a poem called Song Of Solomon 6:3.