Every garden needs water to make it complete. Japanese gardeners recognized centuries ago that water and the fish that inhabit it brought a sense of calm to their land. Water is a vital component of all Zen gardens.
Adding a garden pond or aquarium to your landscape is an effective way to increase property value and aesthetic appeal to your backyard. Here you can see the top 10 garden aquarium and pond ideas to decorate your backyard.
We hope that our ideas will inspire you to create a wonderful aquarium or garden pond that can transform a garden's atmosphere, adding color, light, and movement. Then you can enjoy your perfect garden paradise!
1. Garden Table Aquarium
via elitechoice.org
This full-sized garden table comes with an integrated and easily maintained garden pond. The creative mind behind this pond is a table or a table with an integrated pond is Robert Young. The water can be roofed over to expand your dining space. Add some aquatic feel to your abode!
2. Canoe Pond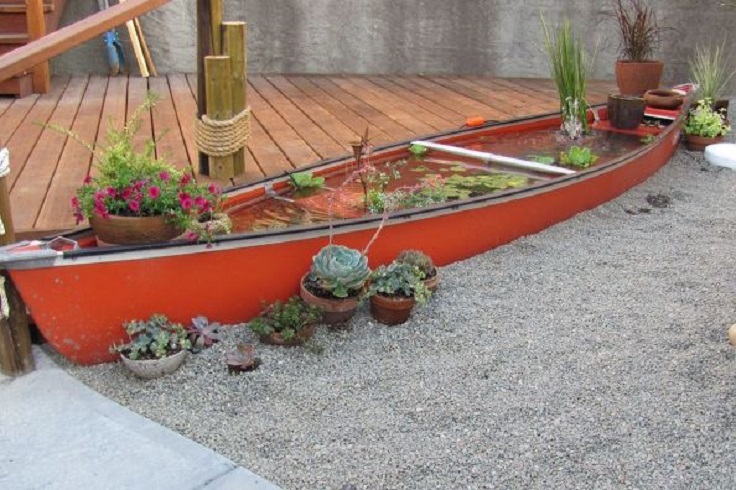 via hometalk.com
Great idea how to turn an old canoe into a lovely pond and make your yard looks fantastic. Make a wonderful landscape design to match your garden perfectly.
3. Hot Tub Pond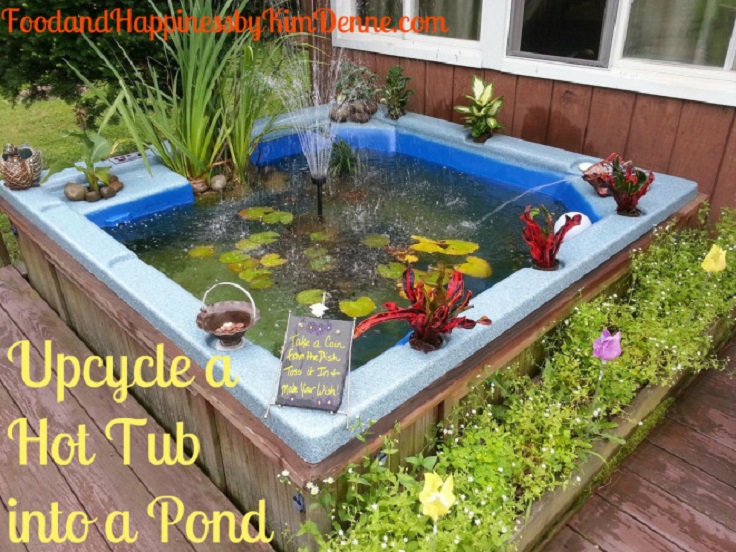 via foodandhappinessblog.com
Here you can find a wonderful idea to turn the hot tub into a pond. By adding some plants, a fountain, and several decorations, you can make a gorgeous fish pond. You can completely enjoy the atmosphere because the sound of the water is so soothing.
4. Pond with Waterfall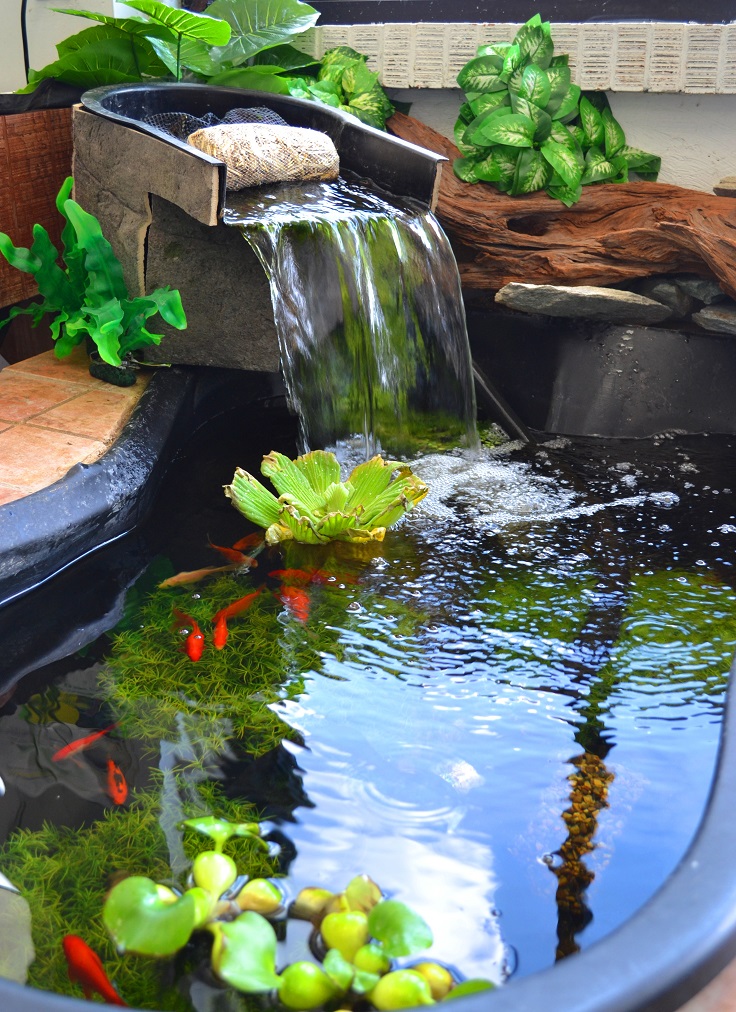 Add beauty and tranquility to your backyard with this garden pond. The sound of flowing water is naturally soothing and has been proven to reduce stress and improve overall health. You can add flowering lilies, colorful goldfish, and a variety of aquatic plants.
5. Creative Aquarium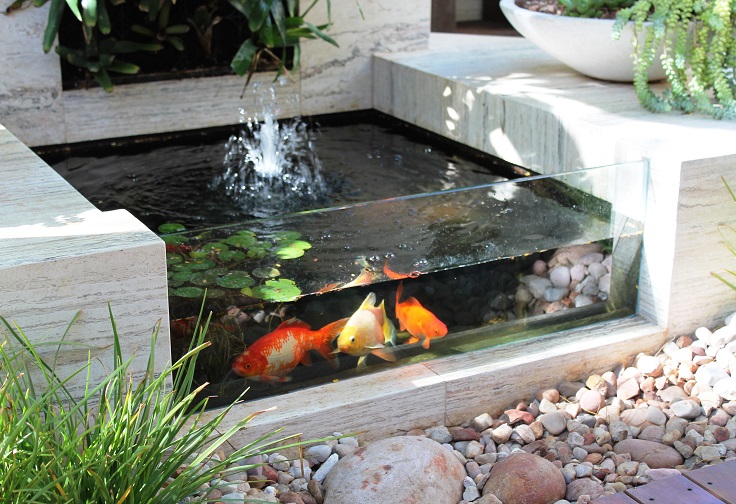 You can make a fish pool with glass on one side to make a gorgeous look. You can decorate your fish pool with seashells and algae.
6. Aquarium Pond Planter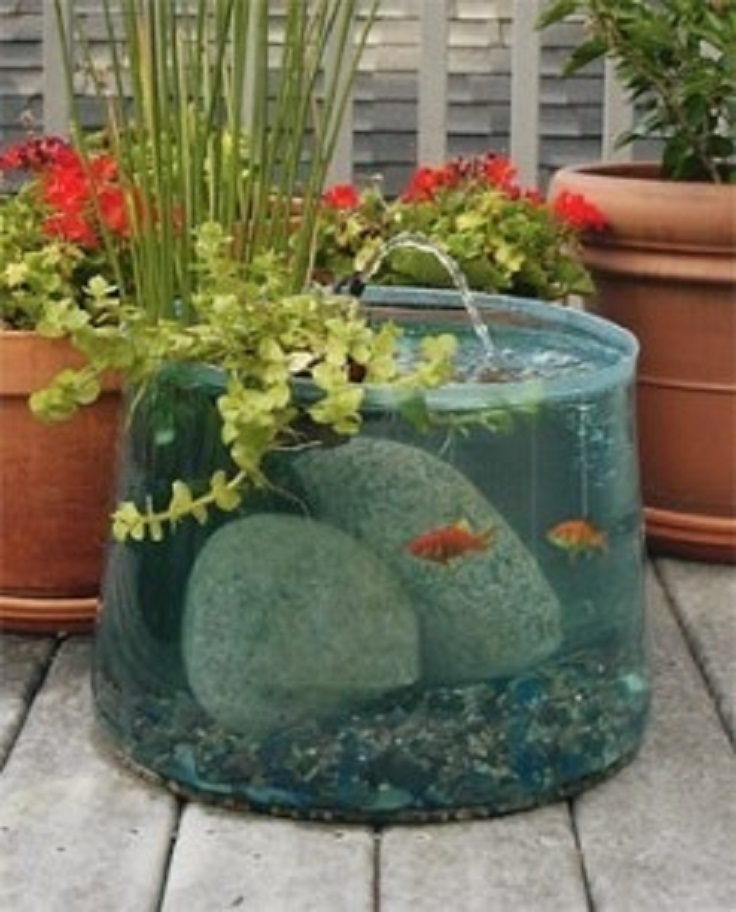 via howgarden.com
This is a very interesting, neat transparent, pop up an aquarium with several plants and stones for decoration. It looks wonderful, and it could suit very well even into the small backyard.
7. Stone Aquarium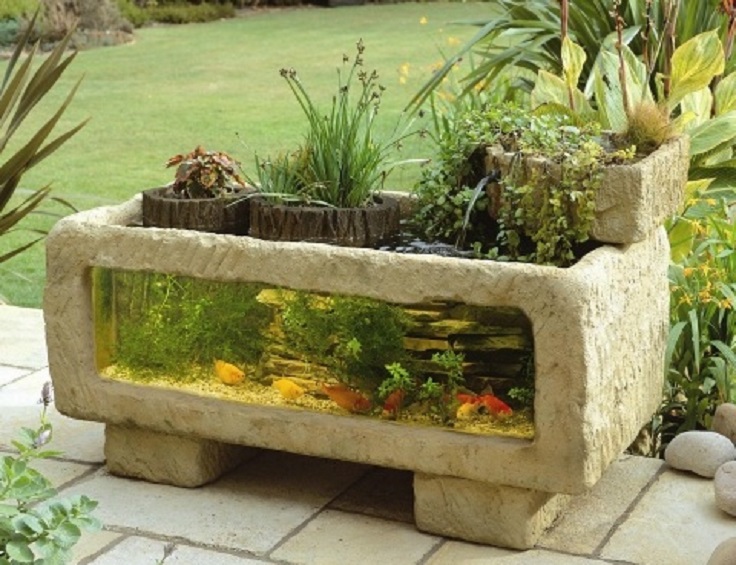 Here is one awesome idea of can bring life and tranquility to any outdoor area or conservatory. This aquarium is made from stone and transparent to get a perfect look at your fishes. You can decorate it with some plants or ceramic vases.
8. Container Pond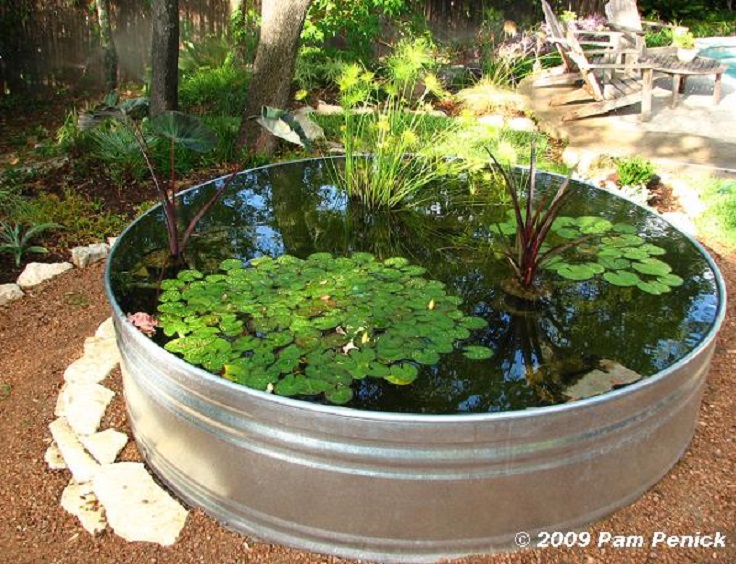 via penick.net
Here is one idea of a stock-tank container pond of 717-gallons. Stock tanks come in many sizes and can be either circular or oval. If you have one, you can make a perfect pond for your garden. Here you can also find tips for winterizing stock-tank container pond as well as how to spring clean your stock tank container pond.
9. Garden Pond Aquarium
via amityaquatech.net
This is a design garden pond aquarium to ensure suitable for different climatic conditions for a longer period of time. It can be the perfect choice for large backyards since it takes a lot of space. It can perfectly fit into a lovely landscape.
10. Koi Carp Pond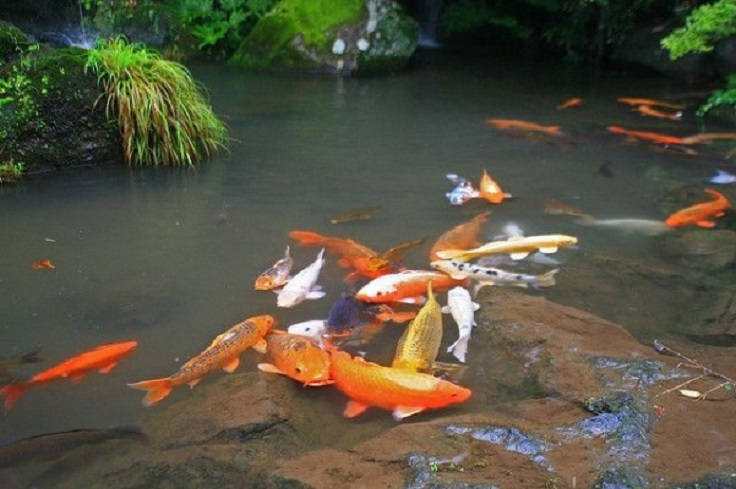 via livedan330.com
Here you can find a complete project on how to make a pond suitable for koi carp. Koi carp is the ideal choice of fish, thanks to its bright colors and gentle movement. The crystal clear waters suit a contemporary setting well, where every part of the garden is micro-managed.