When your mind wanders through the breathtaking sunny beaches, hot sand, and refreshing sea waves, you must be thinking of Greece. The amazing sea and the countless white beaches will make you sure that paradise does exist – and it is on the Earth!
That is why Greece is the most popular dreamy destination for people all around the world. The beautiful nature, combined with the specific culture and authentic architecture pleases even the pickiest ones.
You can choose from the numerous islands on the Ionian and the Aegean Sea, and you won't miss it. Every single one of them has its outstanding beauty. So, put some sun creme on, and let's travel together through these photos of the most beautiful Greek paradise beaches!
Egremni Beach, Lefkada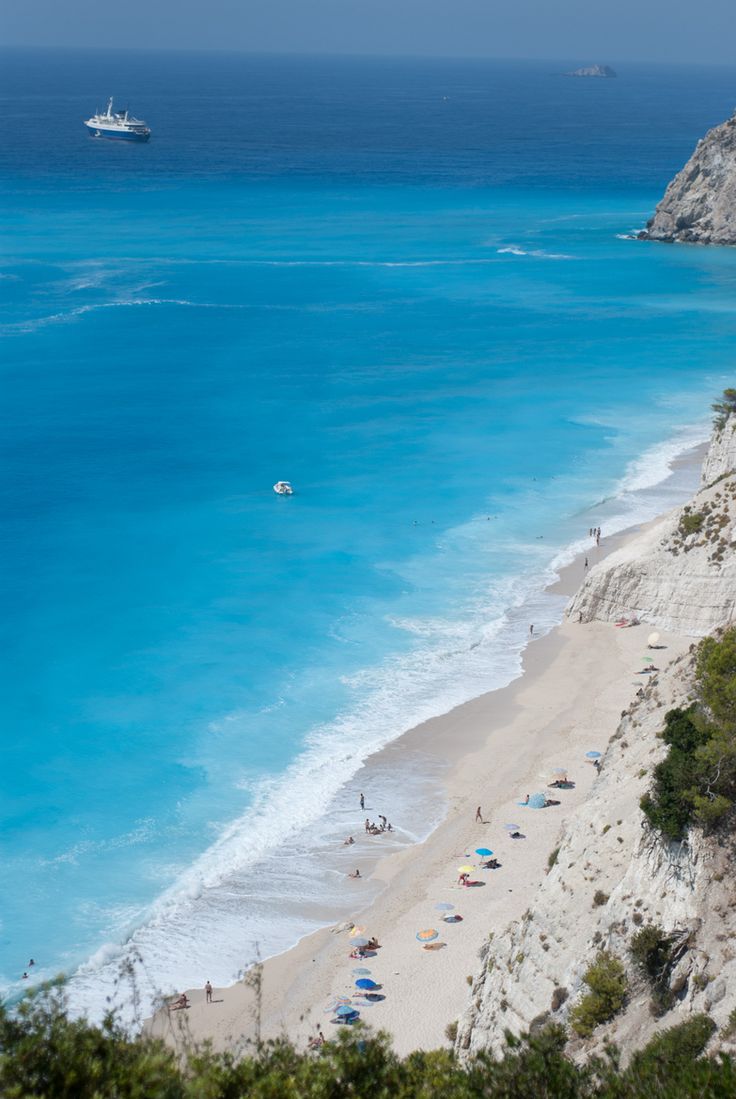 Photo by Ismail Ali Gencay
Egremni Beach is located on a small and remote beach located on the south-west coast of the Ionian island of Lefkada, north-west Greece. The island was created in the mid-90s and became one of the first and popular tourist destinations within the entire European countries. Long sandy beaches are in abundance running below high limestone cliffs and shelter many coves and bays. One will find many restaurants, taverns, and bars within the endless white sand stretches.
Photo by Dragan Todorovic
The "Shipwreck Beach" is the most famous in Zakynthos; without a doubt also being one of the most photographed beaches Greece has to offer. The beach is also located on the south-west coast of the Ionian island and nearby you will find Anafotiria village. The superb and perfection, turquoise blue waters and the pebbled beach get their name from a cigarette merchant ship dating back to the early 90s that washed ashore which can be admired first hand.
Elafonisi Beach, Crete
Photo by Eva Rigas 
Situated on the south-west side of the island, Elafonisi beach is home to near-perfect pink coral sand and clear waters from the sea and the lagoon. With most touristic areas within Crete and Greece as a whole, it is near impossible to be alone. Endless beach sunbeds are seen from morning to dawn, however, if you're a little adventurous, beyond the end of the road lies a semi-secret cove that boasts wilderness and natural fauna. Won't be exclusive, but near enough and much more appropriate for those wishing peace. One of the best-known beaches.
Plaka Beach, Naxos
Photo credit to naxos-hotels.com
Unlimited sunshine, an unlimited fine, dust-like white sand, and pristine, emerald-like waters. This beautiful and relaxing stretch of sea is for those seeking a little romance or wishing not to be sandwiched in between sunbeds. More a couple's retreat or a small party of friends and family wishing serenity. Plenty of cafes, bars, restaurants, and cafes are on offer and also your very own little marketplace. A must-visit and not lovely far from the nearest town, Naxos.
Paxi Mesovrika Beach
Photo credit to tripbucket.com
Without a doubt one of the most beautiful and secluded beaches in Greece, and perhaps even Europe. If you are after a truly peaceful and essence of being alone in your very own paradise then this is one of the only options for you. A couple's beach that oozes with charm and is isolated from the 2 busier beaches from either side. They'll be pebbles and not so much "beach area on dreamy white sand" however, Boats can be rented for ease of access to the beach.
Papa Nero Beach, Magnesia
Photo credit to greeklandscapes.com
Near the popular Agios Ioannis resort nestled on the east coast of Pelion lies Papa Nero Beach. Treaty to get to by any form of transport but must worth the hassle one arrived at the destination. Restaurants and bars can cater to most needs as well as sunbeds. It is rather long and has what seems like miles of white, fine sand and azure waters. Like most beaches, it does get the crowds interested so you won't be the only one thinking it was a good idea but head there early morning to benefit from the perfect spot.
Lemnos Gomati Beach, Mirina
Photo credit to
Nestled in a quiet cove, Lemnos Gomati Beach gives you the sensation of having gotten lost in an Arabic desert somewhere, far far away. Very picturesque and postcard-worthy, the beach will put you in awe. Located a couple of kilometers away from Katalakos in the city capital Mirina, this fine sandy beach has the longest dunes and crystal clear waters. On a plus side, you will not be bombarded and bumped into by the flood of tourism normally all over the country which is perfect for a little alone time, with a loved one, or as a family wishing tranquility.
Lesvos Eftalou Beach, Molyvos
Photo credit to lonelyplanet.com
Near the Molyvos town, Lesvos beach is a pebble and sandy beach famous for the natural springs that can be admired right on the beach itself. All the facilities are there including restaurants, bars, and taverns making your stay comfortable. Perfect for scuba diving, snorkeling, or simply for a long swim keeping in shape before relaxing back on the pebbled beach. The area can easily be reached by bus from the resort making this very convenient. Great for a family day out seeking the underwater thrills.
Mavra Volia, Pirgi
Photo credit to sifnos-hotels.com
The beach's history makes this a fascinating visit. Possibly the best beach on the island, you will find a stretch of black pebbled stones and somewhat rather unique. This is due to the eruption of the volcano that colored the beautiful Mavra Volia with contrast from the crystal blue, clear waters. Fascinating, you will love the scenic charm and fall under its spell. An absolute must-do if you're reasonably nearby.
Platis Gialos Beach, Mykonos
Photo credit to whichgreekisland.co.uk
If you're after restaurants, a good nightlife, endless massage options, sunbeds, showers, and the rest, then this is for you. Yacht trips are very popular there and you will love seeing the town from the shore. Everything is whitewashed on the island and with the electric sunshine and your sunglasses on, it feels very dreamy indeed. Superbe restaurants in and around offer great local, freshly caught fish and seafood in general. The golden sand and turquoise waters are great, and a simple walk from your room to a morning swim is more than possible. Everything is available for you. Pure indulgence in a paradise.