Many women dream of having long, thick, and healthy hair flowing over their shoulders and down their back. Unfortunately, some of them can never grow their hair past a certain length. Faux hair is a secret weapon that can do miracles. While some are made out of real hair and others are synthetic, they all do wonders for changing up a look or hairstyle in a flash.  However, hair extensions have the potential to look either totally gorgeous or completely cheesy and ridiculous. We've found that it's all about the way you wear them that makes the difference. Here you'll find the top 10 tips for keeping your extensions looking as pristine as the second you walked out of the salon. Check out these simple tricks to ensure your luscious layers look naturally gorgeous and glam!
Buy A Hair Weft—It's Cheaper
Tutorial via cosmopolitan.com
If you are not sure about hair extensions, but yet you are looking to add a bit of volume and length to your hair, try using hair weft. A, it is definitely cheaper, and B can be removed easily and when every you want. There are two ways to attach them to your hair, by adding them hair clips (which we recommend) or using glue. A hair weft is basically a collection of hair strands sewn onto a thin strip of cloth. They can be placed on the hair easily, just sectioning the hair on the area you want to add volume.
Clip-In Hair Extension Placement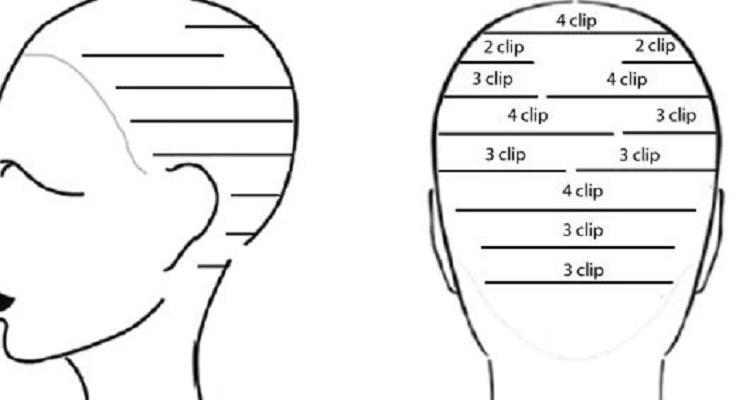 Tutorial via Katie Lambert
When you want to try hair extensions and you are a beginner in this process, do follow the steps from our link. There are designated clips for different placements, you can't just randomly place them. Best, of course, is to let a professional hairstylist do it for you; at least the first couple of times until you get used to it and see how it needs to be done. Knowing the process will add the right length and volume to your natural hair.
Clip-In A Fringe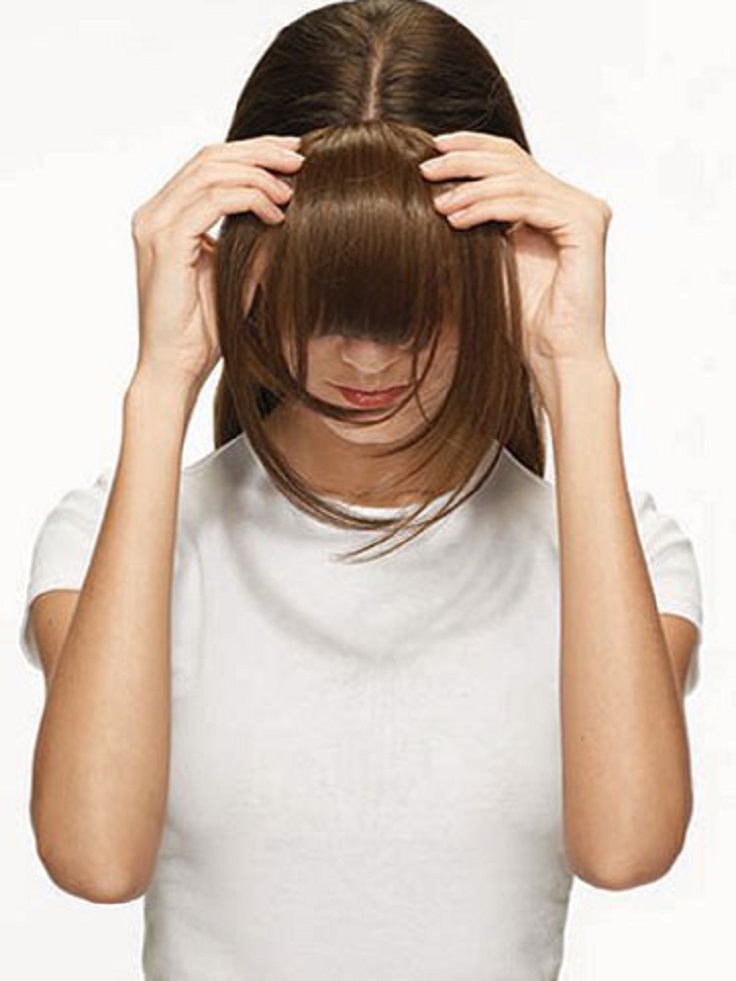 Tutorial via cosmopolitan.com
Fringe does not suit everyone. However, how do we know if we have never tried wearing them? A real hair transformer that can change a lot your natural look. At least nowadays we can find solutions for almost everything. So before going to the hairdresser and asking for a fringe, why not trying as an extension? Choose one that is the same color as yours of course; and also one that has longer pieces from the left and the right instead of bluntly cut. This way the fringe and your natural hair will mix without looking fake.
To Keep The Clips In Place, You Have To Tease Your Real Hair Right At The Root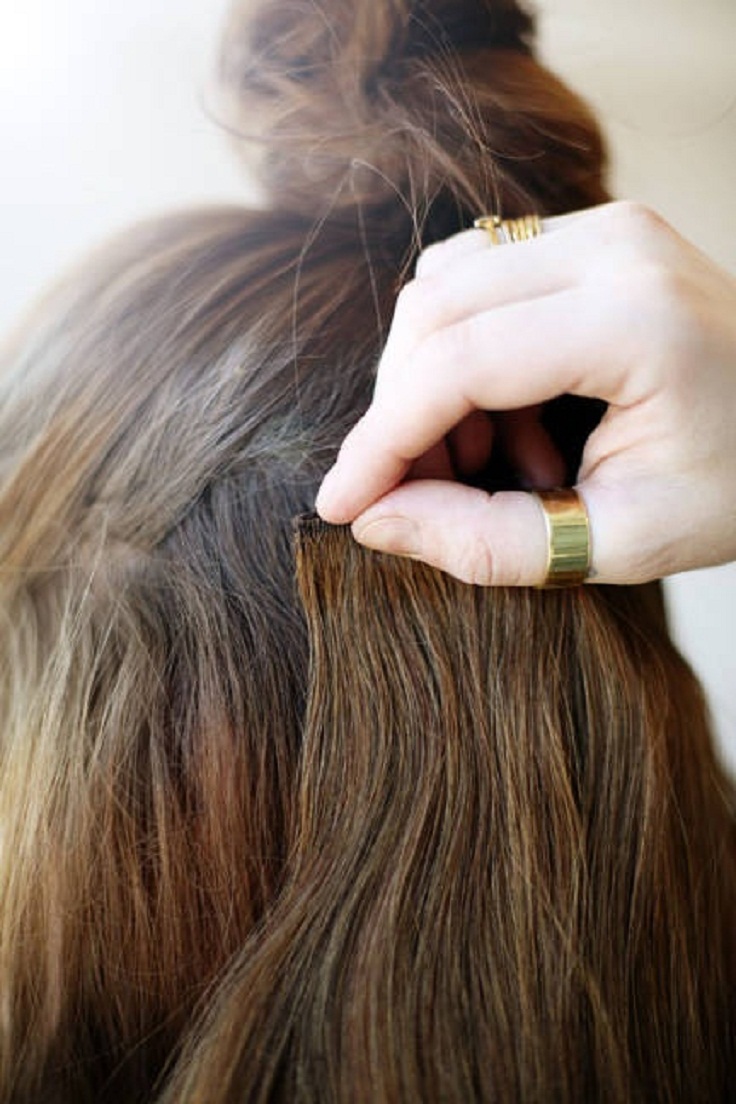 Tutorial via elle.com
Of course, there needs to be support for your extensions not to fall once clipped, and best to tease the roots of your hair on the section you are clipping the extensions. This way the clips won't be sliding out but they will be secured within the tease and a bit of hair spray. Another benefit why you should tease the hair is that your extension clips won't be seen, you will get natural volume, and also, you will be able to hide the fake hair by making it look more real.
Put Your Hair Extensions In…Upside Down
Tutorial via cosmopolitan.com
When you want to add volume to your ponytail or planing to wear an updo, try placing your hair extension by putting your natural hair upside down. Brush all your hair upside down, split the hair into a few sections, backcomb a bit, then add the hair extensions in. This way, they will not be seen when the hair is tight up and you will get a voluminous ponytail or updo.
Use Sulfate-Free Shampoo On Your Scalp And A Sulfate-Free Conditioner From The Mid Shaft To The Ends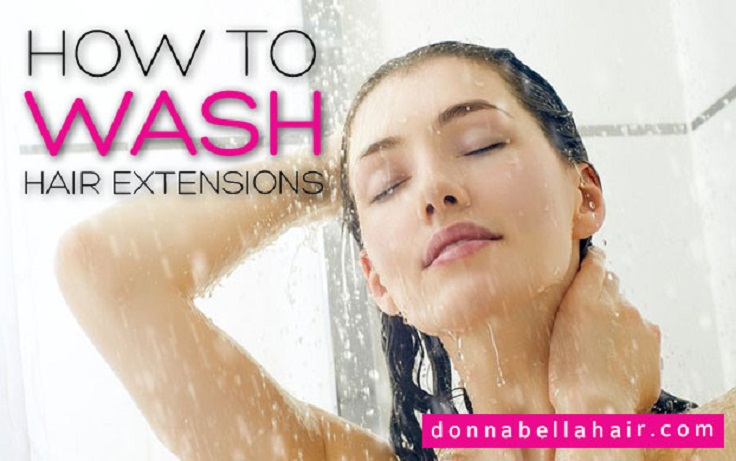 Tutorial via donnabellahair.com
Washing your hair frequently is not good at all. If your hair gets oily and greasy after one day, try using dry shampoo so you can gain at least two-three days between washes. Especially this process gets harder when you have hair extensions. They are not easy to maintain. Quite important is to wash your hair in a straight direction but not upside down, nor scrunching it up, and rubbing the shampoo harshly. This way you prevent the extensions from tangling.
Be Your Own Hair Dresser
Tutorial via cosmopolitan.com
Are you from those who are refresh-cutting their hair at home after every three months? Fair point, not every woman can do that on her own. If you are confident in this process, fear not, be your own hairdresser and style your extensions too. There are a few tips on the link above by splitting the hair side to side and cut the false hair to match with the length of your natural. Or else, visit your hairdresser and let her/him do the magic.
Enlist The Help Of Sponge Rollers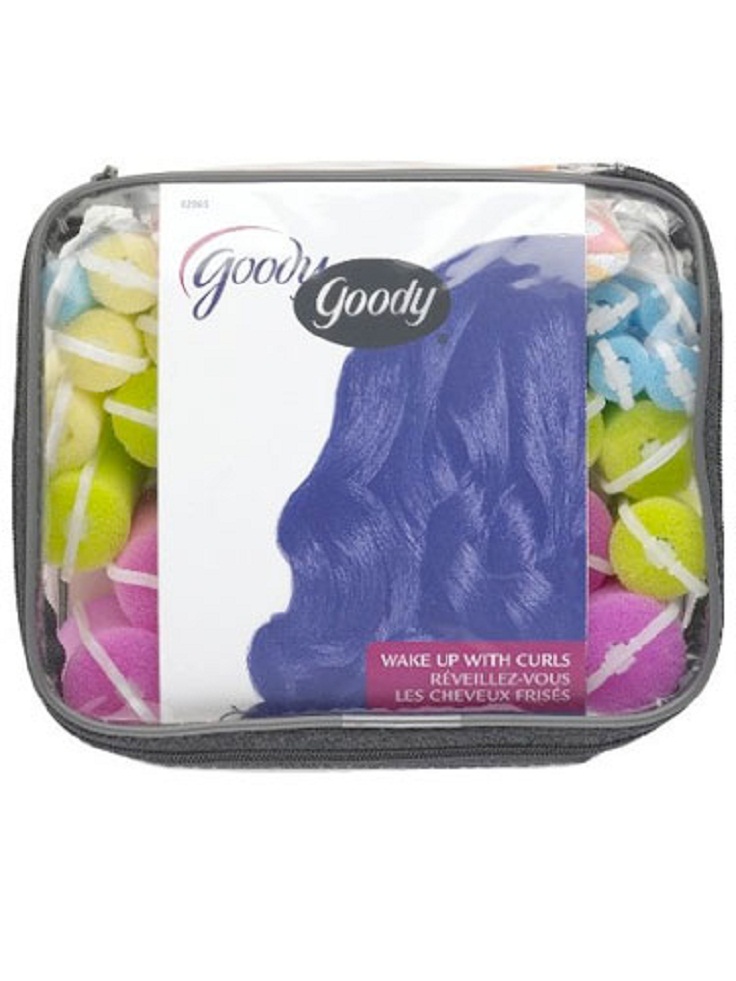 Tutorial via cosmopolitan.com
The best way to curl your hair without damaging it is using sponge rollers or hot rollers. So same rule applies to your hair extensions. Especially the ones made from synthetic hair. Avoid flat iron or curling iron as much as you can, although they are the quickest way to get curls. If you have to attend an event, wash the hair the day before, clip the extensions and use the sponge rollers on semi-dry hair to create curls. Leave the curlers overnight for better results.
Make Your Real Hair Match The Faux Hair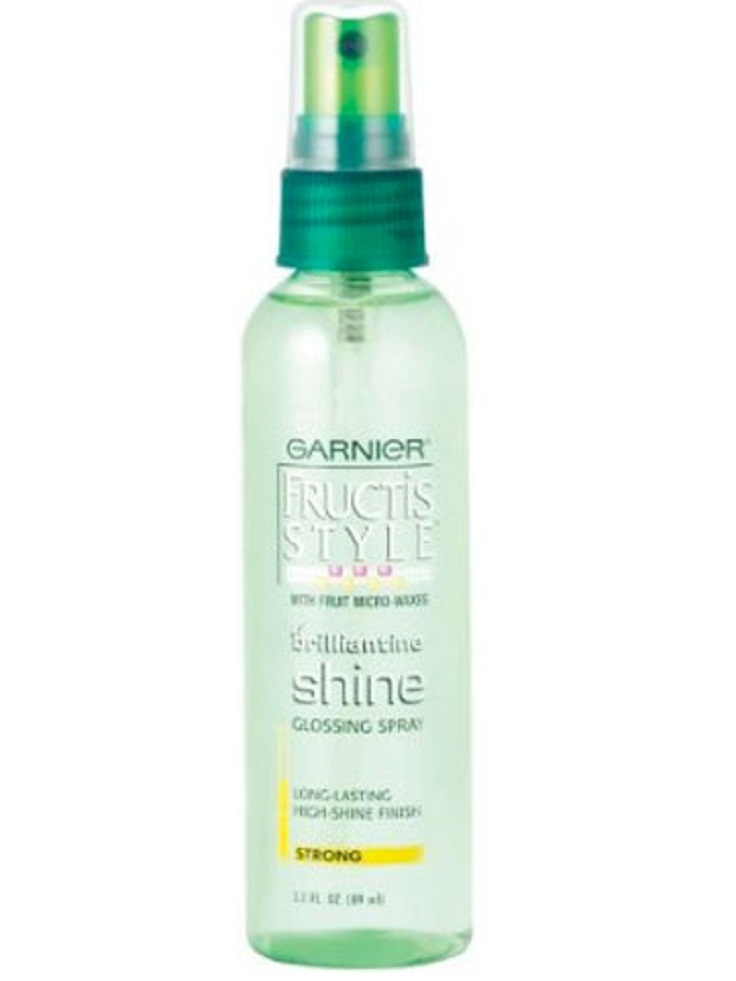 Tutorial via cosmopolitan.com
Hair extensions made from real hair can be very expensive, thus not everyone can wear them. So to make the faux hair match your natural, spray shine glossing serum to your real hair before attaching the extensions. Synthetic hair shines way more especially when exposed to the sun rays and flashing lights. Match the hairs by applying any shining product to create a more natural look.
Build Up Your Braid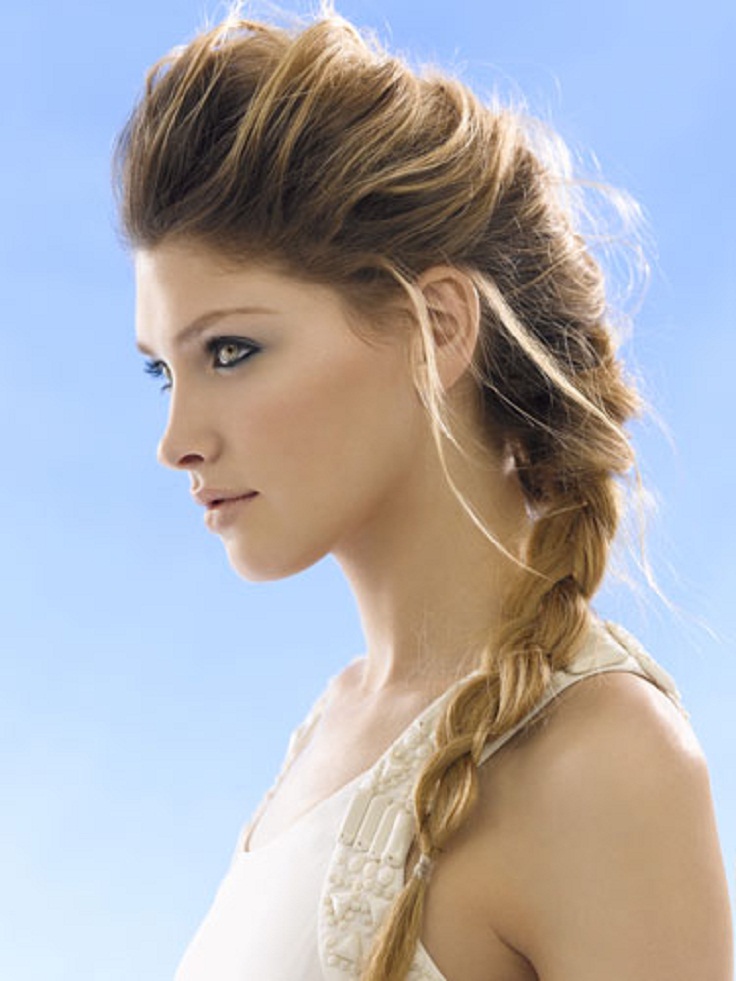 Tutorial via cosmopolitan.com
Some women use hair extensions for their ponytails or to style their hair for an upcoming event. It really adds volume, length, and even a pop of color. You can easily build a voluminous and detailed braid by having thicker hair. If you are not feeling like spending a lot of time in front of the mirror styling your hair, why not using a simple braid that can add elegance and make your look neat. Try hiding the extensions by clipping them in the center of your head and away from the sides.