The kitchen is the heart of every home. It is where the family gathers, prepares, and shares the meals. It is also one of the rooms in our home that contains the most items that are used on an everyday basis. think about it. You might have more clothes than kitchenware, but you definitely use the same kitchenware more than you wear the same piece of clothing, right? We also spend a lot of time in the kitchen, especially the members of the family that cook the most. To cut down on the time spend working in the kitchen, you need a well-organized kitchen.
To have a place for everything in the kitchen and for everything to be at hand, the kitchen needs to be quite spacious. Unfortunately, not all have the luxury of extra space in their home to have a luxury-sized kitchen. Most people have to make do with a just couple of cabinets for storage and very small countertops. And when you don't have enough storage, can quickly turn into a disorganized disaster. If this sounds familiar, then you might want to check out our list of some neat kitchen organization and storage solutions.
Whether you're doing kitchen remodeling or are looking for ways to tidy up the messy kitchen, there are some affordable and more pricey ways to turn the kitchen into a warm, organized and less stressful room in your home. Let's see the top storage solutions for your kitchen.
Well Organized Dish Storage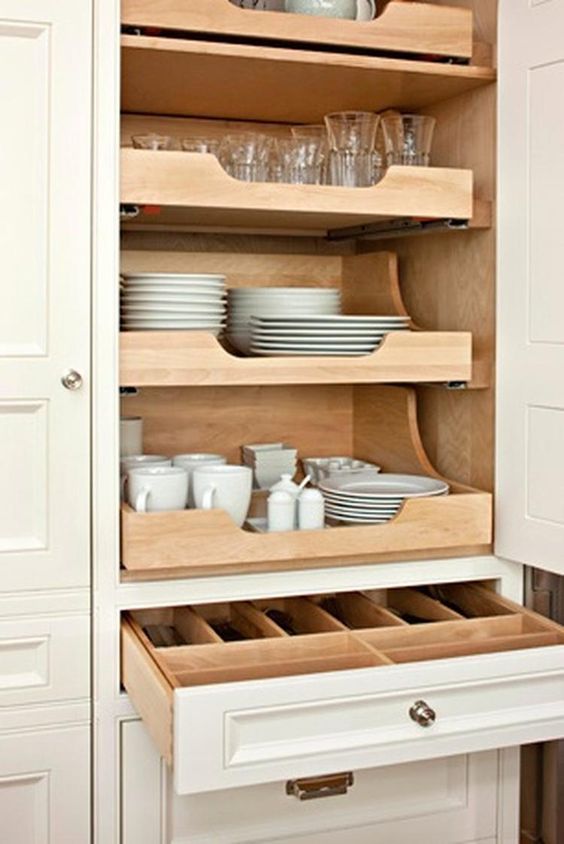 Keeping all the plates, cups and glasses organized is probably the number one thing to consider in a kitchen. Any kitchen cabinet would do, but reaching the back of the shelf can be troublesome. One way to make the best use of the cabinet space, without having to struggle to reach those items in the back is to install some sliding shelves. Another interesting solution for adding more shelves to your cabinet is using taller cooling racks. They're great for getting additional storage for smaller cups and glasses.
Coffee Cubby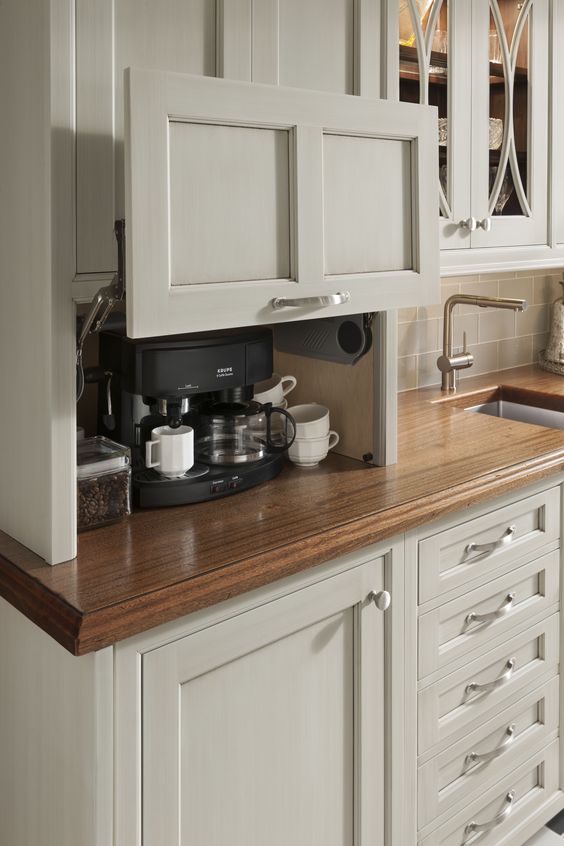 Even there is one thing that every adult in the household uses the kitchen for is to make a nice cup of coffee. Having all you need for making your morning cup o' joe in one place is very convenient, so if you have a room in your kitchen you should consider making a coffee cubby. A corner or an empty space below the cabinets you can close off, it is nice to consider adding this feature to your kitchen. And there will certainly be less fussing and bumping around the kitchen when you try to make your morning coffee.
Side Fridge Rack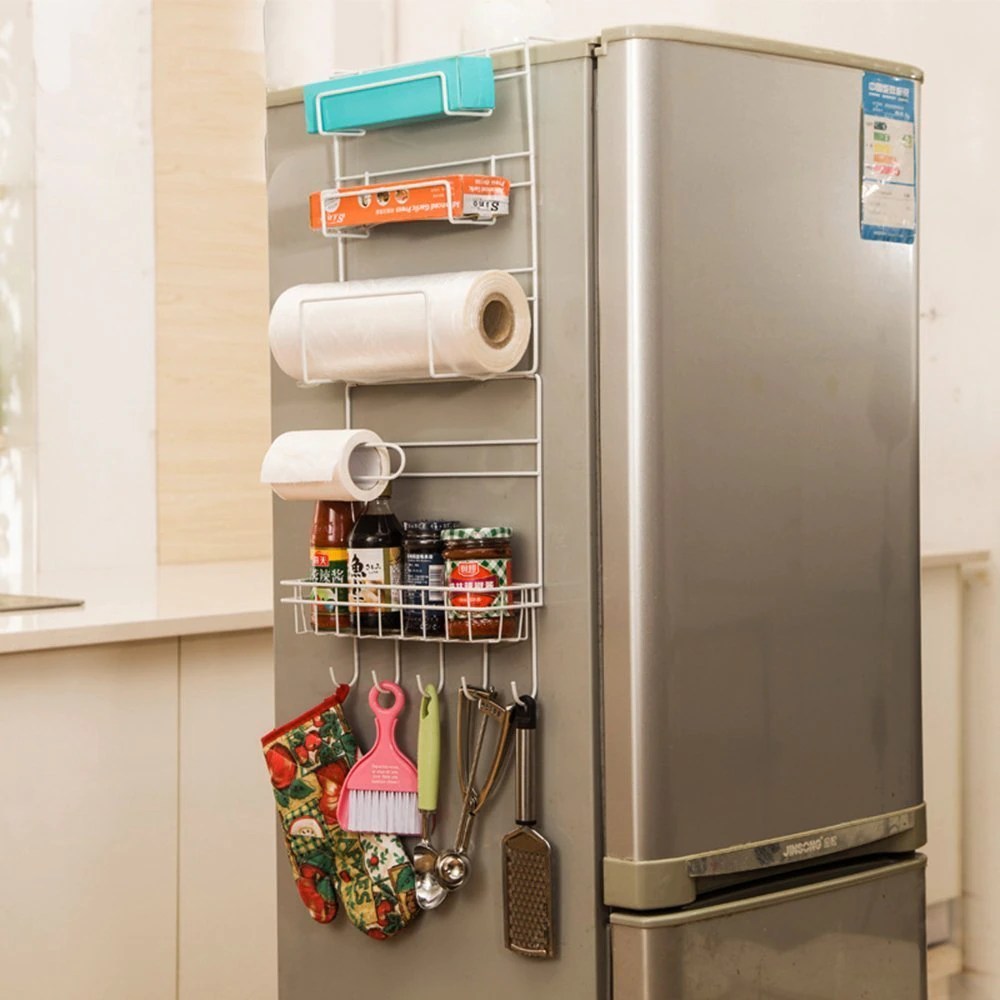 Often overlooked empty spaces in the kitchen are the sides of cabinets or fridges. Hanging up a rack like this one can give you just enough storage for a few often used items, like towles, baking sheets, mittens, towels, and the like. The small investment is absolutely worth it.
Toe-Kick Drawer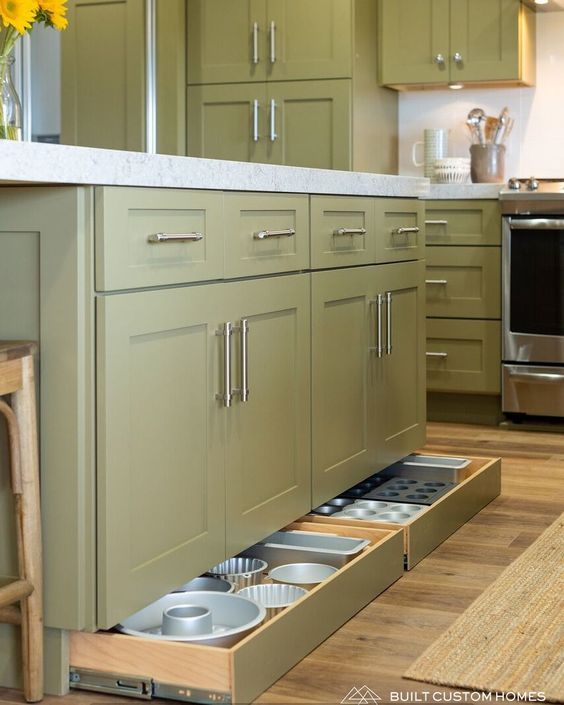 No matter if you have a large or a small kitchen, you always need extra room, and another often overlooked area is the space under the base kitchen cabinets. That small space is just enough for you to store those big flat baking pans that always take up too much space, yet we don't use that often. Installing a toe-kick drawer into that narrow horizontal space will keep all those pans all neatly stored and out of the way until needed.
Narrow Pull-Put Drawer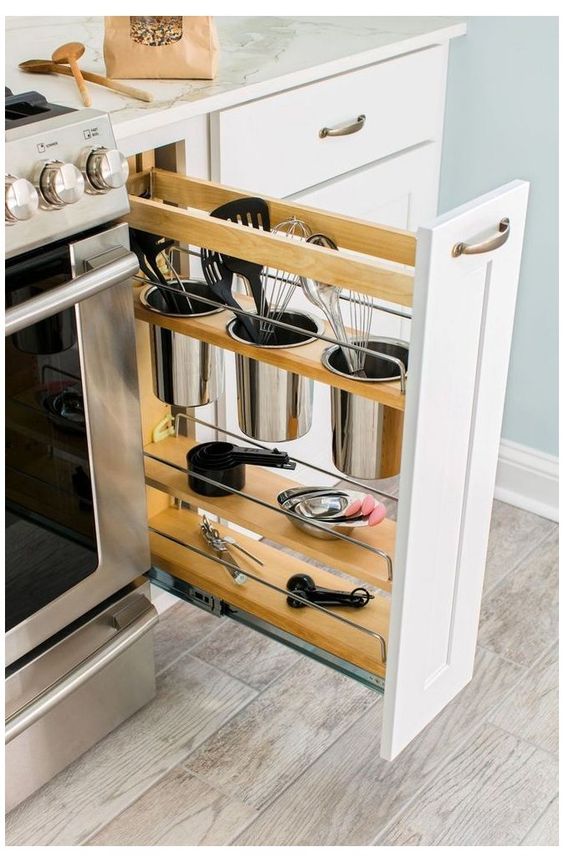 Pull-out drawers have become very popular in new kitchen designs because they don't take up much space, yet can store a lot of the smaller items like spices, ladles, measuring cups, and even condiments, like cooking oil and vinegar. If you plan on making a new kitchen or have a narrow space that's not been used, you must consider making one of these.
Magnetic Board Spice Rack
Spices are what make every dish that much more special, and those of us who love to cook probably have over a dozen spices at all times. That many spice canisters can take up a lot of precious kitchen space, so it is a shame not to use those bare walls in this situation. A magnetic board and metal containers will free up a lot of cabinets and drawer space and your spices will always be at hand… And you'll have to admit that this storage solution looks very pretty as well.
Slide-Out Cutting Board With Waste Bin Hole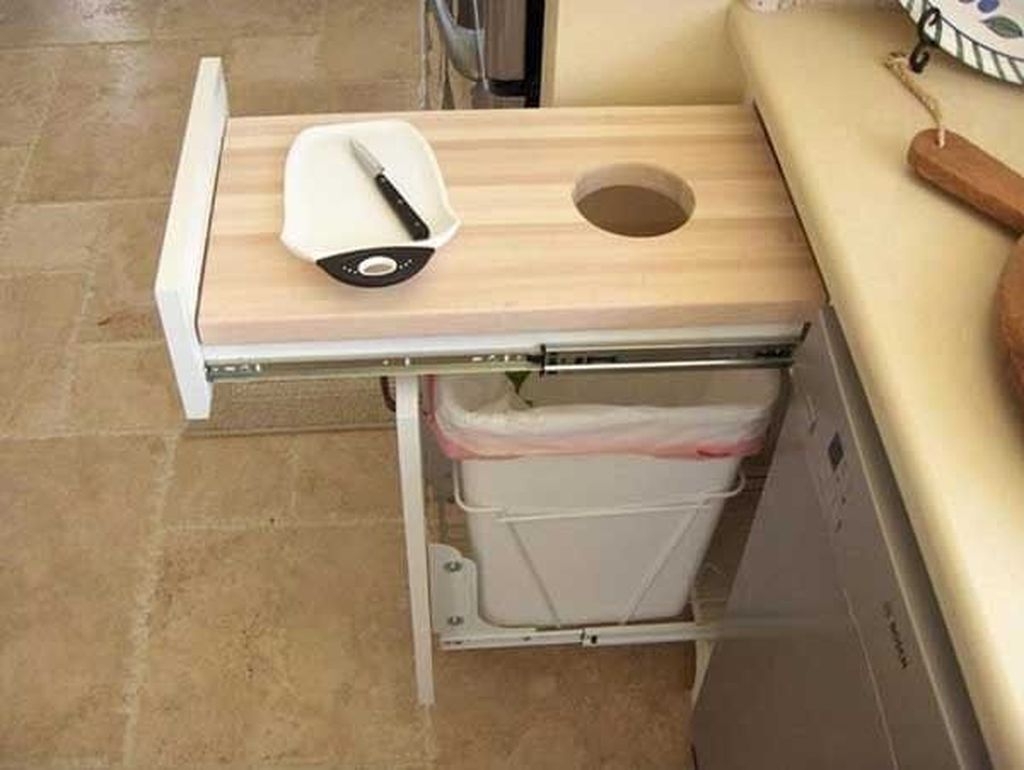 A trash bin is another essential item in the kitchen, which we prefer to be hidden but accessible. One thing we need the most is for throwing away food scraps from chopping. A cutting board that can be pulled out from your work table is convenient, space-saving, and you can install it right above the trash bin so once you're done chopping, you can just slide the scraps into the trashbin. Space-saving and convenient.
Lazy Suzan Corner Rack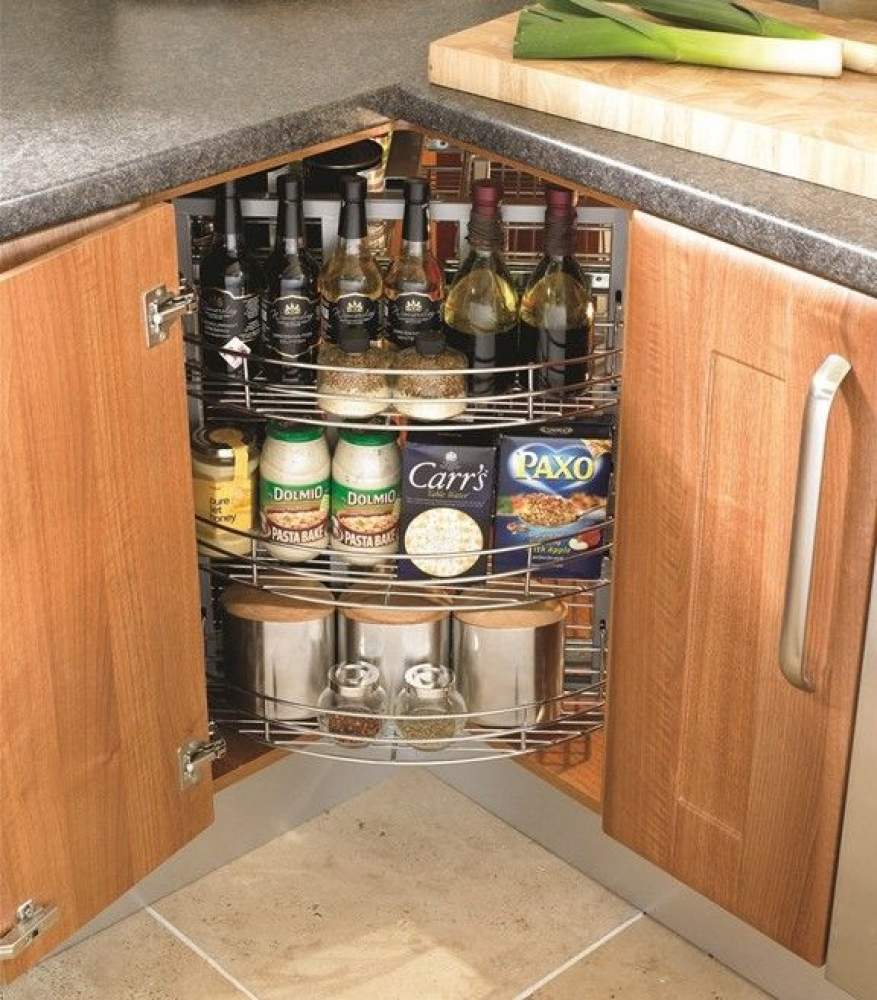 Lazy susans are popular when serving food, but the same mechanism can be used to create a rotating rack you can put into the corner base cabinets. Corners kitchen cabinets are often very inconvenient and poorly utilized when it comes to storage, and if you do incorporate a lazy suzan, you will be shocked by the amount of space you've gained without expanding the kitchen.
Pots, Pans, and Lids Rack
Pots, frying pans, lids, baking pans, and all the other large cooking items are used often and get disorganized in a blink of an eye. There are several solutions on how to prevent this from happening, and one is to use a  plate rack for the pans, and you can free up a lot of space as well if you put rods or hooks on the kitchen cabinet doors for storing the lids. It will get less messy that way and you'll save time on rummaging around looking for that right-sized lid.
Small Cleaning Closet
Kitchens get messy, not from disorganizing, but from spills, food drops, and other cooking accidents. Since we have to be very careful how we store cleaning supplies in the kitchen where food is prepared, you can again utilize the space next to the kitchen cabinets or fridge. Building a very narrow closet for storing the mops and cleaning products so you can use them immediately once the spill happened, is another convenient kitchen feature you need to consider.
That's all the kitchen storage ideas and solutions we have for now. Do you have a hack or a kitchen solution that completely changed the way you keep the kitchen organized and neat? Share with us your thoughts and ideas in the comment section below.