We know how it feels when you are running late and have to rush to your car to get right to the place where you should be, with not enough time to do your hair, but you still don't want to look like a mess. We have a solution for this problem, ladies!
Here are 10 simple hairstyles that are doable in just a few minutes and are perfect for making them in your parked car. This way, you will save time, and also, you will save your daily look. This will be of great help to the ones that like to sleep a little more in the mornings and spare you from unnecessary stress.
Give them a look, and think of them the next time you are in a situation when you jump off your bed and go straight to your car. If some of this helped you, we would love to know that! Good luck, and enjoy this in-a-rush hair tutorial.
Criss-Cross Low Bun

Tie a low ponytail leaving two sections of hair from the sides. Then cross them and secure them with bobby pins. It is so easy, and it looks like you have made an effort to get an elegant unusual bun.
Milkmaid Braid

If you want to bring a little life to your everyday hairstyles, you can give this one a try. Braid two braids from both sides, cross them from the back and bring them upwards, and when both ends meet, pin them to stay in place all day.
Speed Twisted Bun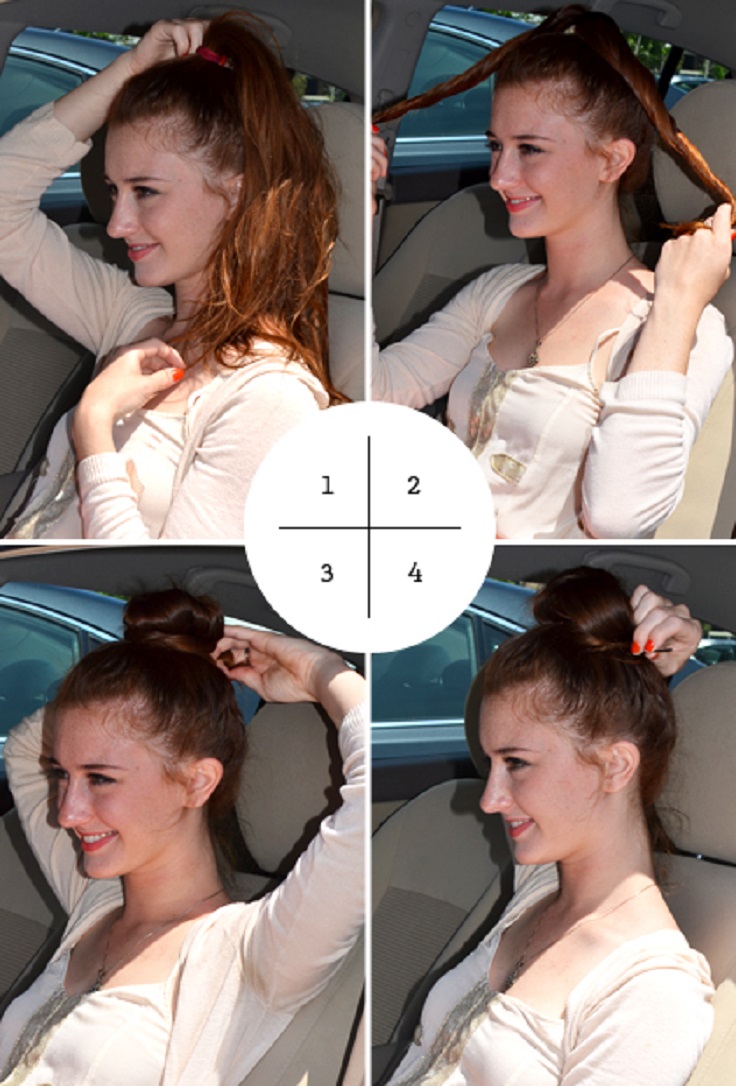 via totalbeauty.com
A super-fast bun that is always a good choice. Why sticking with the same-old ponytail when you can make a few strokes and get this pretty everyday bun.
Headband Hairstyle

via treasuresandtravelsblog.com
Before you get out of the house, grab one headband on the way and roll this amazing sophisticated hairstyle. Get that goddess look with no effort at all!
Messy Twist

via thetwistband.com
If you are getting bored from the side braid, you must try this messy side twist. Follow the steps from the picture and get your hair in place, and at the same time, look fabulous.
Boho Hair Wrap
via club.ados.fr
With your favorite scarf, this look will be done in a minute. After you put your hair in a usual bun, wrap the scarf around your head, securing it and hiding the left pieces inside the scarf.
Twist Bun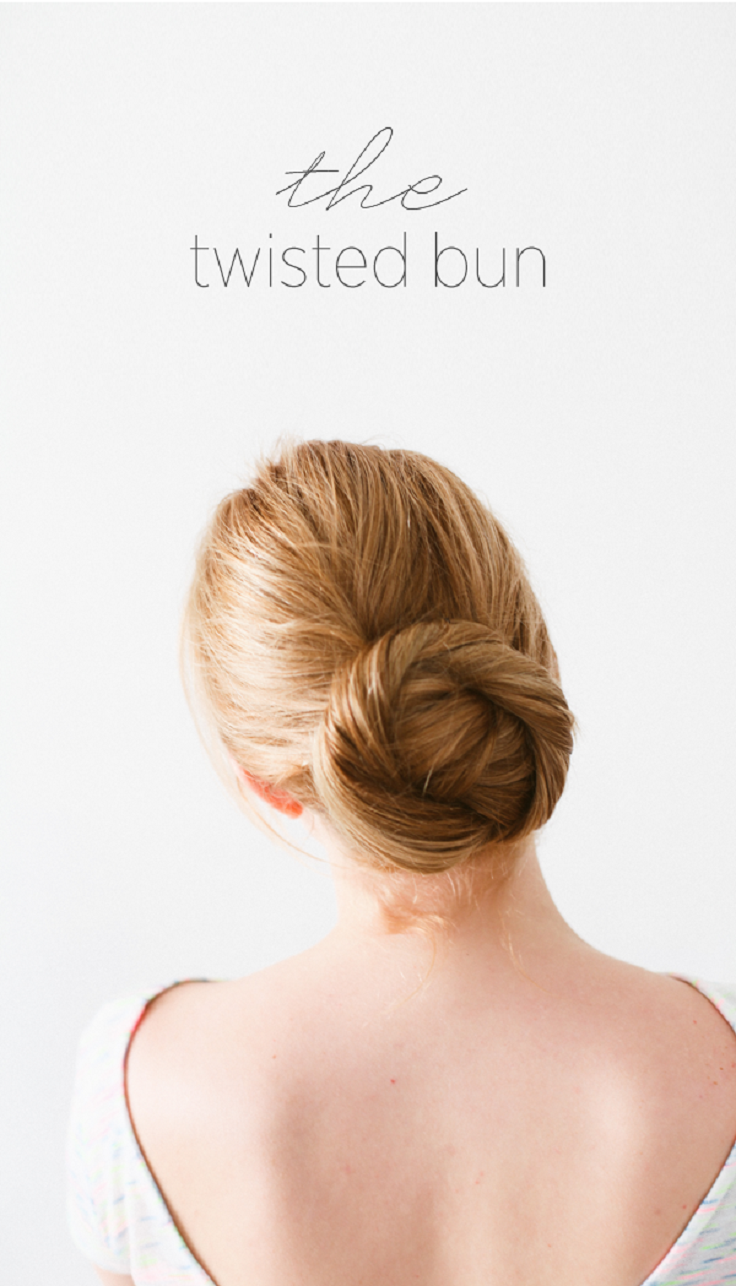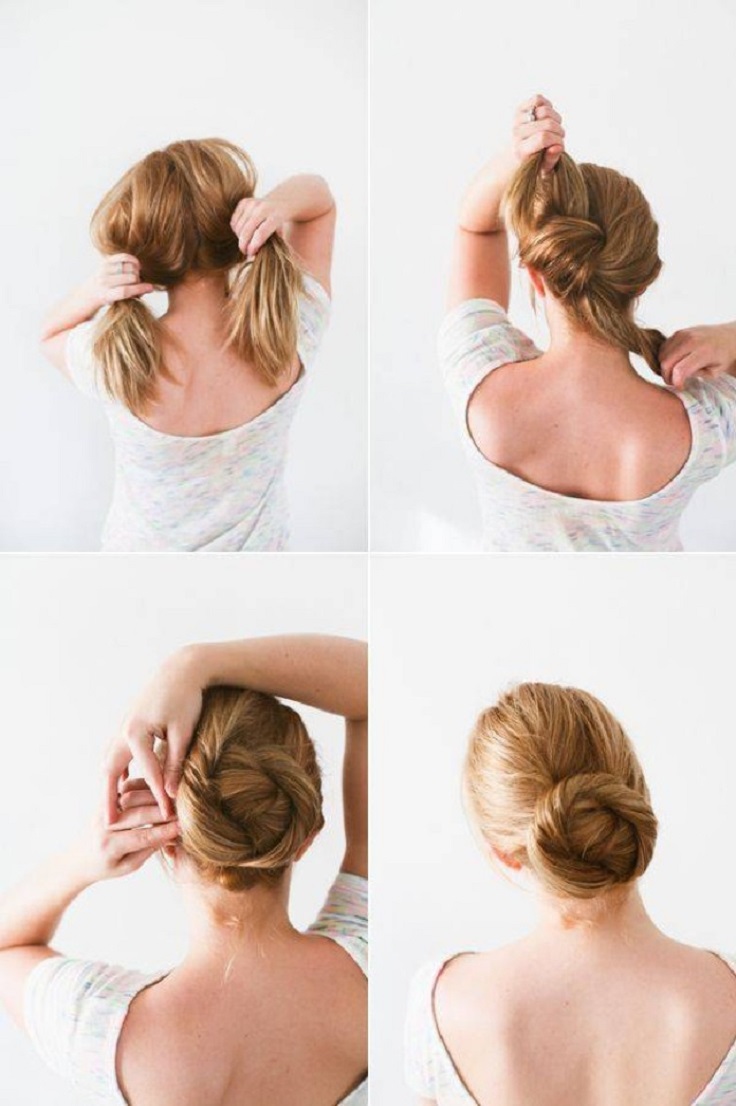 via oncewed.com
Section your hair in two with your hands, and then with that, sections form a knot and continue to wrap the excess hair around the nub. When you run out of little sections, pin the final result with bobby pins.
Headscarf Style
via freckled-fox.com
Find a scarf and roll it to around itself to get the shape from the picture. After you do that, be sure to follow the same steps from the picture to recreate this gorgeous elegant look.
Rolled Bun

via beautyfrizz.com
A genius hairstyle that can be done in seconds. Tie a low ponytail, make a hole above it, and twist it upside down. After that, start wrapping the hair on your hand in a circular motion until you get to the start of the ponytail. Then secure it nicely and add some detail if you have it in hand.
Knotted Half-Up
The half-up half-down styles are great for the rushing mornings. Take the upper section of your hair, then split it in two and knot the sections together. Then get a hair clip and secure it to your head.